My Guide to L.A. – Restaurants
Aug 18th, 2015 | By
Lindsay
| Category:
This and That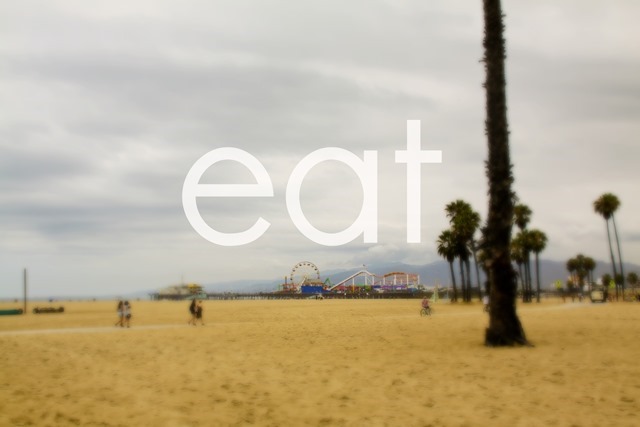 I need to preface this post by stating that I am not in any way, shape or form a foodie.  I enjoy good, fresh fare, but my meal preferences consist mainly of old fashioned comfort foods (you'll notice many mentions of different fried chicken entrées in the list below).  If a restaurant has bone marrow on the menu, I'm out.  But give me chicken strips and ranch dressing every day of the week and twice on Sundays and I am a happy girl.  This list of recommendations will reflect that.  For those fellow stalkers seeking more of an epicurean experience, I defer to my friend Molly, of the Almost Makes Perfect website.  You can check out her L.A. City Guide here.  It's filled with restaurants to delight every palate – as well as other great area recommendations.  I should also mention that I don't do brunch at all, so if you're looking for good brunch options in Los Angeles, I, again, defer to Molly.   My list consists of eateries that serve good, solid staples, have a unique ambiance and/or a historic background.  Bon appetit!
1. Larchmont Village Wine, Spirits & Cheese (223 North Larchmont Boulevard, Windsor Square) – Simply put, this place serves the BEST deli sandwiches on the planet!  I have dreamed about these sandwiches.  I have traveled a good 45 minutes out of my way to eat these sandwiches.  I have purchased two of these sandwiches at once so that I could have one for both lunch and dinner.  There is nothing like them anywhere else.  A friend works just up the street from Larchmont Wine & Cheese and I recently asked her if she pops in regularly.  She responded, "Oh yeah, that place is the absolute best.  Every day I go there convincing myself that an 8-foot sandwich is a completely normal lunch portion."  Yep, that pretty much sums it up!  My personal favorite sandwich, the Roasted Turkey Breast on French Baguette, with Swiss gruyere cheese, mixed greens, tomato, sundried tomato spread, extra virgin olive oil and balsamic vinegar, is pictured below.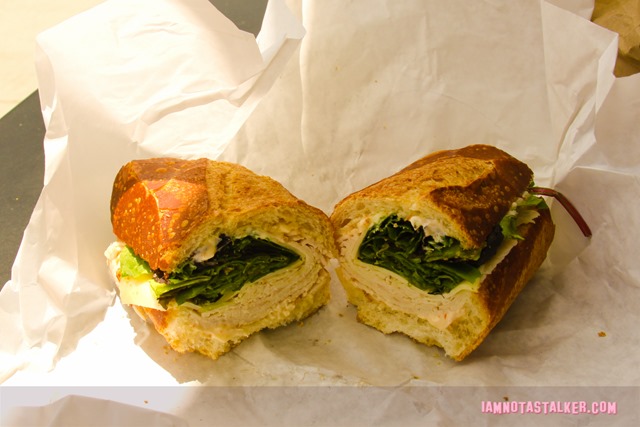 The Grim Cheaper prefers the Fresh Homemade Tuna Salad (which, sadly, isn't available every day) or the Roasted Turkey on Italian Ciabatta (pictured below), though lately he has been opting for the Soppressata Salami, with Spanish manchego cheese, mixed greens, sundried tomato spread, extra virgin olive oil and balsamic vinegar.  Truth be told, though, you can't go wrong with any sandwich choice.  The bread is made fresh daily on the premises and sandwiches are served from 11 a.m. until the shop runs out of bread, which they usually do by 3 p.m., so plan accordingly.   Thankfully, I have never been unfortunate enough to arrive after the sandwiches have stopped being served, but if I ever do, I'm fairly certain this will be my reaction.  Don't let the long lines, which typically snake past the front door, discourage you – they move exceptionally fast.  Oh, and did I mention that the sandwiches are insanely reasonably priced – around $4.50 for a half size (which is HUGE – the sandwiches pictured above and below are both half sizes) and about $7.50 for a whole.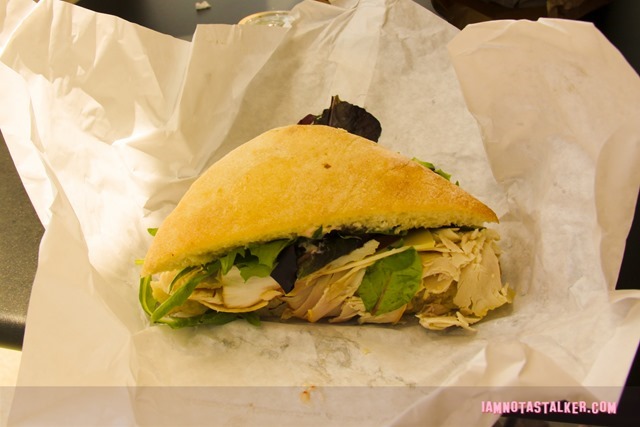 The deli is tucked into a corner of a quaint gourmet market that sells specialty cheeses and meats, imported olive oils and spices, and fine wine.  The clerks are exceptionally knowledgeable and well-versed in their fares.  Every time we've gone in to ask for a wine suggestion, their recommendations have been top notch.  In fact, my mom is obsessed with the last wine they suggested and, unfortunately, we cannot find it anywhere in Palm Springs, so I have a feeling we'll be dropping by Larchmont Village Wine, Spirits & Cheese to stock up whenever we're in town.  (Note – the shop is closed on Sundays.)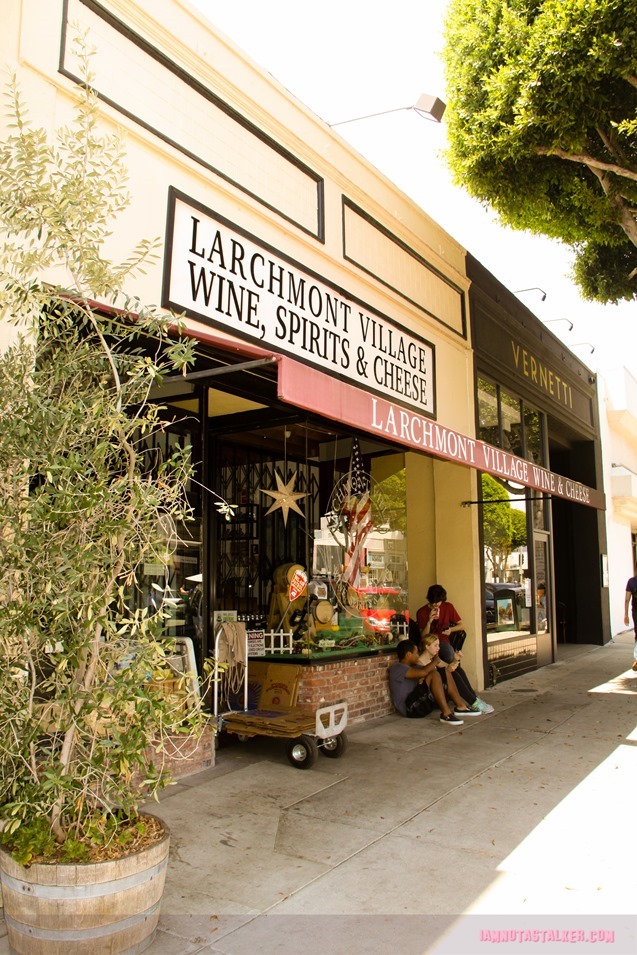 2. The Slaw Dogs (720 North Lake Avenue, Pasadena) – BEST hot dogs in the state!   With menu items such as a Mac and Cheese Dog (with macaroni and cheese, bacon, grilled onions, and Dijon mustard), The Picnic Dog (with homemade potato salad, BBQ sauce, onion rings, and a dill pickle spear), and the TNT Super Dog, aka "The Good Timer" (with beer chili, cheddar cheese, bacon, pastrami, French fries, grilled onions, and a fried egg, all wrapped in a giant tortilla), there is something for everyone.  The eatery also serves vegetarian options, salads (the potato salad is made onsite each day and is uh-ma-zing!), burgers, and wine, beer and champagne.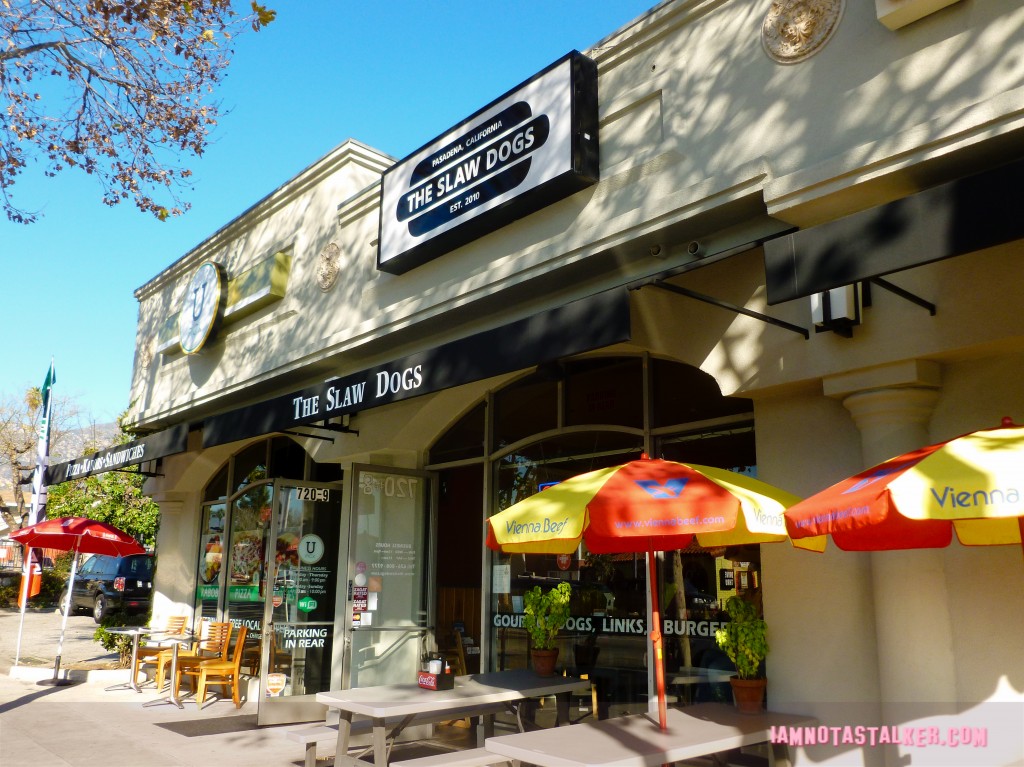 My regular order – a turkey dog with melted cheddar cheese and ranch dressing – is pictured below and, let me tell you, it is absolute perfection!  If you are looking for good dogs in L.A., my best advice is to skip Pink's (the lines are long and the dogs mediocre) and go to The Slaw Dogs instead.  The place honestly cannot be beat!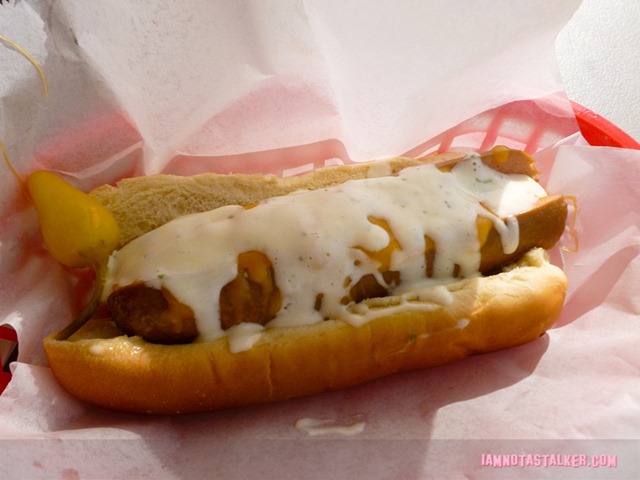 3. The Prince Restaurant & Bar (3198 West 7th Street, Koreatown) – One of my favorite meals of my life occurred at The Prince and dining there is nothing short of an experience.  Being at the restaurant, which was originally established in 1949 and has not been altered since, is like stepping inside an episode of Mad Men.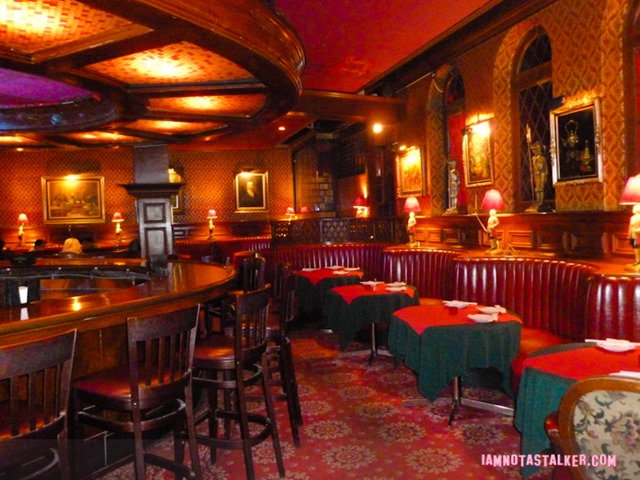 The specialty of the house is the Deep-Fried Whole Chicken (pictured below), which is served Korean-style, with sauces, slaw, and a specialty crepe-like bread.  During our visit to The Prince, we happened to meet the owner who taught us how to properly eat the dish using chopsticks.  Not only was it a fun experience to try something so completely different from anything I had ever been exposed to, but it was hands-down one of the best meals I have ever had.  Oh, and everything The Prince serves – right down to the complimentary chips and salsa – is handmade on the premises.  I cannot say enough good things about this place!  The Prince is one of Los Angeles' treasures.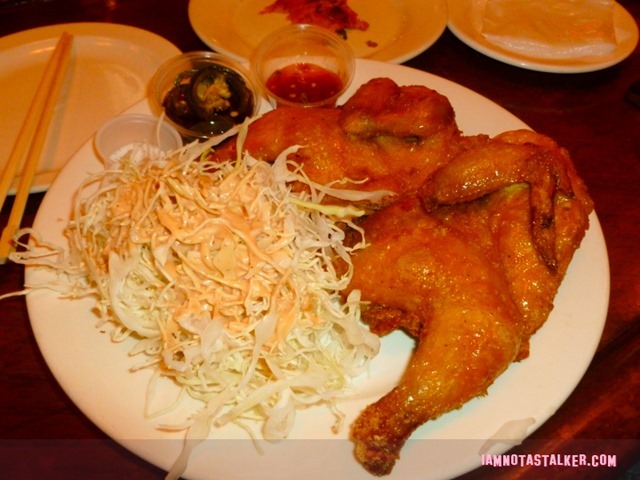 4. Don Antonio's (11755 West Pico Boulevard, Sawtelle) – Hands down the best Mexican food in L.A.  I love the place so much that I chose it as the subject of my very first blog post back in November 2007.  I initially visited the restaurant because of its many appearances on The Hills (Spencer and Heidi were regulars) and wound up loving it so much that it became our go-to Friday night spot when the GC lived in Santa Monica.  I absolutely love the Crispy Ground Beef Tacos, the homemade Chicken Tamales, the Chicken Fajitas, and the Special Burrito.  But you honestly cannot go wrong with any menu item.  I recently brought my friend Katie, who was visiting from Kentucky, there for dinner and it's now the only spot she wants to dine at when in L.A.  (Thanks to my friend Kim for the photo below!)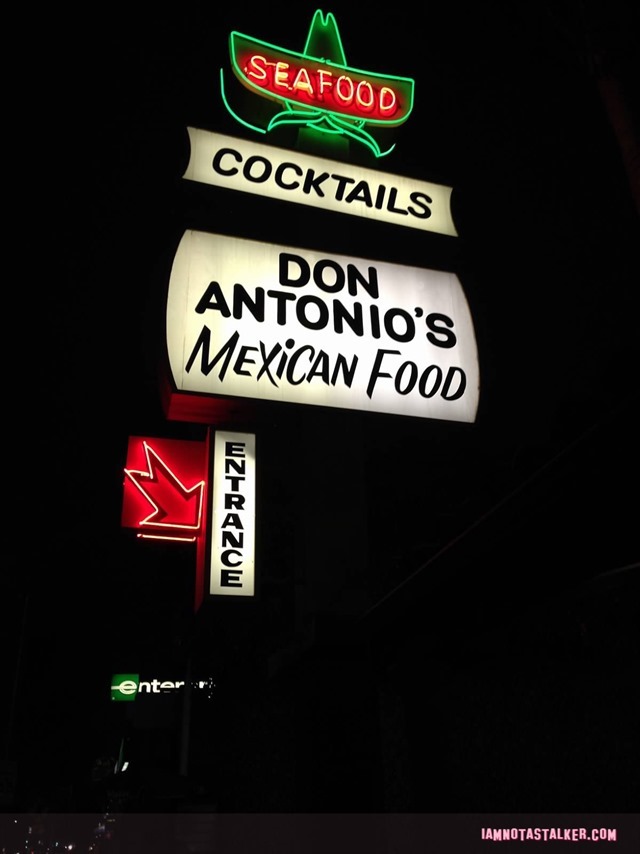 5. Vertical Wine Bistro (70 North Raymond Avenue, Pasadena) – One of the best happy hours in Pasadena!  This quaint, sleek, dimly-lit eatery, which has the feel of a speakeasy, is reached via an enclosed patio canopied with strings of Edison lights.  Though the menu is pricey, the happy hour deals can't be beat.  The food is out of this world (though I am little upset that the Sautéed Mushrooms, my favorite side dish, appears to have disappeared from the menu recently), the service exceptionally friendly, and the atmosphere fabulous.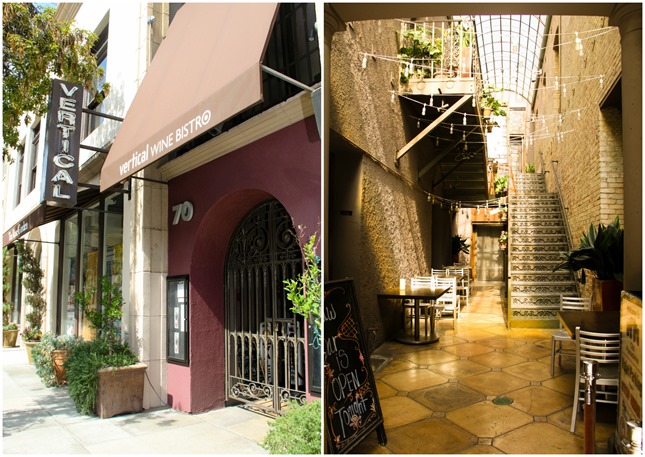 During one visit, we were lucky enough to experience one of chef Laurent Quenioux' Foodings and the cheese cart (yes, cart – it's pictured below!) that was offered was one of the most incredible things I have ever seen!  If you can make it to one of the Foodings that take place there regularly, I highly recommend it.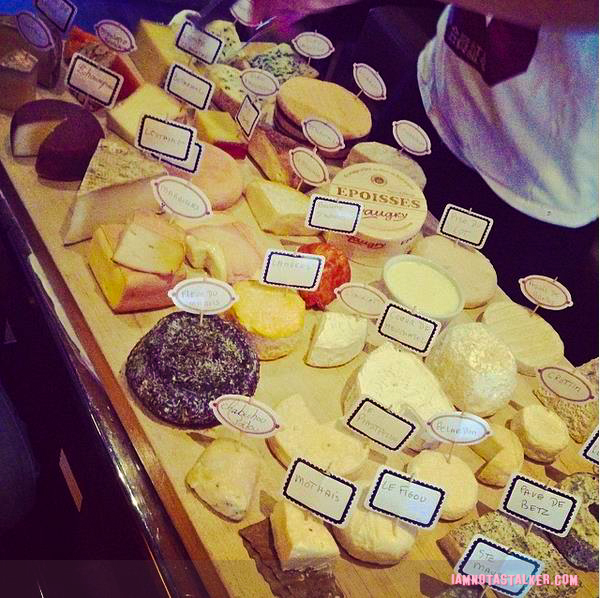 6. Yamashiro Hollywood (1999 North Sycamore Avenue, Hollywood) – Situated 250 feet above Hollywood Boulevard, this restaurant provides some of L.A.'s best views.  And the food is pretty amazing, too!  The Butter Lettuce Wraps and Yamashiro Crispy Chicken dishes are my favorites.  Yamashiro, which means "Mountain Palace" in Japanese, was originally established in 1914 as a private home for two wealthy German brothers.  After one of the brothers passed away in 1922, the property was turned into a private club where the luminaries of the day gathered to wine, dine and dance.  After falling into a bit of disrepair during World War II,  the site, which was modeled after a palace in Kyoto, Japan, was eventually purchased by a developer in 1948 and transformed into Yamashiro Hollywood restaurant.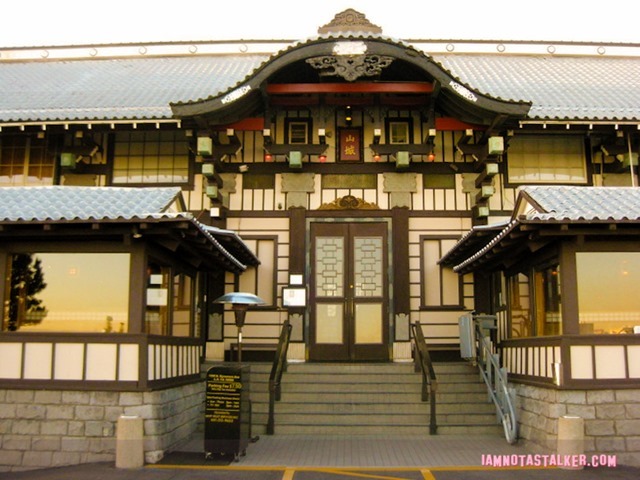 I could walk around the unique property for hours, taking in all of its ornate detailing and the sprawling seven-acre grounds.  The restaurant's Inner Courtyard, with its retractable roof, sparkling waterfalls, and central koi pond, literally looks like a set taken straight out of a movie.  The exterior garden area, which boasts waterways, Japanese flowers, a 600-year-old pagoda and an outdoor bar that is open during the summer months, is absolutely breathtaking.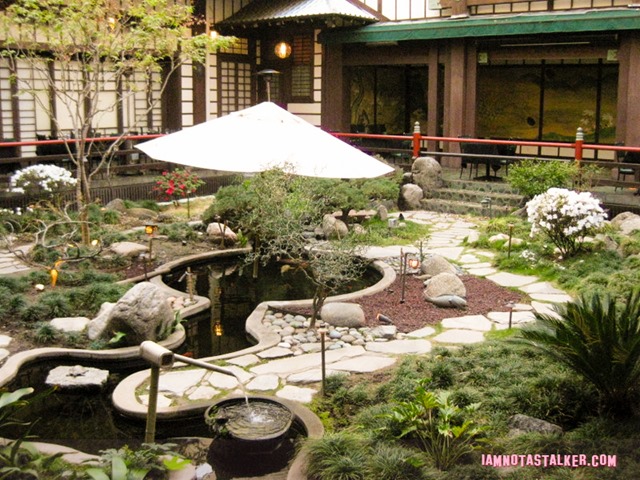 As I mentioned, Yamashiro's most incredible feature is its striking 360-degree views of Hollywood, Downtown Los Angeles, Century City, and the Pacific Ocean – views which only get more spectacular at night!  I recommend showing up around sunset (the lounge opens at 5 p.m.), so that you can catch glimpses of both the daytime and nighttime views.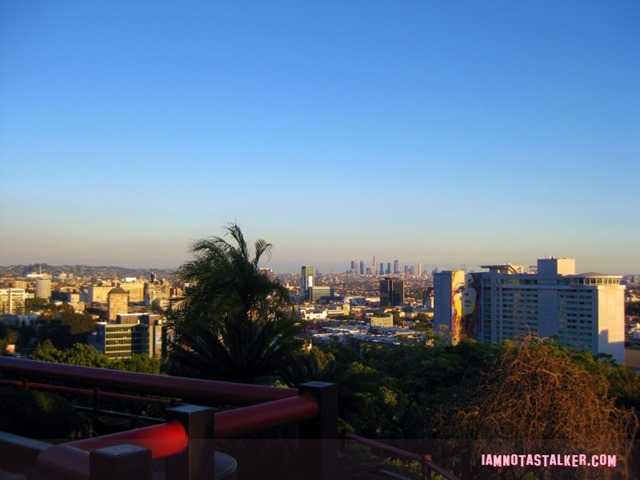 7. The Musso & Frank Grill (6667 Hollywood Boulevard, Hollywood) – Hollywood's oldest restaurant, The Musso & Frank Grill, or Musso's as it is more commonly called, was originally established in 1919.  The menu, which offers classic comfort foods, steaks and French-inspired fare, was created by chef Jean Rue in 1923 and little of it has been changed since.  While the eatery is pricey, the food is fabulous, the service impeccable, the ambiance beautiful, and the history surrounding the place in a league of its own.  Musso's patron list reads like a Who's Who of the show business and literary worlds and virtually anyone who's been anyone since 1919 has dined there.  For those who do not want to fork out the dough for a meal, I highly suggest grabbing a drink in the "New Room," a gorgeous wood-paneled space on the eastern side of the restaurant that was constructed in 1955 (it's pictured below).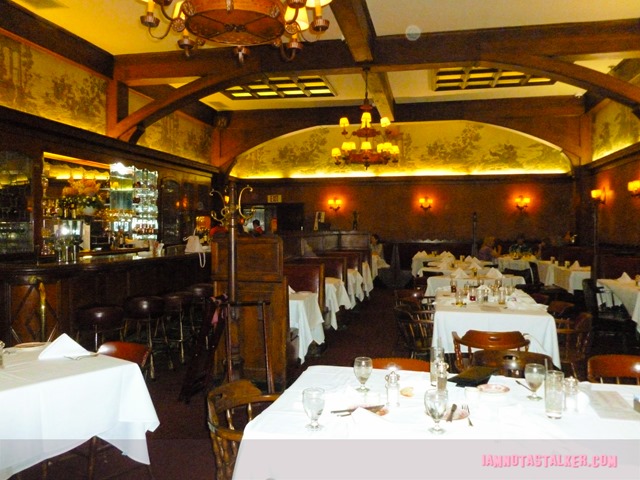 8. The Galley (2442 Main Street, Santa Monica) – Santa Monica's oldest restaurant also happens to serve its best happy hour, which is offered nightly.  When I am in SM, The Galley is pretty much the only place I want to eat and I find myself craving their Chicken and Vegetable Tacos (which are only available on the bar menu) on a regular basis.  Though the dinner menu is fabulous, too, it is the bar eats that have me returning time and time again.  The restaurant, which is a sawdust-on-the-floor/everybody-knows-your-name type of place, was originally established in 1934 and during the heyday of Hollywood such stars as Errol Flynn, Ann Sheridan and Marilyn Monroe were all said to hang out there.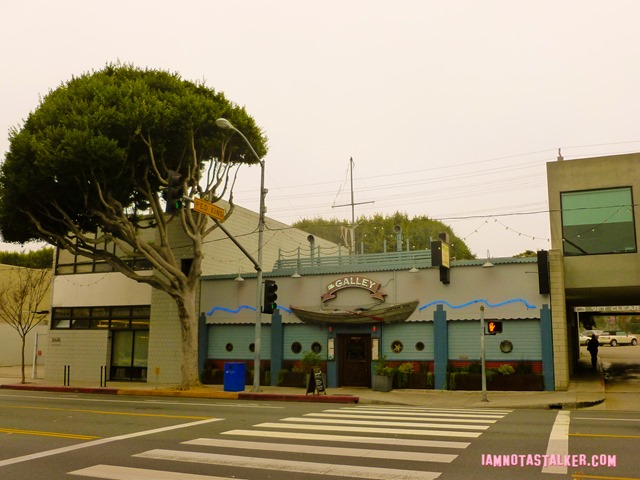 Clark Gable was also a fan of the place and countless props and set pieces from his 1935 flick Mutiny on the Bounty now decorate The Galley's walls.  As you can see below, the restaurant's interior is quite unique, with twinkle lights draped across every surface and fish netting and other nautical décor lining the walls.  The owner, Captain Ron, does his best to make the atmosphere comfortable, casual and fun.  You can read Captain Ron's famous Galley salad dressing story here – it is something of a Santa Monica legend.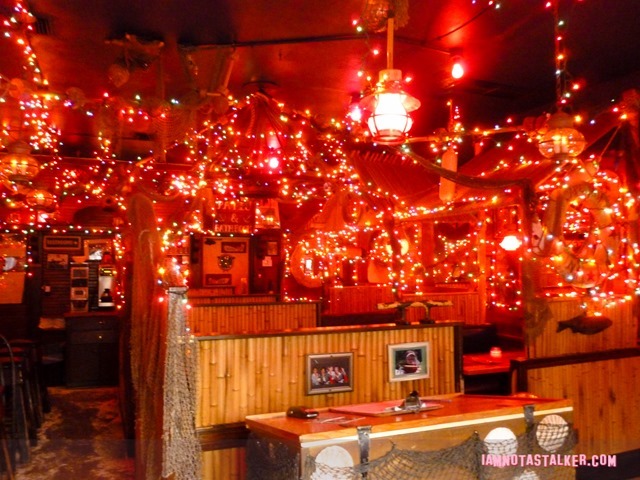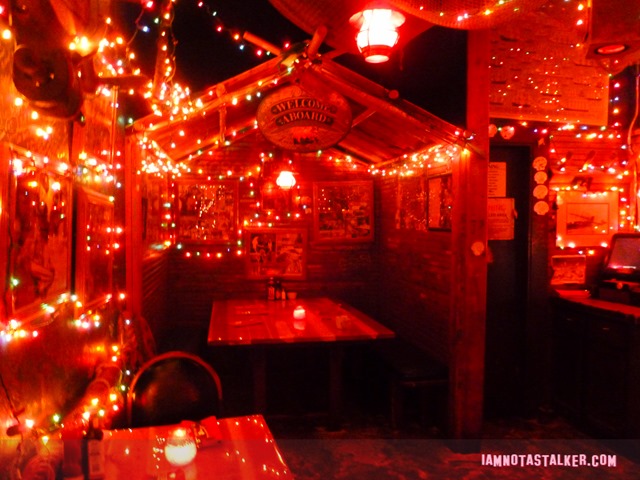 The Galley also features a cute back patio area, where patrons can partake of the happy hour and bar menus.  The eatery gets insanely crowded come 5 o'clock (especially on weekends), but, trust me, the long waits are worth it.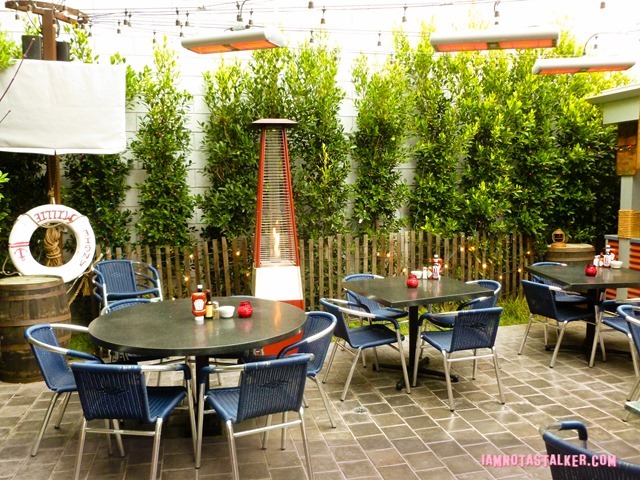 9. Noma Japanese Restaurant & Sushi Bar (2031 Wilshire Boulevard, Santa Monica) – Outside of veggie rolls, I am not at all a fan of sushi, or seafood of any kind for that matter  The GC is, though, and his favorite sushi place in all of L.A. is Noma Japanese Restaurant.  The eatery is tucked inside of a small strip mall in Santa Monica and you could easily drive right by without knowing it was there.  Despite that fact, it is always crowded and the waits can be long, but the food is definitely worth it.  The GC loves sitting at the sushi bar and letting the chefs pick his selections.  He's never been disappointed with any of their choices and claims the place serves some of the best sashimi he's ever had.  While I cannot attest to the raw fish items, I am particularly fond of their Tofu Salad and Gyoza appetizer.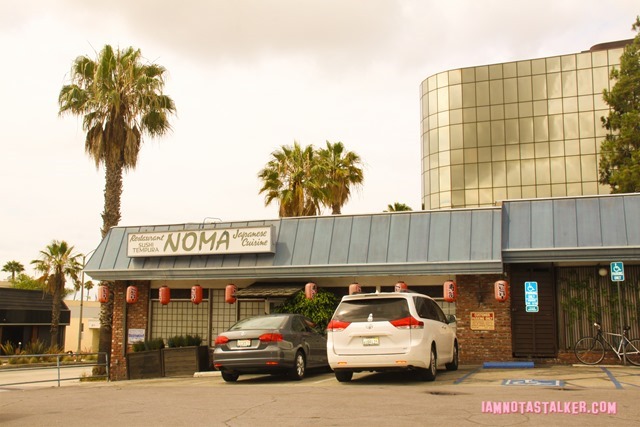 10. Sur Restaurant and Bar (606 North Robertson Avenue, West Hollywood)  – Another one of my favorite ever dining experiences took place at Sur, the eatery featured regularly on the hit Bravo TV series Vanderpump Rules.  I would recommend the place to both VP fans and non-fans alike.  The food is exceptional (the Crispy Chicken Breast is TO DIE FOR), the prices shocking reasonable, the décor stunning and the atmosphere fun.  Add to all that the fact that the Vanderpump Rules cast actually works at the restaurant and poses for pictures with fans, and you have one of the most unique dining experiences in L.A.  I ate there with my good friends Kim, Katie, Lavonna and Kaylee for my birthday last year and we had a blast.  You can read about our experience here.  A blogger I regularly follow (who I won't name) recently dined at Sur and described it as "meh," which had me seriously rethinking ever visiting her site again.  I mean, if she doesn't like Sur, how can I ever take any of her other opinions seriously?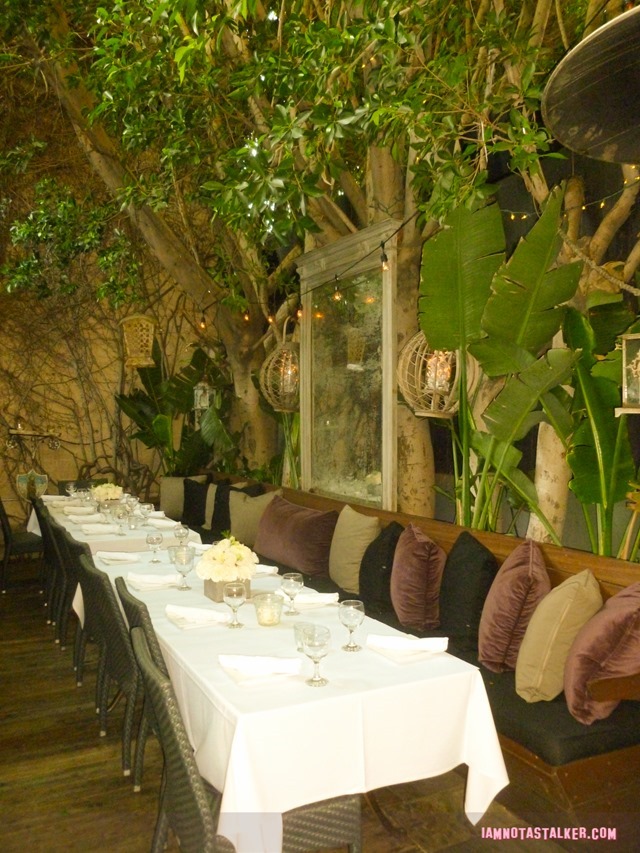 11. The Old Place (29983 Mulholland Highway, Agoura Hills) – The Old Place is situated inside of a wood-paneled structure originally built in 1914 that once housed the Cornell Post Office and Country Store.  A local couple named Tom and Barbara Runyon established a restaurant on the site in 1970, offering only two meal items – hand-carved steak and steamed littleneck clams.  Tom and Barbara's son took over the eatery in 2009 and re-vamped the menu, adding numerous delicacies of the comfort food variety, but left the interior of the 40-seat site pretty much untouched.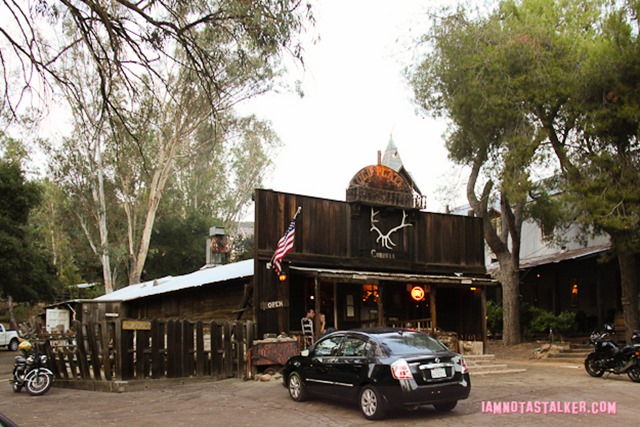 To say that the place is unique would be a vast understatement.  Tom created the restaurant's booths out of actual doors which once hung in a San Francisco hotel, the columns located at the end of each booth originally stood in the Santa Barbara Mission, and the bench at the 30-foot antique bar was fashioned from an actual wooden diving board.  The food is also some of the best I've ever had and the wine list is fabulous.  Be forewarned, though, the eatery is tiny (5 booths, 3 tables and a bar) and waits are long, but oh-so worth it!  While waiting for a table, you can peruse the selection at the Cornell Winery & Tasting Room, which is located next door.   (The Old Place is closed Mondays, Tuesdays and Wednesdays, so plan accordingly.)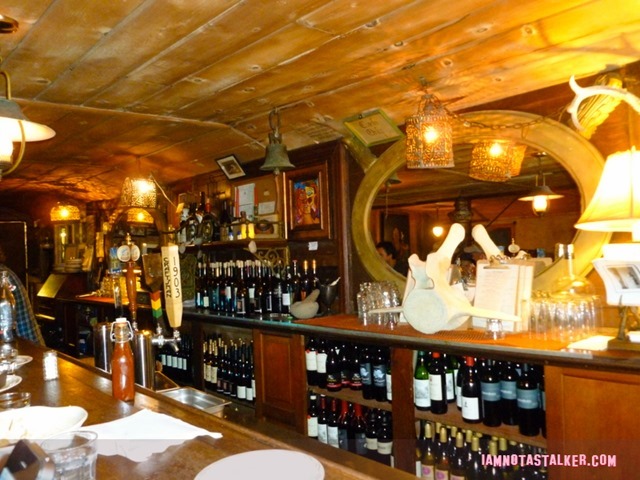 12. Malibu Café (327 Latigo Canyon Road, Malibu) – Another spot where dining is an experience!  To call Malibu Café a restaurant, though, would be doing it a disservice.  Don't get me wrong, the "Nouveau Barbeque-style" fare is downright delicious, but the outdoor eatery (and yes, that's one of the seating areas pictured below – isn't it divine?) has so much more to offer than just food.
Malibu Café sits in the middle of the sprawling Calamigos Ranch, which was originally established in 1947.  Restaurant patrons are able to wander the picturesque 120-acre property, much of which has appeared onscreen in the countless movies and television shows that have been filmed onsite.  The eatery also features waterways, live music, games for children and adults (billiards, anyone?), and paddle and pedal boat rentals.  It is the perfect spot to relax with a glass of rosé on a warm afternoon.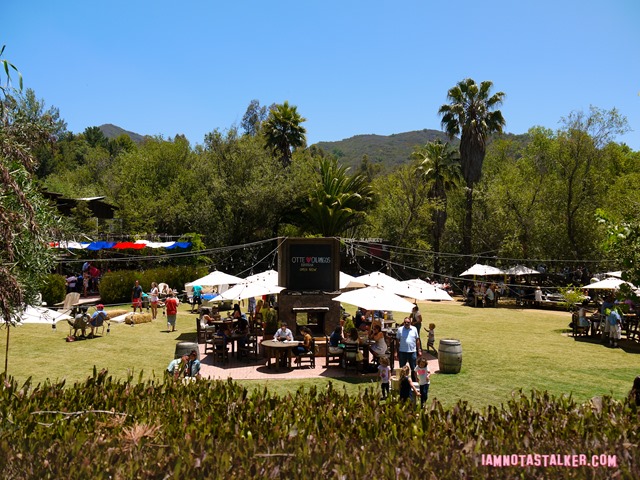 13. Russell's (30 North Fair Oaks Avenue, Pasadena) – I am not a breakfast person.  It may be the most important meal of the day, but I can always be counted on to skip it.  Just give me a Starbucks iced latte first thing in the morning and I am good to go!  My mom absolutely LOVES breakfast, though, and I figure some of my fellow stalkers do, too, so I would be remiss if I did not include Russell's on this list.  The tiny eatery, which was originally established in 1930, is my mom's absolute favorite spot in the world for breakfast.  If we are anywhere in the vicinity of Pasadena and do not make it to Russell's for breakfast, it is not going to be a good day for her.  While the eatery does serve a fabulous lunch and dinner (it is especially known for its burgers), it is the morning meals that most people rave about and that websites constantly tout as the best breakfast in town.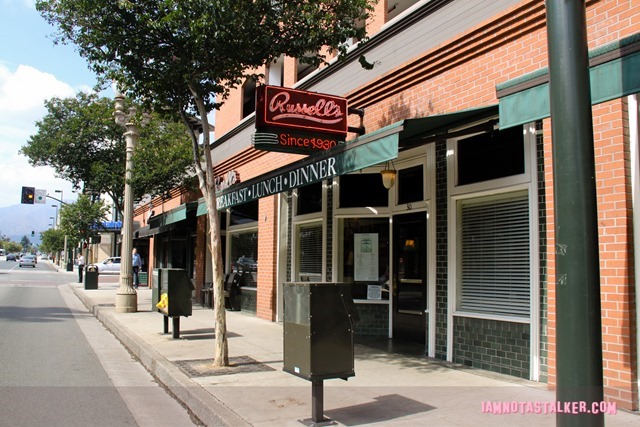 14. The SmokeHouse Restaurant (4420 Lakeside Drive, Burbank) – One of L.A.'s oldest eateries, The SmokeHouse was originally established in 1946.  It moved to its current location in 1949 and very little of it has been altered since.  The dimly-lit, red-boothed restaurant evokes the aura of Old Hollywood.  It is exactly the type of place I'd imagine Frank Sinatra and Sammy Davis Jr. sipping martinis in during the heyday of Tinseltown.
The SmokeHouse serves up old school hearty classics (which is my preferred fare) such as Beef Stroganoff, Tournedos of Beef, Creamed Spinach with Bacon, and Barbequed Baby Back Ribs.  The meals are fabulous and the servings huge.  We are such fans of the place that we even ate Christmas dinner there one year.  Thanks to its proximity to the studios (Warner Bros. is right across the street), countless celebrities have also been known to drop in (George Clooney is such a fan he named his production company Smoke House Pictures), so be sure to keep your eyes peeled if you dine there.  And I cannot more highly recommend partaking of "The World's Greatest Garlic Bread."  It's delicious!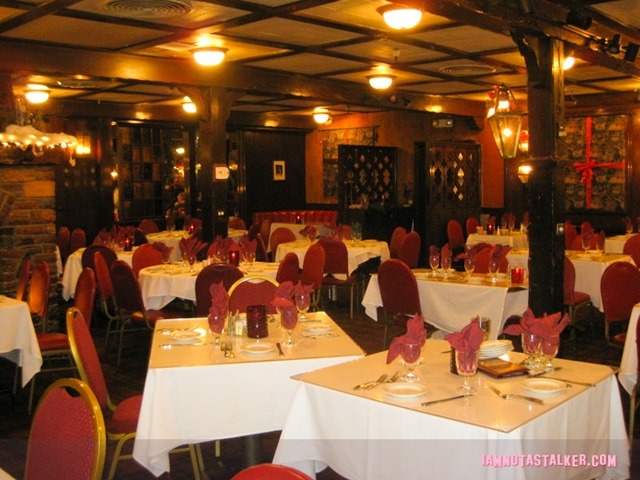 15. James' Beach (60 North Venice Boulevard, Venice) – In the 2009 comedy I Love You, Man, Sydney Fife (Jason Segel) declares that the Grilled Mahi Mahi Tacos served at James' Beach are "the best fish tacos in the world."  And while I have not sampled the fish version (as I said, I am not into seafood), I can attest to the fact that the Grilled Tofu and Half Rotisserie Shelton's Chicken versions are some of the best tacos I have ever tasted.  The Venice Beach eatery, which was established in 1996, serves up a wide array of what they call "Modern American Comfort Food" and pretty much everything on the menu is fabulous.  The vibe is casual and laid-back and the outside patio area is a favorite with celebrities.  This is my go-to Venice Beach spot.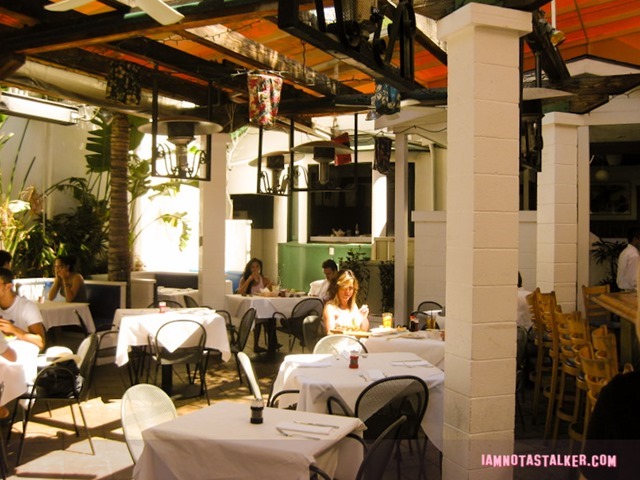 16. The Original Farmers Market (6333 West 3rd Street, Fairfax) – One of L.A.'s most famous and popular landmarks, The Original Farmers Market was conceived by businessmen Roger Dahlhjelm and Fred Beck who proposed establishing an outdoor marketplace on 30 acres of vacant land owned by oil tycoon Earl Bell Gilmore.  Their vision became a reality in July 1934 when a dozen or so farmers showed up and sold goods out of the backs of their trucks.  The market became so popular that permanent stalls were erected just a few months later.  Today, The Original Famers Market is an L.A. institution, housing over 70 permanent stalls comprised of shops, restaurants, bakeries, specialty grocery stores, meat and fish counters, and produce stands, employing more than 700 clerks, and serving up over 16 different varieties of native foods to an average of 3 million yearly visitors!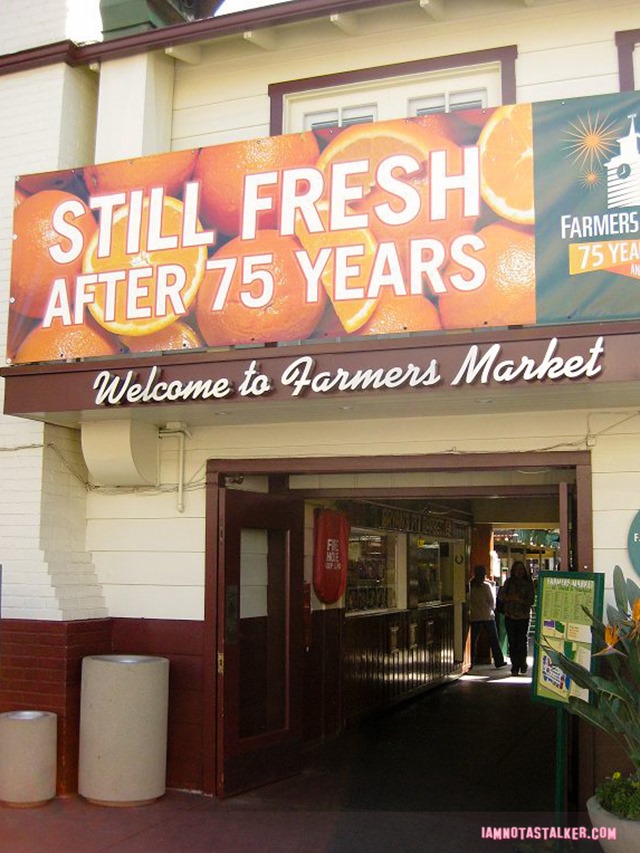 You can literally find any food item at The Original Farmers Market (from French cuisine to Chinese specialties to freshly made doughnuts) and it is one of the best spots to grab a meal if you're with a large group because there's something for everyone.  The best part of all?  The market is a big time celebrity hot spot.  The Los Angeles Times even declared it one of the top ten places to see stars in L.A.  They're right.  I've never gone there and not seen a celeb.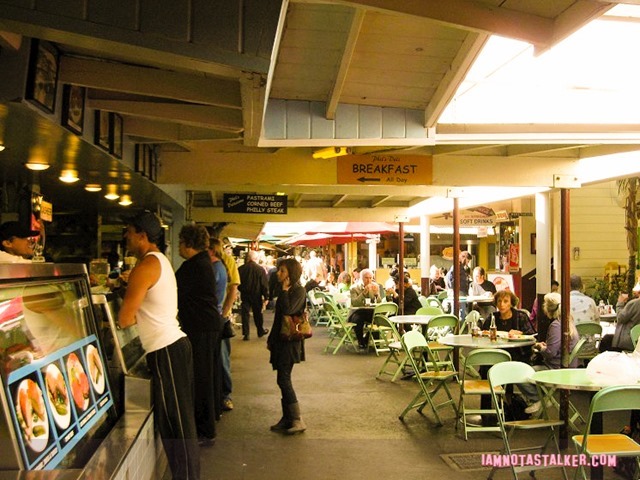 17. Taverna Tony (23410 Civic Center Way, Malibu) – This restaurant doesn't just serve some of L.A.'s best Greek food, but some of L.A.'s best food in general.  While there are healthy items on the menu, this is the type of place where I would suggest tossing all dietary concerns out the window.  If you're going to cheat, this is the spot to do it – and might I suggest doing it with the Flaming Saganaki Cheese appetizer.  It is not hyperbole to say it may be the best thing I've ever eaten in my life.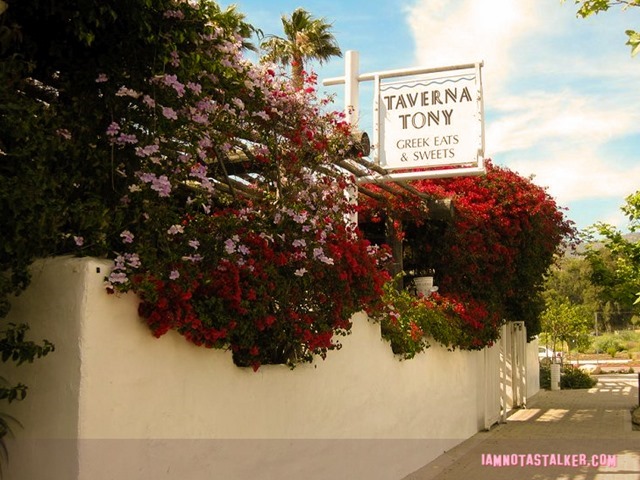 Other bonuses – the prices at Taverna Tony are shockingly reasonable especially considering the location (it's situated inside the Malibu Country Mart), the ambiance is adorable, and the place is such a celeb hot spot that dining there almost guarantees you a star sighting.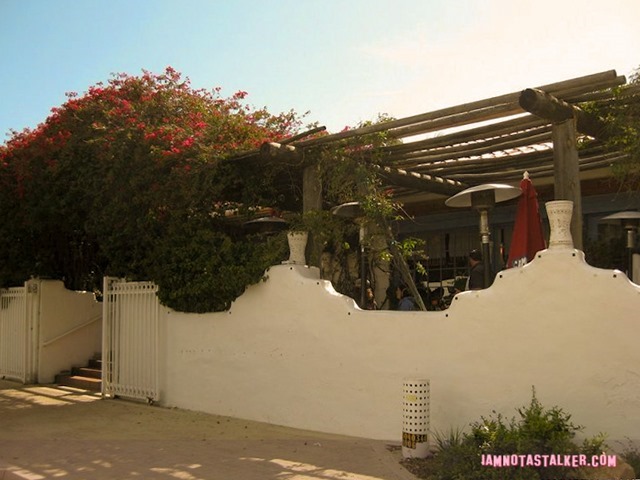 18. Bay Cities Italian Deli & Bakery (1517 Lincoln Boulevard, Santa Monica) – When the GC lived in Santa Monica, this was our go-to deli.  It's not as good as Larchmont Village Wine, Spirits & Cheese, but it's a pretty close second.  I am extremely picky about my deli meat (meat in general, actually) and Bay Cities Italian Deli uses quality slices and carves them thin, which I love.   Bread for the sandwiches is baked fresh daily and while I prefer the Turkey Special, the Godmother (comprised of salami, mortadella, capicola, ham, prosciutto, provolone, mayonnaise, mustard, onions, pickles, tomatoes, lettuce, Italian dressing and hot pepper salad) is the one that most people rave about.  The deli, which was founded in 1925, is housed inside of an absolutely charming little gourmet market that serves specialty cheeses, wine and housewares.  I love walking down the aisles perusing the countless unique finds.  Bay Cities is jam-packed at all times, so be forewarned – if you choose to dine here, you are in for a wait.  And it is closed on Mondays, so plan accordingly.  (Photo via the Bay Cities website)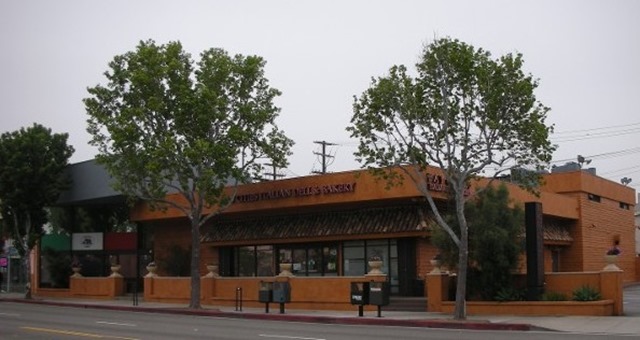 19. Lovebird's Café & Bakery (921 East Colorado Boulevard, Pasadena) – My favorite Pasadena deli, Lovebirds is a spot that I used to visit regularly when I lived in Crown City.  Everything served is made fresh on the premises and while you can't go wrong with the bakery items, soups or salads, the eatery is most well-known for its fabulous sandwiches.  Lovebirds Chicken Salad Sandwich is the best I've ever had (I think it's the unusual addition of grapes that makes the mixture so tasty), but truth be told all of the offerings are great.  The GC changes up his sandwich order pretty much every time we visit and has never been disappointed.  The site serves up some great espresso drinks, as well, and the prices are extremely reasonable.  There are several locations dotted throughout L.A. (including two in Pasadena!), but the one at 921 East Colorado Boulevard in my favorite.  Even Charlie Sheen is a Lovebirds' fan and has been known to stop by the Alhambra outpost.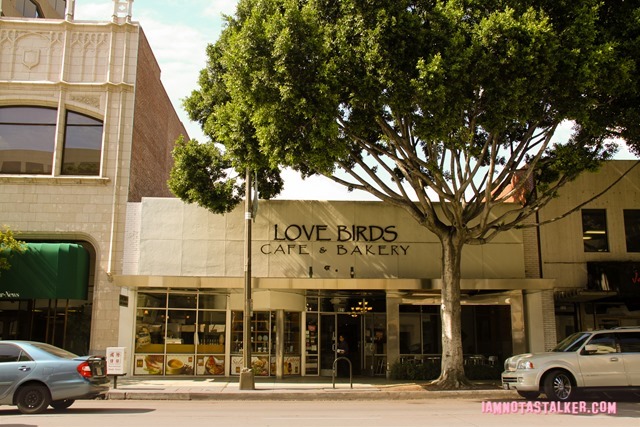 20. Figaro Bistrot (1802 North Vermont Avenue, Los Feliz) – A charming little piece of Paris located right in the heart of Los Feliz.  Figaro Bistrot could not be more adorable with its French-inspired décor, tiny sidewalk bistro sets, gilded mirrors, flower-shaped sconces, zinc-plated bar and Parisian soundtrack.  The setting is nothing short of magical and walking through the doors transports one directly to the City of Light.  Figaro Bistrot also serves up one of the best happy hours in Los Angeles.   The food is fabulous, the prices reasonable, and the ambiance parfait!  There is nothing not to love about this place.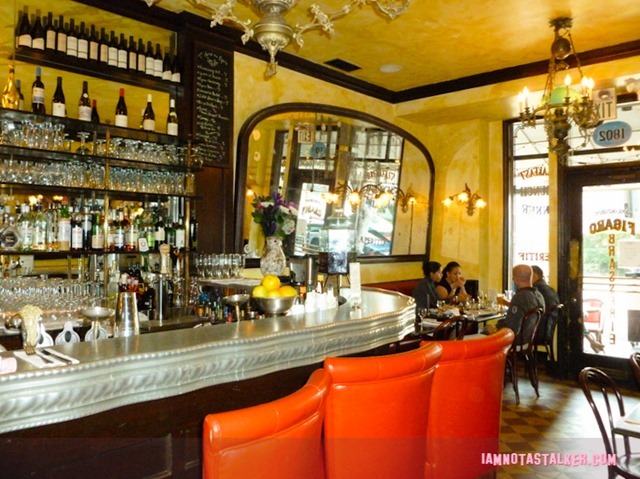 I hope this list brings my fellow stalkers some culinary delight!  I will most likely be adding to/removing from it as time goes by due to the sad fact that restaurants so often close or change.  (Read: the Formosa Café, which was originally on this list.  I even went out to take photographs of it a few months back, but by the time I sat down to write this post, I learned that the historic 90-year-old property had been extensively remodeled and that the results were horrific.  Needless to say, I had to nix it, which is sad as it used to be one of my favorite spots.)  So check back regularly for new updates.
Be sure to check out yesterday's post about my L.A. hotel recommendations if you haven't yet.
91166