Groman Eden Mortuary from "Don't Tell Mom the Babysitter's Dead"
Oct 9th, 2015 | By
Lindsay
| Category:
Haunted Hollywood
,
Movie Locations
Never in a million years did I think that the 1991 comedy Don't Tell Mom the Babysitter's Dead, one of my all-time favorite movies, would provide me with a Haunted Hollywood posting, but it did!  In July 2014, a reader named Frank Vollhardt wrote a comment on my post about the DTMTBD house alerting me to the location of the mortuary featured in the flick.  Because the morgue scene was rather brief, until reading his comment, I had completely forgotten about it.  So thank you, Frank!  I immediately added the place, Groman Eden Mortuary in Mission Hills, to my To-Stalk list, but somehow did not make it out there until just recently.
Groman Eden Mortuary, or Eden Memorial Park as it is also known, was originally established in 1954.  The 67-acre site is one of the largest Jewish cemeteries in the U.S.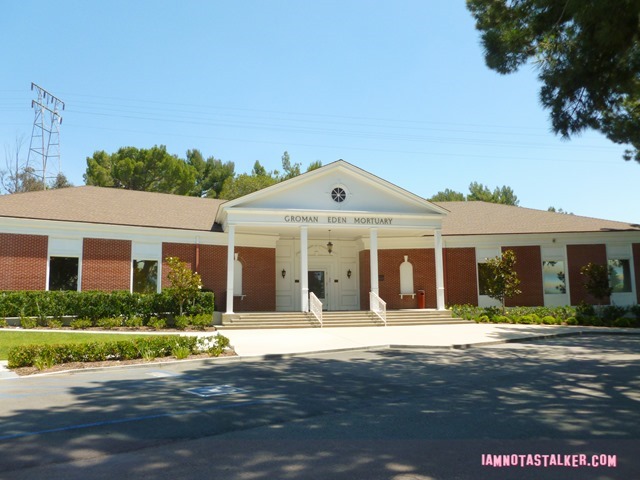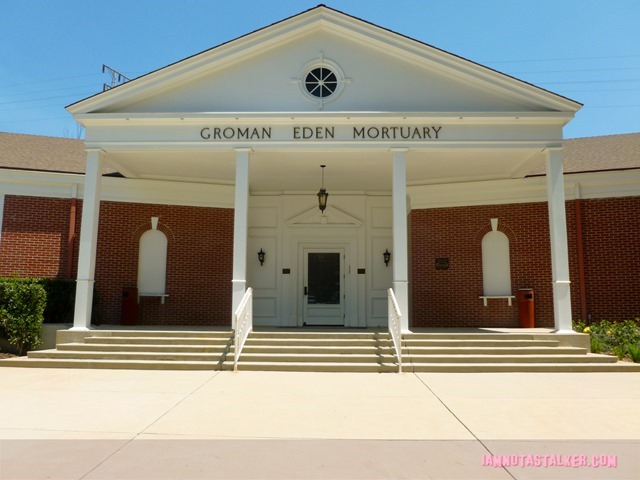 Though the setting is quite beautiful (as far as cemeteries go), Groman Eden has reportedly been the site of some very dark deeds.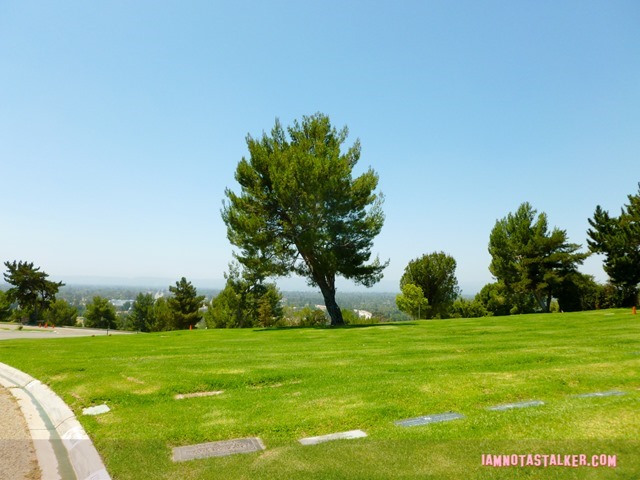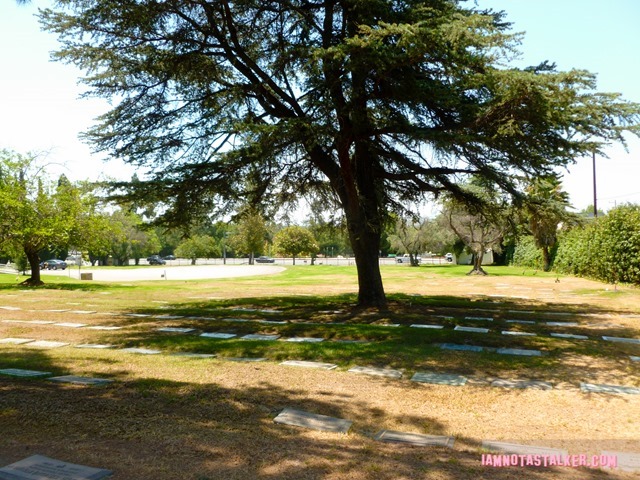 Quite a few famous souls are buried or entombed at Eden Memorial Park, including comedian Lenny Bruce, The Three Stooges' Phil Arnold, Laverne & Shirley's Phil Foster, Howard Caine and Jon Cedar from Hogan's Heroes, The Knack's Bruce Gary, and musician Fred Katz.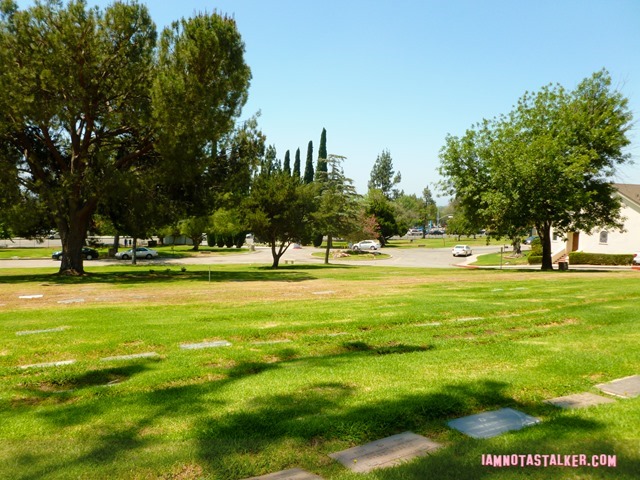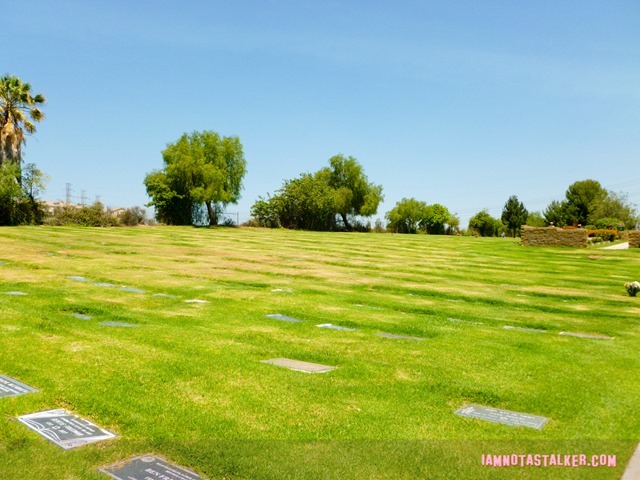 Legendary funnyman Groucho Marx has been entombed there since his death in 1977 – well, sort of.  In a rather chilling (and absolutely bizarre) turn of events, the comedian's ashes were stolen from the cemetery on May 12th, 1982 and then found later that same night about twelve miles away on the steps of the administration building of Mount Sinai Memorial Park in the Hollywood Hills.  The ashes were quickly returned to Eden Memorial, where they remain today, but the culprit was never found.  According to lore, scrape marks from the screw driver used to remove the ashes are still visible on the exterior of Groucho's niche, which you can see a photograph of here.  While there are noticeable marks in the lower portion of the placard bearing his name, whether they are actually from the 1982 robbery is anyone's guess.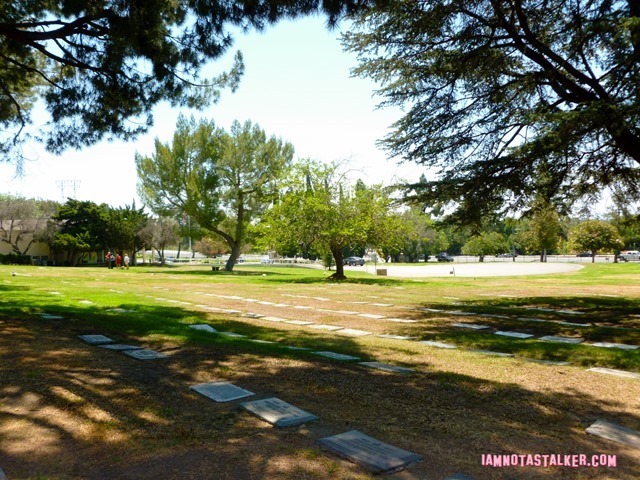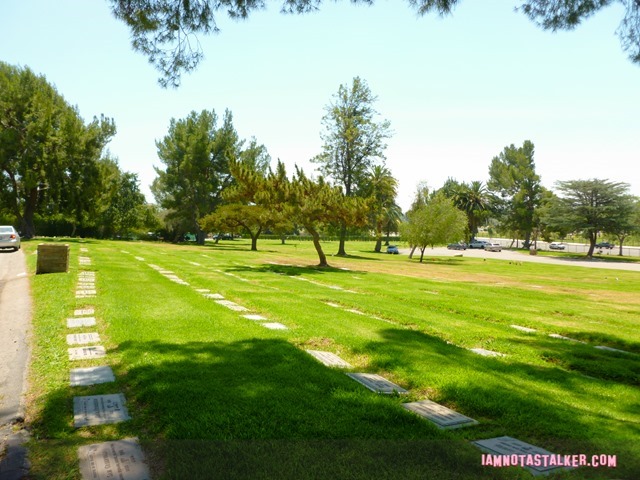 The columbarium where Groucho is entombed, which is pictured below, is located in the southern portion of the cemetery.  You can find more precise information on where to find his niche here.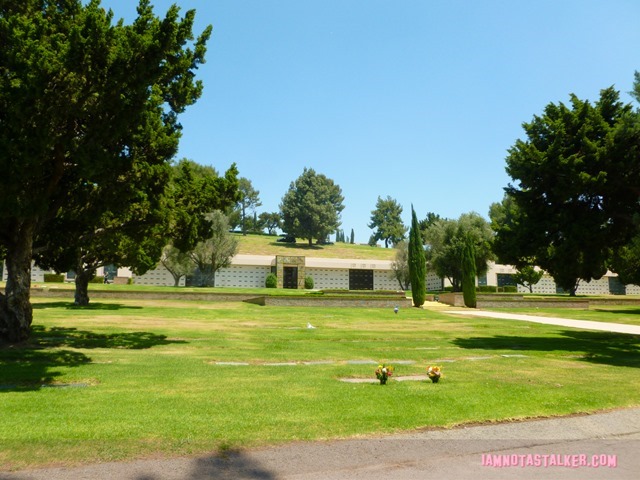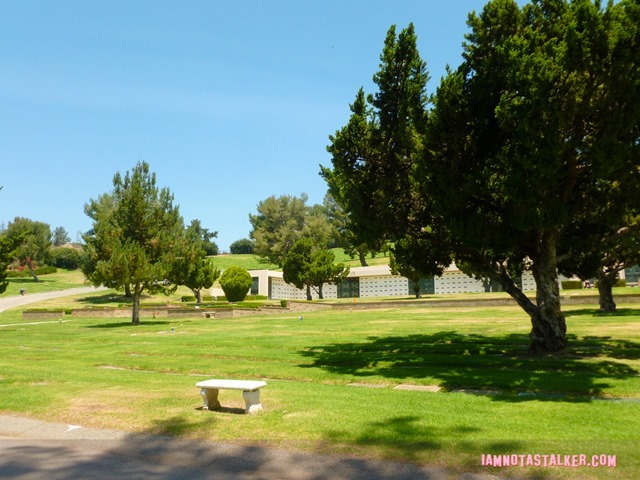 When Sue Ellen Crandell (Christina Applegate), Kenny Crandell (Keith Coogan), and their siblings discover that their babysitter, Mrs. Sturak (Eda Reiss Merin), has passed away in Don't Tell Mom the Babysitter's Dead, they decide to place her in a chest and drop her off at a local mortuary with a note saying, "Nice old lady inside.  Died of natural causes."  As you can see below, Groman Eden Mortuary's real name was shown in the scene.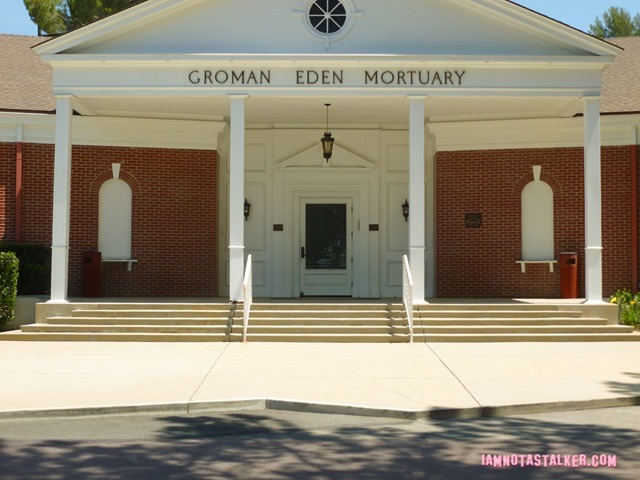 Aside from the entrance changing from a double to a single door, the building featured in the scene looks pretty much exactly the same today as it did when Don't Tell Mom was shot over 24 years ago.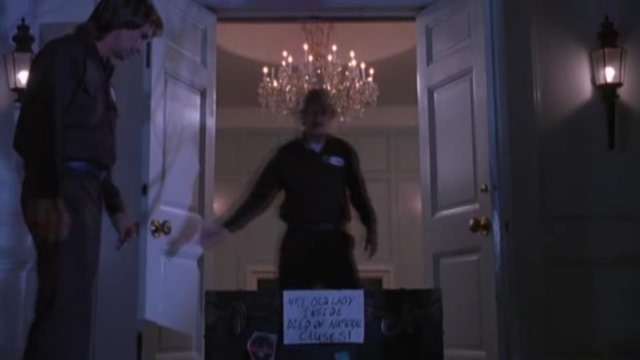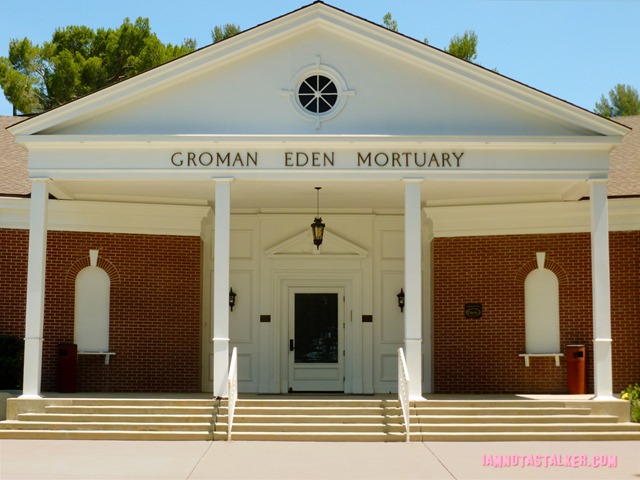 The gate shown in the movie is not the cemetery's main gate on Rinaldi Street, but the side gate located on Sepulveda Boulevard, which is pictured below.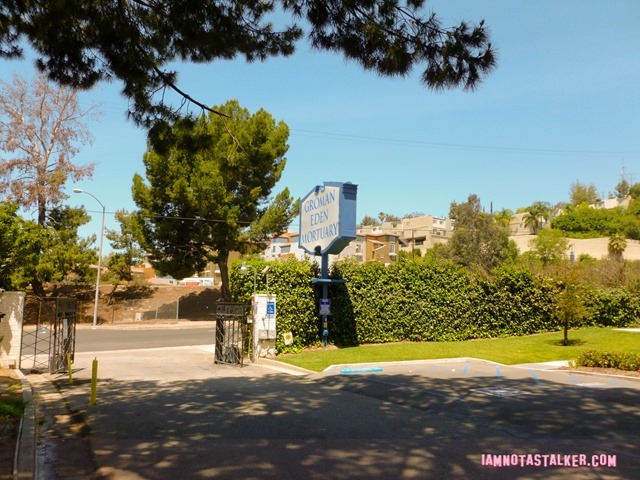 I failed to snap a photo of the gate taken from the same angle that appeared in Don't Tell Mom, but you can see a matching Google Street View image below.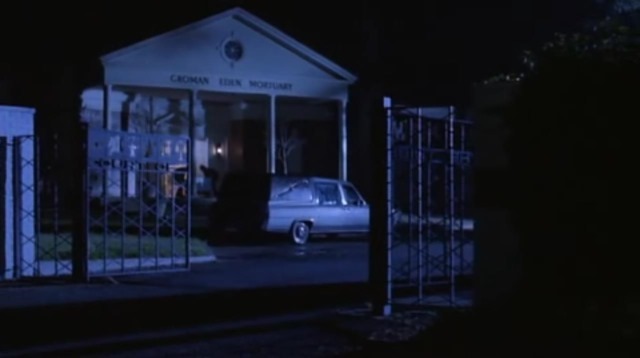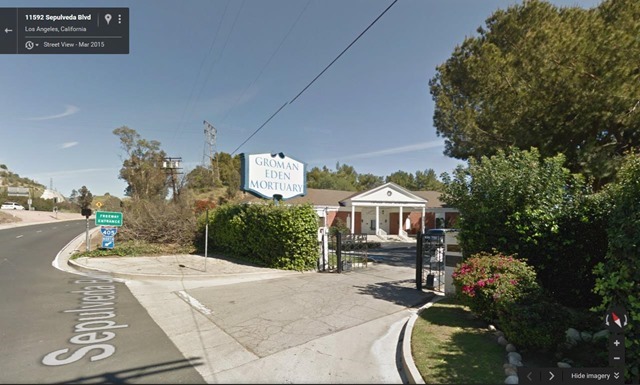 While I would have guessed that Don't Tell Mom the Babysitter's Dead's closing scene, in which the mortuary workers (played by Robert F. Newmyer and Brian Reilly, both of whom served as producers on the movie and both of whom have, sadly, since passed away) pay their respects to the "Nice Old Lady," also took place at Eden Memorial Park, I have it on good authority that that is not the case.  According to Keith Coogan, who just so happens to be married to my friend Pinky Lovejoy, of the Thinking Pink blog, that segment was shot at a park on Temescal Canyon Road, in between Sunset Boulevard and the Pacific Coast Highway, in Pacific Palisades.   I have not tried to pinpoint the exact spot where the scene was lensed yet, but will do so in the near future.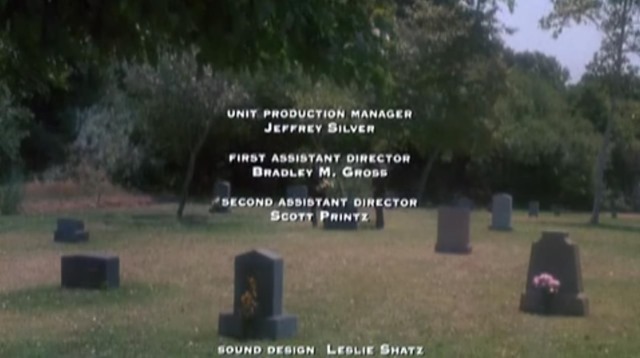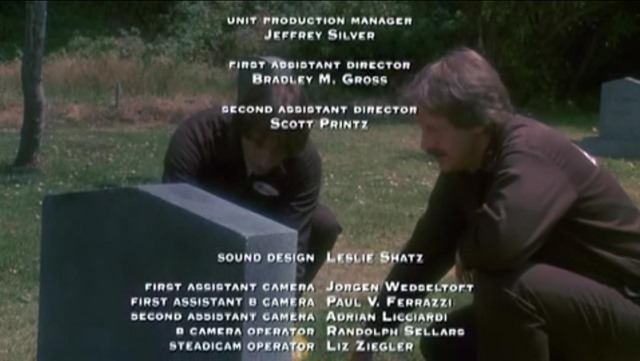 For more stalking fun, follow me on Facebook, Twitter, Instagram, Los Angeles magazine and Discover Los Angeles.
Big THANK YOU to fellow stalker Frank Vollhardt for telling me about this location!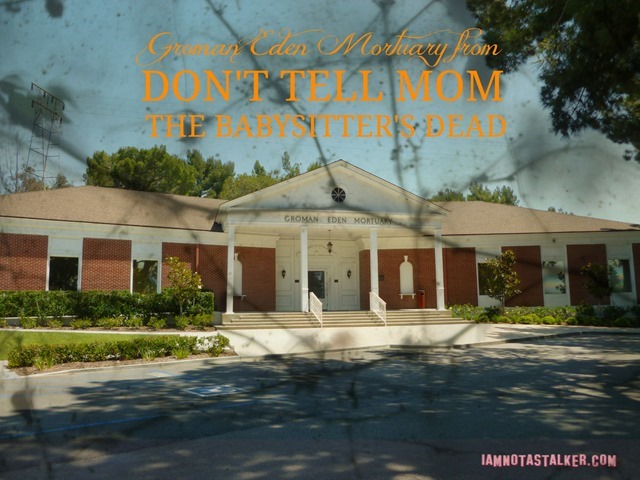 Until next time, Happy Stalking! 

Stalk It: Groman Eden Mortuary, from Don't Tell Mom the Babysitter's Dead, is located at 11500 Sepulveda Boulevard in Mission Hills.  The gate and building used in the filming are denoted with orange arrows in the aerial view pictured below.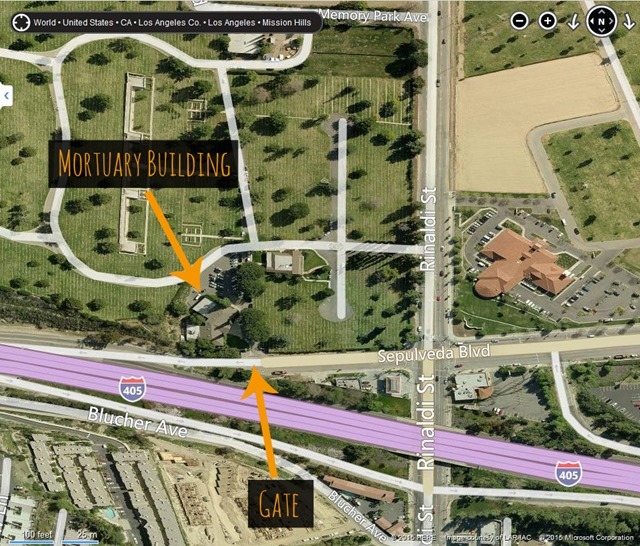 92320