Westfield Culver City from "Girls Just Want to Have Fun"
Nov 24th, 2015 | By
Lindsay
| Category:
Movie Locations
Some filming locations are maddeningly elusive.  One that remained a thorn in my side for ages was the mall where Janey Glenn (Sarah Jessica Parker) and Lynne Stone (Helen Hunt) shopped in Girls Just Want to Have Fun, which, for those who haven't been paying attention over the years, is one of my all-time favorite movies.  Thanks to some help from my friends Owen, from the When Write Is Wrong blog, and Michael, of The Brady Bunch's Golden Spoon fame, I was finally able to stalk the place this past August.  As it turns out, the Girls Just Want to Have Fun Mall is none other than Westfield Culver City, aka the former Fox Hills Mall.  The road to finding it was quite a long one, though.
Westfield Culver City was originally established as the Fox Hills Mall in 1975.  The complex, which was designed by the Gruen Associates architecture firm, was Los Angeles' first tri-level indoor shopping center.  The site has undergone several name changes and remodels over the years and currently looks a bit different than it did during the Girls Just Want to Have Fun days, though some recognizable elements still exist.  Besides its many appearances on the silver screen, the mall boasts another claim to fame – it was at Fox Hills that Gary Coleman famously worked as a security guard in the '90s.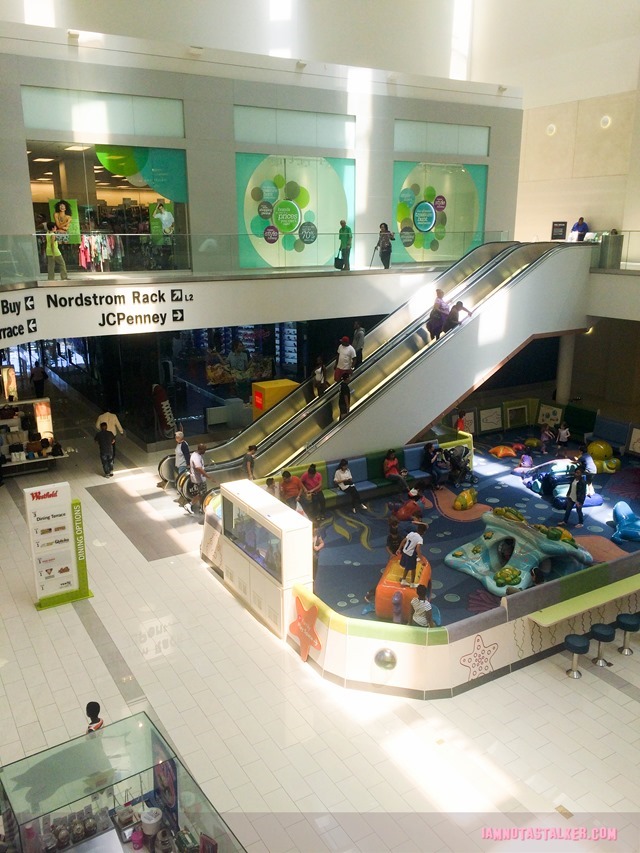 In Girls Just Want to Have Fun, Janey and Lynne are shown hanging out in what is a supposed Chicago-area shopping mall.  While there, they happen upon the DTV cast doing an autograph signing;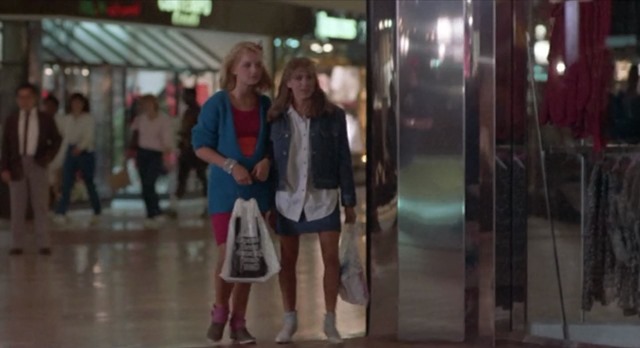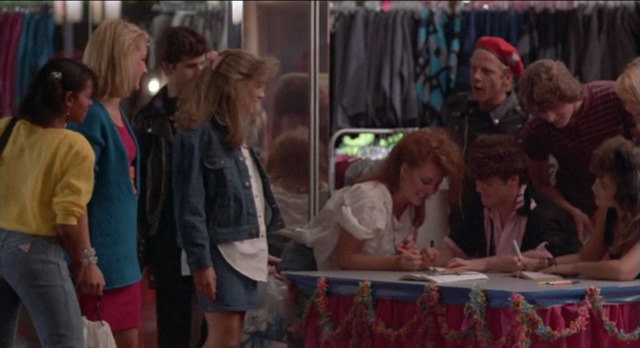 they act goofy by riding an escalator the wrong way;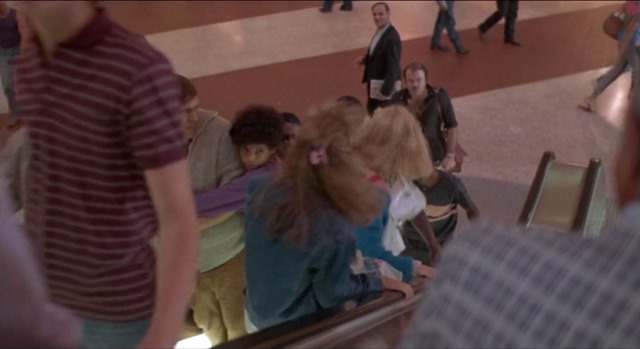 and they run into Maggie Malene (Shannen Doherty) and Drew Boreman (Jonathan Silverman), who is getting fitted for a tux.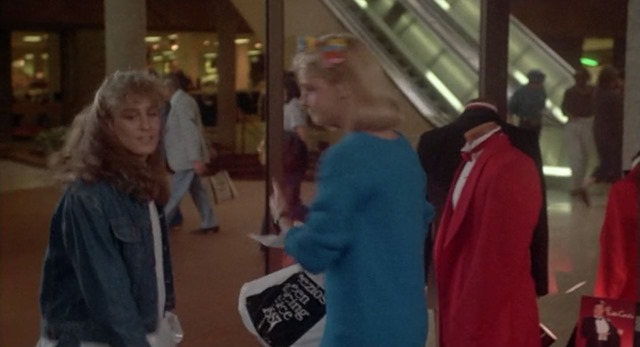 Maggie happens to mention that Drew is renting the tux for Natalie Sands' (Holly Gagnier) debutante ball which is taking place later that evening.  (I blogged about the ball scene location here.)  Since Janey and Lynne are seeking revenge on Natalie for numerous past wrongs, they decide to steal Drew's invitation and make copies of it at the mall's Big Red Q Quickprint Centers, which they then proceed to pass out to various miscreants on Melrose Avenue.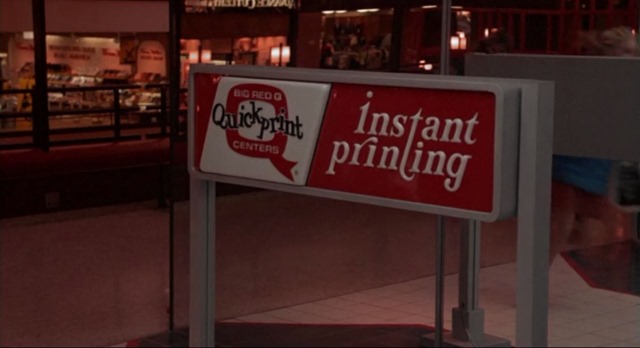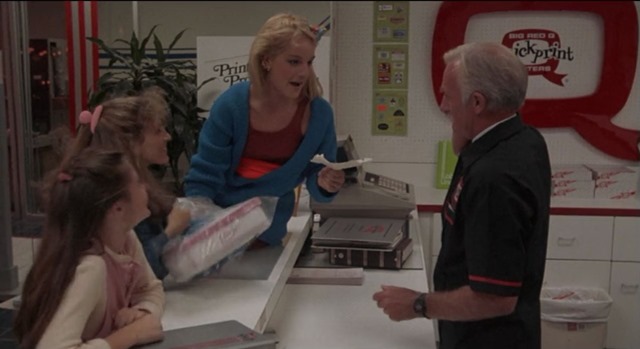 Back in April, I sent some screen captures of the Girls Just Want to Have Fun mall scene to Owen to see if the complex looked familiar to him.  It didn't, but he kindly decided to help with my quest.  He scoured Google images of Los Angeles-area shopping centers and while looking at photos of Westfield Culver City, spotted some elements that matched what appeared in my screen grabs, most notably the escalators.  He then did a search to see if anything had been filmed at the mall during the same time period as GJWTHF and saw on Chas' It'sFilmedThere site that The Boys Next Door had been shot on the premises the very same year!  In one of the screen caps featured on Chas' site (pictured below), he noticed the same diagonal red-striped flooring that was visible in GJWTHF and was pretty sure he had nailed the right spot.  As always, we wanted further proof, though.  (The huge red staircase visible in the screen capture below was a focal point of Fox Hills' original design.  The shiny glass-and-steel structure rose from the mall's bottom level to the top.  Sadly, it was removed during Westfield's latest remodel in 2009.)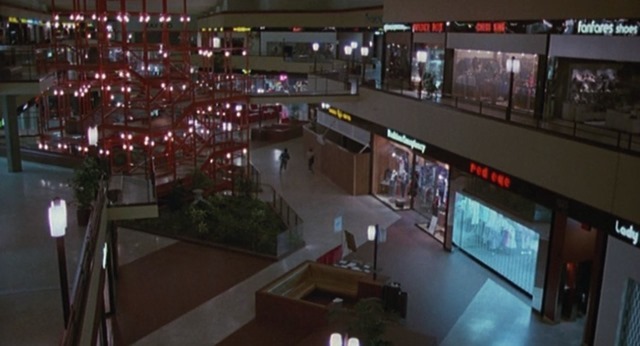 At around that same time, Michael had tracked down a mall that appeared in an episode of The Brady Bunch.  He mentioned his hunt to me and how he had utilized a Shopping Mall Directory from the '70s that he found in his local library during his search.  While watching the GJWTHF scene, I had identified the signage of three stores in the background – Advance Cutlery, Contempo Casuals and Thom McAn.  I asked Michael if he wouldn't mind looking at an '80s version of the directory to see which L.A.-area malls housed those three stores.  A couple of days later, he came back to me with an answer – Fox Hills was the only mall with a listing for all three!  Eureka!  (Though Big Red Q Quickprint Centers is, in fact, a real company, Michael could not find a listing for one at any L.A. mall, so we believe that its appearance in GJWTHF was a matter of product placement.)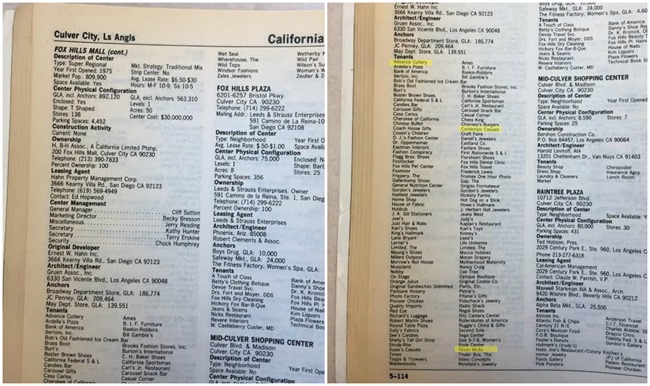 Not only did Michael search the directory for me, though, but he also went above and beyond in further determining that Fox Hills was the correct spot.  Because The Boys Next Door was lensed the same year as Girls Just Want to Have Fun, he thought a viewing of it might provide further ratification.  And it did!  Michael rented the flick via Amazon and was able to confirm with 100% certainty that Fox Hills was indeed the GJWTHF mall.  At the end of The Boys Next Door, Roy Alston (Maxwell Caulfield) and Bo Richards (Charlie Sheen) are chased into Fox Hills by the police.  During the chase, they pass by a Gingiss store.  Anyone who lived through the '80s and '90s is familiar with Gingiss.  Growing up, it was THE place to rent tuxes come prom season.  It has since been sold to May Department Stores and is no longer a mall staple, though.  Michael recognized the Gingiss storefront from The Boys Next Door as being the same formalwear shop featured in Girls Just Want to Have Fun.  As he explained, "The weird floor stripe runs into the shop in the same part of the entrance as GJWHF.  The store carpet is the same color, and there's a similar riser in the window.  And, there's even the same(!) bright red tuxedo jacket in the corner of the window and metal light on the other corner of the riser."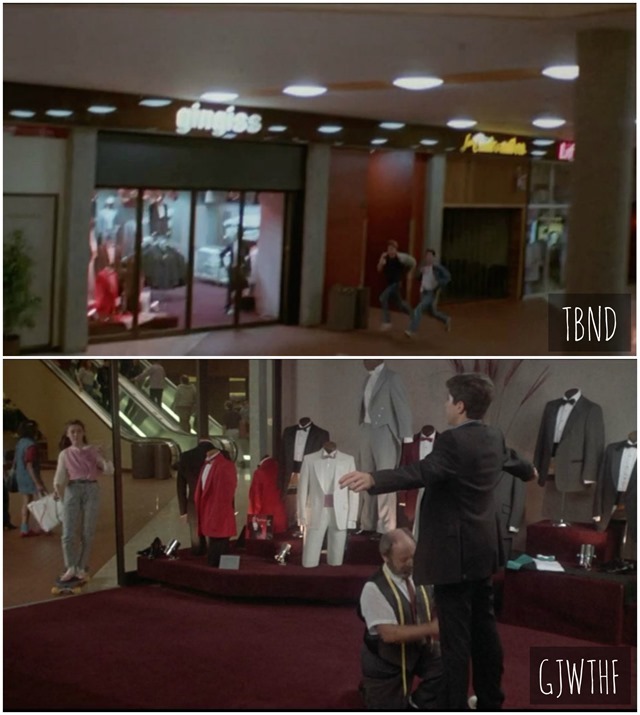 Michael then did a Google search for "Gingiss Formalwear" and came across the company's logo and made another connection.  As he said, "You'll recognize their stylized 'I' from the back wall in GJWHF."  You can check out an old image of a Gingiss store in Florida here in which that same large man-shaped-like-an-I placard is visible on the back wall.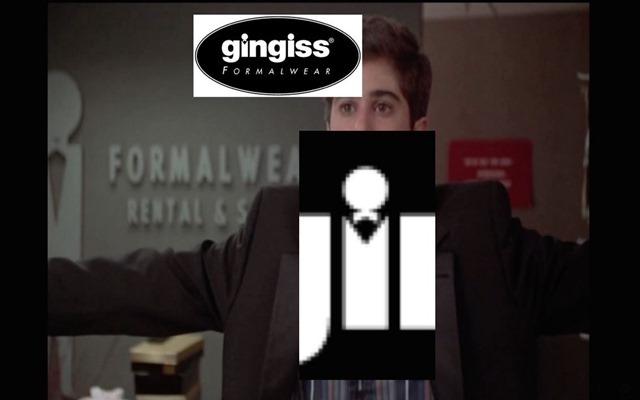 As if that wasn't enough, Michael kept digging and found further proof!  In another email, he stated, "Since that just about confirms it, it's probably not necessary to point out the other similarities: the structural poles, shiny metal mirror-like paneling all over the mall (as seen in the first few seconds of the GJWHF clip).  And I think you might even be able to see a little bit of the huge red staircase in the GJWHF clip as they're running into the Quickprint."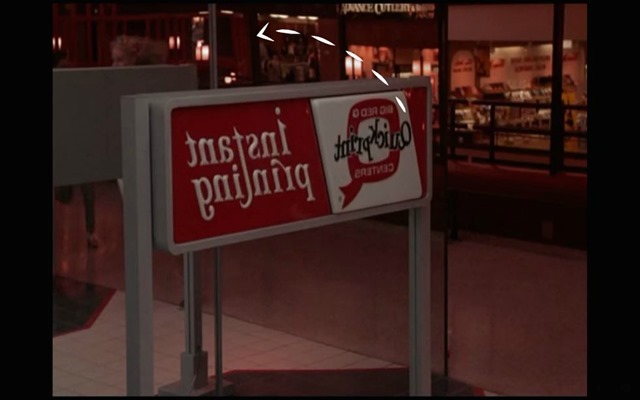 Because I desperately wanted a photo in front of the escalators that SJP and Helen Hunt rode in the movie, Michael did some further investigating.  Like I said, he went above and beyond!  While watching The Boys Next Door, he was able to determine that a Round Table Pizza . . .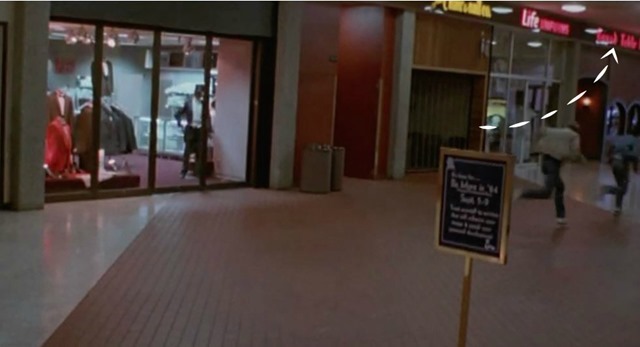 . . . and Regal Shoes were located near Gingiss.  More on them in a minute.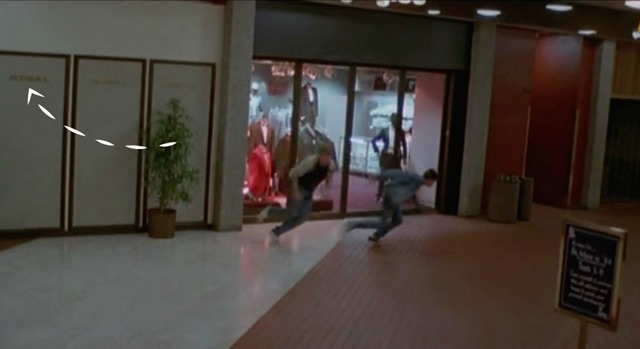 Through my own investigations, I discovered that the movie Nightmares had also done some filming at Fox Hills.  The 1983 flick is actually an anthology of four different horror stories.  The segment shot at Fox Hills is named "Bishop of Battle" and stars Emilio Estevez as video game-obsessed teen J.J. Cooney.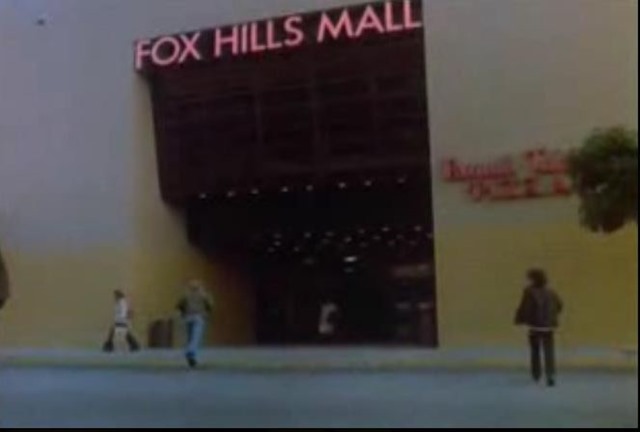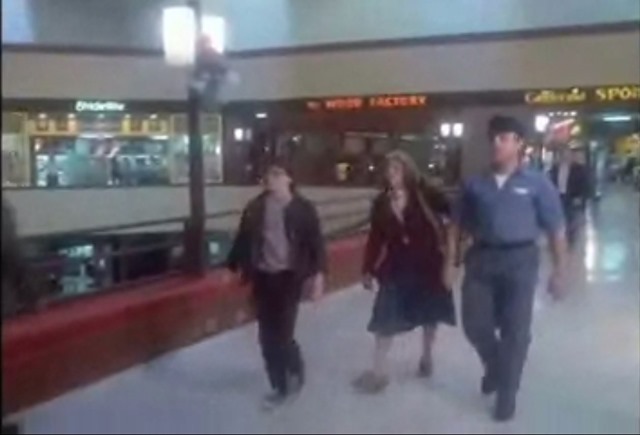 Most of "Bishop of Battle" takes place at the SEGA Center (later renamed Time-Out), an actual arcade that used to be located inside of Fox Hills Mall.  Though Nightmares is not available to stream online or for purchase anywhere, segments of it pop up on YouTube regularly.  While they are taken down almost just as quickly as they appear, Michael was able to watch several clips of it and piece together where the arcade was formerly located.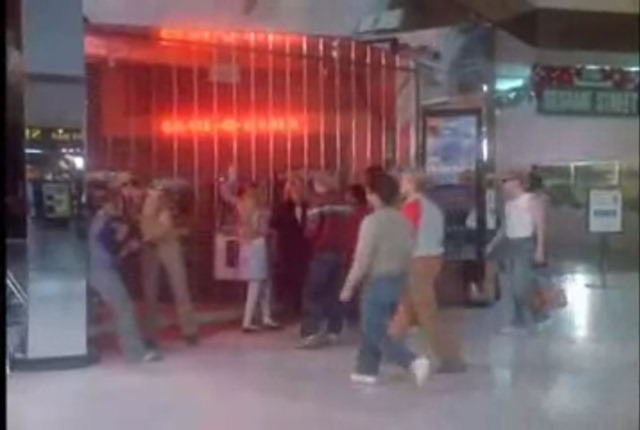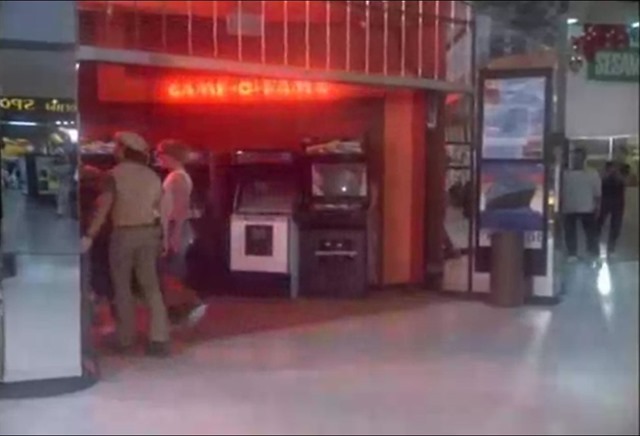 Thanks to its diagonal layout and proximity to a ramp leading to a parking area, Michael determined that the storefront now houses Fast Fix Jewelry and Watch Repairs.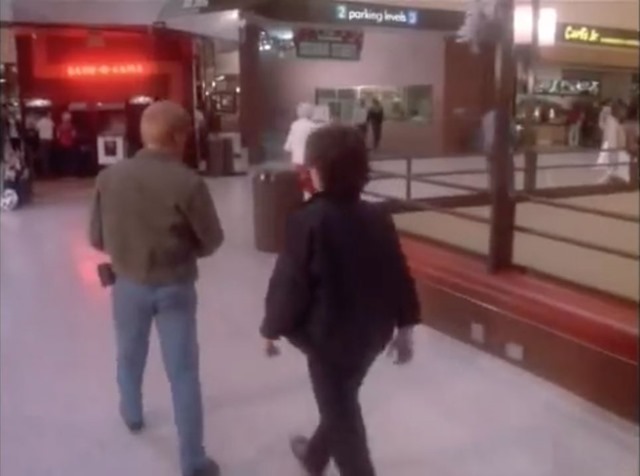 Fast Fix is located on the mall's second level, next door to JCPenny.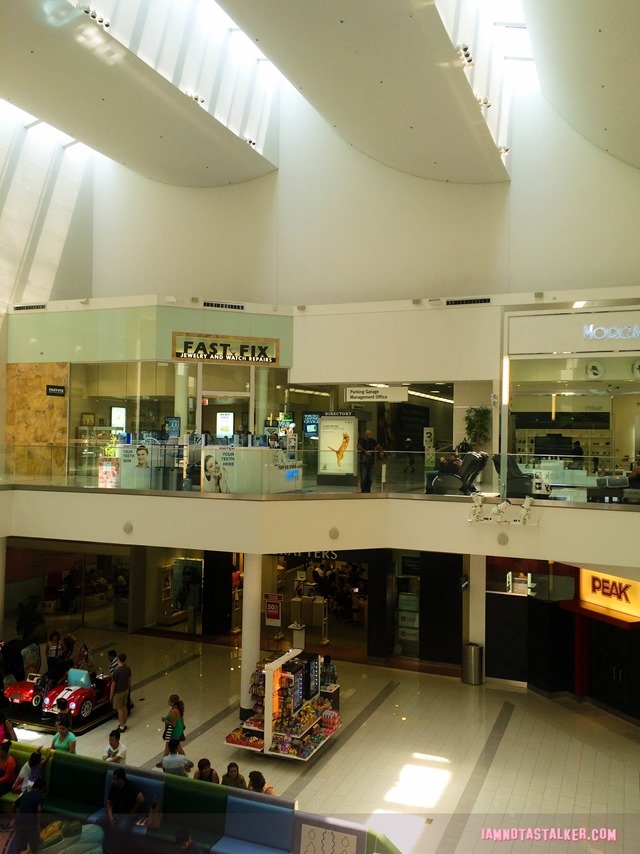 I am unsure if the interior of the Nightmares arcade was a set or if scenes were actually filmed inside of the SEGA Center.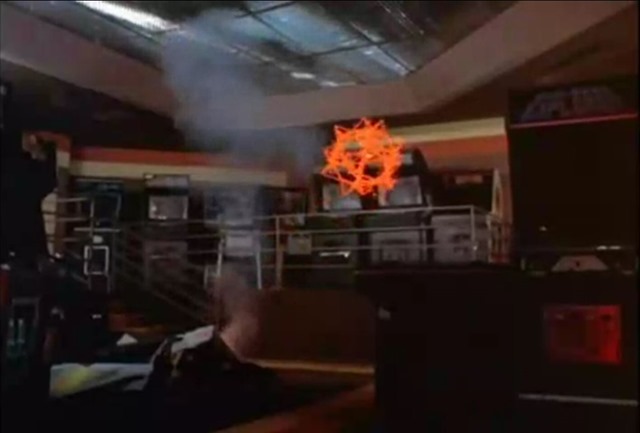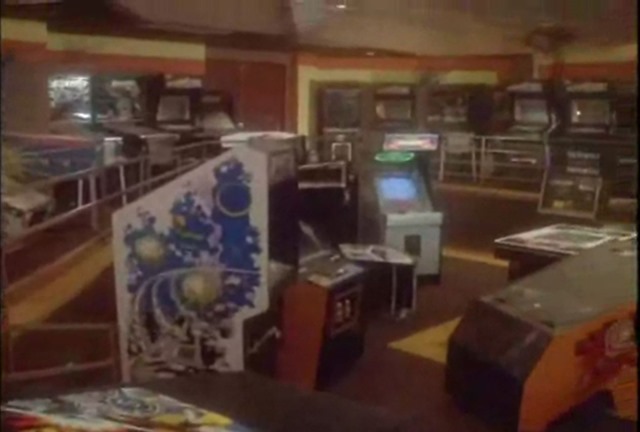 In some other (much less clear) Nightmares clips, Michael spotted the same area from GJWHF pop up.  He then compared the layout of storefronts shown in Nightmares to a current map of Westfield Culver City and was able to figure out not only where the escalator from GJWTHF is, but also the Gingiss store!  As he pointed out in an email, "It looks like Regal Shoes was on a corner."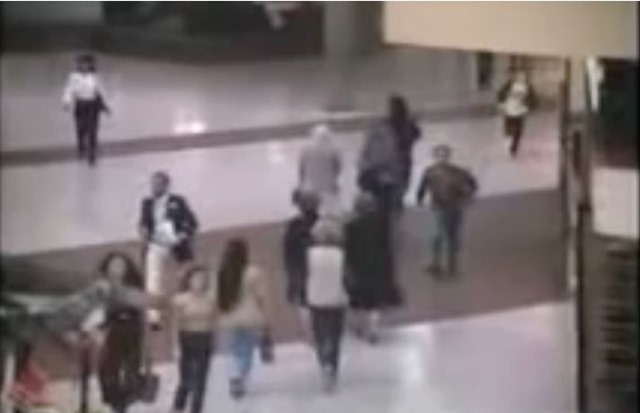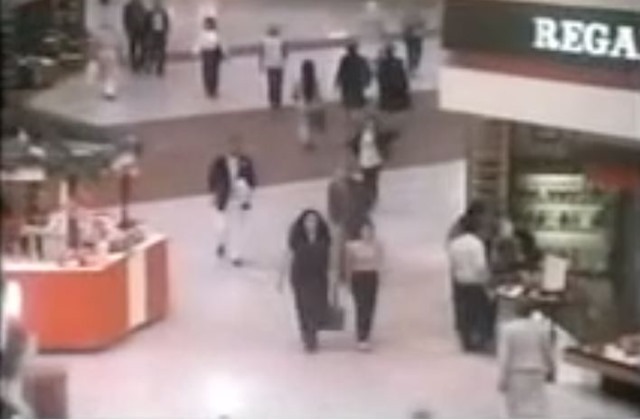 He explained further, "It's hard to say looking at the current-day mall map because it's hard to visualize the escalator placement, but it seems like Gingiss may have been down near JCPenney.  With Regal Shoes being where Zales Jewelers is now (with the distinctive corner), and Gingiss where Love D is.  And Qdoba having been Round Table Pizza.  You'll probably be able to figure things out better in person, but at least it's something to start with."  As it turned out, it was not just something to start with, but was actually spot on!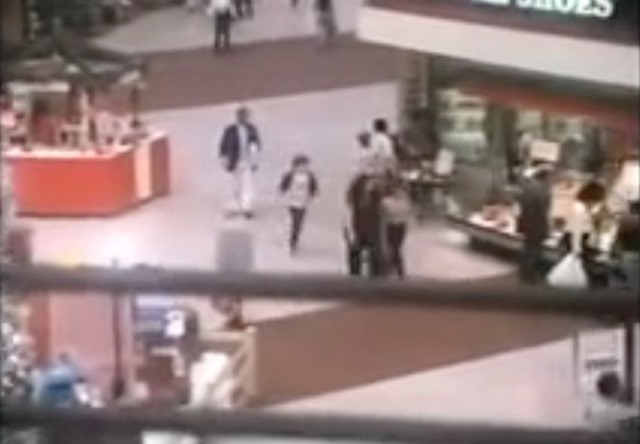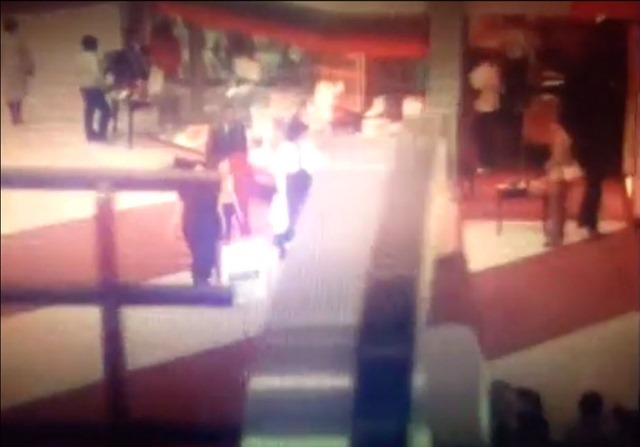 The Gingiss storefront from Girls Just Want to Have Fun does indeed currently house Love D.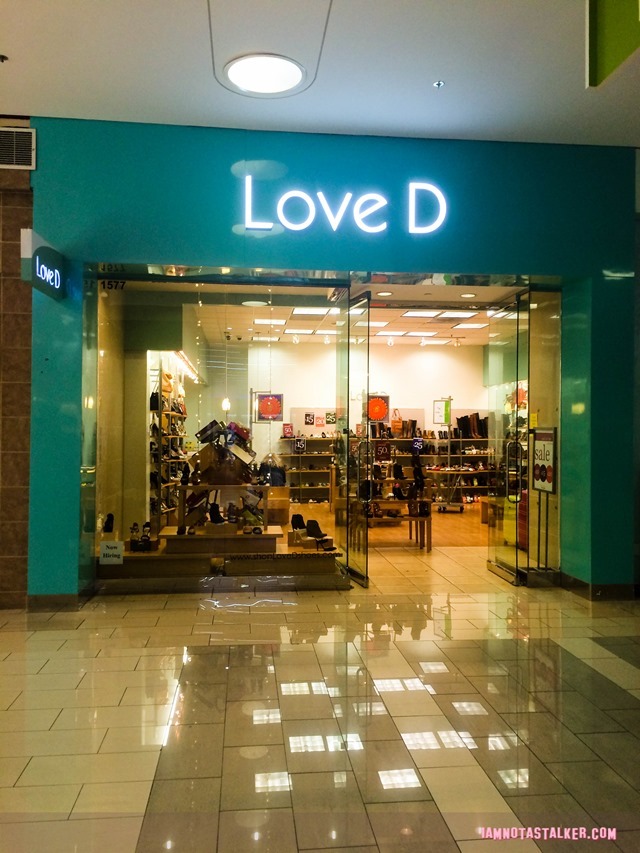 The shop sells affordable shoes, handbags and other accessories.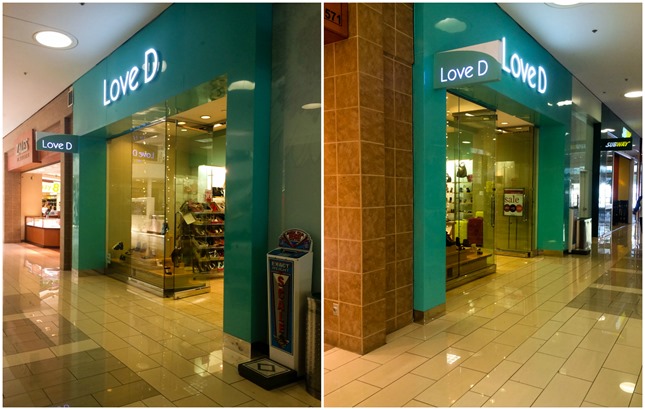 I honestly could NOT have been more excited to be there!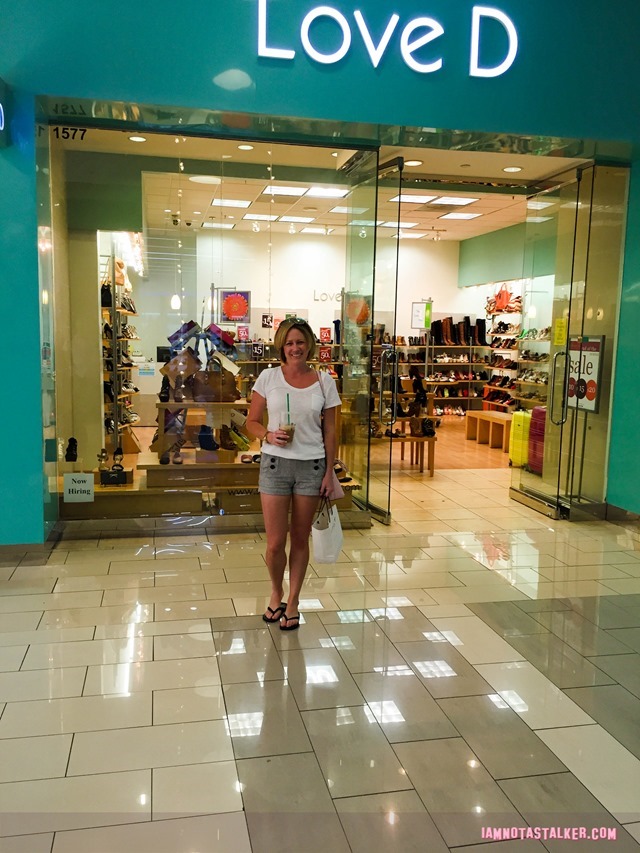 In The Boys Next Door, a back corridor entrance was visible just to the right of Gingiss.  That entrance, now closed off with a door, is still there to this day!  You can just barely see it on the very right-hand side of my photo below.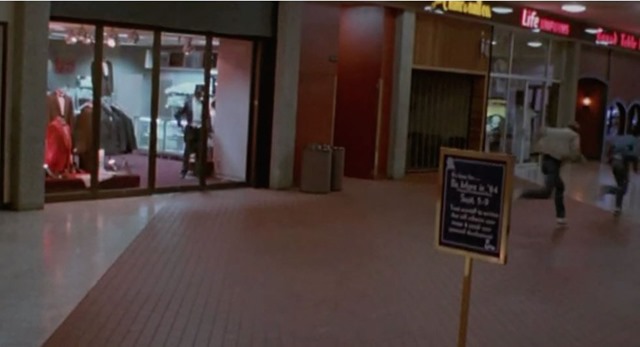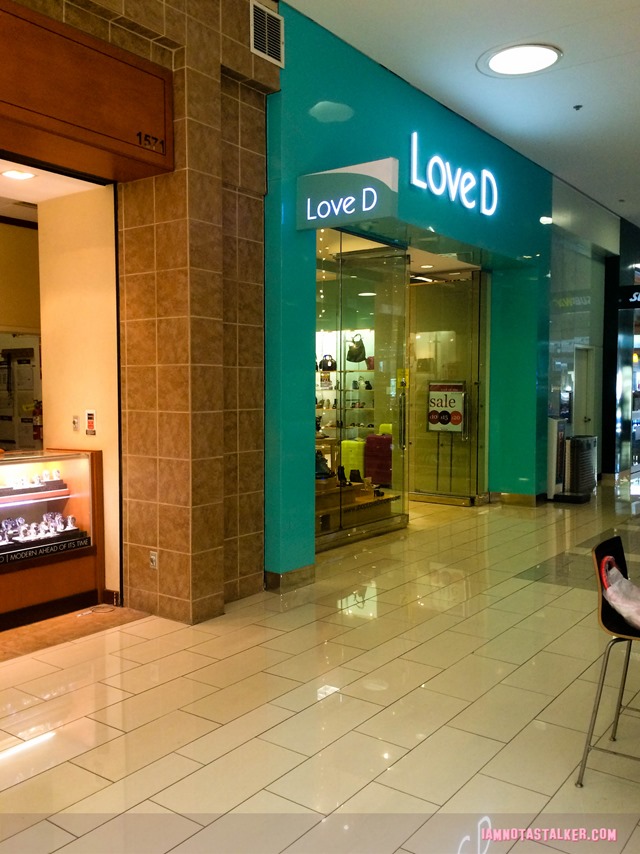 And, as Michael pointed out, the chain of round ceiling lights visible in the corridor outside of Gingiss in GJWTHF are a direct match to the lights that are there now.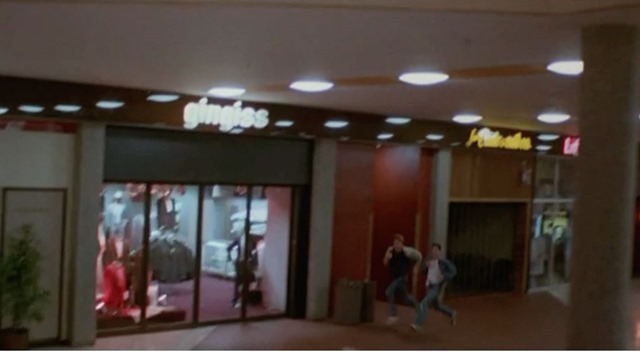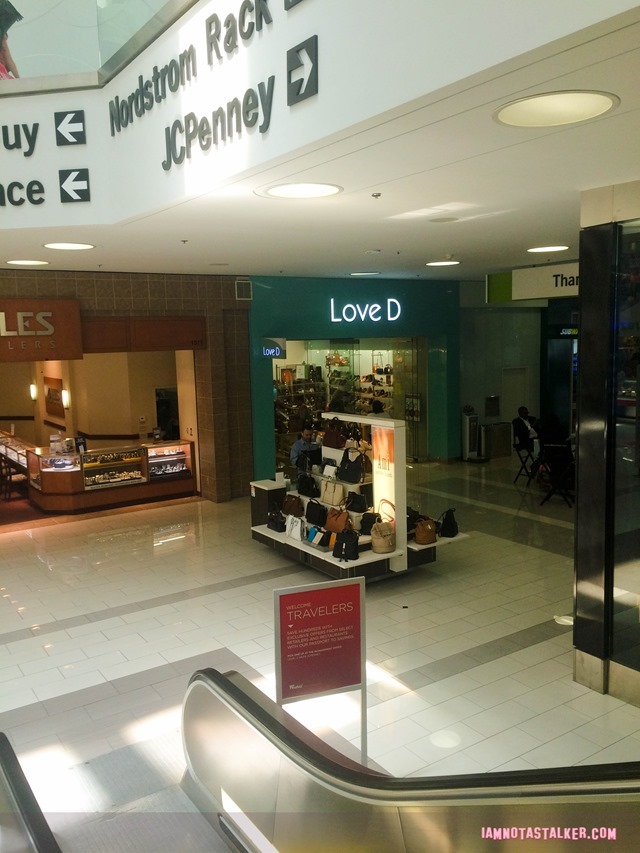 The escalators from GJWTHF are located just outside of Love D and lead up to the second level entrance to JCPenney.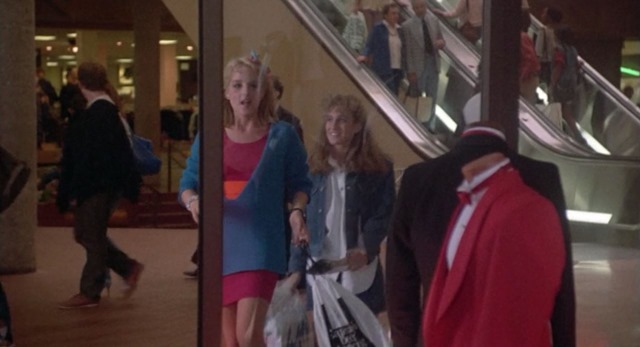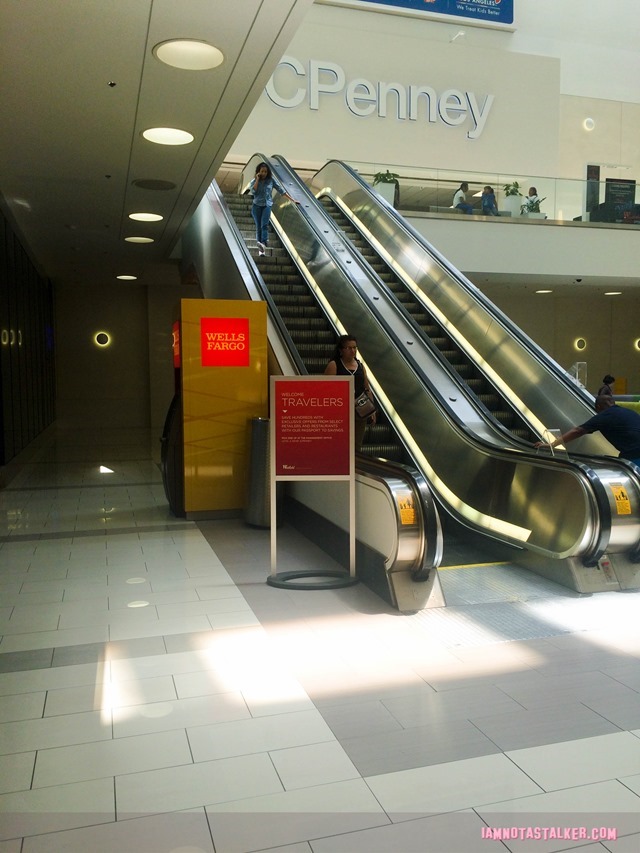 I tried to get a matching shot of the escalators from the angle that appeared in the movie, but the kiosk that is now situated outside of Love D blocked my view.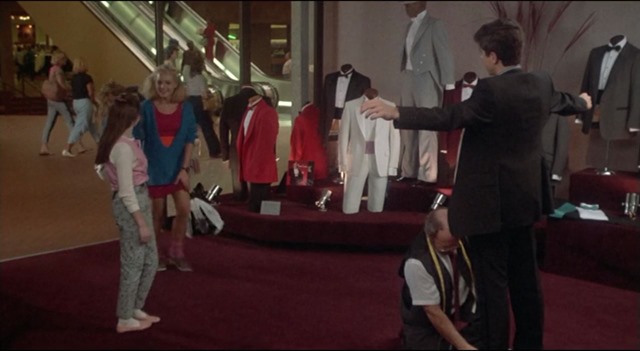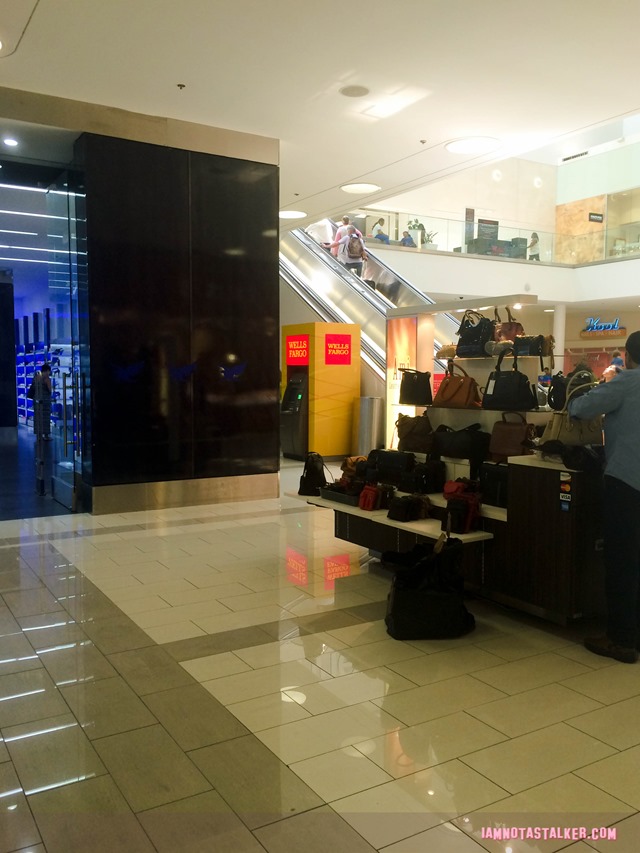 As you can see, though, the shape of the bottom of the escalators and the raised circular markings that run down the center connector match what appeared onscreen.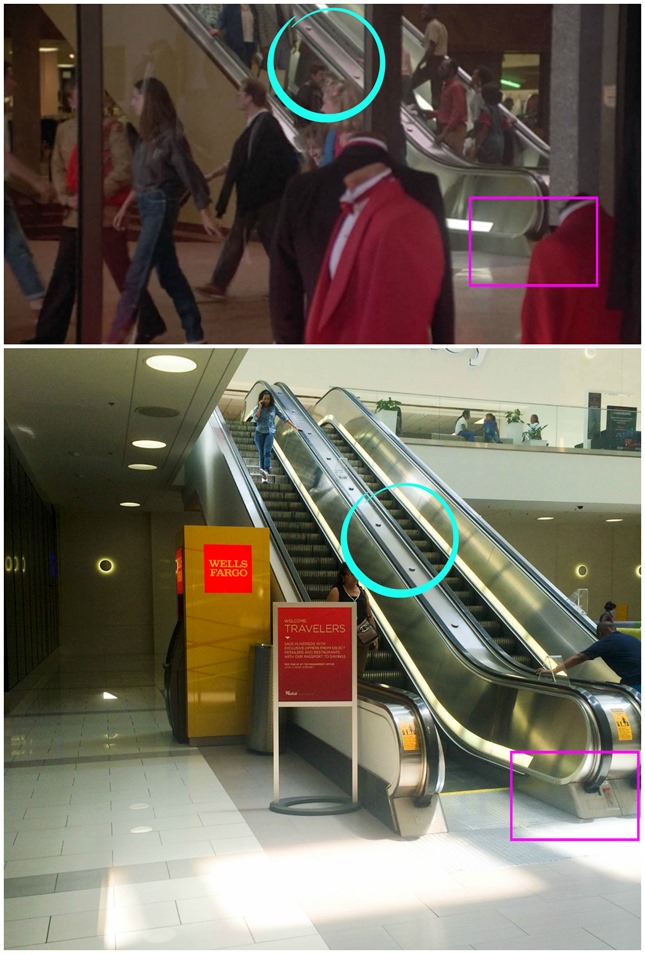 While it appears that some sort of sunken sitting area was situated behind the escalators in 1985, that is no longer the case.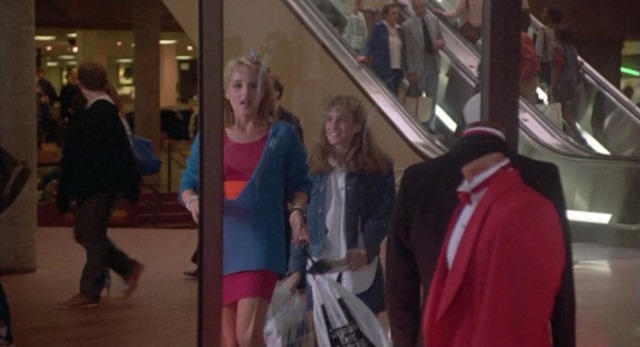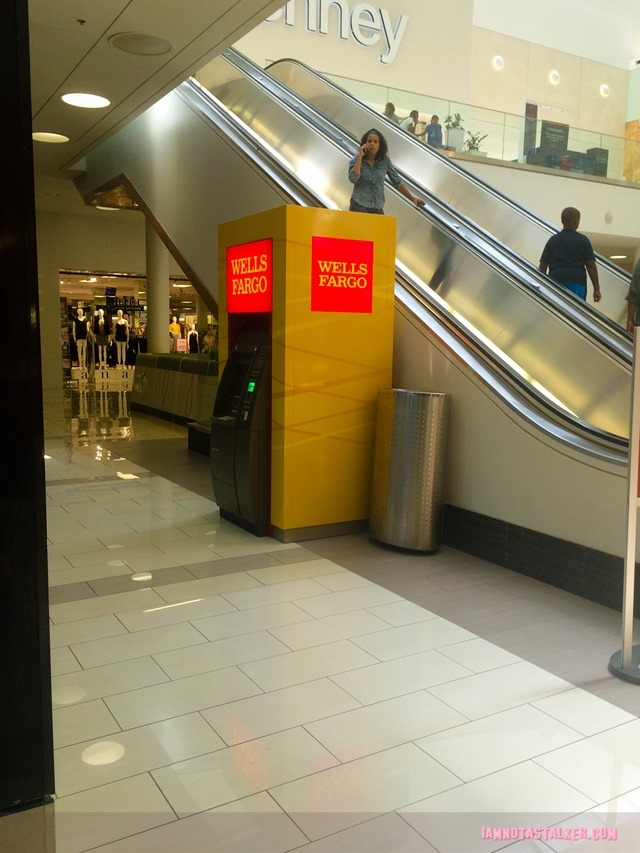 Today, there is now an indoor playground in that area.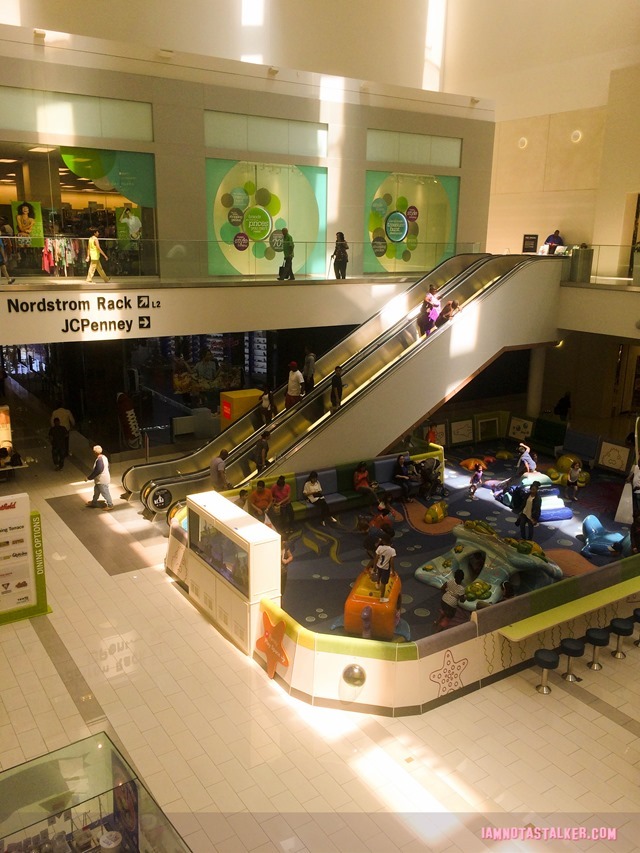 As I mentioned above, Fox Hills/Westfield Culver City has appeared onscreen countless times over the years.  In 1977, Carrie Fisher did a promotional interview for Star Wars at the SEGA Center, though very little of the arcade was shown.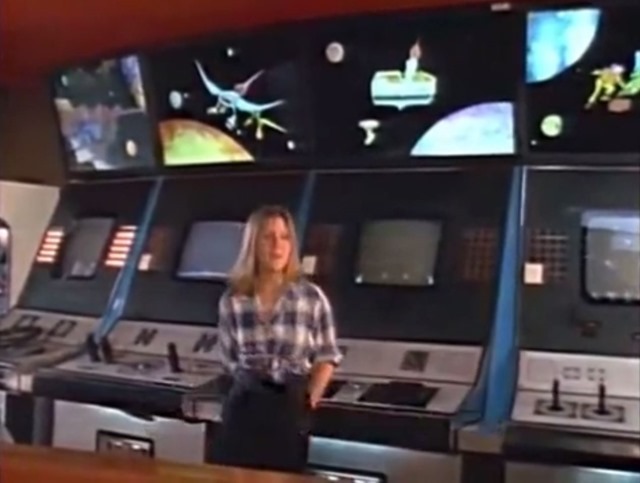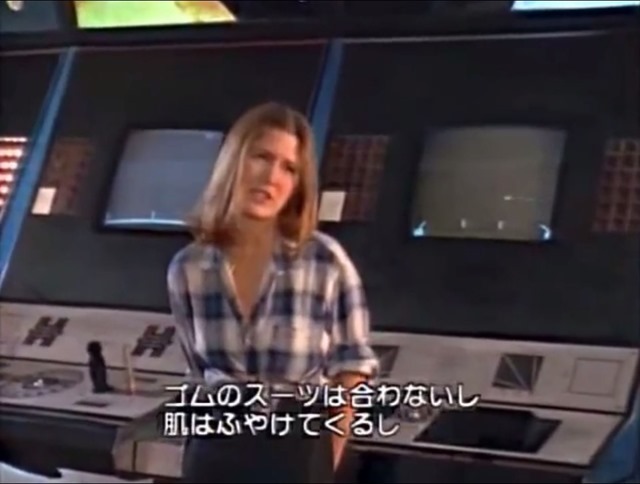 You can watch a clip of the interview by clicking below.
Fox Hills was also featured in a fabulously cheesy 1978 commercial for Kinney Shoes starring Ken Berry.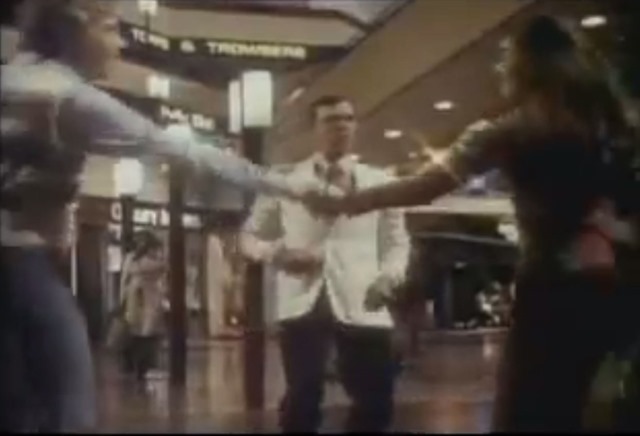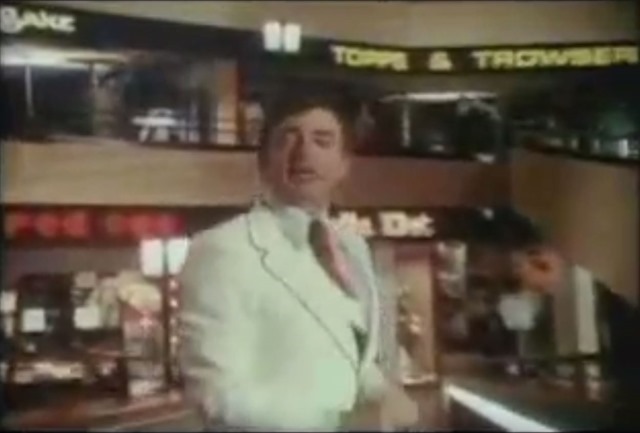 You can watch that ad by clicking below.
In 1983, Fox Hills popped up in the Season 1 episode of Scarecrow and Mrs. King titled "The ACM Kid" as the mall where Mrs. Amanda King (Kate Jackson) takes Aleksei Kalnikov (Meeno Peluce).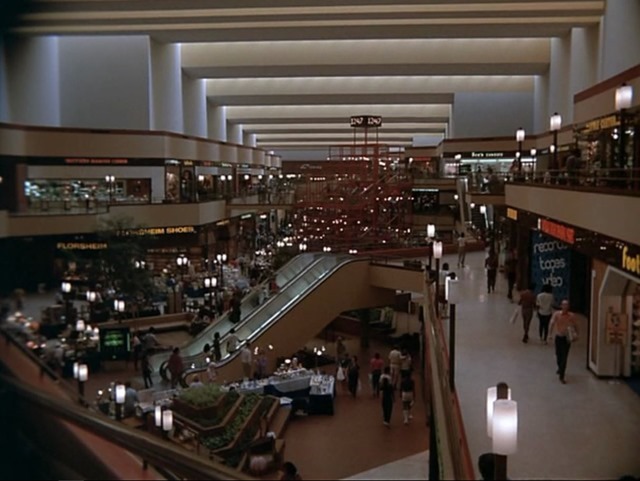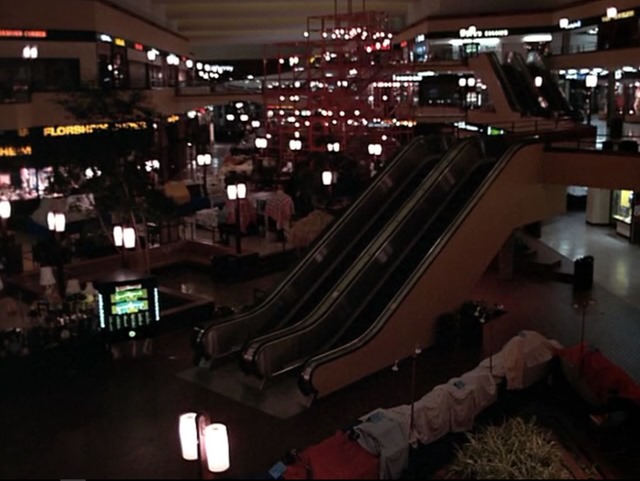 Though Aleksei plays in an arcade in the episode, that arcade does not appear to be the SEGA Center.  I have a hunch that Fox Hills was used in establishing shots in "The ACM Kid," but that all actual filming took place on a set.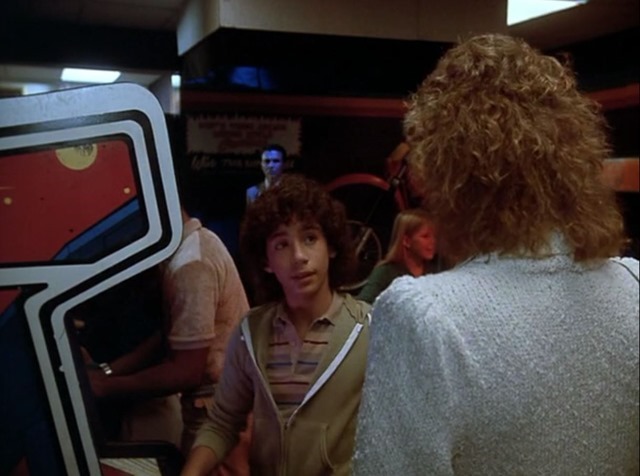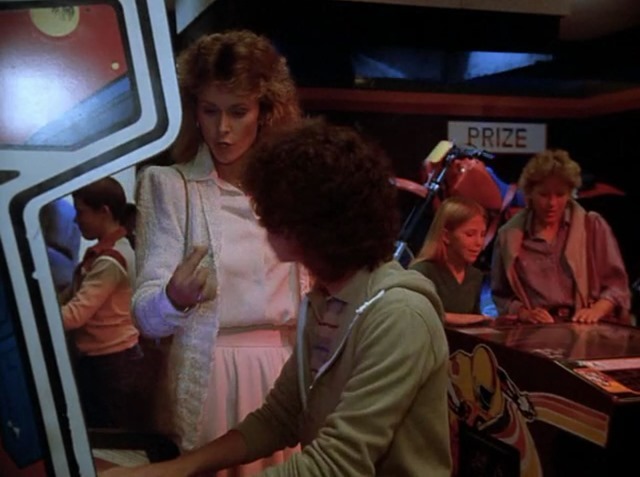 Thanks to the 80s Film Locations site, I learned that the 1986 movie Thrashin' was shot in the Fox Hills parking garage.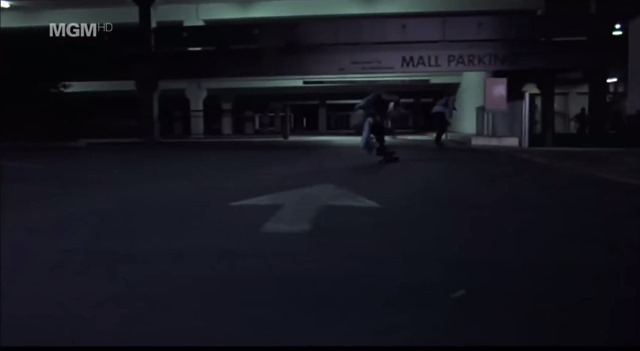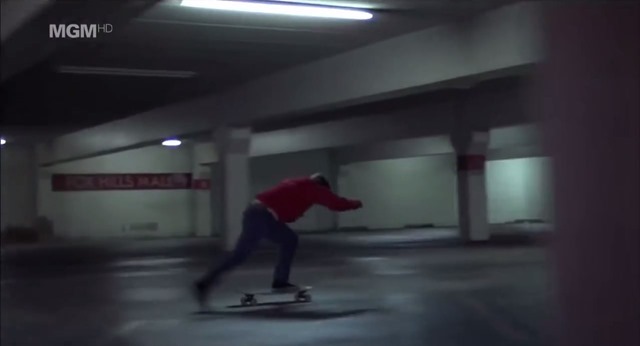 The round ramp that the kids skate down in the flick is located in the south east section of the mall property, just southwest of where Fox Hills Drive intersects with Hannum Avenue.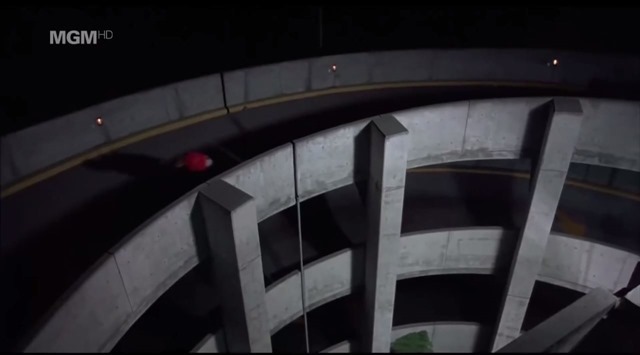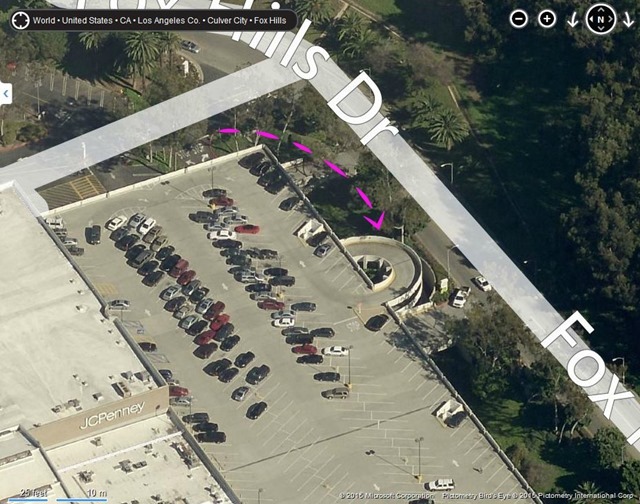 In 1991's Point Break, the Ex-Presidents lead Johnny Utah (Keanu Reeves) and Pappas (Gary Busey) on a car chase through the Fox Hills parking lot.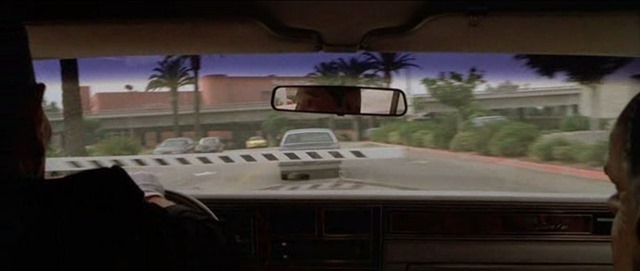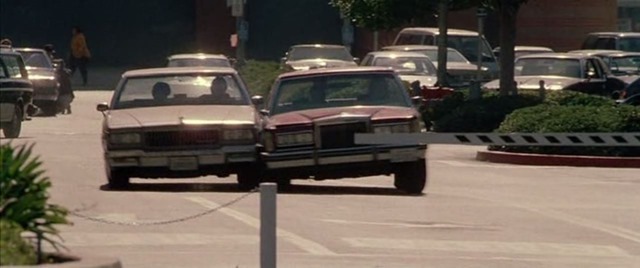 In the scene, the cars enter the mall property via Slauson Avenue, just east of where it intersects with Sepulveda Boulevard.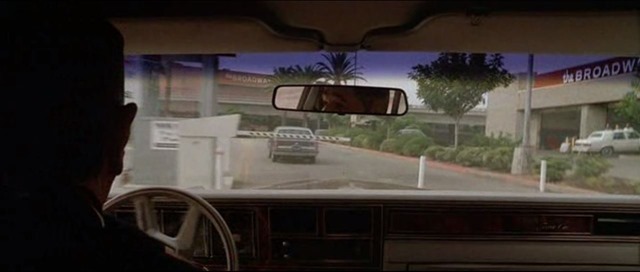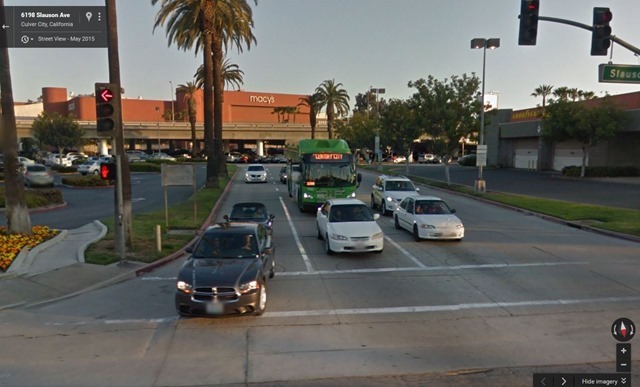 In the Season 2 episode of It's Always Sunny in Philadelphia titled "Charlie Gets Crippled," Westfield Culver City is where Mac (Rob McElhenney) and Dennis Reynolds (Glenn Howerton) pretend to have polio.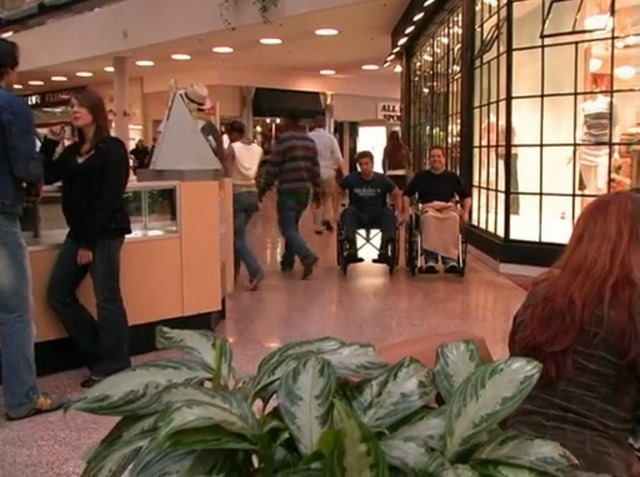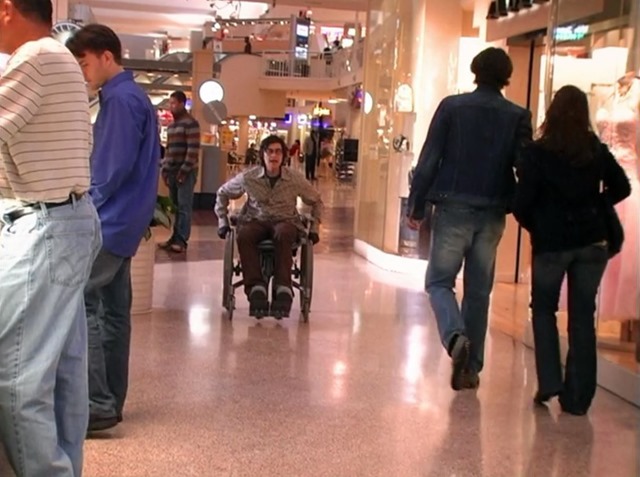 As you can see below, at the time that the episode was shot in 2006, the diagonal brickwork flooring that was visible in Girls Just Want to Have Fun was still intact.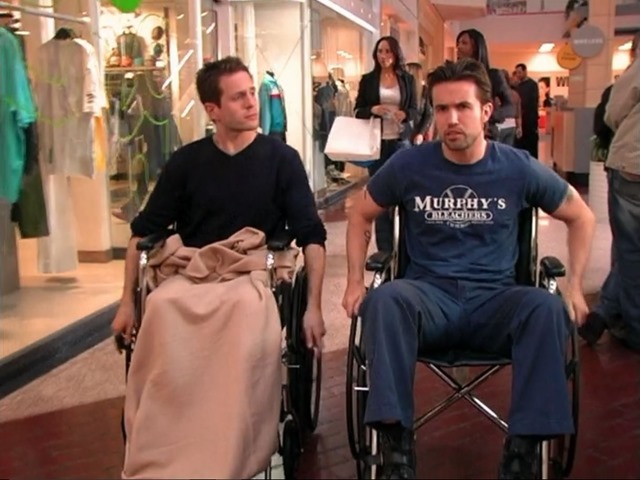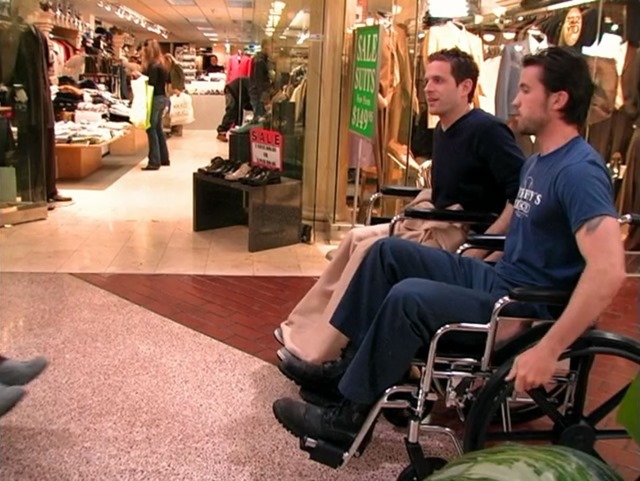 The final scene of the 2007 comedy Superbad was also lensed at Westfield Culver City.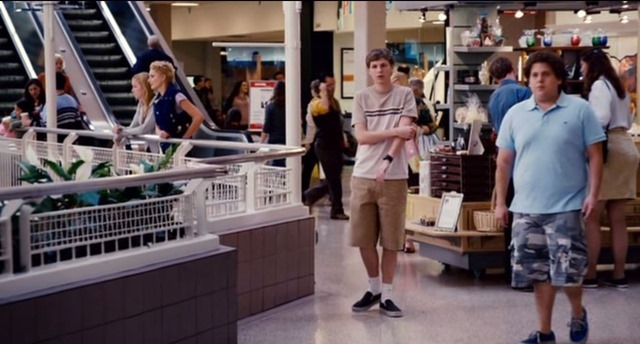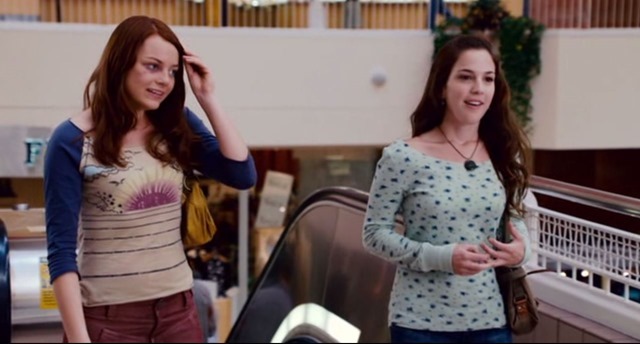 Seth (Jonah Hill) and Evan (Michael Cera) meet up with Becca (Martha MacIsaac) and Jules (Emma Stone) on the mall's second floor, in front of the escalators near Foreign Exchange and AT&T Spring Mobile.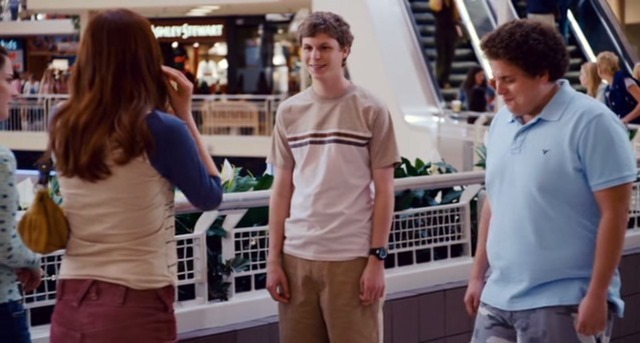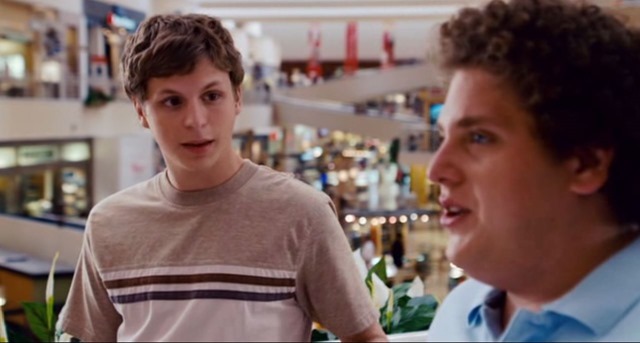 For more stalking fun, follow me on Facebook, Twitter, Instagram, Los Angeles magazine and Discover Los Angeles.
Big, HUGE THANK YOU to fellow stalkers Owen, of the When Write Is Wrong blog, and Michael for tracking down this location.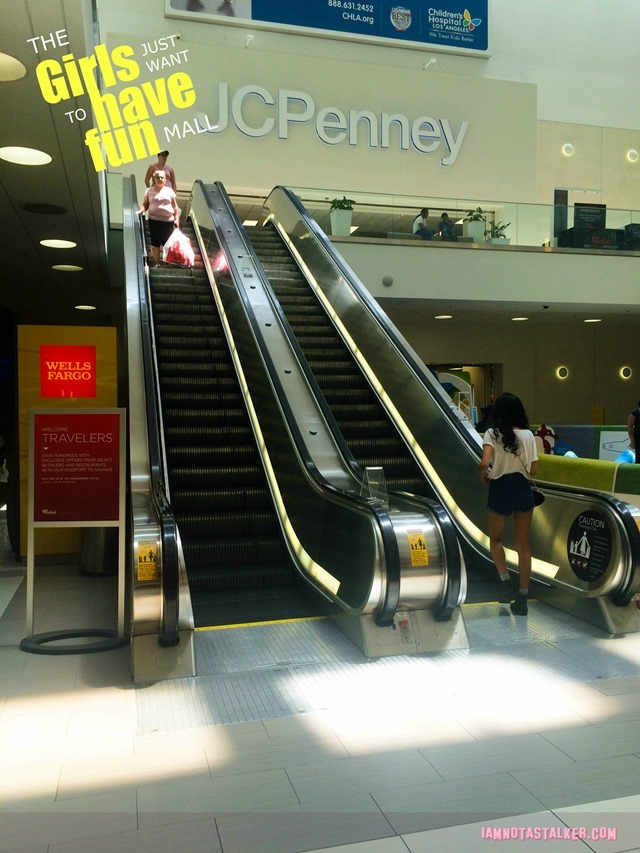 Until next time, Happy Stalking! 

Stalk It: Westfield Culver City, aka the former Fox Hills Mall from Girls Just Want to Have Fun, is located at 6000 Sepulveda Boulevard in Culver City.  You can visit the mall's official website here.
93606