Andy's Coffee Shop from the "Cups" Music Video
Dec 7th, 2015 | By
Lindsay
| Category:
This and That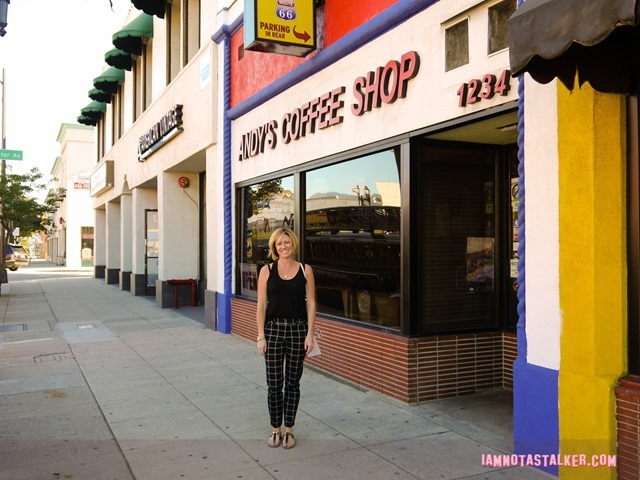 There is nothing my mom likes better than a greasy spoon-type restaurant.  She is a virtual expert on seeking them out – whether near our home, while on vacation somewhere, or passing through a town.  So imagine my shock when I recently learned about Andy's Coffee Shop, a small greasy spoon that has been a Pasadena staple for over 80 years!  Somehow my mom had never heard of the place, despite the fact that we lived in Crown City for a decade and a half!  What makes our ignorance of the roadside restaurant even more shocking is that it is a popular filming location and has been featured in several big-name productions.  How neither my mom nor I knew about it is beyond me!  This was a major fail on both our parts!  I discovered Andy's in mid-October thanks to a Curbed LA commenter who mentioned the eatery's appearance in an episode of Mad Men.  I immediately added it to my To-Stalk list and the Grim Cheaper and I ran right on over there for breakfast a couple of weeks later.  It turned out to be quite the fortuitous stalk, too!
Andy's Coffee Shop was originally established in the late 1930s and does not look like it has been touched since.  And I mean that in the best possible way.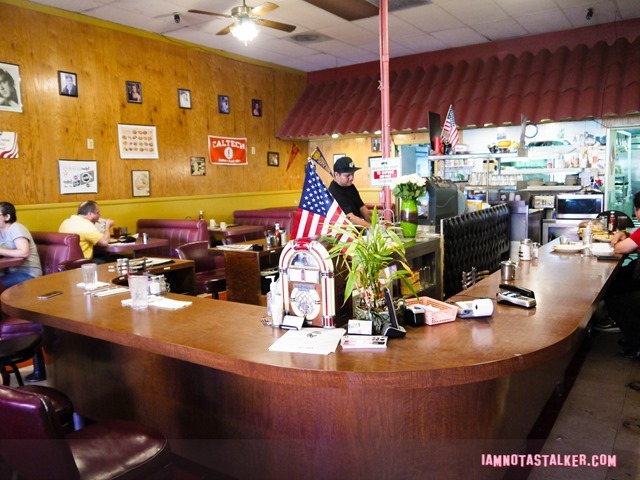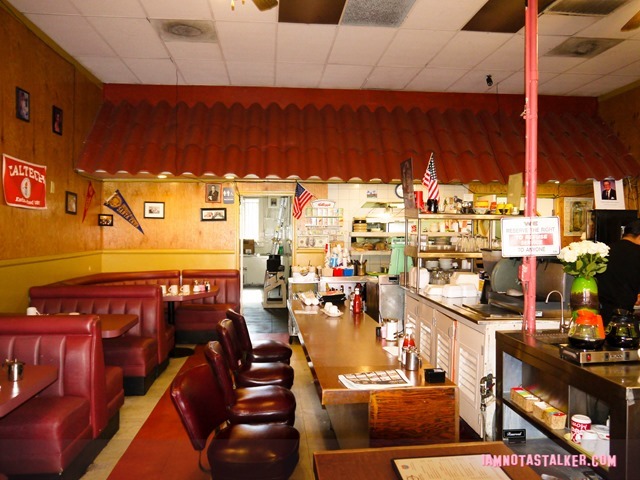 The current owner, who was nice enough to chat with me and answer all of my silly questions about the various filmings that have taken place there over the years, purchased the property nine years ago.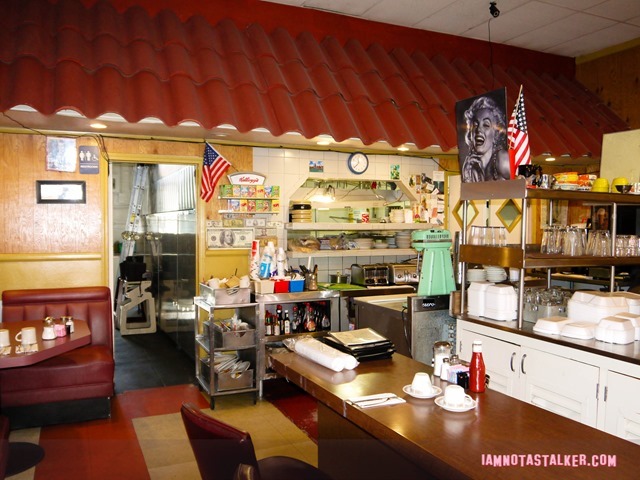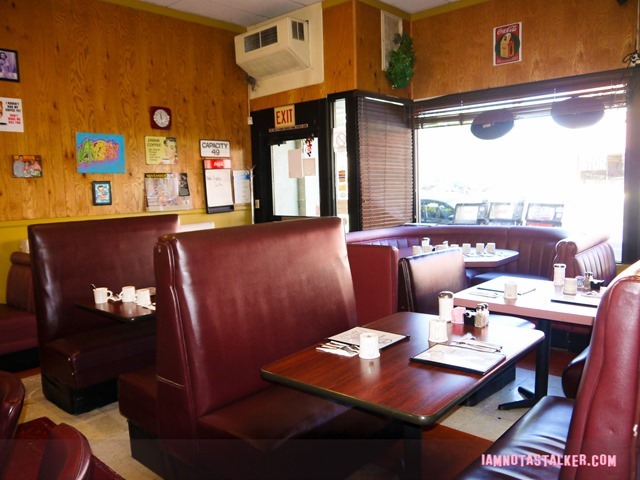 With its fabulous retro décor, old school counter seating and vintage signage, Andy's Coffee Shop is everything you could ever want in a roadside diner.  One look around and it is not hard to see why location scouts return to the place time and time again.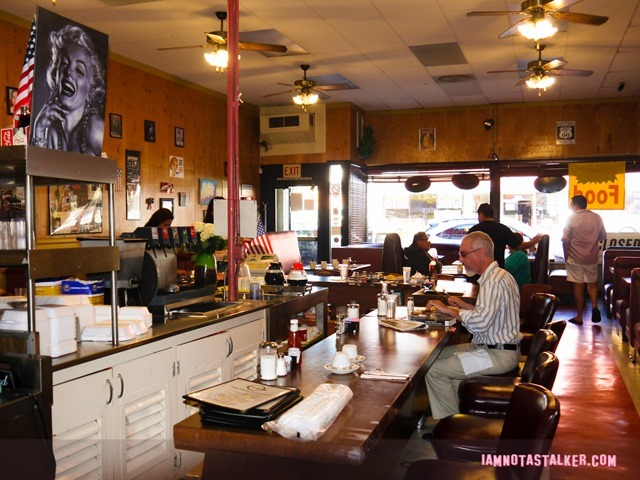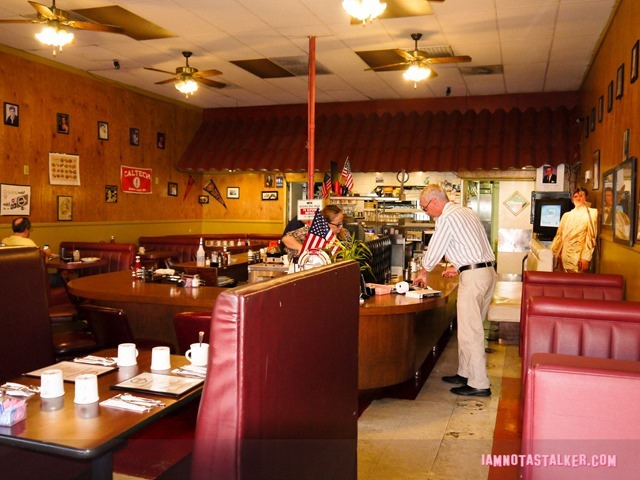 The food, which is of the down-home variety, was also fabulous!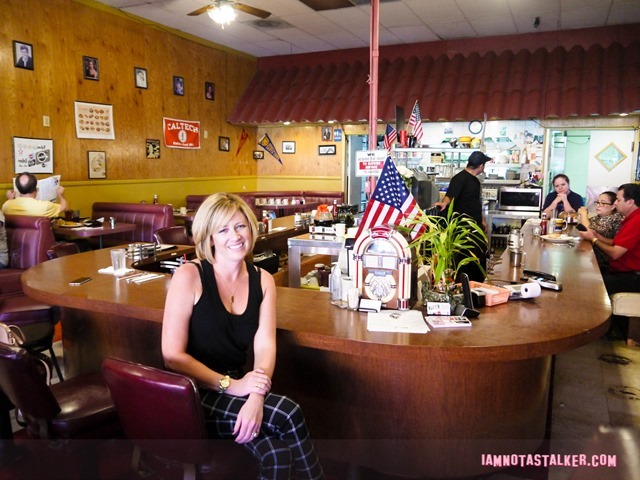 As I mentioned above, prior to stalking Andy's, I knew that the restaurant had been featured in the Season 4 episode of Mad Men titled "Public Relations."  In the episode, the eatery was where Peggy Olson (Elisabeth Moss) and Pete Campbell (Vincent Kartheiser) met up with two actresses they had hired to fight over a Sugarberry Ham in a public relations stunt.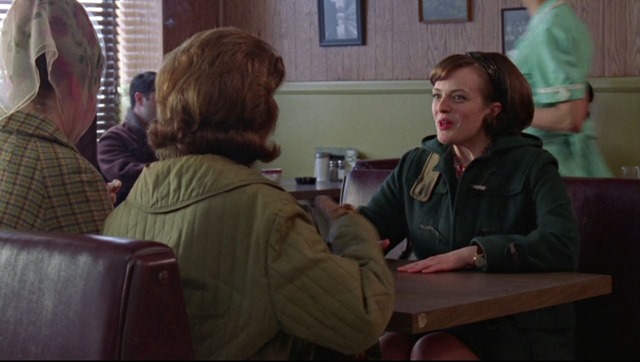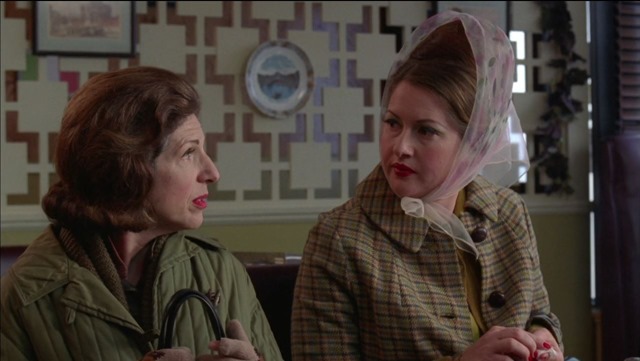 An ornamented prop screen was brought in to separate the dining area from the entry for the shoot.  In real life, Andy's dining area consists of one open room.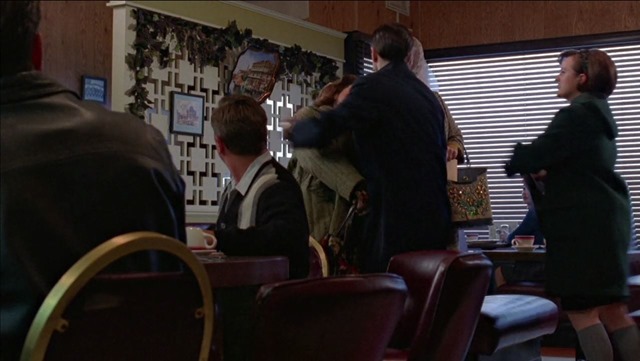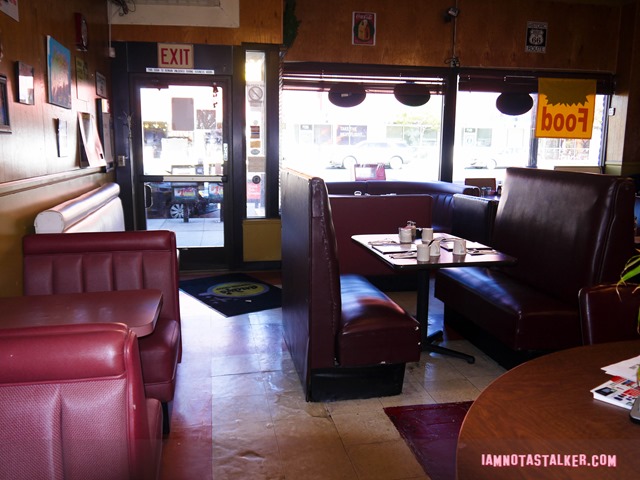 Some memorabilia and photographs from the filming are proudly displayed on Andy's walls, which I had a blast looking at.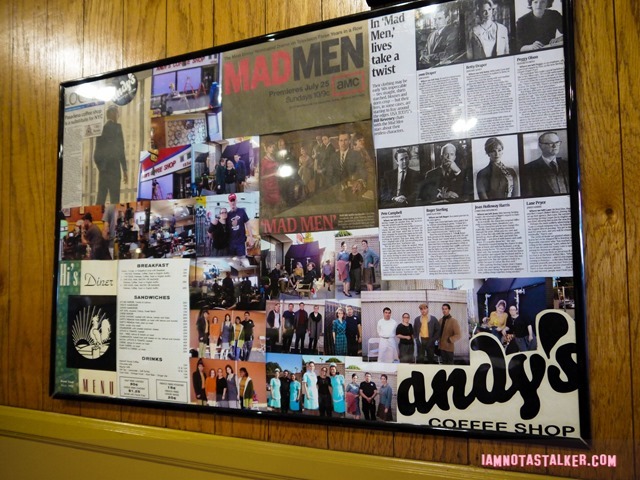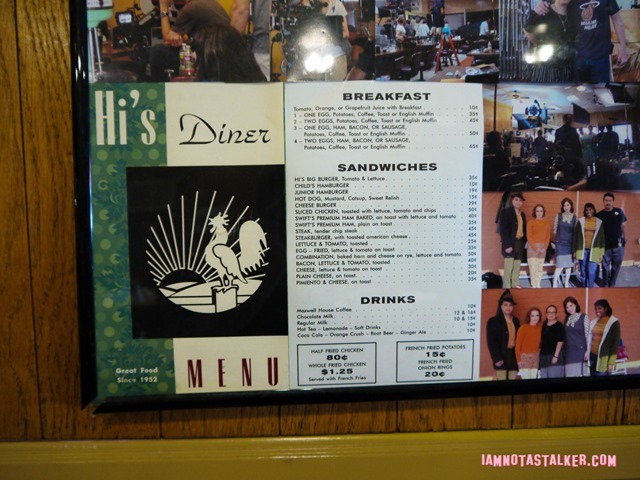 Until dining at Andy's, I had been unaware of the eatery's other film credits.  As soon as I walked through the bell-clad front door, though, I immediately recognized the place as a locale I had been looking for ever since writing my The Fast and the Furious post for Discover Los Angeles.  While researching for that post, I had fruitlessly tried to track down the coffee shop where Brian O'Conner (Paul Walker) took Mia (Jordana Brewster) in the series' fourth installment, 2009's Fast & Furious.  When I stepped into Andy's and saw the large front windows, wood-paneled walls and red booths, I realized it was the exact spot I had been hunting for.  I so love it when that happens!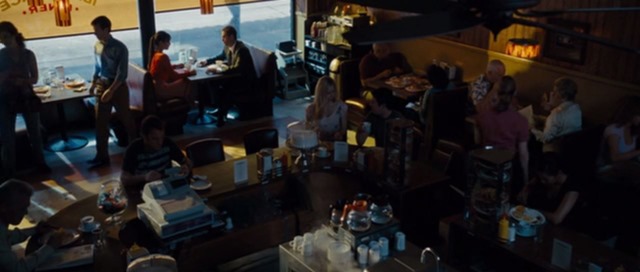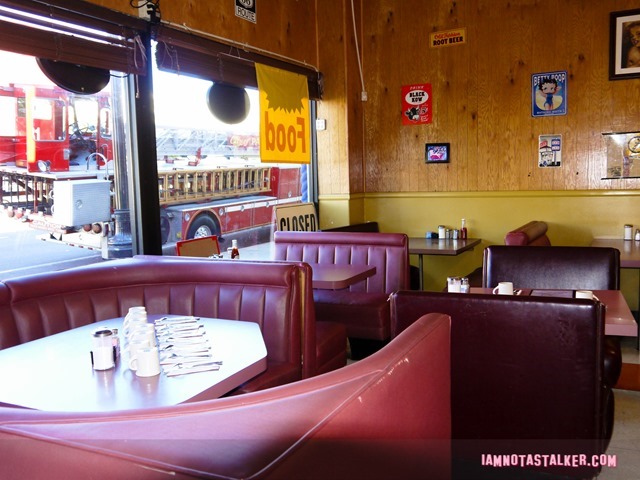 I asked the owner to confirm my hunch and she informed me that I was indeed correct and then pointed me in the direction of a photo taken of the shoot displayed on the restaurant's wall.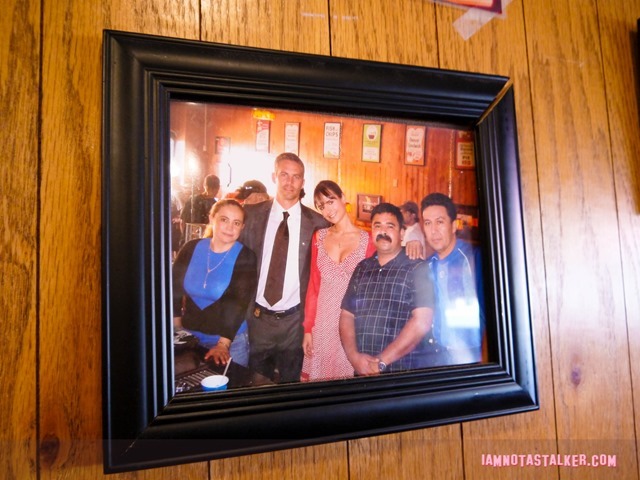 Though the layout of the booths has since changed, Andy's still looks much the same as it did onscreen.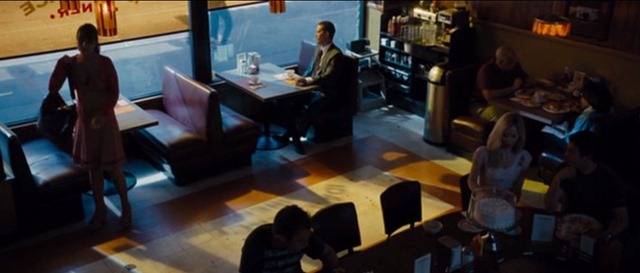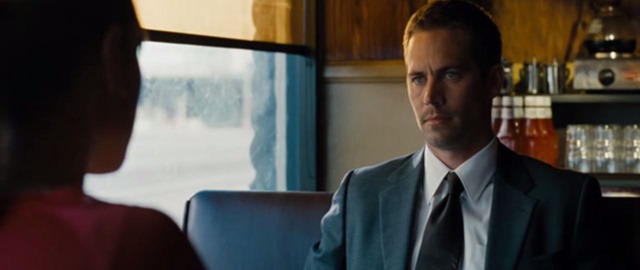 Amazingly, Andy's was even recognizable to the GC!  After we placed our order, he turned to me and said, "I think this is where Anna Kendrick's 'Cups' music video was filmed!"  While I love the song, I had never seen the "Cups" video.  Anna Kendrick is the GC's celebrity crush, though, so he is pretty well-versed on all things concerning the actress.  I immediately grabbed my iPhone to see if he was right and, sure enough, we were sitting in the exact spot where the video had been lensed!  Well done, GC!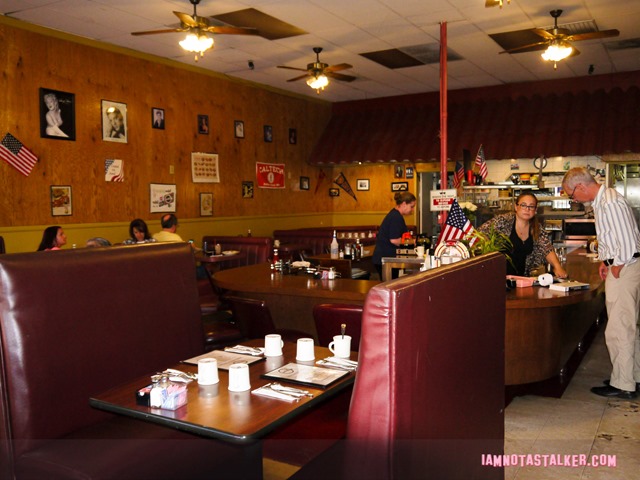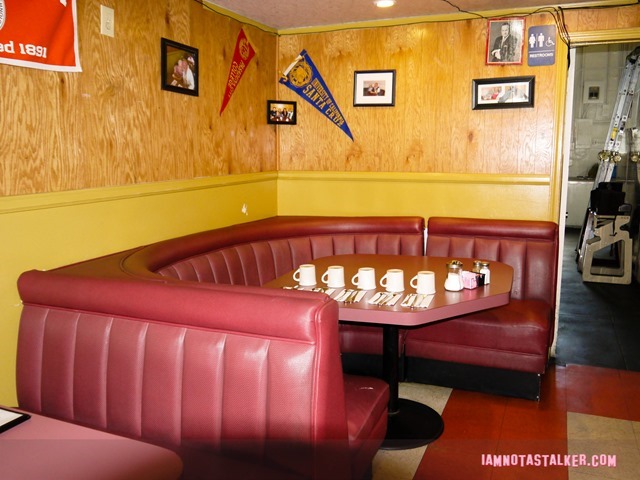 "Cups" made extensive use of Andy's Coffee Shop.  At the beginning of the video, Anna is shown baking biscuits in the restaurant's kitchen.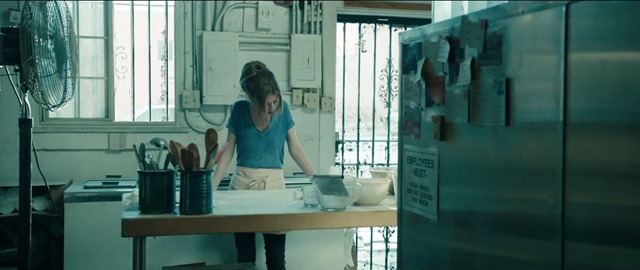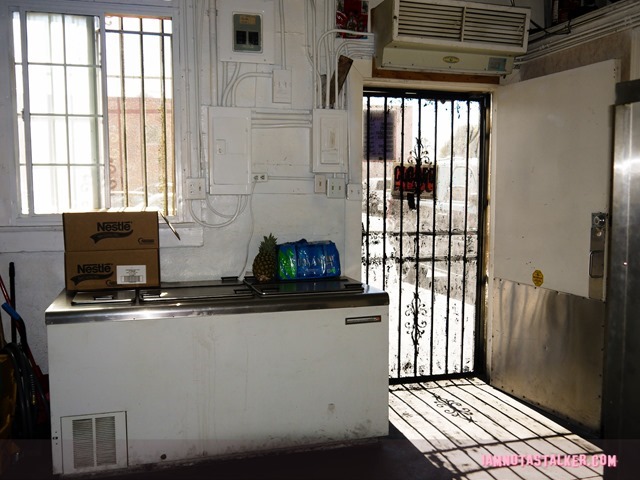 The kitchen is actually much smaller in person than it appeared to be onscreen.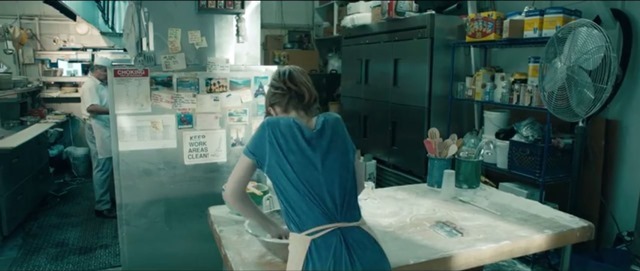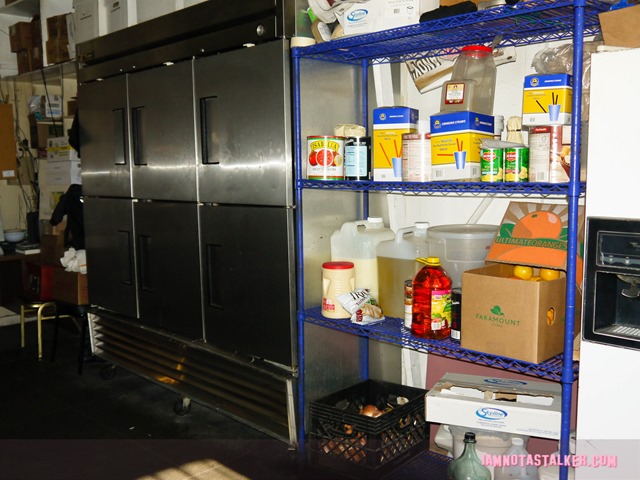 While I was back there, I just had to pose for a photo.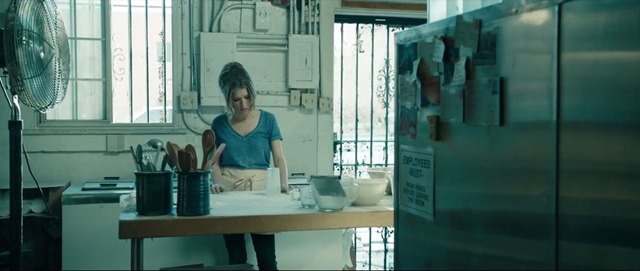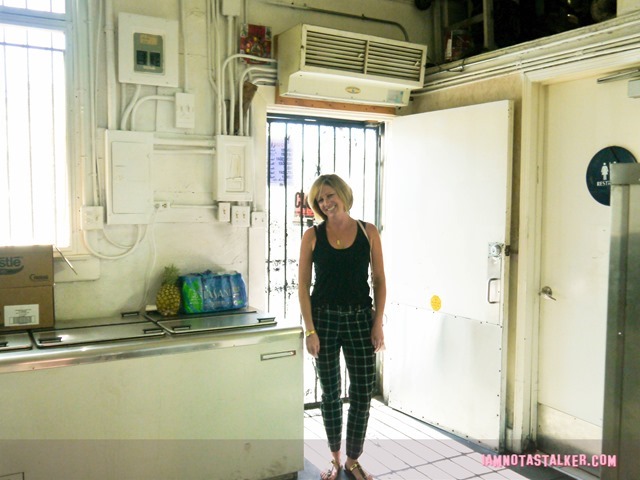 After popping the biscuits into the oven, Anna then ventures out of the kitchen . . .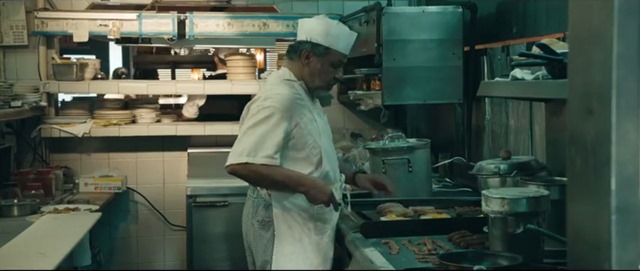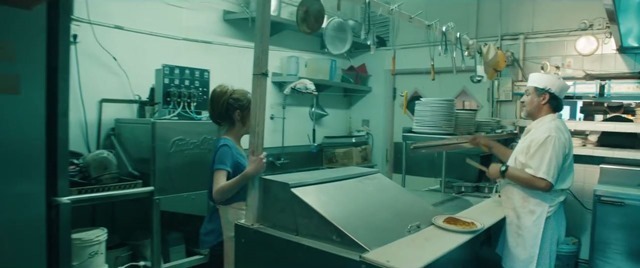 . . . and into Andy's dining area.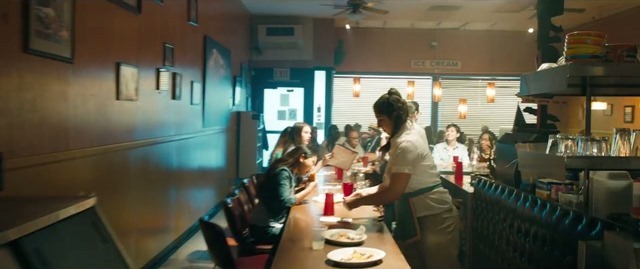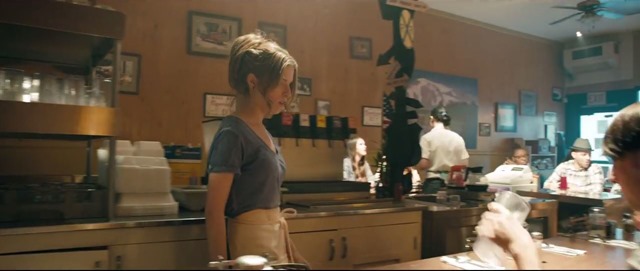 The camera proceeds to follow her through the restaurant in one long take while she walks by customers who are performing the famous Cups routine.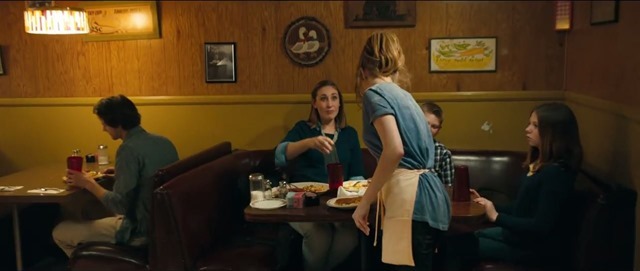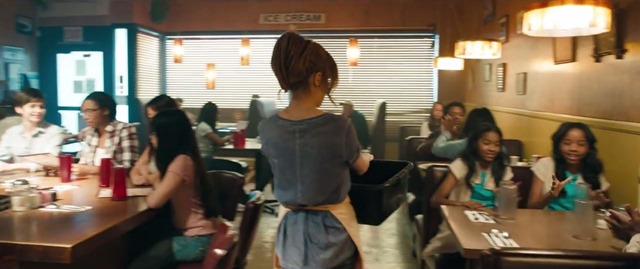 I can only imagine how difficult the video must have been to film being that the fifty or so the actors on-hand had to perform the routine perfectly, sans any mistakes, in order to complete the single continuous shot.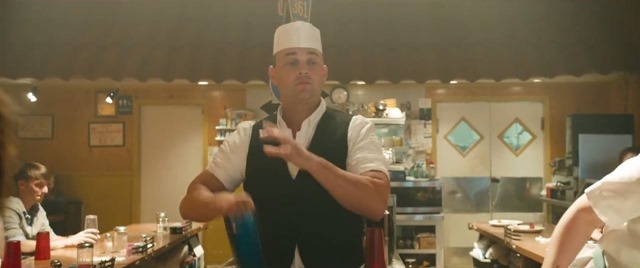 You can watch the "Cups" video by clicking below.
Interestingly, the origin of the "Cups" song dates all the way back to 1931.  You can read a more in-depth history of it here, but, in a nutshell, it was originally written and recorded by the Carter Family and was known as "When I'm Gone."  That original version can be heard here.  (Don't confuse it with the Carter Family's similarly titled "Will You Miss Me When I'm Gone?")  The tune has been sampled a few times over the years, but did not find real fame until 2009, when a group named Lulu and the Lampshades re-worked the arrangement, adding in the "I've got my ticket for the long way 'round" lyrics and re-naming it "You're Gonna Miss Me."  The music video the group created for the song (below), which features acapella singing accompanied by a plastic cup routine, instantly went viral and inspired countless re-creations.
Anna Kendrick only perpetrated the trend when she performed the "Cups" routine in 2012's Pitch Perfect (below).  It proved so popular that the actress released a single of it in 2013 and the video was made soon after.
Andy's owner also informed me that in the recently-aired Season 5 episode of Scandal titled "Yes," the eatery played the Fayetteville, North Carolina diner where Olivia Pope (Kerry Washington) and Jake Ballard (Scott Foley) took murder suspect Gavin Price (Josh Brener).  While there, Gavin alerts the women at a neighboring table of the presence of Olivia, who has just been outed as the president's mistress, causing all of the customers in the restaurant to go crazy trying to take selfies with her.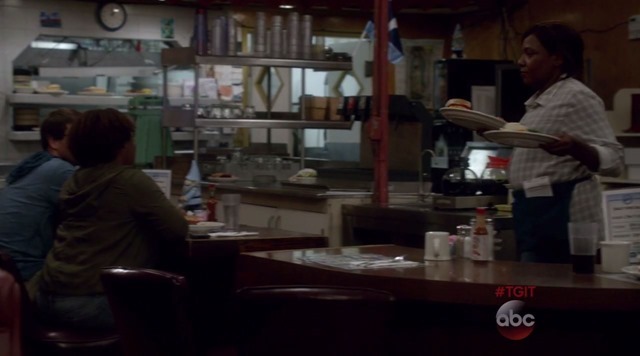 Andy's also popped up in the Season 6 episode of Veep titled "Judge" as the Birmingham, Alabama truck stop where Mike McLintock (Matt Walsh) and Amy Brookheimer (Anna Chlumsky) looked for Mike's diary.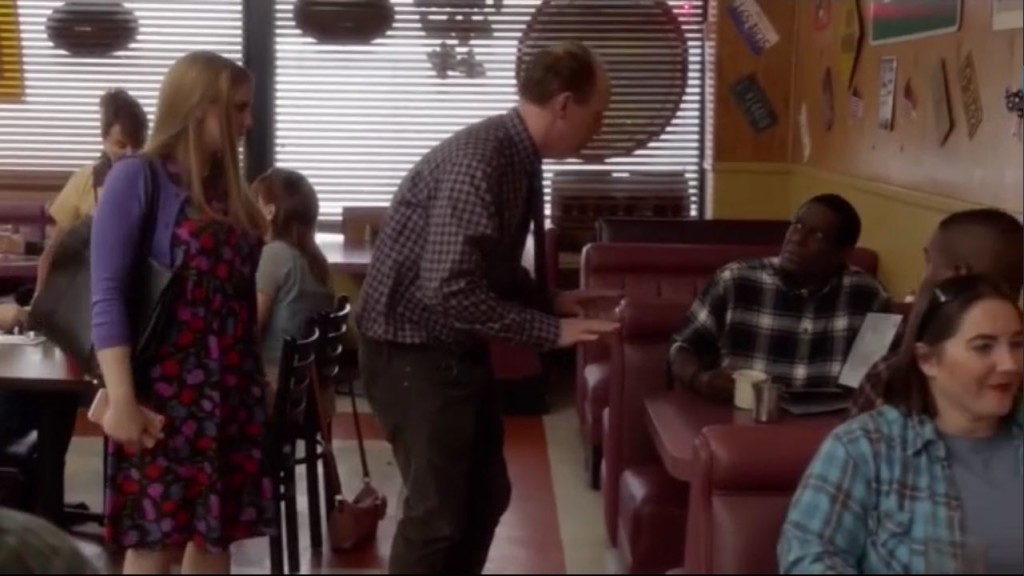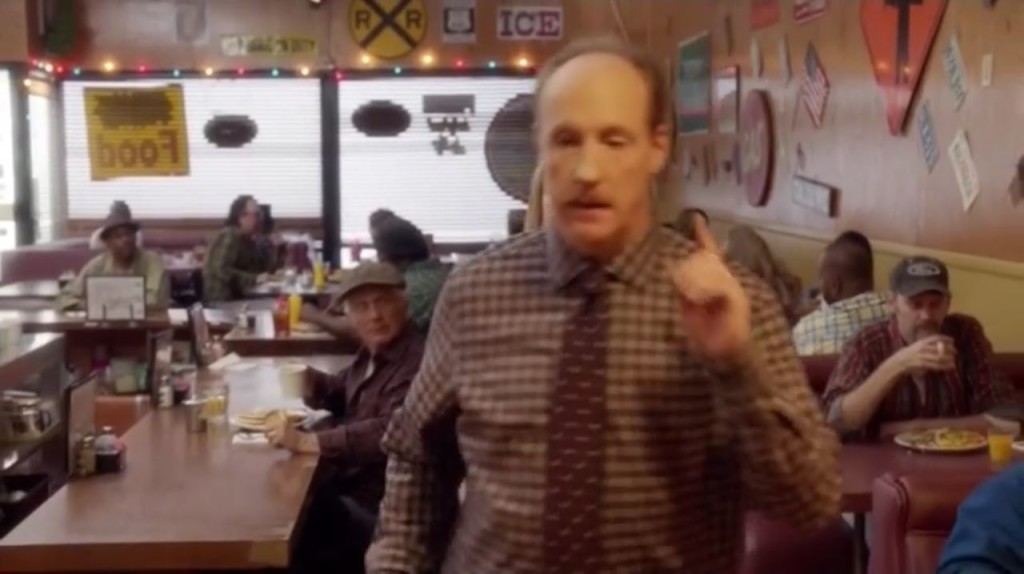 For more stalking fun, follow me on Facebook, Twitter, Instagram, Los Angeles magazine and Discover Los Angeles.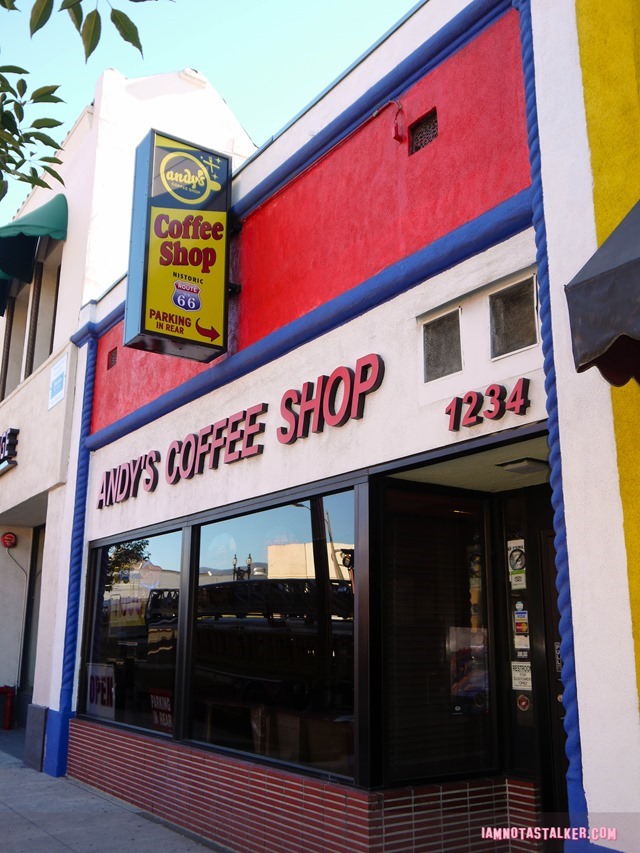 Until next time, Happy Stalking!
Stalk It: Andy's Coffee Shop, from Anna Kendrick's "Cups" music video, is located at 1234 East Colorado Boulevard in Pasadena.  You can visit the eatery's official Facebook page here.
93915