The Old Towne Orange Starbucks from "Surviving Christmas"
Dec 18th, 2015 | By
Lindsay
| Category:
Movie Locations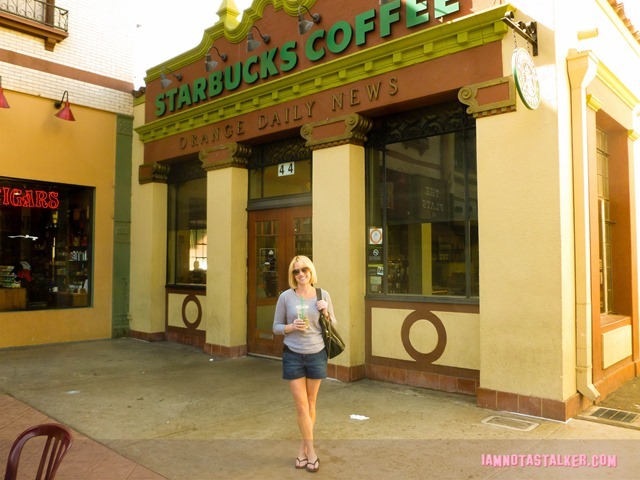 There's nothing this stalker loves more than a filming location that serves coffee.  When that filming location is a Starbucks?  Well, I'm in hog heaven!  So when I spotted an Old Towne Orange outpost of the java giant pop up in the 2004 holiday comedy Surviving Christmas, I immediately added it to my To-Stalk Iist – and was especially excited because it meant another visit to the adorable town.  I have never been shy about my adoration of Old Towne Orange.  I first visited the historic city back in October 2013 and it was pretty much love at first sight.  The quaint district is situated around a manicured circular park and boasts dozens of adorable boutiques and restaurants housed inside of charmingly aged facades.  Being there is like stepping back to a simpler time and it is not hard to see why countless movies and television shows have been filmed in the area.  You can read a few of my previous Old Towne Orange posts here, here and here.
In Surviving Christmas, millionaire advertising executive Drew Latham (Ben Affleck) faces the prospect of spending the holidays alone.  In the hopes of avoiding that isolation, he returns to his hometown of Arlington Heights, Illinois and proceeds to pay the Valco family – Tom (James Gandolfini),  Christine (Catherine O'Hara), Alicia (Christina Applegate), and Brian (Josh Zuckerman) – who now live in his childhood house, a cool $250,000 to spend Christmas with them.  The Grim Cheaper and I only just watched the flick for the first time two years ago, but really enjoyed it and have since added it to our regular holiday movie rotation.  I especially enjoyed the fact that although set in Illinois, much of it was lensed in L.A.  Old Towne Orange was featured in the scene in which Drew takes his rented family Christmas shopping in what is supposedly downtown Arlington Heights.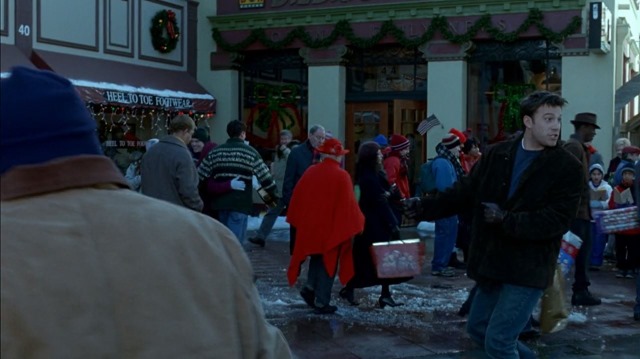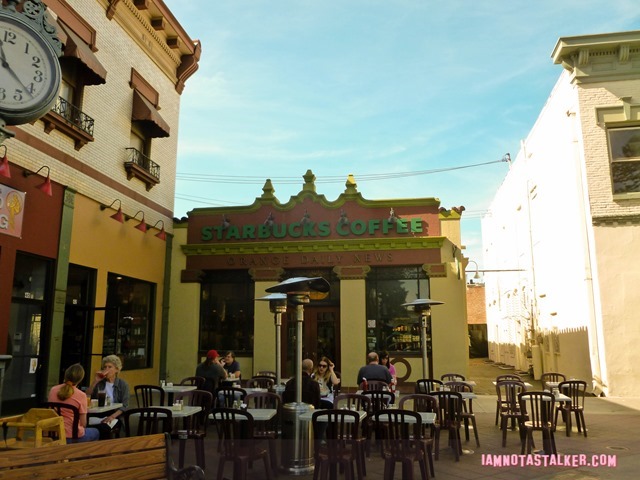 Upon arriving in town, Tom parks the family station wagon in front of a Diedrich Coffee shop situated in the southwest corner of Old Towne's Plaza Square.  Now you're probably saying, "Wait a minute, I thought this post was about a Starbucks!"  Well, at the time that Surviving Christmas was filmed, a Diedrich outpost was housed in that spot (you can check out a photo of what it looked like here), but in late 2006 the company sold many of its stores to Starbucks.  The Old Towne Orange location was one of the casualties of that sale.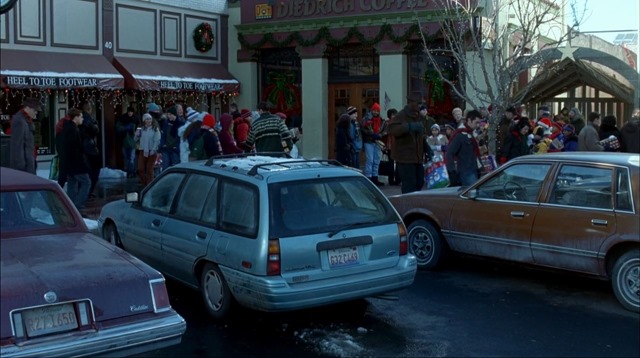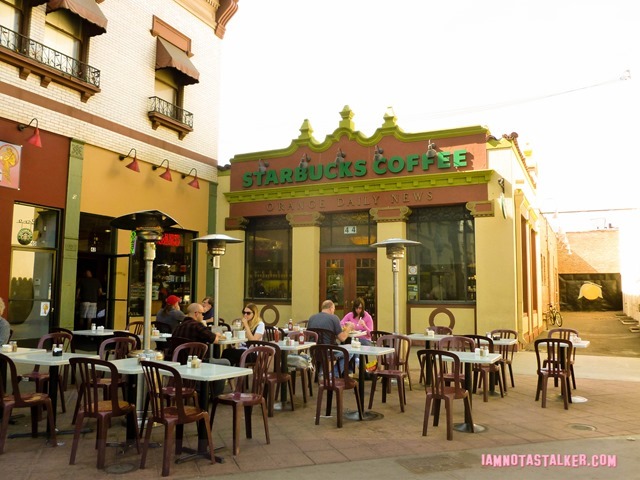 Thanks to the café's unusual exterior, I recognized it immediately from our previous visits to Orange, despite the change in ownership.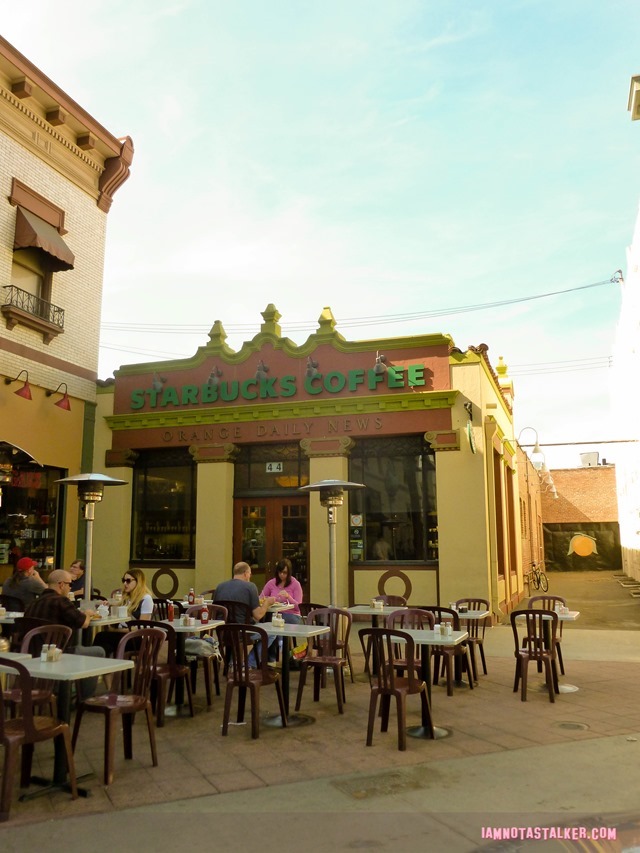 The Old Towne Orange Starbucks is housed inside of the former Orange Daily News building, a Mediterranean-style structure that was originally built around 1920.  There's actually another unique Starbucks located right across the street that is also a filming location, but I'll save that information for a future post.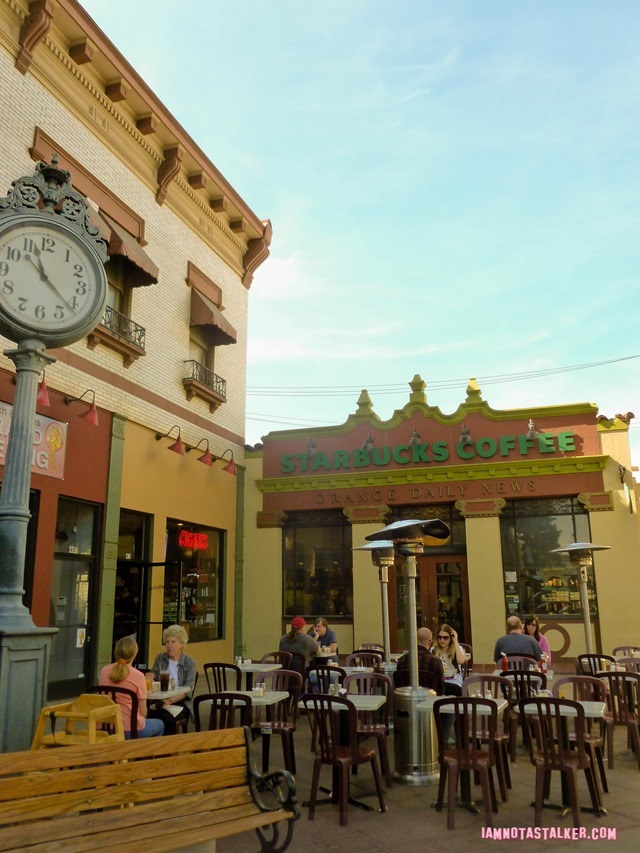 Surviving Christmas utilized the entire southwest corner of Plaza Square.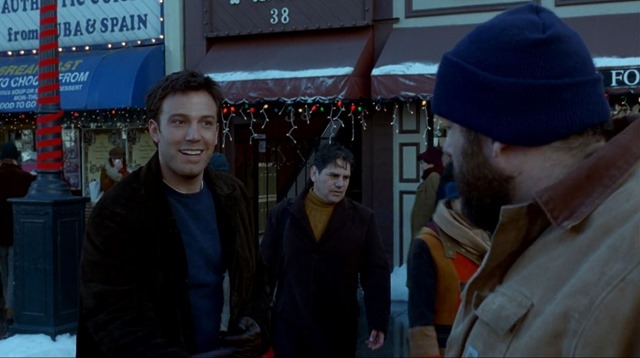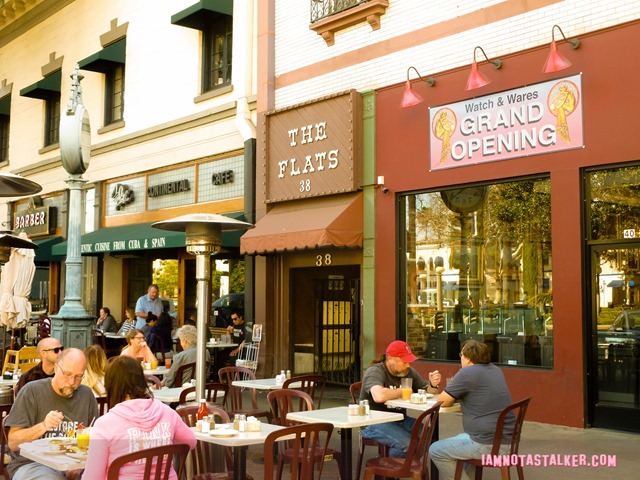 The area was dressed considerably for the shoot with manufactured snow, prop awnings and embellished façades, and therefore looks a bit different in real life than it did onscreen.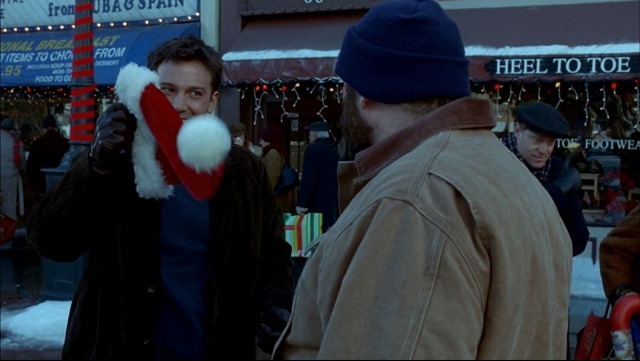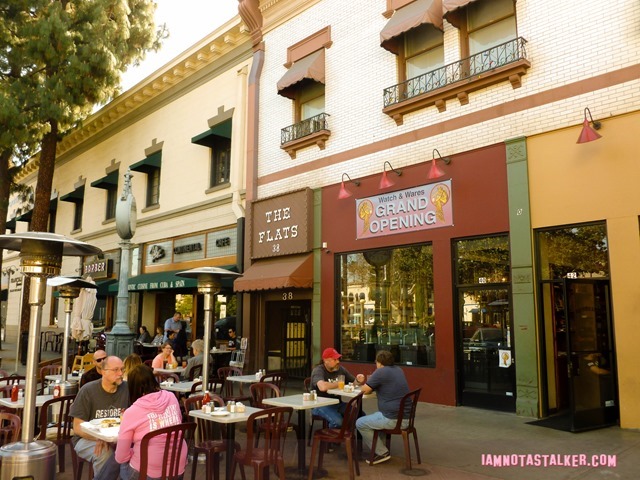 Later in the scene, Drew spots Alicia and Brian walking across the street from him and he enthusiastically rushes through traffic to greet them.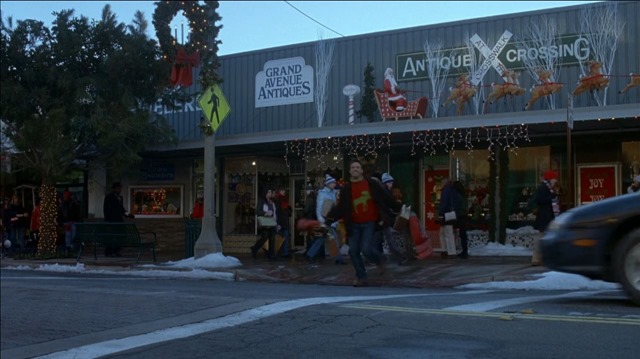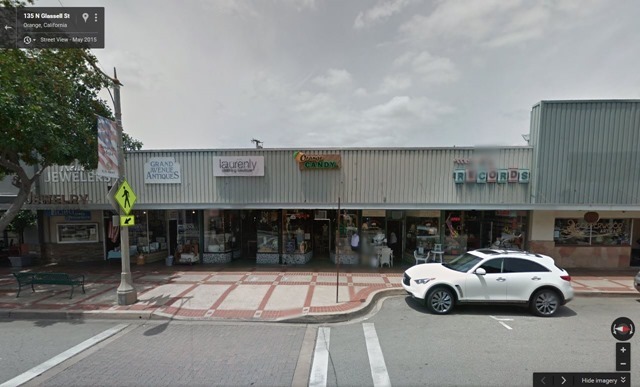 That sequence was shot just a bit north of Starbucks, in front of Laurenly Boutique, which is located at 142 North Glassell Street.  Though Laurenly is one of my favorite shops in the area (I purchased an adorable thumb ring there that I wear virtually everyday), I do not have any photographs of it, so you'll have to make due with Google Street View images for comparison.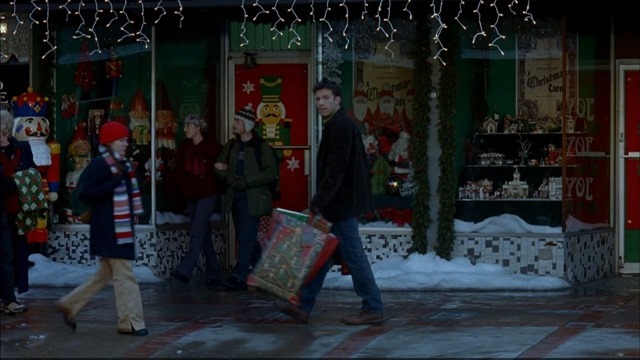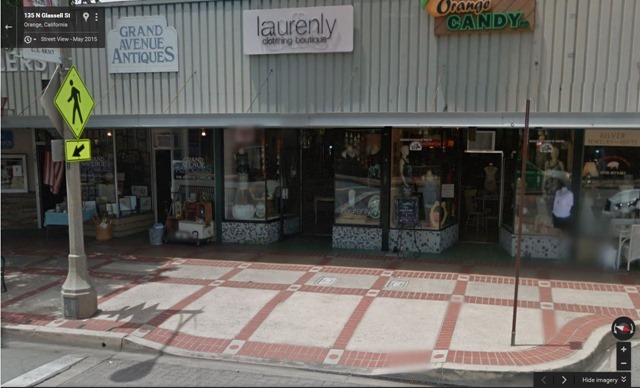 The Old Towne Orange Diedrich Coffee also masked as Village Java in the pilot episode of Ghost Whisperer.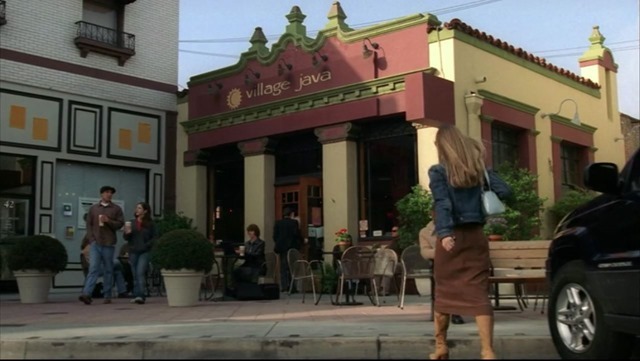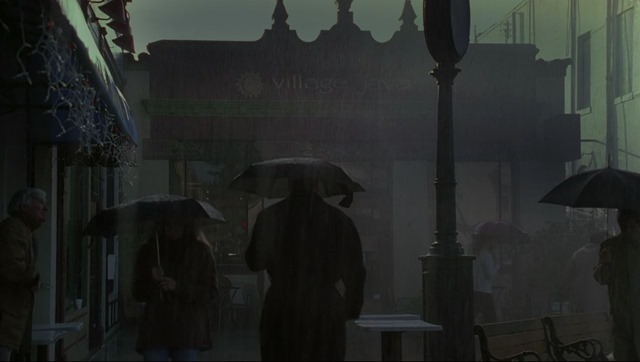 The real life interior of the café was also featured in the episode.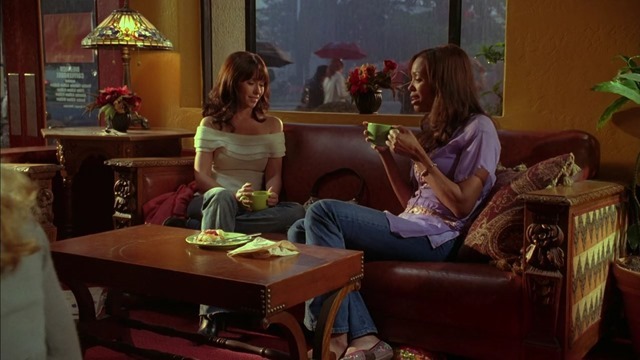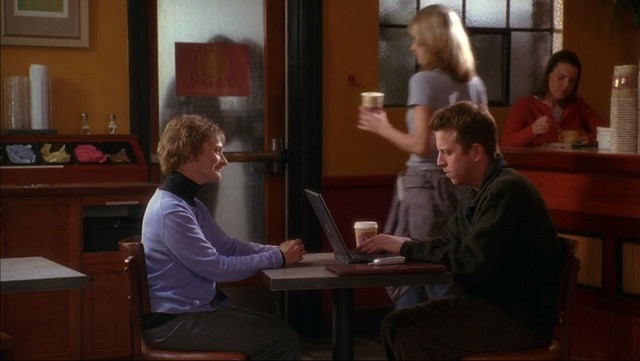 You can read a really interesting article about the filming of Surviving Christmas here written by a man who lived in the Chicago, Illinois neighborhood where the Valco house scenes were shot.  He does not paint a very good picture of Ben Affleck, saying "By almost every account, he was arrogant and scornful of his adoring fans."  I was surprised by the description.  I've met Affleck twice, once around the time that Surviving Christmas was filmed, and found him to be exceptionally affable and courteous on both occasions.  (He does not look particularly happy in the below photo, but I assure you, he was friendly and kind and happily posed for pictures with all of the fans who happened to be nearby.)  If the stuff about the nanny is true, then the guy is obviously a cad in his personal life, but as far as his interactions with fans go, I've never heard of him being anything other than vastly accommodating.  (Pinky Lovejoy, of the Thinking Pink blog, has like ten photos with Ben – no joke! – and only has good things to say about him.)  While researching this post, I also came across a link to a book written by Affleck's Surviving Christmas stand-in, John Wight.  The author doesn't seem to be a very positive person (he calls Orange "a suburban shithole of a small town") and the tome paints a very sad picture of the behind-the-scenes goings-on (apparently, the director of photography was a nightmare to work with), but I am dying to read it nonetheless, especially since the movie's locations are talked about throughout.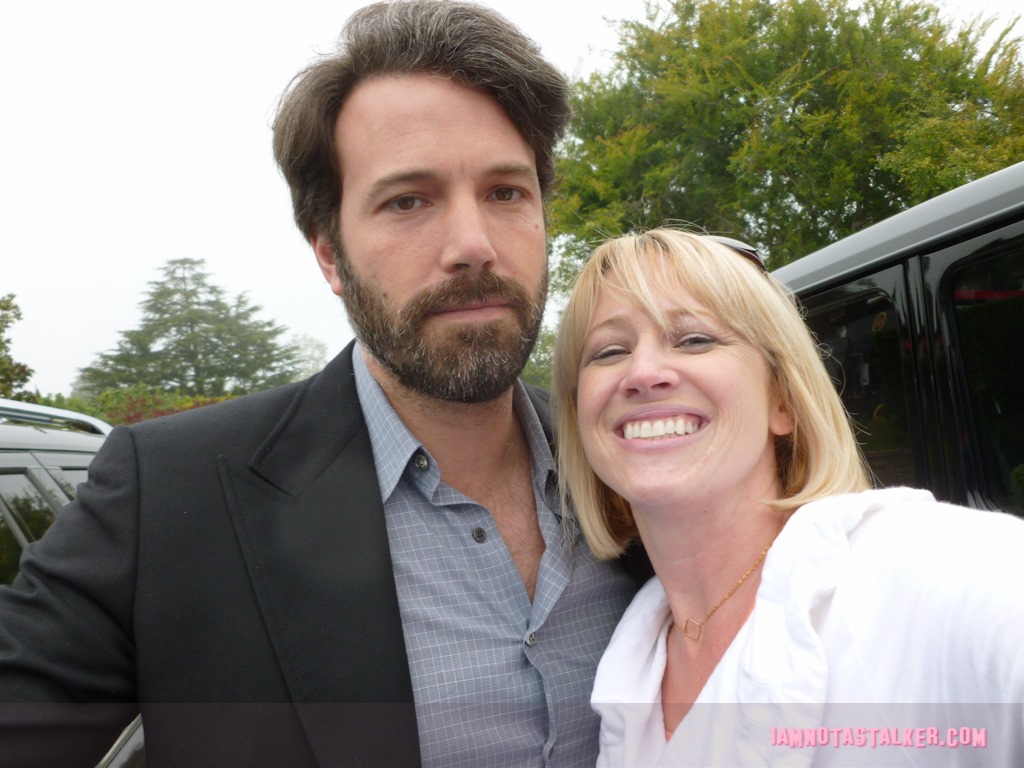 For more stalking fun, follow me on Facebook, Twitter, Instagram, Los Angeles magazine and Discover Los Angeles.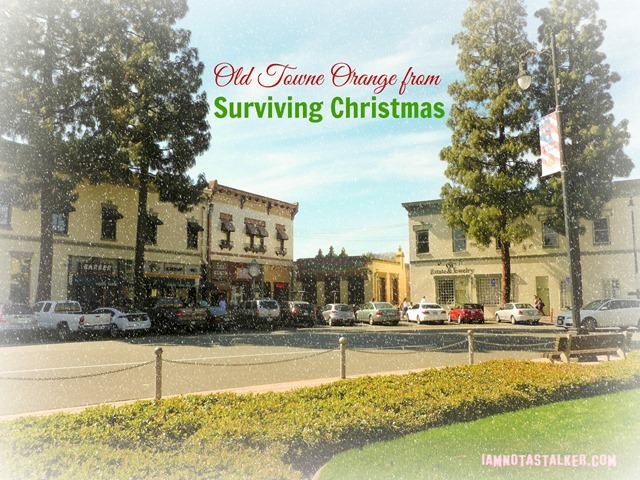 Until next time, Happy Stalking! 

Stalk It: The Surviving Christmas shopping scene was shot in the southwest corner of Plaza Square in Old Towne Orange.  Tom parks in front of the Starbucks located at 44 Plaza Square in the scene.  Drew later spots Alicia and Brian while standing in front of Laurenly Boutique, located at 142 North Glassell Street.
94109