Aria's House from "Pretty Little Liars"
Jan 8th, 2016 | By
Lindsay
| Category:
Pretty Little Liars Locations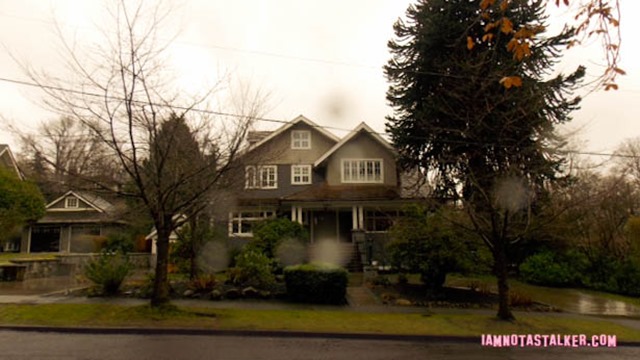 I've said it before and I'll say it again – stalking begets stalking!  One of the Vancouver locations I was most interested in finding from the Pretty Little Liars pilot was the gorgeous Craftsman-style house where doe-eyed beauty Aria Montgomery (Lucy Hale) lived.  There was virtually nothing to go on, though – no address number, no street signs, no clues visible in the background.  So I put that hunt on the back burner and instead set my sights on tracking down the DiLaurentis/St. Germain home from the episode.  As fate would have it, finding it led me right to Aria's house!
While scanning through the pilot during my search, I almost fell out of my chair when I noticed that Aria's house was actually visible in the background across the street from the DiLaurentis/St. Germain residence in the scene in which Emily Fields (Shay Mitchell) walked Maya St. Germain (Bianca Lawson) home from school.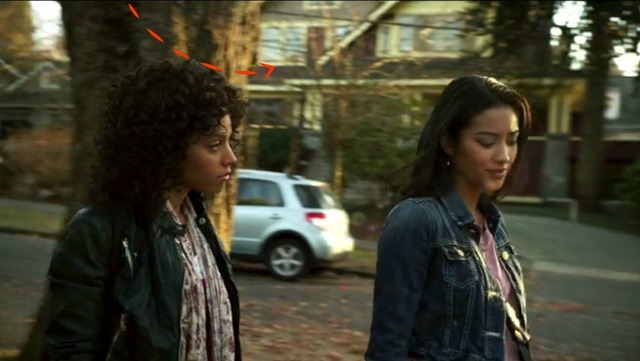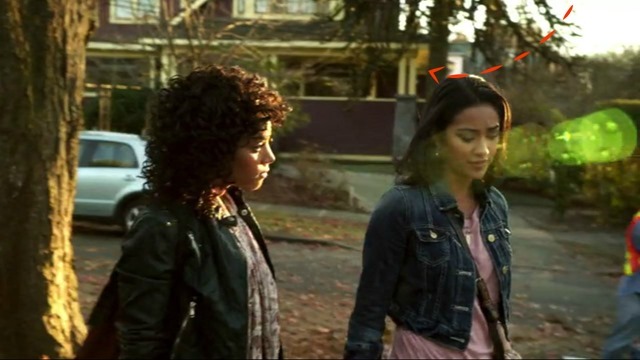 As I mentioned in Wednesday's post, thanks to a visible address number, I was able to track down the DiLaurentis/St. Germain house in just a few minutes.  And sure enough, when I looked across the street using Google Street View, there was Aria's pad!  Because I don't have any trips to Vancouver planned in the coming year, my good friend/fellow stalker Kerry, who lives in the Pacific Northwest, was nice enough to stalk the place for me during a recent (rainy) visit to Canada.  Thank you, Kerry!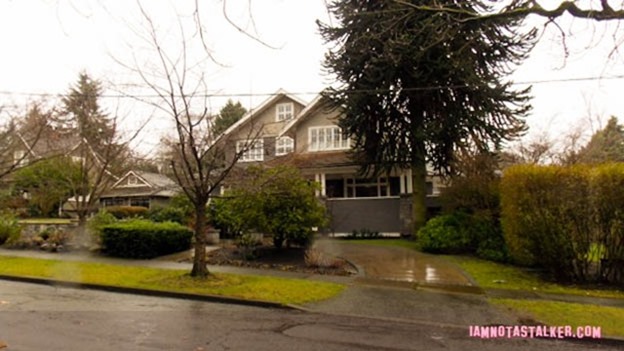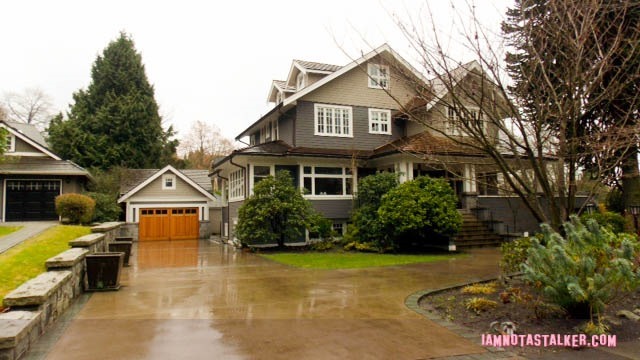 Sadly, Aria's house looks a bit different today than it did when the pilot was shot back in December 2009.  As you can see below, besides a color change from yellow and red to gray and white, most of the windows have been swapped out for new ones, and the roofline of the second story above the porch has been altered.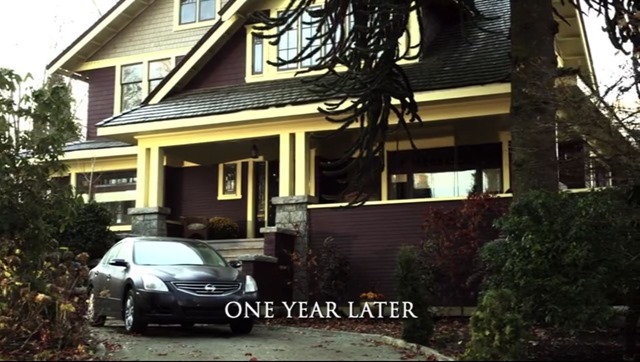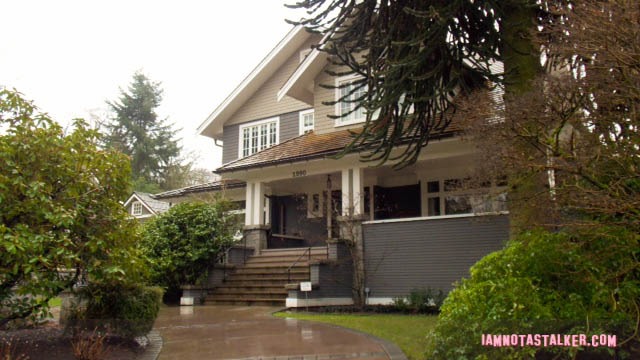 You can see some of the work being done in old Google Street View images from May 2015.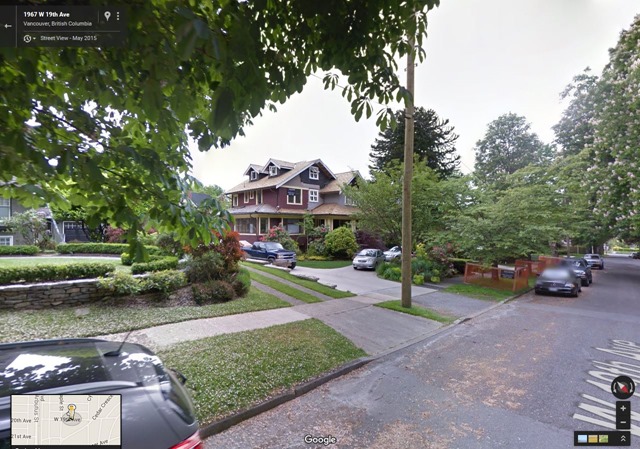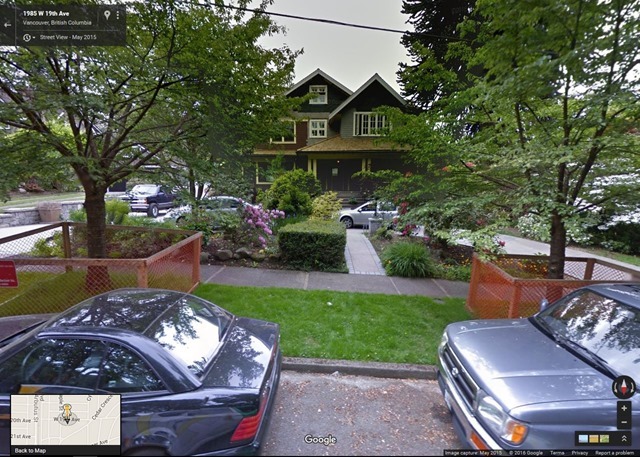 But if you toggle Street View back to May 2014, the home appears exactly as it did onscreen.  Oh, how I wish I had gotten to see it before the alterations were made.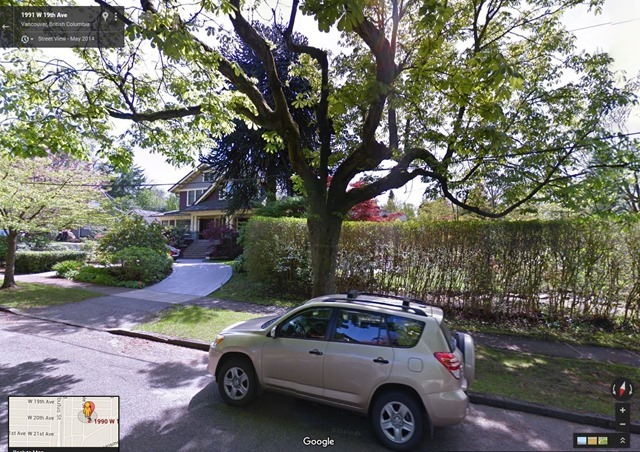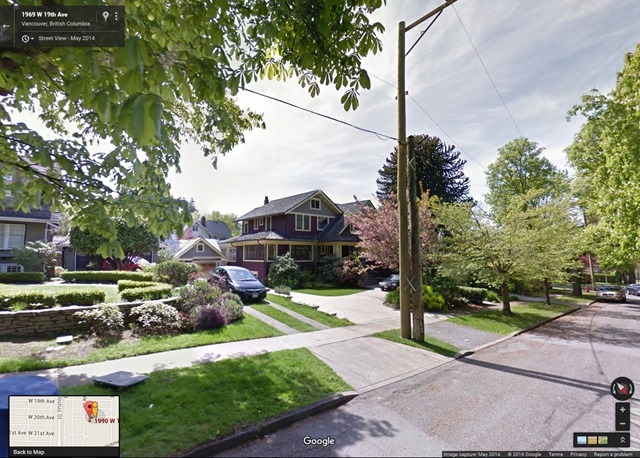 In real life, the residence boasts 6 bedrooms, 4 baths, and 5,000 square feet of living space.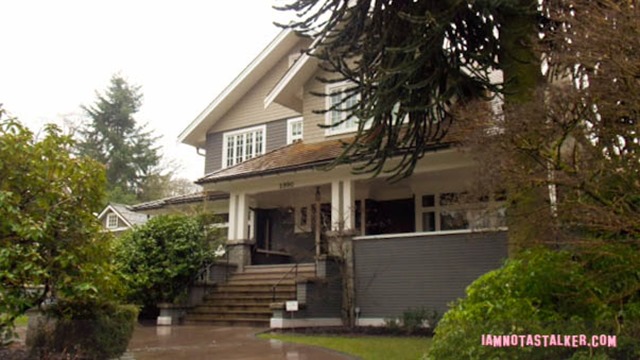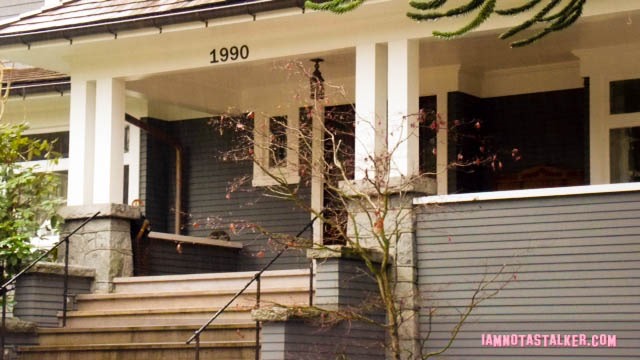 Sadly, Aria's awesome front porch swing is nowhere to be found.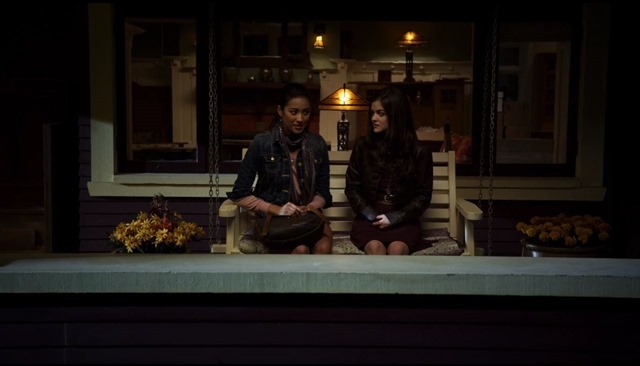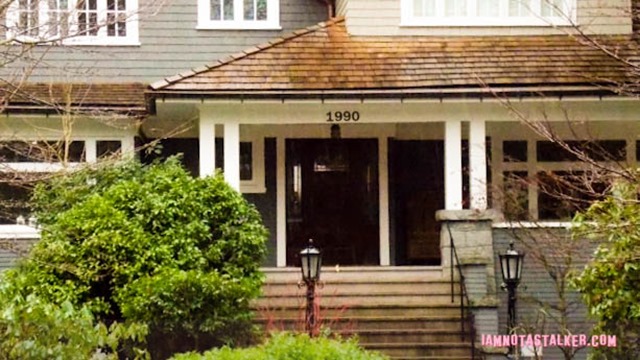 Typically when shooting a pilot, the interior of a house will be utilized.  Then if the series is picked up, that interior will be re-created on a soundstage for all future filming.  That was not the case with this particular location.  The segments that took place inside of Aria's home in the pilot were not shot in Canada at all, actually, but at a practical house set on Midwest Street at Warner Bros. Studio.   I did not realize that factoid until making screen captures for this post.  In the scene in which Aria talked to her father, Byron (Chad Lowe), while standing in the family's entry, the green doorway of a residence across the street was visible in the background.  I knew that doorway belonged to a studio house immediately upon seeing it, did some further research, and discovered it was part of a façade that is, sadly, no longer standing.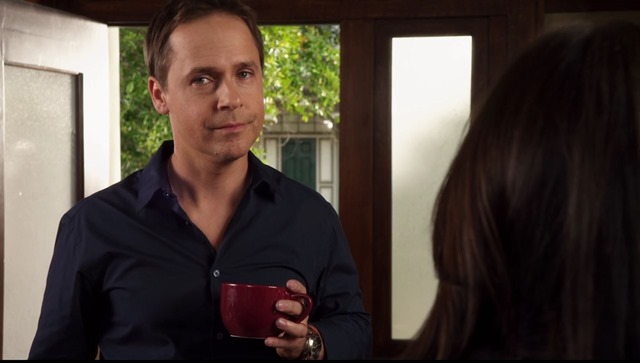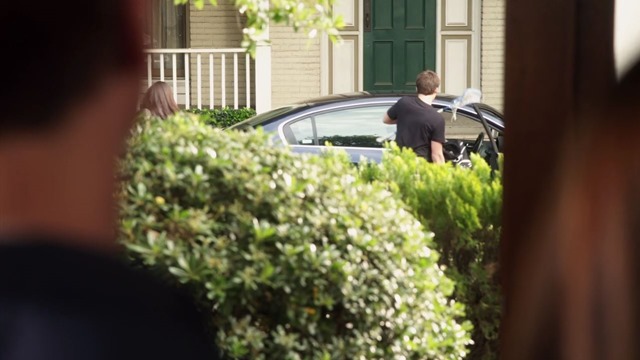 The house once stood at the southern end of Midwest Street, but was dismantled in 2014 – along with the façade of Toby Cavanaugh's (Keegan Allen) house – to make way for the studio's newly-unveiled Stage 48: Script to Screen exhibit.  You can see some faraway photographs I took of the structure while on a tour of the WB a few years back below.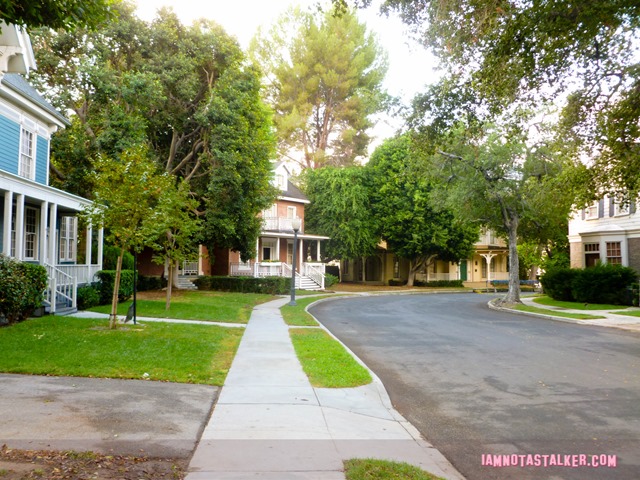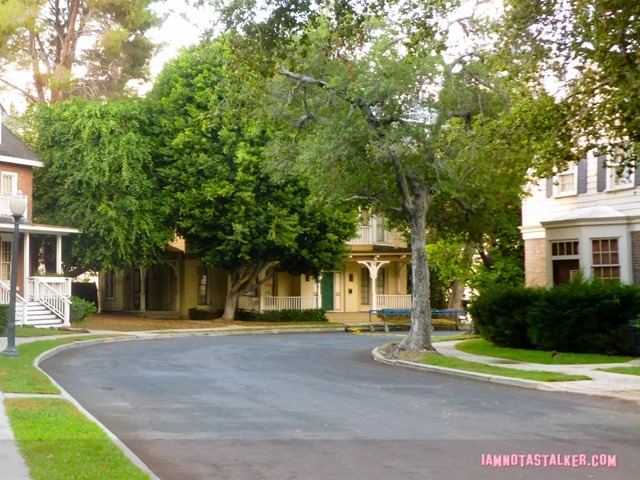 Once I figured out the location of the green-doored façade, I was able to discern that the Montgomery house interior scenes from the pilot were shot inside of the home pictured below, which is also located on the southern edge of Midwest Street.  Why were those segments shot at the WB lot and not on location in Vancouver like the rest of the pilot, you ask?  Well, I looked into it and learned that the roles of both Byron and Aria's brother, Mike (Cody Allen Christian), were recast after the pilot had been filmed, so any scenes involving them had to be re-shot.  The vast majority of those scenes took place inside of the Montgomery home.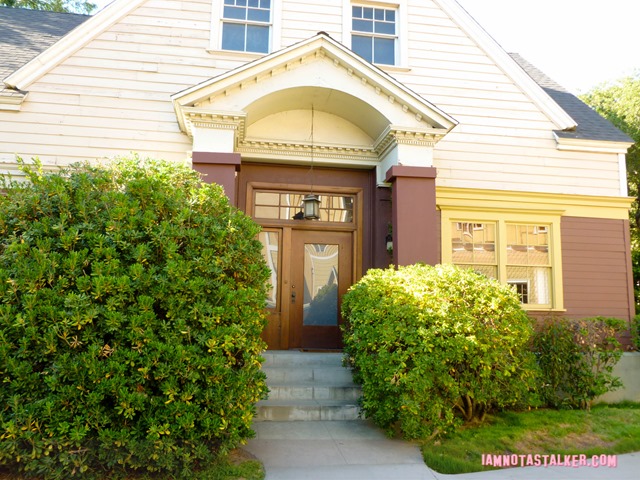 Interestingly, during one of my most recent visits to the WB back in June, I asked our tour guide for help in tracking down a couple of PLL locations that I knew were on the backlot, but that I couldn't seem to find.  He did not end up having time to show me the locales during the tour, so after it ended he took me and my friends on a private tour of the studio (it was amazing!), during which he pointed out the house below and informed us that it was used for exterior shots of Aria's residence.  As you can see, the bottom portion of the façade is painted to match the original coloring of the Vancouver home.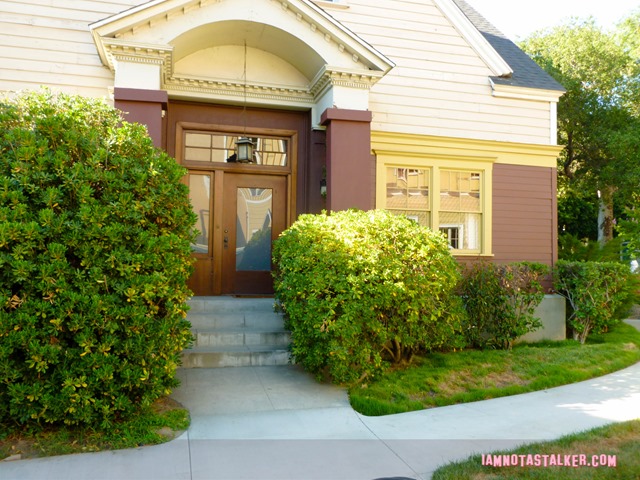 I can only recall one time when the façade exterior appeared on the series (though I am sure there are other instances).  In the Season 6 episode titled "Don't Look Now," a very tight shot of the home was shown in the scene in which Spencer Hastings (Troian Bellisario) dug through Aria's trash, looking for her anti-anxiety medication.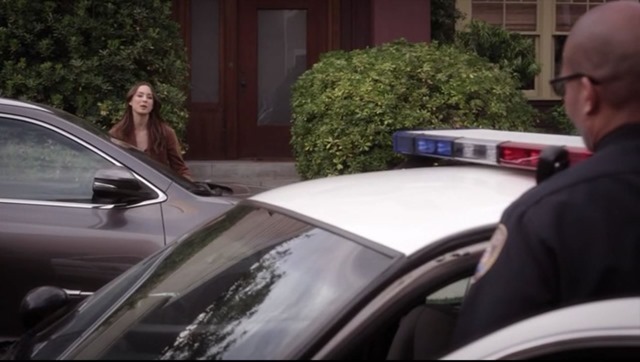 All of the homes on Midwest Street are designed in such a way that their various sides can appear as different properties.  The actual "front" of the structure that is used as Aria's house is pictured below.  The area that appears onscreen in Pretty Little Liars can be found on this residence's southern side.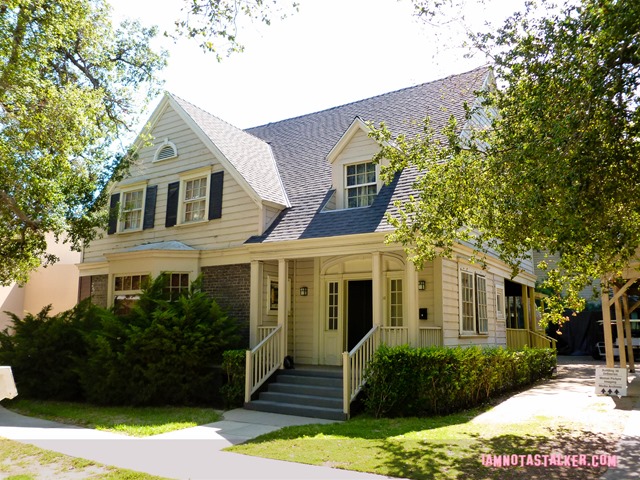 Our tour guide had also informed us that the interior of the home contained the set of Aria's living room.  And while sheet-covered furniture and props were visible through the front window of the house (as you can see below), which points toward a set being located there, I did not put a whole lot of credence into his assertion.  Because the interior of Aria's house is utilized with such regularly, I figured the sets were most likely situated on a soundstage and not inside of the Midwest Street dwelling.  But now it appears that his information was correct.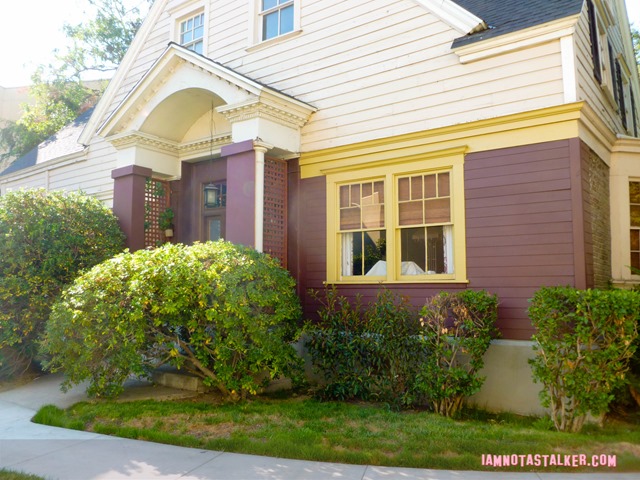 Though I do still believe that some of the Montgomery home interiors exist inside of a soundstage (most notably, the set for Aria's bedroom), it does seem that at least a portion of them were constructed inside of the Midwest Street façade.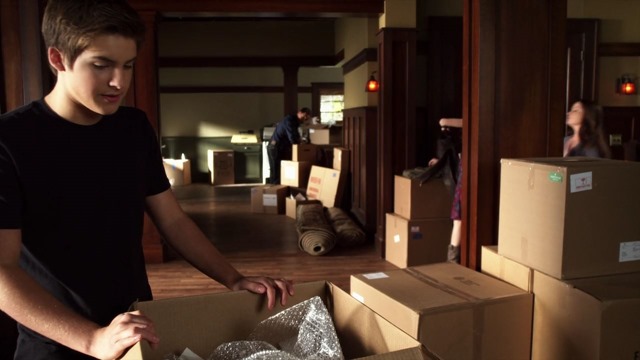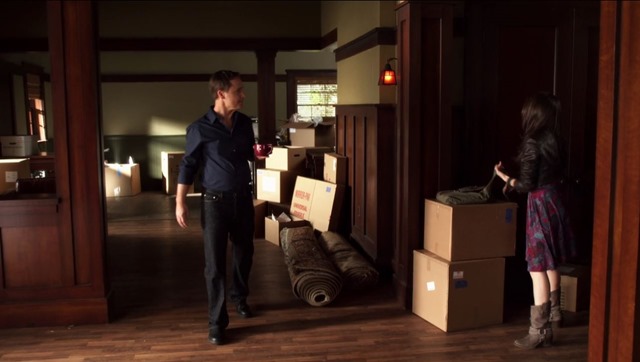 UPDATE – I just came across the website of Pretty Little Liar's production designer Rachel Kamerman and a caption on her portfolio page confirms what our tour guide told us.  As you can see below, according to Rachel, the interior of the Montgomery house is a permanent set built on the W.B. backlot and not inside of a soundstage.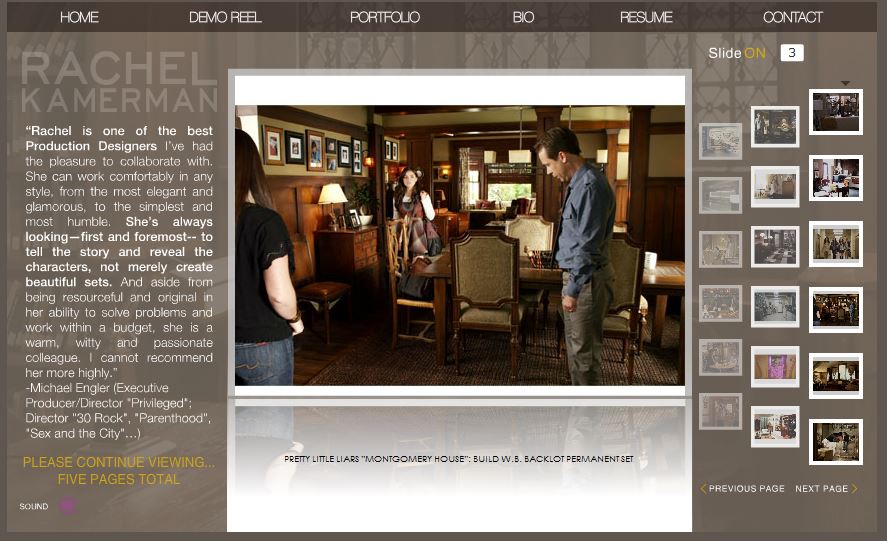 Big THANK YOU to Kerry for stalking this location for me! 

For more stalking fun, follow me on Facebook, Twitter, Instagram, Los Angeles magazine and Discover Los Angeles.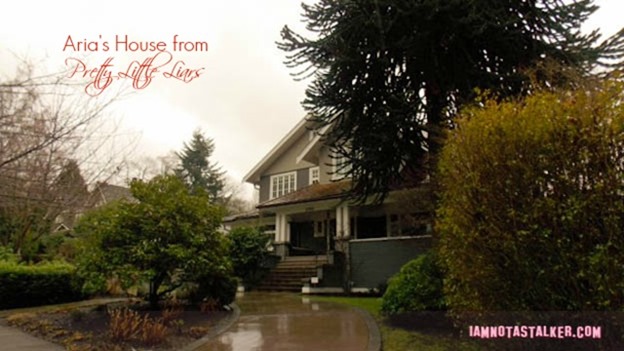 Until next time, Happy Stalking! 

Stalk It: Aria's house from the pilot episode of Pretty Little Liars is located at 1990 West 19th Avenue in Vancouver.  The DiLaurentis home from the episode is located across the street at 1995 West 19th Avenue.
94471