Lord Byng Secondary School from "Pretty Little Liars"
Jan 11th, 2016 | By
Lindsay
| Category:
Pretty Little Liars Locations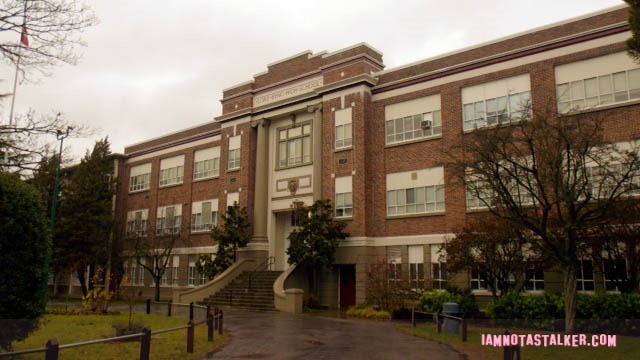 I hope y'all aren't sick of Pretty Little Liars locations yet, because I still have a few more up my sleeve, as well as a huge soon-to-be published article on the subject for Discover Los Angeles.  Today's locale is Vancouver's Lord Byng Secondary School, which stood in for Rosewood High School in the pilot episode.  For those who have not read my other PLL articles (which you can do here, here, here, and here) and are unfamiliar with the production of the show, I'll give you the skinny.  While the series is lensed almost in its entirety at Warner Bros. Studio in Burbank, the pilot was shot in Vancouver.  I recently became a bit obsessed with tracking down locations from the inaugural episode and found the school featured in it thanks to the Pretty Little Liars Wikia page.  My good friend/fellow stalker Kerry was nice enough to stalk it for me during a recent trip to Canada.  Thank you, Kerry!
The stately Lord Byng Secondary School was originally constructed in 1925 and was named after The Lord Byng of Vimy, who, at the time, was the Governor General of Canada.  You can see a photograph of what the site looked like when it was first constructed here.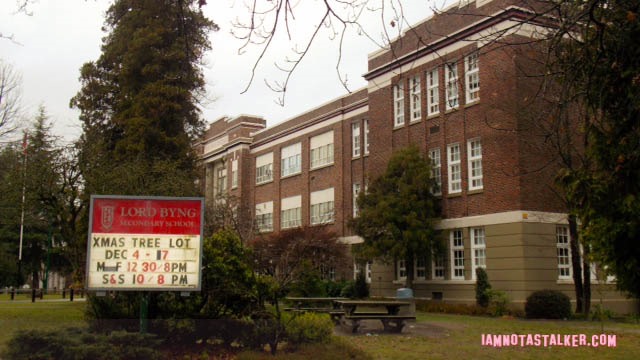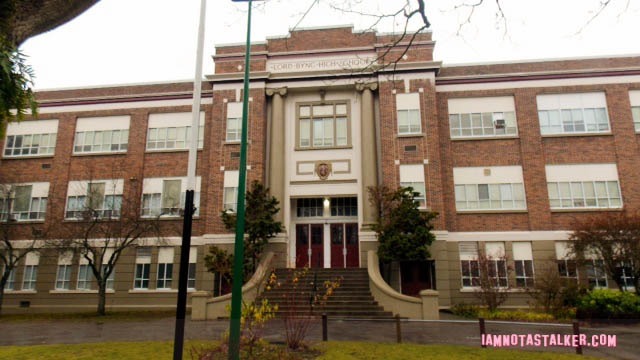 The property has been expanded several times over the years.  You can see some photos of those additions being built here.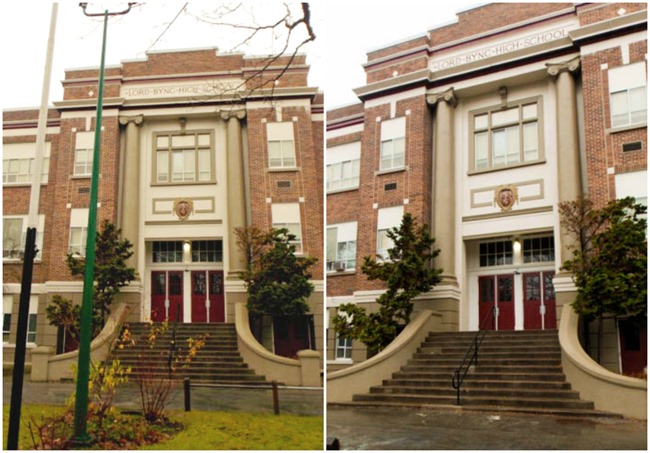 Lord Byng popped up a few times in the Pretty Little Liars pilot and establishing shots of it still appear on the series from time to time.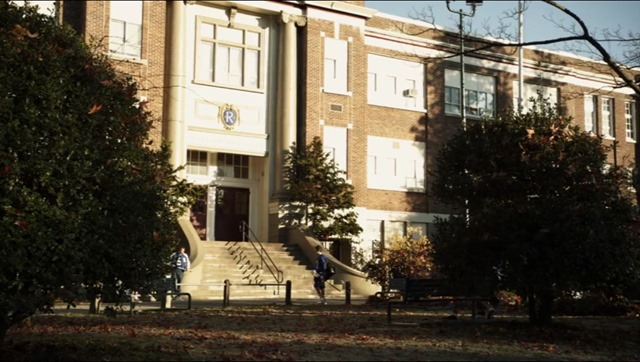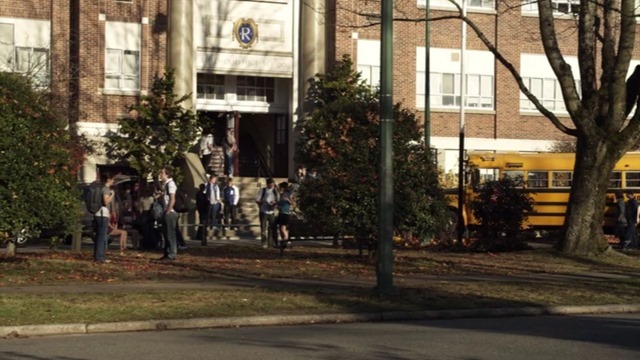 The real life interior of the school was also used in a few scenes.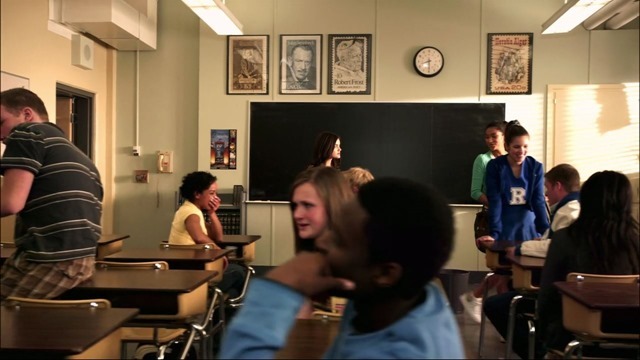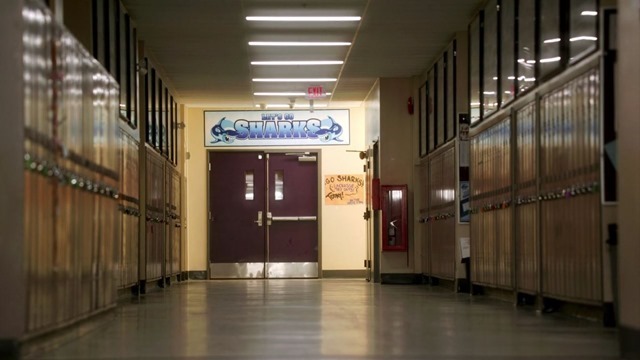 Once the show got picked up, production moved to the Sunshine State, more specifically to Warner Bros. Studio.  Outside of an occasional establishing shot of Lord Byng, a brick-faced façade located in the Midwest Street portion of the lot has since been used to mask as Rosewood High.  Surprisingly, that structure (pictured in the second photograph below) bears quite a resemblance to Lord Byng Secondary School.  I say "surprisingly" because the façade was not constructed for Pretty Little Liars, but has been a lot staple since it was built the '50s.  The Dukes of Hazzard fans should recognize the place as the infamous Hazzard County Courthouse.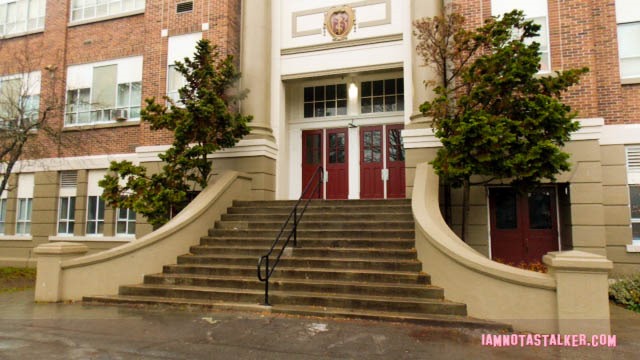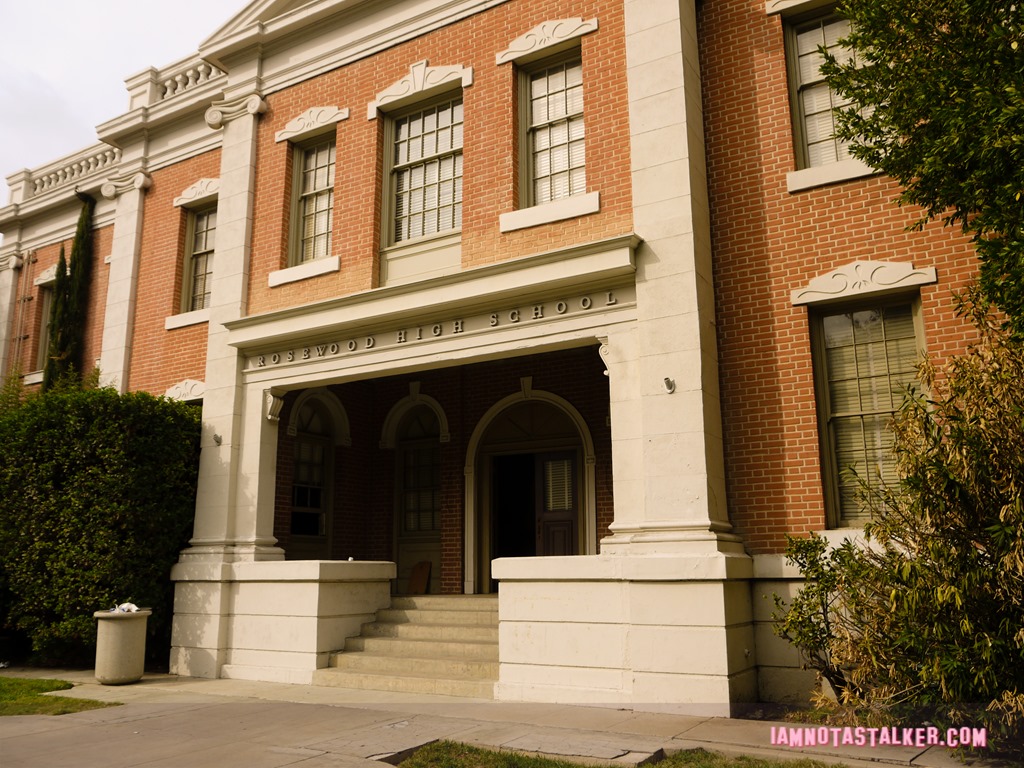 As I mentioned in my post about Aria Montgomery's (Lucy Hale) house, the parts of Mike Montgomery (Cody Allen Christian) and Byron Montgomery (Chad Lowe) were re-cast after the Pretty Little Liars pilot was shot, which required many scenes to be re-shot.  A few of those scenes took place at Rosewood High and the re-shoots made use of the Warner Bros. façade.  Those scenes included the segment in which Aria dropped Mike off at lacrosse practice . . .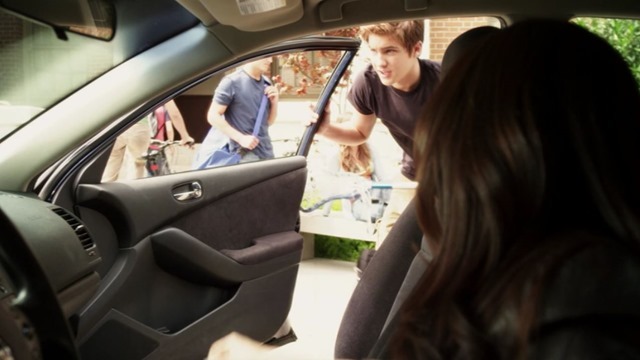 . . . and close-up shots from the scene in which Byron dropped Aria and Mike off at school on the first day of classes.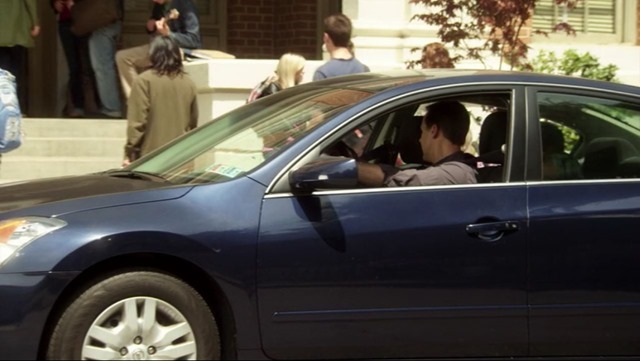 Lord Byng is an oft-used filming location.  In fact, it has appeared in so many productions that it would be impossible for me to chronicle them all here, but I'll list a few.  In 1986's The Boy Who Could Fly, LBSS was where Milly (Lucy Deakins) attended high school.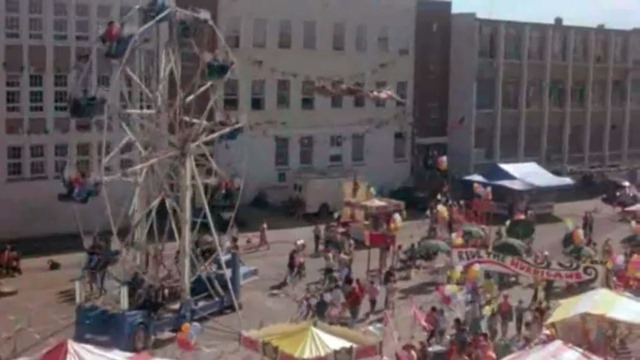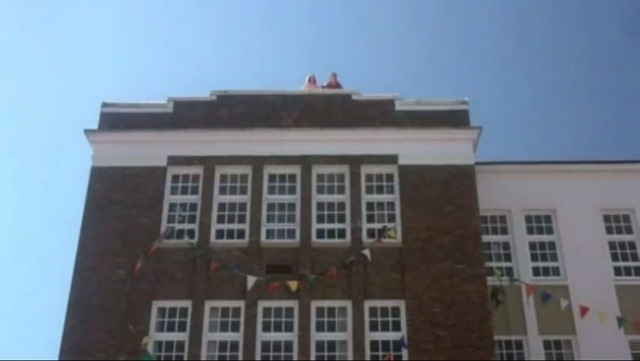 Lord Byng has appeared in no less than five episodes of 21 Jump Street, including Season 2's "After School Special," which aired in 1987.  For that episode the rear side of Lord Byng was utilized.  You can read about more of the episodes filmed there on the 80sFilmLocations site.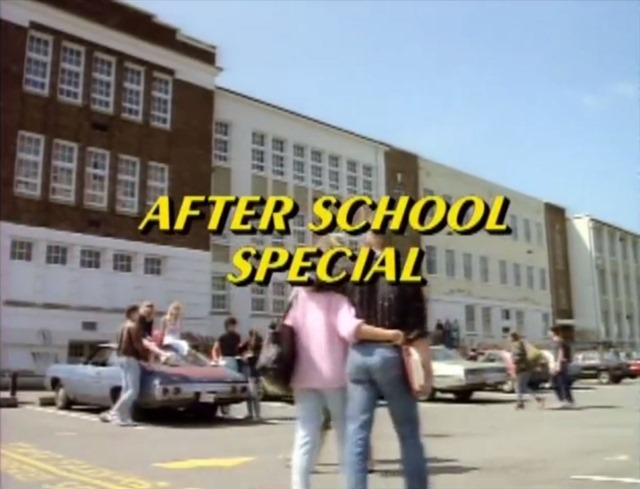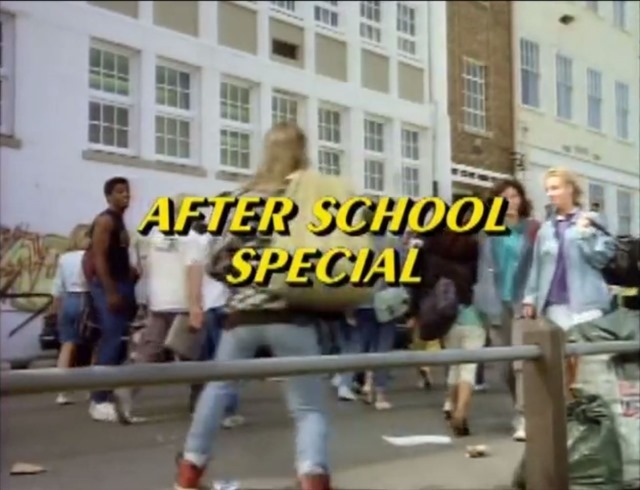 LBSS was where Nicole Walker (Reese Witherspoon) went to high school in the 1996 thriller Fear.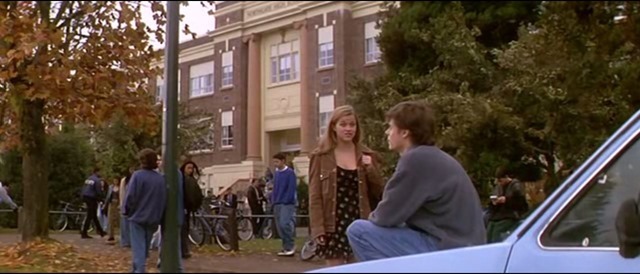 In 2009's X-Men Origins: Wolverine, the school was where Victor Creed (Liev Schreiber) and Scott Summers (Tim Pocock) had a showdown.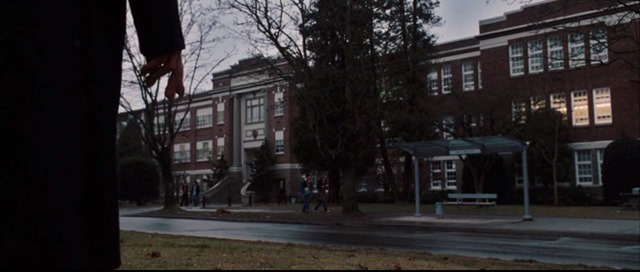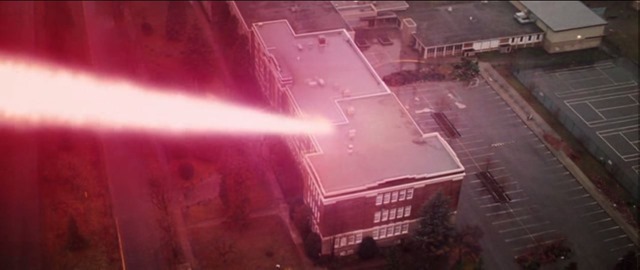 And in the Season 1 episode of Emily Owens, M.D. titled "Emily . . . and the Outbreak," which aired in 2012, Lord Byng masked as Robert M. Johnson High School, where Emily Owens (Mamie Gummer) taught a sex education class.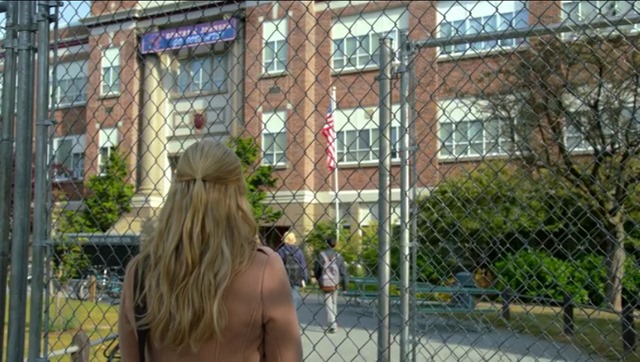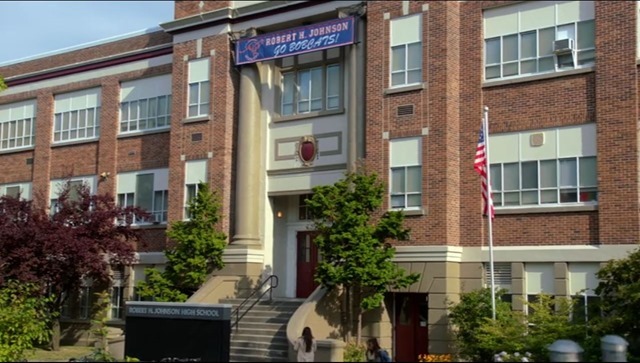 Big THANK YOU to Kerry for stalking this location for me! 

For more stalking fun, follow me on Facebook, Twitter, Instagram, Los Angeles magazine and Discover Los Angeles.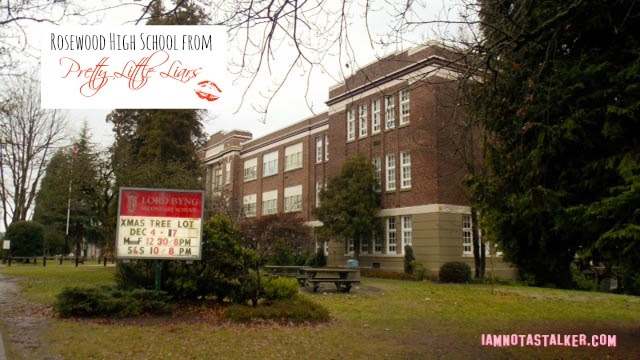 Until next time, Happy Stalking! 

Stalk It: Lord Byng Secondary School, aka Rosewood High School from the pilot episode of Pretty Little Liars, is located at 3939 West 16th Avenue in Vancouver.
94523