The L.A. Hotel Downtown from "How to Get Away with Murder"
Jan 20th, 2016 | By
Lindsay
| Category:
TV Locations
Sometimes while viewing a television show or movie, I become absolutely transfixed by a location.  So much so that I have to pause what I'm watching and track down the locale right then and there.  It happens quite often actually – more often than I'd like to admit – and drives the Grim Cheaper up the wall.  Such was the case with the hotel where Eve Rothlow (Famke Janssen) stayed while in town to help Annalise Keating (Viola Davis) in the Season 2 premiere of How to Get Away with Murder titled "It's Time to Move On."
One look at the frosted glass art installation hanging above the check-in desk had me drooling and I immediately grabbed my laptop to begin tracking down the hotel.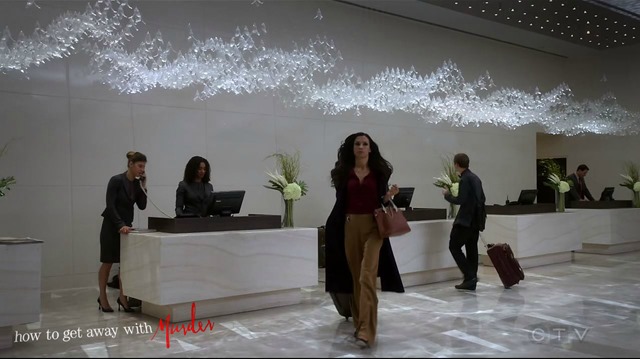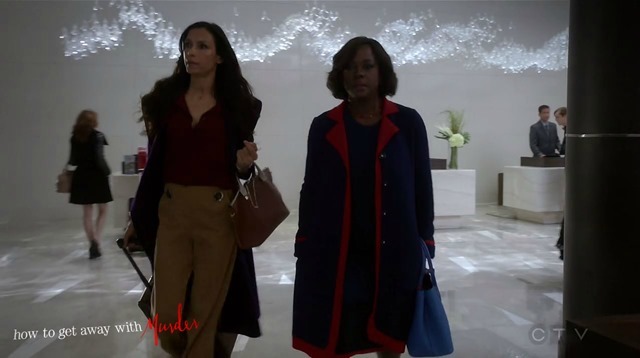 Fortunately, it was an easy find.  Thanks to the ultra-sleek décor, I knew that the hotel was either newly built or newly renovated, so I did a Google Images search using the terms "modern," "new," "hotel," "renovation" and "Los Angeles," and it was not long before I came across some pictures that matched what had appeared onscreen.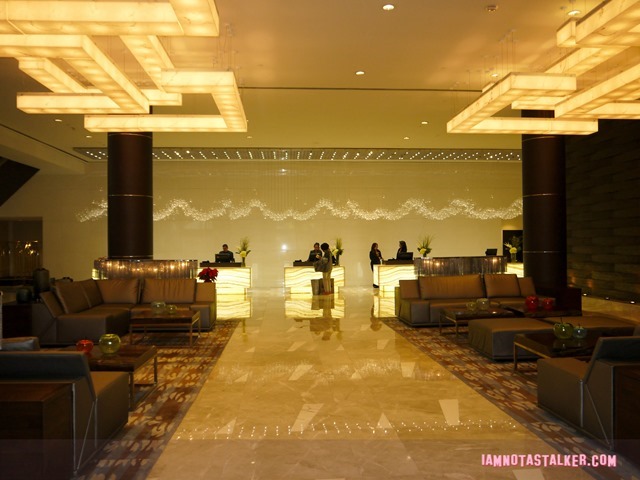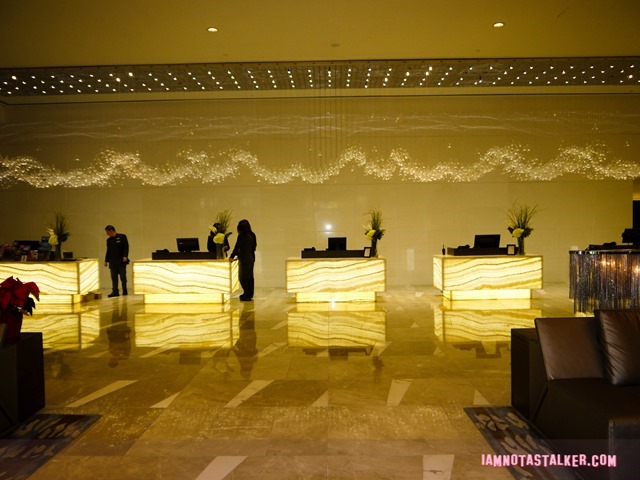 As it turns out, the "It's Time to Move On" episode was filmed at The L.A. Hotel Downtown, an absolutely gorgeous property that did indeed recently undergo a massive renovation.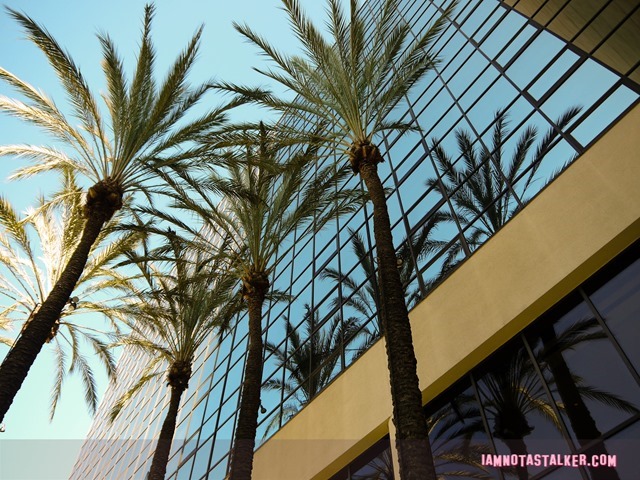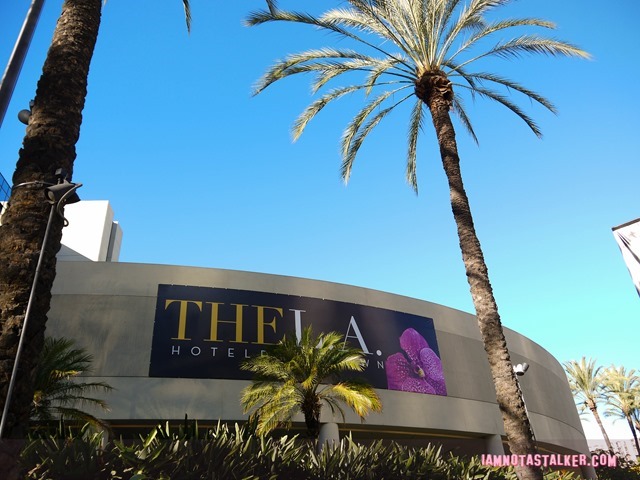 The 14-story hotel was originally constructed as a Sheraton Grande in 1983.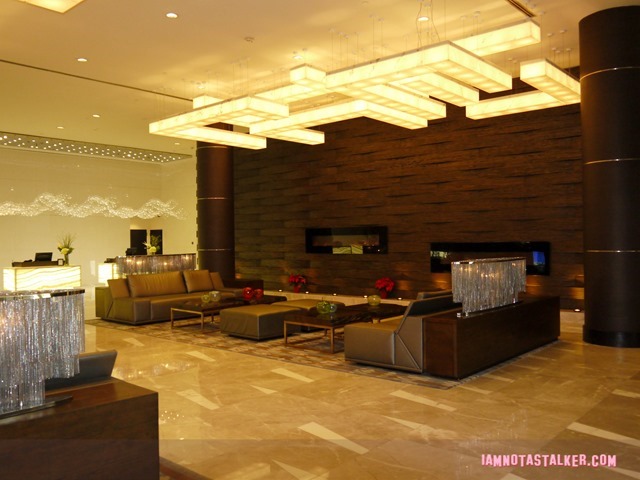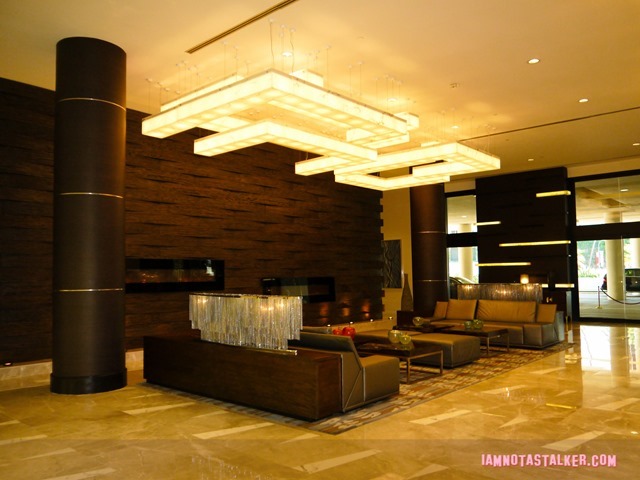 In December 1997, it was purchased by CapStar Hotel Company and was transformed into the Los Angeles Marriott Downtown.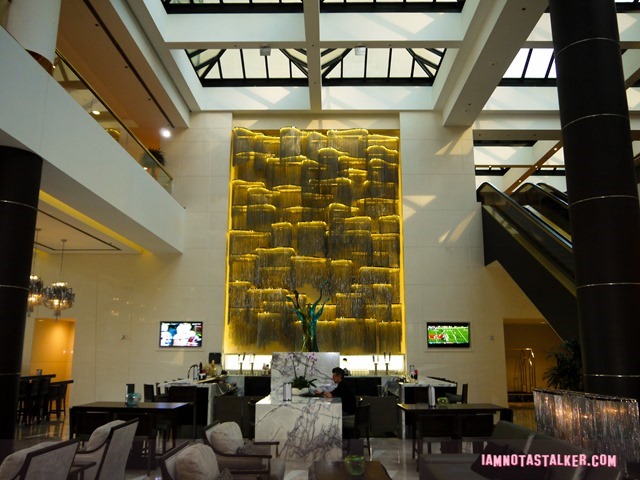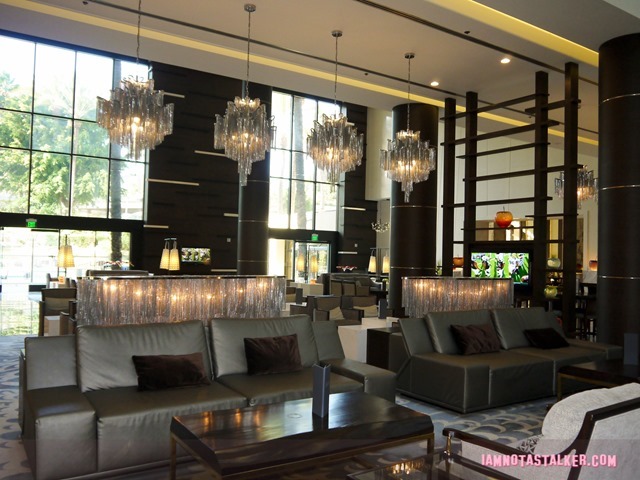 The 2007 financial crisis hit the property hard, though, and it went into foreclosure in 2010.  The site was subsequently purchased by Hong Kong-based real estate development company Shenzhen New World Group, who began a $25 million renovation of the place and renamed it The L.A. Hotel Downtown.  Though it was originally set to operate under the Hyatt Regency brand when the renovations were complete, those plans fell through and today the hotel functions as an independent property.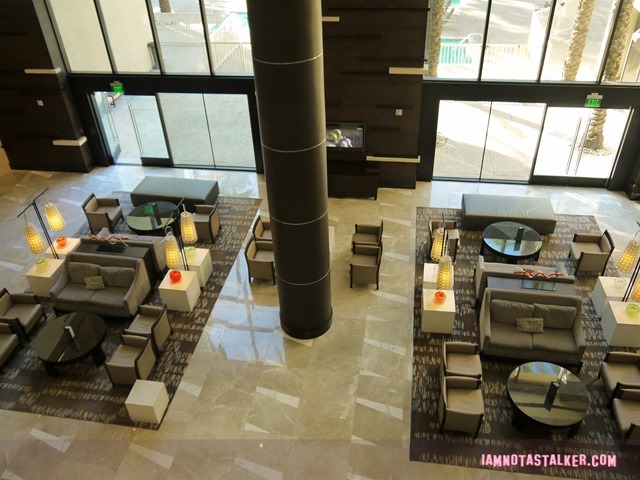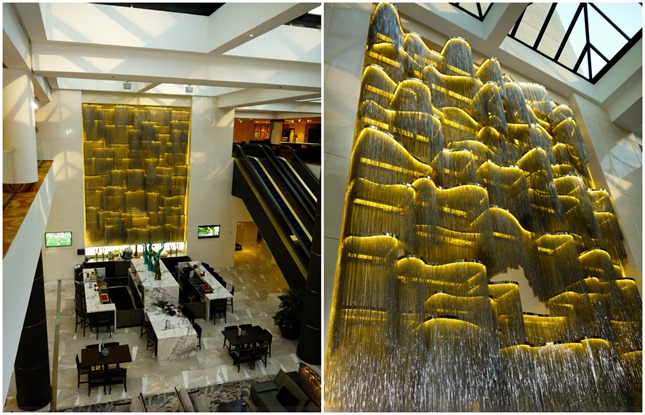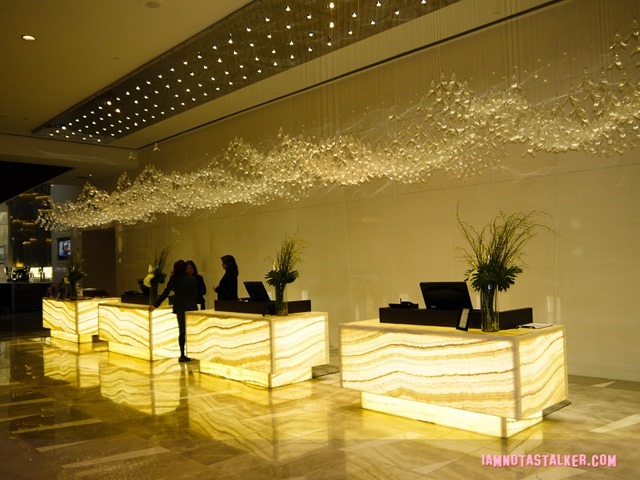 You can check out some photos of the hotel during its time as a Marriott here, here, here, here, and here.  It is absolutely fascinating to me to see how different the place looked then as compared to now.  It's virtually unrecognizable!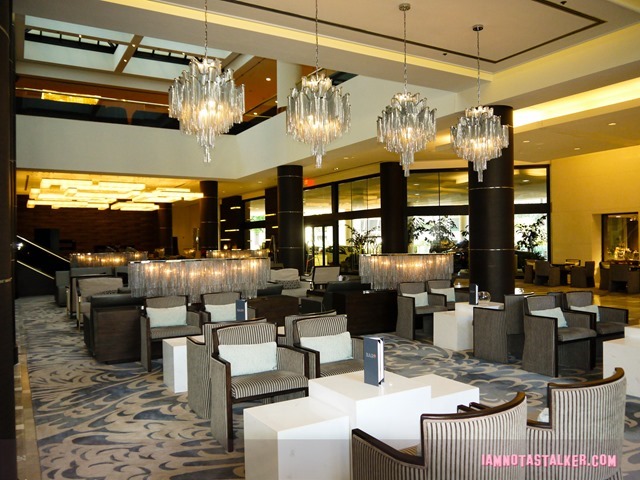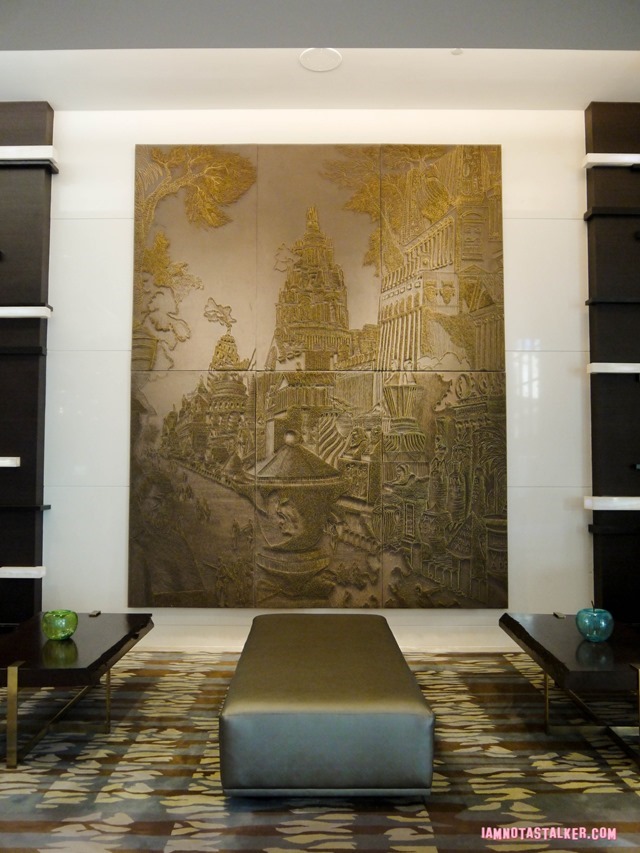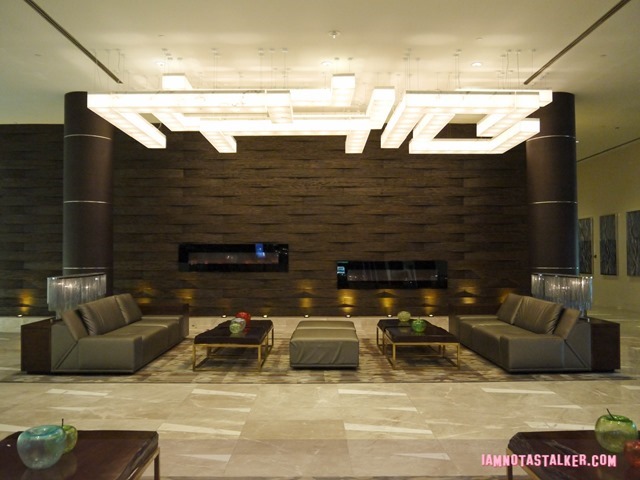 The L.A. Hotel Downtown currently boasts 400 guest rooms, 69 suites, 25,000 square feet of meeting and event space, 23 conference rooms, 2 ballrooms, a fitness center, a restaurant, a lounge, a business center, and an outdoor pool.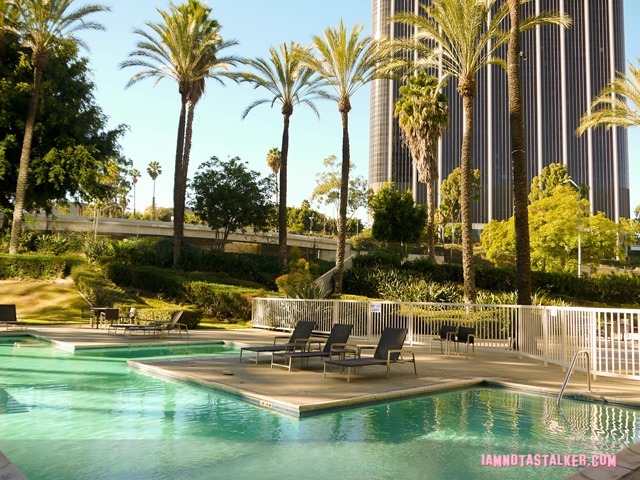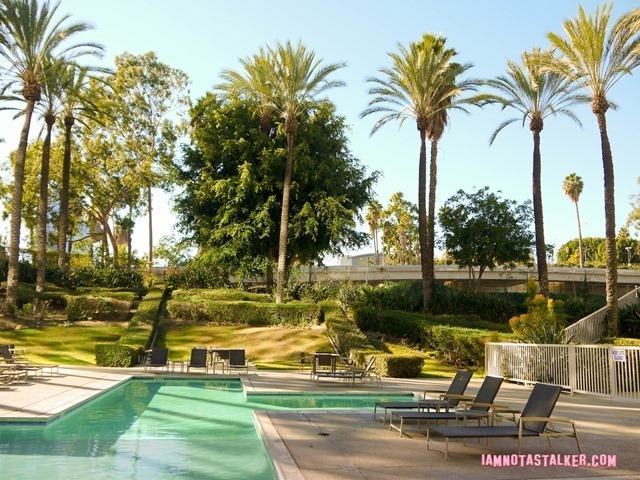 It is honestly one of the most gorgeous hotels I have ever laid eyes on.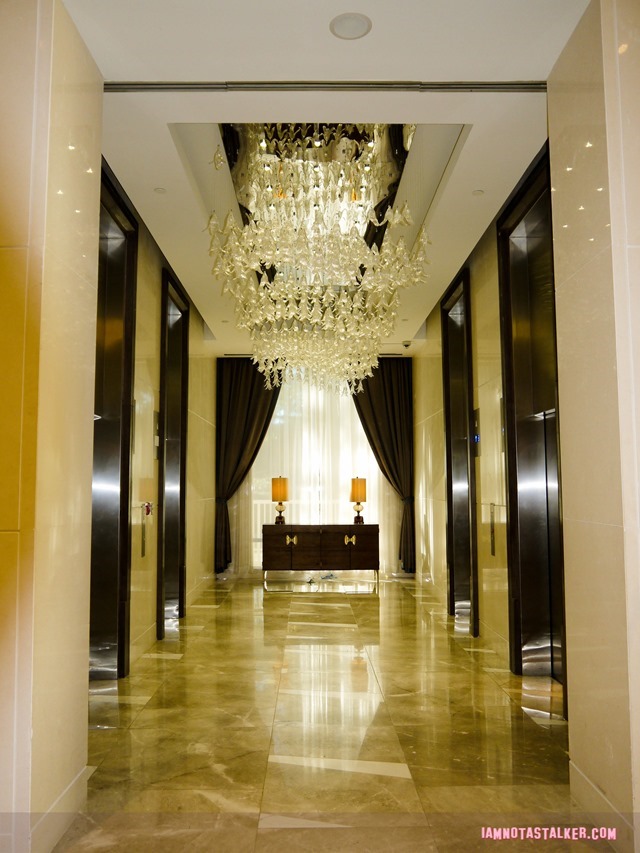 And in person, the glass art installation did not disappoint!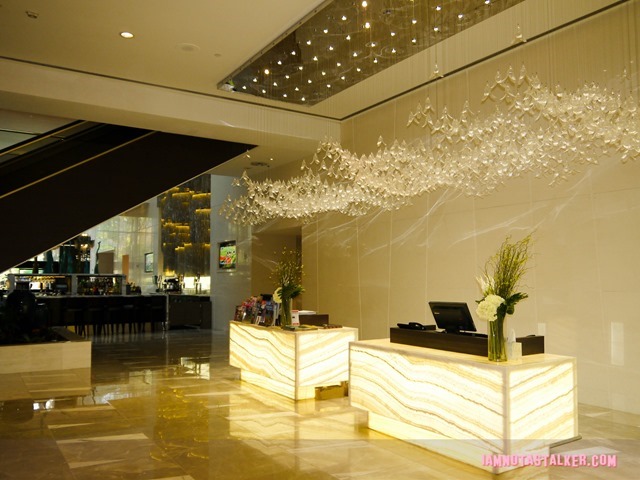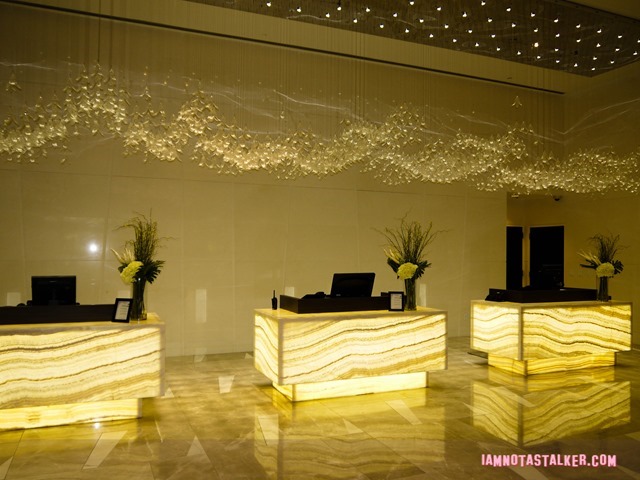 It is literally stunning.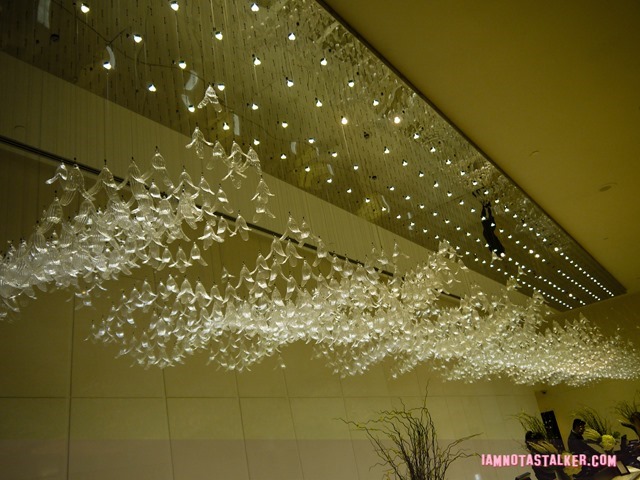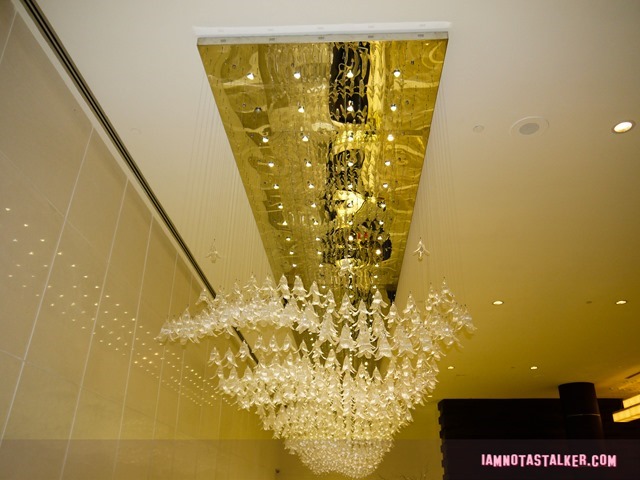 Hot to Get Away with Murder also made use of the hotel's main entrance.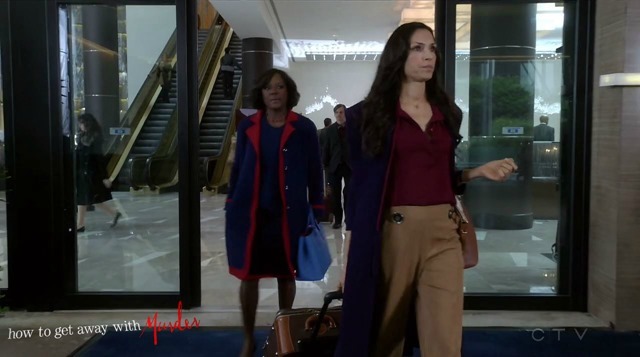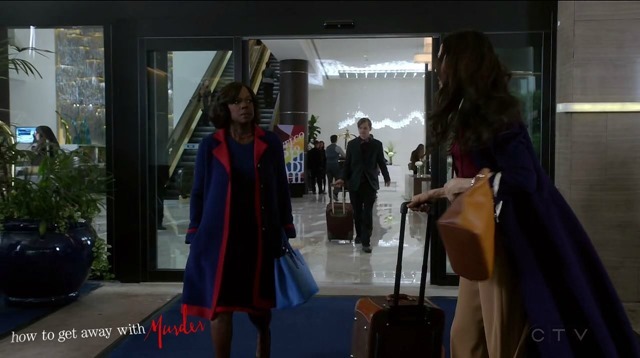 The property also masked as the Manhattan hotel where David Clarke (James Tupper) stayed in the Season 4 episode of Revenge titled "Repercussions" – which reminds me, I really need to watch the series' final season!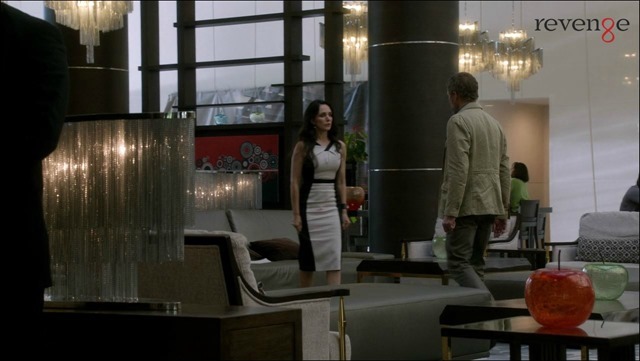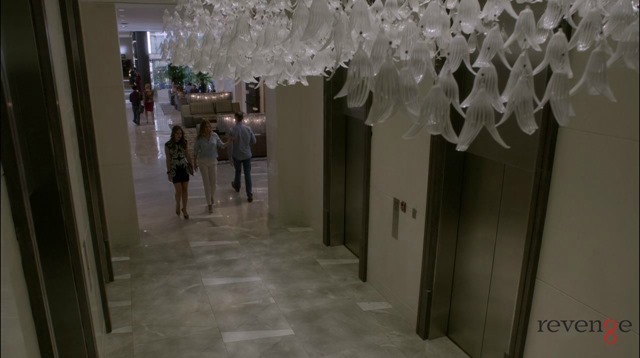 For whatever reason, Revenge did not make use of the outside of The L.A. Hotel Downtown, but instead chose to film the exterior hotel scenes at the Westin Bonaventure.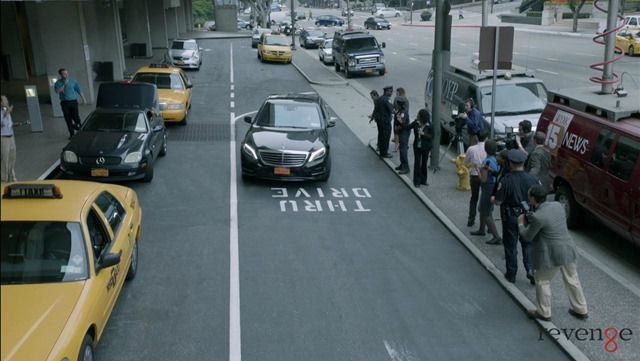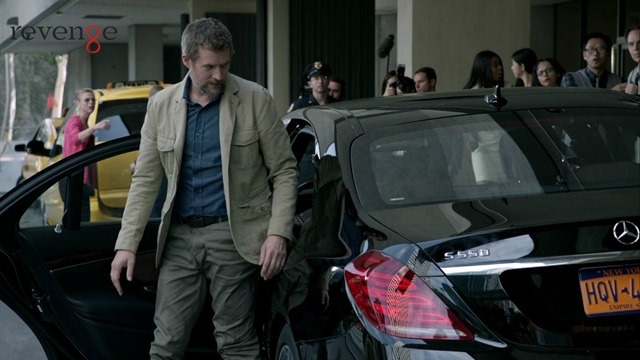 In the recently-aired Season 5 episode of Major Crimes titled "Family Law," the site masked as the Hotel Collage, where Mike Tao (Michael Paul Chan) went undercover to hire a prostitute while investigating the death of a divorce lawyer.
Back in 2009, when the property was still operating as a Marriott, it popped up as the New York hotel where Michael Scott (Steve Carell) and the gang attended a meeting in the Season 6 episode of The Office titled "Shareholder Meeting."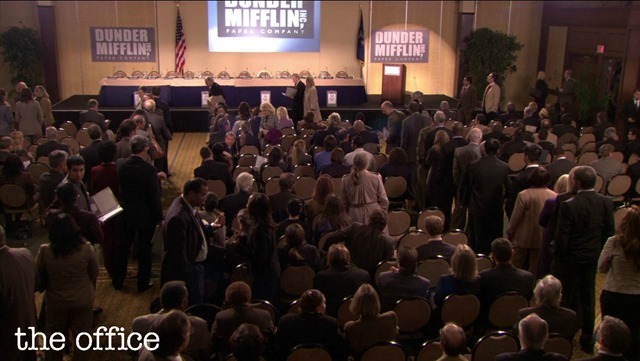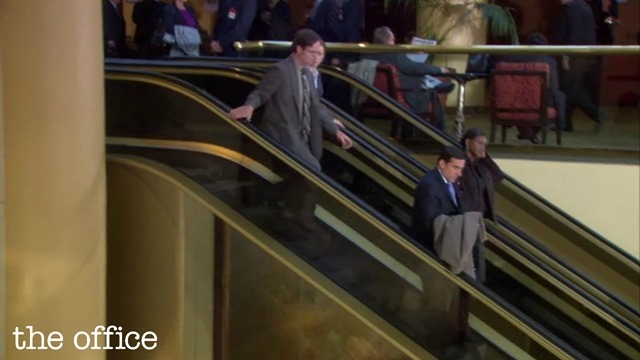 The hotel's most famous appearance, though, has to be in Fatboy Slim's 2001 "Weapon of Choice" music video, which starred a dancing Christopher Walken.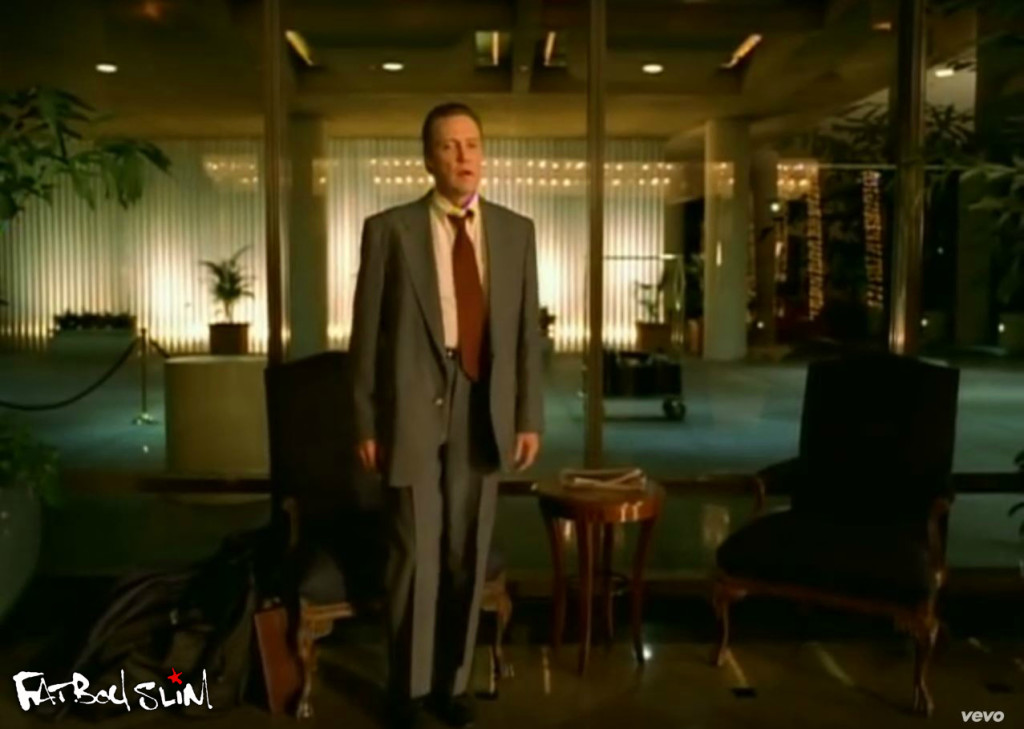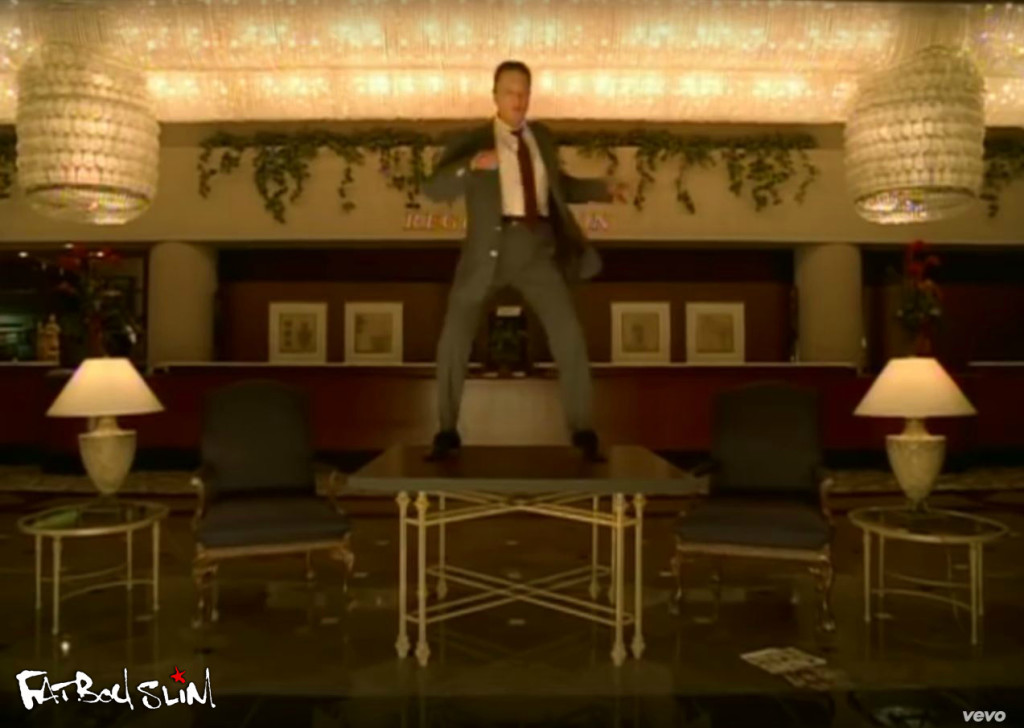 The video, which was shot over two days in December 2000 and went on to win a Grammy and six MTV Video Music awards, made extensive use of the hotel and gives a great view of what it looked like during its days as a Marriott.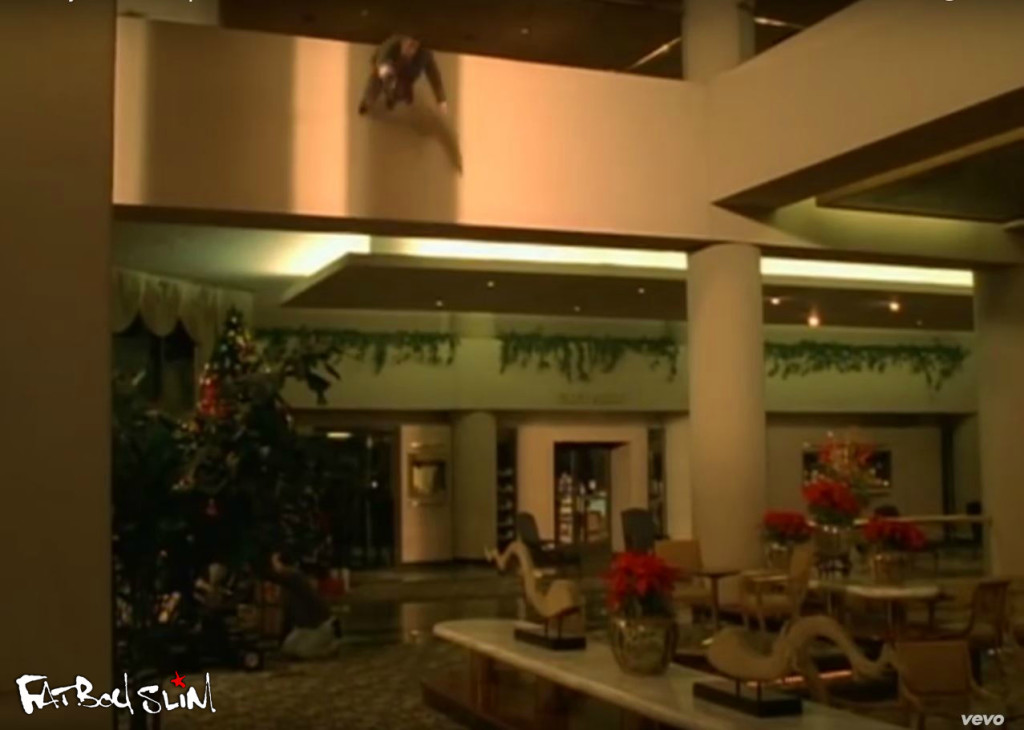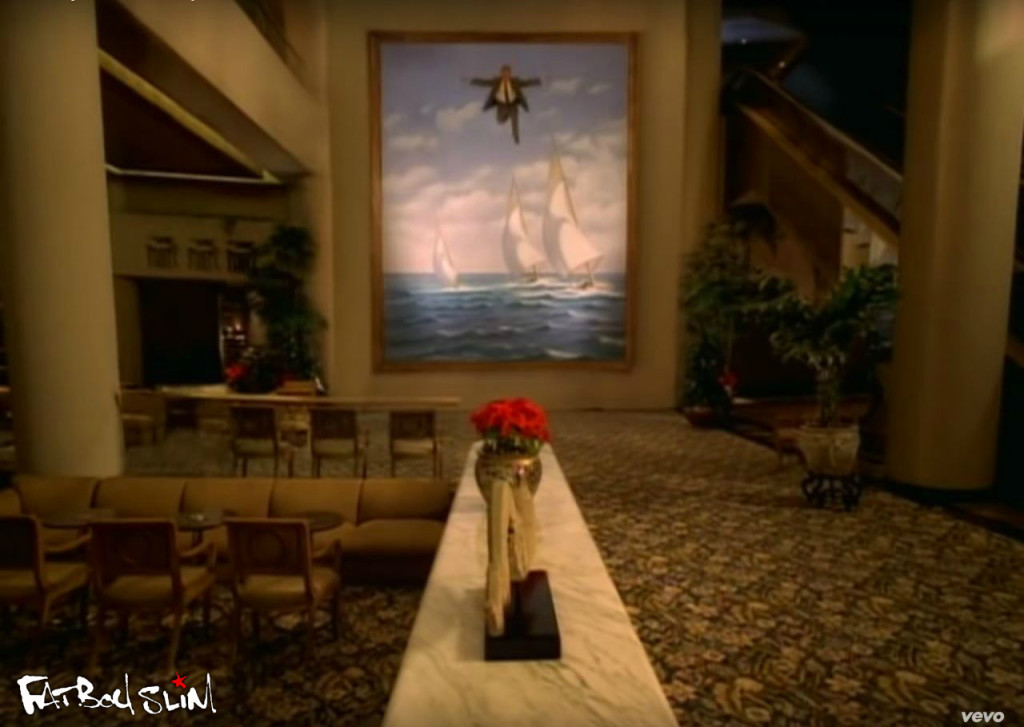 Though the property looks vastly different today, fans of the video can take comfort in the fact that its set-up is still the same and that the escalators that Walken danced on remain intact.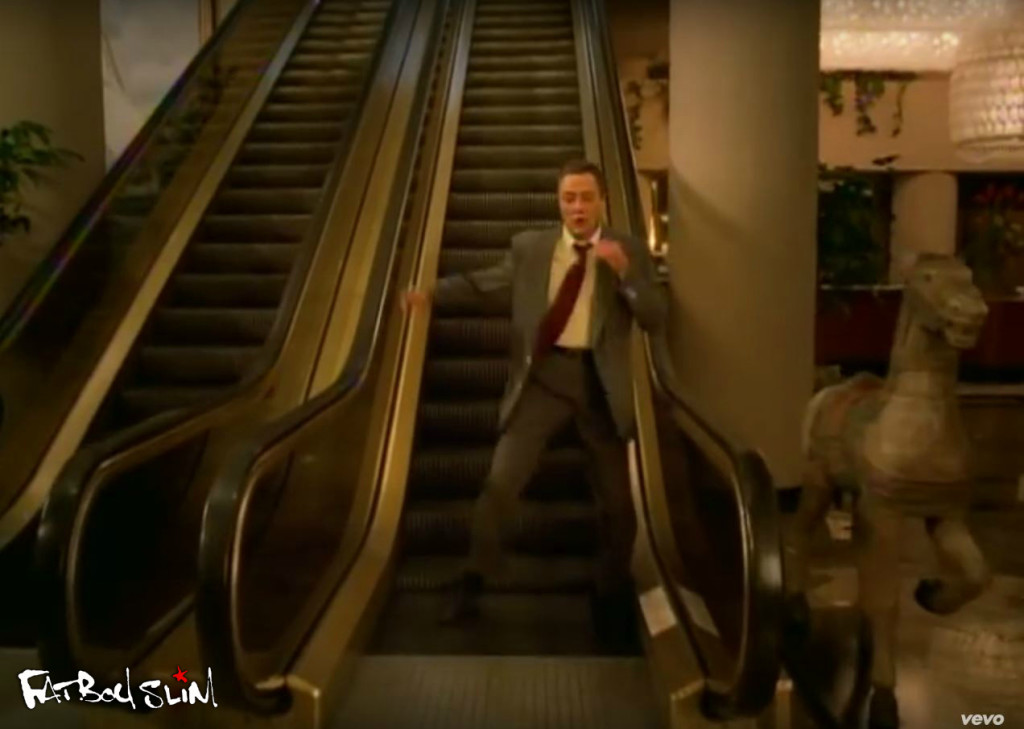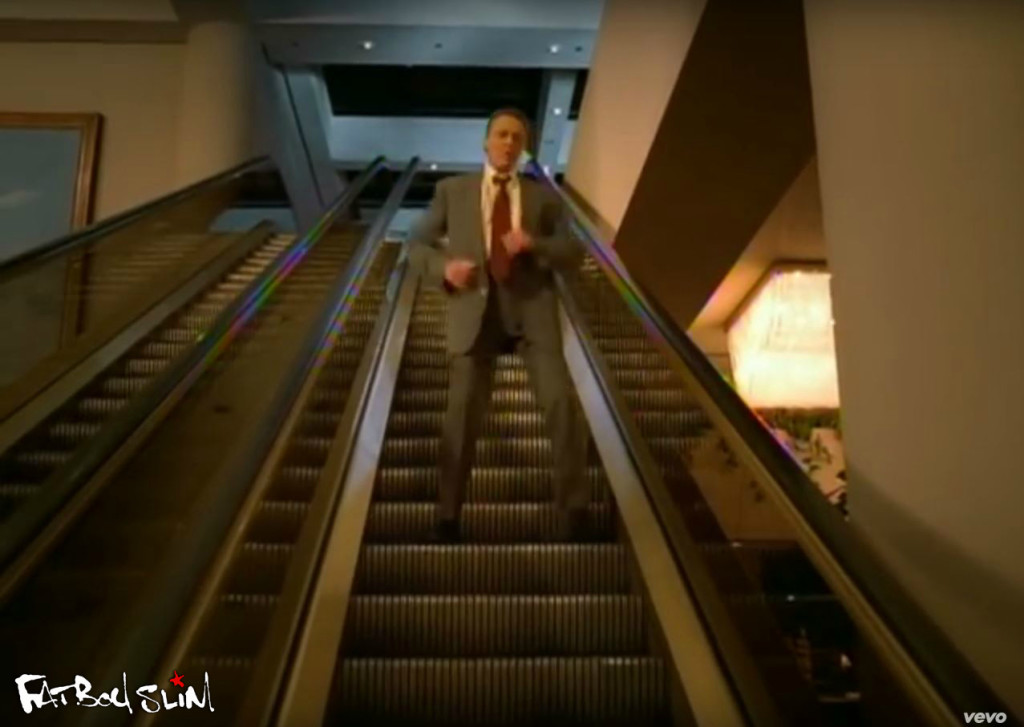 You can watch the "Weapon of Choice" video by clicking below.
For more stalking fun, follow me on Facebook, Twitter, Instagram, Los Angeles magazine and Discover Los Angeles.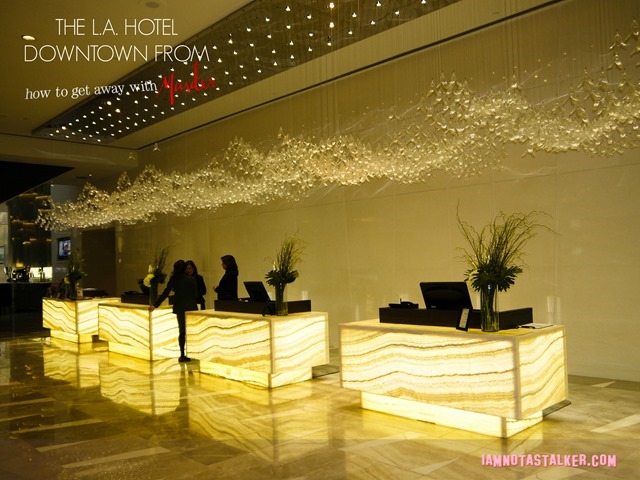 Until next time, Happy Stalking! 

Stalk It: The L.A. Hotel Downtown, from How to Get Away with Murder, is located at 333 South Figueroa Street in downtown Los Angeles.  You can visit the property's official website here.
94771