Non-Warner Bros. Studio Locations of "Pretty Little Liars"
Feb 17th, 2016 | By
Lindsay
| Category:
Pretty Little Liars Locations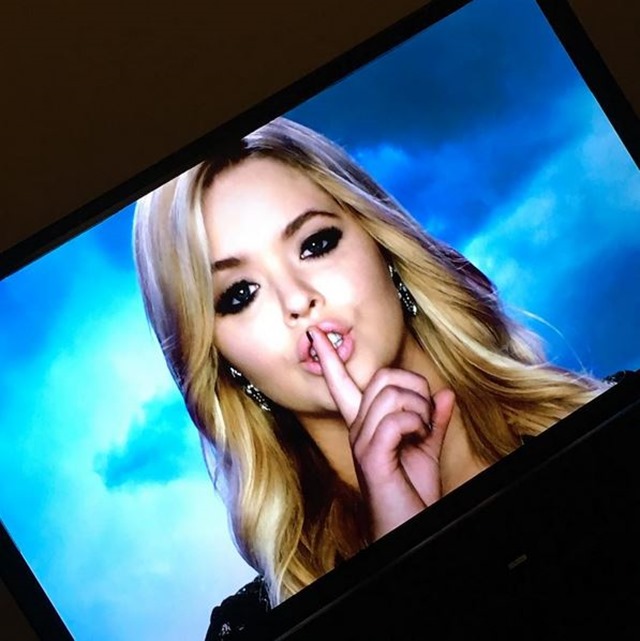 I have covered Pretty Little Liars locations ad nauseam on my blog, as well as on the other sites that I write for.  As I've mentioned in all of the posts, the series is lensed pretty much in its entirety at Warner Bros. Studio in Burbank (you can check out an extensive guide to the WB locations used on the show here and here) and it is a rare occasion that filming of any kind takes place off the lot.  Over the years, I have compiled a list of the few non-studio locales utilized on the series and thought it would be fun to chronicle them in a single post.  So here you have it, all of the PLL locations that cannot be found at the WB (excluding the Vancouver sites from the pilot episode, which I covered here, here, here, here and here).
1. Dr. Ackard's Office – In the Season 1 episode titled "Reality Bites Me," Hanna Marin (Ashley Benson) begins assisting at the dental office of Dr. Ackard (Paula Cale) as a way to work off the damage she caused by crashing Dr. Ackard's son's car.  The site that masked as the dental office on the series is actually one of my favorite buildings in all of Los Angeles, one that I have mentioned many times on this blog – the John Ferraro Building, aka the Los Angeles Department of Water and Power located at 111 North Hope Street in downtown L.A.  The structure, which I chronicled in a 2010 post, is only used in establishing shots on Pretty Little Liars.  The interior of Dr. Ackard's actual office – as well as the neighboring office of Jenna Marshall's (Tammin Sursok) psychologist, which Hanna broke into – is a set built inside of a soundstage at Warner Bros. Studio.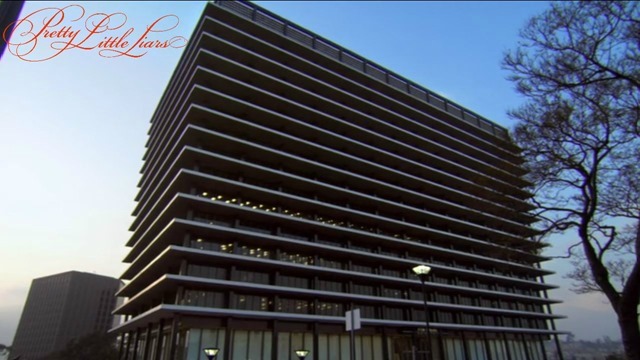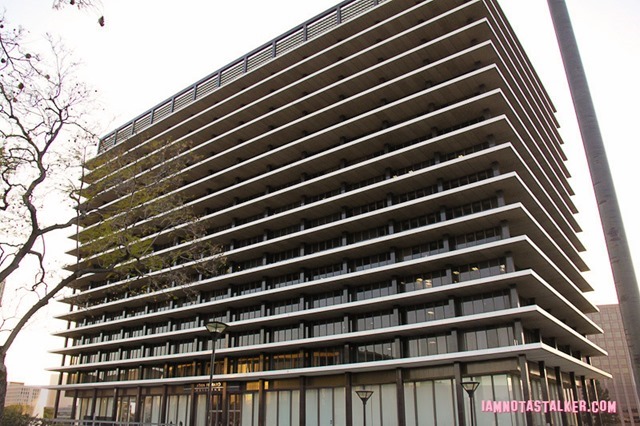 2. Rosewood Greens Country Club – In that same episode, Spencer Hastings (Troian Bellisario) and her father play a "friendly" game of doubles tennis against one of Spencer's dad's clients at Rosewood Greens Country Club, said to be located in Rosewood, Pennsylvania, where the series is set.  Filming of the club scenes actually took place at the Toluca Lake Country Club, which is located pretty much right next door to Warner Bros. Studio at 6711 Forest Lawn Drive in Burbank.  Sadly, the property is closed to the public, so as of yet, I have not been able to stalk it.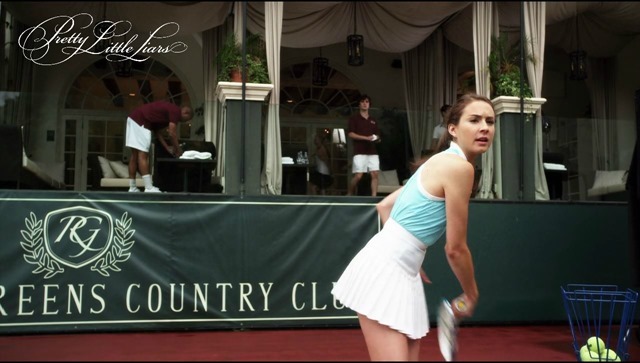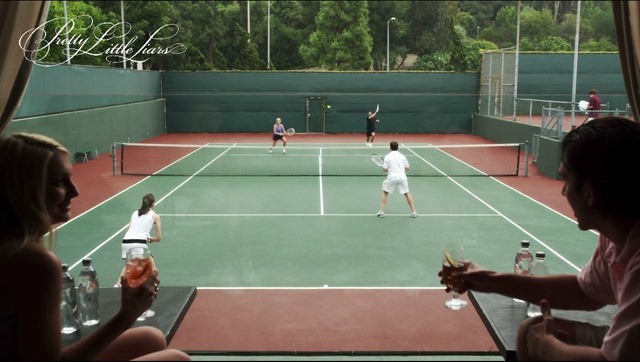 3. Ian's Burial – Ian Thomas (Ryan Merriman) is laid to rest at Rosewood's local cemetery in the Season 2 episode titled "The Devil You Know."  The burial scene was actually lensed, though, at the oft-filmed Mountain View Cemetery located at 2400 North Fair Oaks Avenue in Altadena.  Countless productions have been filmed at Mountain View and while I covered the place in an October 2010 post, come October I will be doing a redux as I have since discovered numerous other credits that I need to add to its extensive filming resume.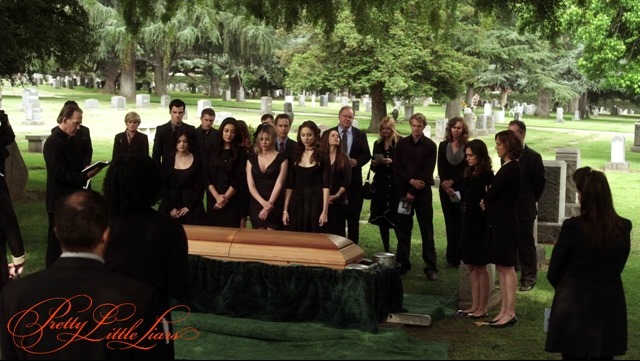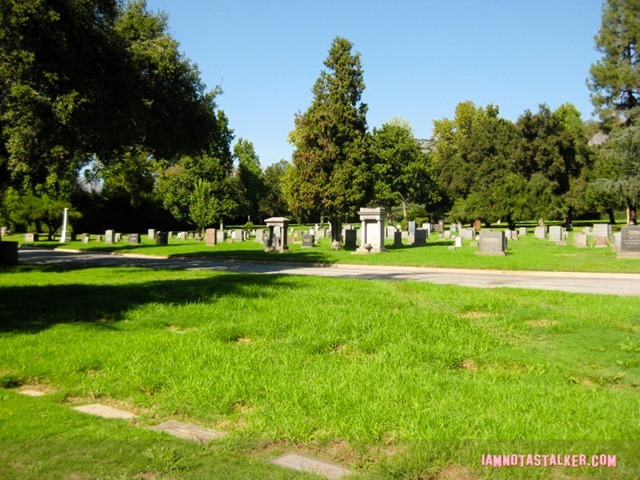 4. A Is Unmasked – In Pretty Little Liars Season 2 finale, which was titled "UnmAsked," the Liars learn the true identity of A and confront her while on a dark and twisty Rosewood road.  Thanks to a helpful crew member, I learned that the scene was shot on Mount Hollywood Drive inside of Griffith Park.  Unfortunately though, due to the lack of light and the fact that very little of the surrounding area was shown, I have yet to pinpoint the exact spot where the climactic sequence took place.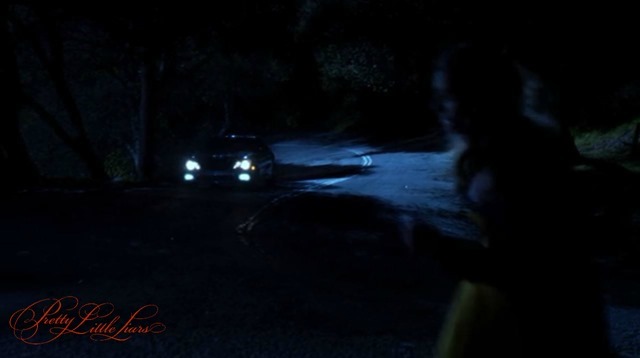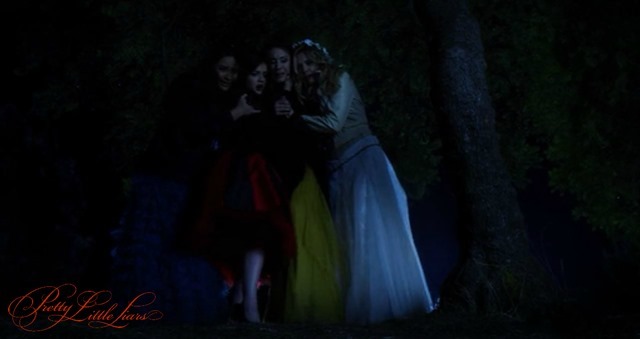 In that same episode, Jenna secretly rendezvoused with A at a turnout also located on Mount Hollywood Drive.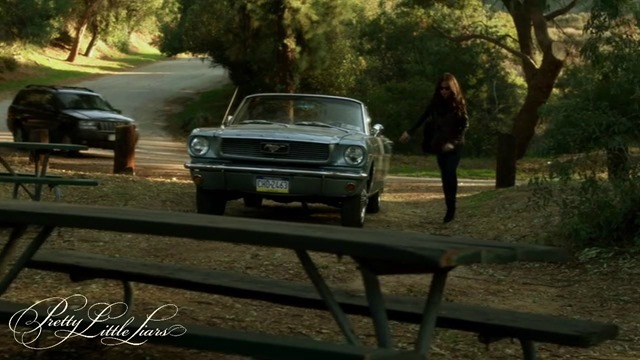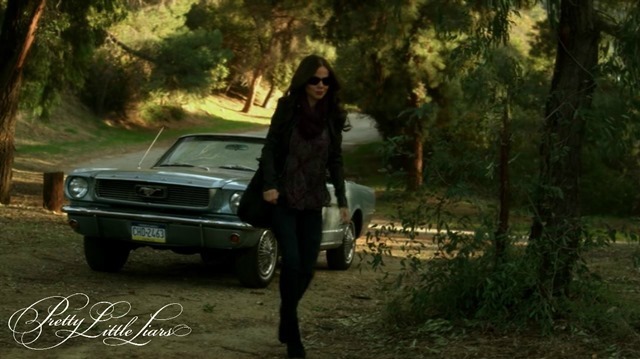 5. Fitzgerald Theatre – In Pretty Little Liars' Season 5 premiere, titled "EscApe from New York," Alison DiLaurentis (Sasha Pieterse) and the girls hide out from A at the Fitzgerald Theatre in New York City.  In reality, filming took place about 2,800 miles outside of Manhattan at downtown Los Angeles' Orpheum Theatre, which is located at 842 South Broadway.  I covered this locale in a post for L.A. magazine here.  Sadly, I have only ever stalked the exterior of the Orpheum, but am hoping to catch a glimpse of its interior at some point by either seeing a show there or by embarking upon a Los Angeles Conservancy Broadway Historic Theatre and Commercial District Walking Tour.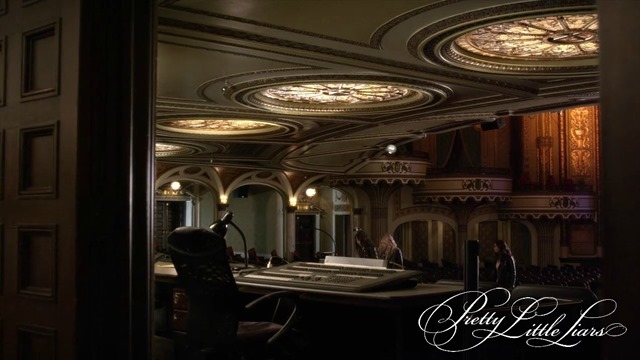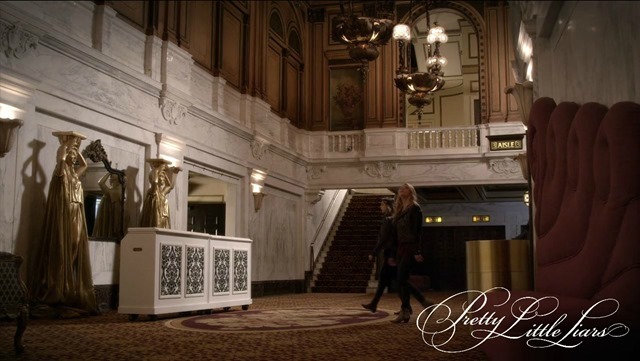 6. The Rosewood Courthouse – In the Season 5 episodes titled "The Melody Lingers On" and "I'm a Good Girl, I Am," a standing court set at Riverfront Stages, located at 13100 Telfair Avenue in Sylmar, stood in for the Rosewood courtroom where Alison's trial for the murder of Mona Vanderwaal (Janel Parrish) was held.  You can check out some photographs of that courtroom set here.  I can't currently find much information about the facility online, so I am guessing that it might have closed recently.  Its sister studio, located at 3061 Treadwell Street in Glassell Park, is still in operation, though.  You can see the website for that property here.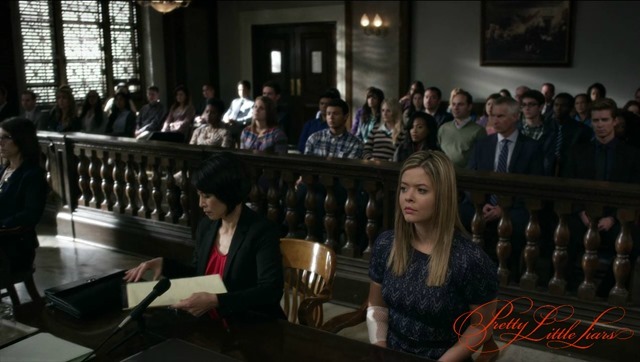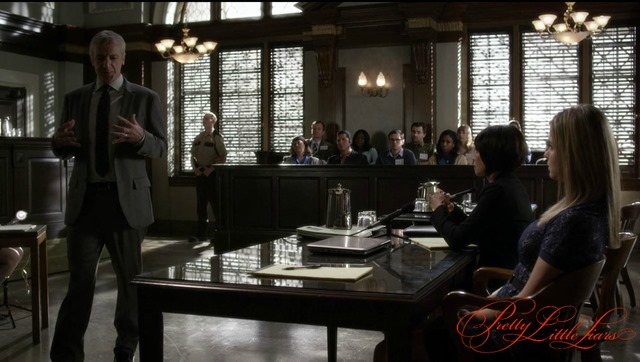 7. Hollis College – Although several different areas of Warner Bros. Studio have been used to represent Hollis College over the years, in the Season 5 episode titled "Pretty Isn't the Point," production made the short trek over to Warner Bros. Ranch to shoot some campus scenes.  I recently wrote about the Ranch, which is located about a mile northeast of Warner Bros. Studio at 411 North Hollywood Way in Burbank, for the Mike the Fanboy website.  You can check out that post here.  In "Pretty Isn't the Point," Spencer grabs coffee with Johnny Raymond (Will Bradley) at what is supposed to be Hollis.  The scene was actually lensed, though, in front of the Ranch's row of picturesque townhouses.  Those same townhomes famously appeared each week in the background of the Friends opening credits.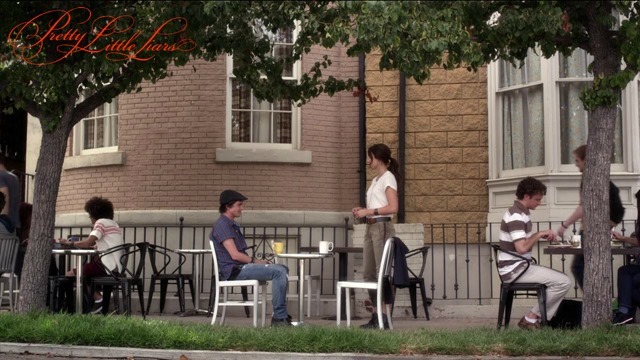 On a fashion side-note – Spencer's outfit in that scene is one of my favorites of the entire series.  So simple, so classy, and oh so cute!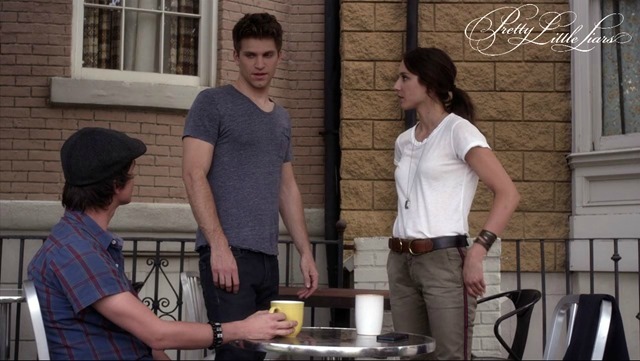 8. Art Gallery – Later in "Pretty Isn't the Point," while walking near Hollis, Spencer and Johnny discover that their graffitied artwork has been stolen and is now for sale in a local gallery.  That scene was shot just a few feet away from where the two had coffee earlier in the episode, at one of the Ranch's townhome façades.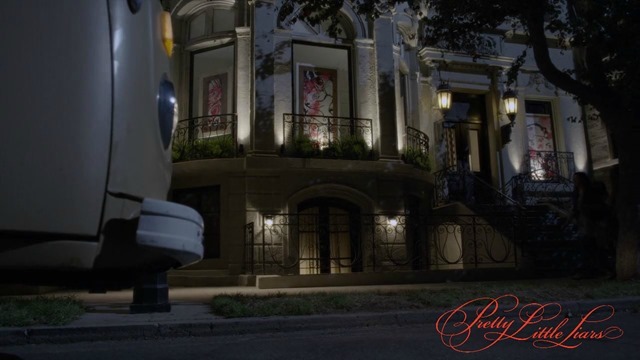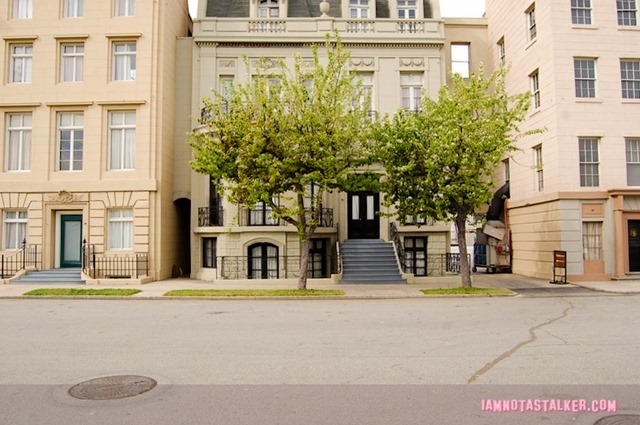 A close-up view of that townhouse is pictured below.  It is easily one of the most picturesque structures at Warner Bros. Ranch.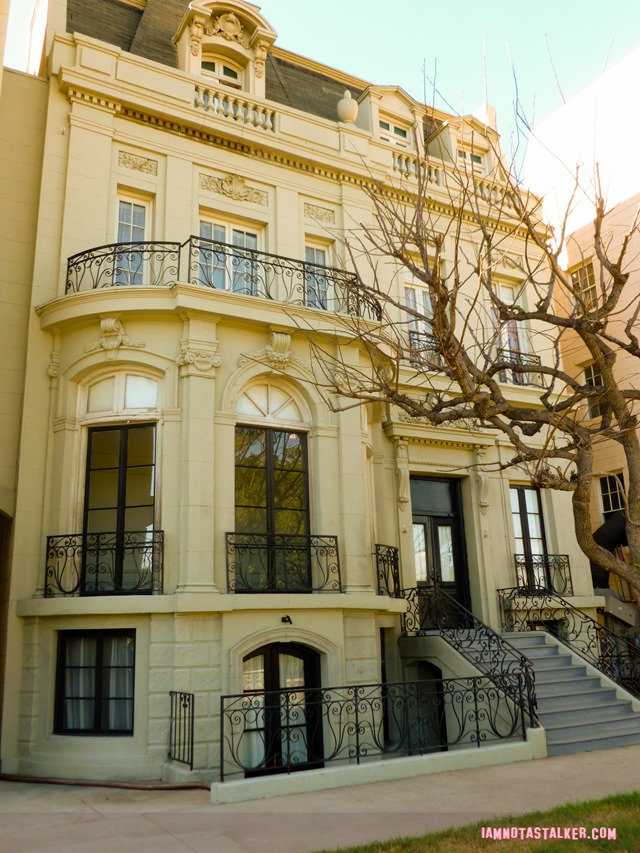 9. Gas Station – Later in that same episode, Toby Cavanaugh (Keegan Allen) arrests Johnny for breaking into the art gallery while at a nearby gas station.  That gas station is also located at Warner Bros. Ranch, just a bit southeast of the townhome façades, and should look familiar to The Middle fans – it is used regularly as Ehlert Motors on the ABC series.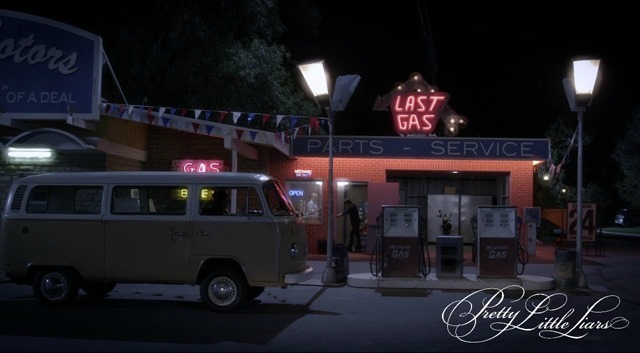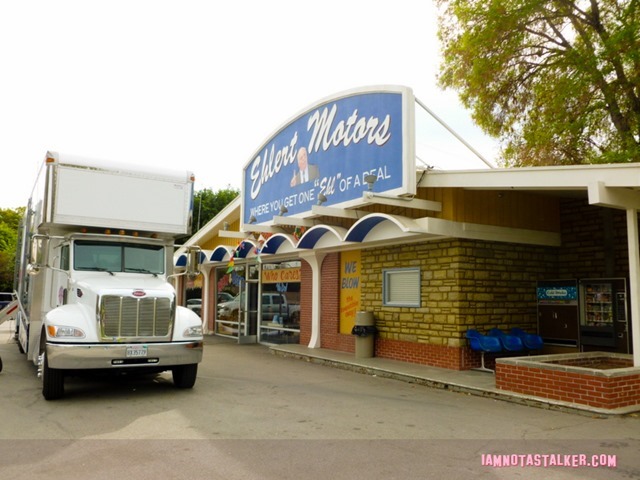 10. Aunt Carol's House – In Season 6's "Don't Look Now," Jason DiLaurentis (Drew Van Acker) and the Liars discover the gravesite of Charles DiLaurentis while visiting Jason's aunt's house.  That clapboard residence is another Warner Bros. Ranch location and is best known as being the Walton family home from The Waltons.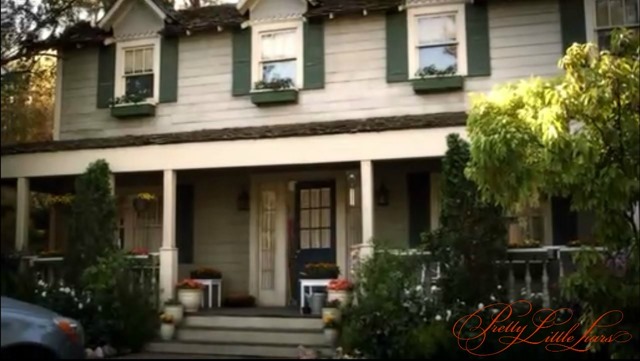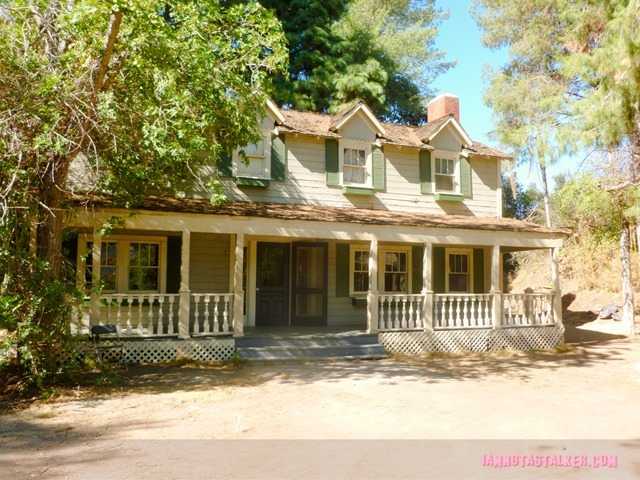 11. Rosewood Community Pool – The Ranch's large swimming pool also made an appearance as the Rosewood Community Pool, where Emily Fields (Shay Mitchell) took Sara Harvey (Dre Davis) swimming in that same episode.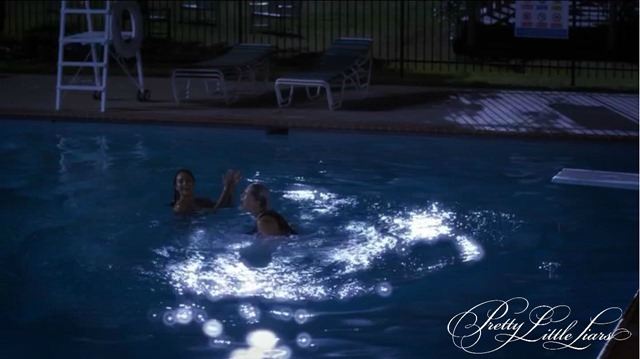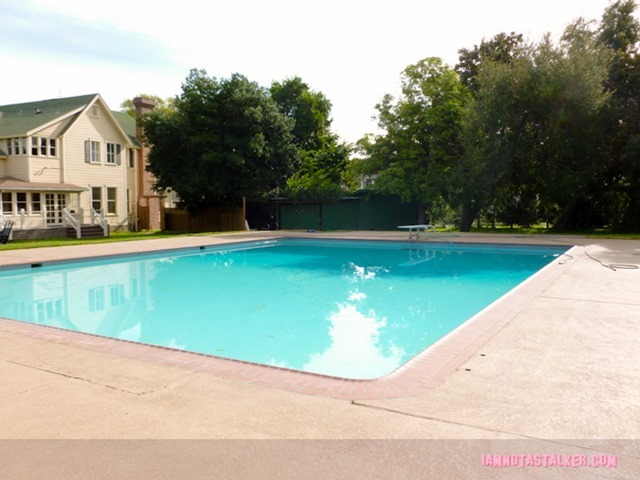 12. Welby State Psychiatric Hospital – In a bonus scene that aired during the Season 6 special titled "Five Years Forward," Alison and Jason visit Charlotte DiLaurentis (Vanessa Ray) at the Welby State Psychiatric Hospital.  One of Pasadena's most famous properties, the Tournament House at 391 South Orange Grove Boulevard, was used in the establishing shot of the institution in the episode.  I wrote about the oft-filmed locale in a recent Los Angeles magazine post.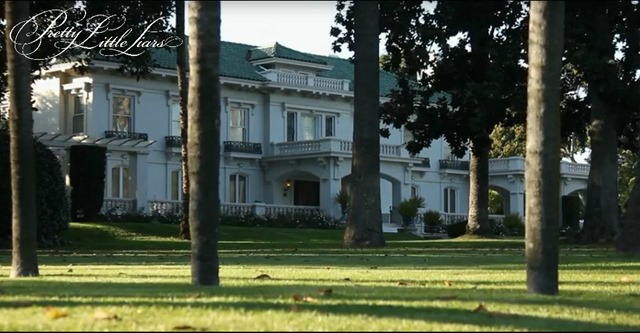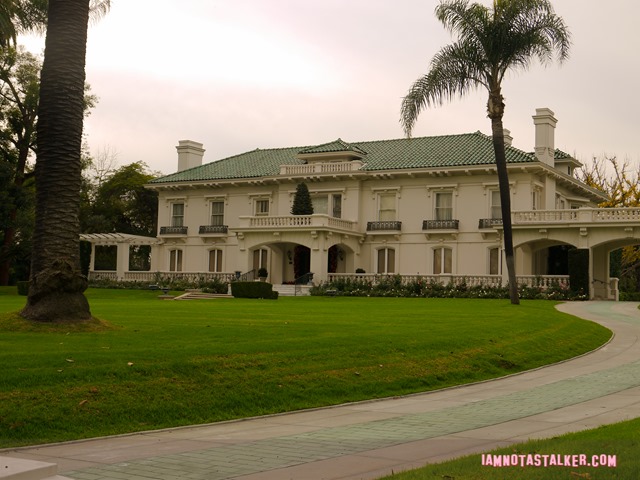 I do not believe that any actual filming took place at the Tournament House, though.  I am fairly certain that all of the scene's on-location shooting was done at Warner Bros. Studio.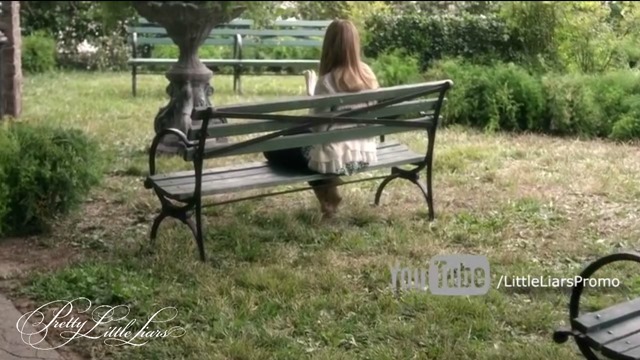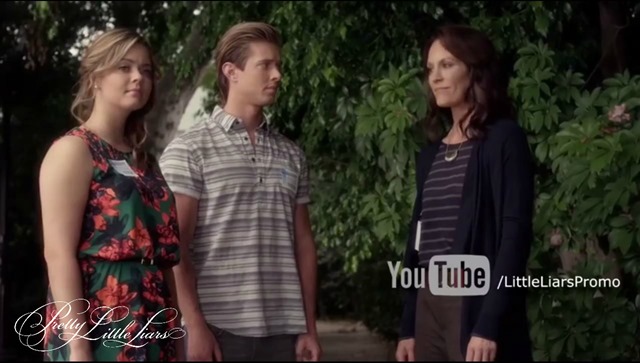 One non-studio locale that I have been unable to track down is the Speed Demon Express exterior that was featured in Season 2's "The Devil You Know."  Though an address number of 4680 or 4690 is visible above the storefront's doors, try as I might, I have not been able to find the place.  If it looks familiar to anyone, please let me know.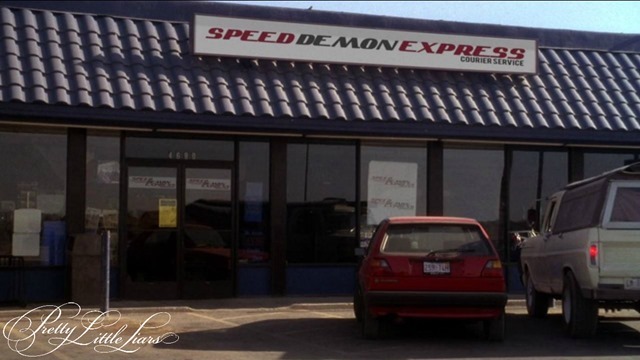 Interestingly, by the time that Season 2's "If These Dolls Could Talk" was filmed, a different exterior was chosen to stand in for Speed Demon Express.  That exterior is located on Warner Bros. Studio's Midwest Business Street and, in an ironic twist, is the very same exterior that is used regularly as The Brew on the series.  It was altered significantly prior to being transformed into The Brew, though, and is hardly recognizable from its appearance as Speed Demon Express.  Prior to the remodel, the same façade also masked as Sophie's Music on Gilmore Girls.  You can check out what it looked like at the time on Chas' It's Filmed There website.  Big thank you to Chas for helping me to ID this one.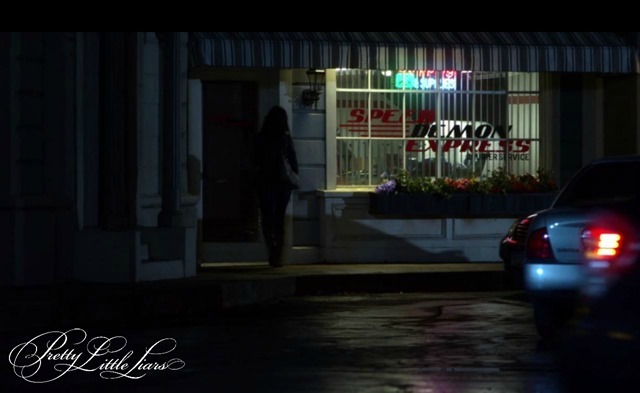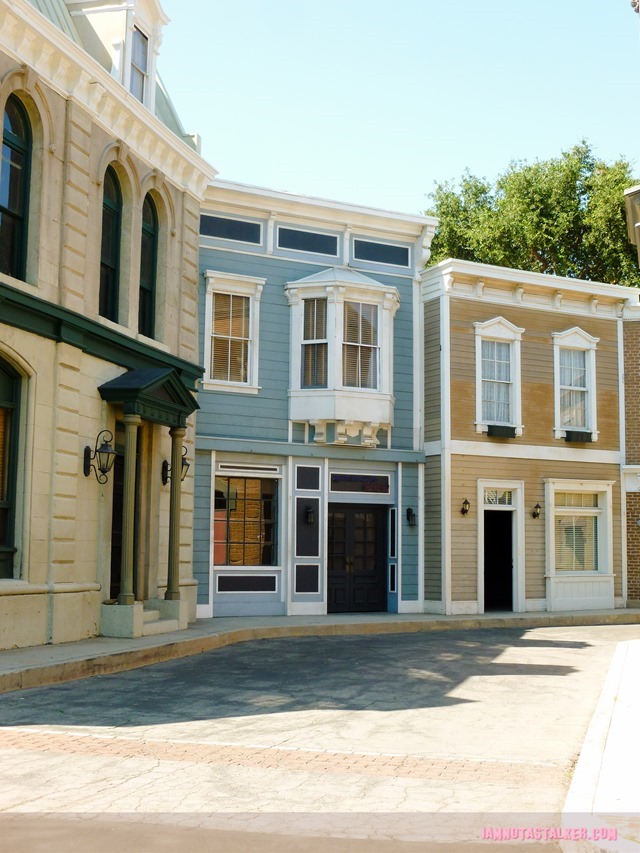 If anyone can think of any other instances in which filming took place off the lot, please let me know.  🙂
And on a Pretty Little Liars side-note – my mom and I had the pleasure of meeting Troian Bellisario this past weekend and I can honestly say that she is one of the nicest celebrities I have ever encountered!  A complete and total doll!  I love her even more now than I did before!  Troian is currently starring in a play called The Last Match in San Diego.  I've heard that it is excellent and am hoping to head back down there to catch it in the coming weeks.  If I do, I will definitely review it here.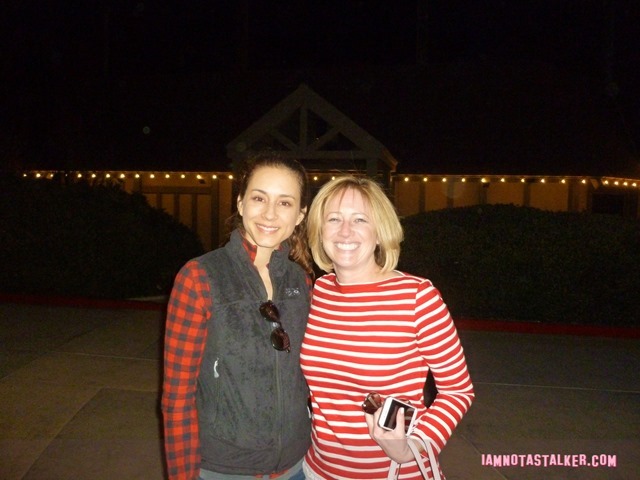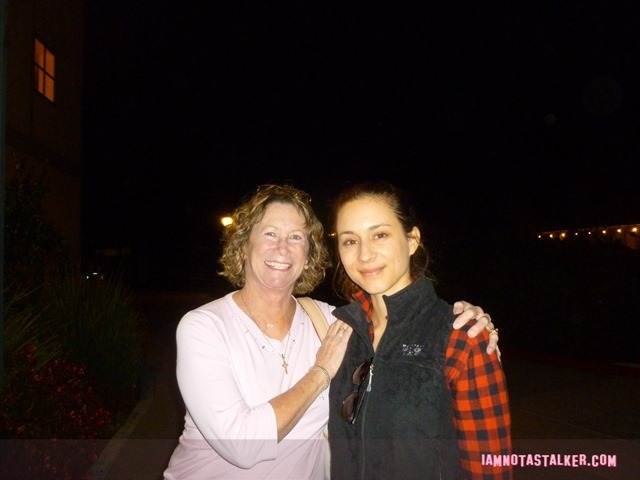 For more stalking fun, follow me on Facebook, Twitter, Instagram, Los Angeles magazine and Discover Los Angeles.
Until next time, Happy Stalking!  🙂
95420