Old Town Bar from "Sex and the City"
May 2nd, 2016 | By
Lindsay
| Category:
Sex and the City Filming Locations
My recent trip to New York was nothing short of epic and I somehow managed to stalk a good 100 locales while there.  I cannot wait to blog about all of them!  The spot I was most excited about visiting was one that had been perched at the top of my NYC To Stalk list for years, but that I had never actually made it to during any of my previous Big Apple vacays.  I am talking about Old Town Bar, a historic Union Square-area watering hole that appeared in an early episode of fave show Sex and the City.  Fate took hold during this trip, though, as one evening the Grim Cheaper, my friend Owen, from the When Write Is Wrong website, and I happened to randomly find ourselves just a few blocks from the tavern, which also goes by the name "Old Town Bar & Restaurant," right around dinnertime, so we popped in for a bite to eat.   The establishment turned out to be everything I hoped it would be – and more.
Old Town Bar is the quintessential historic Manhattan watering hole.  As author Jef Klein says in his book The History and Stories of the Best Bars of New York, "A setting that calls to mind a Scott Joplin tune, the Old Town Bar & Restaurant is absolutely vintage, Gilded Age New York."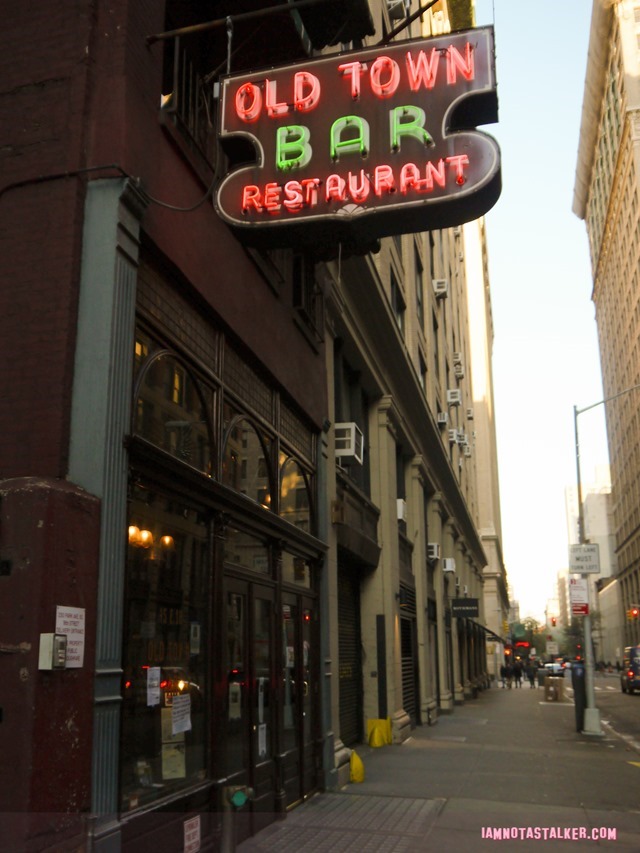 The eatery was originally established in 1892 (yes, 1892!) as Viemeister's, a German restaurant/bar.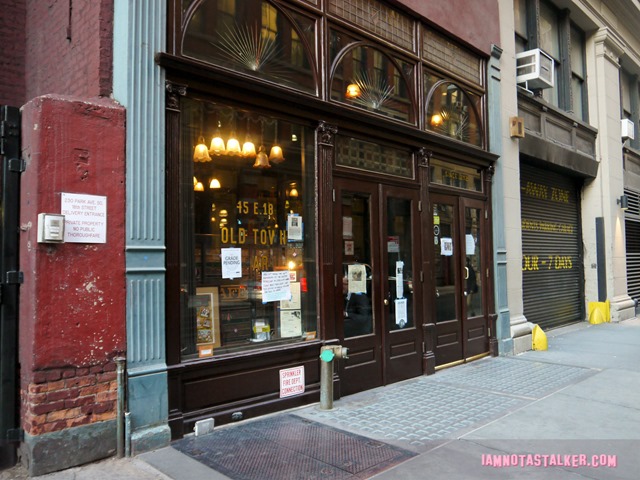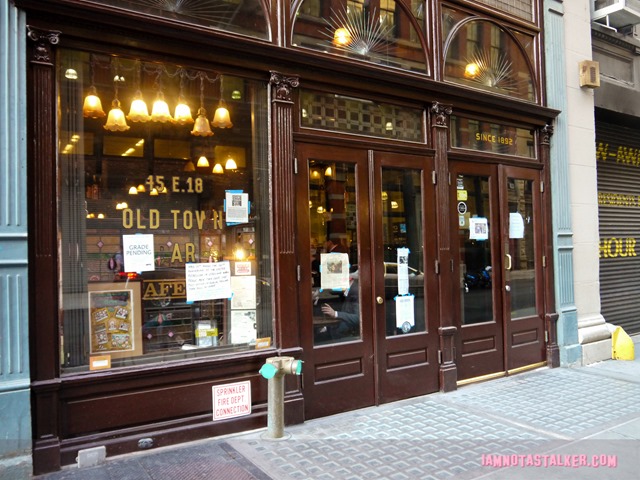 At the time of its inception, the property's lower level housed a tavern that was only accessible to men, while the second floor (pictured below) was comprised of a dining room that was open to men, women and children.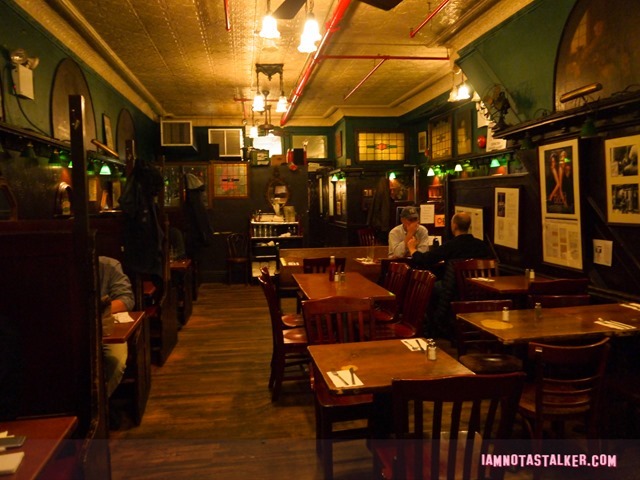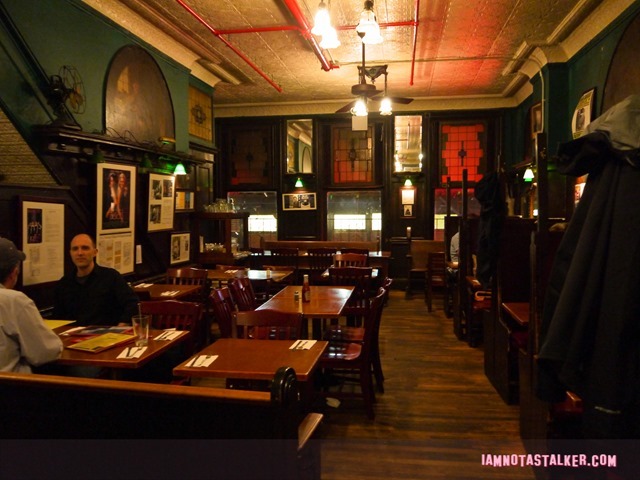 During the Prohibition years, the establishment operated as a speakeasy known as Craig's Restaurant.  According to The History and Stories of the Best Bars of New York, some of the vintage booths still boasts seats that lift, "a "holdover from those days when customers needed a place to hide booze in a hurry."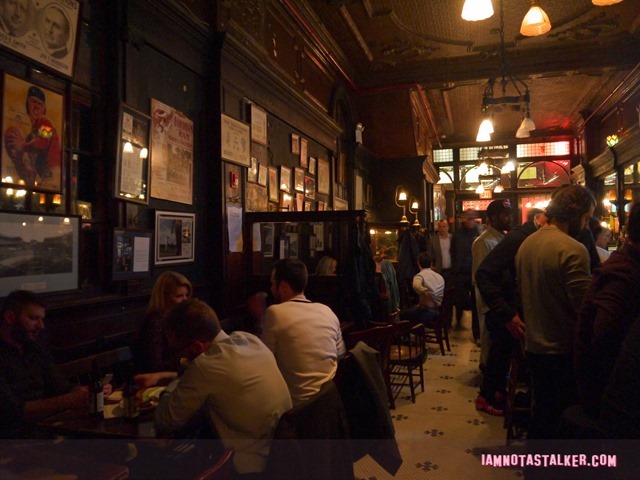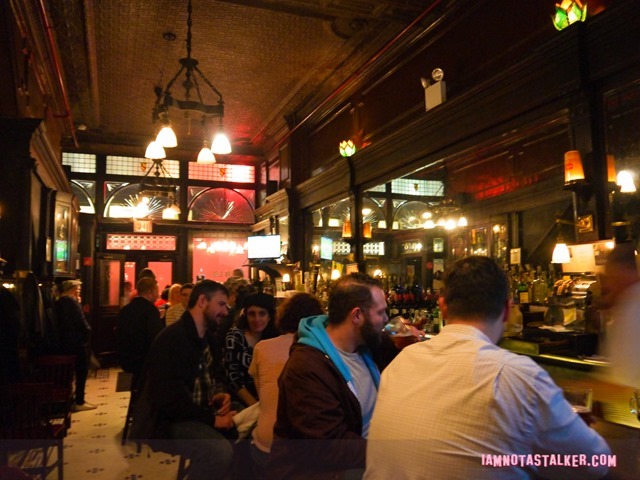 When Prohibition ended in 1933, the site was purchased by a man named Claus Lohden and rebranded "Old Town Bar."  Lohden and his children ran the place through 1985, at which time it was taken over by longtime employee Larry Meagher, who started working there in the '70s.  By that point, the tavern had fallen into a bit of disrepair, so Larry began to restore it.  Amazingly, and thanks in large part to his efforts, much of the original 1892 décor remains intact, including the 55-foot mahogany and marble bar, the 16-foot high tin ceilings (which according to The History and Stories of the Best Bars of New York were "last painted white on Election Day 1952" and are "stained a dark brown, thanks to years of cigar and cigarette smoke"), chandeliers (once gas-powered that have since been converted to electric), intricate black and white tile flooring, and a 258-square-foot bevel edge plate mirror.  Even the property's dumbwaiters are historic – according to the Old Town Bar website, they are "New York's oldest active restaurant conveyers."  The urinals are also noteworthy.  They hail from 1910 and are the last Hinsdale urinals still in operation on the East Coast.  A 100th birthday party was infamously held in their honor in 2010.  Yes, Old Town Bar is a place that appreciates and celebrates its history.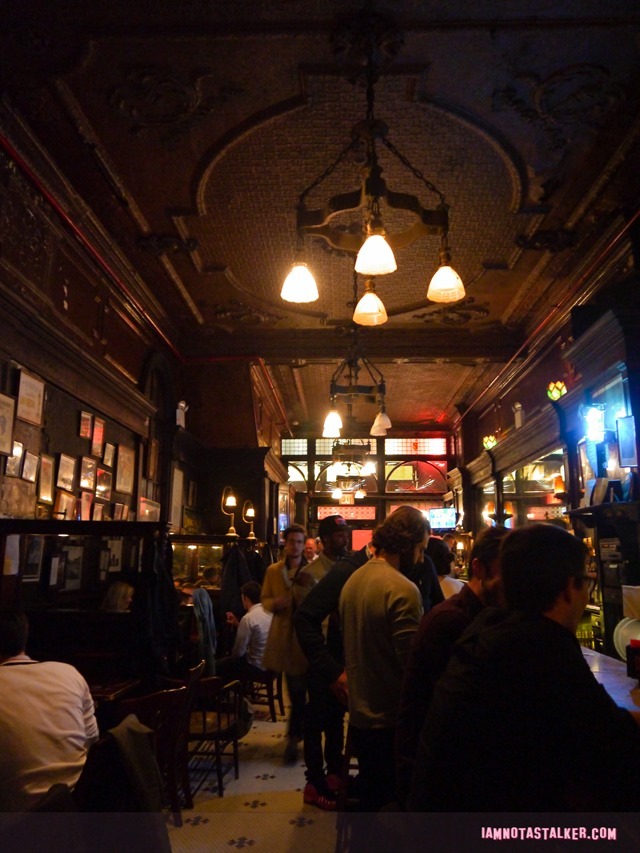 Today, the site is run by Larry Meagher's five children, who work painstakingly to ensure that the watering hole's history is kept alive.  (And yes, I'm really annoyed at the a**hat in the second picture below who ruined my photo.)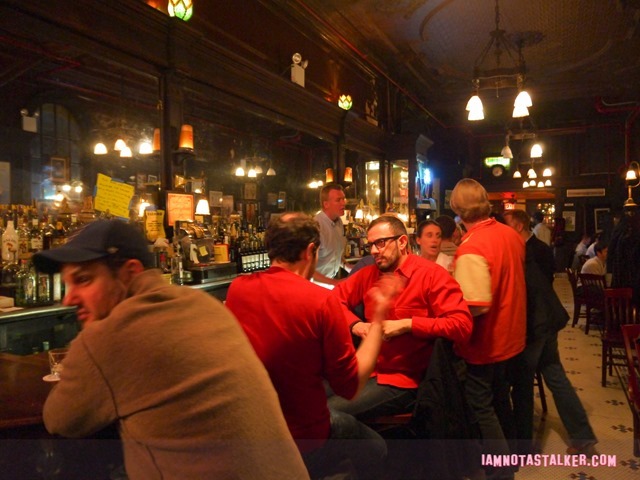 Old Town Bar has long been popular with the literary set and has counted such luminaries as Pulitzer Prize winner Frank McCourt, poet Seamus Heaney, journalist Jim Dwyer, Payback author Thomas Kelly, novelist Nick Hornby, writer Nuala O'Faolain, dramatist Brian Friel, poet Billy Collins, screenwriter Budd Schulberg, and columnist Christopher Hitchens as patrons.  Artist Andy Warhol was also known to frequent the site.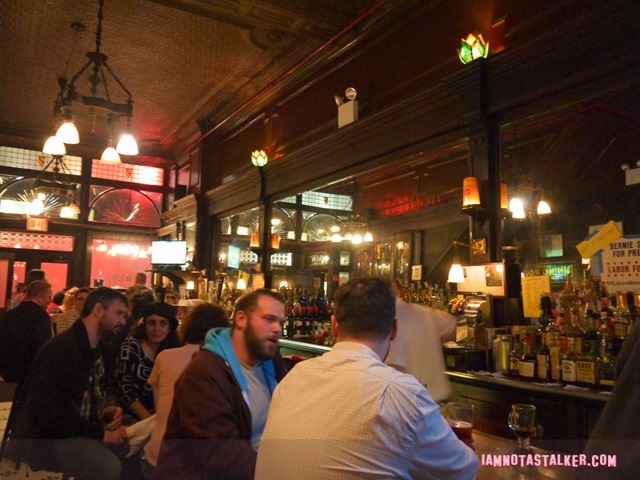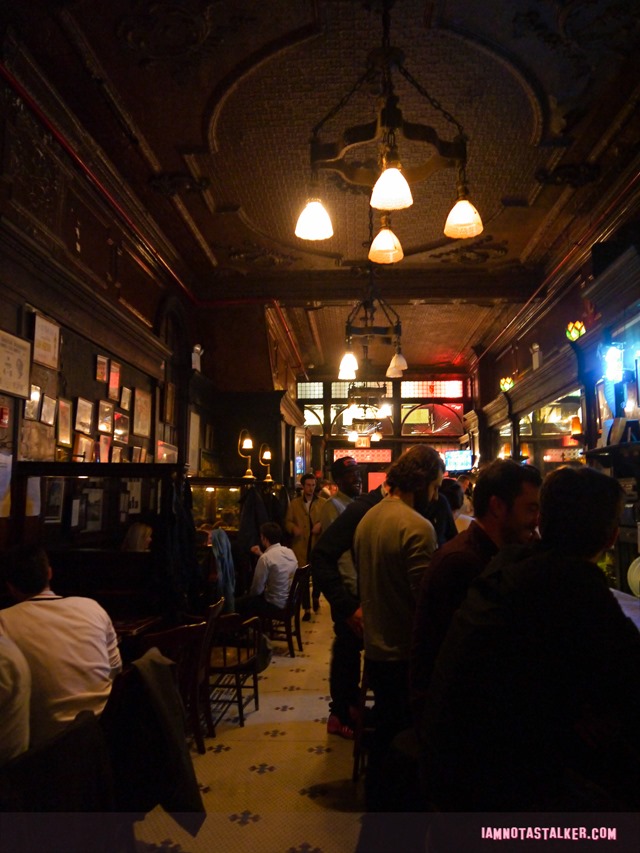 It's not hard to see the appeal of the place – not only is the ambiance fabulous and oh-so "old New York," but the food is excellent!  Any restaurant that features chicken strips on the regular menu (not just the kids') is my kind of spot!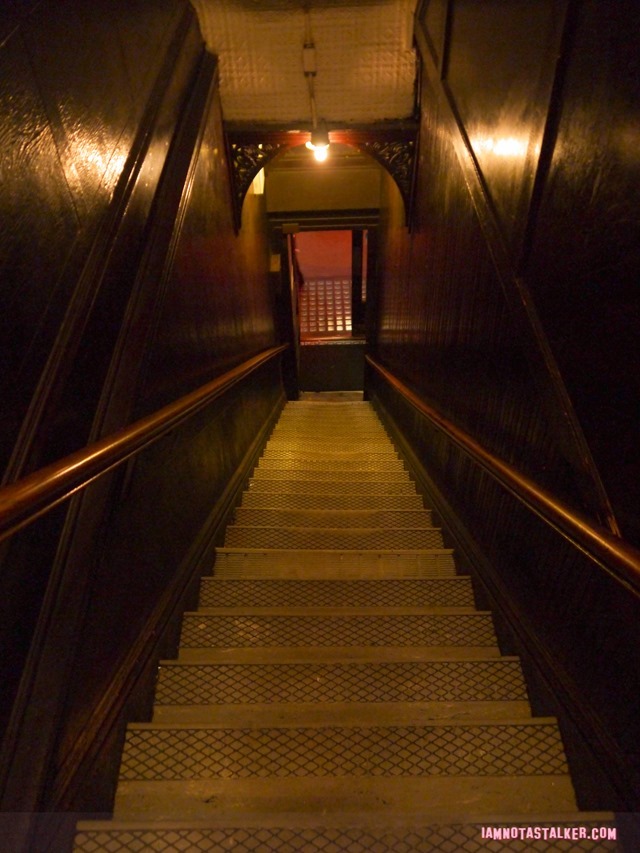 Thanks to its old world aesthetic, location managers have long flocked to Old Town Bar.  The sheer amount of productions it has appeared in is amazing!  In fact, I had no idea what I was getting myself into when I started writing this post.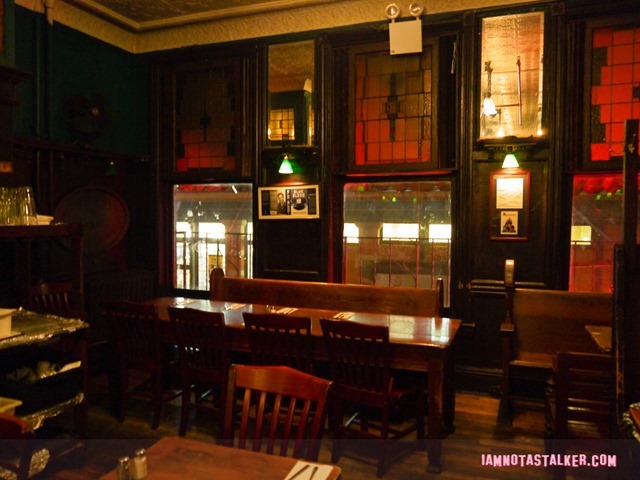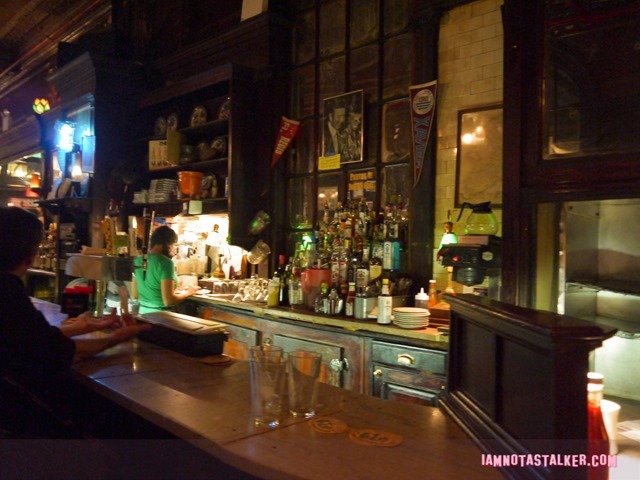 It is there that Carrie Bradshaw (Sarah Jessica Parker) – in an epic, slow-motion, heart-pounding moment – runs into Mr. Big (Chris Noth) for the first time since their break-up in the Season 2 episode of Sex and the City titled "Take Me Out to the Ball Game."  Even though the circumstances couldn't be better for Carrie – she looks fabulous and has the "New Yankee" Joe (Mark Devine) on her arm – seeing Big causes her to break down.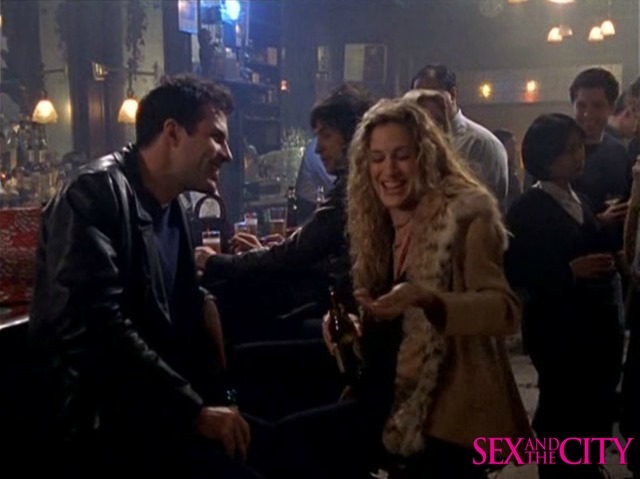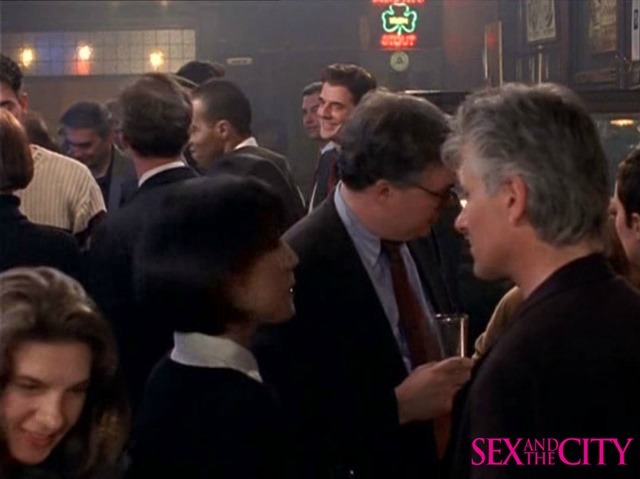 I learned about Old Town Bar's appearance in the episode thanks to the book Sex and the City: Kiss and Tell, in which co-executive producer John Melfi is quoted as saying, "On Sex and the City, we try to have a location make sense for the scenes.  We'll go to a historic location like the Old Town Bar, where Carrie went on a date with the Yankee, and we'll be careful not to damage the mirrors or the booths because it's a staple of New York and we want people to know that that's a real bar.  We're really proud to be able to shoot in these places."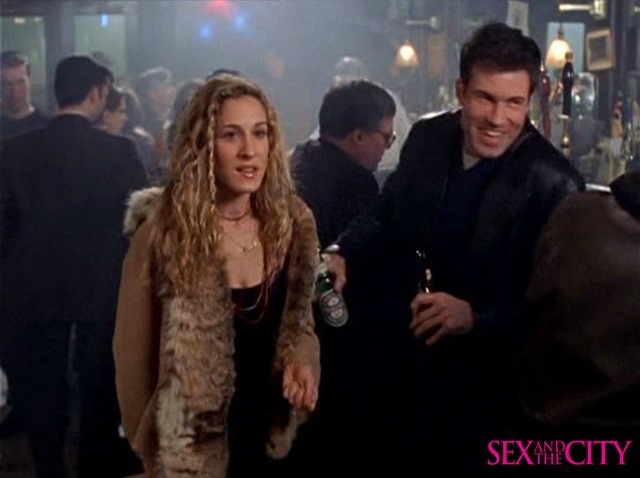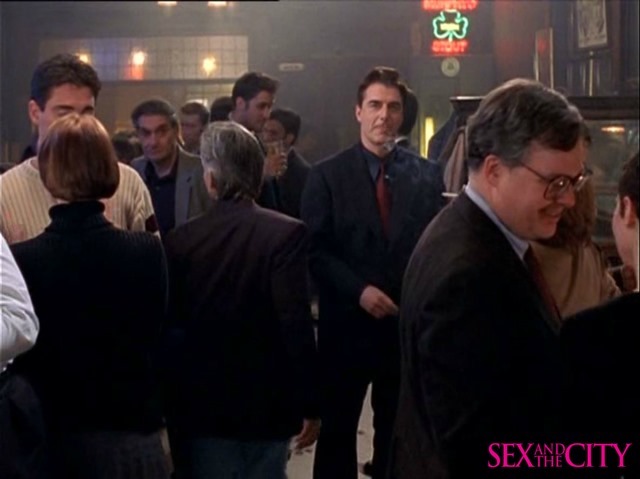 Old Town Bar was also featured prominently in the opening credits of The David Letterman Show from 1982 to 1993.  In the segment, the camera panned the front of the watering hole and then ventured inside and scanned the interior.  Sorry for the craptastic screen captures below – the only clip of the credits available on YouTube is of low quality.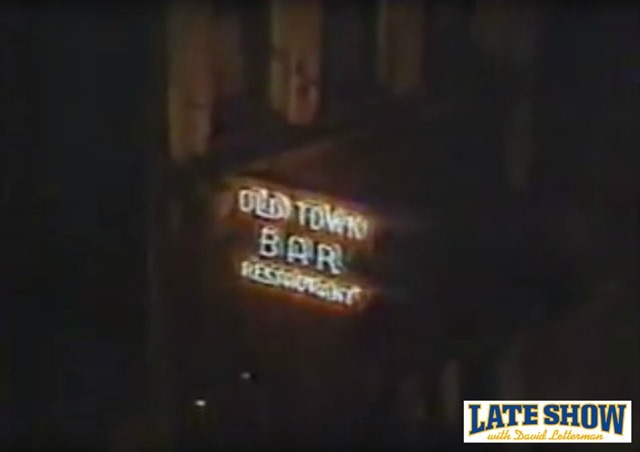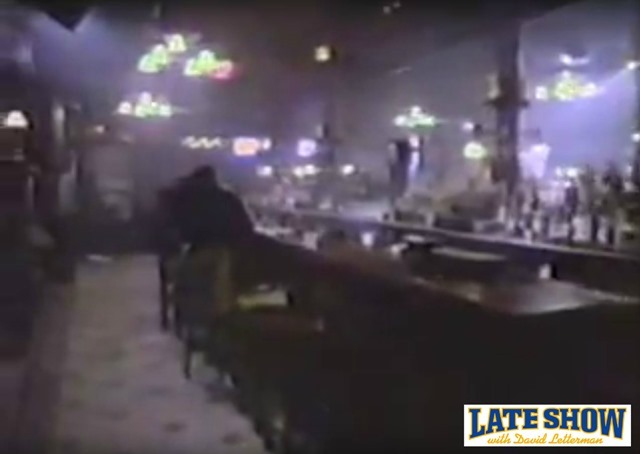 You can watch that clip by clicking below.
In the 1990 drama State of Grace, Frankie Flannery (Ed Harris) attempts to offload five cases of Bushmills to a unwilling bar owner at the watering hole.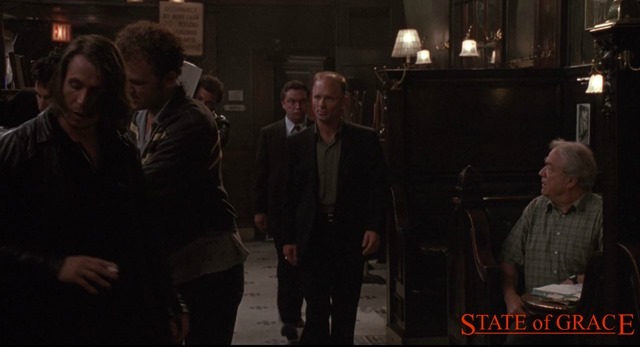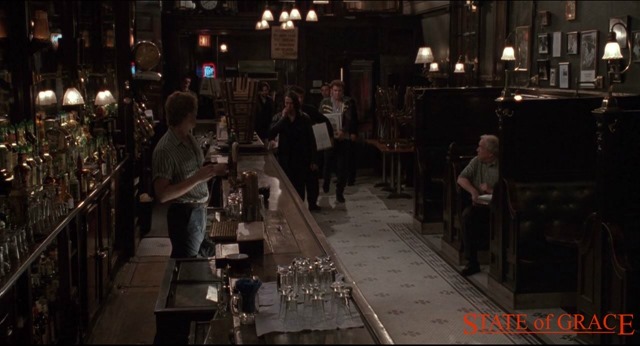 That same year, Old Town Bar popped up in the drama Q & A as the spot where  Asst. Dist. Atty. Aloysius 'Al' Francis Reilly (Timothy Hutton) met with Leo Bloomenfeld (Lee Richardson) for a corned beef lunch.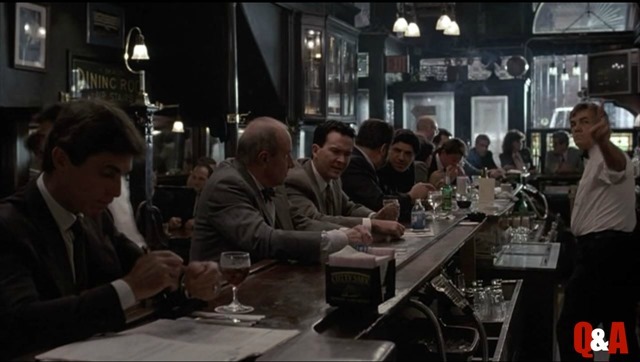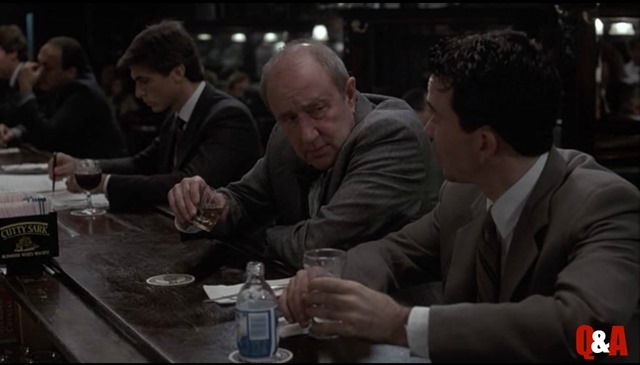 Old Town Bar was used in establishing shots of Riff's Bar, Jamie Stemple Buchman (Helen Hunt) and Paul Buchman's (Paul Reiser) regular hangout – where Ursula Buffay (Lisa Kudrow) haphazardly waited tables – on the '90s television series Mad About You.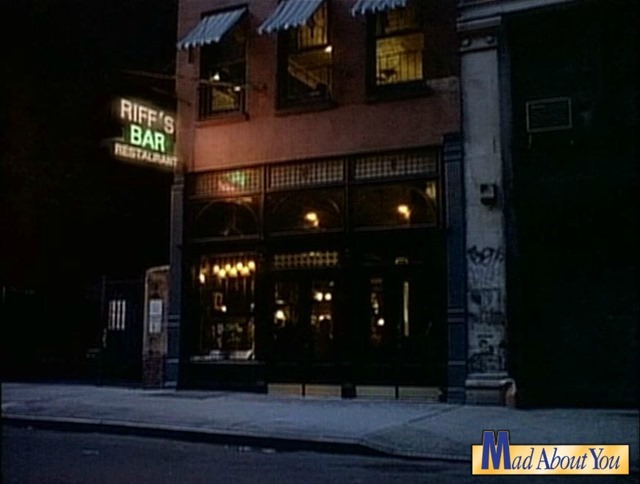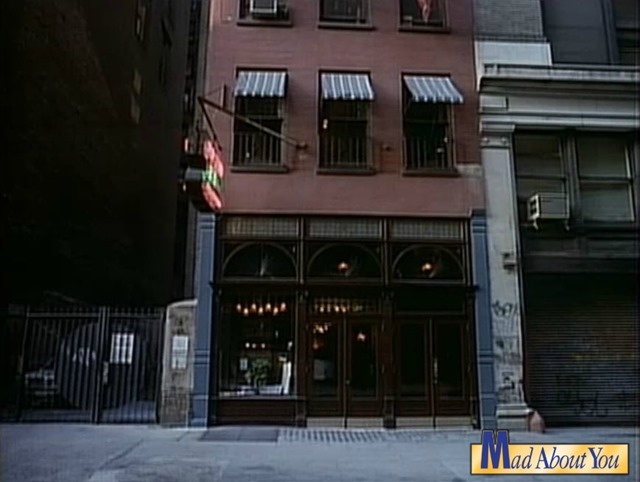 Interior scenes that took place at Riff's were obviously not filmed on site, but on a set located at The Culver Studios, where the series was lensed.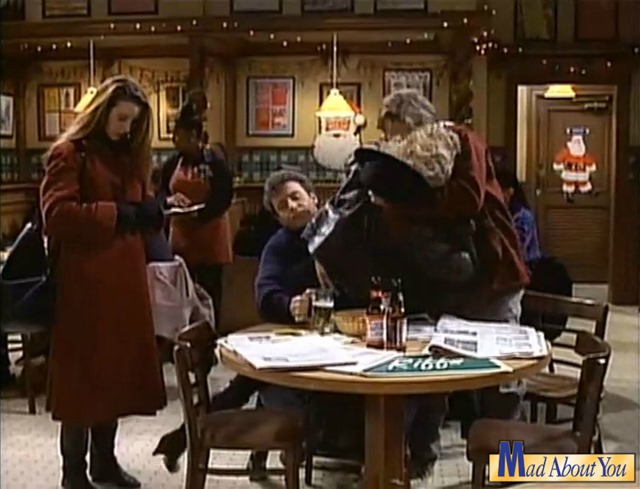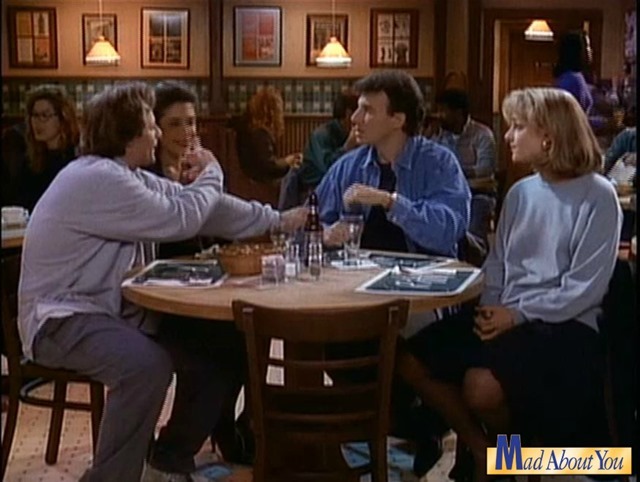 I was thrilled to spot a letter hanging on the wall at Old Town Bar from one of the Mad About You associate producers that detailed the first appearance of the property on the series.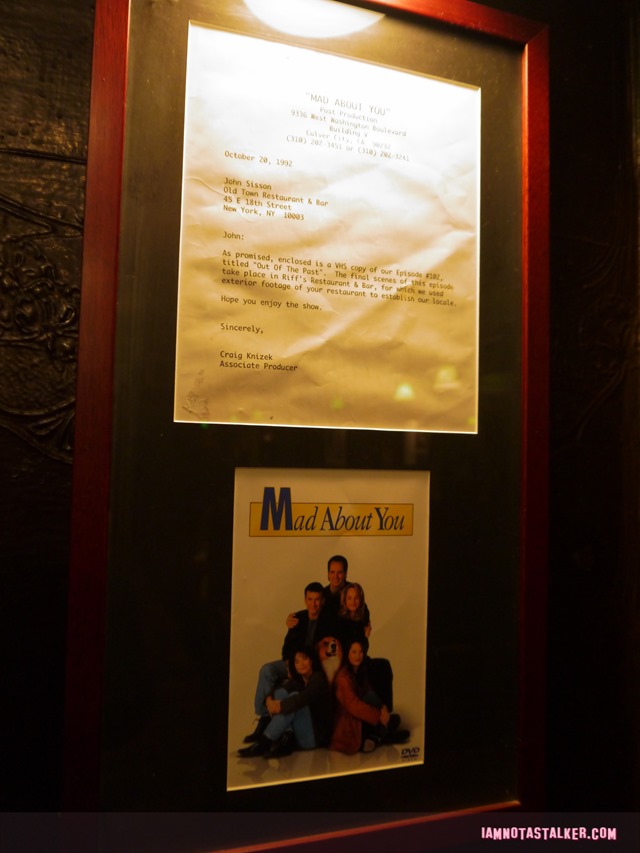 The music video for House of Pain's 1992 hit "Jump Around" was largely filmed at Old Town Bar.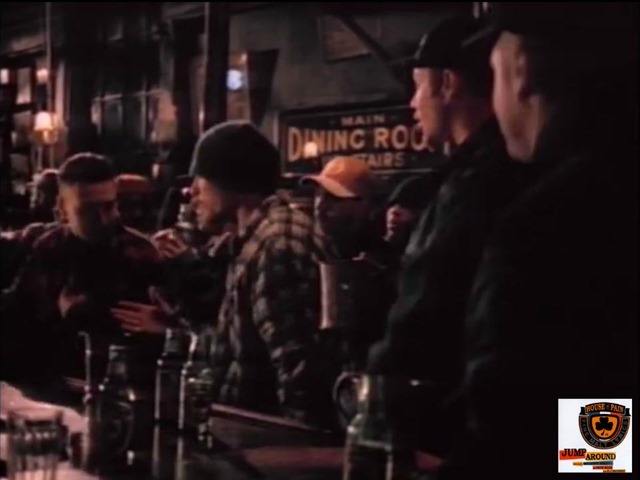 You can watch that video by clicking below.
Portions of Madonna's 1993 "Bad Girl" music video were also lensed at Old Town Bar.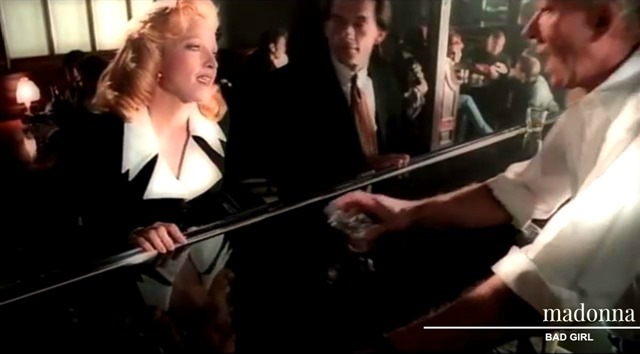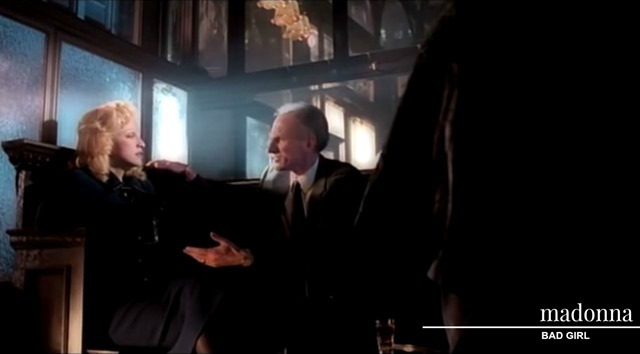 You can watch the "Bad Girl" video by clicking below.
According to the Old Town Bar website, the watering hole also made an appearance in the 1994 comedy Bullets Over Broadway.  I believe the scene shot on the premises is pictured below.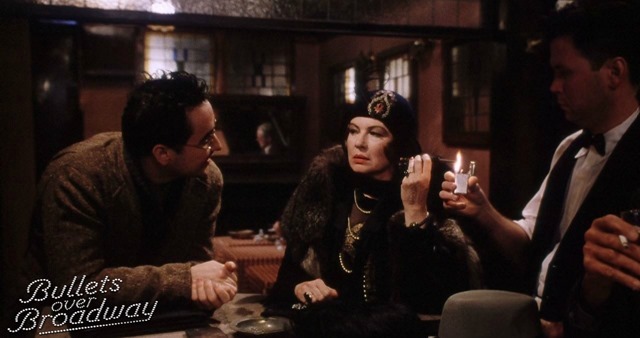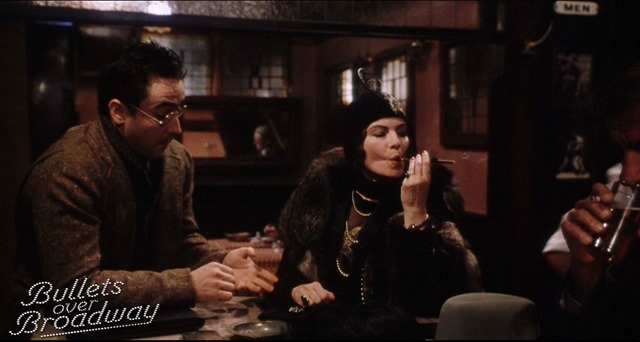 Though some elements don't seem to correlate with the set-up of the actual bar, the paned glass panel pictured behind John Cusack and Dianne Wiest in the screen captures match what was shown on Sex and the City, as does the posted "MEN" sign and the coat hooks positioned next to it.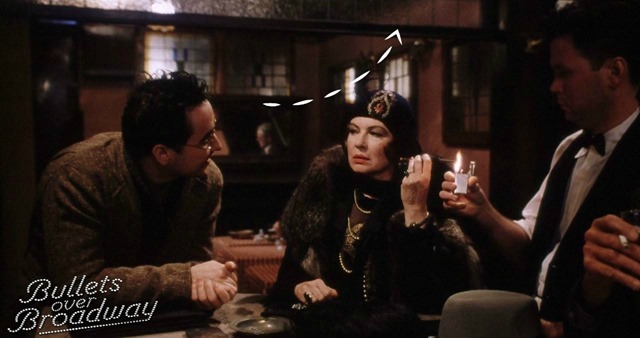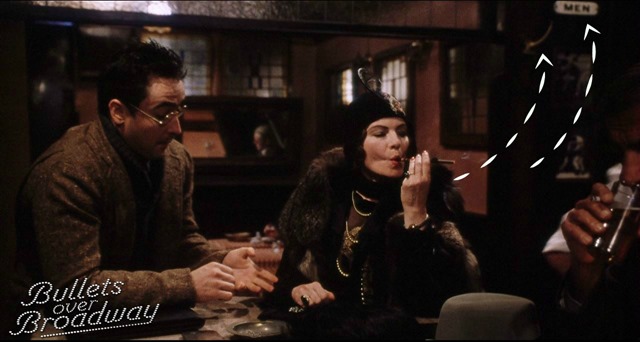 In 1997's The Devil's Own, Rory Devaney (Brad Pitt) meets up with Billy Burke (Treat Williams) at Old Town Bar.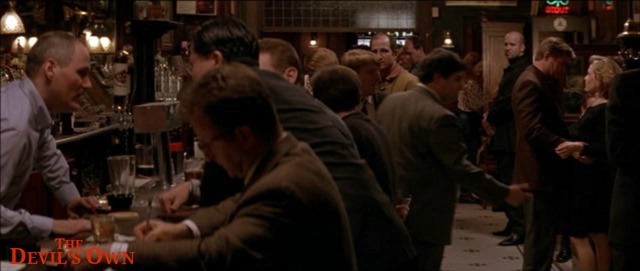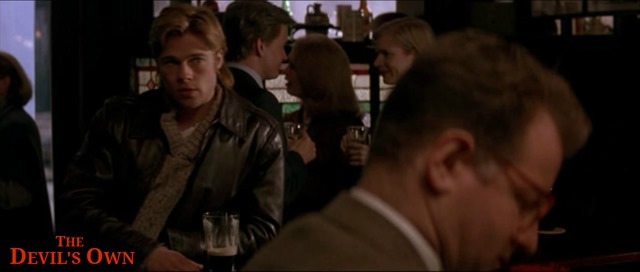 The establishment masks as Rex's, the restaurant where Alice (Chloe Sevigny), Charlotte (Kate Beckinsale), Des (Chris Eigeman) and Jimmy (Mackenzie Austin) go on a group date and discuss feminism, in 1998's The Last Days of Disco.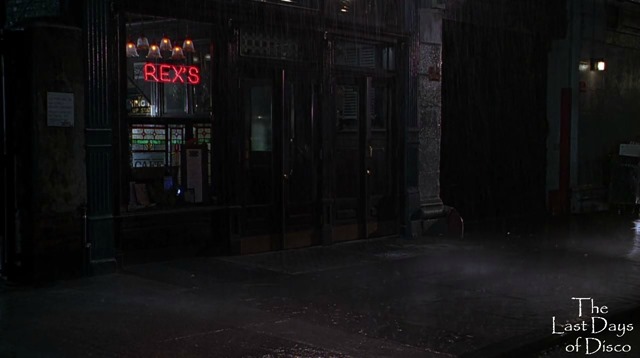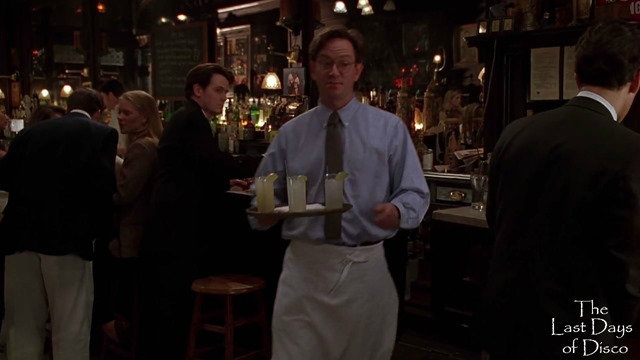 In the 2000 drama Boiler Room, Chris Varick (Vin Diesel) and his co-workers get into a fight with some J.P. Morgan brokers at Old Town Bar.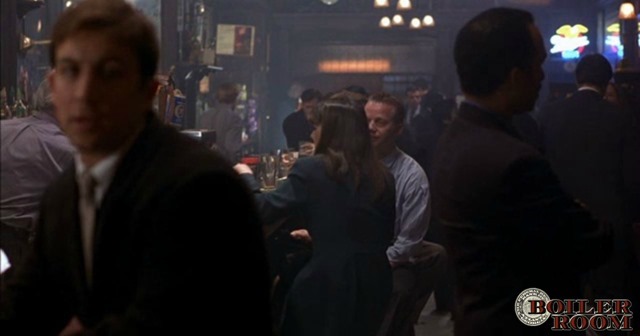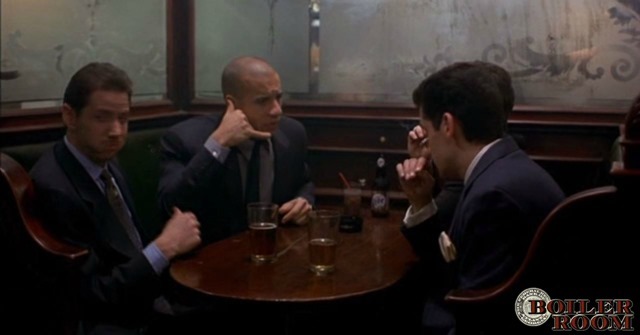 In 2008, the exterior of the site popped up in a brief establishing shot in the drama Life in Flight, though interiors were filmed elsewhere.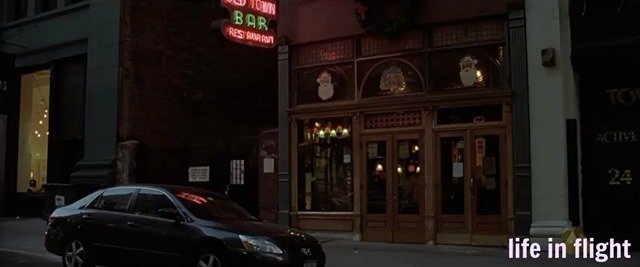 Old Town Bar appeared twice in the Season 1 episode of Bored to Death titled "The Case of the Stolen Sperm," which aired in 2009 – first in the scene in which Jonathan Ames (Jason Schwartzman) and George Christopher (Ted Danson) ran into reviewers Richard Antrem (Oliver Platt) and Louis Greene (John Hodgman), and later in the scene in which Richard challenged George to a boxing match.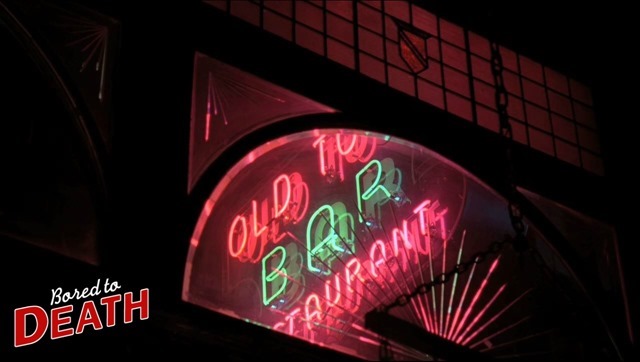 Serena van der Woodsen (Blake Lively) and Ben Donovan (David Call) celebrated Valentine's Day at Old Town Bar in the Season 4 episode of Gossip Girl titled "It-Girl Happened One Night," which aired in 2011.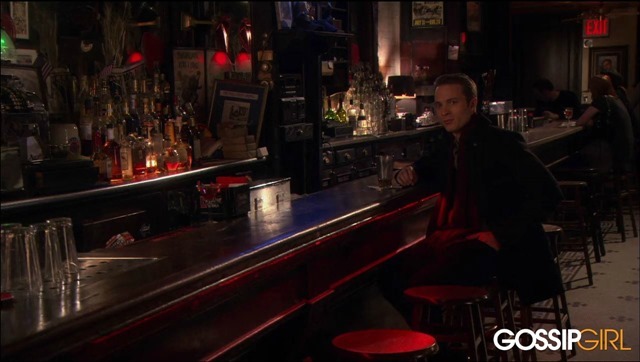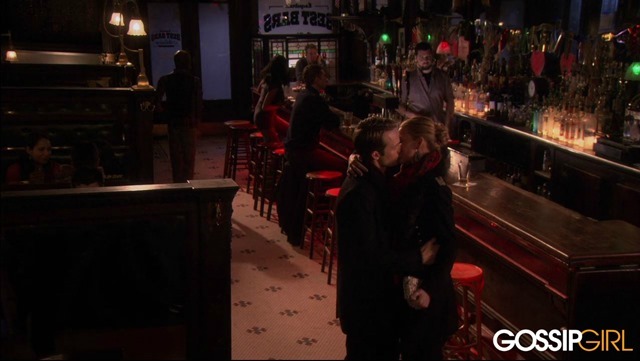 In the Season 1 episode of Person of Interest titled "Matsya Nyaya," which aired in 2012, John Reese (James Caviezel) and Joss Carter (Taraji P. Henson) had a heart-to-heart about trust – and saved one of their numbers – at Old Town Bar.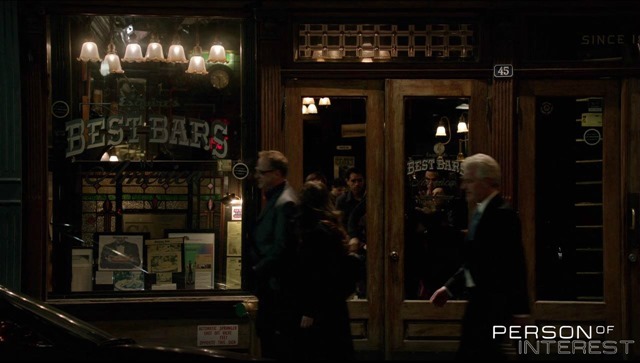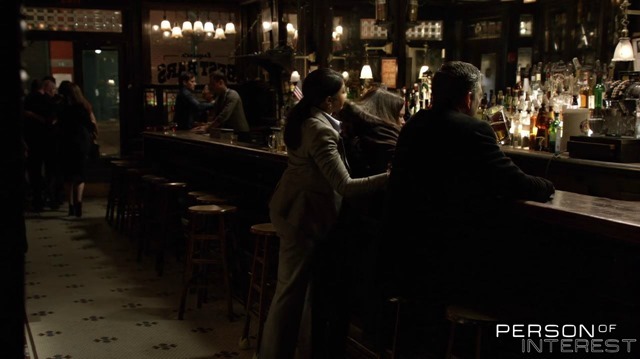 And the tavern was where Joey (Jamie Bell) proposed to Angie (Genesis Rodriguez) at the end of the 2012 thriller Man on a Ledge.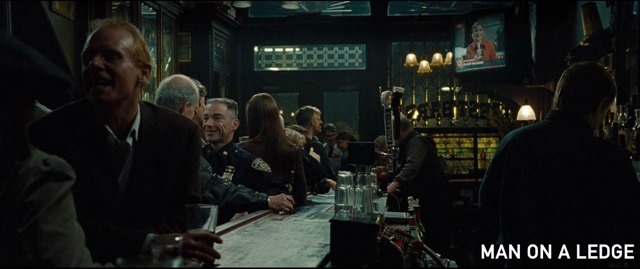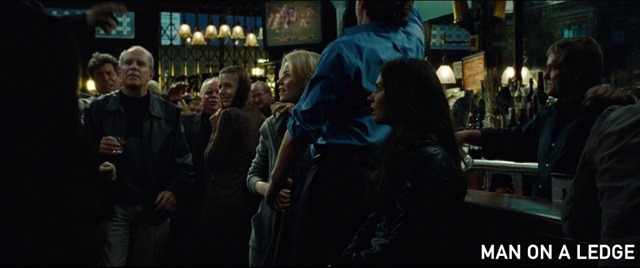 For more stalking fun, follow me on Facebook, Twitter, Instagram, Los Angeles magazine and Discover Los Angeles.
Until next time, Happy Stalking!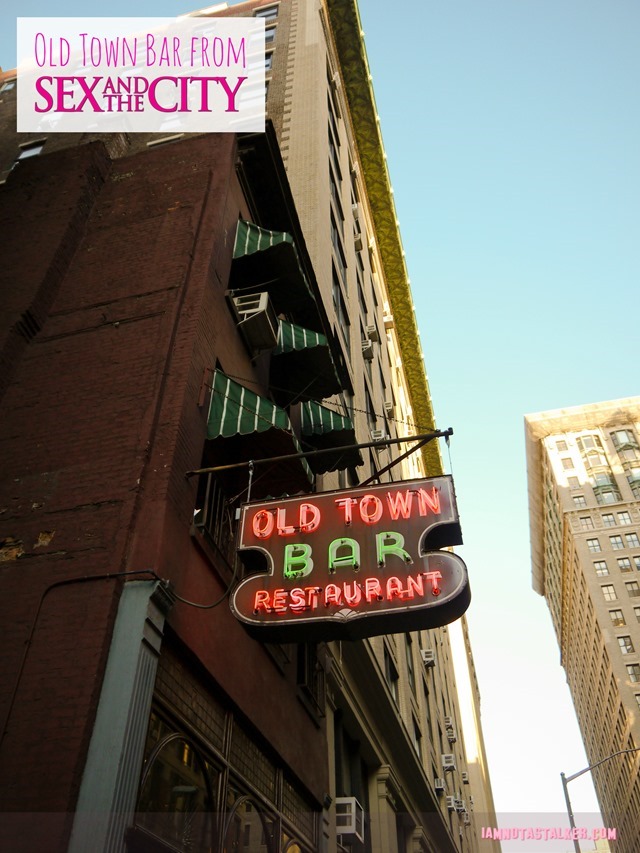 Stalk It: Old Town Bar, from the "Take Me Out to the Ball Game" episode of Sex and the City, is located at 45 East 18th Street, near Union Square, in New York.  You can visit the watering hole's official website here.
96789