Two Boots To Go West Pizza from "Sex and the City"
May 13th, 2016 | By
Lindsay
| Category:
Sex and the City Filming Locations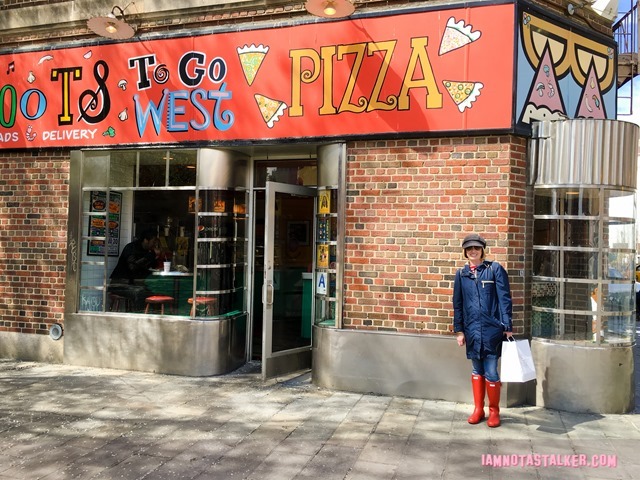 There's nothing quite like a slice of New York pizza!  Just watching characters eat a piece on TV or in a movie is enough to make me drool.  So I, of course, had long been dying to stalk the Big Apple pizzeria that appeared in the Season 6 episode of Sex and the City titled "Great Sexpectations."
In the episode, Carrie Bradshaw (Sarah Jessica Parker) and Miranda Hobbes (Cynthia Nixon) head to a pizza place for a second dinner after not being fulfilled by their meal at Raw, the hip new "vegan non-dairy" restaurant where "nothing is cooked over 118 degrees."  It is there that Miranda tells Carrie about her love for her new "boyfriend," TiVo.  As she explains, "While I'm eating this slice of pizza, my boyfriend is home taping my favorite TV show.  With TiVo, when there's something I don't enjoy, I just speed right through it.  And he surprises me with things that he thinks I might like, which is how I got hooked on Jules and Mimi."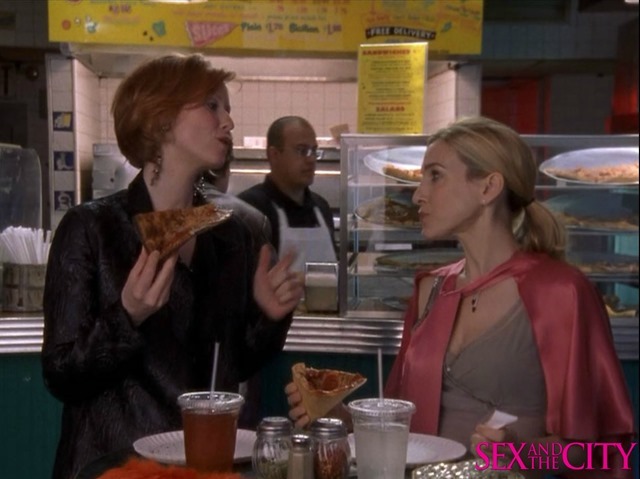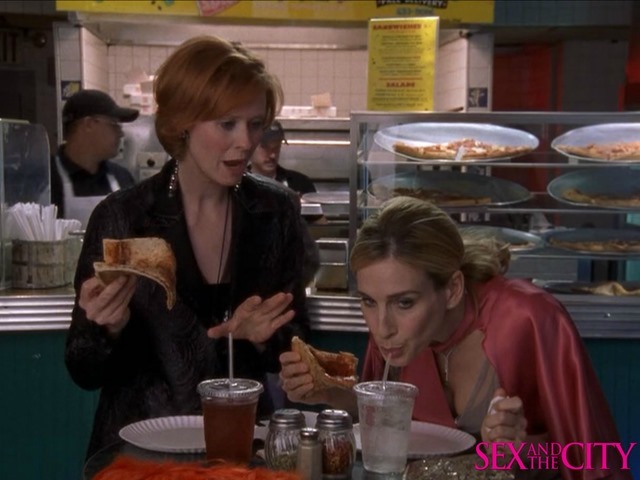 I loved absolutely every aspect of the scene – from the opening close-up of the girls' fabulous shoes to the way the camera panned upwards to their faces to the fact that they were standing at a tall table eating their slices, instead of sitting down.  The whole thing just looked so appealing and screamed "New York" to me and every time I watched it, I thought, "Yes, I want to do that!"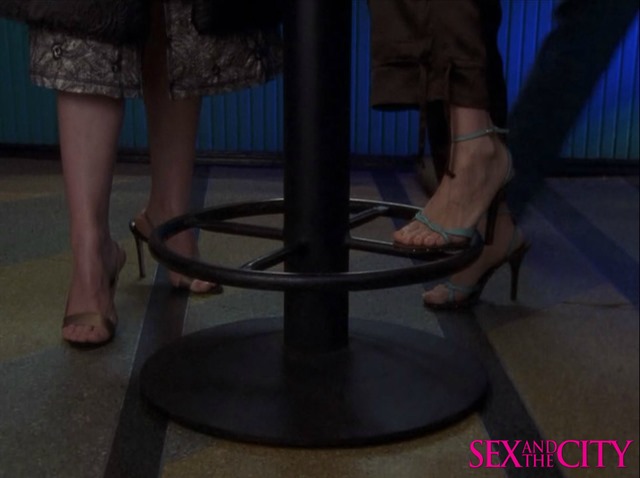 Unfortunately, there was not a whole lot for me to go on in tracking this location down.  Though some signage was visible in the background of the scene, it was not clear enough for me to make out any words or names.  Then, a couple of years ago, I came across a mention of On Location Tours' Sex and the City Hotspots Tour which stated that Two Boots To Go West Pizza in Greenwich Village was the spot where Carrie and Miranda enjoyed their non-raw meal.  So I immediately added the site to my New York Must-Stalk List and, as fate would have it, happened to randomly walk right by it on my way to another must-see locale while I was in NYC last month.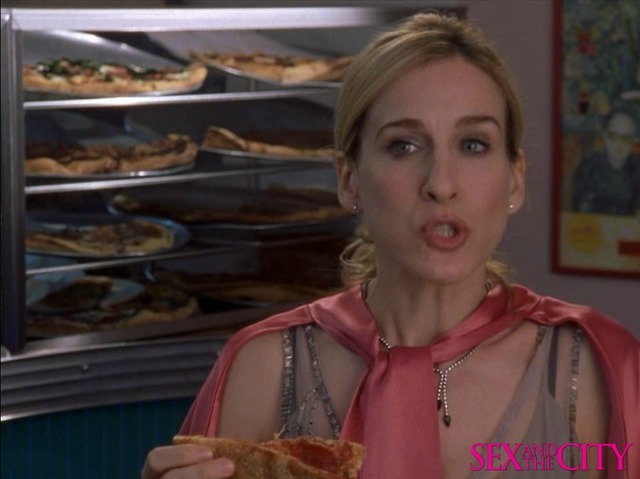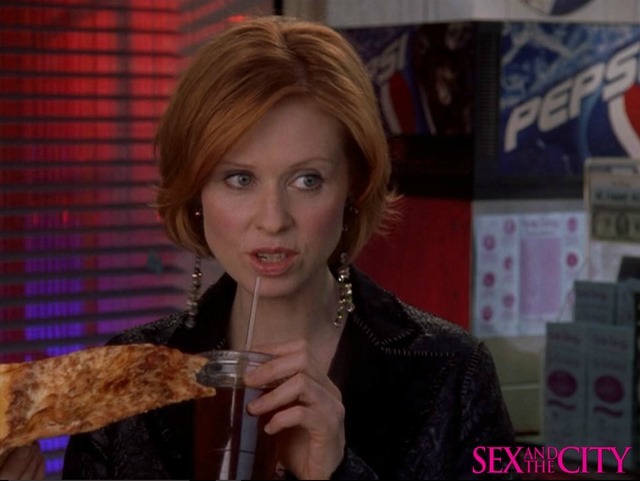 The first Two Boots eatery was originally established by Doris Kornish, Phil Hartman (not that Phil Hartman), and John Touhey at 37 Avenue A in the East Village in 1987.  The restaurant, named for the shoe-like shapes of both Italy and Louisiana, served Cajun/Italian fare, including a popular cornmeal crust pizza.  Demand for the unique slices was so great that a second takeout location named Two Boots To Go was opened nearby in 1989.  Additional branches continued to follow, including Two Boots To Go West at 201 West 11th Street in the West Village in 1995.  There are now 15 Two Boots outposts dotted throughout Manhattan, as well as in Brooklyn, Connecticut, Baltimore, New Jersey, Nashville, and Los Angeles.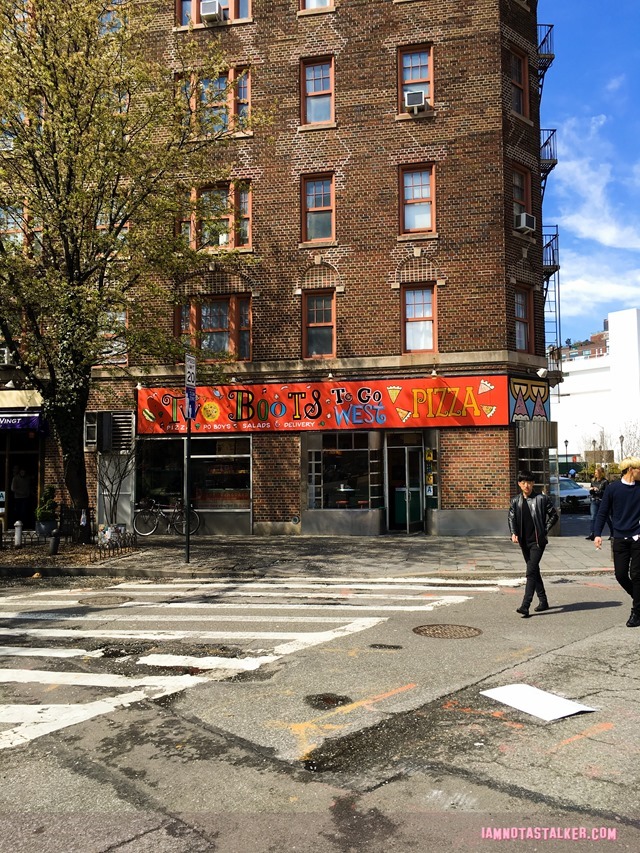 Sadly, we had just eaten lunch a few minutes prior to happening upon Two Boots To Go West (at a different SATC pizza place, which I will be blogging about soon), so we were not able to sample the slices, which is a shame because the pizza looked – and smelled – uh-ma-zing!  I am so heading right on over to one of Two Boots' L.A. branches the next time I am in town.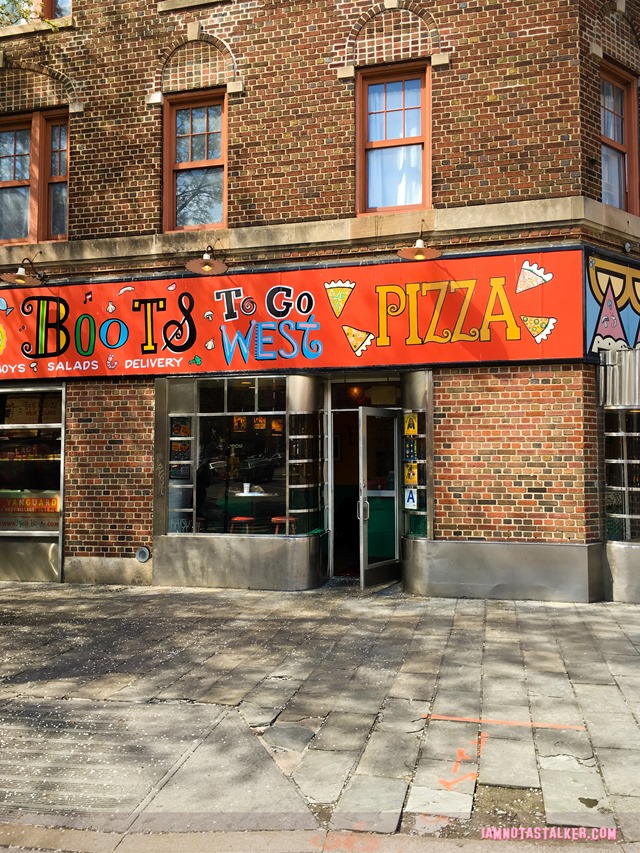 I did manage to pop in and snap a few quick pics while I was there, though.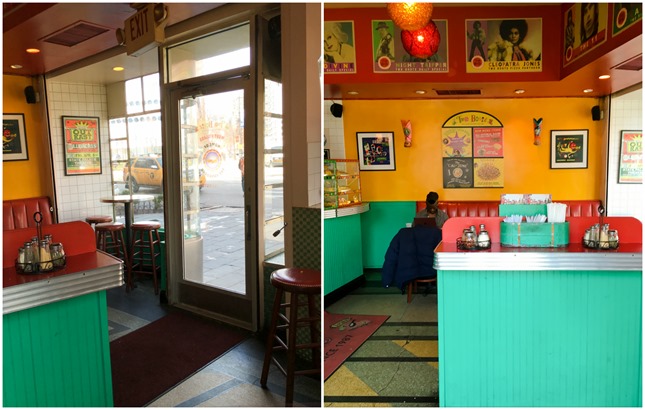 Seeing the restaurant in person threw me a bit as it did not look as I had imagined it to.  On Sex and the City, only one side of the eatery was shown and the shots were all fairly tight, so I envisioned it to be tiny.  In real life, Two Boots To Go West is actually quite large.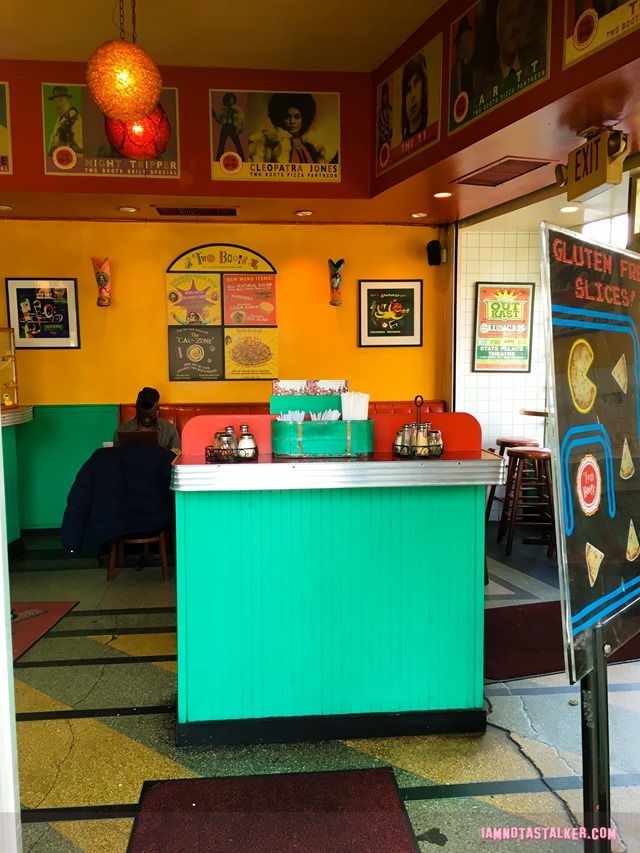 I was so thrown by the layout, in fact, that not only did I think for a time that I might be at the wrong Two Boots outpost, but I also failed to to snap photos of the exact spot where Carrie and Miranda dined.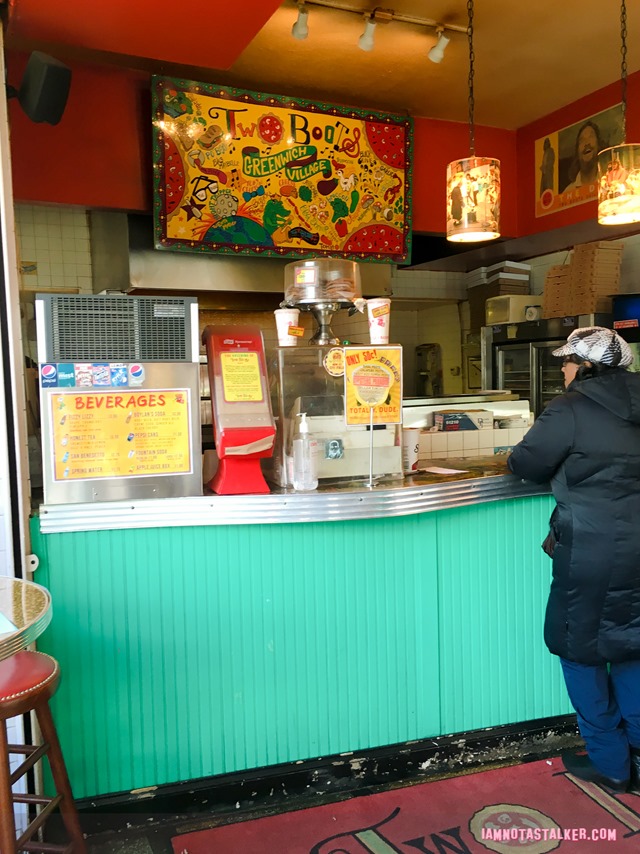 For "Great Sexpectations," one of the eatery's tall tables was brought to the center of the restaurant, directly in front of the pizza counter, and that is where Miranda and Carrie stood.  In actuality, there are no tables in that spot, as that is where the line is typically situated.  You can check out an image taken from the same angle that was shown on Sex and the City here.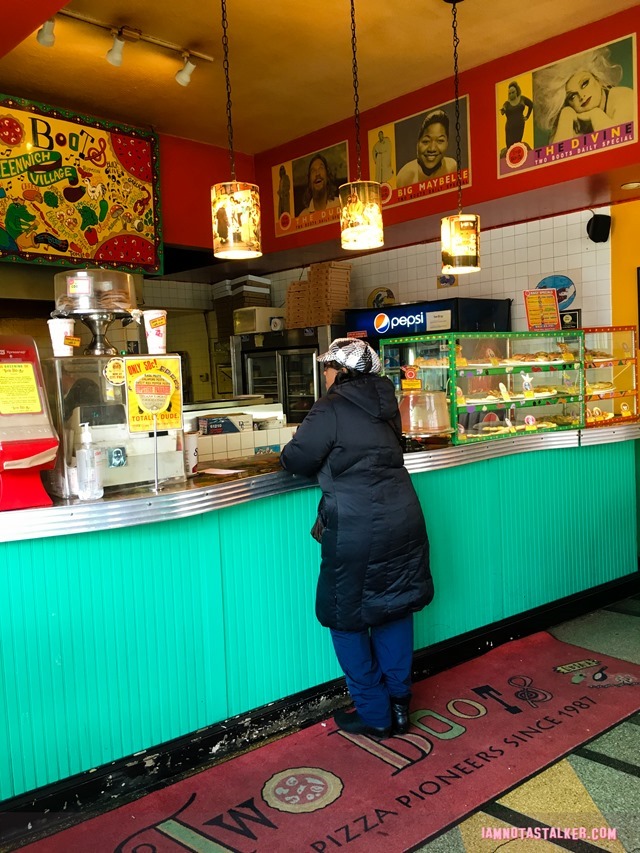 For more stalking fun, follow me on Facebook, Twitter, Instagram, Los Angeles magazine and Discover Los Angeles.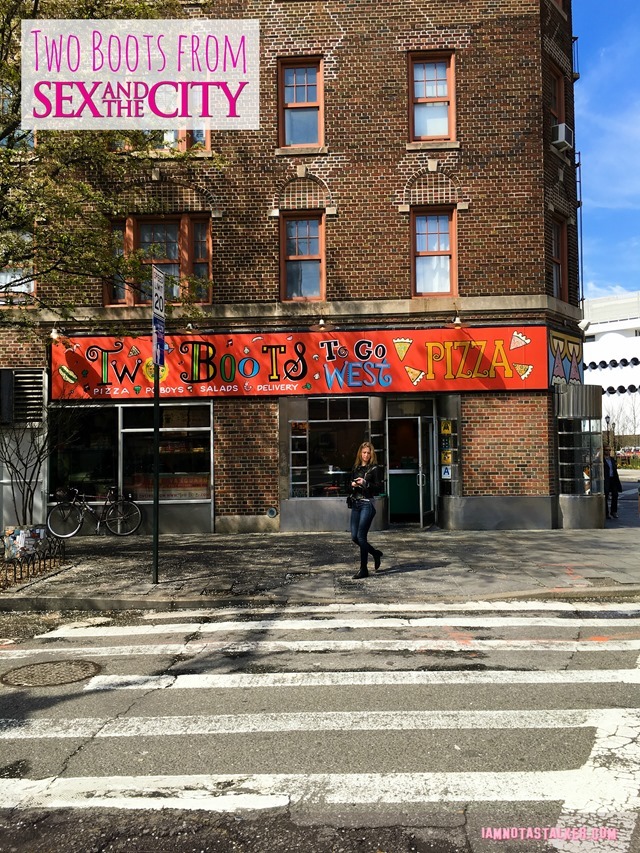 Until next time, Happy Stalking! 

Stalk It: Two Boots To Go West Pizza, from the "Great Sexpectations" episode of Sex and the City, is located at 201 West 11th Street in New York's West Village.  You can visit the eatery's official website here.
97061