Terry's Apartment from "Jumpin' Jack Flash"
Jul 6th, 2016 | By
Lindsay
| Category:
Movie Locations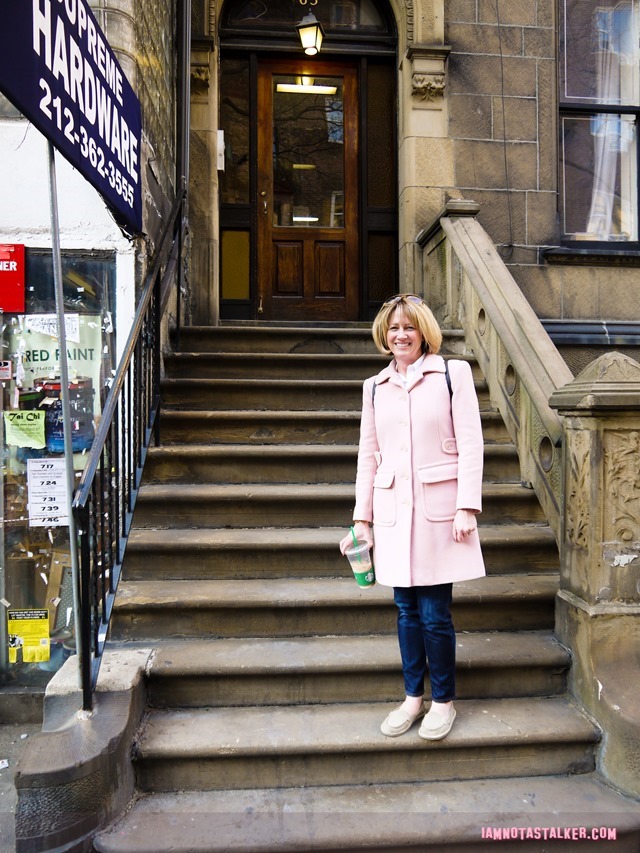 I've made no secret over the years of my love for Jumpin' Jack Flash.  (You can read the posts I've done on the 1986 comedy's locations here, here, here, and here.)  Whoopi Goldberg is literally perfection in her role as zany New York bank employee Terry Dolittle and I pretty much go around quoting her and the other characters on a regular basis ("Get Larry, the heavy-set guard!  Get Larry, the heavy-set guard!").  So when a fellow stalker named Mick emailed me in July 2013 to ask for some assistance in tracking down a few of the movie's locations, I was eager to help.  Somehow I got distracted, though, and never did any investigating.  Then Mick contacted me again the following February and this time I got to work.
One of the locales Mick was hoping to find was the apartment where Terry lived.  So I popped in my DVD and was thrilled to see that there was a restaurant located on the ground floor of Terry's building and that its name, La Tablita, was clearly visible on its awning.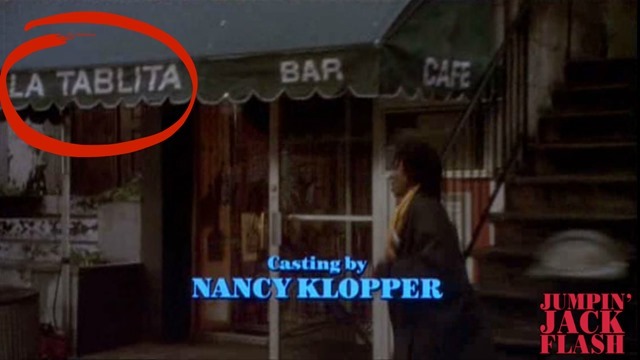 An internet search for "La Tablita" and "New York" led me to an ad in a 1985 issue of New York magazine that listed the eatery's location as 65 West 73rd Street.  I headed right on over to Google Street View, popped in that address and, sure enough, it was the right spot!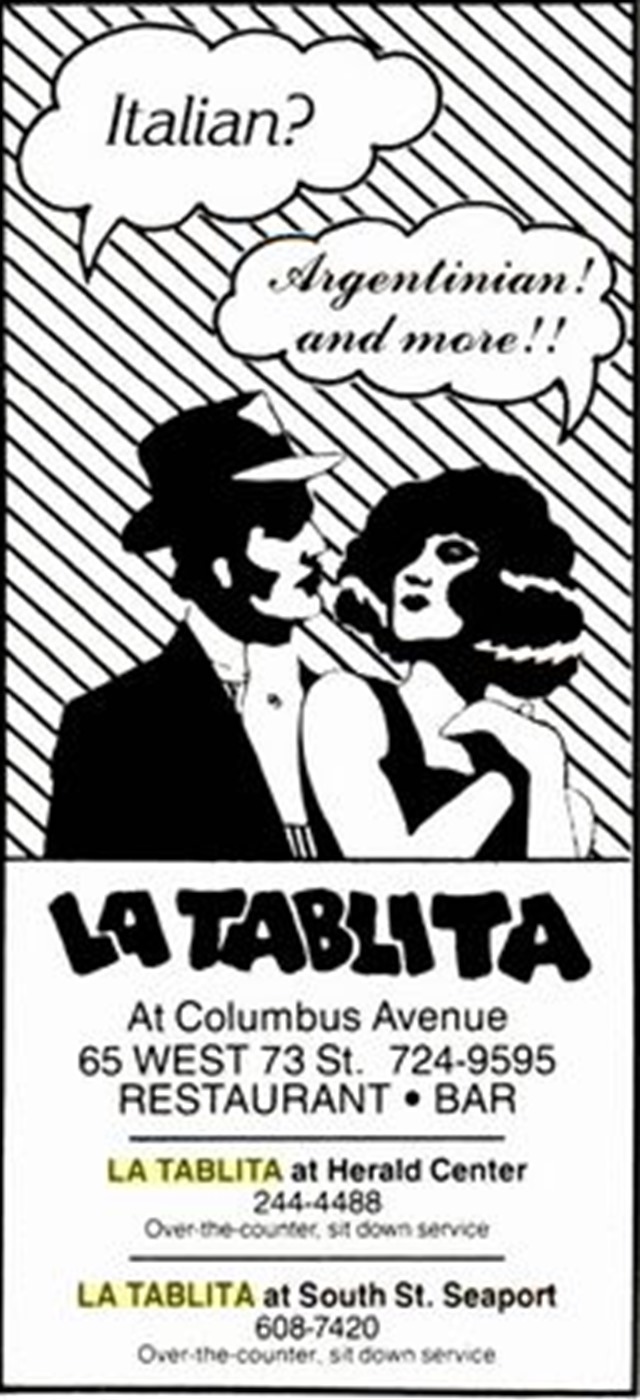 The exterior of Terry's apartment building was only shown a couple of times in Jumpin' Jack Flash, but it was extremely memorable to me due to the unique glass block pop-out located next to the front door.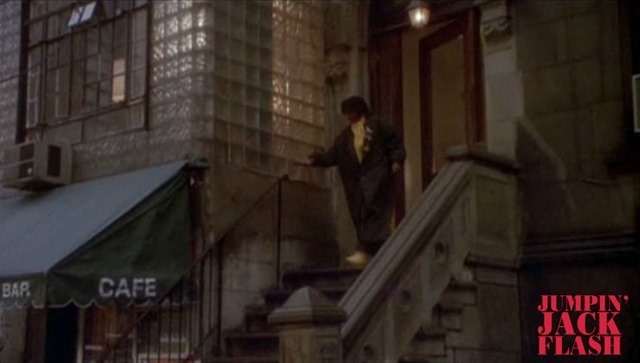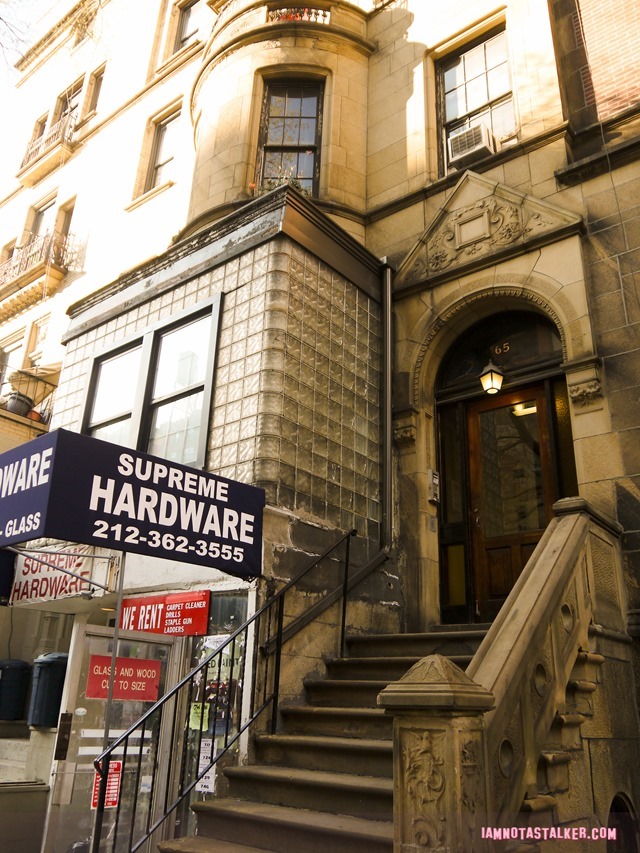 I was floored to see that virtually none of the property had been changed since filming took place there three decades ago.  (I honestly cannot believe the movie will be turning 30 in October!)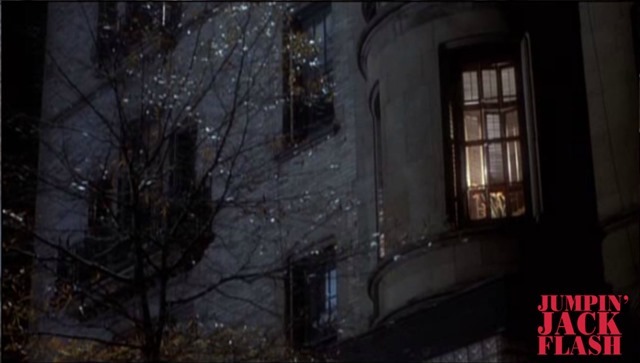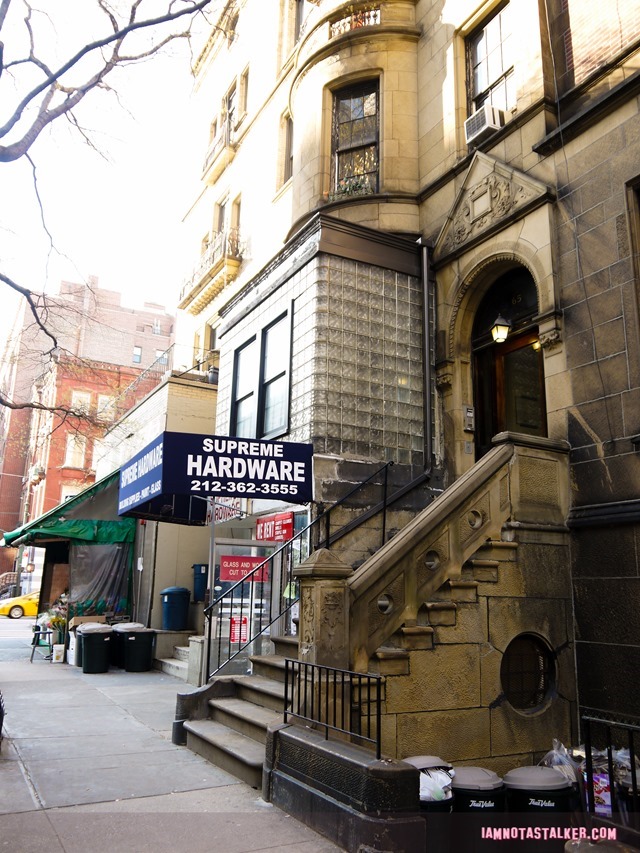 Today, the La Tablita space serves as home to a hardware store.  Other than a change in tenant, though, it, too, still looks very much the same as it did onscreen.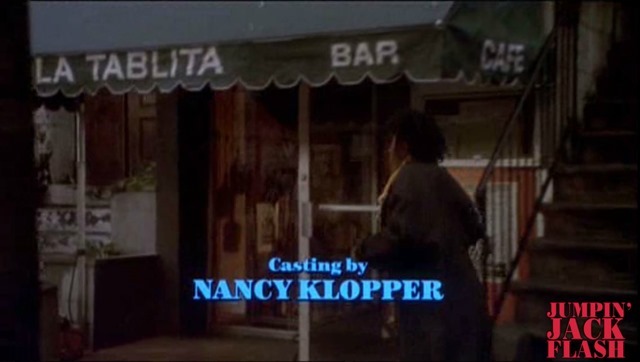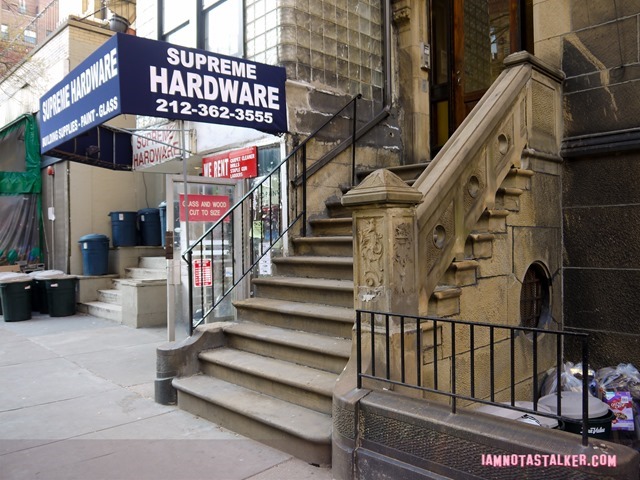 Terry's apartment building is part of a set of neighboring row houses that were designed by Henry J. Hardenbergh, the same architect who gave us The Plaza Hotel, the Dakota, and the original Waldorf-Astoria, which was demolished in 1929 in order to make way for the Empire State Building.  Construction on the homes began on July 20th, 1882.  Terry's building was completed on January 21st, 1885.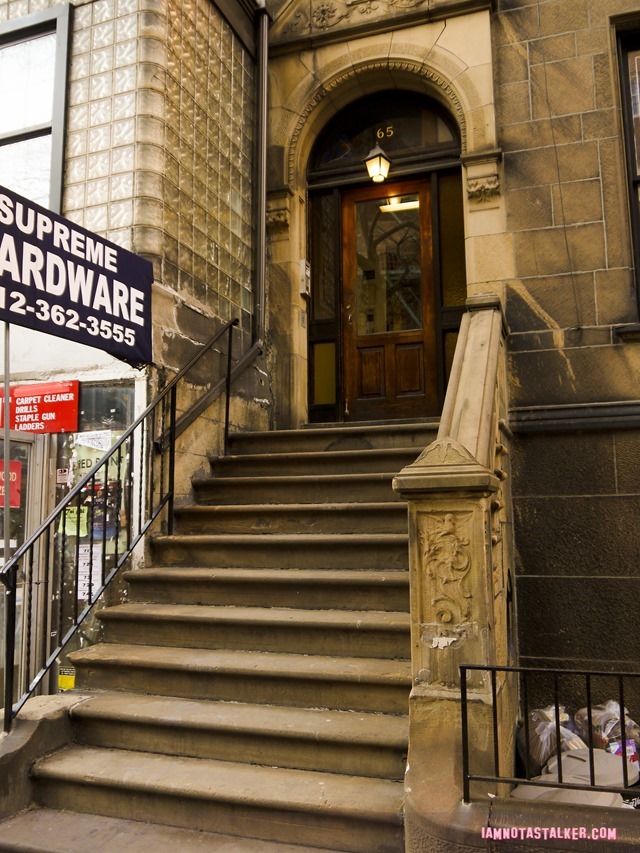 Of the 28 properties originally constructed by Hardenbergh, only 18 remain.  They can be found from 15A through 19 West 73rd Street and 41 through 65 West 73rd Street.   Sadly, the ten homes that once stood in between those two groups were demolished during the Great Depression in order to make room for a 16-story apartment building.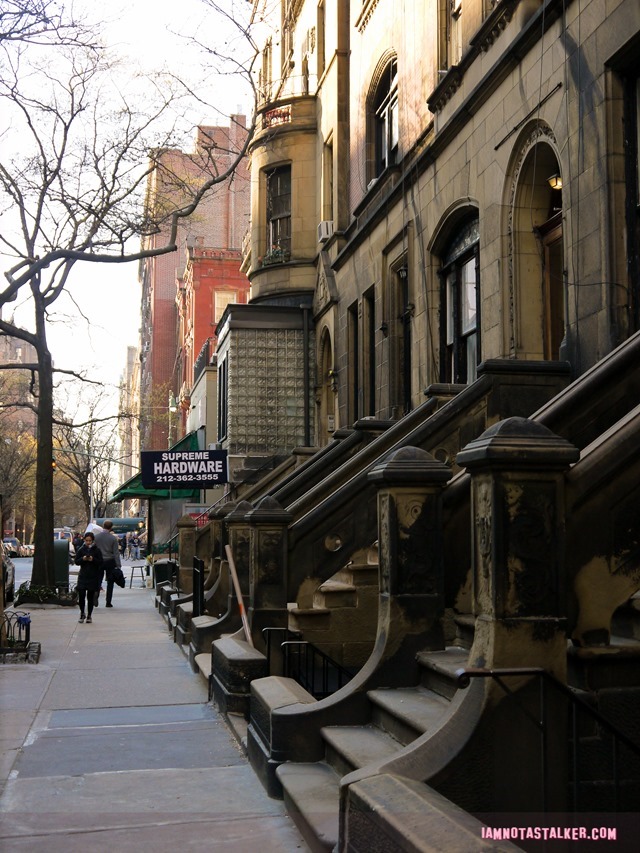 The row houses that do remain standing have been left largely untouched from their original design.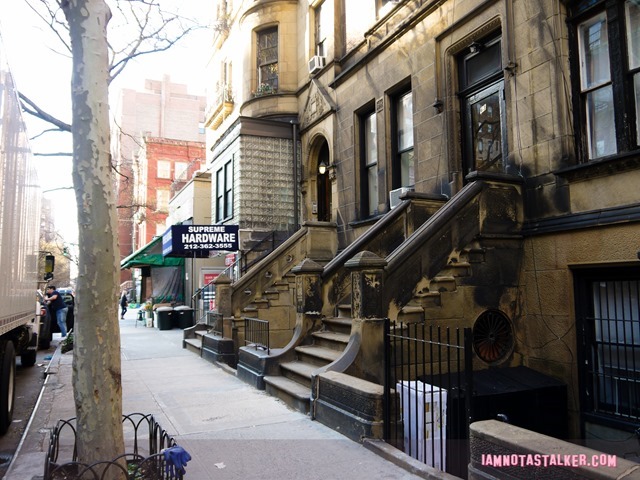 Terry's building is one of the few that has been modified.  The large glass block pop-out that was so memorable to me from Jumpin' Jack Flash is obviously a later addition and not an original 1885 detail.  Other than that, Hardenbergh's design remains intact, though.  You can read more about the history of the 73rd Street row homes here.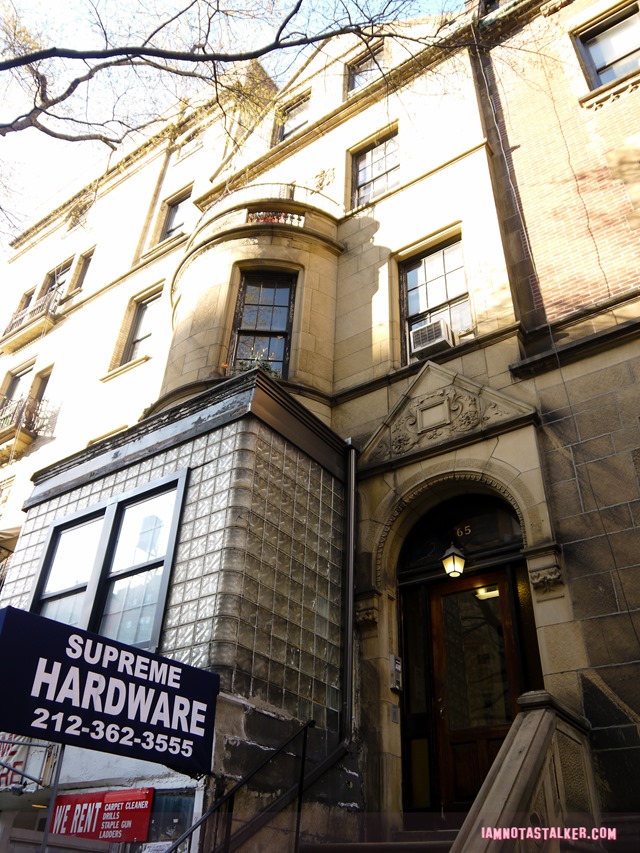 Only the exterior of the property was used in Jumpin' Jack Flash.  Terry's apartment interior was a set built on a soundstage at 20th Century Fox Studios in Century City where portions of the movie were lensed.  You can check out what a unit in the building actually looks like here.  Apparently, the images are from the penthouse, which cracked me up as the place is teeny tiny.  I mean, come on!   That kitchen looks like it should be on a ship and the second bedroom is more like a closet.  Sex and the City really led me astray when it comes to apartment sizing in New York.  So did Friends and pretty much every other movie/TV show set in the Big Apple for that matter (outside of Wanderlust), including Jumpin' Jack Flash!  As you can see below, Terry's apartment was huge compared to the building's actual units.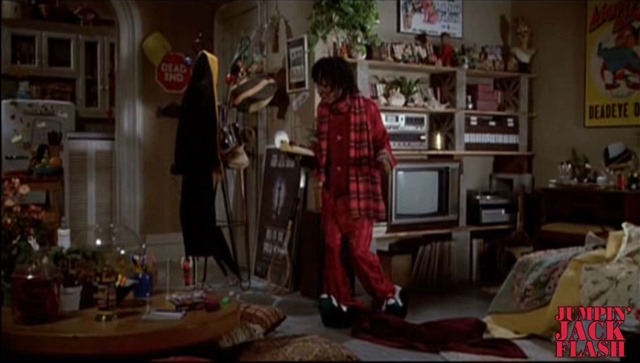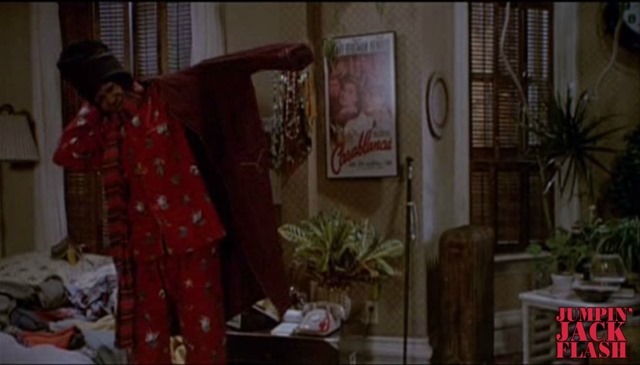 For more stalking fun, follow me on Facebook, Twitter, Instagram, Los Angeles magazine and Discover Los Angeles.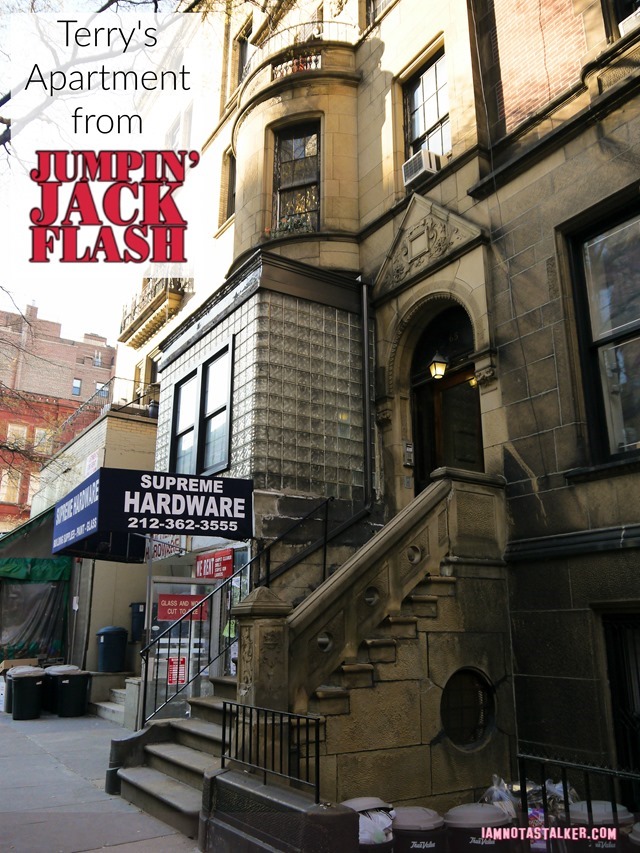 Until next time, Happy Stalking! 

Stalk It: Terry's apartment from Jumpin' Jack Flash is located at 65 West 73rd Street on New York's Upper West Side.
97848