The L.A. Filming Locations of "Scream 2"
Oct 21st, 2016 | By
Lindsay
| Category:
Haunted Hollywood
,
Movie Locations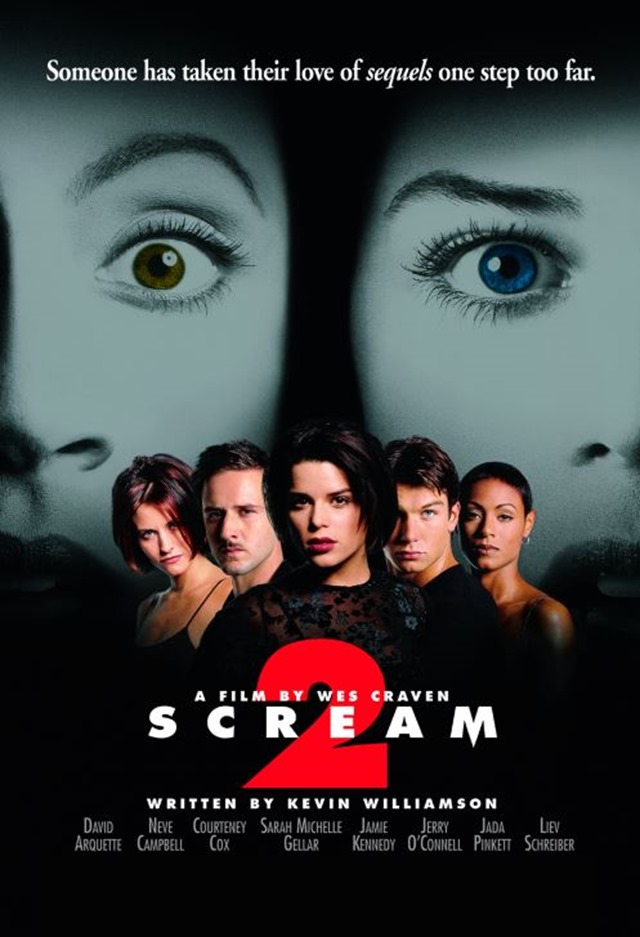 "Hello, Sidney." Two simple words, spoken by a gravelly-voiced serial killer shrouded by a Father Death mask in one of Scream's early scenes, and the face of the horror movie genre was changed forever. An empty house and a ringing telephone suddenly had a much more sinister meaning. Scream, which will be celebrating its twentieth anniversary on December 20th, went on to spawn three sequels, a 2015 television series, and countless imitations. Though the original film was shot in its entirety in Northern California and Scream 4 was filmed in Michigan, large portions of 1997's Scream 2 and all of 2000's Scream 3 were lensed in Los Angeles. I recently went on a trek to track down all of the franchise's SoCal locales. Today, I will be covering Scream 2 and on Monday, Scream 3. Enjoy!
1. Rialto Theatre (1023 Fair Oaks Avenue, South Pasadena) – Scream 2 opens upon a chaotic scene at a sneak preview of Stab – the franchise's movie-within-a-movie – which is taking place at the supposed Ohio-area Rialto Theatre. The historic 1925 venue is actually located in South Pasadena and is listed on the National Register of Historic Places. Though the exterior was dressed with an animatronic knife-wielding arm for the shoot, the Rialto is still very recognizable in person. Don't go hoping to catch a horror movie screening on the premises, though. The 1,200-seat theatre, one of the last single-screen venues in L.A., was closed to the public in 2010. Plans are currently in the works to re-open it, though. In 2015, the Lewis A. Smith-designed property was purchased by a developer who intends to restore the site to its original glory. In the meantime, fans can enjoy the venue via its many onscreen appearances in such productions as A Nightmare on Elm Street 4: The Dream Master, Modern Family (Season 6's "Crying Out Loud"), The Kentucky Fried Movie, and The Player. (You can read a more in-depth post I wrote about the location back in 2008 here.)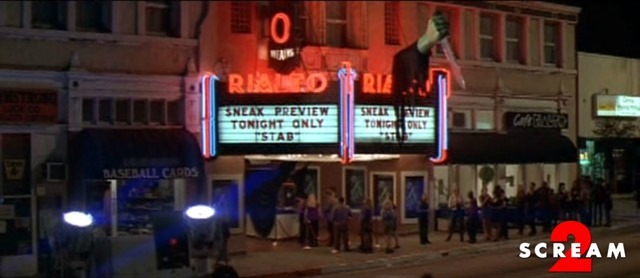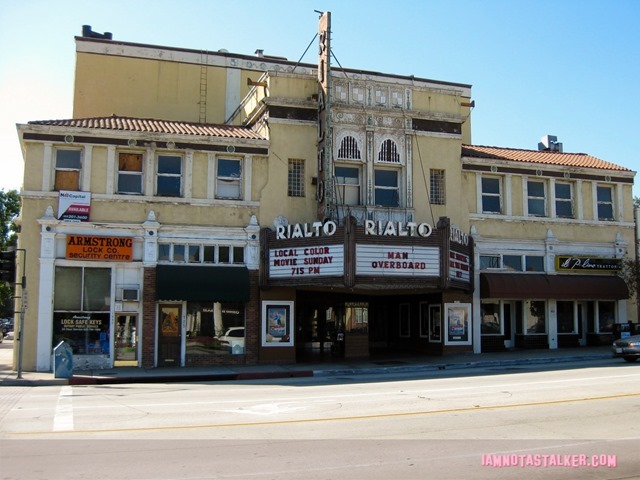 2. Vista Theatre (4473 Sunset Drive, Los Feliz) – Though the lobby of the Rialto was utilized in the Stab sneak preview scene, the auditorium where the actual screening took place is located a good twelve miles west. The spot where Maureen (Jada Pinkett Smith) met her rather public untimely end is the Vista Theatre in Los Feliz. Another Lewis A. Smith creation, the single-screen venue features both Spanish and Egyptian detailing. Originally opened to the public as the Lou Bard Playhouse on October 16th, 1923, the Vista still screens films today. An onscreen regular, the theatre has also appeared on 90210 (Season 3's Women on the Verge"), in the movies True Romance and Get Shorty, and in Pharrell William's "Happy" music video. [The unusual Egyptian-themed bathroom where Phil (Omar Epps) was stabbed to death is a spot I am still trying to track down. It does not appear to have been a bathroom at either the Vista or the Rialto and, though several crew members have said otherwise, I am leaning towards it having been a set.]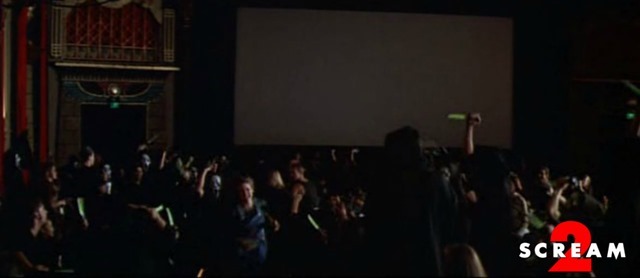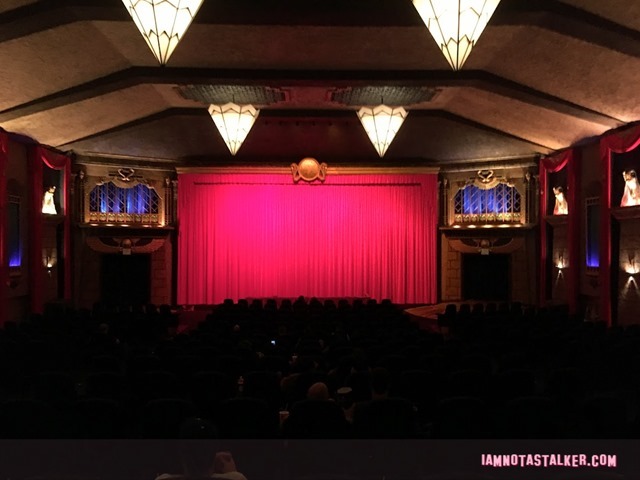 3. Stab Casey's House (5730 Busch Drive, Malibu) – "You know, I don't even know you and I dislike you already." So says Casey (Heather Graham) to the Ghostface killer in Stab's opening scene, which was shot at a sleek wood and glass house in Malibu Park. The 4-bedroom, 3-bath residence was designed by Doug Rucker in 1961 and then once again renovated by the prolific Malibu architect in 1989. It is in the home's sprawling manicured backyard, underneath a massive tree, that Stab Casey meets her grizzly end in a sequence that mimics Casey Becker's (Drew Barrymore) death from the original Scream. Segments of the scene shot at the house also popped up in 2011's Scream 4. (I covered this location in greater detail and told the story of the hunt to track it down here.)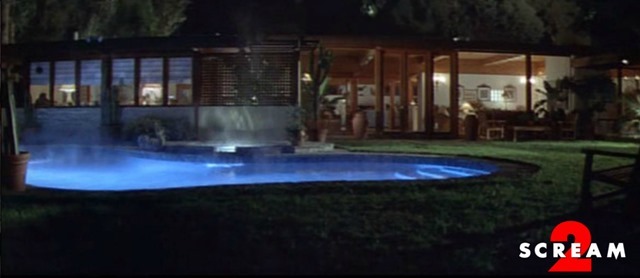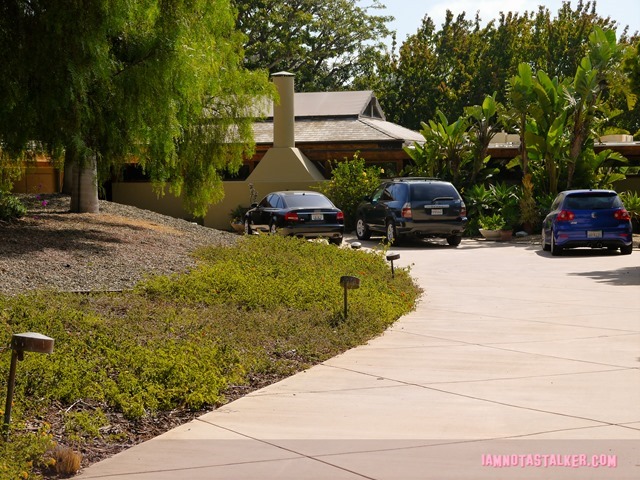 4. Omega Beta Zeta Sorority House (2186 East Crary Street, Altadena) – While serving as a sober sister for the night ("Drink with your brain! That's our motto!"), Cici (Sarah Michelle Gellar) finds herself alone in the Omega Beta Zeta sorority house, where she becomes the third victim of the Ghostface killer, who stabs her and throws her off of a third-floor balcony. Both the interior and the exterior of a large Victorian-style estate in Altadena known as the Crank House were used to represent the Omega Beta Zeta pad in the film. Originally constructed in 1882 by a New Yorker named James Crank, the massive 7-bedroom, 4-bath, 6,450-square-foot property, which is listed on the National Register of Historic Places, is not very visible from the road. The stately manse can be viewed in countless productions, though. The Crank House posed as the supposed New Orleans residence belonging to Roger Strong (Martin Sheen) and his family in Catch Me If You Can. The location also served as Martin Sheen's home in another production – on the television series The West Wing the interior was used as the interior of the Bartlett Family Farm in New Hampshire. The Crank House is also where Donald "Ducky" Mallard (David McCallum) lives on NCIS and it belonged to Trunchbull (Pam Ferris) in the 1996 movie Matilda. (You can read my previous post on this location here.)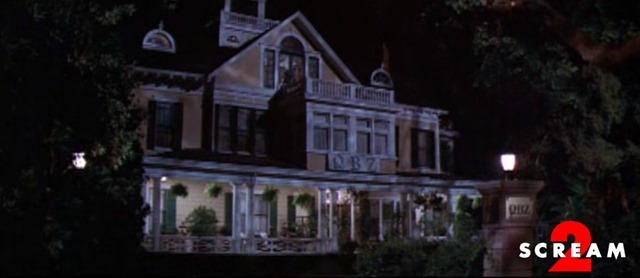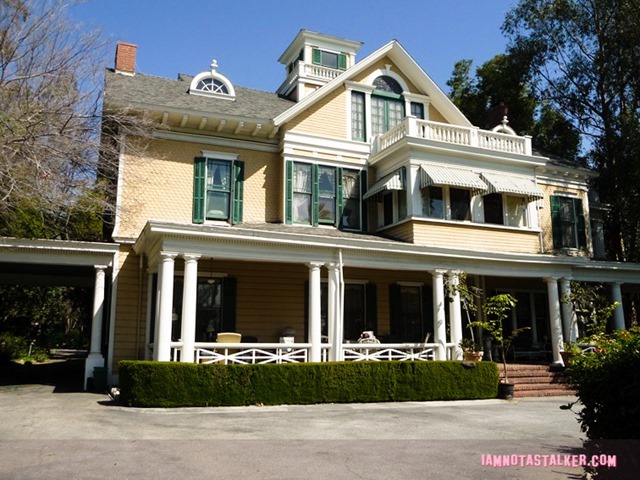 5. Delta Lambda Zeta Sorority House (350 South Grand Avenue, Pasadena) – At the beginning of Scream 2, Hallie (Elise Neal) drags Sidney (Neve Campbell) to a "martini mixer" at Windsor College's Delta Lambda Zeta sorority house. While there, Sorority Sister Lois (Rebecca Gayheart) and Sorority Sister Murphy (Portia de Rossi) try to woo Sidney into joining their ranks by uttering such classic lines as, "Hi. No I really mean that. Hi." The Delta Lambda Zeta residence clears out once party-goers learn of Cici's death and Sidney once again finds herself alone in a house, on the receiving end of a "Hello, Sidney" phone call, and eventually face-to-face with a masked killer. Filming of the scene did not take place at a sorority house at all, but at an enormous 8-bedroom, 4-bath, 7,913-square-foot private residence located in Pasadena's South Arroyo neighborhood.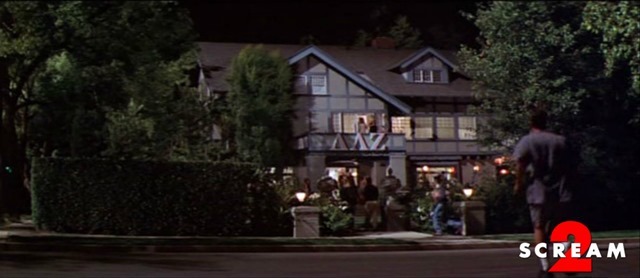 6. Kerckhoff Coffeehouse (Kerckhoff Hall, Level 2, UCLA, 308 Westwood Plaza, Westwood) – While at a Windsor College coffee shop over a couple of Baskin-Robbins sundaes, Randy schools Dewey Riley (David Arquette) on "the rules" of making a successful movie sequel. "Number 1 – The body count is always bigger. Number 2 – The death scenes are always much more elaborate. More blood. More gore. Carnage candy. Your core audience just expects it. And Number 3 – If you want your sequel to become a franchise, never, ever, under any circumstances, assume the killer is dead." (The third rule is only heard in its entirety in the Scream 2 trailer.) The rules segment was shot at UCLA's first coffee shop, Kerckhoff Coffeehouse, originally established in 1976. The charming café, which is open to the public, offers espresso drinks, pastries, soups, and sandwiches. And while it did serve Baskin-Robbins ice cream at the time of the filming, sadly that is no longer the case.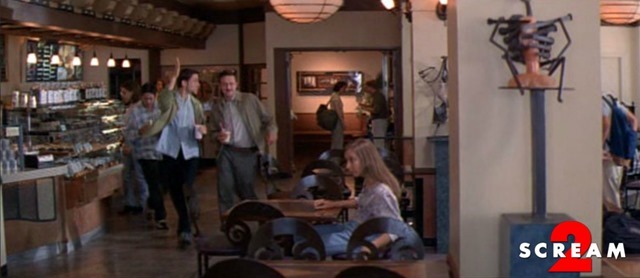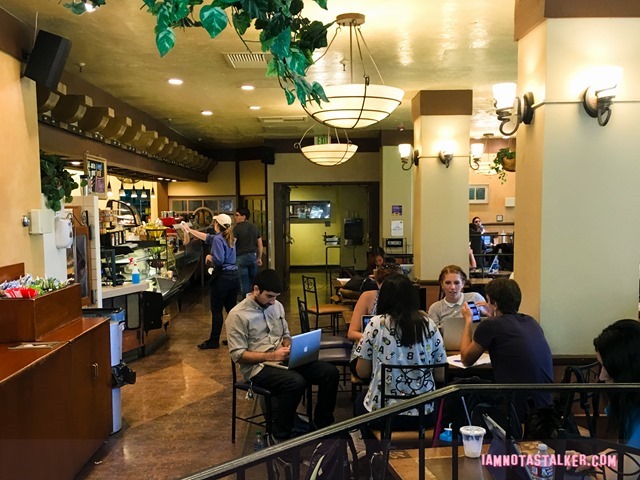 7. Lecture Hall/Hallway (Humanities Building, A51, UCLA, 415 Portola Plaza, Westwood) – It is at a large auditorium inside one of the University of California, Los Angeles' oldest structures, the Humanities Building, that Gale Weathers (Courteney Cox) and Dewey look through some of Gale's crowd footage in the hopes of identifying Ghostface. Though the two are first shown walking through a hallway at Agnes Scott College in Georgia (which was largely used to portray Windsor College in Scream 2) while looking for a room with a VCR to play the footage, the scenery then flips to Humanities A51, a vast UCLA lecture hall, where Gale and Dewey wind up rekindling an old flame. It is not long before Ghostface shows up and destroys their rendezvous, though. Gale is subsequently chased by the killer through a Humanities Building hallway and then into a large sound booth that was actually a set built at a recording studio in Burbank.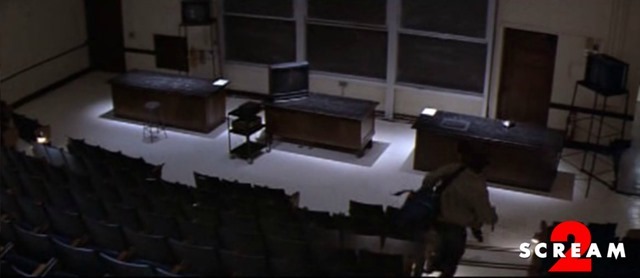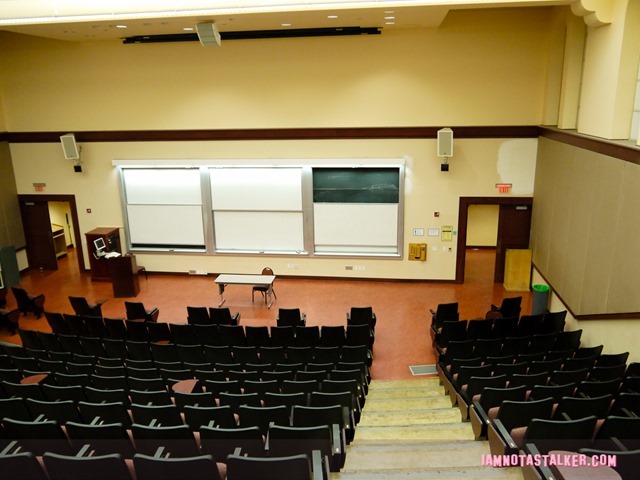 Originally known as Kinsey Hall, the Humanities Building was shuttered for renovations in 2005 and renamed. The exterior of the site was also utilized in Scream 2, in a later scene in which Gale rushes outside to make a frantic phone call to the police to announce that Cotton Weary (Liev Schreiber) is the killer, while Debbie Salt (Laurie Metcalf) looks on.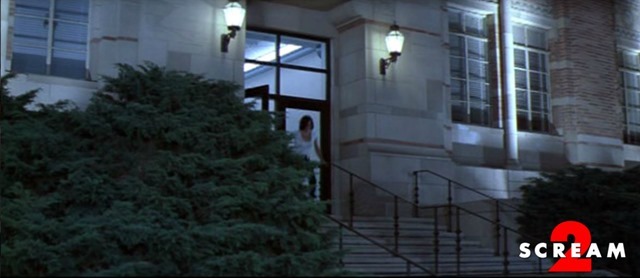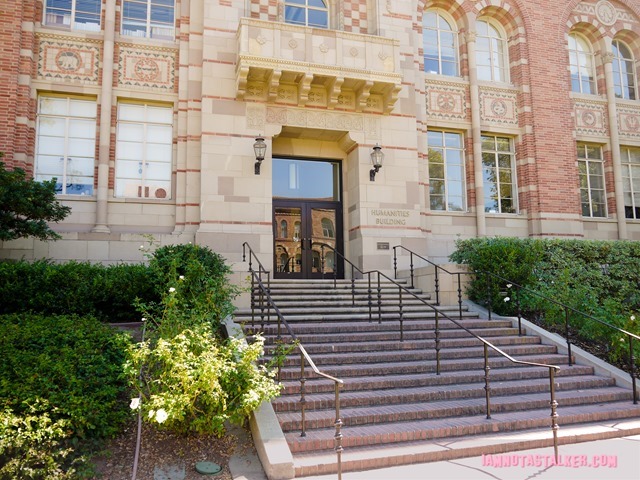 8. Officer Andrews and Officer Richards Death Scene (Green Street in between South Los Robles Avenue and Madison Avenue, Pasadena) – The harrowing scene in which Officer Andrews (Philip Pavel) and Officer Richards (Christopher Doyle) are murdered, leaving Sidney and Hallie trapped inside of their locked, crashed police car with Ghostface, was lensed on a quiet tree-lined stretch of Green Street in Pasadena's Playhouse District. After Sidney and Hallie escape from the destroyed cruiser by discreetly crawling over the unconscious masked killer, the two run east on Green towards South Oakland Avenue, whereupon Sidney decides to head back to the car to remove Ghostface's mask and learn the killer's true identity. Ghostface has long since made his getaway, though, and as Sidney walks to the accident scene, Hallie is murdered while standing in front of the First Church of Christ Scientist.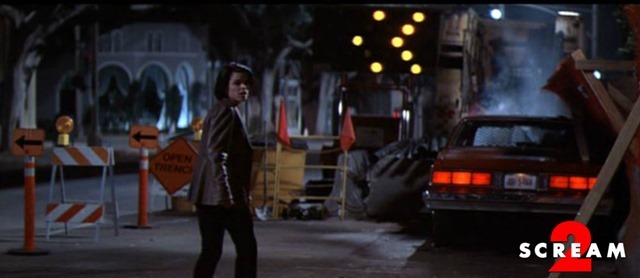 9. Exterior of Windsor College Theatre (Kerckhoff Hall, UCLA, 308 Westwood Plaza, Westwood) – It's back to UCLA for the start of the film's climactic finale. Kerckhoff Hall, erected in 1931, stands in for the exterior of the Windsor College Theatre, where Agamemnon, the play Sidney is starring in, is set to be staged. In the segment, Sidney rushes through UCLA's Election Walk . . .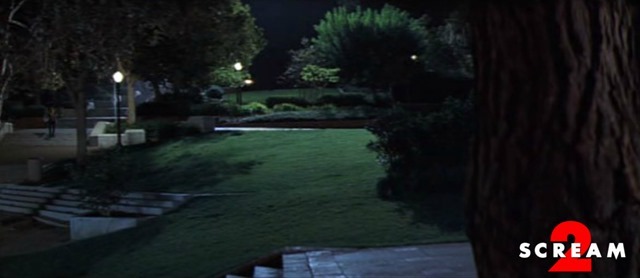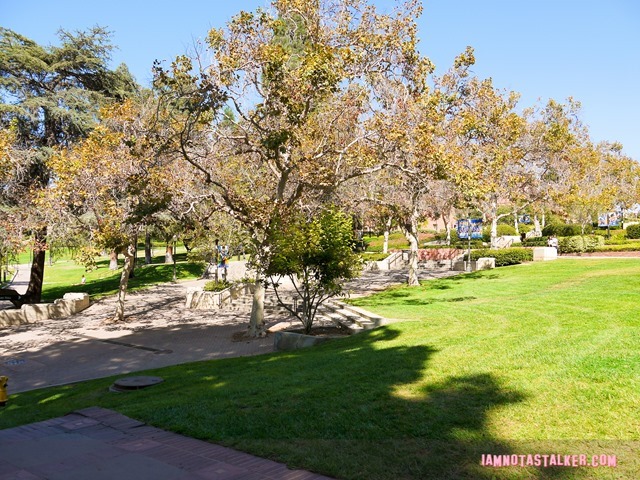 . . . and up the steps of the Collegiate Gothic-style building, though as soon as she steps inside, she is standing about 15 miles away at a theatre in downtown L.A.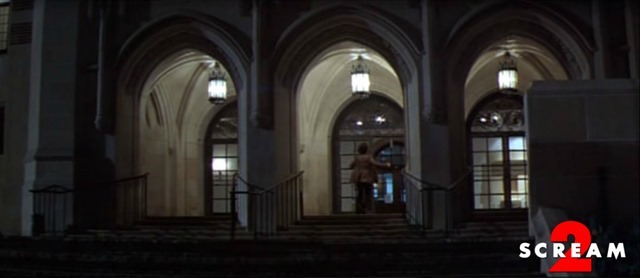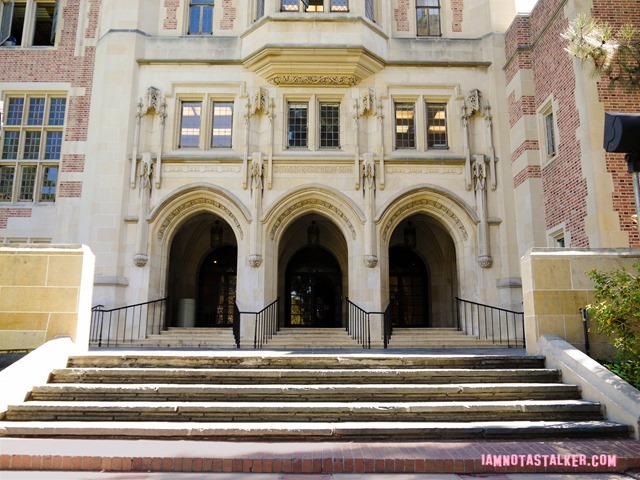 The movie's final scene, in which Gale forgoes her moment in the spotlight in order to accompany Dewey to the hospital, was also shot in front of Kerckhoff Hall. The building is named in honor of William G. Kerckhoff, a businessman/philanthropist who was not only an original founder of Beverly Hills, but was also responsible for helping to develop hydroelectric power and founded the Southern California Gas Corporation in 1910.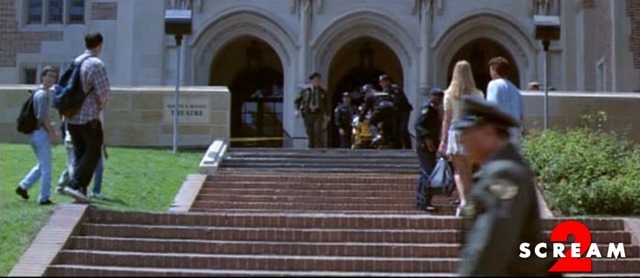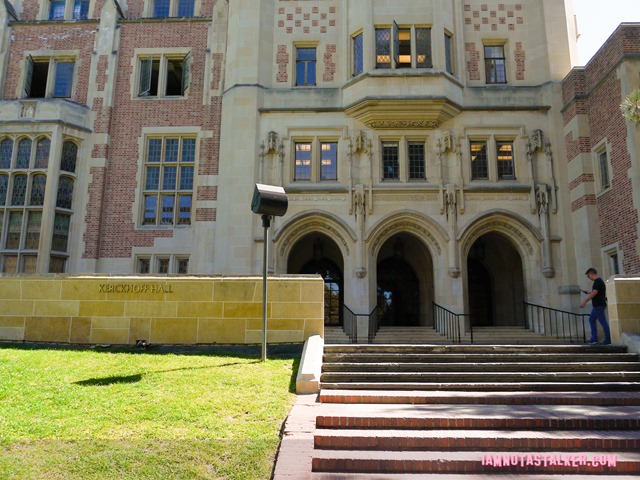 10. Variety Arts Theatre (940 South Figueroa Street, downtown L.A.) – The interior of the Windsor College Theatre, where Scream 2's bloody climax takes place, was portrayed by the Variety Arts Theatre in downtown Los Angeles. It is there, onstage amongst the crumbling Agamemnon scenery, that the Ghostface identities are finally revealed and Sidney and Cotton form an unlikely alliance. The Variety Arts Theatre was originally constructed as part of the headquarters of the Friday Morning Club, an organization for women, in 1924. Designed by Allison and Allison, Architects, the five-story Neo-Italian Renaissance-style property, now known as the Variety Arts Center, is comprised of offices, meeting space, and two theatres. It is the larger, lower-level venue, originally named The Playhouse, that was featured in Scream 2. After remaining largely closed since the late '80s, the Variety Arts was leased by the Los Angeles branch of the Hillsong Church in 2015. Renovations are currently underway and the Pentecostal organization is expected to begin holding services on the premises in 2017. Because of the renovation, I was not able to get inside to take photos, but you can see some interior images of it here. The Variety Arts Theatre also made an appearance in Walk Hard: The Dewey Cox Story.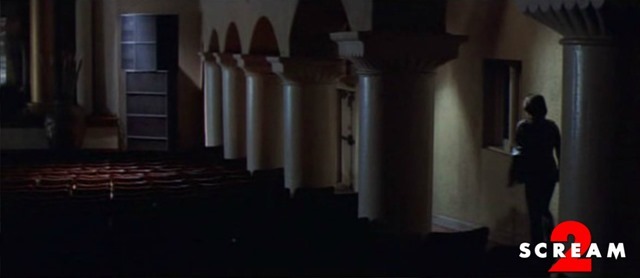 The one location I have as yet been unable to track down (aside from the theatre bathroom featured in the opening scene) is the film theory classroom where loveable film geek Randy Meeks (Jamie Kennedy) discussed the inferiority of sequels with fellow film theory students Cici, Mickey (Timothy Olyphant) and Film Class Guy #1 (Joshua Jackson). (How would Randy make sequels better? He'd "let the geek get the girl!") Originally lensed at Agnes Scott College's Winter Theatre in the Dana Fine Arts Building, the segment was later re-shot in Los Angeles in order to give Sarah Michelle Gellar more screen time. While I do know via several cast and crew members that the reshoot took place at UCLA, I have not been able to pinpoint exactly where. One UCLA employee I spoke with thought that filming might have taken place in Moore 1003 in Moore Hall, but I was able to see that room in person a couple of weeks ago and it does not seem to be the correct spot.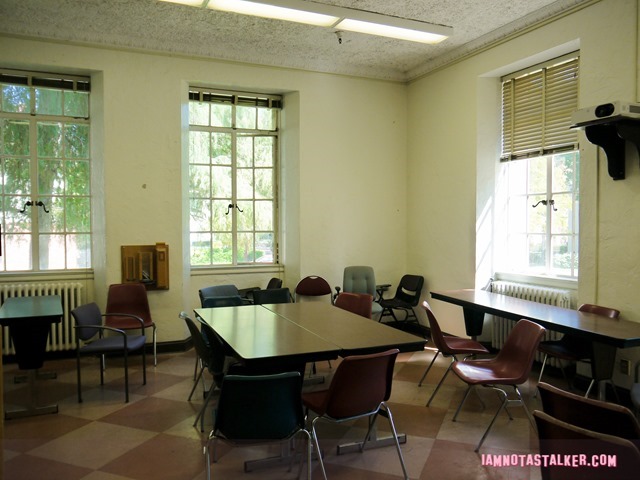 As you can see below and above, the two rooms do not appear to be one and the same. Granted, the space could have been remodeled in the 19 years since Scream 2 was filmed, but there is just not enough that matches up structurally for me to believe it is the right spot. I'd welcome any help any of my fellow stalkers can give me with this one.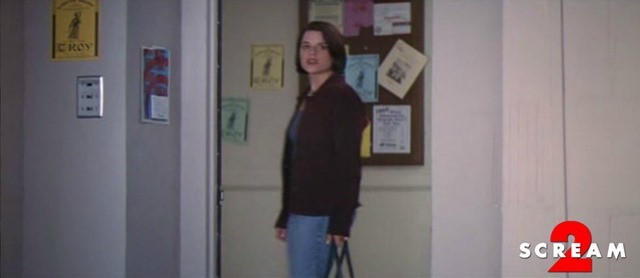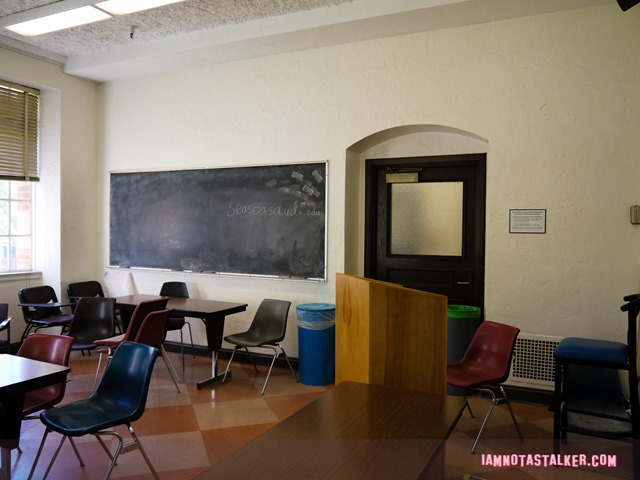 Stay tuned for Monday's post on the L.A. locations featured in Scream 3!
Until next time, Happy Stalking!

100038