Skylight Books from "Veep"
Feb 3rd, 2017 | By
Lindsay
| Category:
TV Locations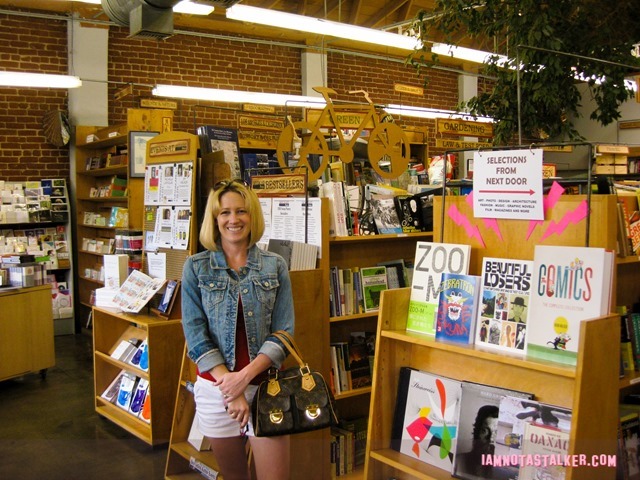 While we are on the subject of historic book shops featured in Washington, D.C.-based productions (you can read my post on Idle Time Books from A Few Good Men here), I would be remiss if I did not mention a bookseller that popped up on my new favorite show, Veep. The Grim Cheaper and I recently became obsessed with the HBO series thanks to a recommendation from my good friend Lavonna and blew through all 48 episodes in about 2 weeks. It is easily one of the best-written, best-acted, most hilarious shows I have ever had the pleasure of watching. I mean, any production that pretty much starts out with the main character sh*tting their pants at a public event is something I am going to be all over! I, of course, started researching its locations right out of the gate and was a little heartbroken to discover that the first four seasons were shot in the D.C. area, especially considering we had only just returned from the District a few weeks prior. There was a silver lining, though – Veep relocated to Los Angeles for Season 5. But somewhere along the way I forgot that fact and viewed all of the L.A.-based episodes without paying any sort of attention to the locales. It was not until we completed our binge that I remembered, which meant I had to go back and re-watch all of the fifth season (though that was by no means a chore). During my second go-around of the episode titled "C**tgate," I recognized Skylight Books, one of my favorite L.A. bookstores, featured in a scene. Though I stalked and blogged about the place long ago, way back in 2011 (hence why I look so different in the above pic), I figured it was worthy of a re-do.
Skylight Books was established at the former site of another landmark bookstore, Chatteron's, which shut its doors in 1994 upon the death of its owner after two decades in business. The space remained vacant for the next two years before eventually being brought back to life thanks to the efforts of a group of twelve people, including actors Milton Katselas, Tony Danza and Jeffrey Tambour, who banded together to create Skylight Books. The shop opened its doors to the public on November 1st, 1996.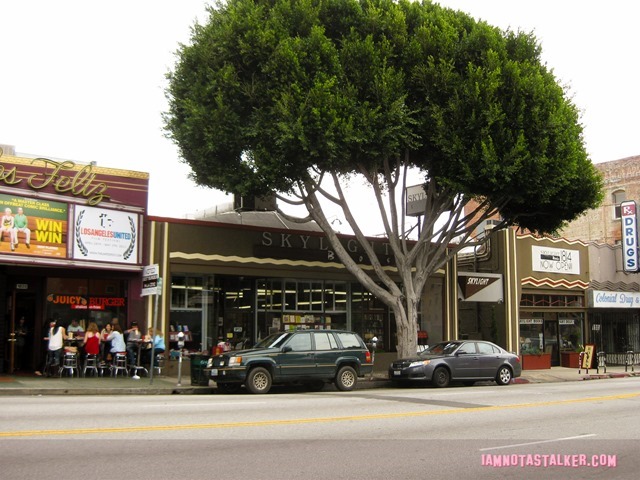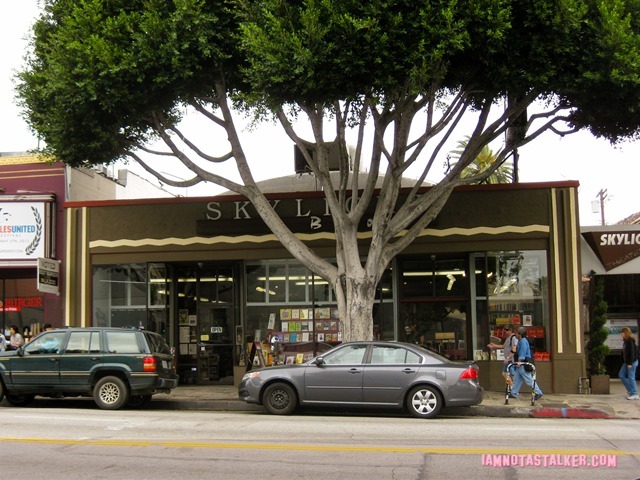 Skylight Books quickly became a Los Feliz staple and remains so today.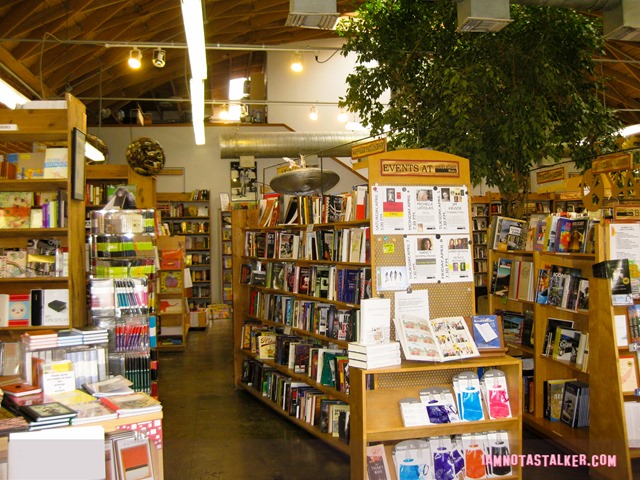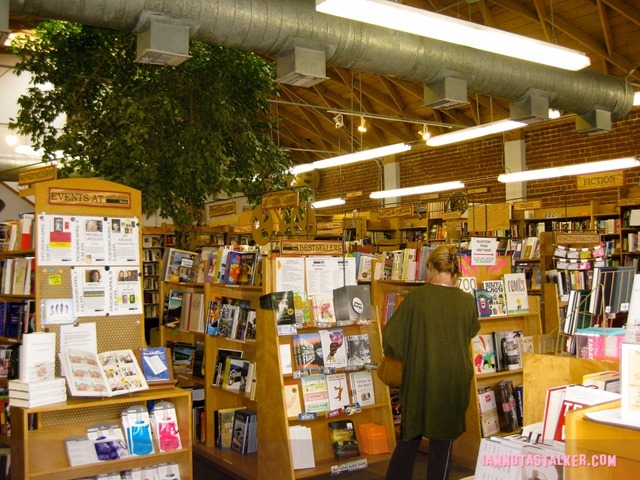 The store is known for its bright and airy aesthetic, the hundreds of signings with notable authors it hosts each year (you can check out the Skylight Books events page here), and the 20-foot tall ficus tree that stands at its center.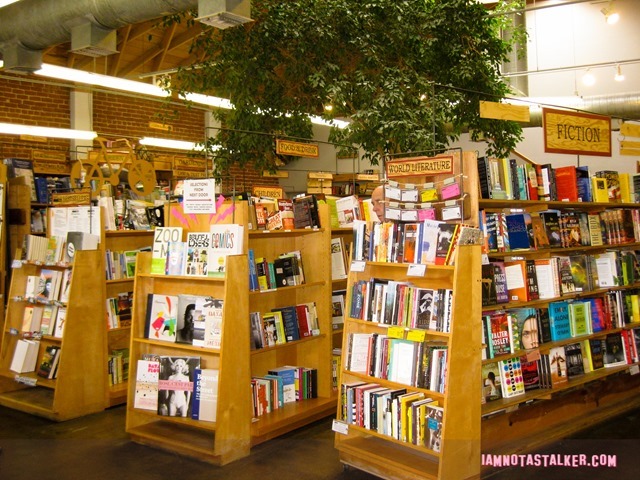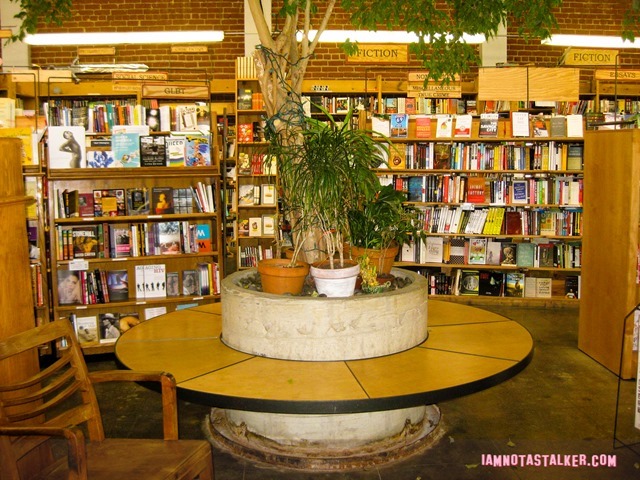 Its book inventory is also unparalleled. I always stumble upon the most unique and noteworthy finds while there. I once walked away with a fold-out map of famous literary locations. You just don't see stuff like that anywhere else. The shop has a fabulous selection of cards and gifts, as well.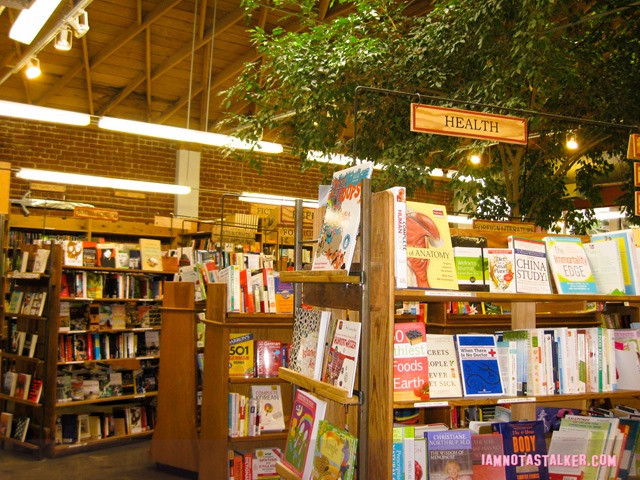 In "C**tgate, President Selina Meyer (Julia Louis-Dreyfus) heads to a D.C.-area bookstore with her boyfriend, Charlie Baird (John Slattery), for a holiday shopping photo-op. While there (spoiler alert!), Charlie learns that Selina has decided not to bail out his bank, forcing him into bankruptcy. (Because as much as Selina hopes "to fiscal f*ck the Fed has a trillion dollars stuffed in a mattress somewhere," that sadly isn't the case.) Needless to say, the outing does not end well. Not only does Charlie storm out, but he plastic-surgery shames the president over her recent eye lift. And I just have to say here that Louis-Dreyfus is sheer magic as Selina. I mean is there any role she doesn't absolutely nail? From Margo Chester in Christmas Vacation to Elaine Benes on Seinfeld to Vice President/President Meyer on Veep – she is perfection in every part.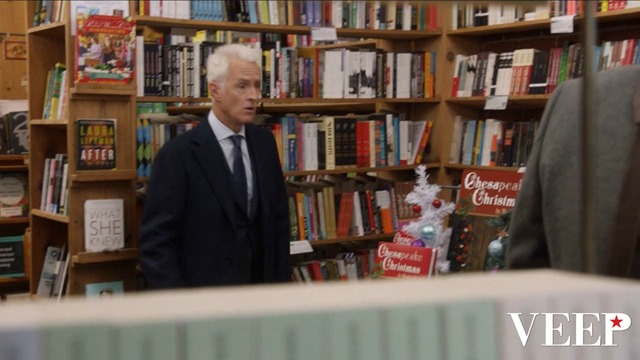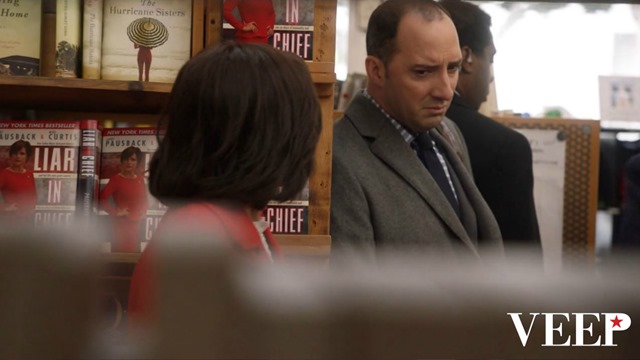 Little of Skylight Books was shown in Veep, but I immediately recognized the space's light wood shelves, brickwork, and the ficus tree branches that canopy the stacks.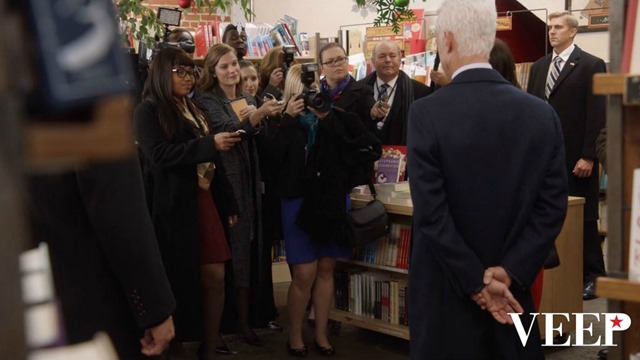 Only the interior of the shop was featured in the episode. For the exterior establishing shot, an actual D.C. bookstore named Kramerbooks & Afterwords was utilized. That location can be found at 1517 Connecticut Avenue Northwest in Dupont Circle.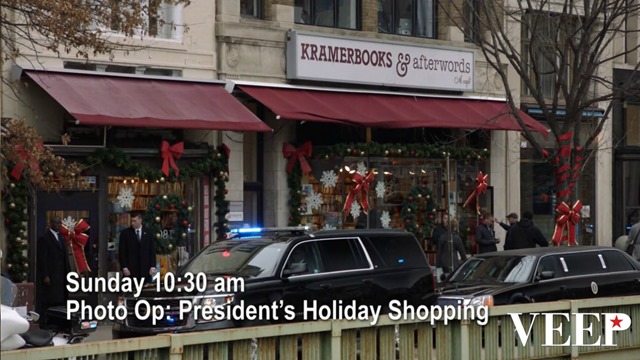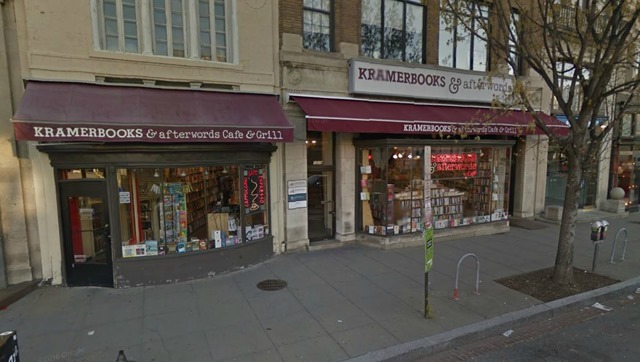 As mentioned in my 2011 post, Skylight Books was one of the main locations used on Joan of Arcadia. In the pilot, Joan Girardi (Amber Tamblyn) got a job at the bookstore, which was referred to by its real name, but was said to be located in Arcadia, Maryland. She continued to work there throughout the series' two-year run. During the show's first season, filming took place regularly at the Los Feliz shop.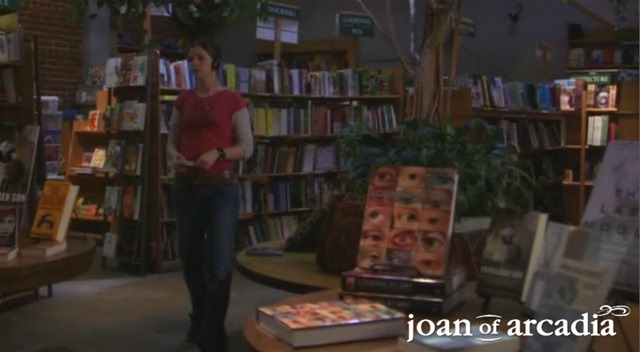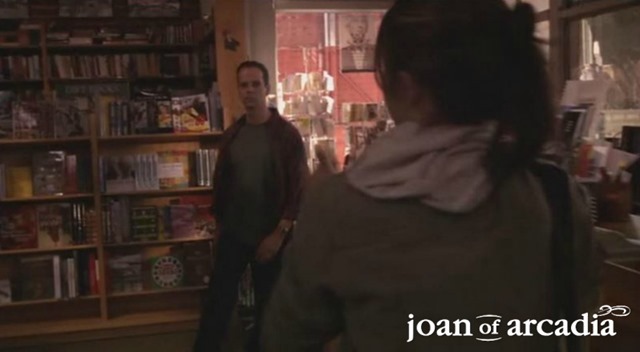 But for Season 2, a set re-creation of Skylight Books was constructed on a soundstage. As you can see, production designers changed things up quite a bit with the set. Though similar to Skylight, the re-creation is much larger and features more brickwork. You can read an interesting article on the store's use in the series here.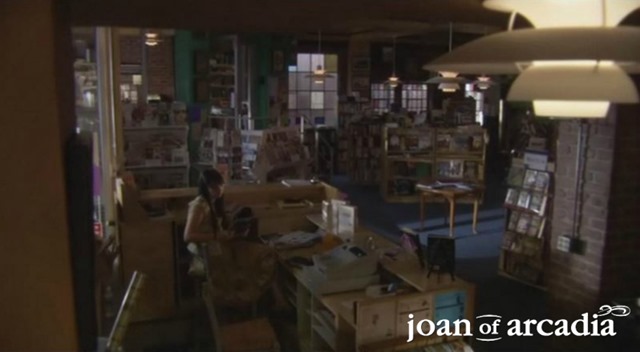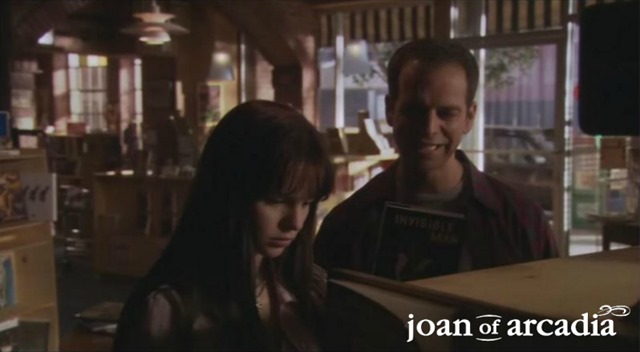 Calvin Weir-Fields' (Paul Dano) book signing at the end of the 2012 dramedy Ruby Sparks takes place at Skylight Books, as well.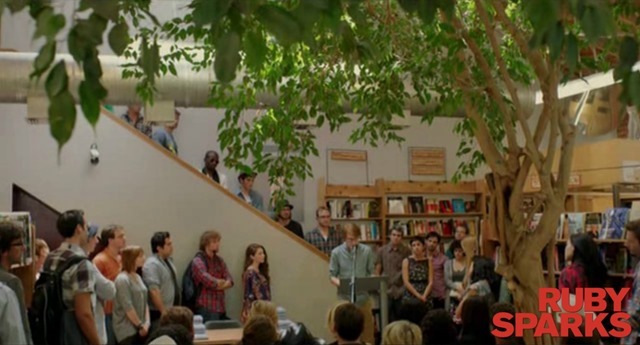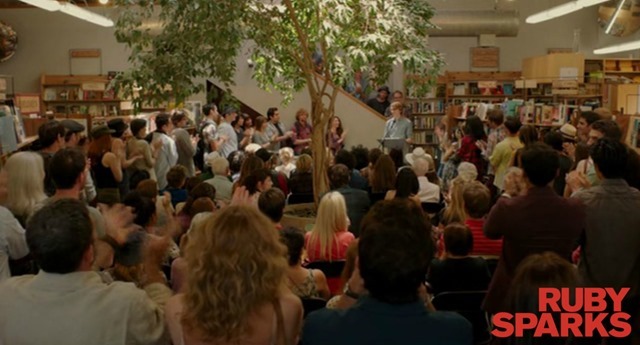 For more stalking fun, follow me on Facebook, Twitter, Instagram, Los Angeles magazine and Discover Los Angeles.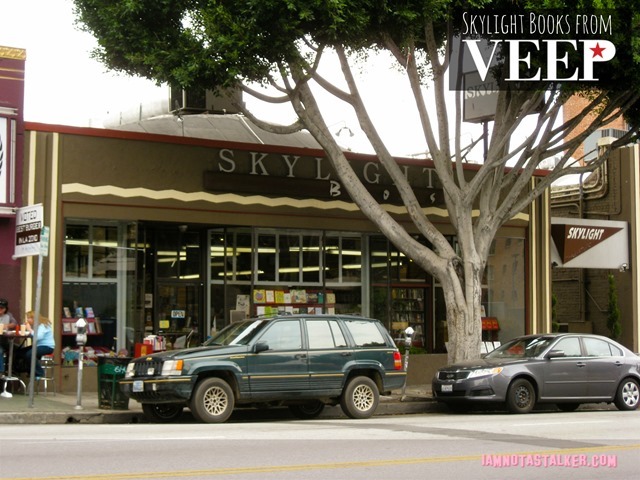 Until next time, Happy Stalking!

Stalk It: Skylight Books, from the "C**tgate" episode of Veep, is located at 1818 North Vermont Avenue in Los Feliz. You can visit the store's official website here. The oft-filmed Fred 62 restaurant can be found a few doors away at 1850 North Vermont. You can visit Fred's official website here. The Dresden, another oft-filmed restaurant, is located a block south at 1760 North Vermont. You can visit that eatery's official website here.
102460