Pasadena's "Big Bang Theory" Way Sign
Mar 13th, 2017 | By
Lindsay
| Category:
This and That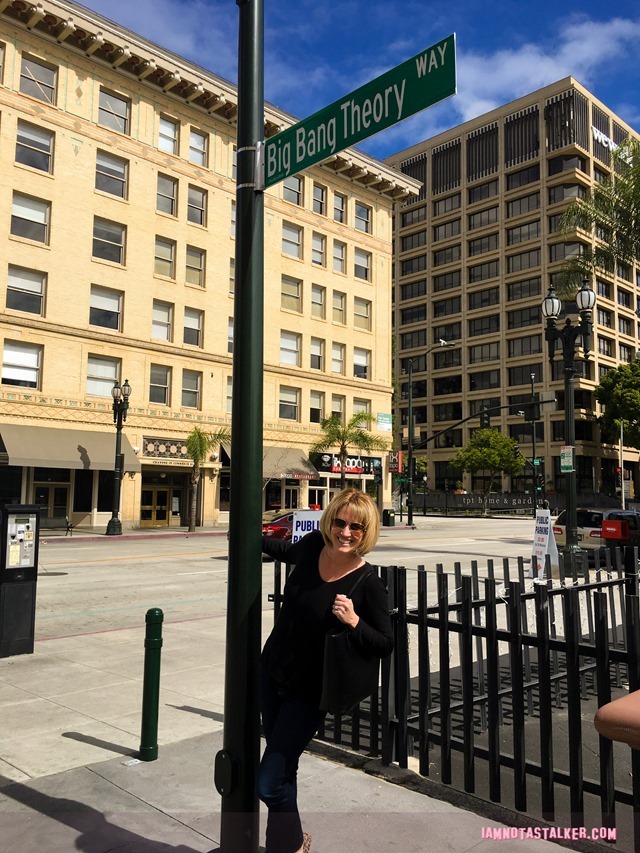 God is in the details, as they say.  And it truly is the details, aka the little things, that I miss about living in L.A.  For example, while perusing Instagram recently, I came across an image posted by amylove33 of a street sign in Old Town Pasadena reading "Big Bang Theory Way."  I was, of course, intrigued.  Not only am I a huge fan of the long-running CBS series, but I loved the fact that Crown City paid homage to it in such an unexpected and unique way.   I couldn't help thinking that the sign is something I likely would have come across – and most definitely noticed – during my daily walks if I still lived in the area.  As I said, it's the little things I miss the most.  Even though I now reside in Palm Springs, there was no way I was not seeing that sign in person!  I commented on amylove's post, asking if she could detail its exact location, and she was kind enough to respond immediately.  Thank you, amylove!  So I added the site to my To-Stalk List and headed right on over there while visiting Los Angeles two weeks ago.
As amylove33 explained, Big Bang Theory Way is not actually a street, but an alley situated just east of Crossroads Trading Co. on Colorado Boulevard.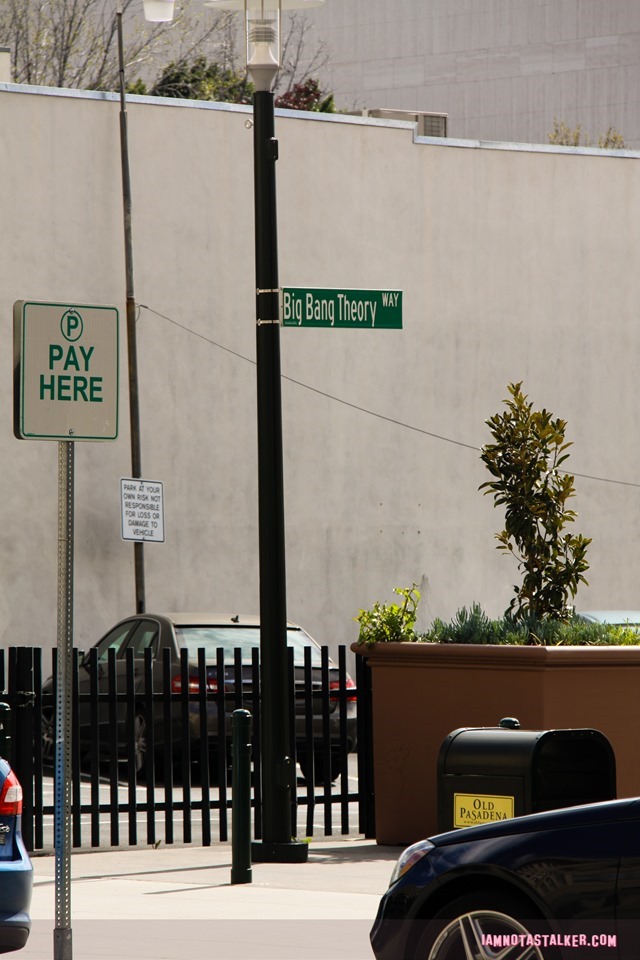 The city installed the sign at some point in 2016 as a way of celebrating the Pasadena-set series, which centers around the lives and loves of four local scientists, Leonard Hofstadter (Johnny Galecki), Sheldon Cooper (Jim Parsons), Howard Wolowitz (Simon Helberg) and Raj Koothrappali (Kunal Nayyar).  As Councilmember Andy Wilson stated, "The City of Pasadena is proud of its comedic and scientific association with The Big Bang Theory.  Pasadena was already known throughout the world for having the foremost astronomers, chemists and scientific thinkers who do very serious work here, but thanks to The Big Bang Theory, being smart in Pasadena is now fun too."  The city also decreed February 25th, 2016, the date of the airing of the series' 200th episode, as "Big Bang Theory Day."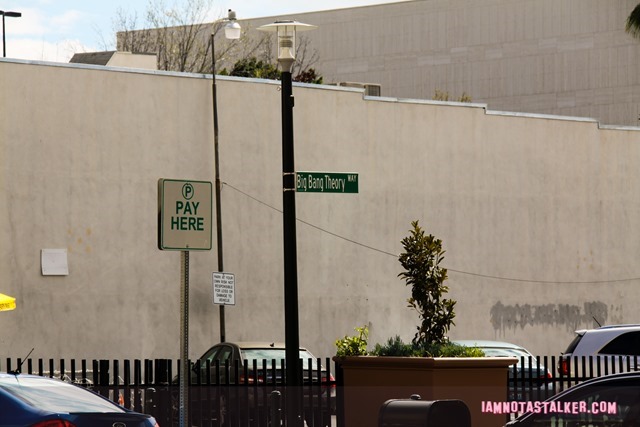 There is a bit of confusion regarding the sign that I have not, as of yet, been able to iron out.  The announcement of the street name commemoration took place on Conan on February 24th, 2016.  During the episode, in which the entire TBBT cast guested, host Conan O'Brien surprised the group by revealing the street designation tribute and presented them with a sign sent over by the city.  As you can see below, that sign read "Big Bang Theory Alley."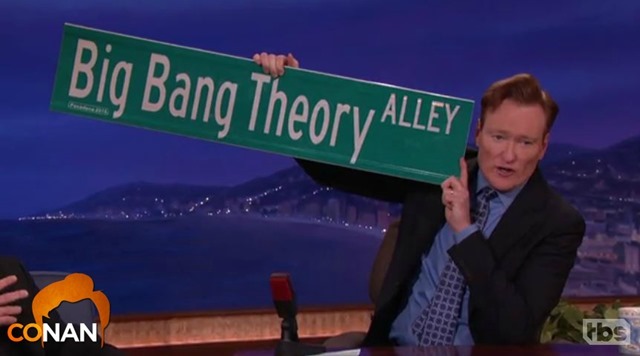 During the segment, which you can watch here, quite a bit of fun was made over the fact that the series was being rewarded with the renaming of a mere alley and not an actual street.
Somewhere along the way, though, things got changed up and a sign reading "Big Bang Theory Way" was installed instead.  I am unsure if the alteration had something to do with Conan's teasing or if it came about due to other factors.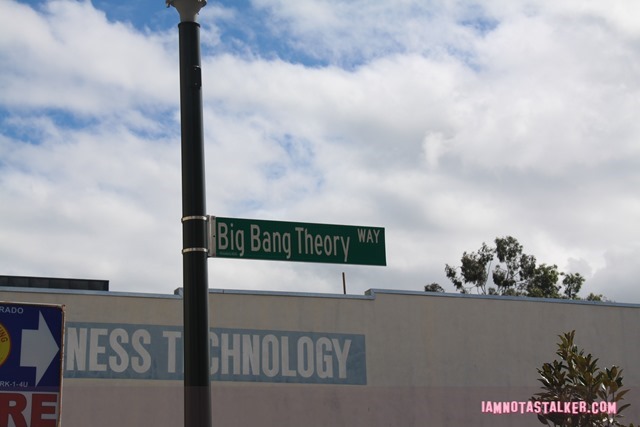 Regardless of the reasoning behind the change, I cannot think of a cooler way for a show to be honored.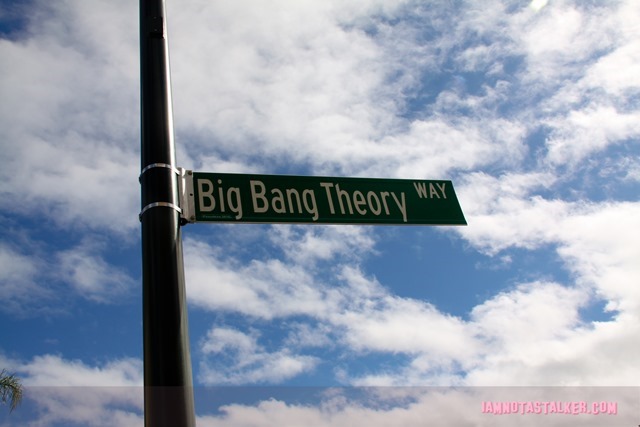 Not to mention, the sign makes for great picture-taking opportunities.  Kudos, Pasadena!  Job well done!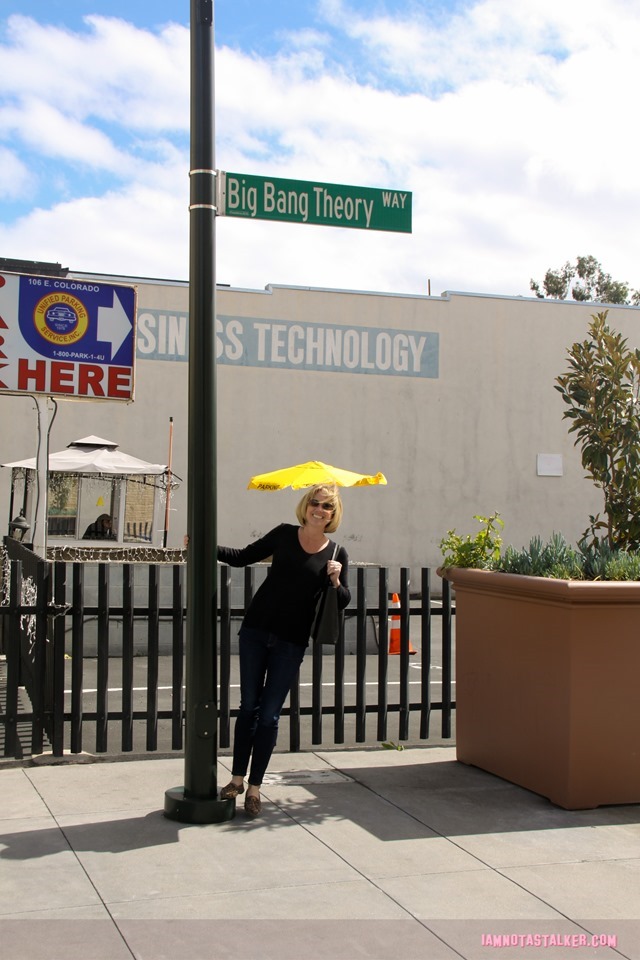 For more stalking fun, follow me on Facebook, Twitter, Instagram, Los Angeles magazine and Discover Los Angeles.
Big THANK YOU to amylove33 for telling me about this location! 

Until next time, Happy Stalking! 

Stalk It: The Big Bang Theory Way sign is located on the 100 block of East Colorado Boulevard, at the entrance to the alley just east of Crossroads Trading Co., in Pasadena.
103310