The "Last Man Standing" House
Mar 17th, 2017 | By
Lindsay
| Category:
TV Locations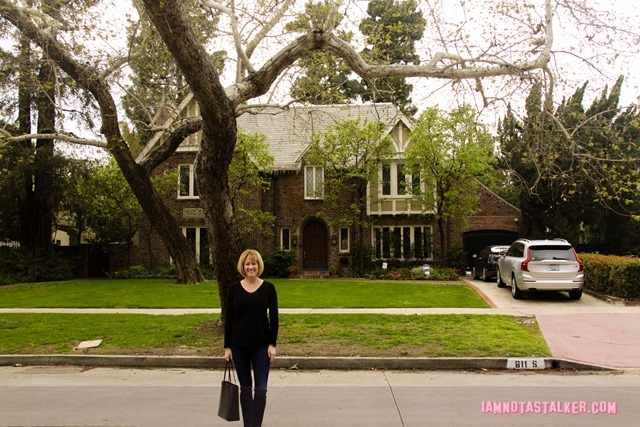 The Grim Cheaper and I watch a lot of TV.  Like a lot.  So I am always surprised when I receive an email from a reader asking about a location from a show I am not familiar with.  Such was the case in January, when fellow stalker Marjorie reached out to ask for my assistance in tracking down the house where the Baxter family lives on Last Man Standing.  Though I had never seen even one episode of the CBS series, I am always up for a good hunt, so I asked Marjorie to send me some screen captures of the residence.  When she did, I was shocked to see that it was a virtual carbon copy of a home that has been featured on The Goldbergs numerous times – one that I will be blogging about soon.  I had tracked down that pad – it's at 2822 Forrester Drive in Cheviot Hills – just a few weeks prior and, due to the similarities, figured the Last Man Standing dwelling had to be located nearby.  So I began poking around the area.  After a few hours of futile searching, I decided to set my sights on Hancock Park and its environs instead, and hit pay dirt rather quickly.
Said to be located at 9504 Dublin Street in downtown Denver on the series, the Baxter family home can actually be found at 611 Lorraine Boulevard in Windsor Square.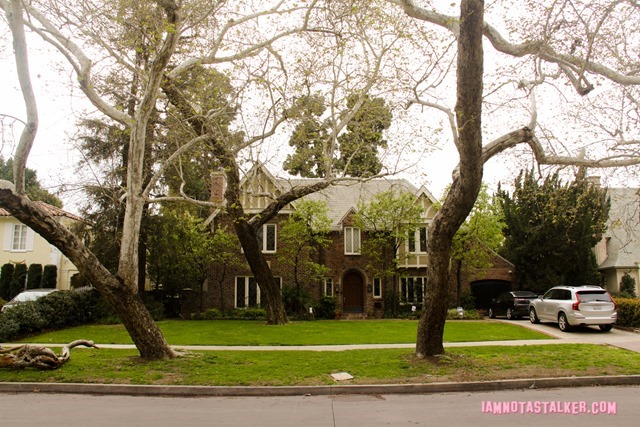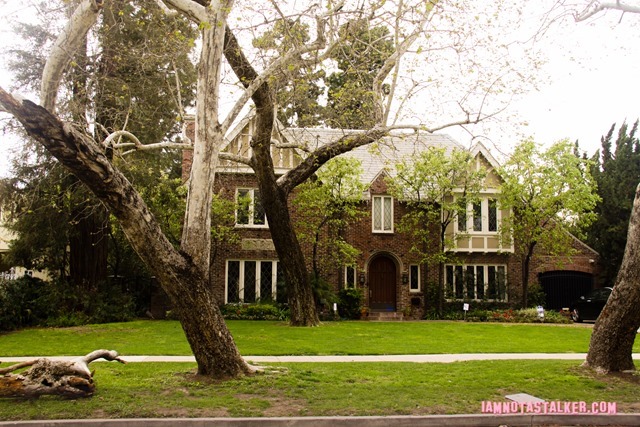 In real life, the 1923 Tudor boasts 5 bedrooms, 4 baths, 4,680 square feet, a library, several fireplaces, a butler's pantry, a formal dining room, a breakfast room, a detached garage, a covered patio, maid's quarters, and a 0.33-acre lot.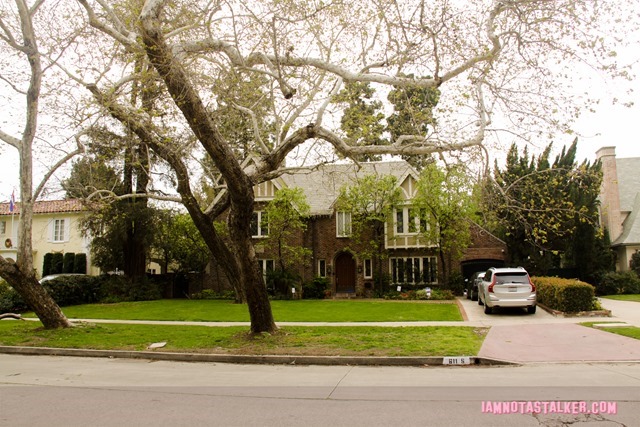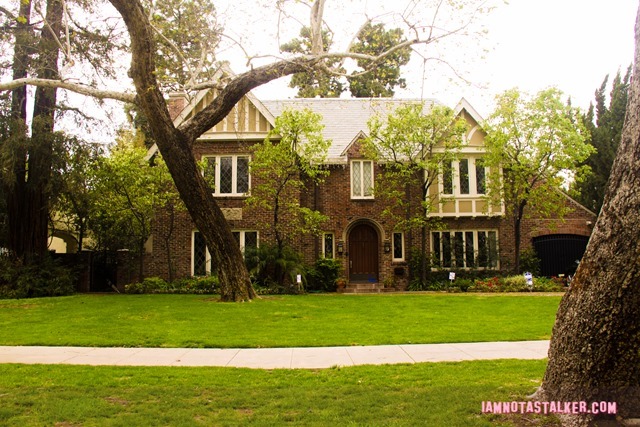 Per real estate website Zillow, the two-story residence, which was designed by architect Preston Wright, last sold in October 2013 for $2.7 million.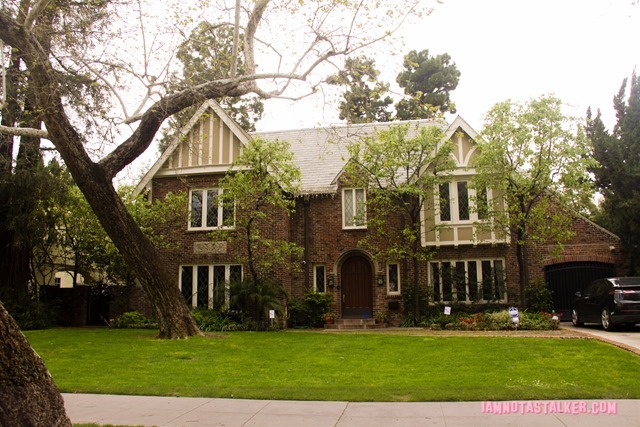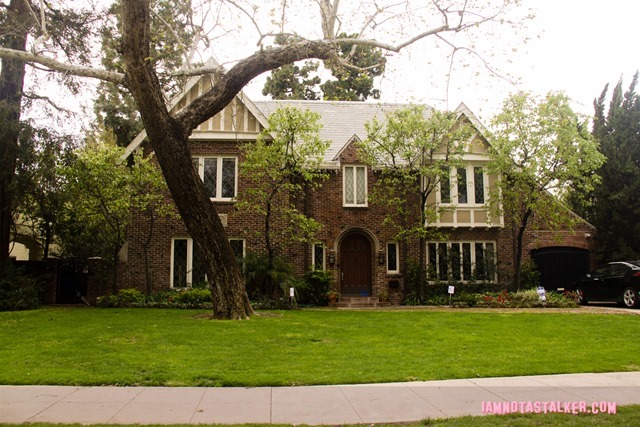 As you can see, the property looks much the same in person as it does on Last Man Standing.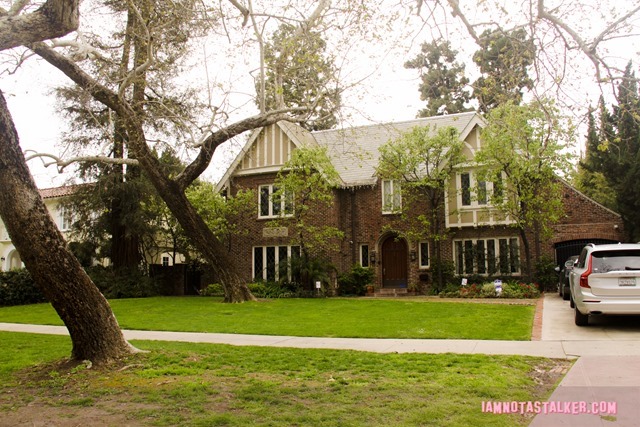 At some point, a flagpole with a brick base was added to the home's front yard on the show.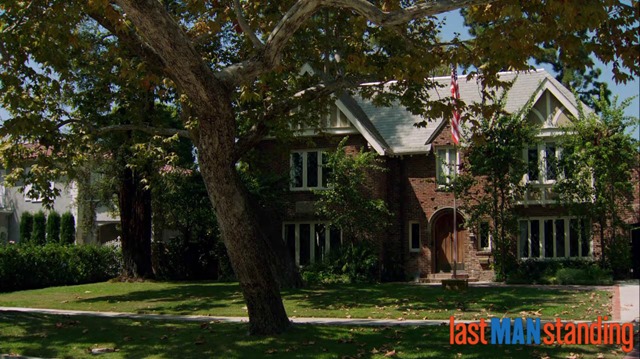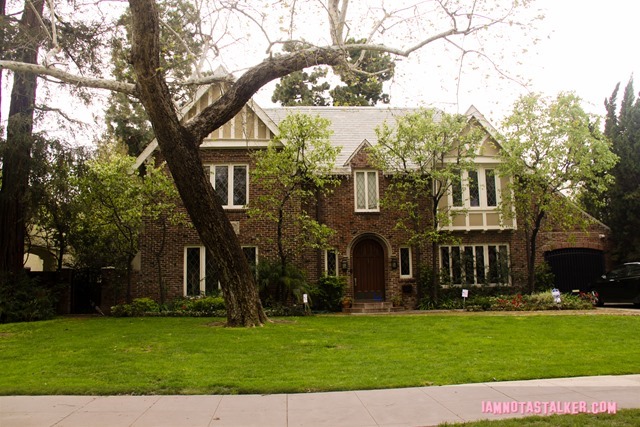 The flagpole is not there in real life, though, and I am guessing it is not a set piece, but something that is superimposed digitally into each image of the house featured on the series.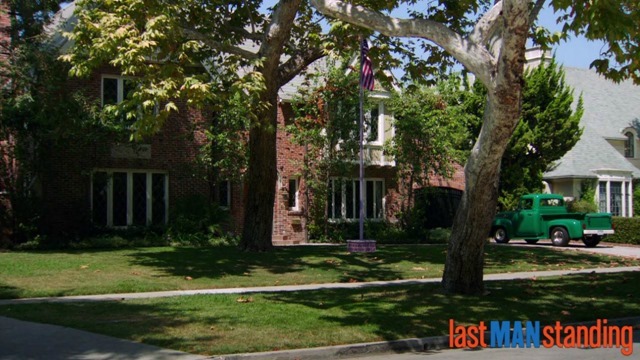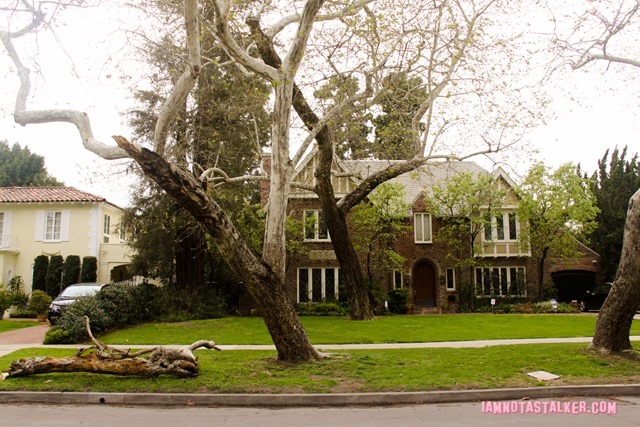 The handsome brick pad appears regularly each week in establishing shots on Last Man Standing, though no actual filming takes place there.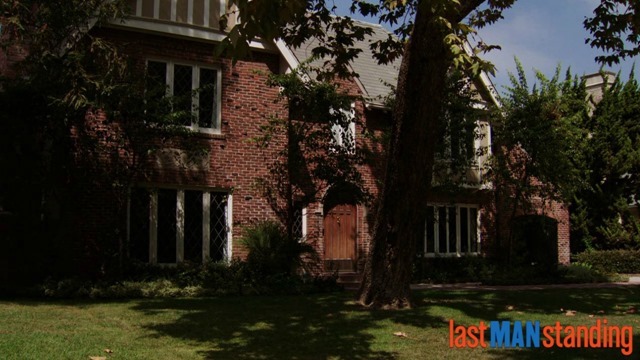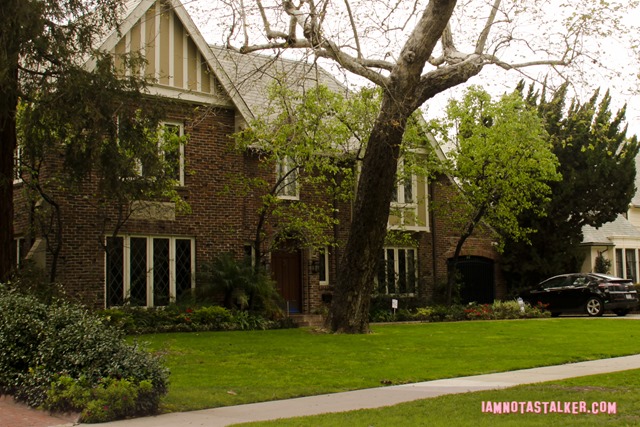 The series is instead lensed on a set constructed on Stage 9 at CBS Studio Center in Studio City.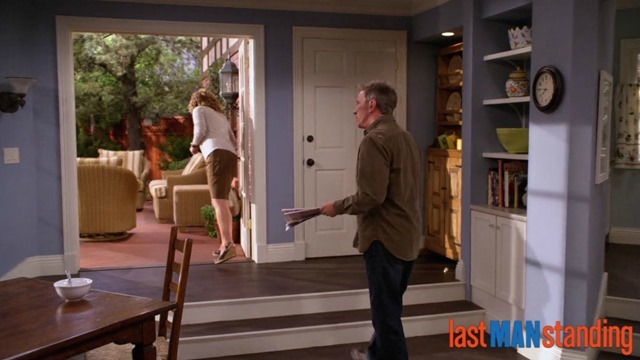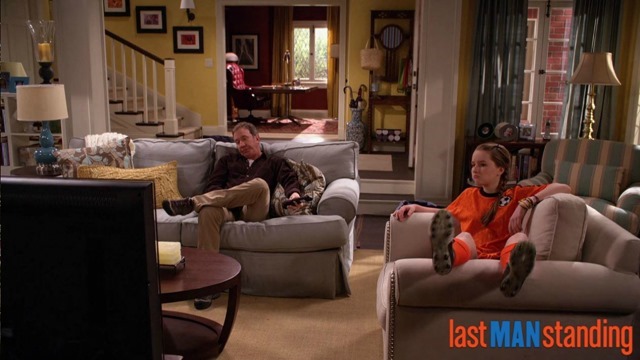 The set of the Baxter family's home does not resemble the interior of the actual residence, which is much larger and much more grand.  You can check out what the real inside of the property looks like here.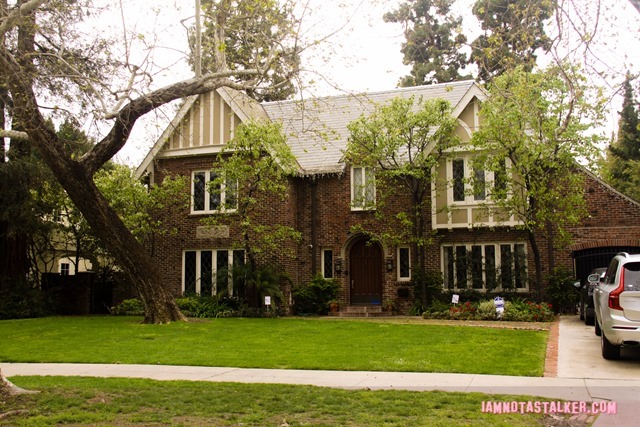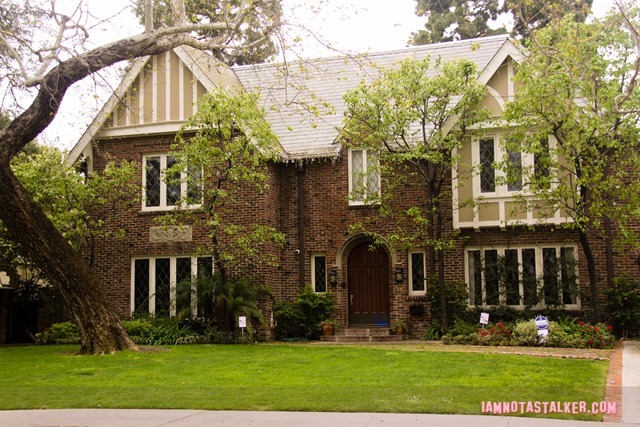 During my search for the Last Man Standing house, I came across a 2011 Inland Valley Daily Bulletin article that mentioned the series' regular use of the Bass Pro Shops in Rancho Cucamonga.  I was thrilled upon learning the news being that the massive sporting goods emporium is one of my dad's favorite places in the entire world.  I'm not kidding – when we lived in Pasadena and friends would visit from out of town, he would invariably drive them the 35 miles to Rancho Cucamonga to see Bass Pro.  Not that I blame him.  The 180,000-square-foot site, which boasts waterfalls, an 8,000-gallon fish tank, a shooting gallery, a 2-story lobby with a fireplace and a 60-foot clerestory, murals, museum-like dioramas, and a restaurant (yes, a restaurant!), is not your average sporting goods store.  It's pretty darn unique.  You can check out some photos of it here.  On Last Man Standing, Bass Pro, which is located at 7777 Victoria Gardens Lane, masks as Outdoor Man, where Baxter patriarch Mike (Tim Allen) works as a marketing director.  Only the exterior of the shop is utilized on the series.  The inside of Outdoor Man is a set that exists at CBS Studio Center and, unlike the Baxter house, it was closely modeled after Bass Pro's real life interior.  In an interesting twist, as the Daily Bulletin points out, a green truck is visible parked outside of the store in the establishing shots featured on the show.  That truck is an actual décor fixture of Bass Pro.  Producers must have liked the look of it because it somehow made its way on to Last Man Standing as Mike's car.  If you scroll up, you can see an identical green pick-up parked in the driveway in several establishing shots of the Baxter home.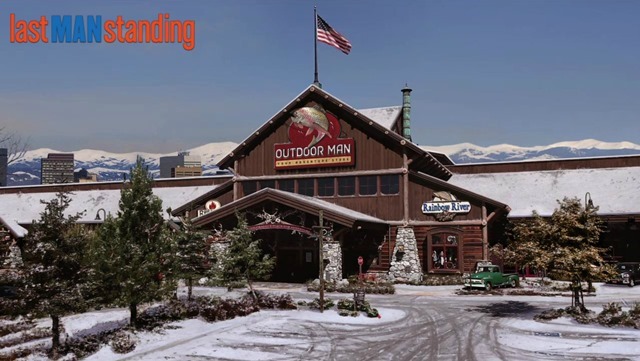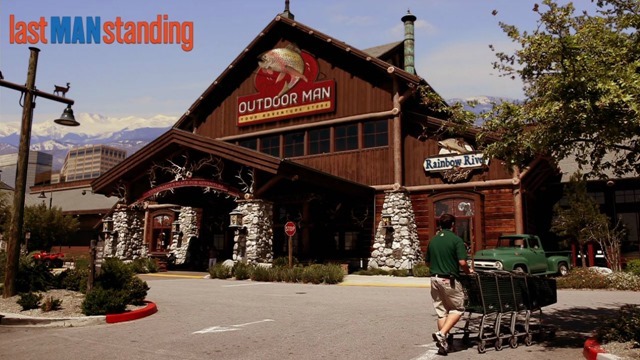 For more stalking fun, follow me on Facebook, Twitter, Instagram, Los Angeles magazine and Discover Los Angeles.
Big THANK YOU to fellow stalker Marjorie for asking me to find this location!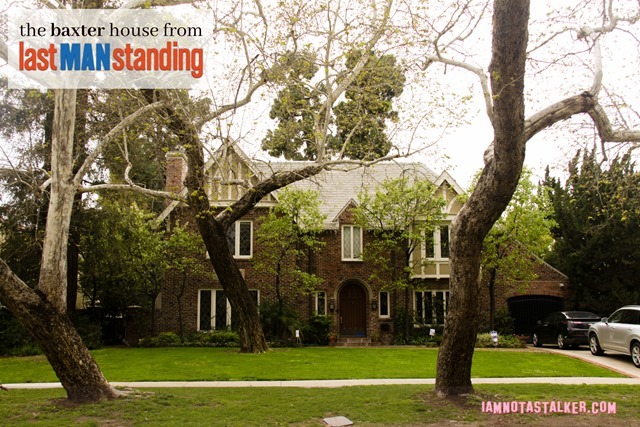 Until next time, Happy Stalking! 

Stalk It: The Baxter residence from Last Man Standing is located at 611 Lorraine Boulevard in Windsor Square.  Bass Pro Shops, aka Outdoor Man from the series, is located at 7777 Victoria Gardens Lane in Rancho Cucamonga.
103424