A Round-Up of "Big Little Lies" Filming Locations
Apr 5th, 2017 | By
Lindsay
| Category:
TV Locations
I've decided to break with tradition a bit for this post.  My latest small screen obsession, Big Little Lies, came to an end on Sunday night and, though the finale was excellent, I am bummed to say the least that the HBO miniseries is now over.  During its seven-episode run, I tracked down most of the L.A.-area locales, as well as a few of the Monterey spots, featured in it and I thought it would be fun to chronicle them here.  Because I have not visited many of the sites in person, I am relying on screen captures instead of photos for this post's imagery.
1. Madeline's House (30760 Broad Beach Road, Malibu) – Though I already wrote an in-depth post on the gorgeous Cape Cod-style home belonging to Madeline Martha Mackenzie (Reese Witherspoon) on the series, I would be remiss if I did not include information about it here for those who missed the article.  Madeline's beachfront pad, by far my favorite of all of the residences featured on the show, is an oft-filmed gem that has also appeared on Models Inc., Diagnosis Murder, and Hannah Montana.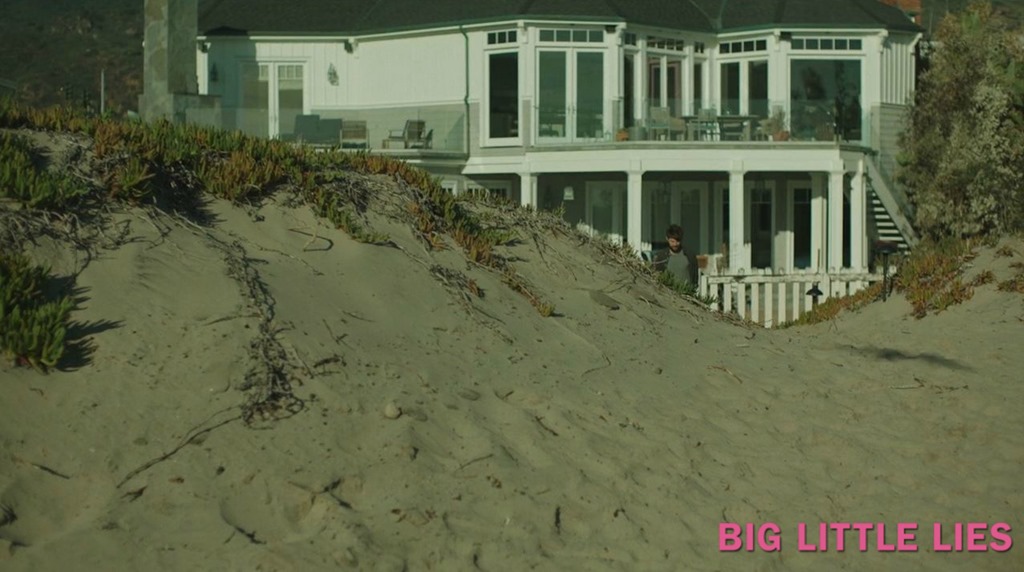 2. Jane's House (161 North Chester Avenue, Pasadena) – The bungalow where Jane Chapman (Shailene Woodley) lives is another spot I've already covered, but, again, I thought I should include its information here.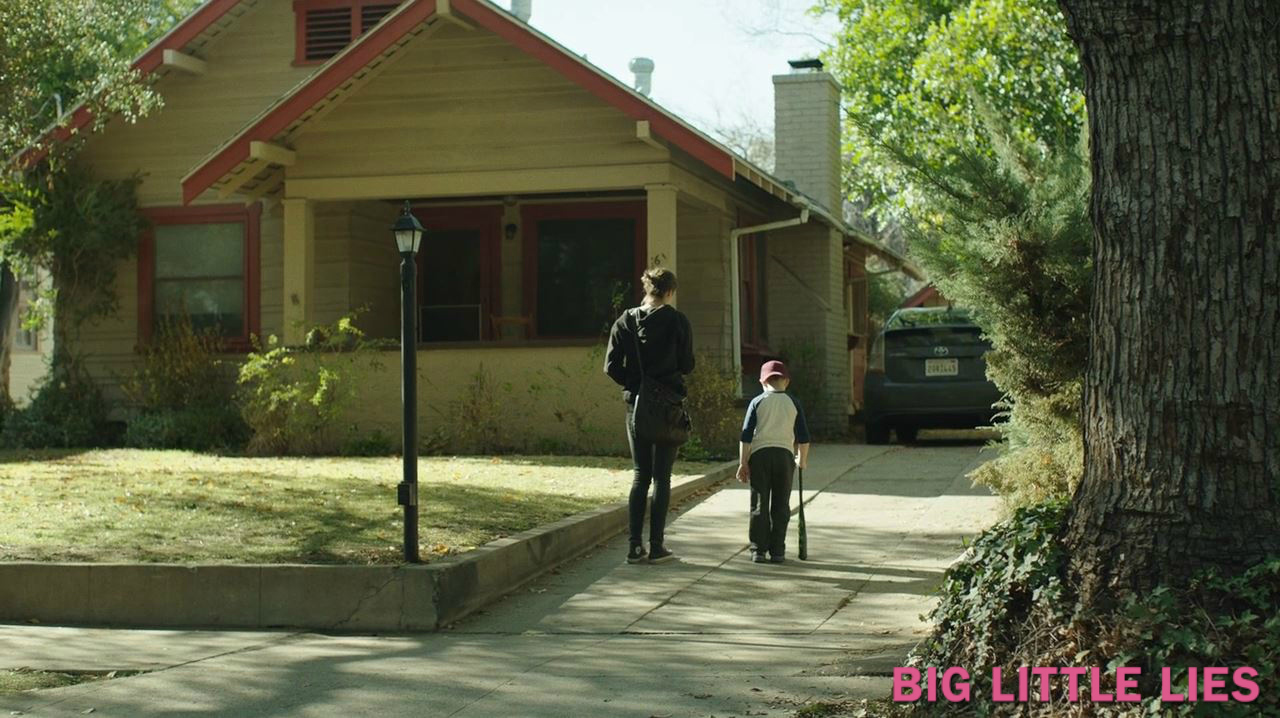 3. Celeste's House  (40 Yankee Point Drive, Carmel) – The architectural masterpiece belonging to Celeste Wright (Nicole Kidman) and her husband, Perry (Alexander Skarsgård), ranks a close second when it comes to my favorite residence on the series.  Only the exterior and bottom floor of the clifftop stunner were utilized on Big Little Lies.  The Wright's bedroom, bathroom and massive walk-in closet were part of a studio-built set.  In real life, the dwelling, which was originally built in 1988, serves as a vacation rental.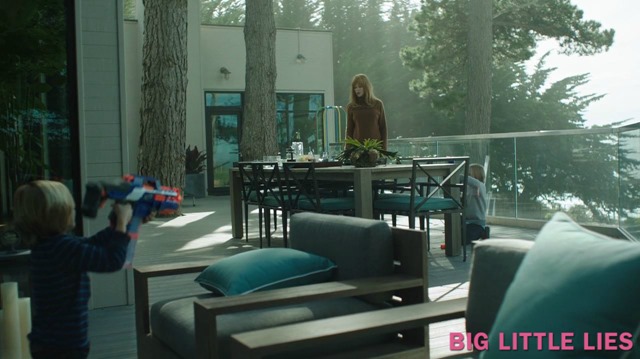 4. Renata's House (27326 Winding Way, Malibu) – The massive contemporary home where Renata Klein (Laura Dern) and her husband, Gordon (Jeffrey Nordling), reside is another oft-filmed property that can be found on a private road in Malibu.  The 10,000-square-foot residence's onscreen resume (which includes appearances on 90210, Brothers & Sisters, and Revenge) almost led to it not being featured in Big Little Lies.  As location manager Gregory Albert told Vulture, "I was resisting, even showing it to [director] Jean-Marc [Vallée] because of that, but we presented it and he picked it and then I was kicking myself.  I felt in some way it was doing a disservice to the show.  But then I remember watching the first episode and there's Renata standing at the edge of the world, glass of wine in her hand.  The [director of photography] had shot it in a way that I've never seen the house shot before and I thought, That's why Jean-Marc's the auteur and visionary that he is."  I actually find Albert's statement kind of funny because I recognized the pad instantly when watching the scene described.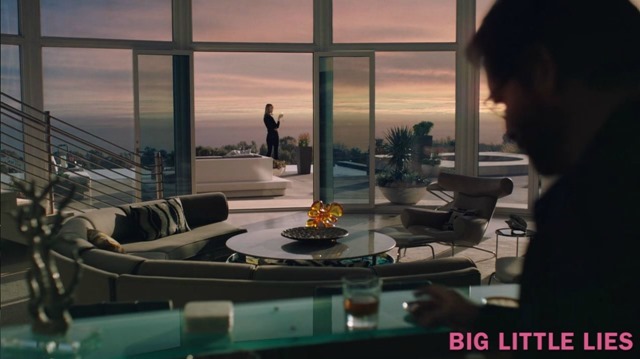 5. Bonnie and Nathan's House (636 Crater Camp Drive, Calabasas) – The bohemian compound where Madeline's ex, Nathan Carlson (James Tupper), lives with his new wife, Bonnie (Zoë Kravitz), sits tucked off the road in a wooded part of Calabasas near Malibu Creek State Park.  The secluded residence, which Albert says, "feels like it is part of the environment," is situated on 1.12 acres of lush, forested land.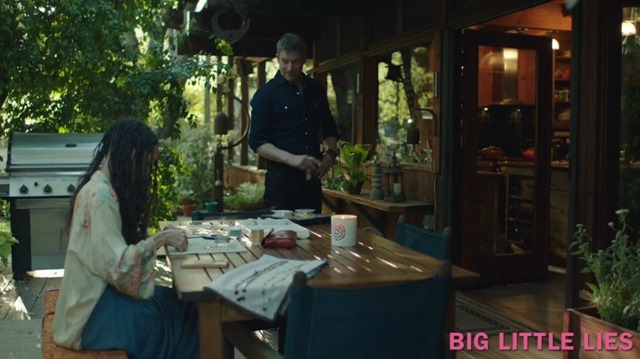 6. Otter Bay Elementary School – Kenter Canyon Elementary School (645 North Kenter Avenue in Brentwood) – Two schools were actually used to represent Otter Bay, the elementary school attended by all of the characters' children on the series.  Exterior scenes were shot at Kenter Canyon Elementary in Brentwood, while interiors were lensed at another onscreen stalwart, Ulysses S. Grant High School located at 13000 Oxnard Street in Van Nuys.  Grant was also utilized as the high school attended by Madeline's oldest daughter, Abigail Carlson (Kathryn Newton), on the show.  Other productions shot at the site include Saved by the Bell, Clueless, The Office, and Iggy Azalea's "Fancy" video.  You can check out an in-depth post I wrote about Grant for Los Angeles magazine here.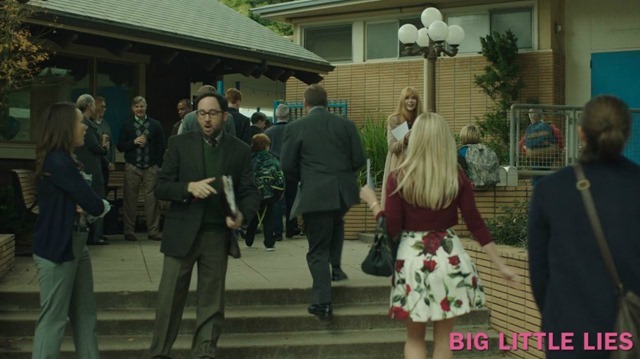 7. Happy Trails Garden (207 South Fair Oaks Avenue, Pasadena) – While Blue Blues, the supposed Fisherman's Wharf café where Madeline, Celeste, and Jane often hang out, is not a real place but a studio-built set, the other eatery frequented by the group is authentic.  The picturesque outdoor spot, very reminiscent of Carmel's popular Hog's Breath Inn, is known as Happy Trails Garden in real life.  The bucolic site was featured three times on the series.  It first showed up in "Serious Mothering" as the place where Madeline and Celeste meet for drinks and get into a confrontation with Renata.   Then in "Push Comes to Shove," it appeared as both the spot where Madeline and Nathan discuss co-parenting Abigail and where Jane meets with Ms. Barnes (Virginia Kull).  Though Happy Trails mainly operates as a special event/wedding venue, lunch is served on the premises every weekday from 11 a.m. to 2:30 p.m.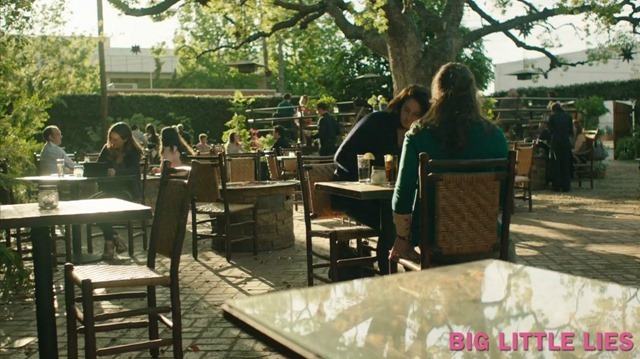 8. Studio City Recreation Center (12621 Rye Street, Studio City) – Jane's son, Ziggy (Iain Armitage), tries out Tee-ball for the first time – and hits a home run – at Studio City Recreation Center, which is also known as Beeman Park.  I wrote about the oft-filmed site last year, detailing its appearances in Girls Just Want to Have Fun, Scrubs, Role Models, and Parks and Recreation.  You can read that post here.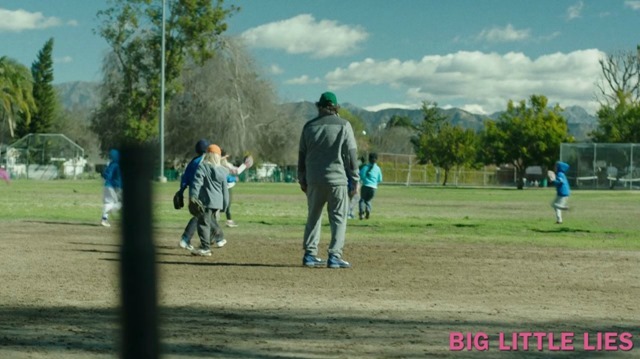 9. Interior Design Office (1035 East Green Street, Pasadena) – Madeline tracks down (Spoiler alert!) Jane's possible rapist, Saxon Baxter (Stephen Graybill), to an interior design office in San Louis Obispo.  In reality, the office is part of Invicta Fitness, a workout studio located in a quaint brick building where Albert Einstein once worked on Green Street in Pasadena.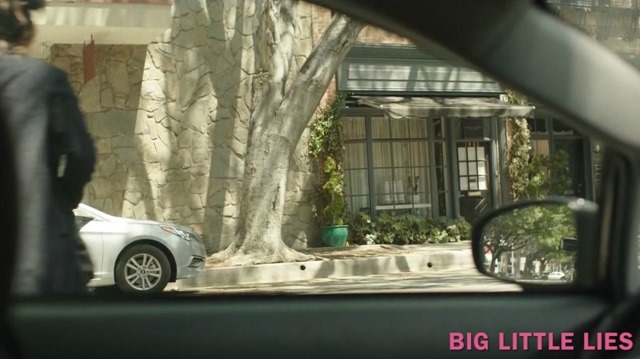 10. Celeste's Apartment (1 Surf Way, Monterey) – The apartment Celeste leases in "Burning Love" is another Monterey-area location.  Situated on the sand overlooking Del Monte Beach, the complex is made up of condos in real life and is known as "1 Surf Way."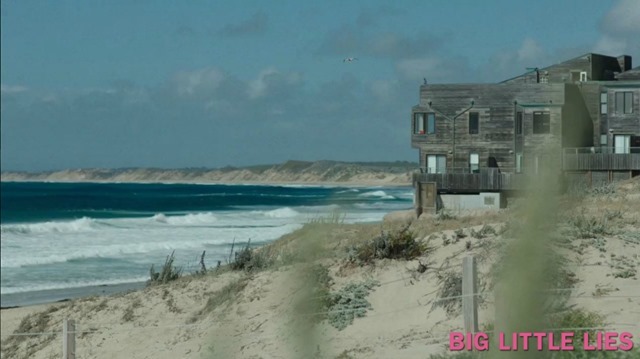 11. Community Theatre – Barnsdall Art Park (4800 Hollywood Boulevard, East Hollywood) – The community theatre where Madeline works, as well as the constantly under-repair stairs that lead up to it, are both portions of Barnsdall Art Park in East Hollywood.  The stairs can be found on Lower Road in the southeast portion of the park, just north and adjacent to the Art Center.  The theatre where Madeline's play takes place is the Barnsdall Gallery Theatre, located in the Municipal Art Gallery, north of the Art Center.  Both the exterior and interior of the theatre, which you can see photos of here, were utilized on the series.  Barnsdall Art Park is also where the Trivia Night event was held in the final episode, "You Get What You Need."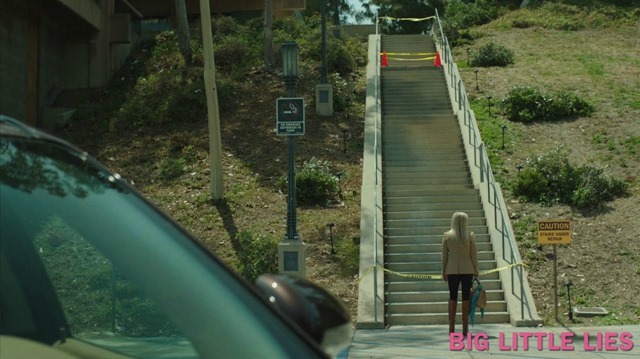 For more stalking fun, follow me on Facebook, Twitter, Instagram, Los Angeles magazine and Discover Los Angeles.
Until next time, Happy Stalking!  🙂
103849