The "Why Him?" House
Apr 12th, 2017 | By
Lindsay
| Category:
Movie Locations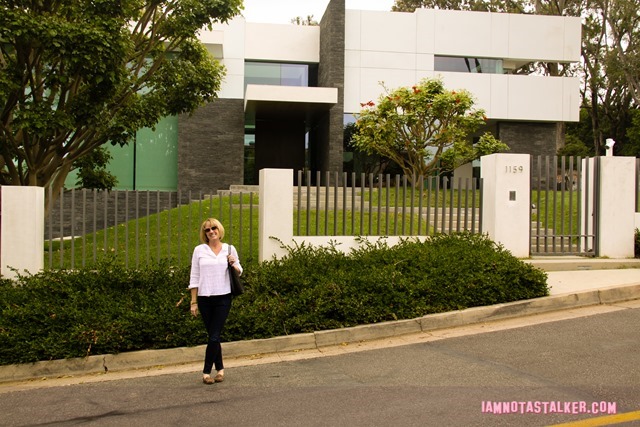 I don't like to think of myself as a brat, but I'd be lying if I did not admit to having brat-like tendencies when it comes to choosing what movie to watch with the Grim Cheaper on any given Saturday night.  Typically I veto all of his recommendations straight out of the gate and we wind up watching a flick of my choosing.  That was not the case on a recent evening in, though, when the GC had his heart set on viewing the 2016 James Franco/Bryan Cranston comedy Why Him?  Even though I didn't have high hopes for the film after watching the trailer, for whatever reason, I acquiesced – and wound up eating crow because not only was the movie great, but it gave me a new obsession, Alaskan King beds.  (If you don't know what they are, here ya go!  I know, right?  Simply amazing!)  I also became quite obsessed with the flick's locations, especially the massive modern mansion belonging to Laird Mayhew (Franco).  Thankfully, it was an easy find.  A quick Google search for "Why Him?" and "house" let me to this page on the Global Film Locations website which provided the address – 1159 Summit Drive in Beverly Hills.
I was only further intrigued when I headed over to check out the property on Google Maps and dropped into Street View.  As the little yellow cartoon man showed me, the pad is completely visible from the road, not hidden behind tall walls and gates like so many other Beverly Hills properties.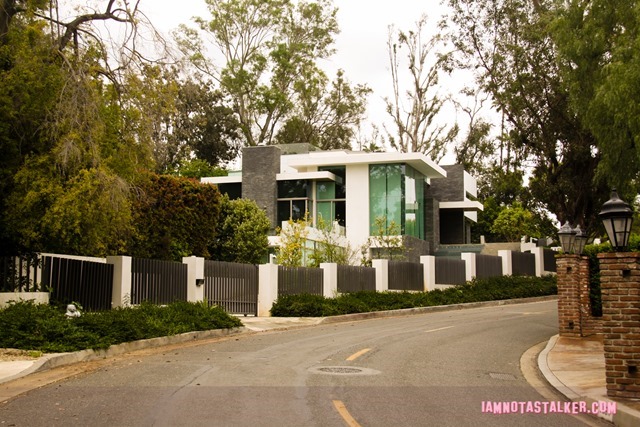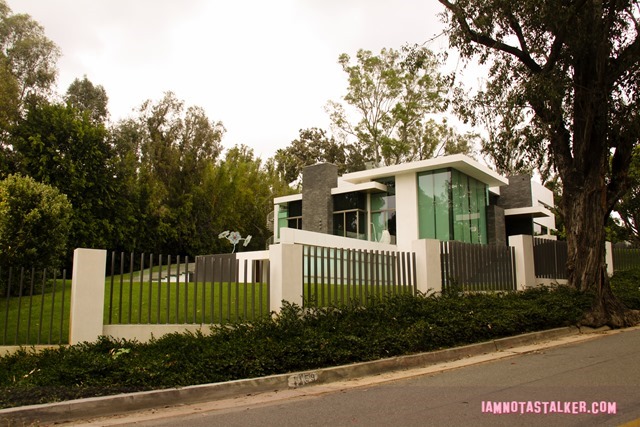 In person, the residence is even more impressive.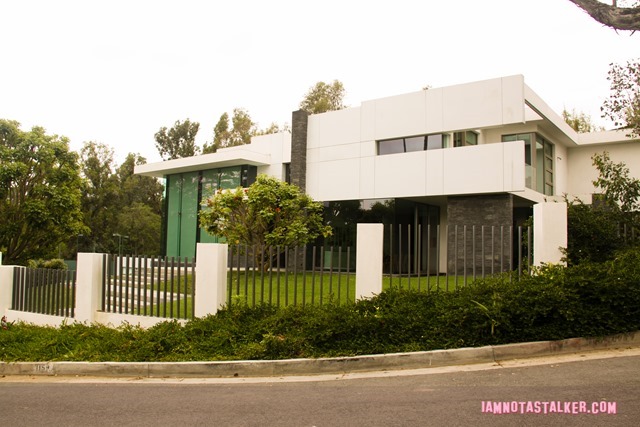 Built in 2011 by Whipple Russell Architects for a sports agent and his family, the sleek contemporary residence replaced a sprawling Mediterranean-style pad that Architectural Digest described as "hodgepodge" in a December 2015 article.  That property is pictured via a 2007 Google Street View image below.  As that home was demolished, its materials were gathered and donated to Habitat for Humanity.  Then Whipple Russell began production on the new manse.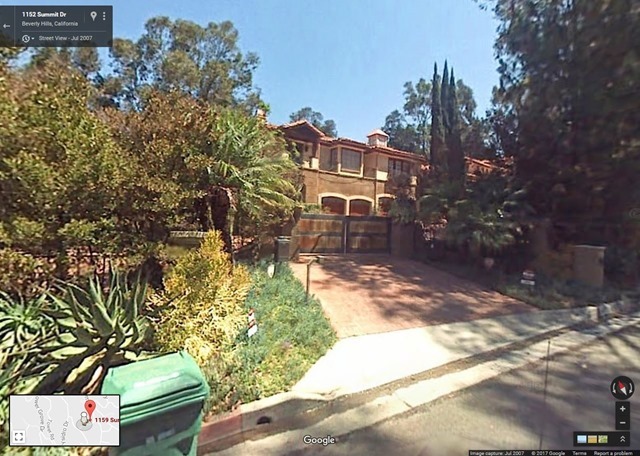 The completed project, which is known as the "Summit House," is a work of art.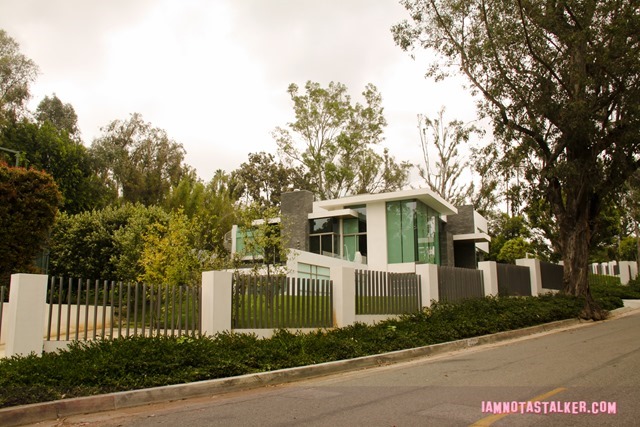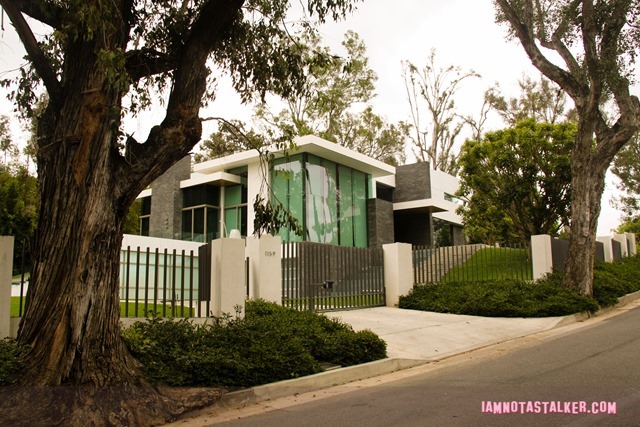 Per Zillow and the Architectural Digest article, the 6-bedroom, 11-bath, 10,000-square-foot estate boasts a 2-story entry, glass walls, a formal living room, a library with mahogany paneling, a gym, a master suite with dual closets (yes, please!) and dual baths (again, yes, please!), maid's quarters, a 5-car garage, a motor court with room for 20 cars (!), several terraces, a rooftop deck, a rec room with a bowling alley and windows looking into the adjacent pool, a media room, a 1.26-acre lot, and a tennis court.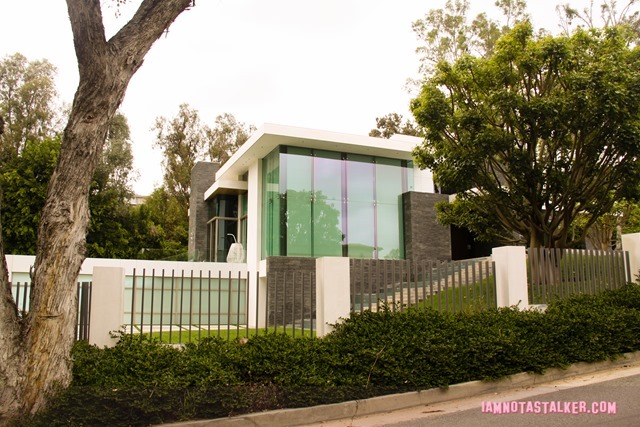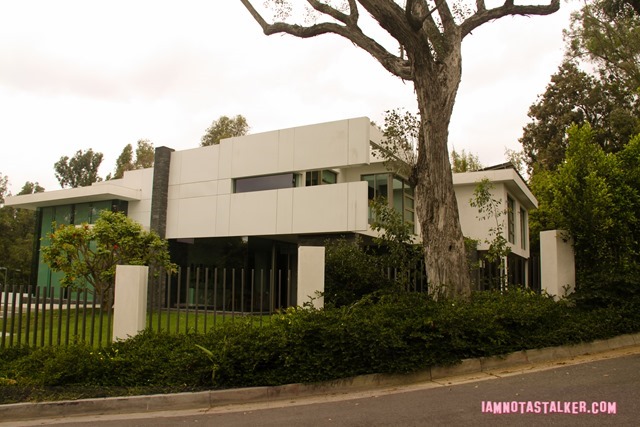 In Why Him?, college student Stephanie Fleming (Zoey Deutch) brings her parents, Ned (Cranston) and Barb (Megan Mullally), and brother, Scotty (Griffin Gluck), out to Silicon Valley during the holidays to meet her new boyfriend, millionaire video game creator Laird.  During their visit, the Flemings bunk at Laird's sprawling – and "paperless" – home.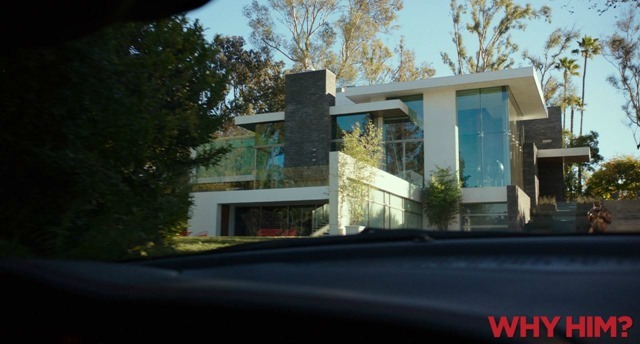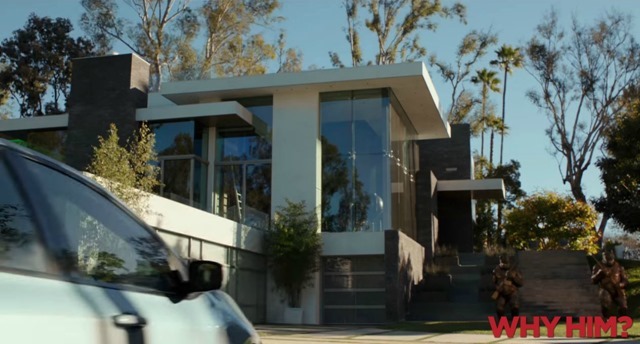 The movie made extensive use of the Summit House.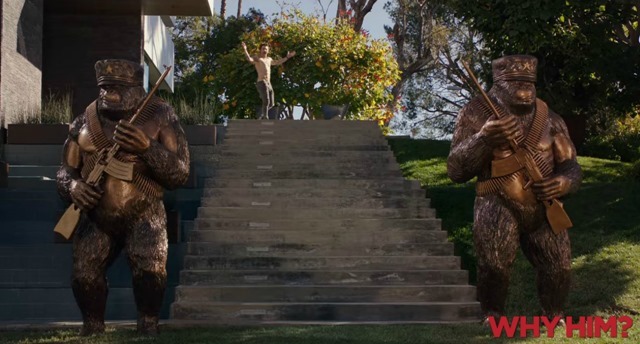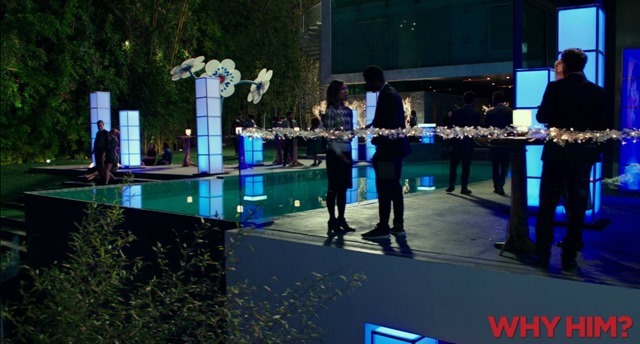 I am fairly certain that the inside of Laird's mansion was a mix of both the actual residence and studio-built sets.  I believe that the entry;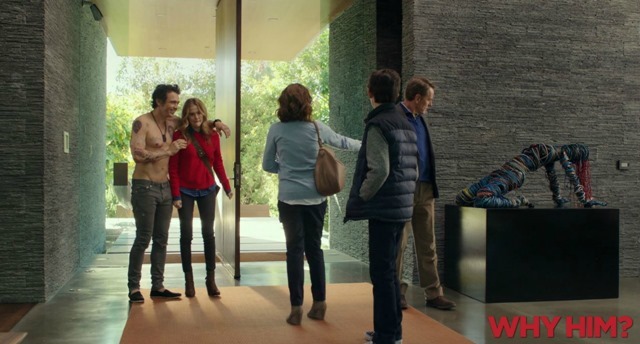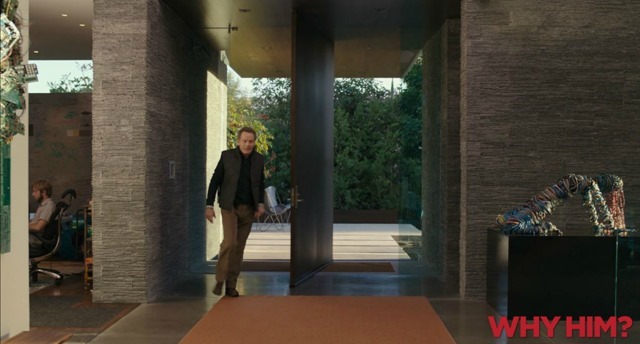 rec room;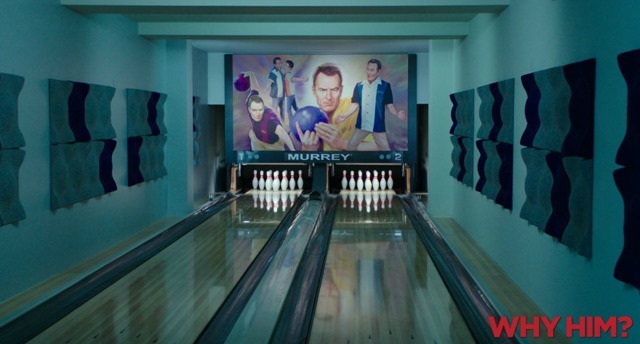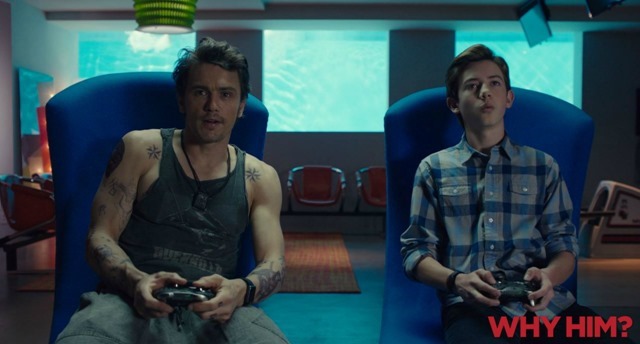 and kitchen/dining room shown in the movie were those of the actual Summit House . . .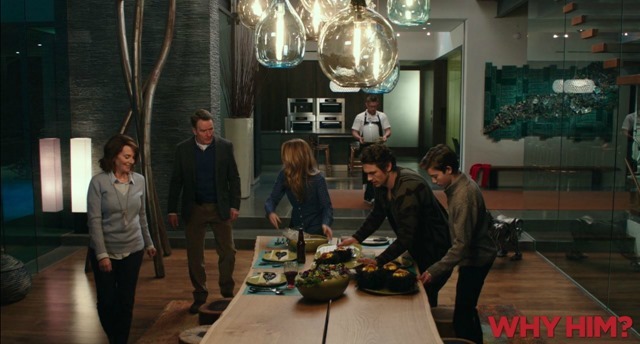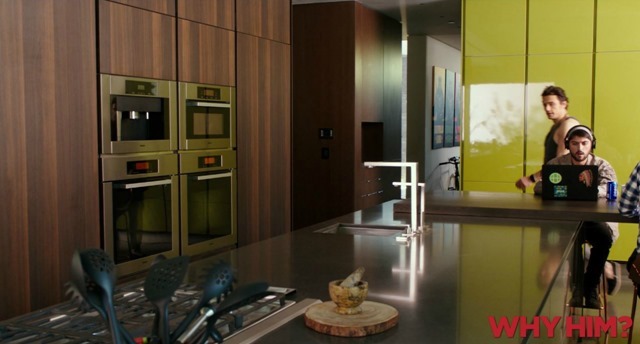 . . . while the living room;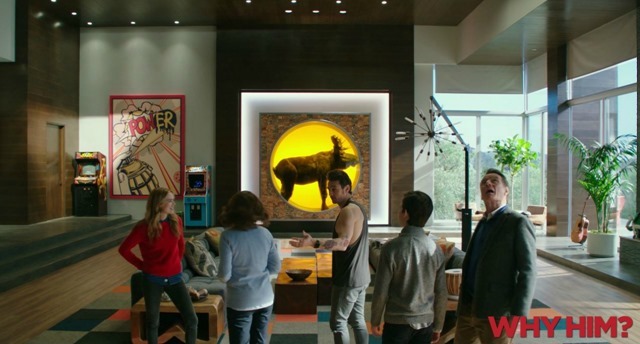 . . . . bathrooms . . .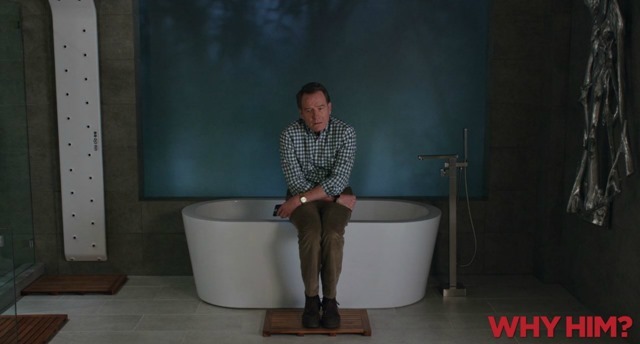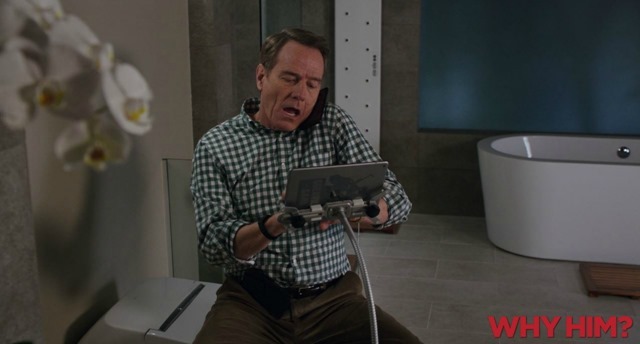 . . . and bedrooms were sets.  (There's that Alaskan King bed I became so enamored with below!)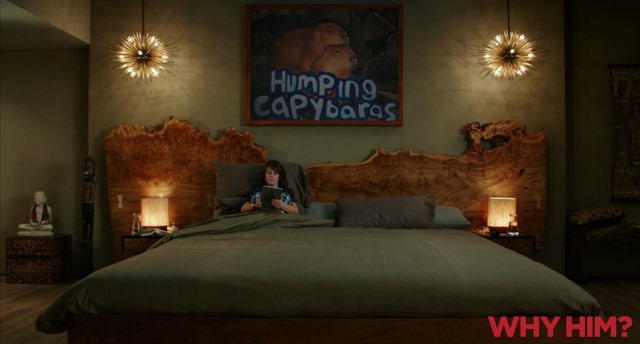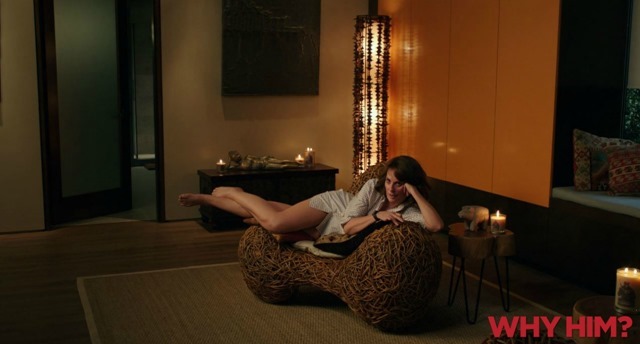 You can check out some images of the actual interior of the Summit House here and here.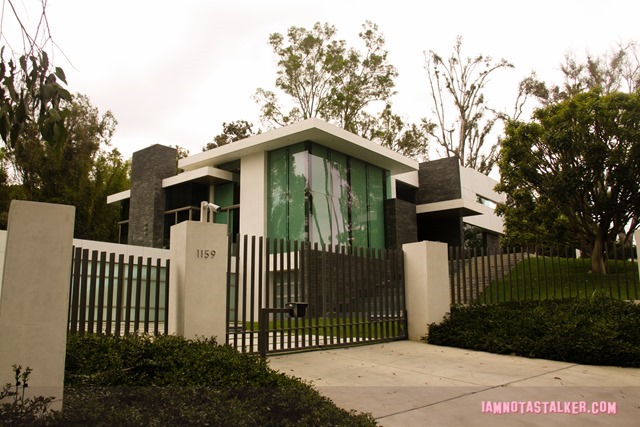 For more stalking fun, follow me on Facebook, Twitter, Instagram, Los Angeles magazine and Discover Los Angeles.
Big THANK YOU to the Global Film Locations website for finding this location!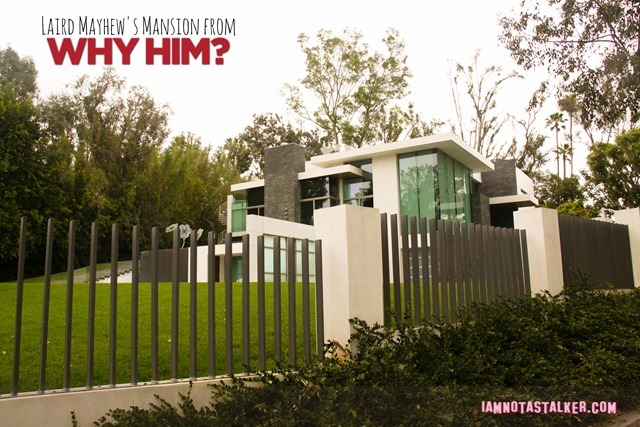 Until next time, Happy Stalking! 

Stalk It: Laird Mayhew's mansion from Why Him? is located at 1159 Summit Drive in Beverly Hills.
103961