Moody's Bar and Grille from "Jerry Maguire"
May 1st, 2017 | By
Lindsay
| Category:
Movie Locations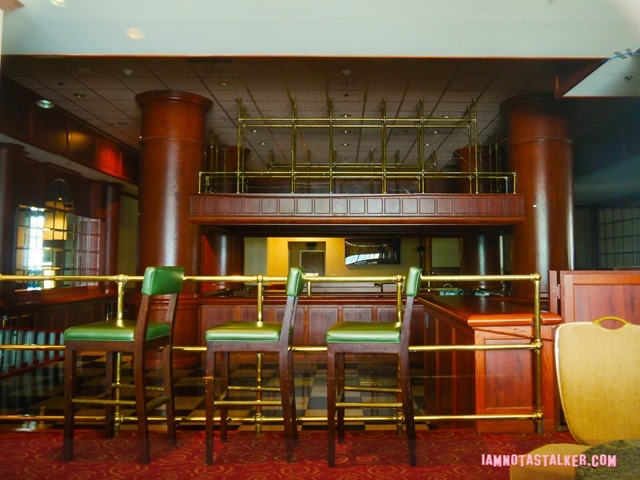 Oh, how this stalker loves herself a dark, wood-paneled bar!  There is just something so warm and inviting about them, which is probably why they are featured regularly onscreen.  One that I was quite fixated on tracking down for years was the supposed Tempe, Arizona-area "Crocodile," where Jerry Maguire (Tom Cruise) got stood up by Cardinals General Manager Dennis Wilburn (Glenn Frey) in the 1996 romcom Jerry Maguire.  I finally managed to identify the watering hole as the now defunct Moody's Bar and Grill, formerly located on the ground floor of the Sheraton Grande (which became the Los Angeles Marriott Downtown in 1997 and then the The L.A. Hotel Downtown in 2012).  While the pub was detailed in my two-part post on JM locales in December (you can read Part I here and Part II here), I happened to spot it pop up in an episode of Melrose Place that I was scanning through recently and figured the place was worthy of its own write-up.
Moody's first came on my radar while I was researching The L.A. Hotel Downtown for my January 2016 post about the property.   In reading about the hotel, I came across a FlyerTalk thread in which commenter "ntamayo" asked which Marriott had been featured in Fatboy Slim's 2001 "Weapon of Choice" music video starring Christopher Walken.  Commenter "Non-NonRev" responded that filming had taken place at the L.A. Downtown Marriott, explaining, "the dead giveaway is the entrance to Moody's restaurant seen behind Walken early after he begins to dance."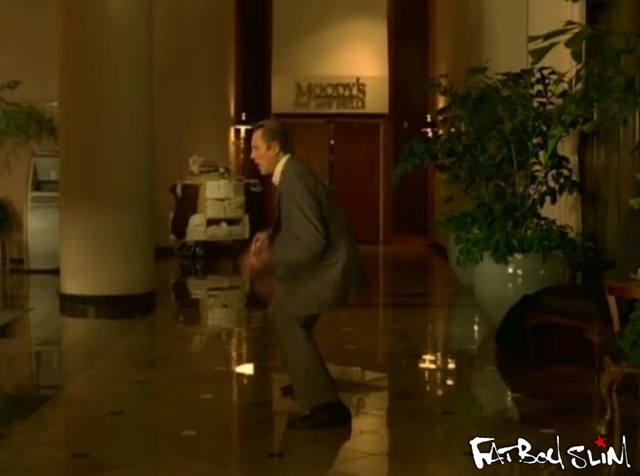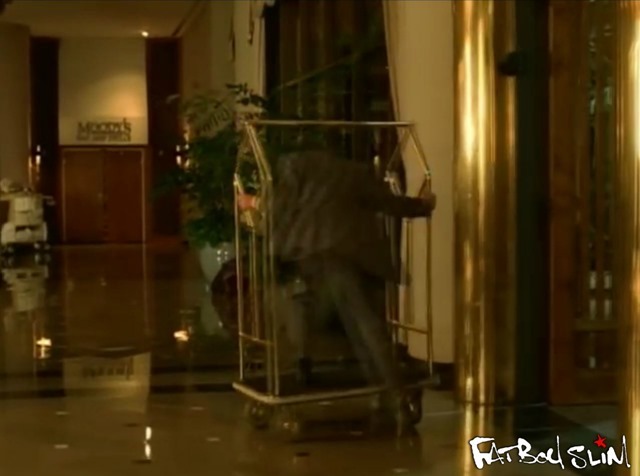 Upon digging a bit deeper into the location, I came across these photos of Moody's taken in 2011 and was immediately smitten.  As the August 1996 Los Angeles magazine article pictured below describes, the space was  "reminiscent of East Coast meeting places" with a "friendly atmosphere and club environment" and a décor "rich with forest green, ivory marble, rich oak woodwork and polished brass."  This website deemed the bar "the Cheers of the West Coast" and, if images of it are to be believed, it definitely gave off that vibe.  Moody's is certainly the type of place I would have loved to grab a cocktail on a cool evening.  Sadly though, further research revealed that the lounge had long since closed and, because I had not seen any sort of wood-paneled space when I stalked the the hotel in early 2016, I assumed it had been gutted and revamped into something else during the property's massive $25-million renovation that took place between 2011 and 2013.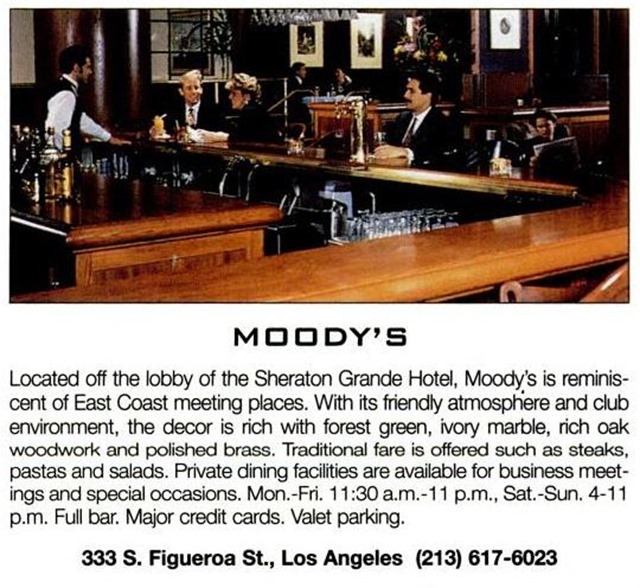 Flash forward to last summer, when I began compiling locations for the Jerry Maguire post.  While scanning through the movie, I just about fell over upon realizing that the NFL Draft scene had been shot at the Sheraton Grande.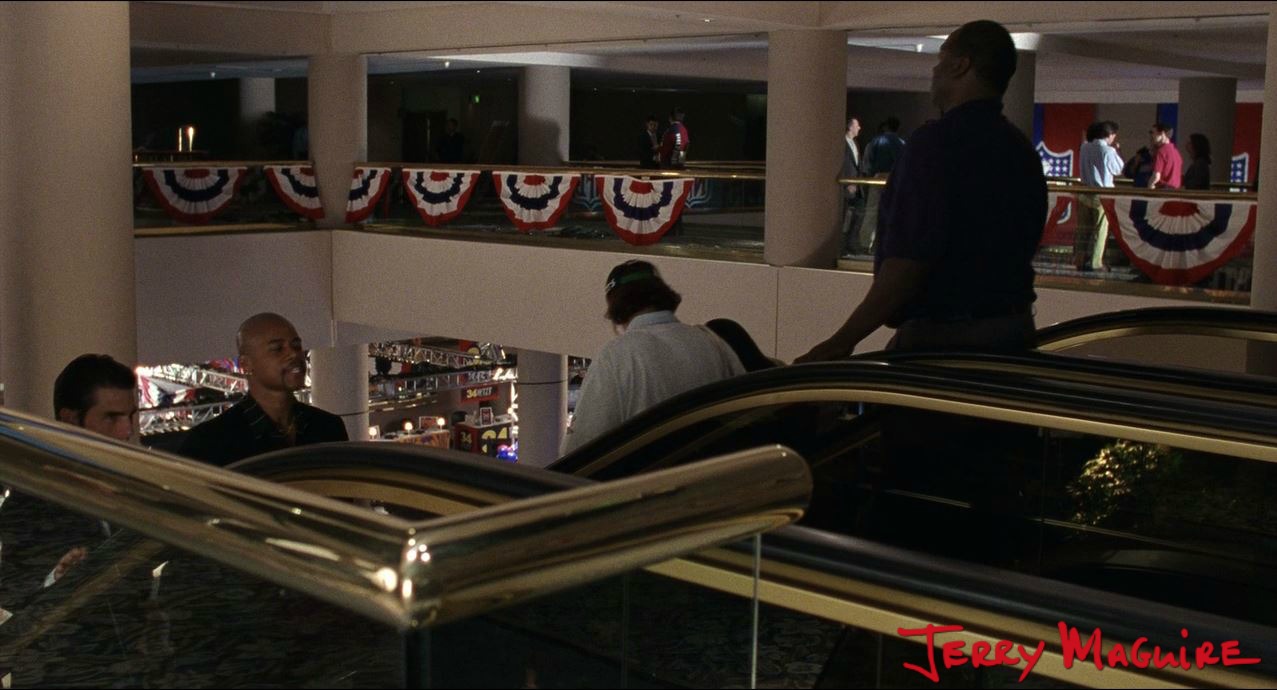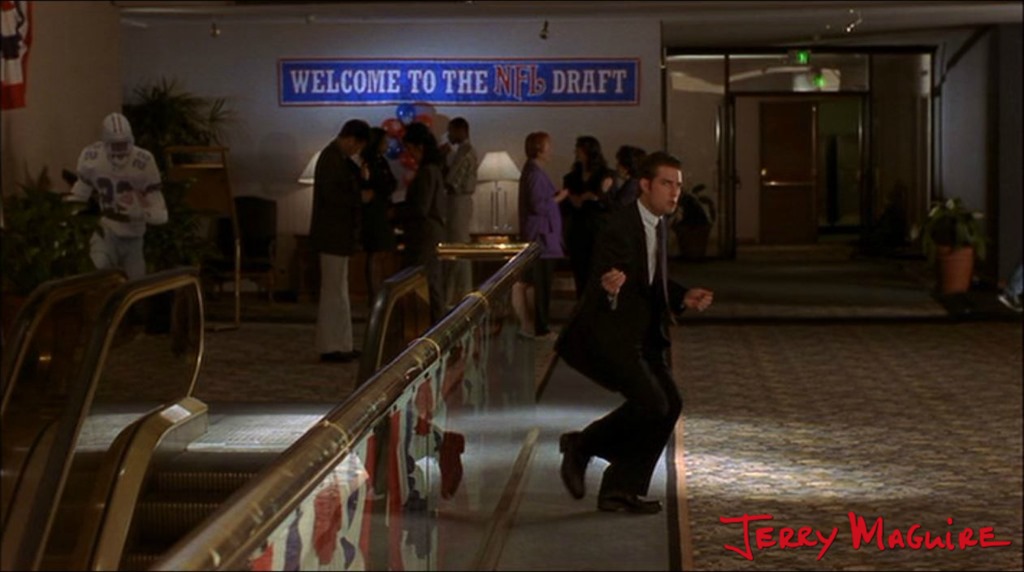 I immediately got to thinking about the Crocodile scene, during which Jerry is supposed to meet Dennis to discuss Rod Tidwell's (Cuba Gooding Jr.) new contract.  Knowing that location managers tend to shoot as many segments as possible in one spot, I had a hunch that the "Crocodile" might actually have been Moody's.  So I pulled up the 2011 images of the place and compared them to screen captures from Jerry Maguire and, sure enough, the two places were one and the same!  I later got confirmation from Greg Mariotti, of The Uncool website, who co-wrote the JM post with me, that the Crocodile segment had, indeed, been lensed at Moody's.  (Interesting side-note – Cameron Crowe named the bar after the Crocodile Café, an actual hangout in Tempe, Arizona that was very popular in the '90s.  Sadly, that space has also since shuttered.)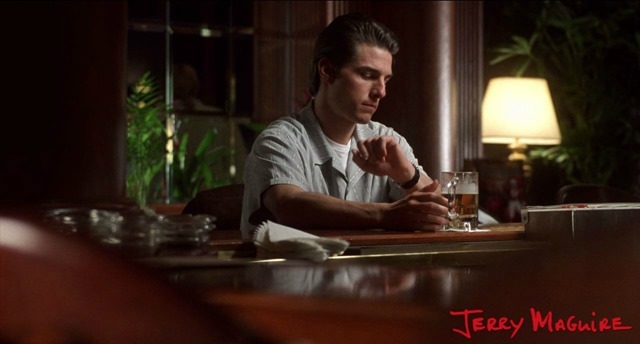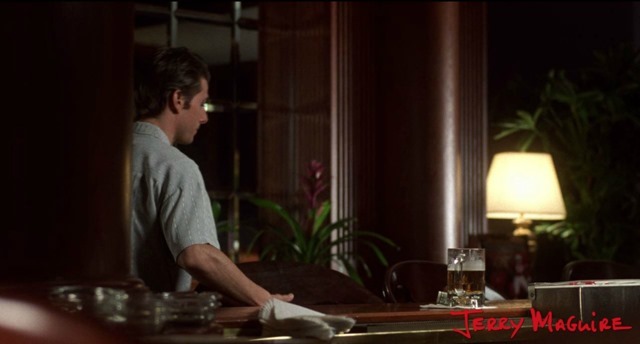 Prior to publishing the Jerry Maguire post, I stopped by The L.A. Hotel Downtown once again to see if I could learn the current state of the former Moody's space and was shocked to discover, thanks to a very friendly receptionist, that, while shuttered, the bar remains intact!  The receptionist even called down to the events manager for me to see if a quick tour could be arranged, but, unfortunately, she could not get ahold of him.  She did tell me that the lounge was visible through some windows in the front of the hotel, though, which is how I snapped the photos that appear in this post.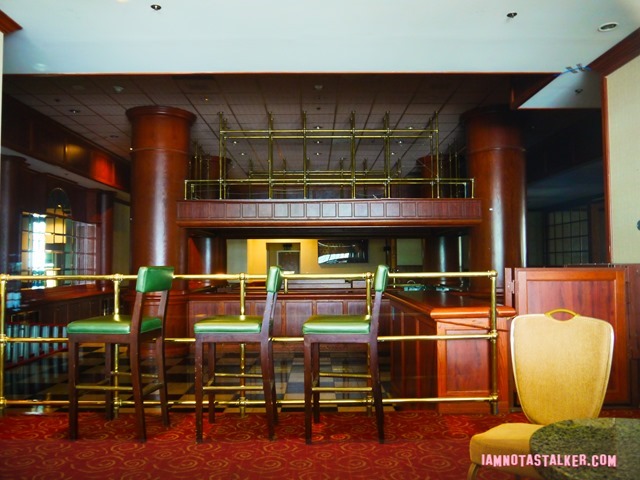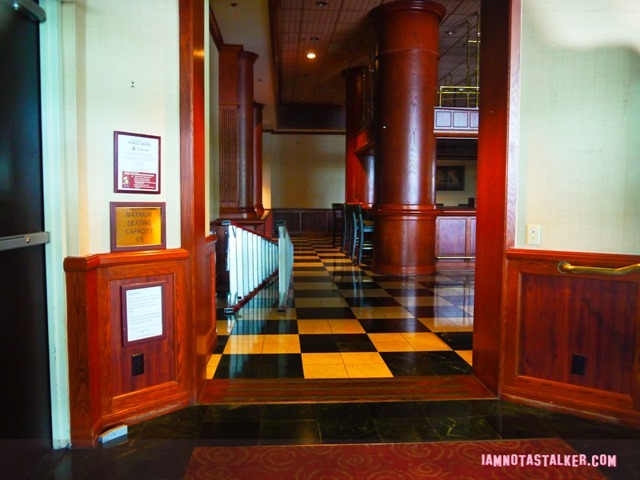 Moody's also popped up in the Season 4 episode of Melrose Place titled "No Lifeguard on Duty," as the spot where Bobby Parezi (John Enos III) told Peter Burns (Jack Wagner) to stay way from Alycia Barnett (Anne-Marie Johnson).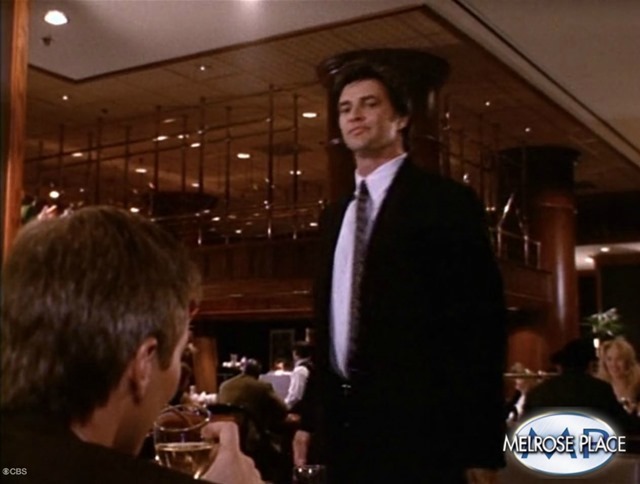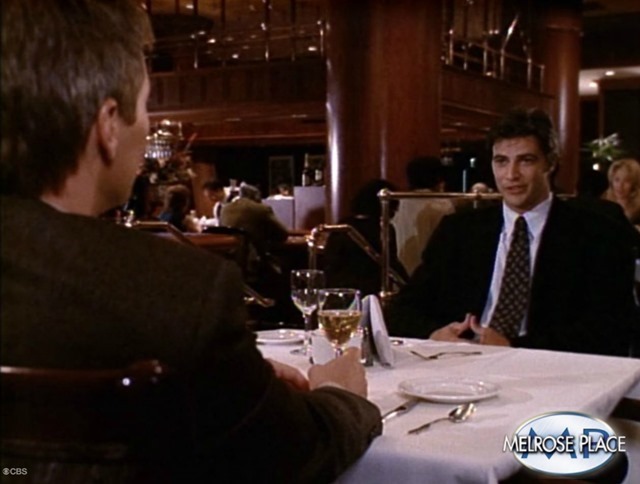 In researching this post, I discovered a myriad of productions lensed at The L.A. Hotel Downtown that I somehow missed while penning my 2016 write-up – productions like Scandal, Melrose Place, and Criminal Minds.  I've updated my original post to include the information.  You can check it out here.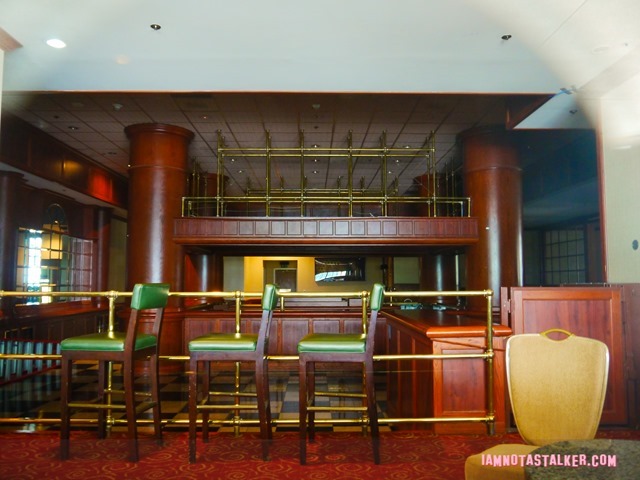 For more stalking fun, follow me on Facebook, Twitter, Instagram, Los Angeles magazine and Discover Los Angeles.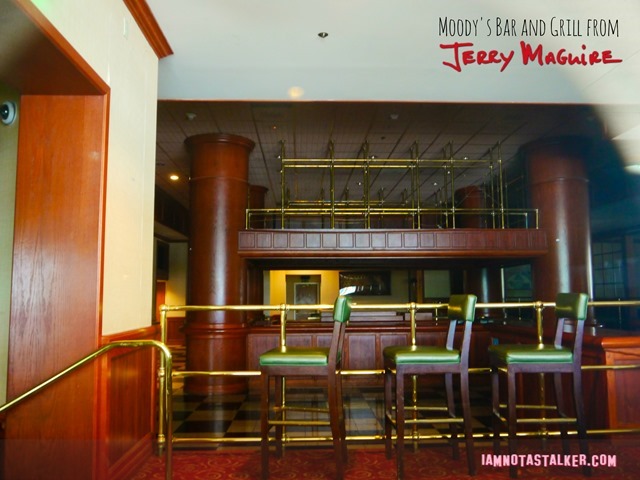 Until next time, Happy Stalking! 

Stalk It: Moody's Bar and Grille, aka the "Crocodile" from Jerry Maguire, was formerly located on the bottom floor of The L.A. Hotel Downtown, which can be found at 333 South Figueroa Street in downtown Los Angeles.  Unfortunately, the restaurant is currently closed.
104475