The "All of My Heart" Farmhouse
May 12th, 2017 | By
Lindsay
| Category:
TV Locations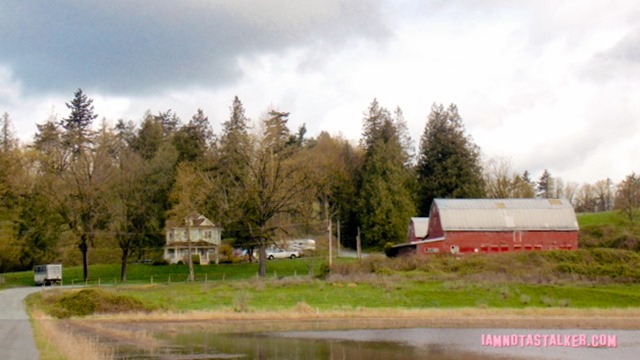 It seems that every time I turn around lately, I come across someone who is obsessed with Hallmark Channel made-for-television movies. First it was my grandma, who couldn't stop talking about them at Christmas.  Around that same time, I started hearing about the flicks from my uncle's girlfriend, who binge-watches them like crazy, much to the chagrin of my uncle (though he does do some amazingly funny recaps – according to him, the premises are all pretty much exactly the same). Next it was my aunt Lea, who started extoling their virtues to me in a phone call. Most recently, my good friend Kerry (you may remember her from my Club 33 post) mentioned her obsession with the flicks in an email. Prior to a recent day trip to Vancouver, where many of the Hallmark Channel movies are filmed, Kerry wrote to me to ask for some assistance in tracking down a farmhouse she had spied pop up in a myriad of the productions. As it turns out, she didn't really need my help finding the place, but more on that in a bit. While helping her search, I came across countless online queries from likeminded fellow stalkers, all of whom were also inquiring about the location of the picturesque pad. Since the dwelling seemed to be so in-demand, once Kerry tracked it down and stalked it, I suggested she do a guest post on it and she happily obliged. Take it away, Kerry!
Every now and then, a location will show up on my TV screen and it seems like time stops and everything moves in slow-mo. I forget about what I'm watching and instead I am zeroed in on the location. Such was the case when I was watching fave station, the Hallmark Channel, a couple of years ago. A charming farmhouse appeared before my eyes and I was instantly drawn to it. The wide open green grass leading to the steps of the perfectly curved railed porch….sigh! Yeah, this one was definitely love at first sight.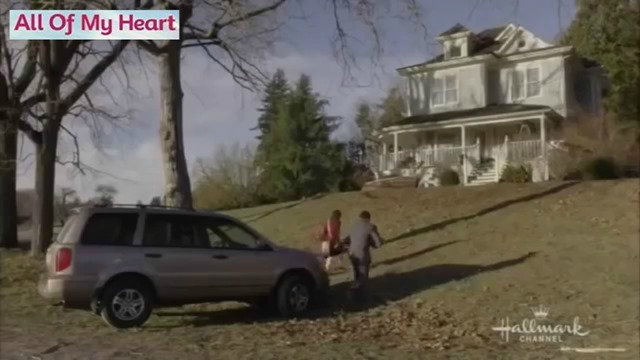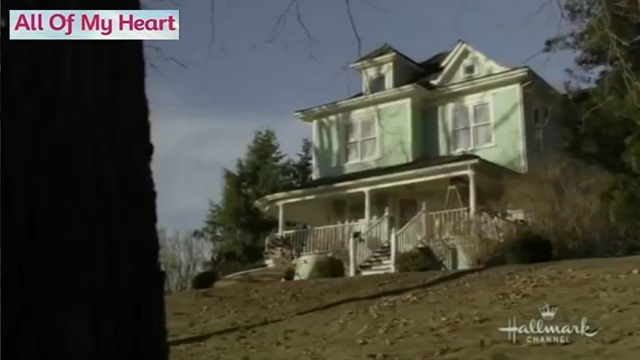 The movie is called All of My Heart and stars Lacey Chabert and Brennan Elliott. Since that first airing I have watched it several times. I love the farmhouse but I also love the story. From Hallmark.com: "A young caterer's life suddenly changes course when she inherits a country home and learns she must share it with a career-obsessed Wall Street trader. At first, these opposites do not attract, but feelings begin to change when they find themselves having to work side-by-side to restore their newly acquired home."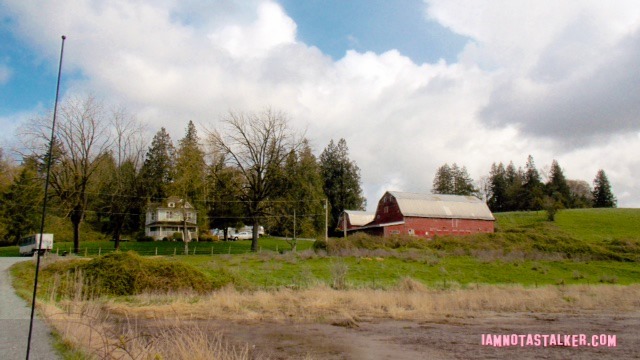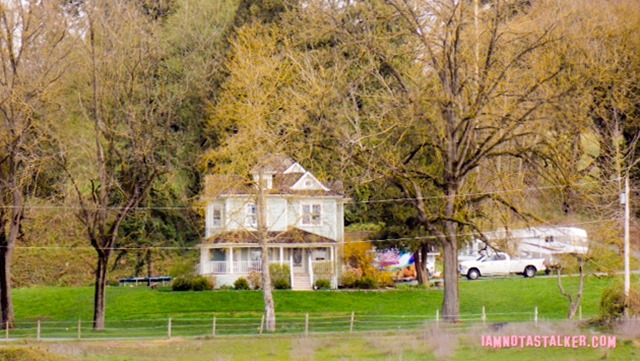 Once again, while enjoying another Hallmark movie, the farmhouse appeared on my big screen. This time, it was the Aurora Teagarden Mysteries movie series, starring Candace Cameron Bure. While watching The Julius House, imagine my surprise at seeing what I now refer to as "my" farmhouse take center stage as the lead in this film. To my delight, Aurora Teagarden purchases the farmhouse, which means it will continue to show up in future installments of the movie franchise. So far, it has also appeared in Dead Over Heels and will star once again in the upcoming A Bundle of Trouble, which is scheduled to air May 21.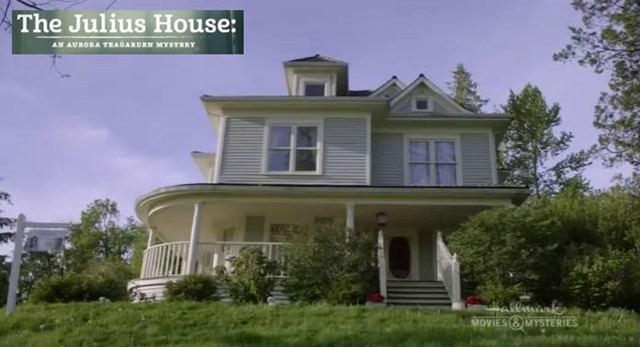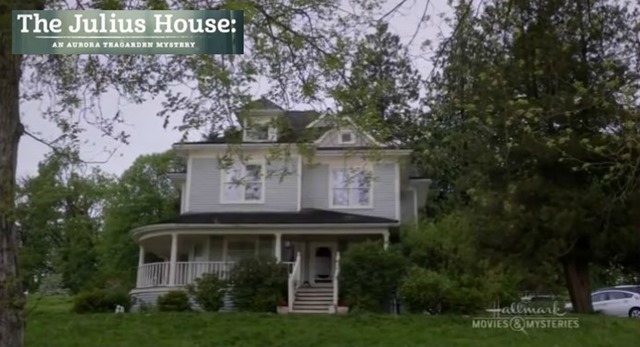 I became enamored with finding my farmhouse and began the search online without any success. There seemed to be a lot of people wondering the same thing as me; Where in the world is this gorgeous farmhouse? I already knew it was somewhere in Vancouver, British Columbia, as this is an oft-used area for Hallmark productions. I've been known to stalk Vancouver locations many times over the years because I do not live too far from the border and I have family there. I had a good idea of the area of the farmhouse but had no success in finding its location. I decided to switch gears and reach out to fave Canadian filming website What'sFilming via email for some help. I heard back with an address fairly quickly. When I looked the address up on Google, it took me to a spot on a road in the Aldergrove area of B.C., but I didn't see a house. Thinking it may be close by, I began looking at structures in the area, hoping I could locate the farmhouse by cyber-stalking it. Lindsay and her stalking posse make it look SO easy and although I am just a novice stalker in the cyber world, I figured I'd give it a whirl. I did find a structure that looked like it could be it but dismissed it as I was totally thrown off by the enormous number of trees visible surrounding it on Google Earth! With just a week to go until my trip to Vancouver, I reached out to Lindsay and she ran with it for a few days but also came up empty handed. Then things got good, REAL good. I told her about the structure with all the trees and she used Google Street View and abracadabra……..there was my farmhouse!!! (Told ya I'm not a professional cyber stalker, but I did learn from this experience.) Thank you, Lindsay!!!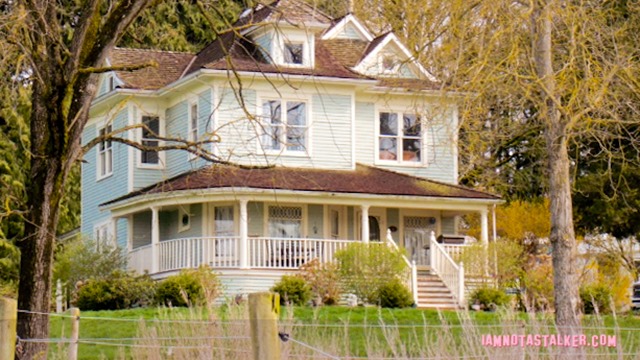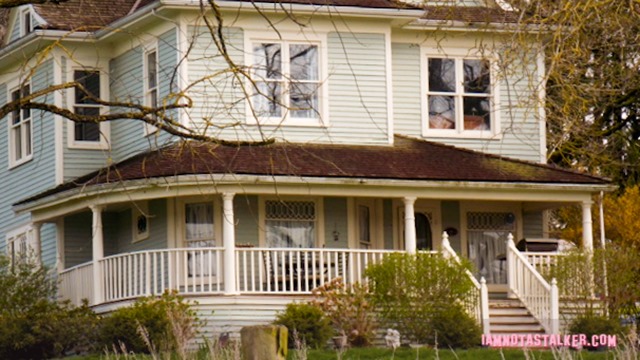 My farmhouse is just down the road from the US/Canadian border and is totally visible from the street.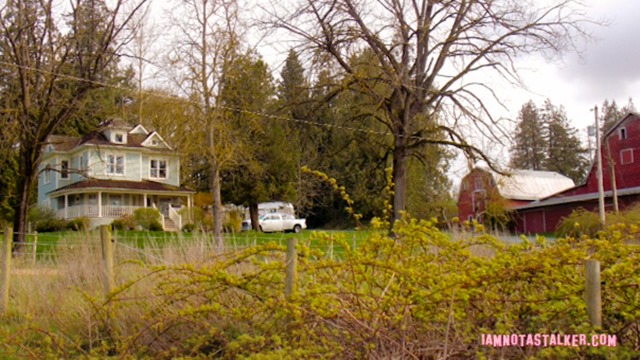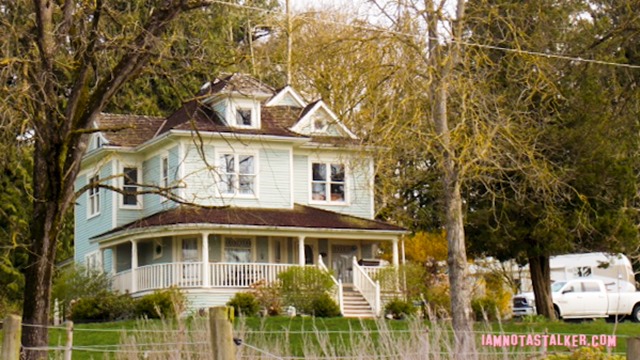 There is a long driveway/road that leads up to the property. The home is idyllic, the setting so beautiful, and that farmhouse porch, so inviting. I still find myself wanting to know more about this property, its age, how many generations have lived there, and how the owners like seeing it show up on TV. There is a pretty good chance they haven't seen it on the big screen as I've been told neither the Hallmark Channel or Hallmark Movies & Mysteries Channel are available in Canada, much to the disappointment of my cousin Mary.  [Editor's Note – Reader Cathie just commented that many of the HC movies can be viewed on the subscription site Feeln.  I'm not sure if the site is available in Canada, but it's worth a try.]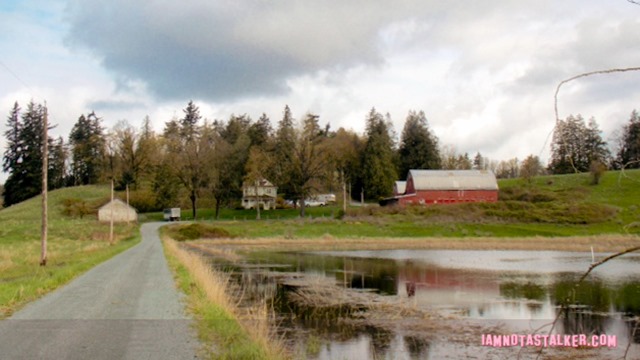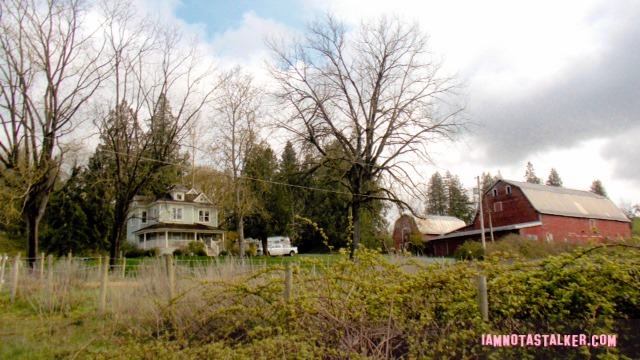 During Lindsay's research, she discovered the farmhouse was also used in Hallmark's Growing the Big One, starring Shannen Doherty. In the movie, Shannen's character inherits her grandfather's farmhouse and there are some great shots of the place including that gorgeous porch and several areas of the property. [Editor's Note – it was actually my friend/fellow stalker Owen, of the When Write Is Wrong blog, who uncovered the info about Growing the Big One. I had gotten him involved in Kerry's hunt for the All of My Heart farmhouse and along the way he came across a mention that my girl Shannen's Hallmark movie had also been shot on the premises. Thank you, Owen!]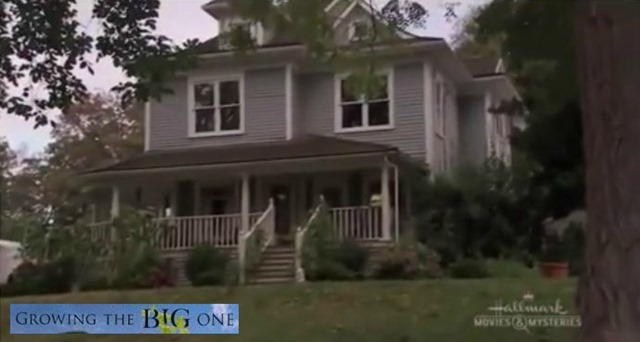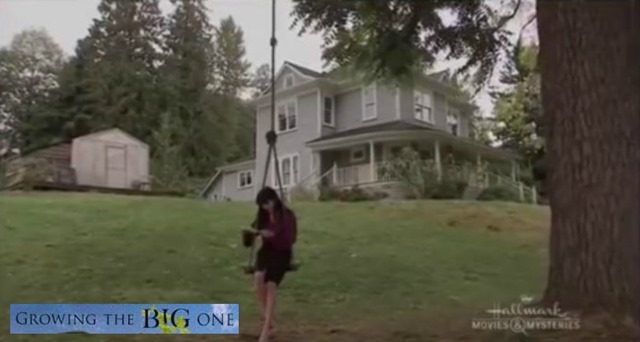 After studying All of My Heart, The Julius House, Dead Over Heels, and Growing the Big One, it appears that filming of each movie took place inside of the farmhouse. You can see the old-fashioned stove in all the flicks and the staircase, as well.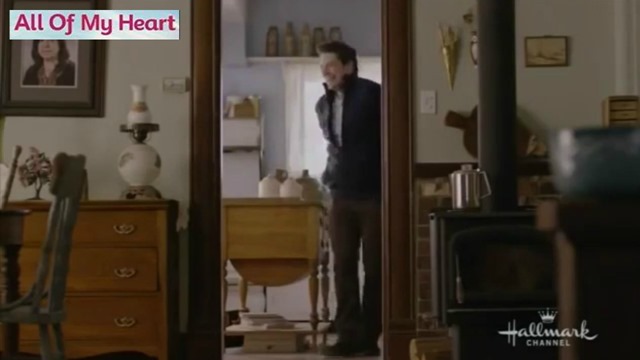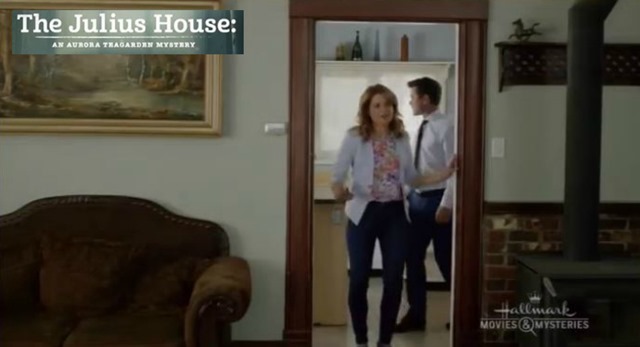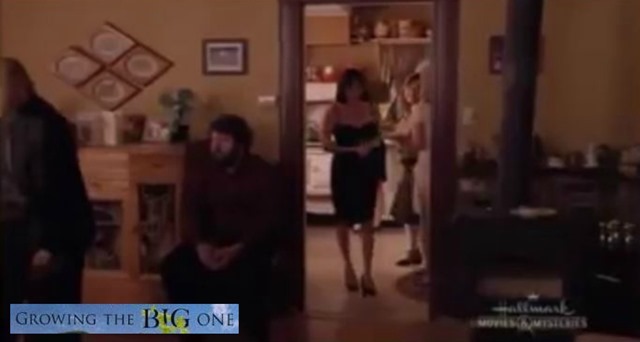 The interior has been painted from one movie to the next but it is very recognizable. I love that they utilized the real-life charm of this farmhouse and chose to film inside of it.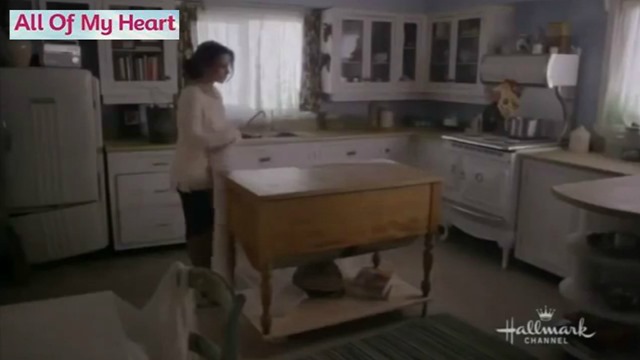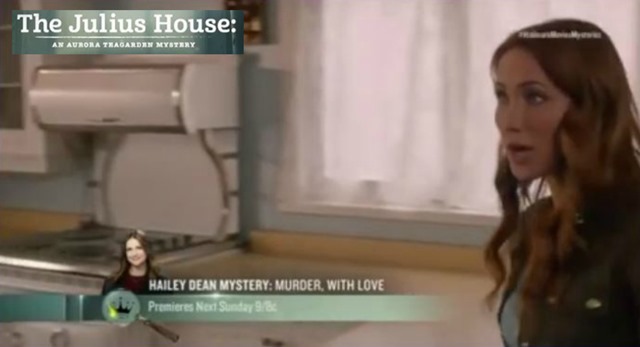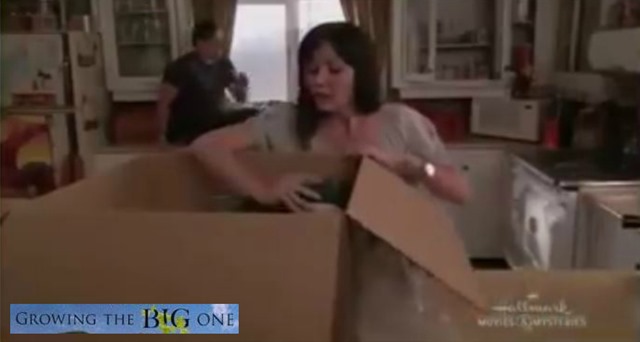 I'm looking forward to the upcoming Aurora Teagarden movie so I can see this beautiful home again on the big screen. And for those of us who loved All of My Heart, Hallmark recently announced there will be a sequel, which will air in the fall. Personally, I will be watching to see when filming begins and perhaps wander up to 'Hollywood North' again for another glimpse of the farmhouse, hopefully with the lights, camera, and action of Hollywood surrounding it.
The All of My Heart farmhouse is located at 27347 0 (zero) Ave in Aldergrove, British Columbia.
Thank you, Lindsay, for letting me guest blog today.
[Editor's Note – THANK YOU, Kerry, for this fabulous post!  Your enthusiasm and love for this locale made me not only want to head up to Vancouver immediately for another stalking trip, but to also start watching Hallmark Channel movies!]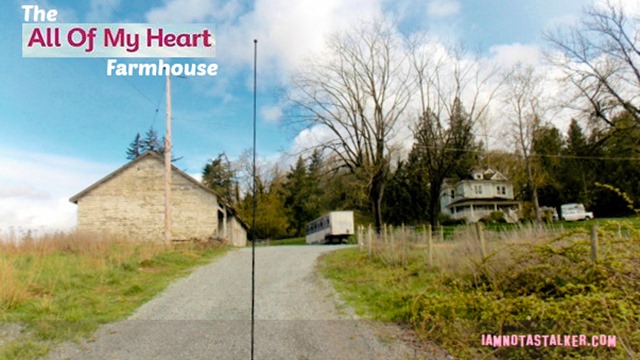 104853