Descanso Beach Club from "NCIS"
May 24th, 2017 | By
Lindsay
| Category:
TV Locations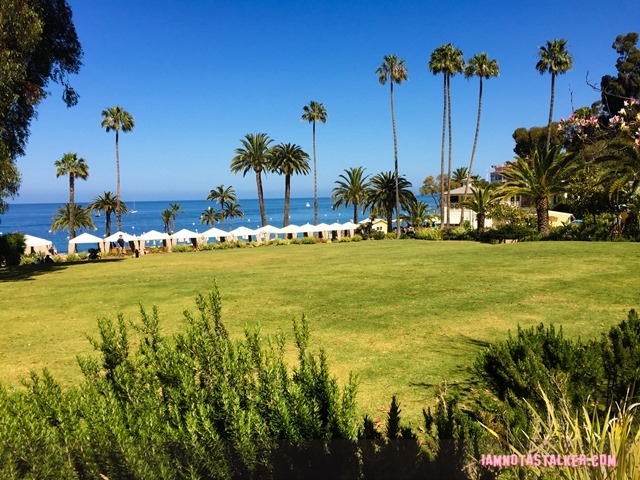 My family has long had a love affair with Catalina, the idyllic island located about 22 miles southwest of Los Angeles.  One of our favorite spots to grab lunch or an evening cocktail while there is Descanso Beach Club, a toes-in-the-sand restaurant situated along the shore of Descanso Bay.  I have visited the site more times than I can count over the years, but had no idea it was a filming location.  So I was thrilled when I spotted it while re-watching an early episode of NCIS recently.  I sat down to do a post on Descanso the following morning and was shocked to discover that, despite my many visits there, I hardly had any photos of the place.  So I had to hold off on writing about it.  Flash forward to this past weekend.  My good friend Nat, who lives in San Francisco, made an impromptu trip to Catalina while in SoCal and texted me to ask if I had any area recommendations.  I told her about Descanso Beach Club and what a great lunch spot it is.  I also expressed that I would love her forever if she headed over there to snap some photos for me, which she happily did.  Thank you, Nat!  (Most of the pictures featured in this post are Nat's, but a couple are ones that I took during my last trip to the island in 2009.)
Descanso Beach Club is situated on the former site of the famed Saint Catherine Hotel, or Hotel St. Catherine as it was also known, which was established in 1918 by the Banning Family, who owned Catalina at the time.  After a November 1915 fire destroyed many of the island's tourist areas and lodgings, the Bannings decided to build an upscale resort on the grounds of their former home (which was also wiped out by the blaze), an idyllic plot of land overlooking Descanso Bay.  Designed by the Milwaukee Building Company, St. Catherine opened its doors on June 28th, 1918.  When William Wrigley Jr. purchased Catalina Island from the Bannings the following year, he added on to the Spanish-style hotel, installing a second guest wing and a swimming pool, among other amenities.  The luxurious lodging soon became the stomping ground of many of Hollywood's elite including Charlie Chaplin, Richard Arlen, Lana Turner, Joan Crawford, Clark Gable, Marlene Dietrich, Joe Schenck, Betty Grable, Norma Shearer, Humphrey Bogart, Irving Thalberg, and Johnny Weissmuller.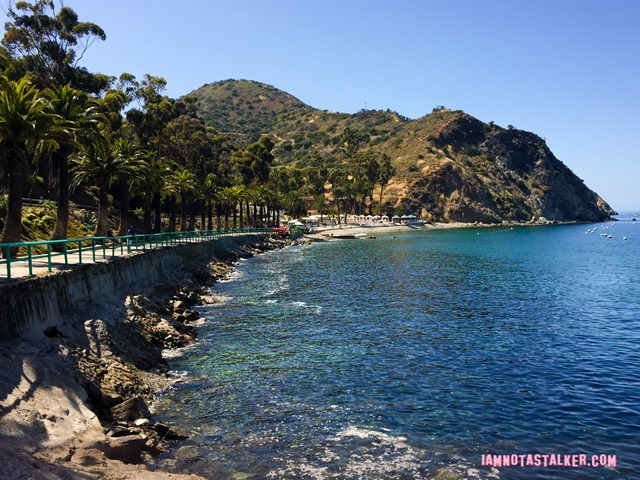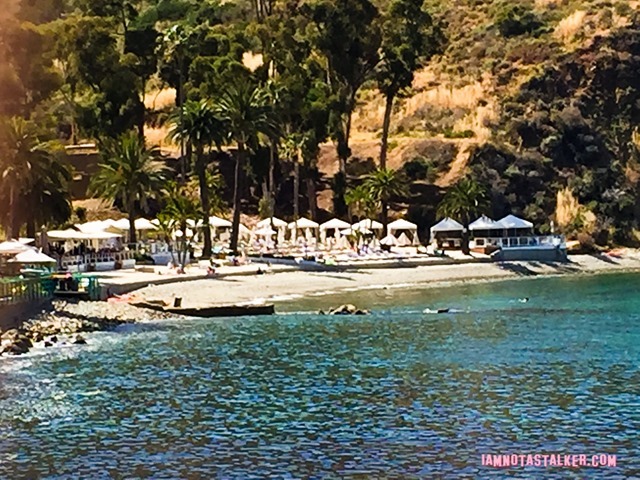 On December 23rd, 1941, just a little over two weeks after the attack on Pearl Harbor, Catalina Island was closed to the public and became a training ground for the military.  The Saint Catherine Hotel was transformed into living quarters for the soldiers.  Though the property was converted back into a resort in the years following World War II's end, it never regained its original luster and was razed in 1966.  You can see what the St. Catherine looked like while it was still in operation here, here, here, and here.  Following the demolition, the hotel's once lush grounds were left vacant and largely abandoned for more than two decades.  Though there were plans to build another luxury resort on the site, they never came to fruition.  Instead, Descanso Beach Club was established there in 1992.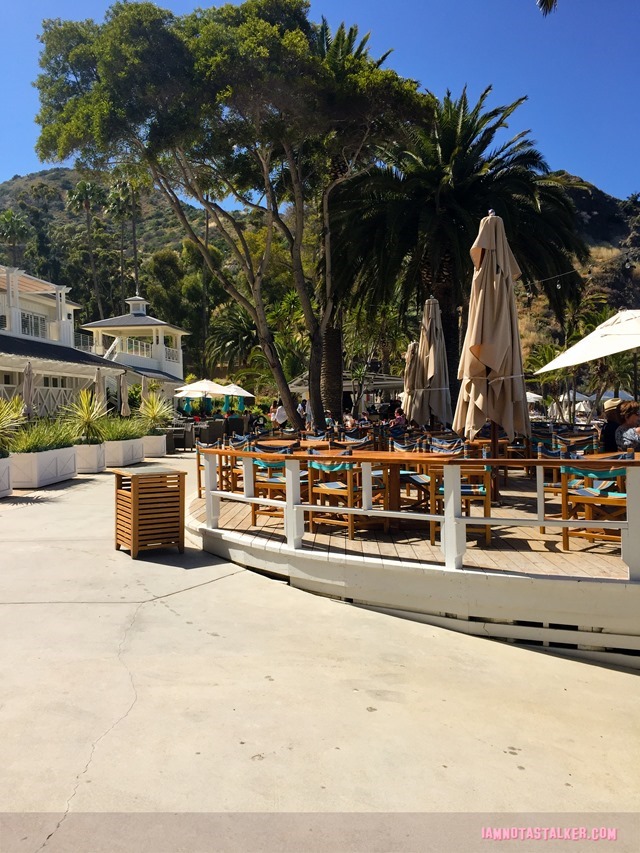 The word "club" is something of a misnomer.  Though the site (including the beach area) is privately owned, it is accessible to the public and offers a wide array of seaside activities for tourists and locals alike.  Guests can sit on Descanso's large deck and order a meal, grab a drink at the open-air bar situated just steps from the ocean, or rent a chaise lounge or cabana and sip a libation on the sand.  It is hands-down the best spot for cocktails and eats in Catalina.  Fun fact – Descanso is the only place in Southern California where cocktails can legally be served on the beach.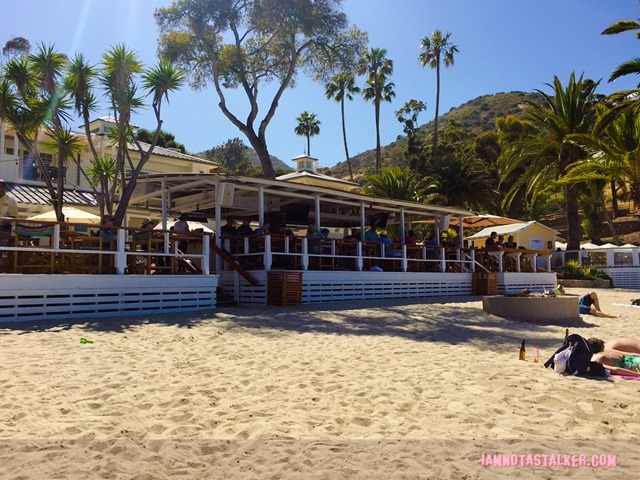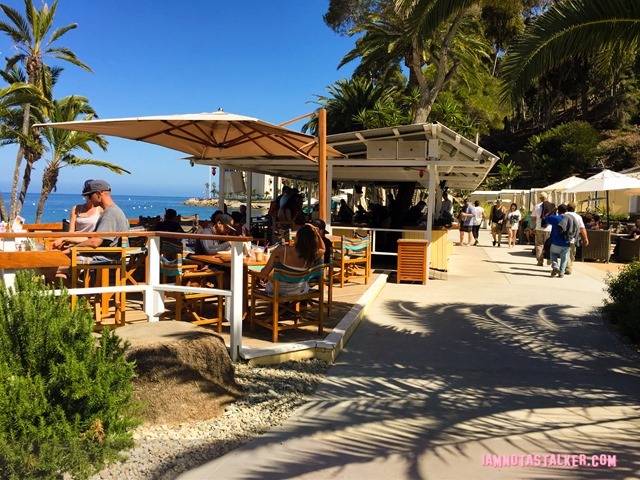 Beginning in 2010, Descanso Beach Club was expanded and renovated to the tune of $6 million.  A large special events hall was added to the property, as well as additional retail space, an espresso bar (yaaaas!), and an ice cream shop.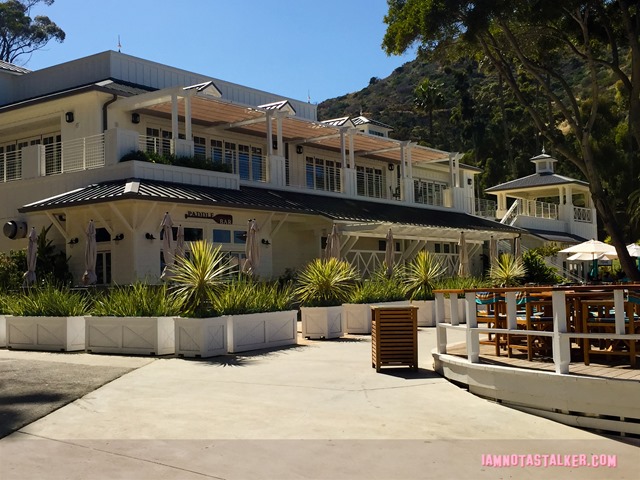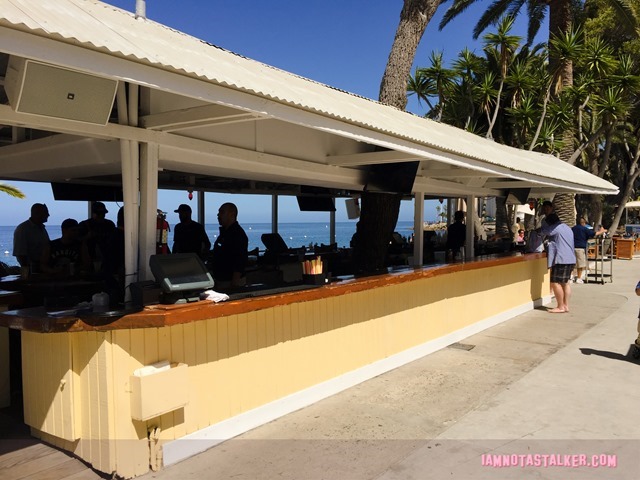 As I mentioned above, the last time I visited Catalina was in 2009, so I have yet to see the club in its current state, but Nat's photos attest to the fact that it is just as beautiful as ever.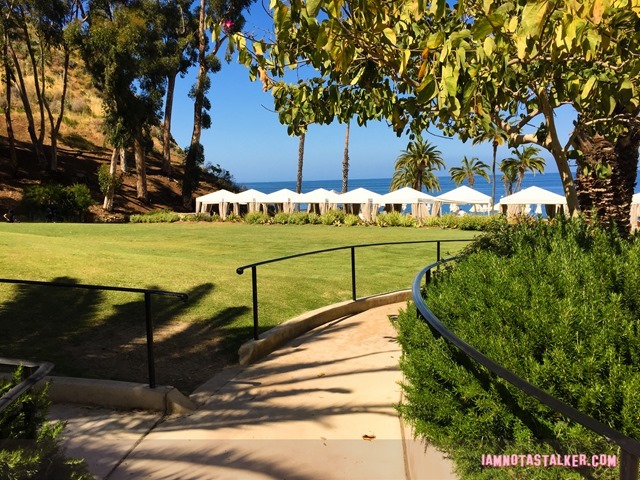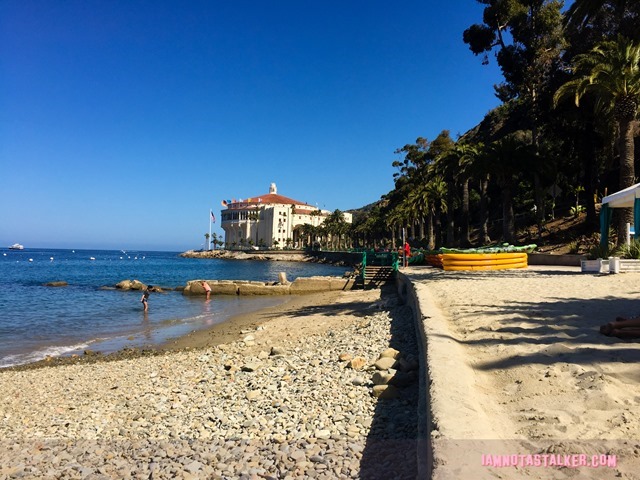 In the Season 1 episode of NCIS titled "The Immortals," Descanso Beach Club masked as the Puerto Rico bar where Anthony DiNozzo (Michael Weatherly) grabbed a cocktail after busting a local Navy Exchange clerk for illegally selling officer's swords.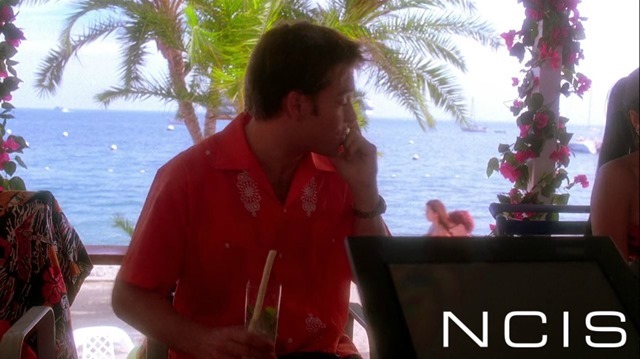 Though I recognized the bar immediately while watching the episode, I had to do a double take as the scene that took place there was incredibly brief.  It was hard to believe that cast and crew headed all the way out to Catalina just to shoot that one short segment.  "The Immortals" did feature quite a few boat scenes, though, so I am thinking that the production team zeroed in on the calm, clear waters off the island's coast to shoot those bits, making Descanso Beach Club a convenient spot to film the bar segment.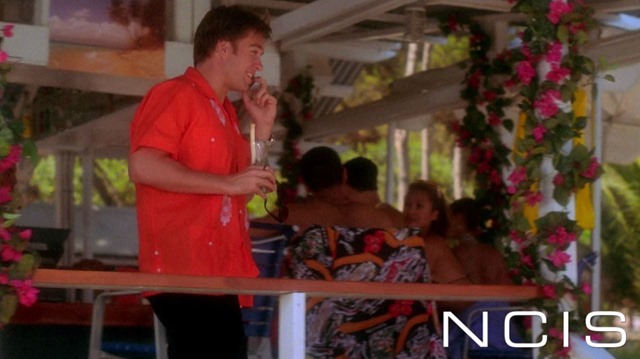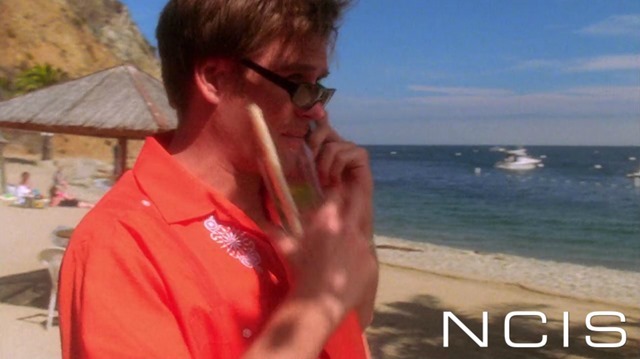 The Season 15 episode of The Bachelor titled "Week 4: Radio Show Date" also did some filming at Descanso.  In the episode, Bachelor Brad Womack took contestant Chantal O'Brien on a one-on-one date to Catalina Island.  After an ocean-floor walk, the two finished off their visit with a romantic night cap at the club.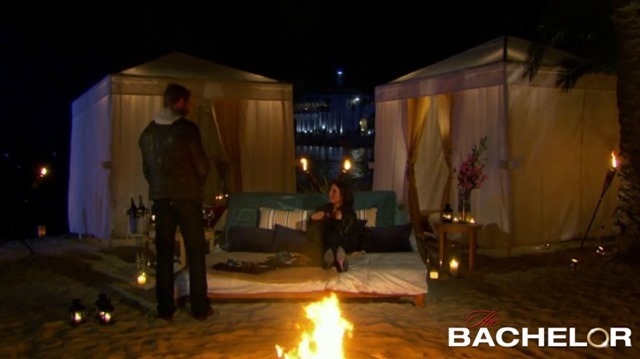 Aside from the actual beach, very little of the club was shown in the episode outside of a small view of the bar area that was visible when Brad and Chantal first arrived.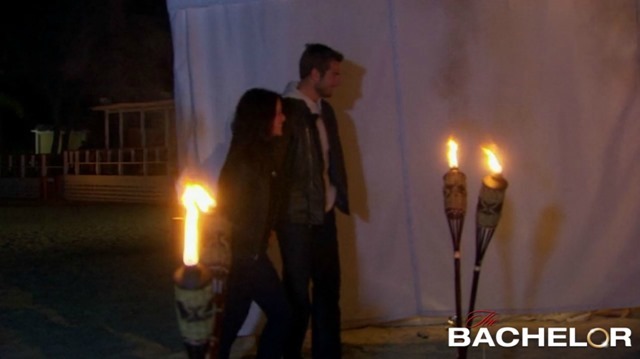 The Real Housewives of Orange County's Vicki Gunvalson and Brooks Ayers shot a scene at Descanso in September 2011, but I scanned through all of the Catalina-based episodes from around that time period and it appears that the segment wound up on the cutting room floor.  And back in the Hotel St. Catherine days, the 1927 film A Hero for a Night and 1935's Murder on a Honeymoon were shot on the premises. Unfortunately, I could not find a copy of either movie with which to make screen captures for this post.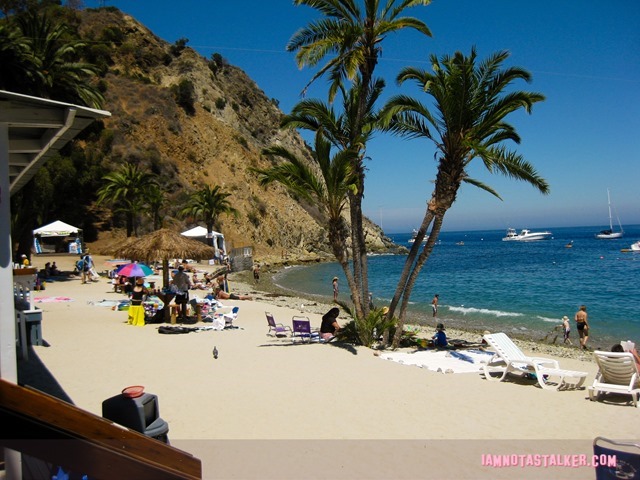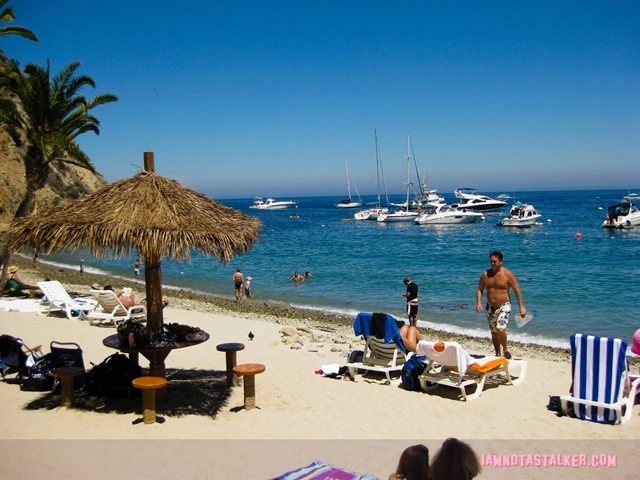 For more stalking fun, follow me on Facebook, Twitter, Instagram, Los Angeles magazine and Discover Los Angeles.
Huge THANK YOU to my friend Nat for stalking this location on my behalf!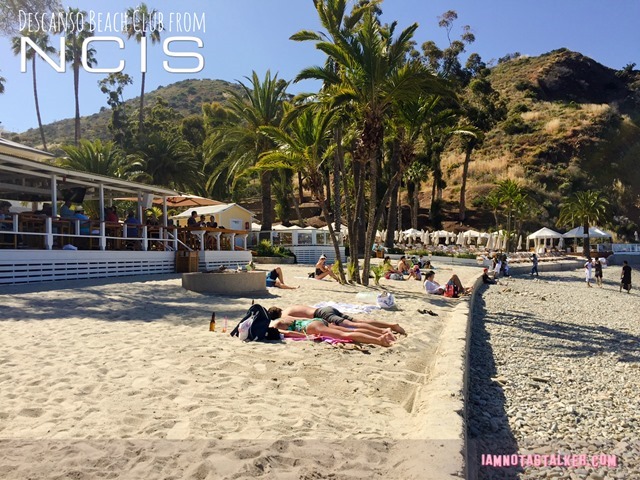 Until next time, Happy Stalking! 

Stalk It: Descanso Beach Club, from "The Immortals" episode of NCIS, is located at 1 St. Catherine Way in Avalon on Catalina Island.  You can visit the club's official website here.
105074