The Elvis Honeymoon Hideaway Tour
Jun 30th, 2017 | By
Lindsay
| Category:
Celebrity Homes
My knowledge of Elvis Presley is basically limited to the fact that he was a singer (duh!), his 1957 drafting into the army served as the inspiration for the play and movie Bye Bye Birdie, he called a spectacular Tennessee mansion named Graceland home (the manse is the setting of one of my favorite plays ever, Ellen Byron's aptly titled Graceland), and he learned his famous hip-thrusting moves from a young Forrest Gump.  (Ha, just kidding about that last one.)  So yeah, virtually everything I know about The King was gleaned from some sort of movie or stage production.  (Truth be told, most of my knowledge comes from movie, stage, or TV productions.)  I'm always interested in learning more about anyone or anything Hollywood-related, though.  So when my good friend Steffi (who surprised me with a visit recently for my 40th birthday) mentioned that she wanted to take a tour of the Elvis Honeymoon Hideaway in Palm Springs, I jumped at the chance.
I have stalked the exterior of the Elvis Honeymoon Hideaway a couple of times over the years and covered its history pretty extensively in this July 2012 post.  So as not to repeat myself, today's write-up will focus mainly on the tour and only include a brief recap of the property's background.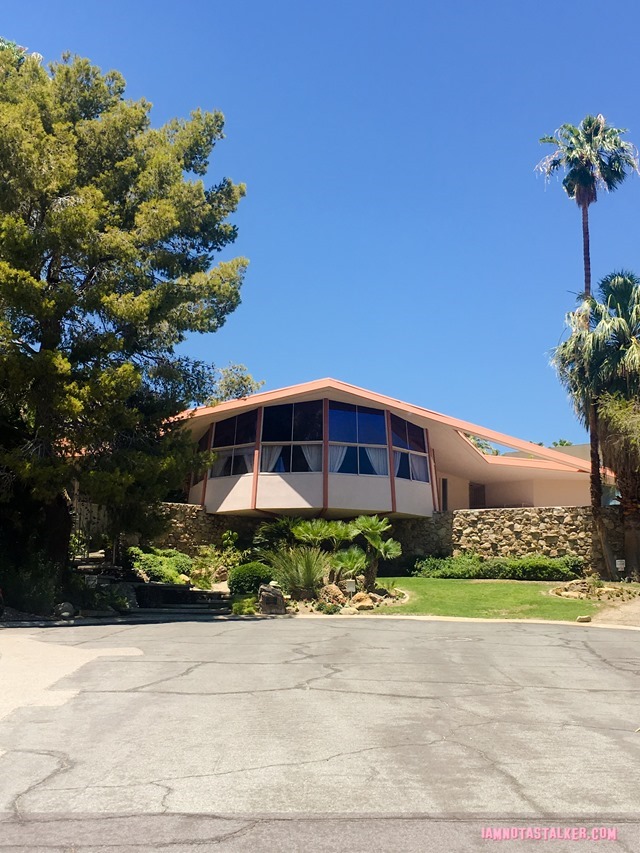 The Elvis Honeymoon Hideaway was originally built in 1960 for real estate developer Robert Alexander.  Designed by the mid-century-modern master William Krisel, the layout of the sprawling pad consists of four perfect circles situated on three levels.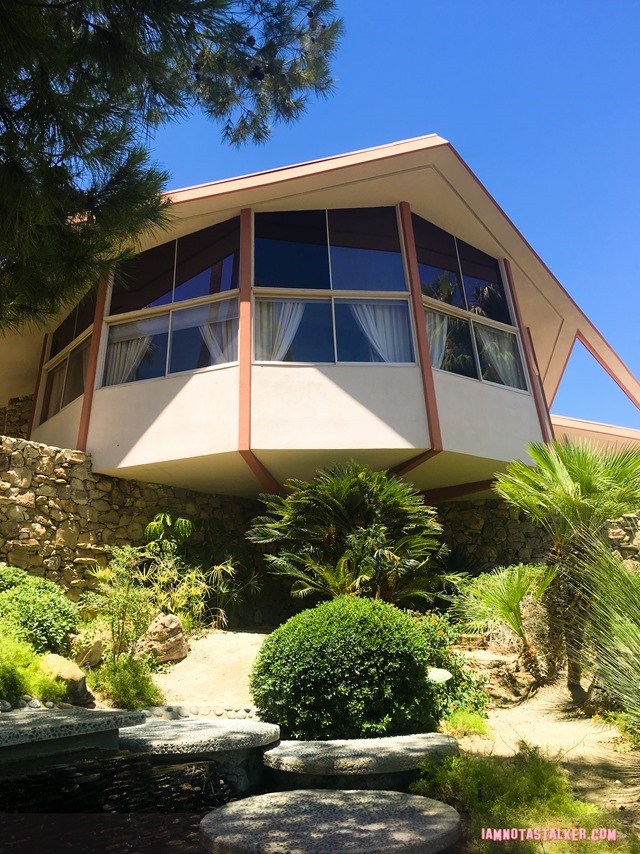 Elvis leased the residence, which Look magazine dubbed "The House of Tomorrow," for a year beginning in September 1966 and used it as a vacation home.  He quickly fell in love with Palm Springs during his visits to the dwelling – so much so that he decided to marry his longtime girlfriend, Priscilla Beaulieu, in the property's backyard next to the swimming pool.  As the story goes, gossip columnist Rona Barrett, who lived nearby, caught wind of the impending nuptials and announced it on her nightly TV show.  A media firestorm quickly erupted and journalists descended upon the home.  The frenzy caused Elvis and Priscilla to rethink their decision and in the early morning hours of May 1st, 1967, the two headed to Las Vegas, courtesy of Frank Sinatra's private plane, and tied the knot in a suite at the Aladdin hotel.  They returned to their Palm Springs pad later that afternoon, where Elvis carried Priscilla up the front steps, across the threshold and upstairs into the bedroom, forever cementing the home's status as the "Elvis Honeymoon Hideaway."  Two days later, the newly betrothed couple headed back to Graceland, though they visited the Hideaway several times throughout the year it was leased.  Elvis eventually purchased a house of his own nearby, which he owned until he passed away in 1977.  (You can read about that residence, located at 845 West Chino Canyon Road in Little Tuscany, here.)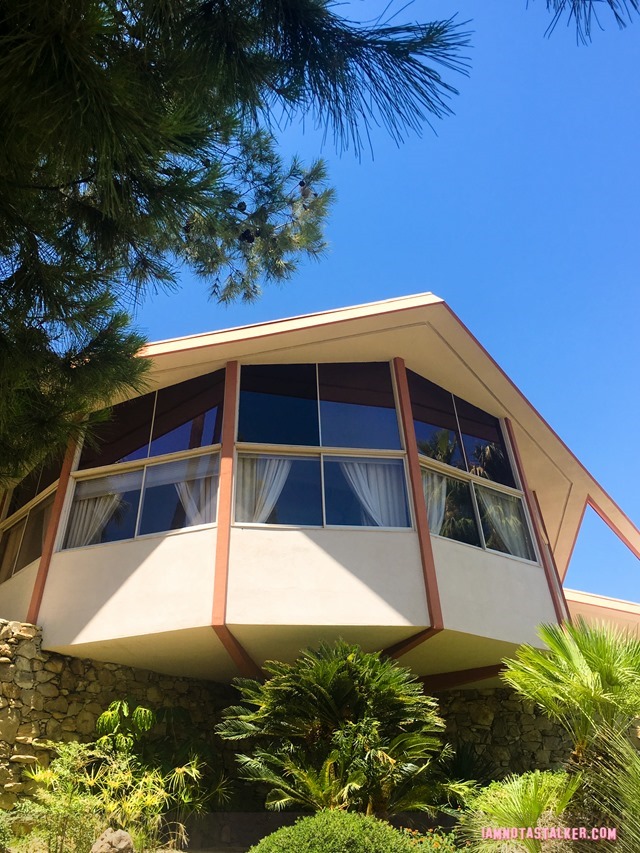 The Elvis Honeymoon Hideaway Tour begins at the threshold Elvis carried Priscilla over.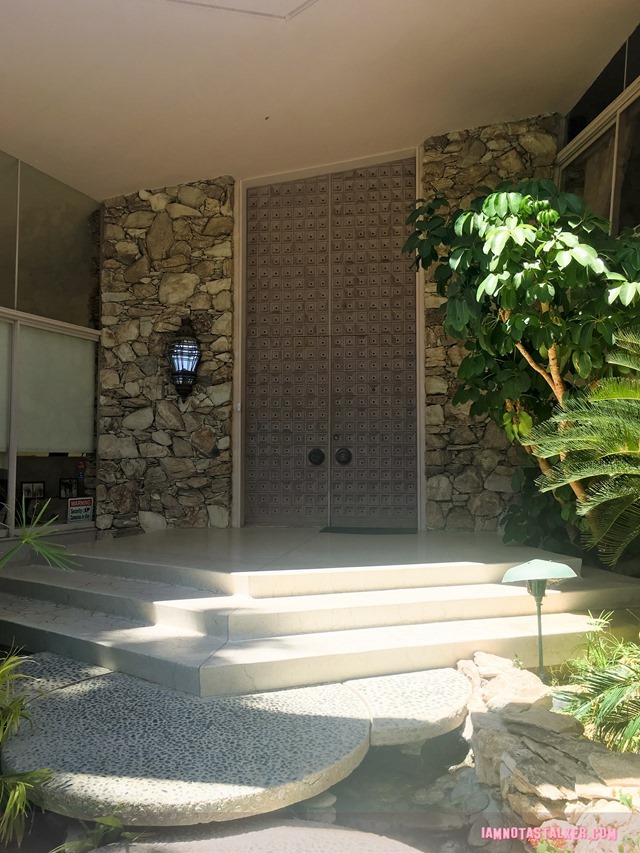 The tour is actually led by a longtime reader/fellow stalker named Michael (that's him below), who I've been friends with on Facebook for years.  Michael is a veritable expert on all things Elvis.  There was literally no question about the singer that he couldn't answer.  Listening to his stories about Presley and anecdotes about the house was fascinating.  I couldn't have imagined anyone better to walk in the footsteps of The King with.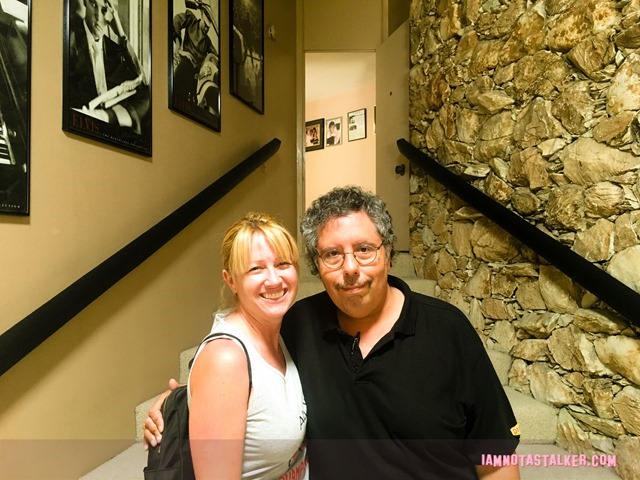 Setting foot inside the Elvis Honeymoon Hideaway is like stepping back in time to 1967.  The pad is virtually frozen in time from the days when The King called the place home.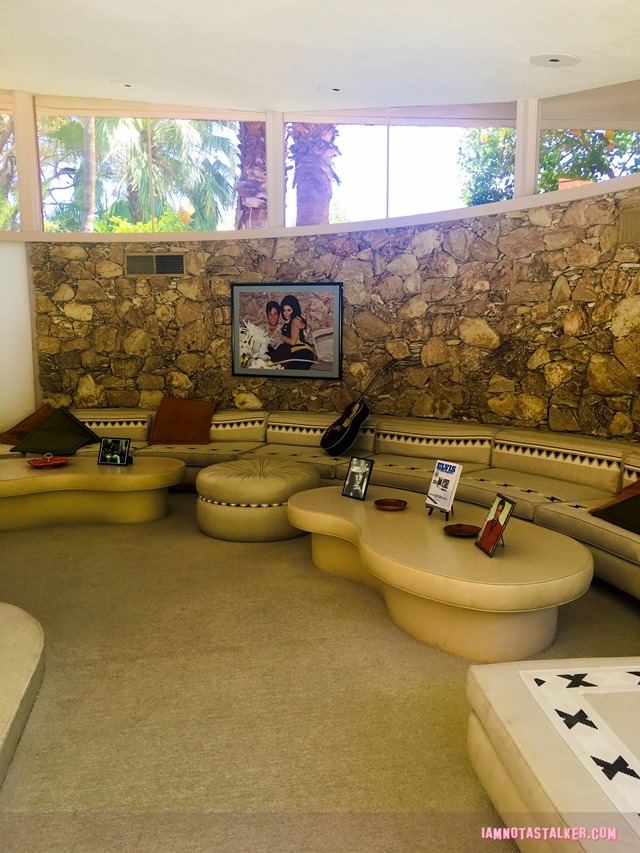 Just beyond the threshold is a large sunken living room . . .
. . . where circle motifs can be found in abundance.
Not only is the room rounded . . .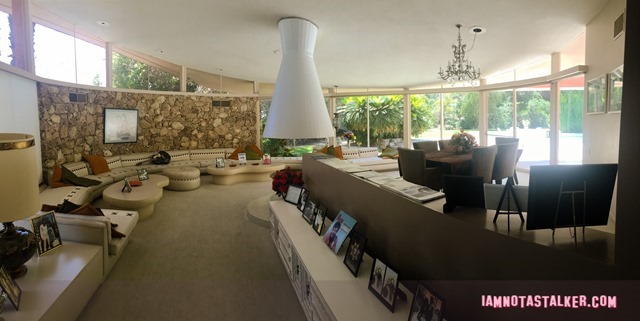 . . . but the space boasts an amazing circular fireplace and hood . . .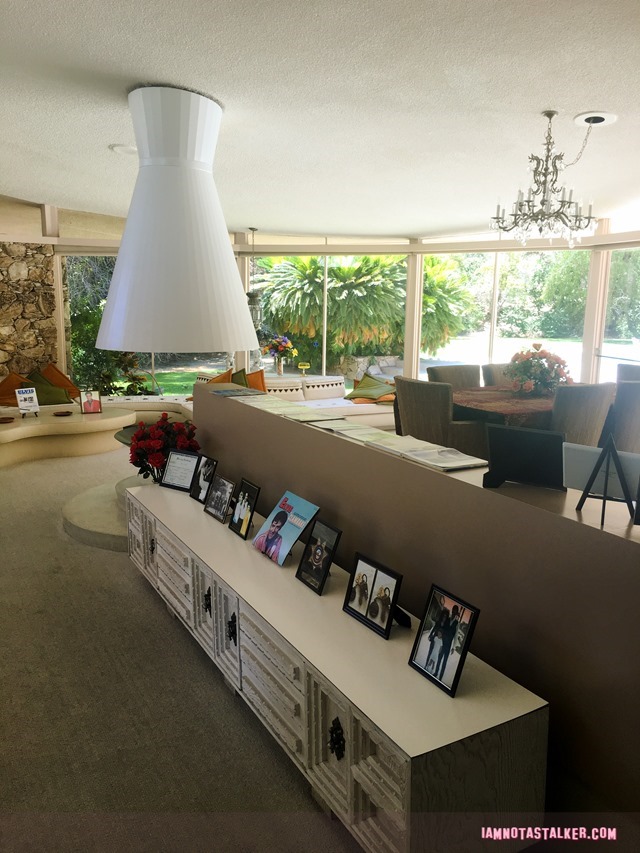 . . . as well as a circular ottoman and a 64-foot curved banquette couch –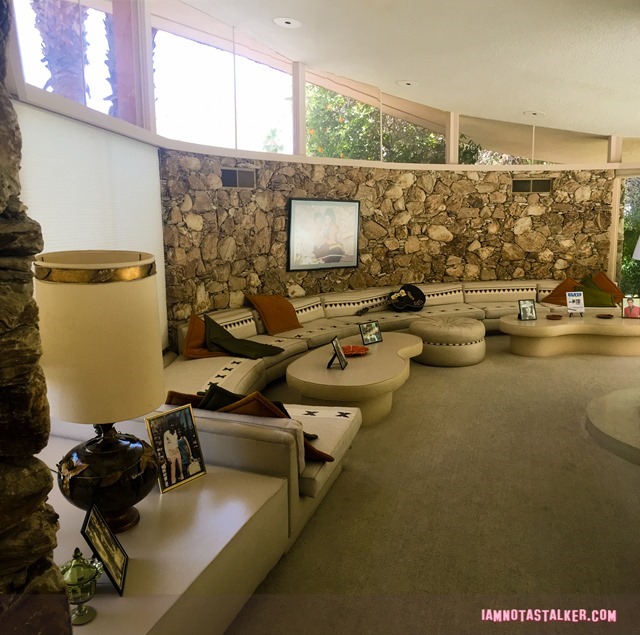 – the very same couch that was installed at the house during Elvis and Priscilla's tenure.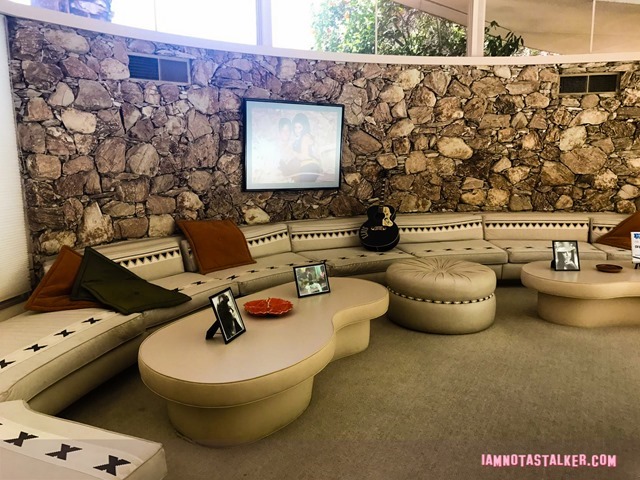 Yep, that's a photo of them sitting on said couch pictured below.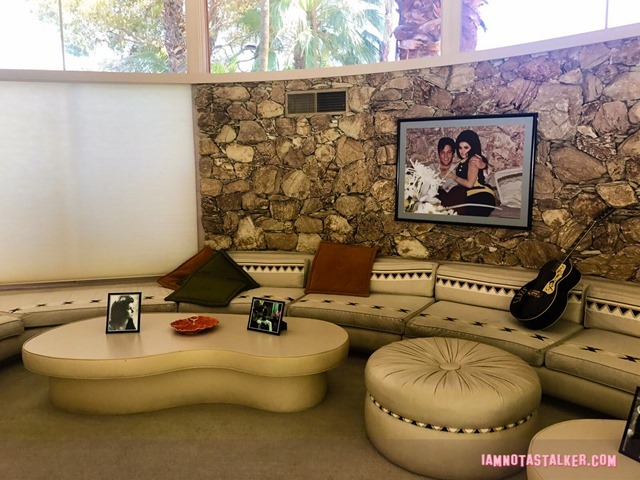 Amazingly, guests are not only allowed, but encouraged to sit on the couch to pose for photos.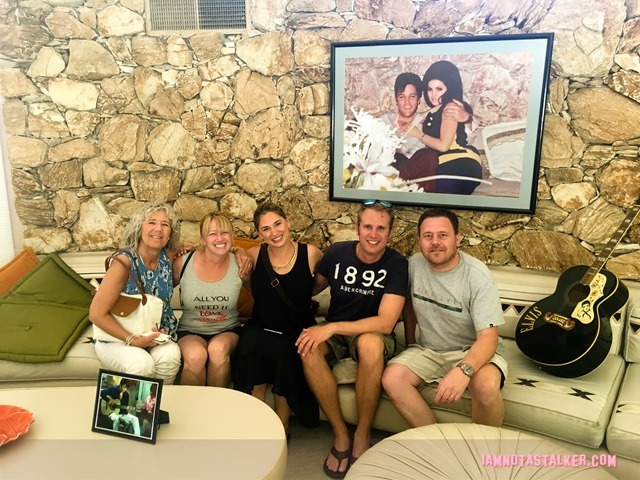 From there, visitors are led into the circular kitchen . . .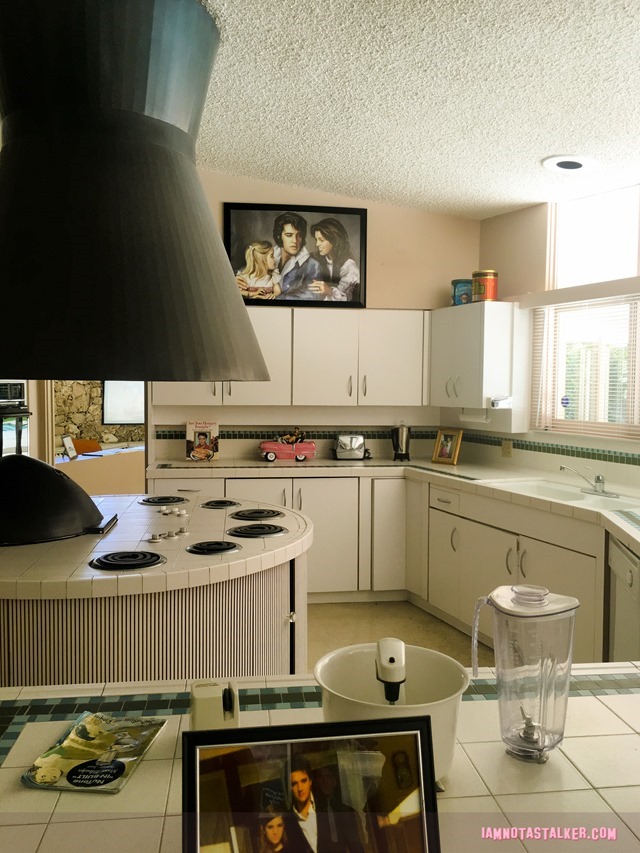 . . . which features a rounded stove –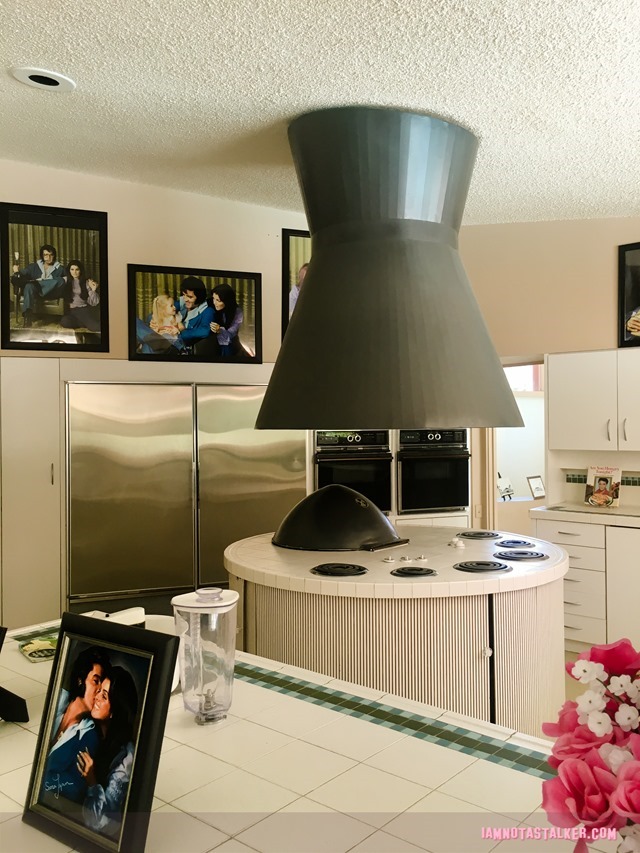 – a close-up of which you can see below;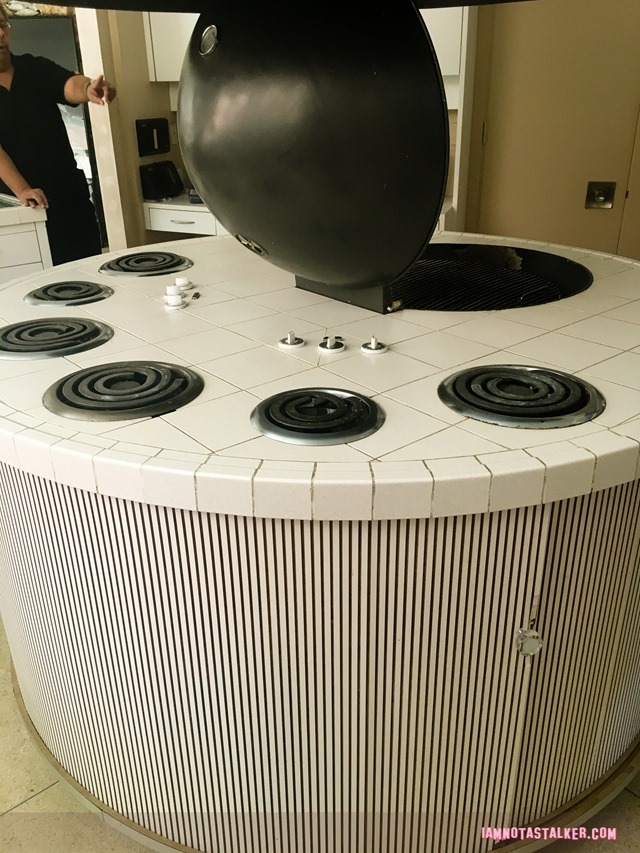 a massive fridge and two ovens;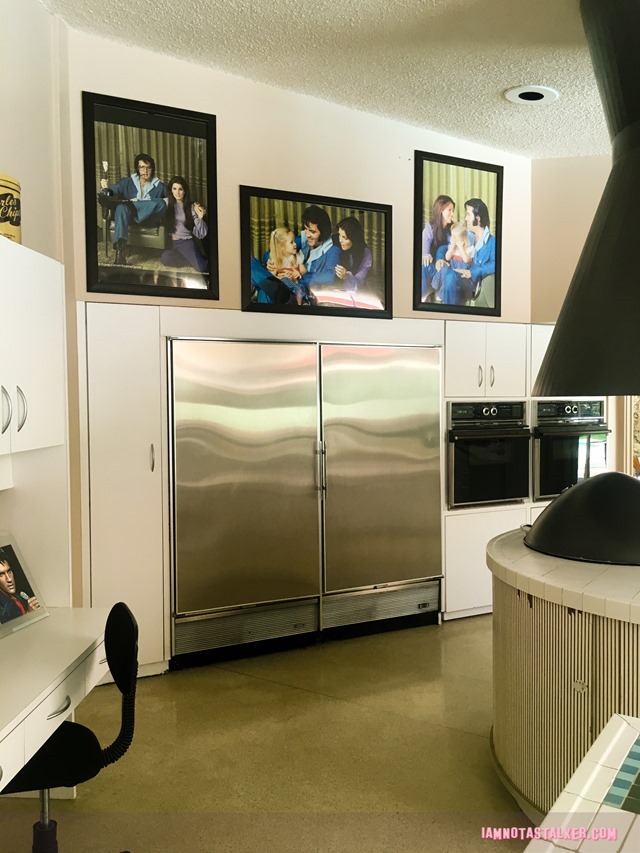 and an indoor BBQ (for those hot Palm Springs days when it is much too warm to do any outdoor grilling).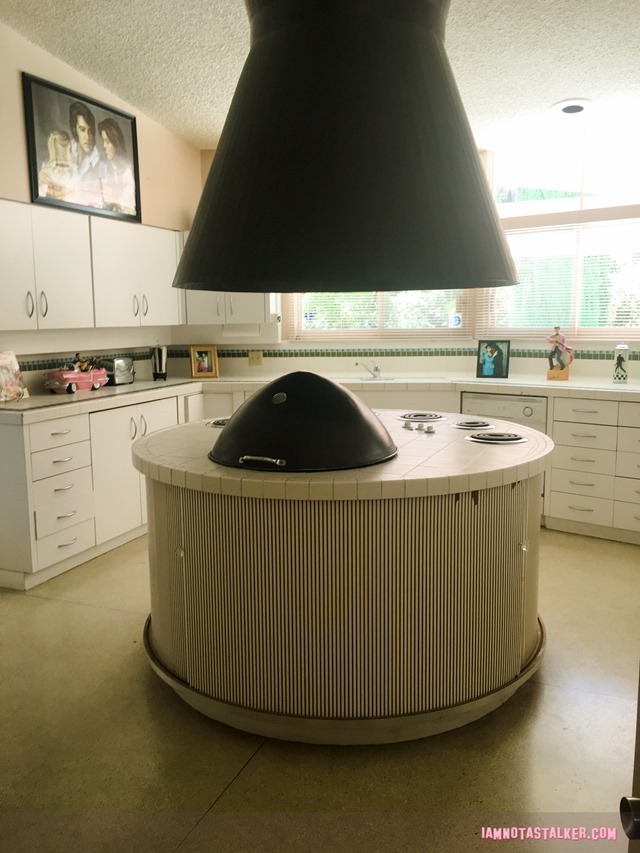 There it is open.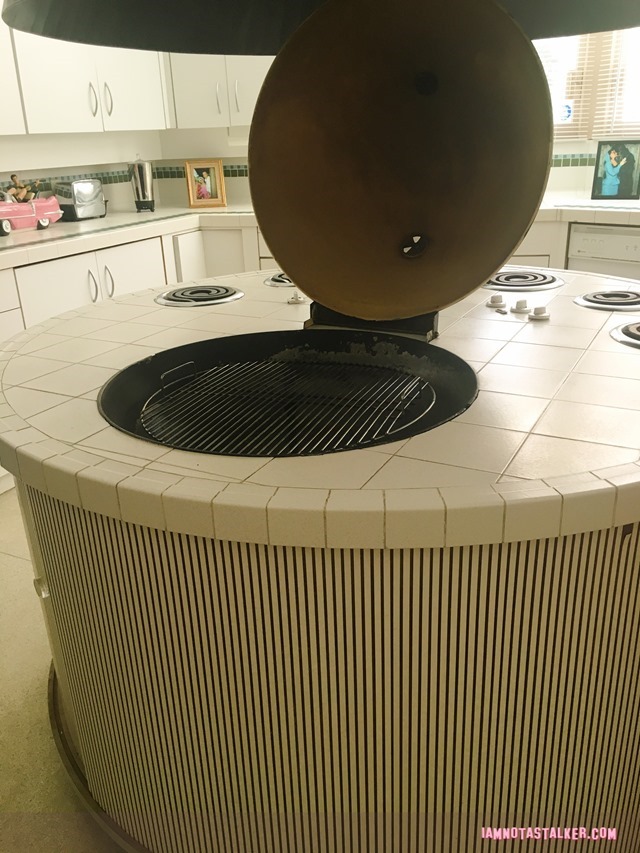 Visitors also get to check out the guest bathroom . . .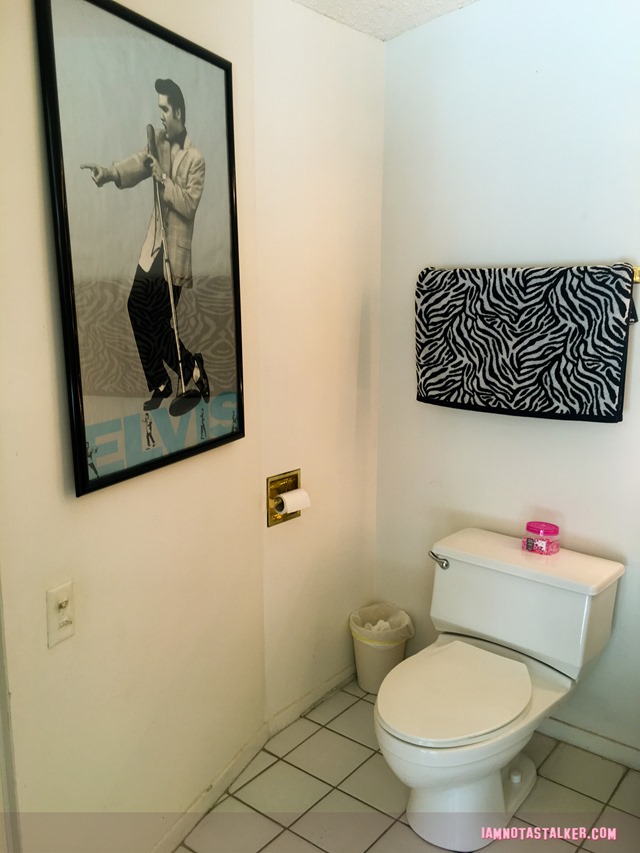 . . . which boasts a dressing-room-style mirror;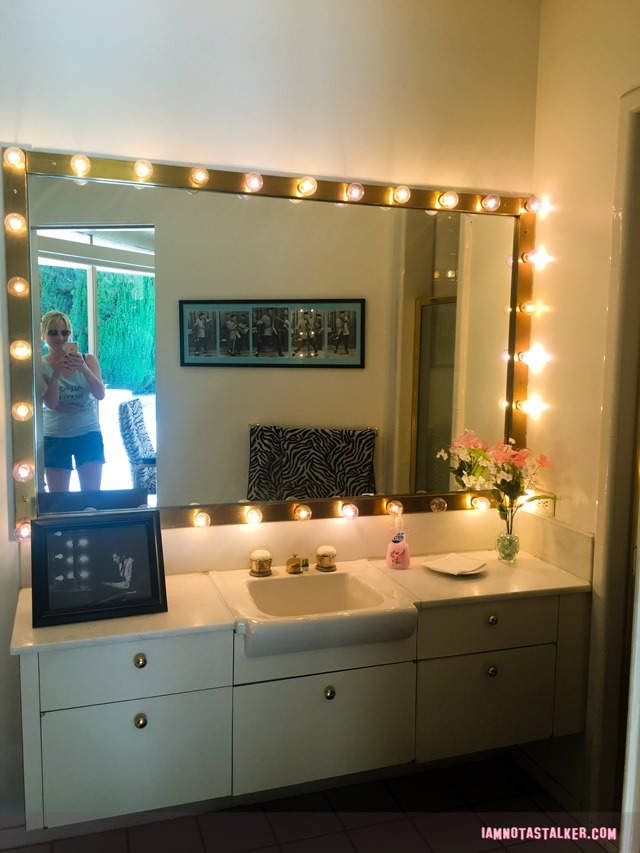 and a shower.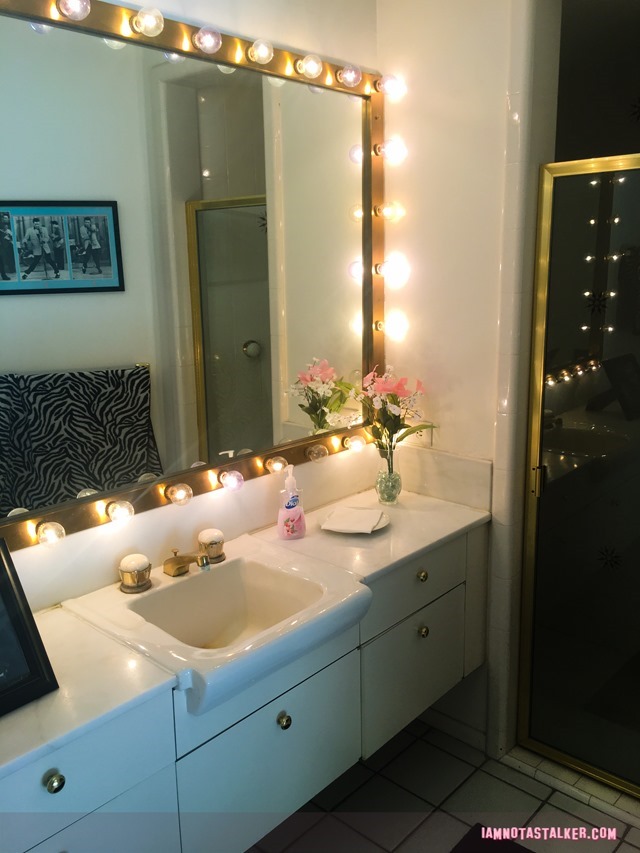 Obligatory Elvis bathroom selfie!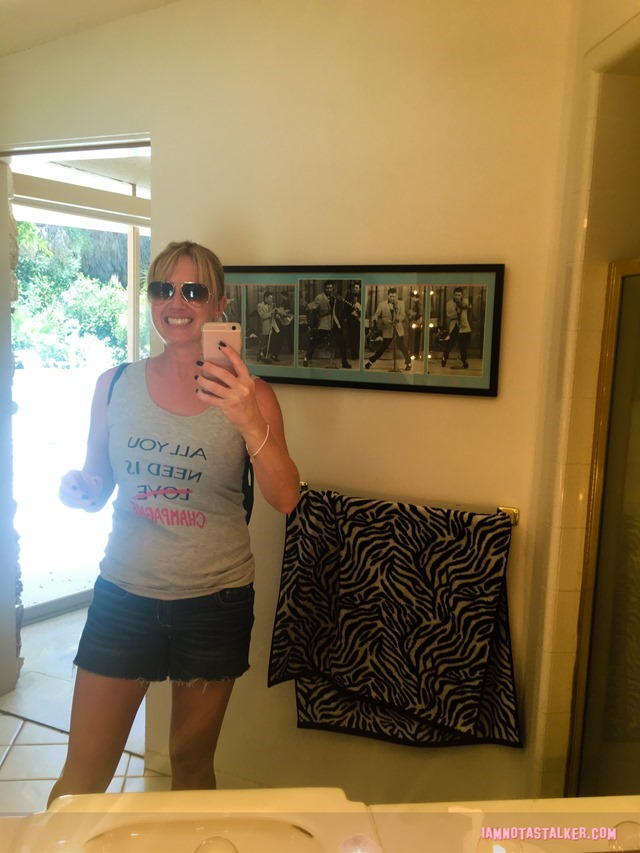 After passing through the jungle-themed sitting area . . .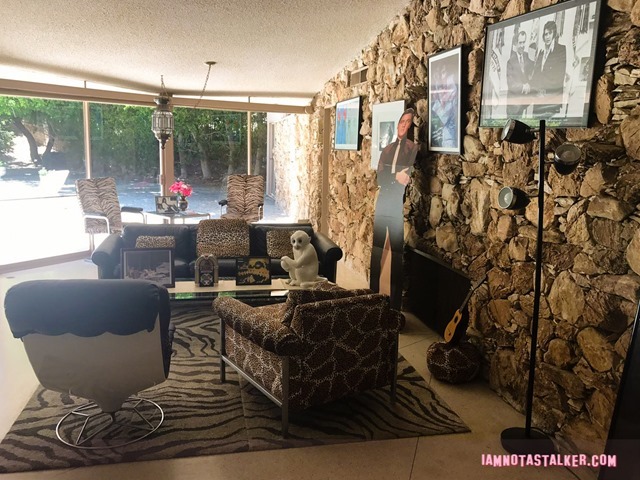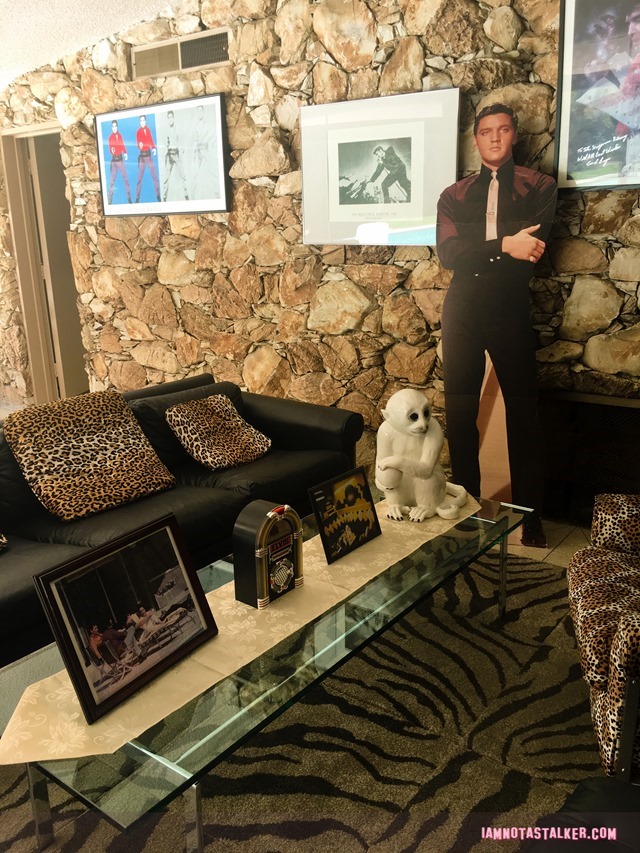 . . . visitors are led up the very stairs that Elvis carried Priscilla up the night of their wedding . . .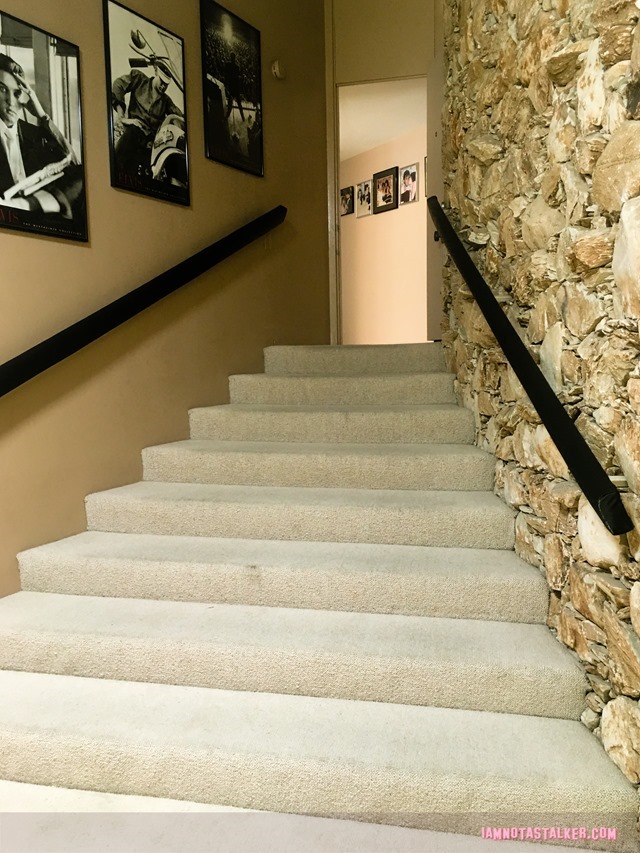 . . . and into the master bedroom, which is fabulous.
Because of the home's circular shape, regular photos just don't do it justice.

It is much better showcased via panorama pics.
None of the furniture or furnishings in the residence are off-limits to guests.  As was the case with the couch, visitors are invited to pose on Elvis and Priscilla's bed, which Steffi and I gladly did!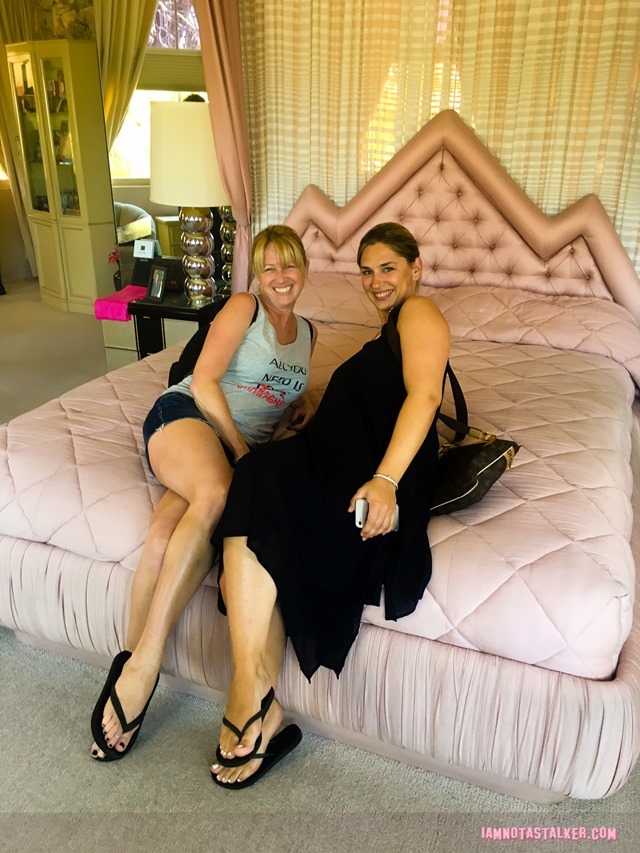 We also got to catch a glimpse of the master bath . . .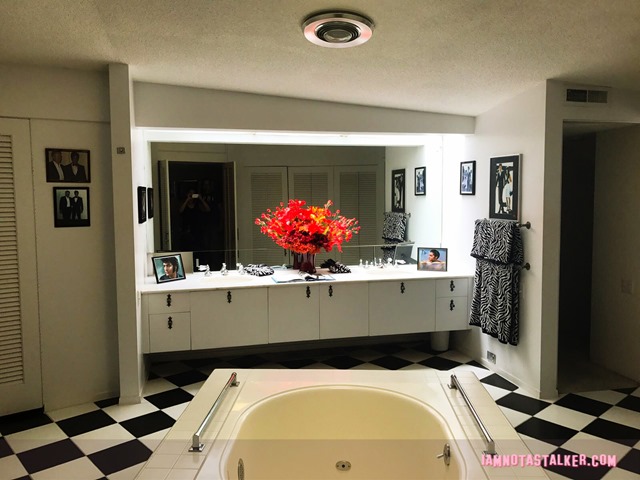 . . . which boasts a massive sunken tub . . .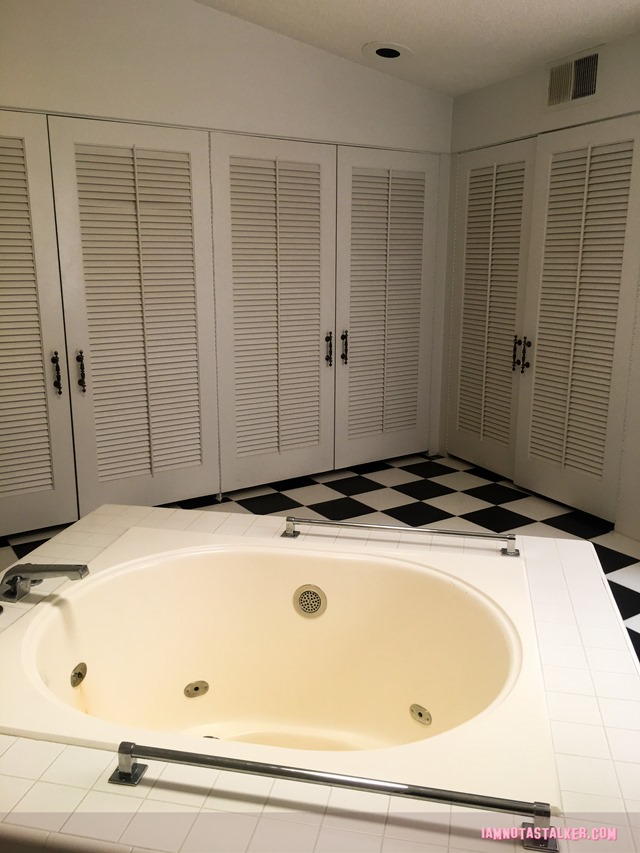 . . . as well as a built-in magazine rack and a bidet.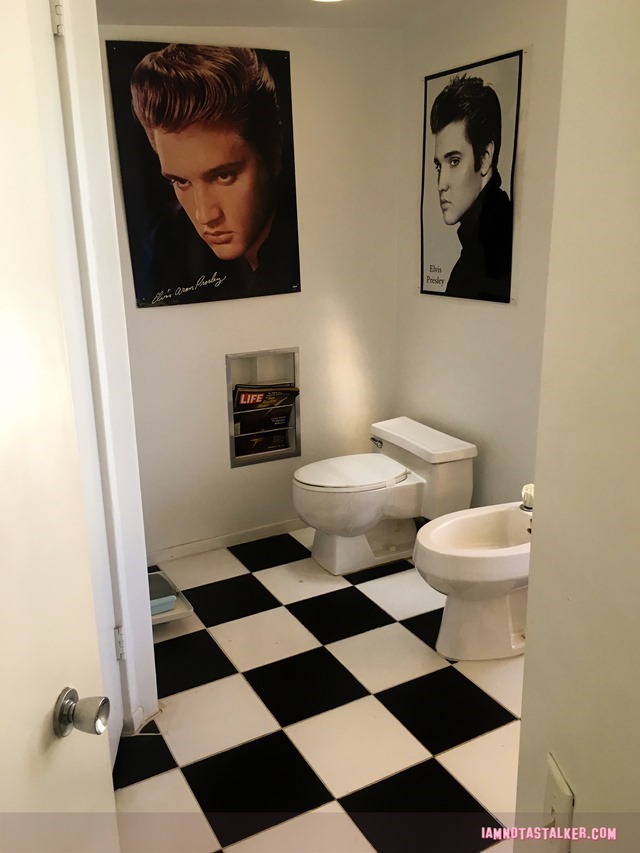 I honestly cannot recommend the Elvis Honeymoon Hideaway Tour more!  It's the perfect experience for fans of The King, those who want to catch a glimpse of the interior of a celebrity home, and architecture buffs alike.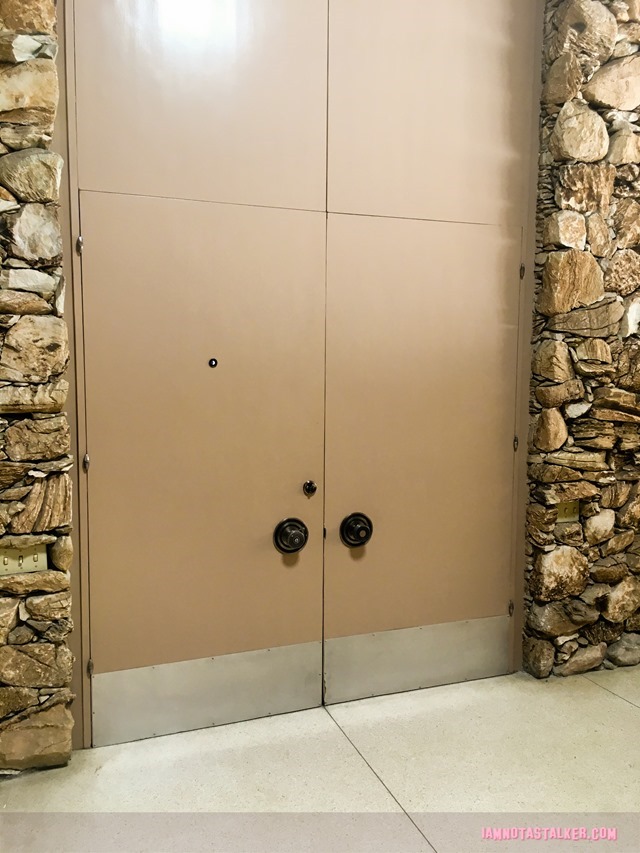 Sadly, the property is currently for sale, so I am not sure how long tours will be offered.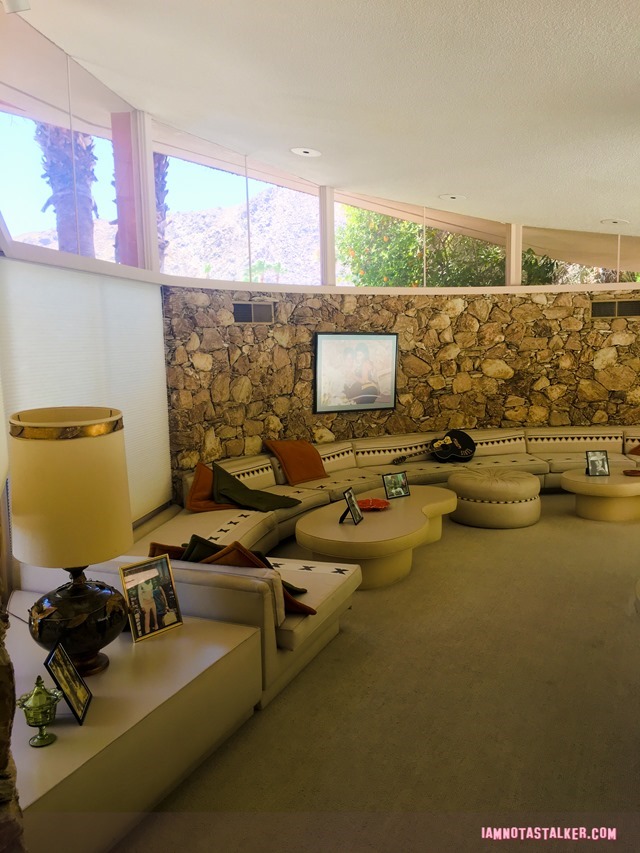 For those in the market for a new pad, the 4-bedroom, 5-bath, 4,695-square-foot property, which features a pool, a tennis court, gardens, a fruit orchard, and three parcels of land, can be yours for a cool $7 million.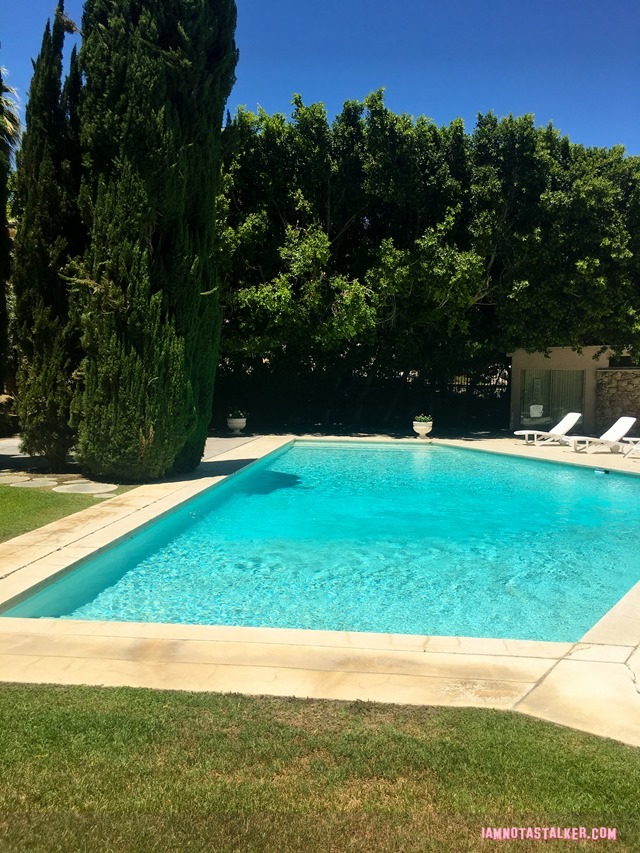 For more stalking fun, follow me on Facebook, Twitter, Instagram, Los Angeles magazine and Discover Los Angeles.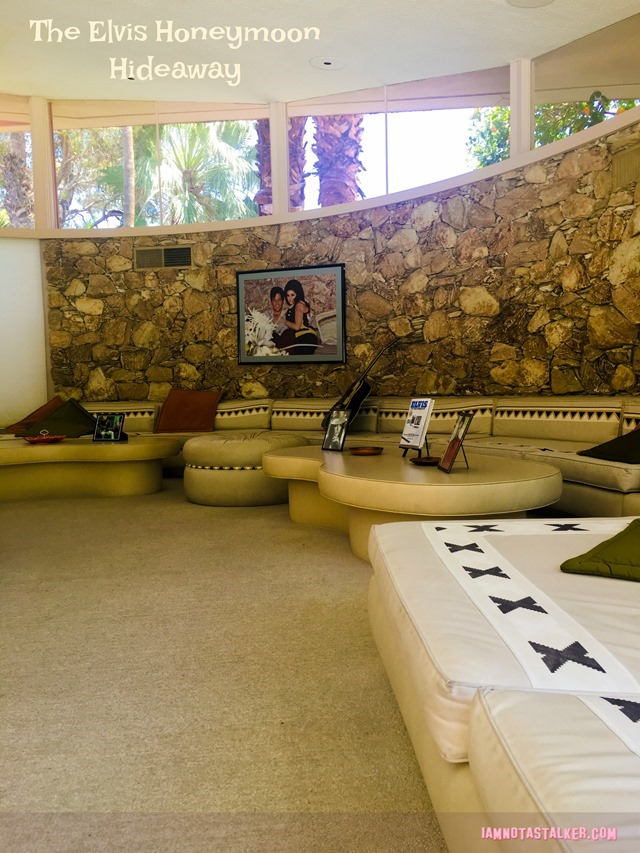 Until next time, Happy Stalking! 

Stalk It: The Elvis Honeymoon Hideaway is located at 1350 Ladera Circle in the Vista Las Palmas neighborhood of Palm Springs.  Tours are offered daily at 1 p.m. and 3:30 p.m. and cost $35 for adults and $15 for children under 12.  You can find out more information about the tour, as well as purchase tickets, here.
105652