Happy Trails Catering from "Big Little Lies"
Aug 14th, 2017 | By
Lindsay
| Category:
TV Locations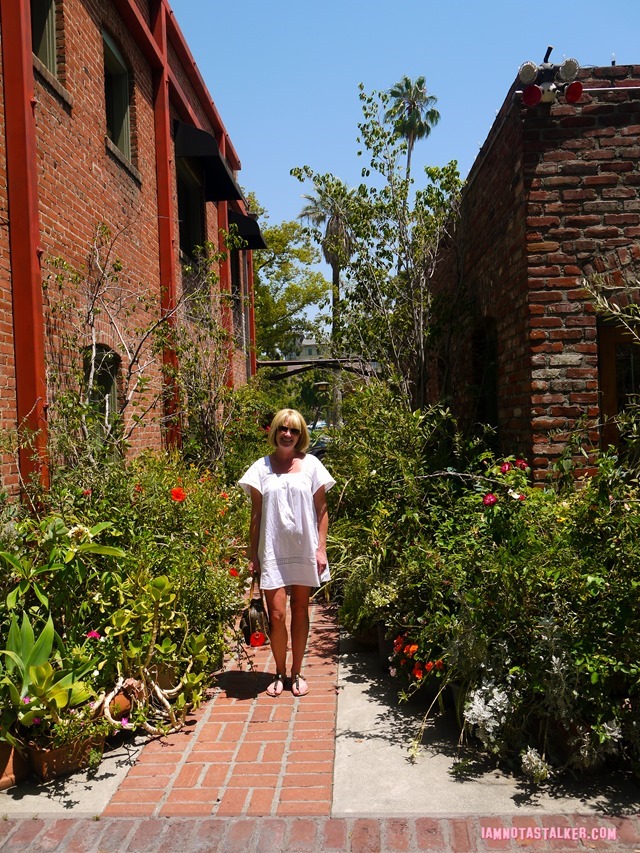 As you probably noticed, I was unexpectedly MIA for most of last week.  My dad had an experimental five-day procedure done at a hospital in Orange County, so my family and I spent the week by his side.  I fully intended to write new content while there, but the hospital Wi-Fi wasn't really amenable to that.  (What is it with hospital Wi-Fi, by the way?  I've literally never encountered one even halfway decent!)  But I am finally home and ready to get back to my regularly scheduled programming.  So, on with the post!  As someone who routinely plays tourist in my own town (wherever that happens to be), I counted myself an expert on Pasadena, the Southern California city I called home for more than 15 years.  One spot that remained a secret to me for almost a decade, though, was Happy Trails Catering, a bucolic special events site/café/garden located in Old Town.  My mom learned about the place while looking for L.A.-area wedding venues shortly after I got engaged in 2008 and, upon seeing photos of it online, told me we had to head out there pronto for a tour.  I was dazzled at what awaited us!  Situated just steps from the bustling sidewalk lining Fair Oaks Avenue, virtually hidden behind wooden entrance gates, is an absolutely charming garden positioned around a massive camphor tree.  While I did not wind up choosing to tie the knot on the premises (the Grim Cheaper and I instead got married at our good friends' house), Happy Trails made a definite impression.  So it is quite surprising that I did not recognize the place upon sight when it popped up on Big Little Lies earlier this year.  It wasn't until the property's third appearance on the HBO mini-series that I was actually able to identify it!
Happy Trails Catering was originally founded in 1986.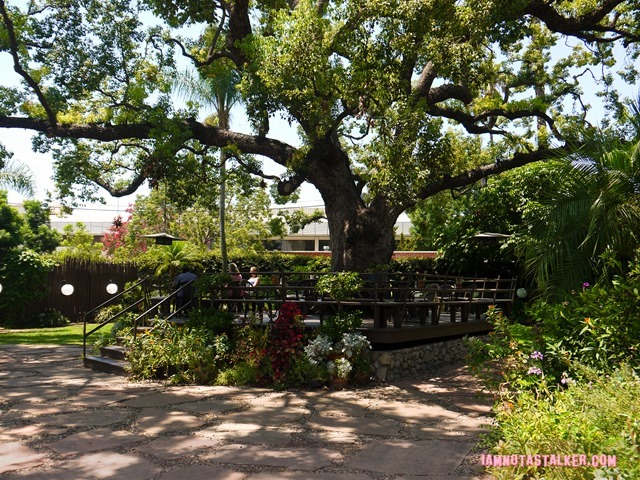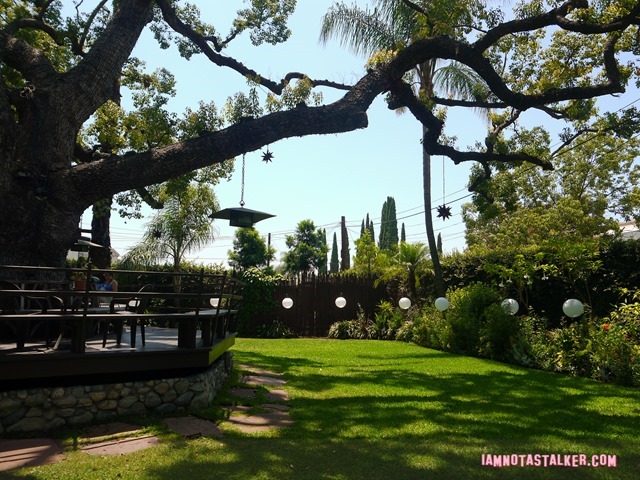 As its name suggests, the company mainly operates as a catering business, run out of a small brick storefront.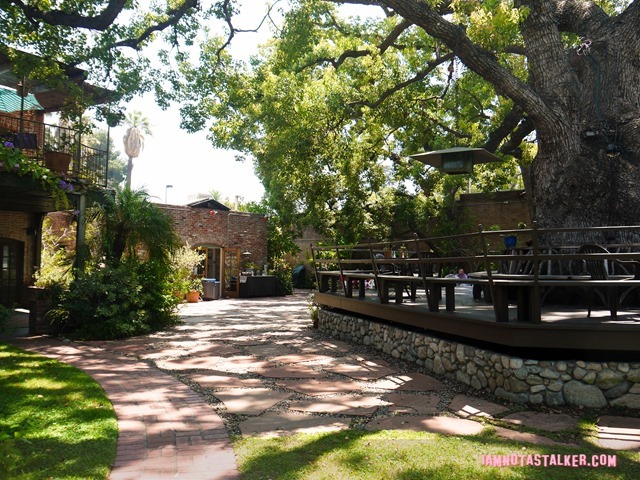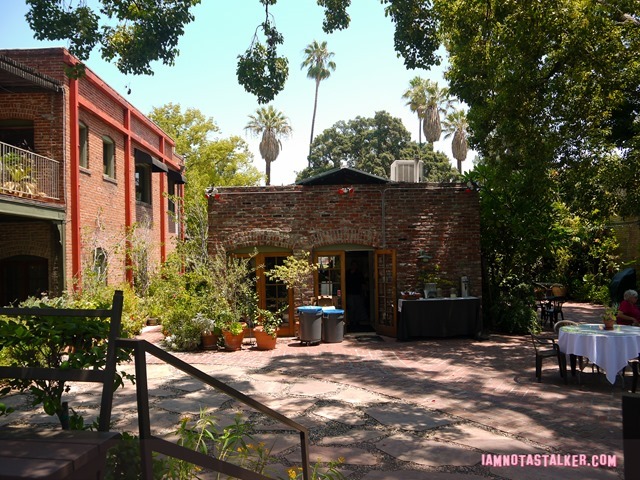 Situated next to that storefront is the entrance to the property's spectacular garden.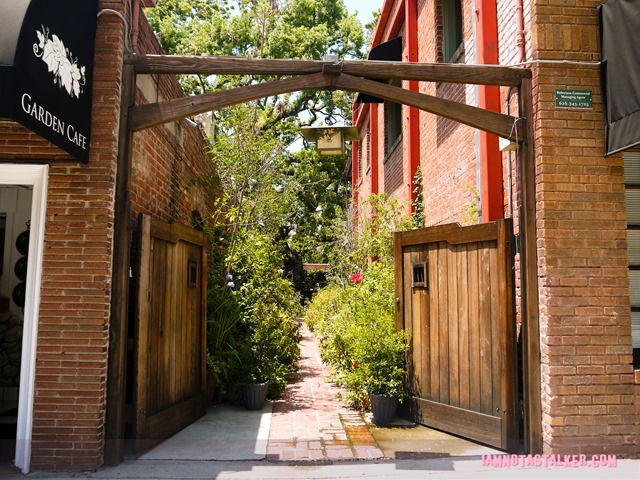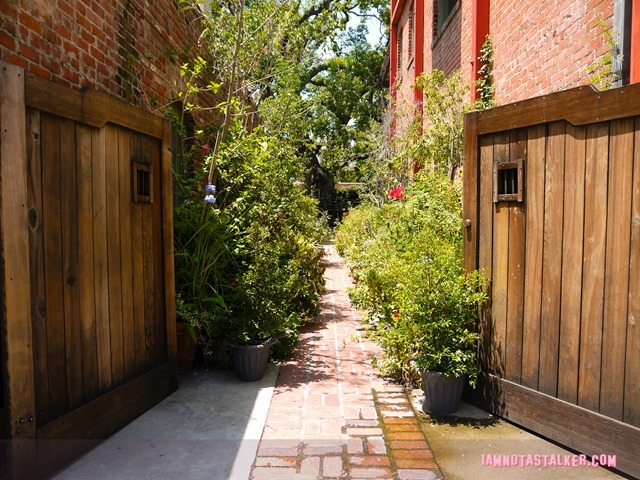 The pristine landscaped grounds serve as the company's onsite special events venue.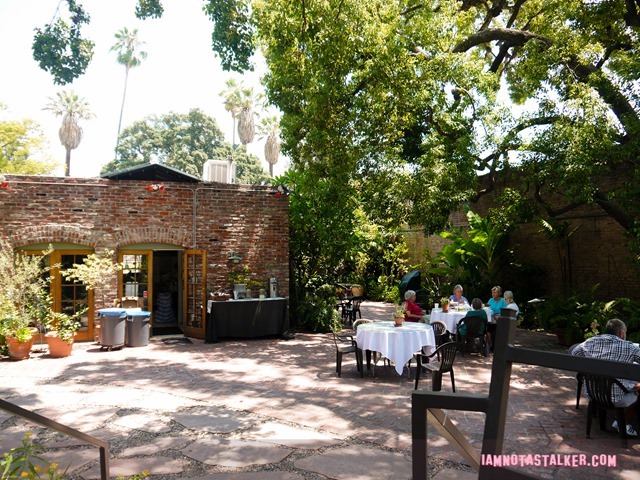 Thankfully, you don't have to be invited to a soiree on the premises to catch a glimpse of the peaceful idyll, though.  Each weekday from 11 a.m. to 2:30 p.m., the Happy Trails kitchen is transformed into a walk-up café open to the public.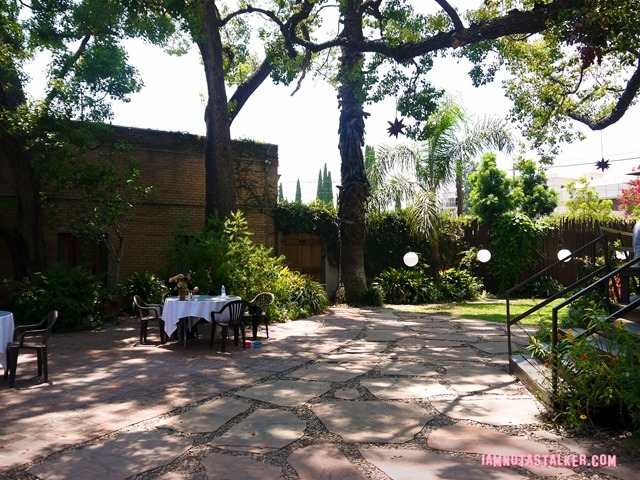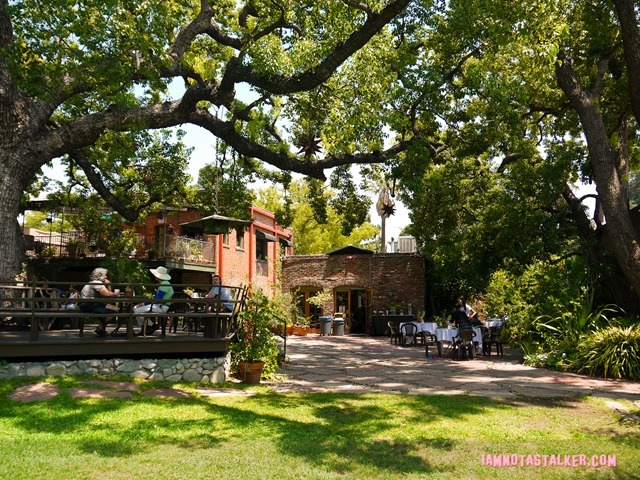 Patrons can grab one of the eatery's homemade soups, sandwiches, salads, or quiches . . .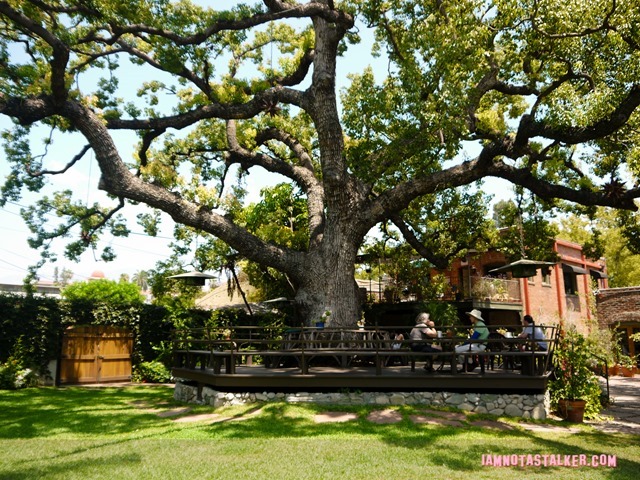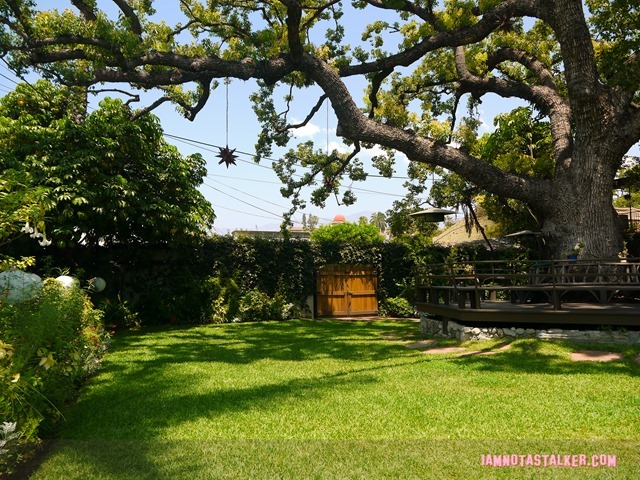 . . . and head outside to enjoy it in the garden under the canopy of the camphor tree.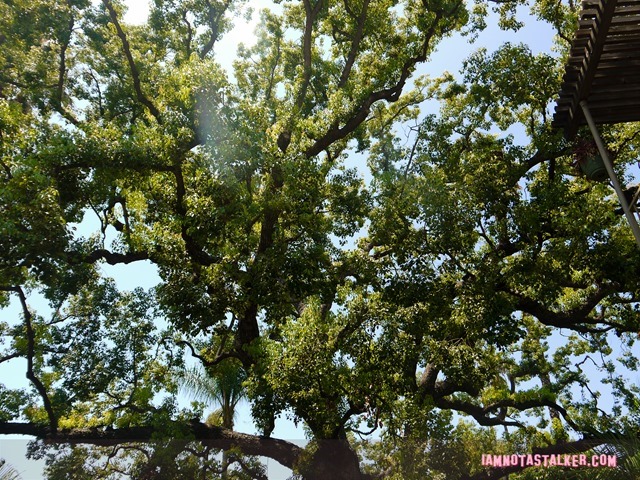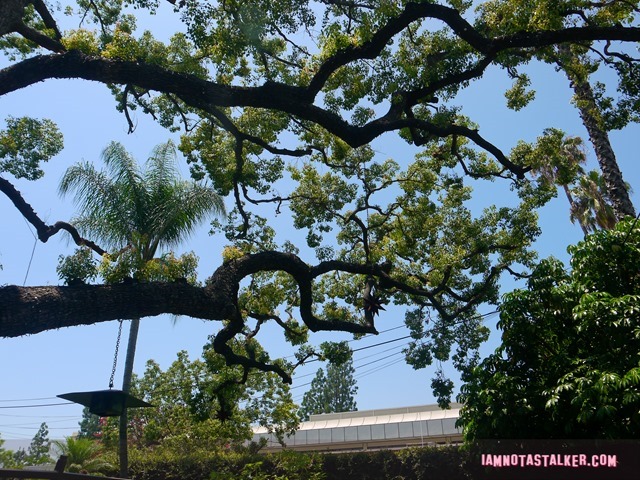 While Happy Trails is no-doubt one of the prettiest venues Pasadena has to offer . . .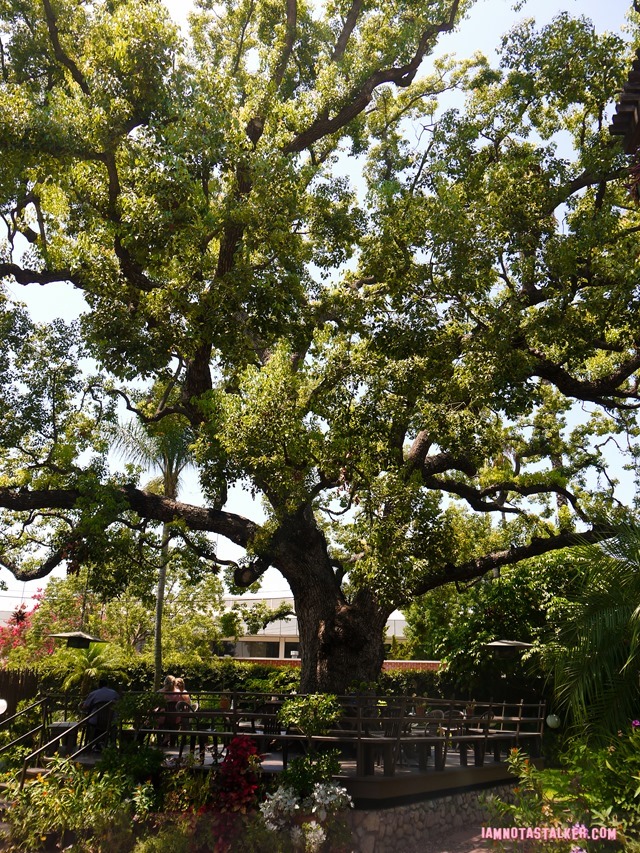 . . . the site is just as well-known for its fare.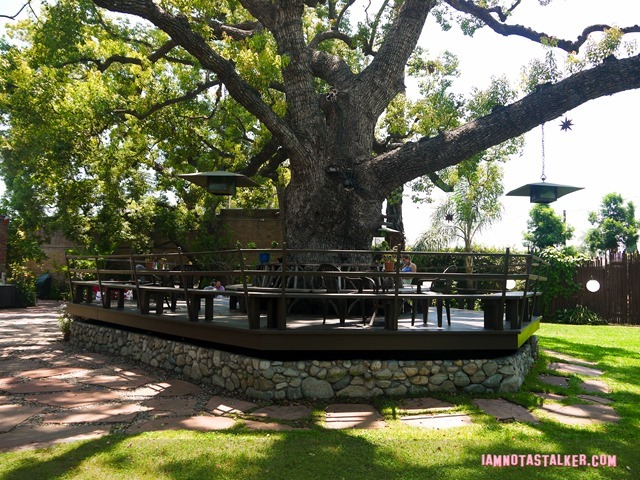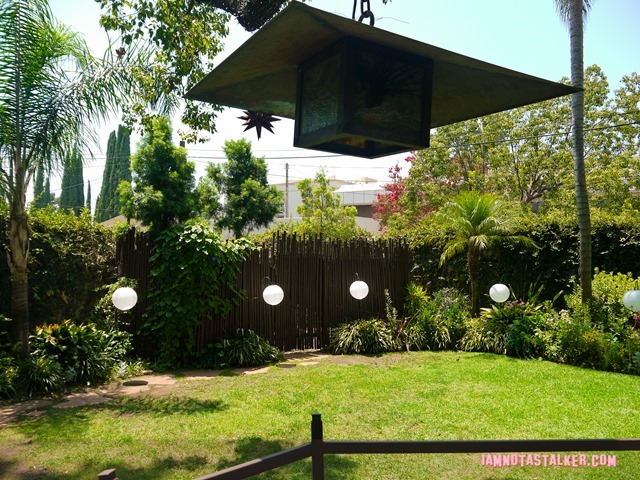 Though my mom and I didn't sample any of Happy Trails' offerings the day we toured the place, the GC and I stopped by the café recently for lunch and were thoroughly impressed.  The Sage Roasted Turkey Breast Sandwich is honestly one of the best sandwiches I've ever had.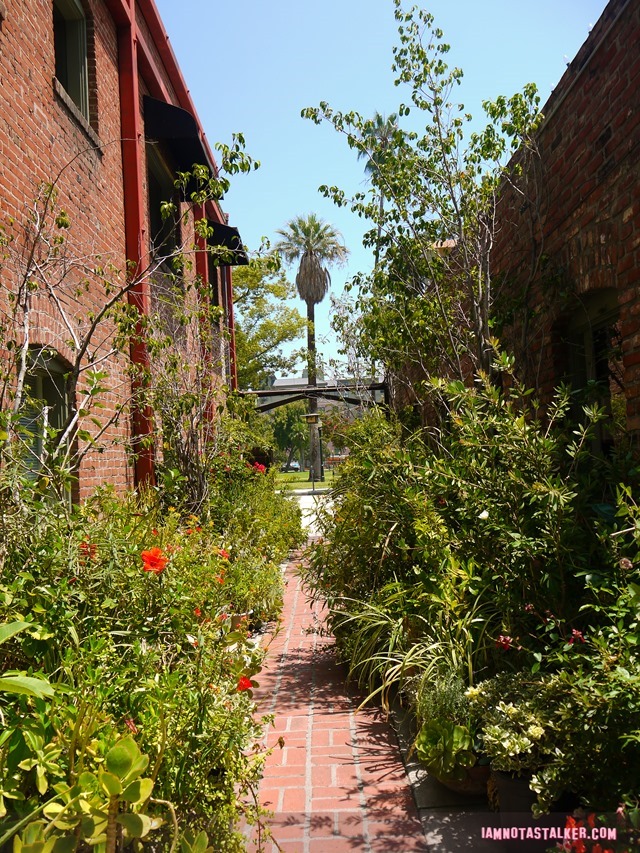 Happy Trails Catering was featured three times on Big Little Lies.  It first showed up in the episode titled "Serious Mothering" as the supposed Monterey-area spot where Celeste Wright (Nicole Kidman) and Madeline Martha Mackenzie (Reese Witherspoon) discussed their sex lives over cocktails, before being interrupted by their frenemy Renata Klein (Laura Dern).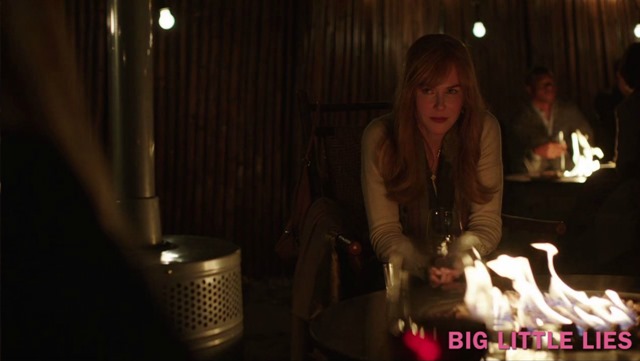 The site was significantly dressed for the scene, with lounge areas, fire pits and outdoor heaters spaced throughout the garden, which is why I did not recognize it.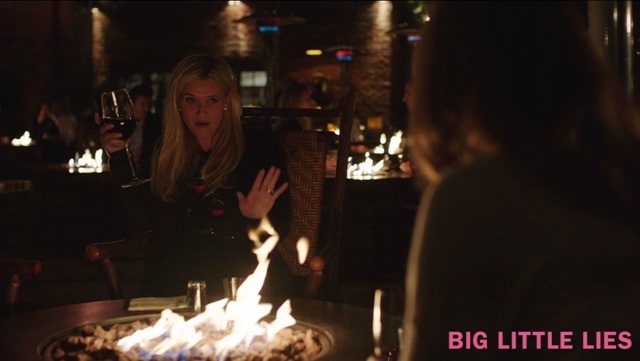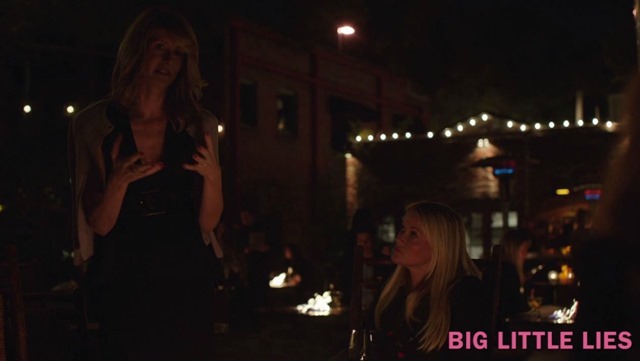 Happy Trails then popped up twice in the episode titled "Push Comes to Shove" – first as the restaurant where Madeline and her ex-husband, Nathan Carlson (James Tupper), met to talk about co-parenting their teenage daughter, Abigail (Kathryn Newton).  Though the property's camphor tree was visible in the scene, I am ashamed to say that I still did not recognize the place!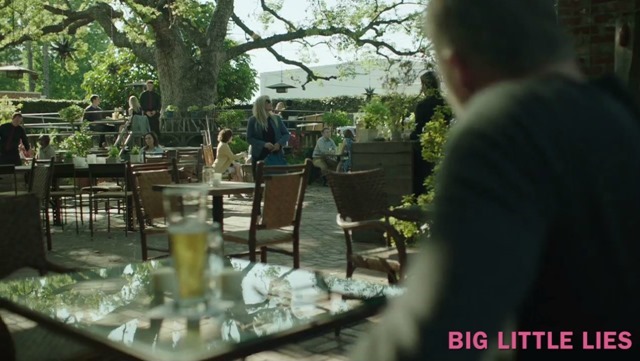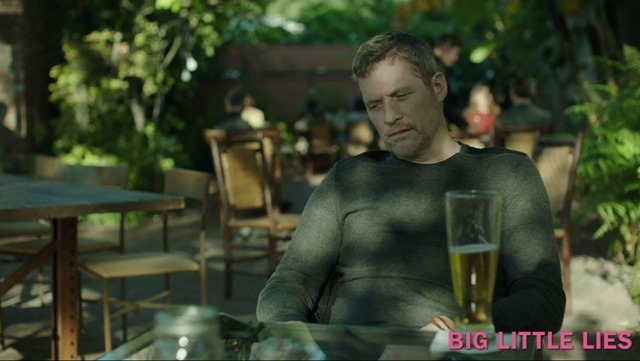 Later in the episode, Jane Chapman (Shailene Woodley) meets up with Ms. Barnes (Virginia Kull) at the eatery to discuss whether or not her son, Ziggy (Iain Armitage), is bullying a fellow student.  While watching the scene, I spotted Happy Trails' rear barn doors behind the two women and placed them immediately.  It was definitely a facepalm moment.  I cannot believe it took three scenes for me to identify the locale!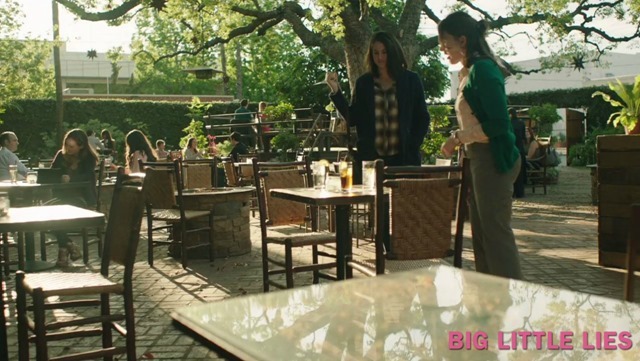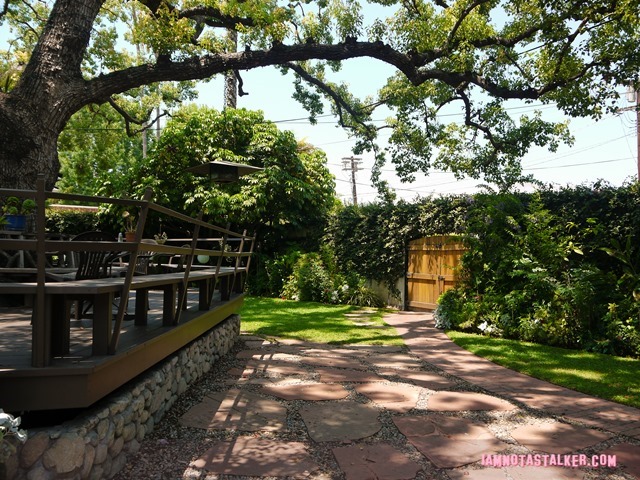 It is not hard to see why Happy Trails was chosen to appear on Big Little Lies.  The site is extremely reminiscent of Hog's Breath Inn, the popular Carmel restaurant that was originally founded in 1972 by none other than Clint Eastwood.  Fun fact – when the actor wanted to expand the eatery in 1986, he encountered quite a bit of bureaucratic red tape.  He was so frustrated by the situation that he wound up running for mayor so that he could make some policy changes.  His run was successful and Eastwood served as Carmel's mayor for the next two years.  Though he sold his interest in the Hog's Breath Inn in 1999, the restaurant is still in operation today and looks much the same as it did during Clint's tenure.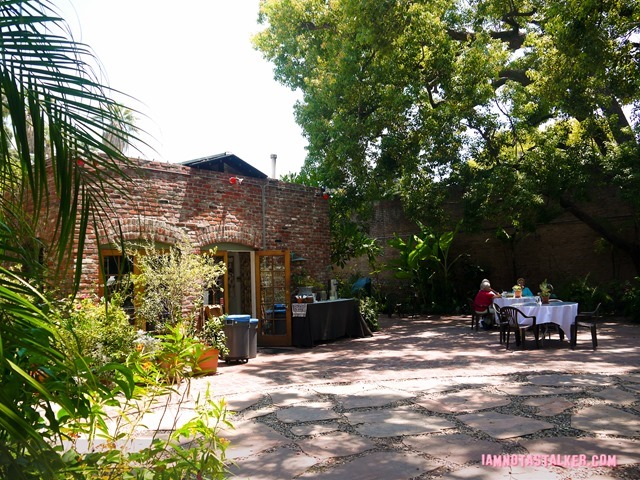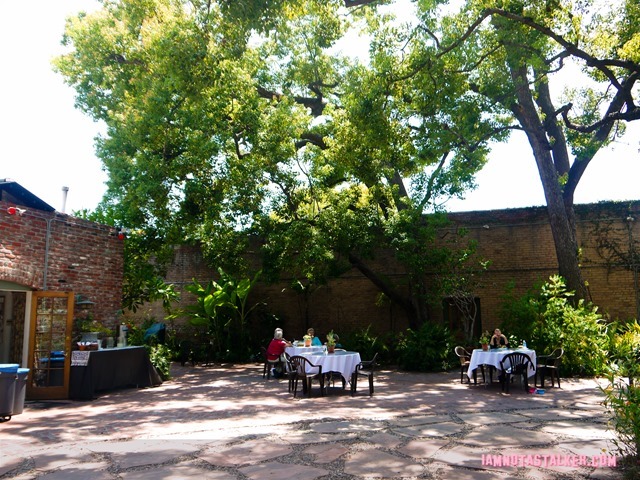 Sadly, the other main restaurant featured on Big Little Lies is not accessible to the public.  Blue Blues, the supposed Fisherman's Wharf café where Madeline, Jane and Celeste regularly hung out, was nothing more than a studio-built set located inside of a soundstage.  Quite a bit of misinformation about the location seems to floating around online, though.  Several sources state that Paluca Trattoria, located at 6 Old Fisherman's Wharf, masked as Blue Blues on the series.  Heck, even Paluca Trattoria's official website makes that claim.  While the restaurant is situated in the same area of the wharf that Blue Blue's was purported to be, no actual filming took place there.  Not only is it obvious when looking at images of Paluca Trattoria in comparison to screen captures of Blue Blues that the two places are not one and the same, but production designer John Paino confirmed the matter in a February 2017 New York Post article, stating "We made the whole thing on a stage, and the background is digitally dropped in."  It is not hard to see why audiences were fooled, though.  The café does look incredibly realistic, as you can see below.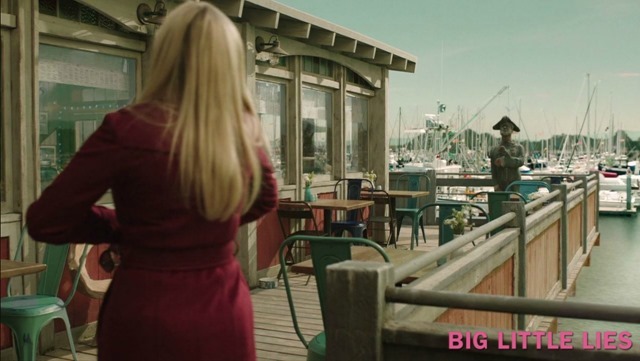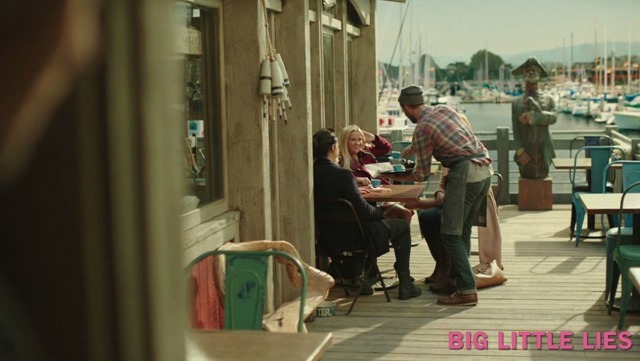 For more stalking fun, follow me on Facebook, Twitter, Instagram, Los Angeles magazine and Discover Los Angeles.
Until next time, Happy Stalking! 

Stalk It: Happy Trails Catering, aka the restaurant from Big Little Lies, is located at 207 South Fair Oaks Avenue in Pasadena.  You can visit the eatery's official website here.  The café and garden are only open Monday through Friday from 11 a.m. to 2:30 p.m., so plan accordingly.
106766