Community Church at Holliston from "That Thing You Do!"
Sep 13th, 2017 | By
Lindsay
| Category:
Movie Locations
Many moons ago, around the time I first moved to Los Angeles in early 2000, the Pasadena Historical Society hosted a special exhibition about filming in the area.  I, of course, attended and, along with learning that Dylan McKay's (Luke Perry) house from Beverly Hills, 90210 was located just down the street from Casa Walsh, I also gleaned that fave movie That Thing You Do! had been lensed at two Crown City locales – the now largely defunct Ambassador College (at 131 South St. John Avenue) and the Holliston Avenue Methodist Church, now Community Church at Holliston (at 1305 East Colorado Boulevard).  Though I visited both sites many times over the years, I have somehow never done a blog on either.  So I figured it was time to change that.  A write-up on Ambassador College will be coming soon, but today I thought I'd cover the Community Church.
Community Church at Holliston has an interesting history – one that involves a move.  Yes, the structure was actually moved from one location to another.  But more on that in a bit.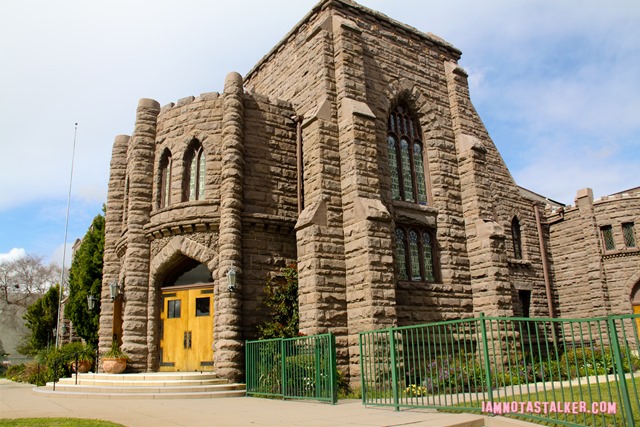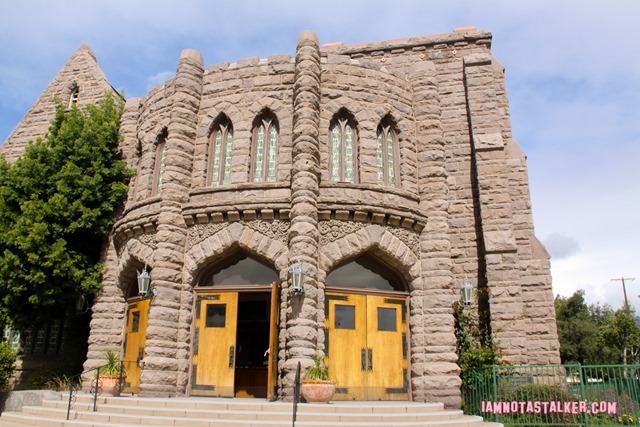 The parish was originally built in 1887 at the southeast corner of East Colorado Boulevard and South Marengo Avenue (where the Pacific Southwest Trust & Savings Bank building stands today).  The Gothic-style structure, then known as the First Methodist Episcopal Church, was razed after its tower and roof were blown off during a bad storm in 1891.  A replacement church was subsequently constructed on the site in 1901.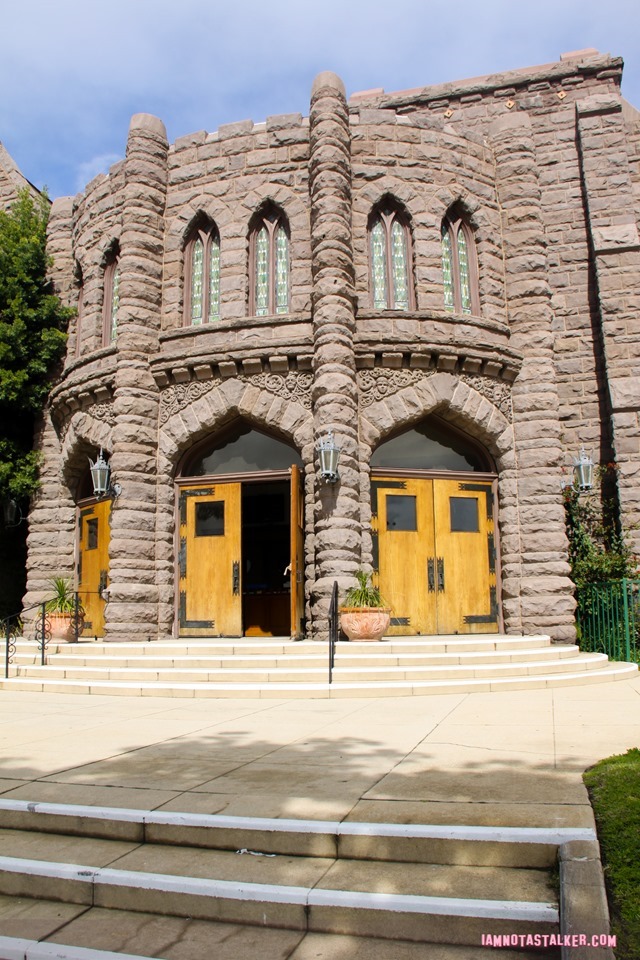 The new church, Richardsonian Romanesque in style, was designed by architect John C. Austin, who was also responsible for giving us the Theodore Groene/Bahn Jewelry Store building in Ventura and the Griffith Observatory in Griffith Park.  You can see photos of the church during its early days here, here, and here.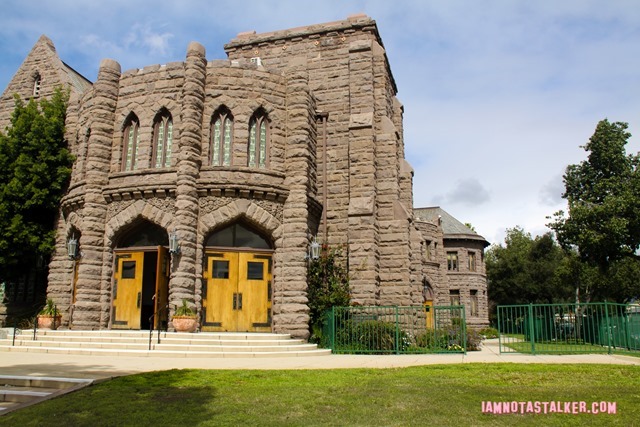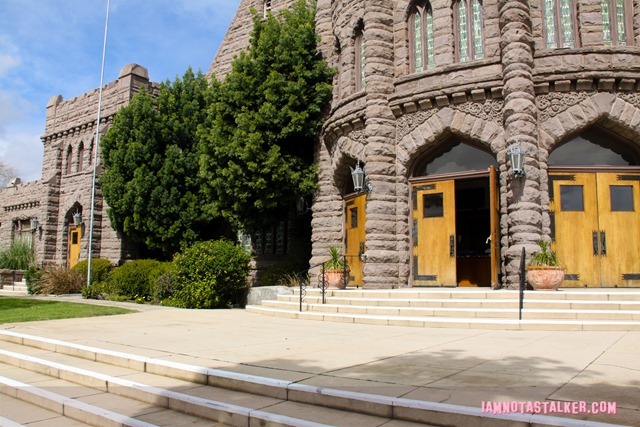 In 1923, it was decided that the congregation needed more land and a larger worship space, so the First Methodist Episcopal Church was taken apart – literally – and moved piece by piece to its current location at the corner of East Colorado Boulevard and South Holliston Avenue, where it was rebuilt with a few alterations.  It re-opened to the public in December 1924.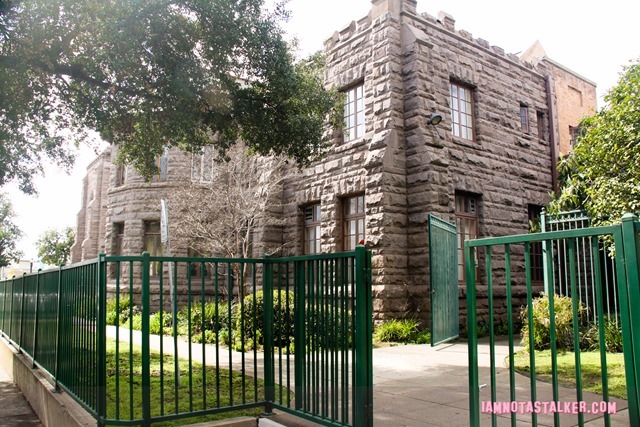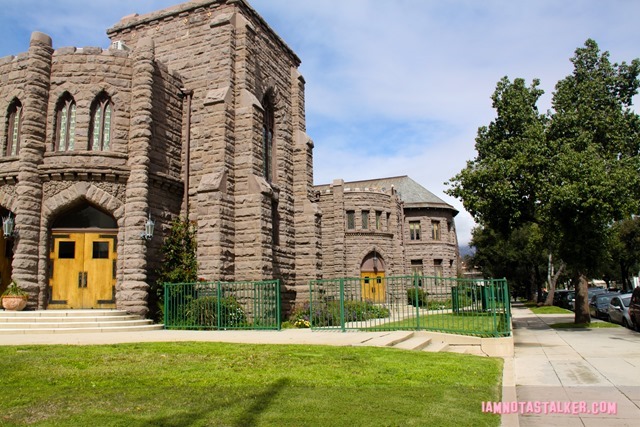 The sanctuary boasts a façade consisting of Sespe-covered-bricks which, along with the gothic-style windows, apses, and crenelated roofline, gives the church a very castle-like appearance.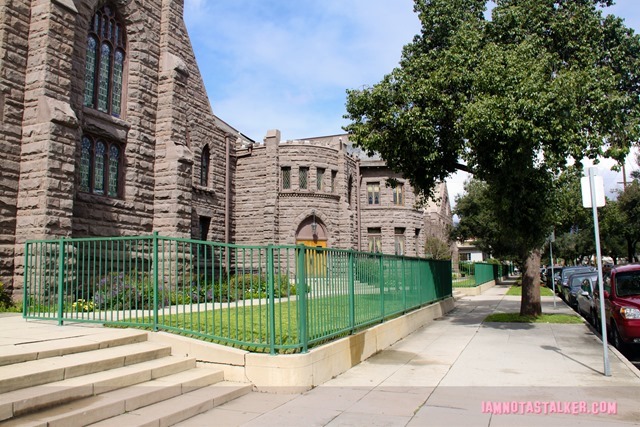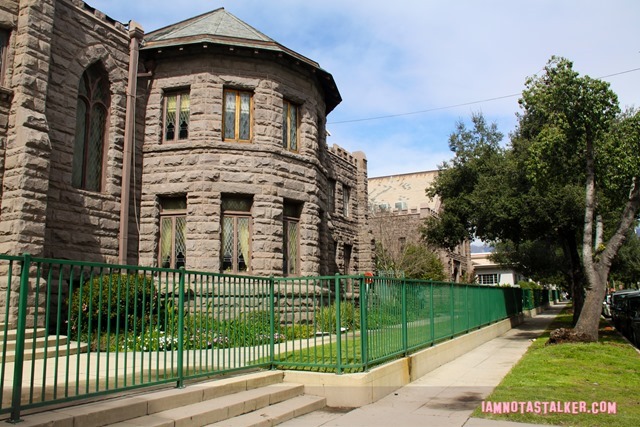 The large inner courtyard is especially reminiscent of a castle.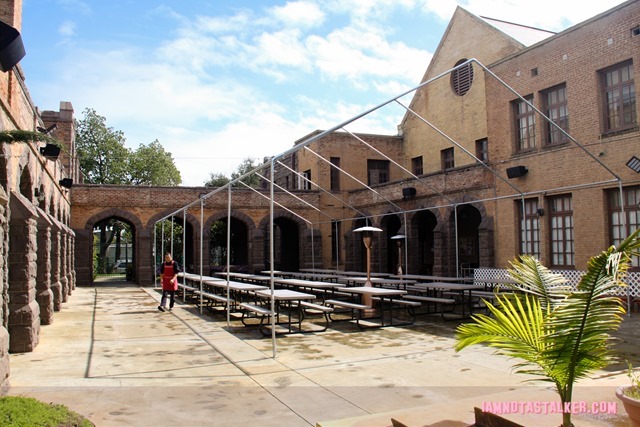 The parish has undergone several name changes over the years, becoming Holliston Avenue Methodist Church, then Holliston Church, and finally Community Church at Holliston, as it is known today.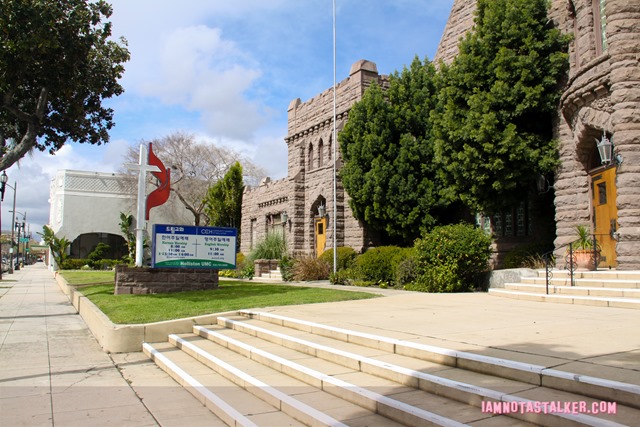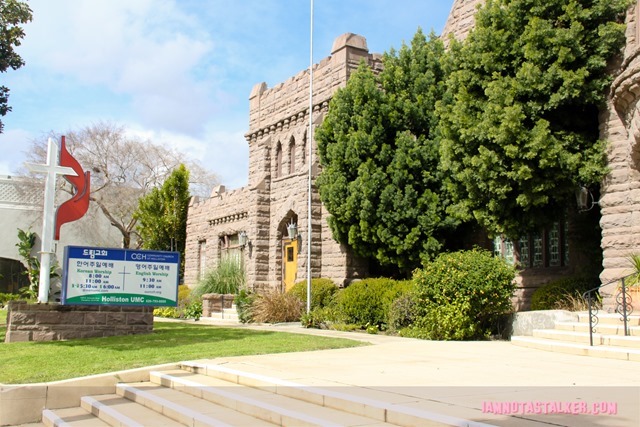 In That Thing You Do!, the Community Church at Holliston was the spot where The Oneders recorded their first single, for their soon-to-be-hit song "That Thing You Do."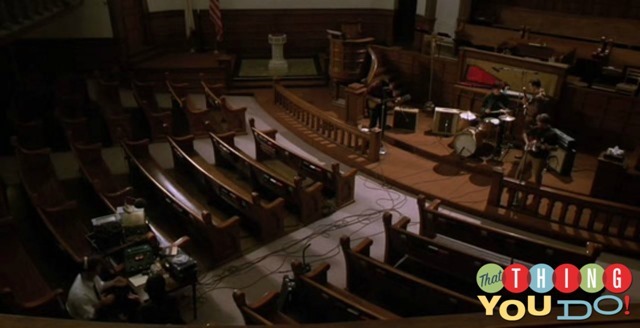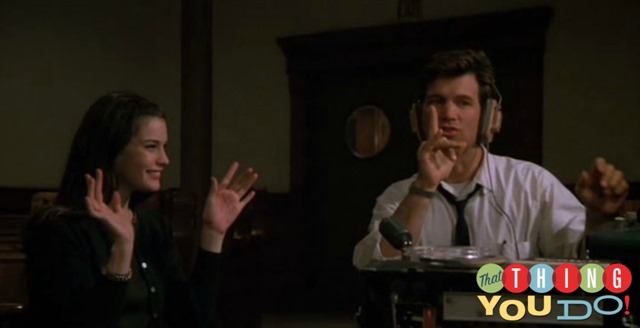 The reason their inaugural record was laid down in a church?  That's all thanks to Guy Patterson (Tom Everett Scott).  When the idea of recording an album first comes up, Guy informs the group that he has a relative in the record industry.  Well, sort of.  As Lenny Haise (Steve Zahn) explains, Guy's uncle, Uncle Bob (Chris Isaak), "records church music, choirs, favorite sermons, stuff my mom listens to."  Uncle Bob does indeed help The Oneders, though, recording their first single in what is supposedly a locale Eerie, Pennsylvania church.  In the scene, you can see the sanctuary's E.M. Skinner pipe organ.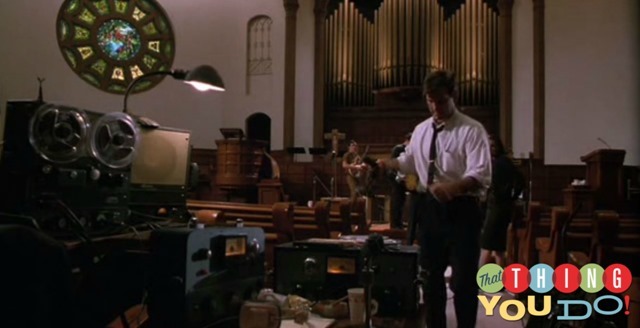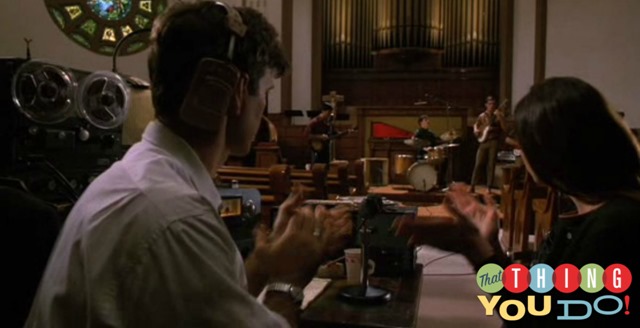 Sadly, when we showed up to stalk the church, mass had just ended and the interior was packed with people.  Though we did get to see the inside, I did not snap any photographs of it due to the crowds.  I was able to take pictures of the courtyard area, though, thankfully.  You can check out some images of the Community Church at Holliston's interior here.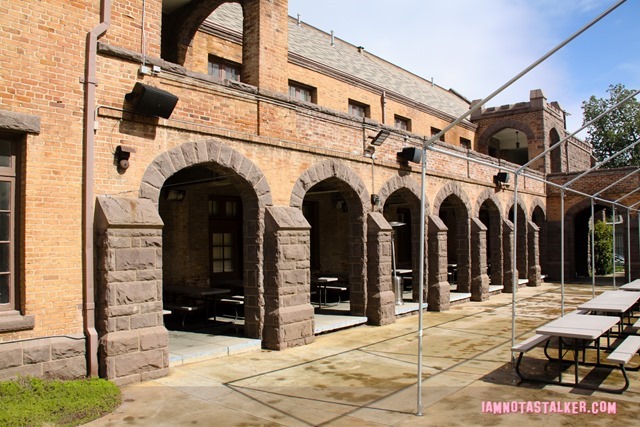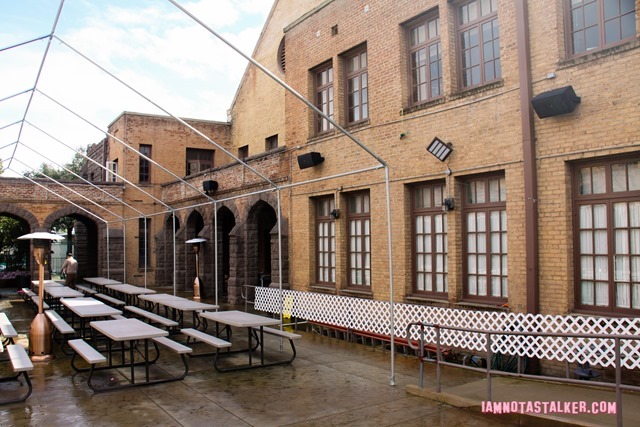 I used to live not far from Community Church and happened upon the filming of a Cold Case episode on the premises one day.  Or actually, episodes.  The locale appeared in Season 6's special two-parter, titled "The Long Blue Line" and "Into the Blue," both of which aired in 2009.  For the shoot, the church was transformed into the Pennsylvania Military Institute.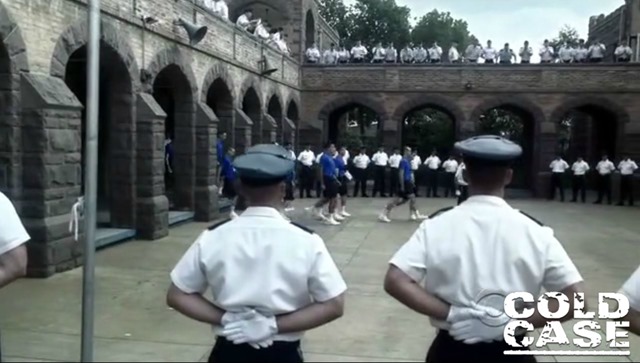 Though I couldn't venture onto the property to watch the filming, I could see a few of the courtyard scenes being shot from the street, all of which involved military formations and marching.  It could not have been more cool to witness!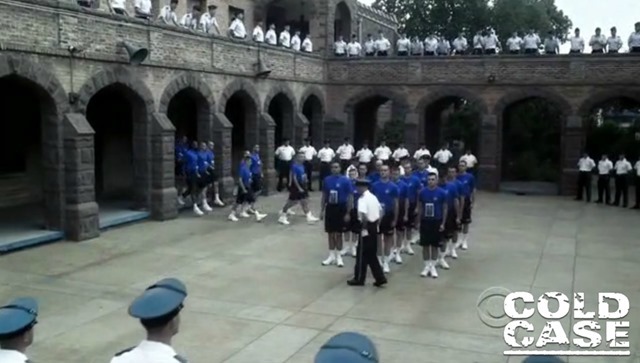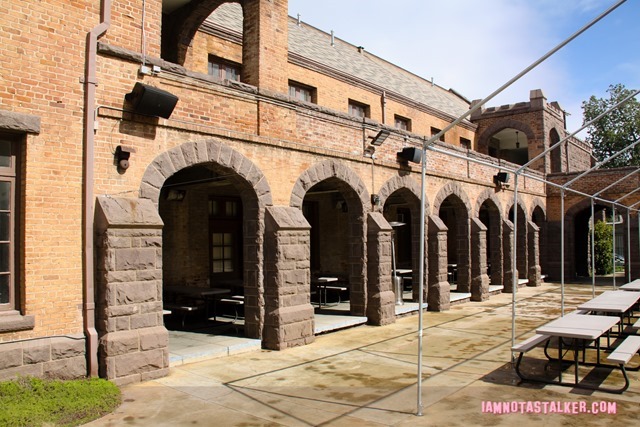 For more stalking fun, follow me on Facebook, Twitter, Instagram, Los Angeles magazine and Discover Los Angeles.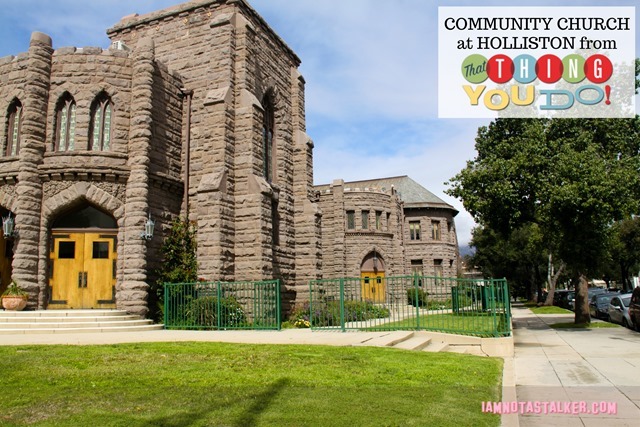 Until next time, Happy Stalking! 

Stalk It: The Community Church at Holliston, from that Thing Thing You Do!, is located at 1305 East Colorado Boulevard in Pasadena.
107473