Bette Davis' House from "Feud"
Sep 29th, 2017 | By
Lindsay
| Category:
TV Locations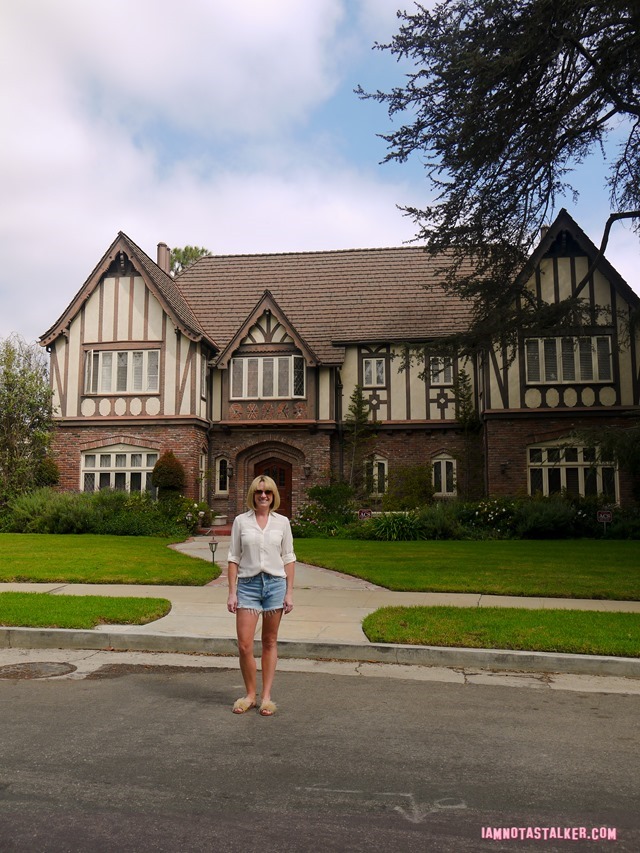 My favorite Big Little Lies quote belongs to Madeline Martha Mackenzie (Reese Witherspoon), who, in response to Celeste Wright (Nicole Kidman) advising her to let something go, quips, "I love my grudges.  I tend to them like little pets."  A woman after my own heart, I swear!  Oh yes, I am a definite grudge-holder.  So I really should have loved Ryan Murphy's 2017 anthology series Feud, the first season of which detailed the longtime rivalry between actresses Bette Davis and Joan Crawford (played by Susan Sarandon and Jessica Lange, respectively).  The show just didn't grab me, though.  Not in the way that American Crime Story: The People v. O.J. Simpson, Murphy's other recent anthology series, did.  Don't get me wrong – it's not that I didn't like Feud.  I avidly watched all eight episodes and thoroughly enjoyed their historical nature, as well as the period costumes and elaborate (and extremely accurate) sets.  But more often than not, the storyline seemed lacking and I kept finding myself feeling bored.  I did have a massive fondness for the series' locations, though, namely the grand Tudor that Bette called home.  So when a fellow stalker named AB emailed me the pad's address a few months back, I immediately jotted it down and couldn't have been more excited when I finally made it out to Cheviot Hills to see it in person it last week.
Bette's sprawling mansion was featured repeatedly throughout Feud.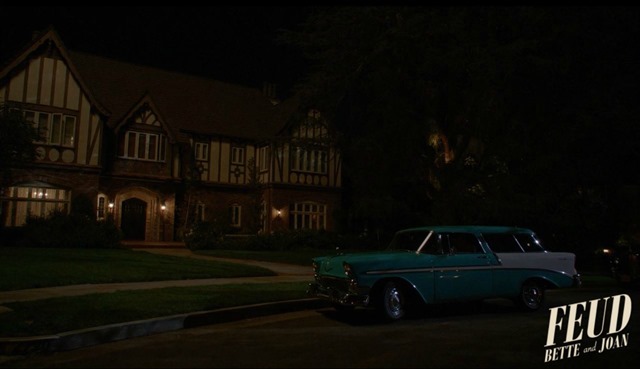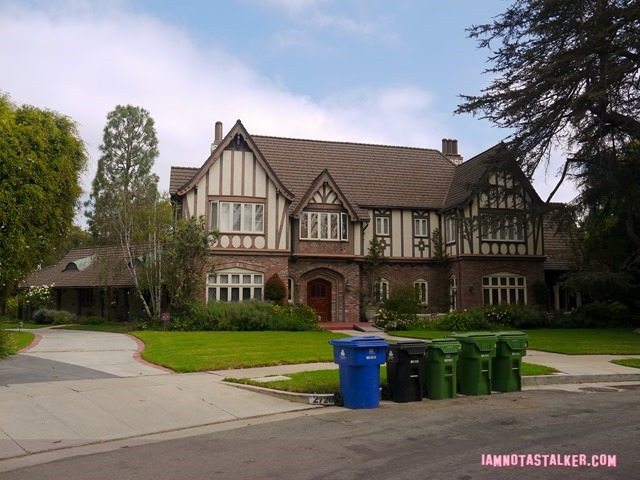 The stately property was utilized in both on location filming and establishing shots.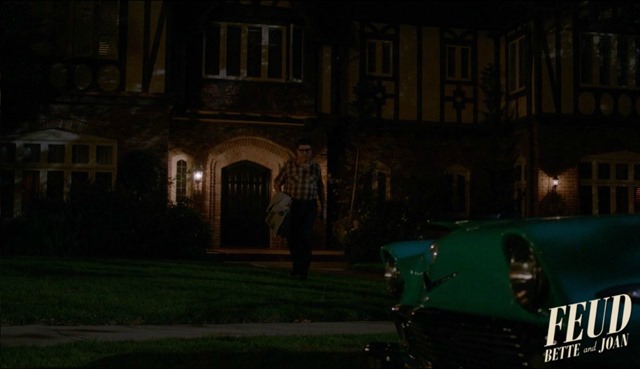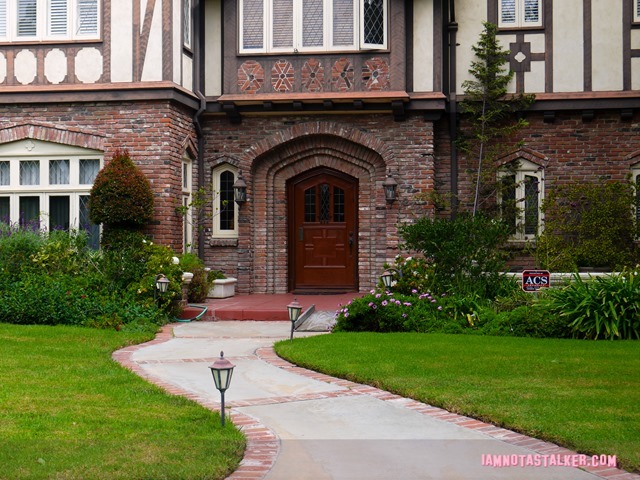 The Feud production team went to great lengths to keep the locations featured on the series true to life.  The Cheviot Hills residence most closely resembles Ms. Davis' Laguna Beach mansion located at 1991 Ocean Way, though that pad is situated on top of a cliff overlooking the Pacific.  The front of it is much less grand than the manse that appeared on Feud, but the rear and side are pretty darn dramatic.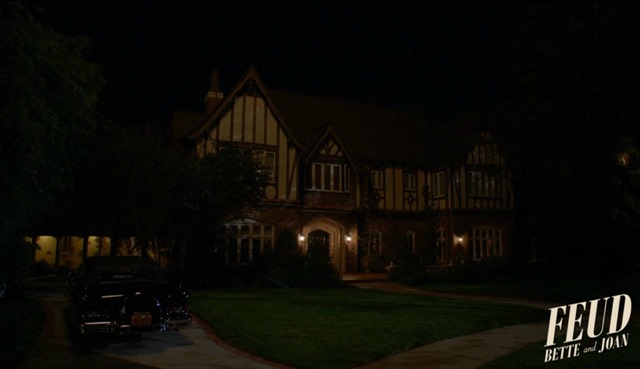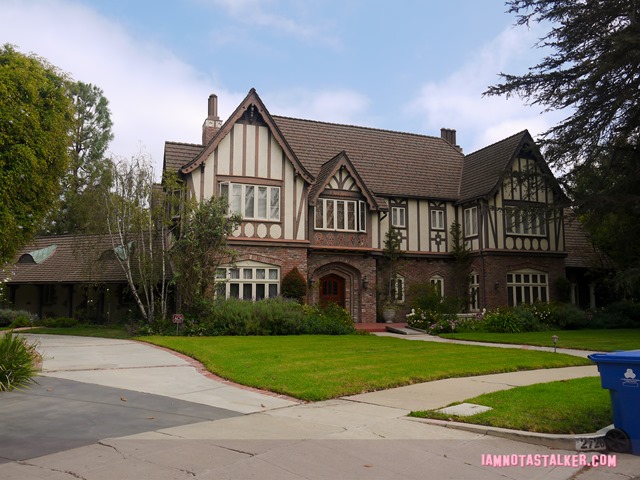 In real life, the massive 1926 estate boasts 7 bedrooms, 7 baths, 5,436 square feet of living space, 21 rooms, a wet bar, a pool, a barbeque area, a 3-car garage, a jetted tub, a fireplace, a 0.63-acre lot, a garden, a deck, and an in-law unit.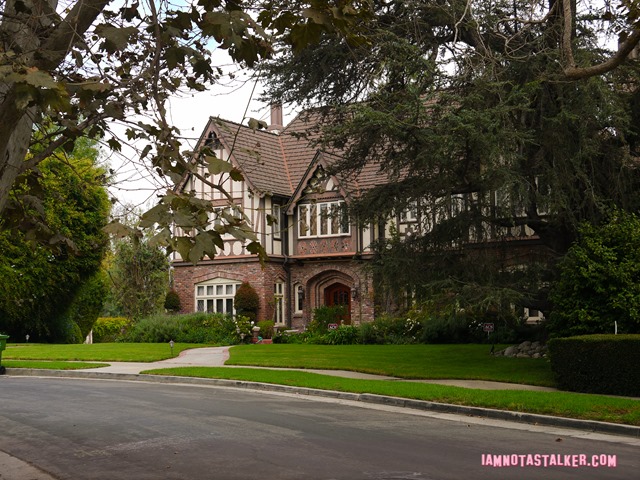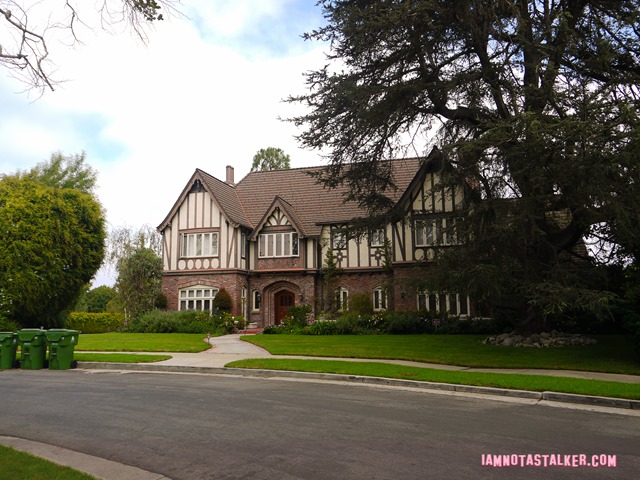 You can check out some amazing photographs of the home taken in 1928, shortly after it was built, here.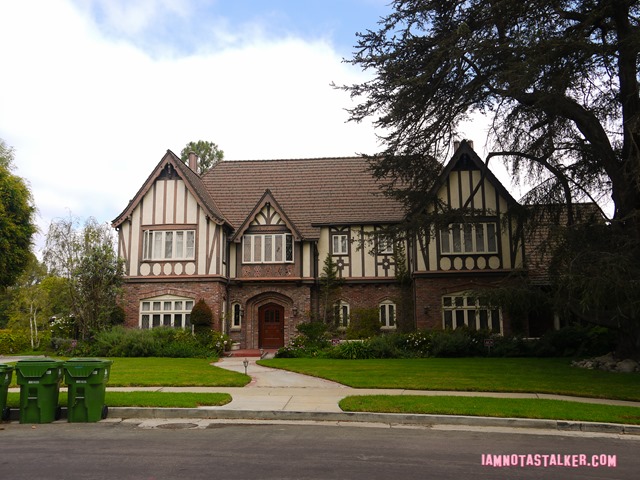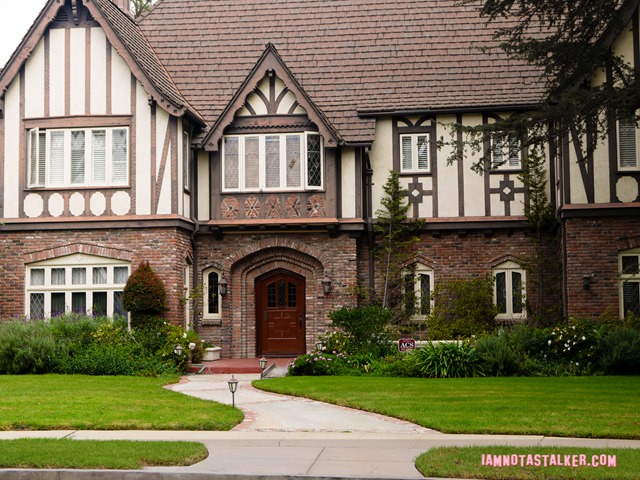 Only the exterior of the dwelling was utilized on Feud.  Interior scenes taking place at Bette's house were shot on a soundstage at 20th Century Fox Studios in Culver City, where much of the series was lensed.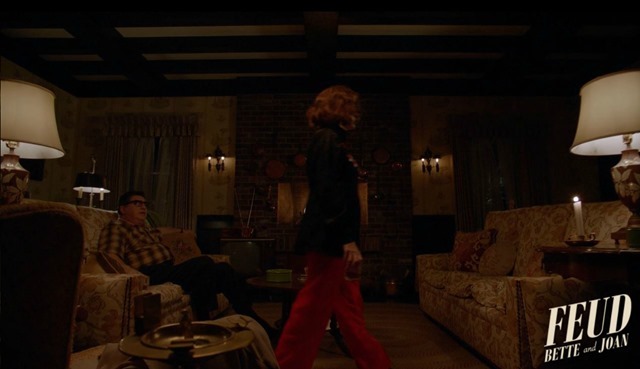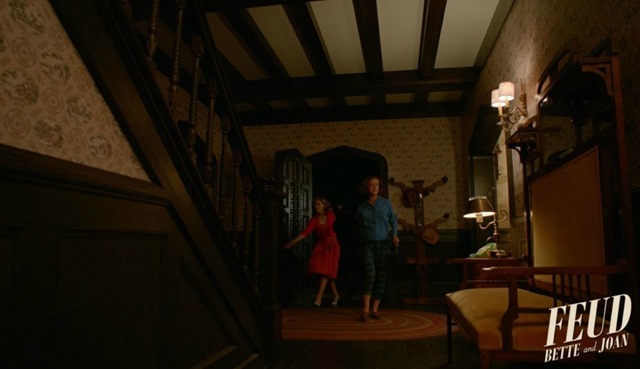 In a February 2017 Variety article, Feud production designer Judy Becker describes Bette as a traditionalist when it came to her décor.  She says, "Bette was from outside of Boston.  She was a Yankee.  We did a brown and green and earthy palette for her.  She had a lot of American Colonial furniture, and she had a braided rug.  You would think you were in New England, but this was in L.A."  In her research of the actresses' homes, Becker found that despite moving several times throughout her life, Bette's furnishings and design schematic always remained the same.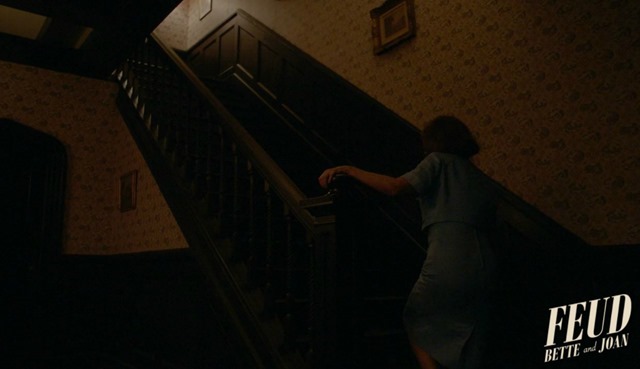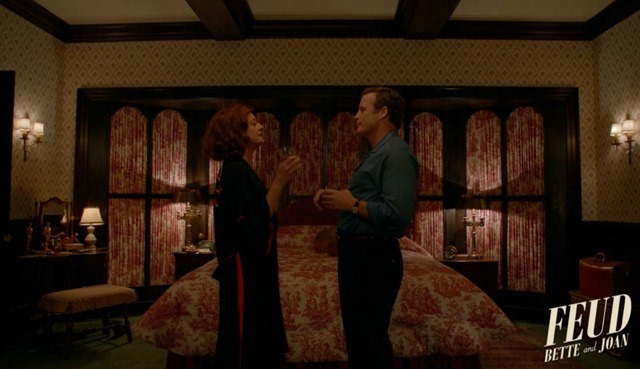 Unfortunately, I could not find any images of the interior of the Cheviot Hills residence, but man, oh man, would I love to see what it actually looks like.  I can only imagine how gorgeous it must be!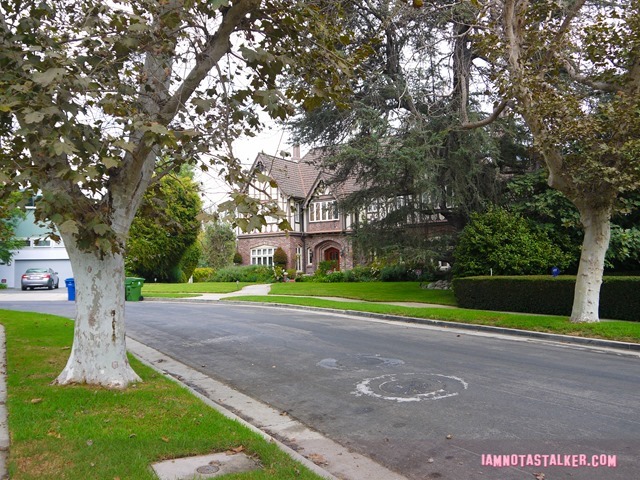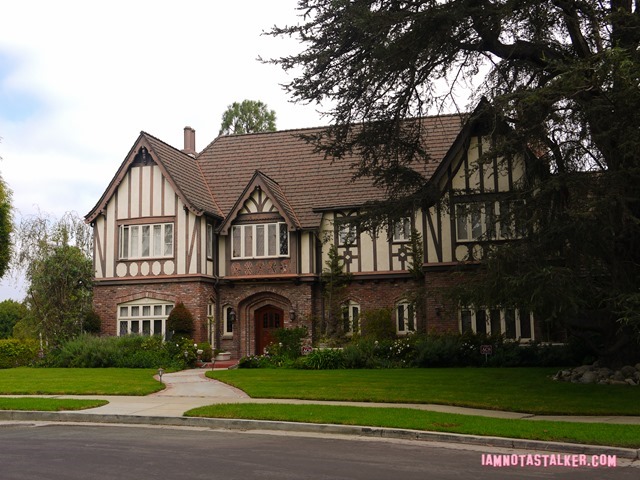 I did learn, though, thanks to the Just Call Me Aggie website, that the pad was owned by actress Agnes Moorhead from 1946 to 1953.  Upon moving in, Moorhead hired famed interior decorator Tony Duquette (whom you may remember from this post) to design the place.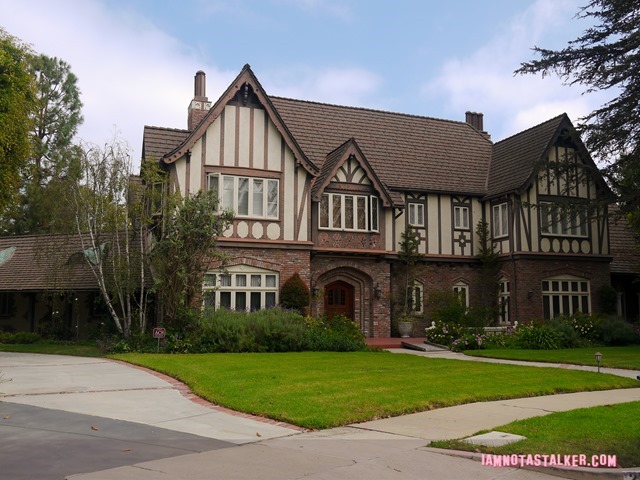 For more stalking fun, follow me on Facebook, Twitter, Instagram, Los Angeles magazine and Discover Los Angeles.
Big THANK YOU to fellow stalker AB for finding this location!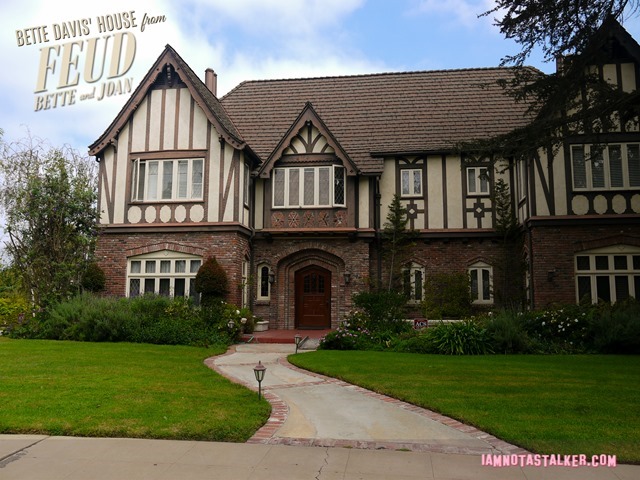 Until next time, Happy Stalking! 

Stalk It: Bette Davis' house from Feud is located at 2720 Monte Mar Terrace in Cheviot Hills.
108000