Halloween 2017
Nov 3rd, 2017 | By
Lindsay
| Category:
Haunted Hollywood
,
This and That
I've made no secret of my love for Big Little Lies over the past couple of months (you can read my many posts on its filming locations here, here, here, and here), so it should come as no surprise that the HBO miniseries figured into my and the Grim Cheaper's 2017 Halloween costumes.  Interestingly though, this year marked the first time I've ever chosen a costume based on earrings alone.  One look at the pink tassels hanging from Madeline Martha Mackenzie's (Reese Witherspoon) lobes in the final episode, titled "You Get What You Need," as well as in the weekly opening credits, and I knew there was no one else I'd rather dress up as.  Thankfully, the ensemble was quite easy to put together.
For those who haven't seen Big Little Lies (and if that's you, you must rectify the situation immediately – it was easily the best show of 2017, in my never-to-be-humble opinion), the series culminates with a massive Audrey-Hepburn-and-Elvis-Presley-themed costume party extravaganza titled "Trivia Night."  Though all of the characters' Trivia Night costumes are pretty darn amazing, Madeline's stole the show for me.  Instead of the ubiquitous Breakfast at Tiffany's LBD, Madeline chooses to dress in Holly Golightly's (Hepburn) famous tuxedo shirt pajamas and blue sleep mask.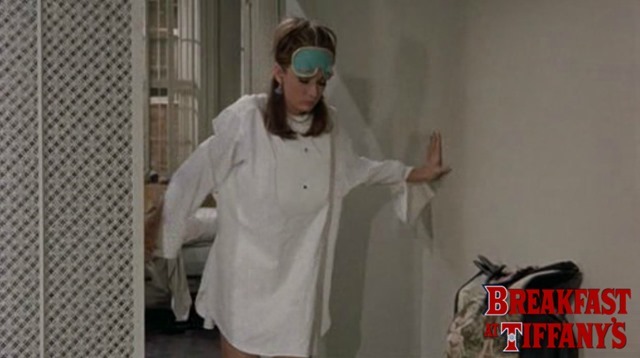 Though I typically do not appreciate it when changes are made to an iconic costume (I am of the firm belief that if you are going to dress like an iconic character, you should do so as precisely as possible), in this case, I thought the alterations BLL costume designers made to the ensemble only enhanced the look – especially the bright pink tassel earrings Madeline donned in lieu of Holly's purple tassel ear plugs.  I hate to say this in case any Breakfast at Tiffany's purists might be reading, but Big Little Lies did the tuxedo pajamas outfit better.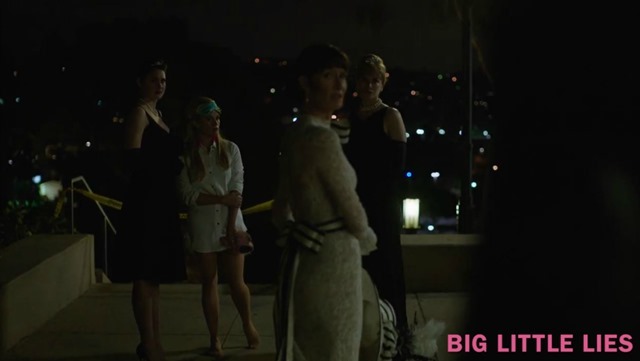 Obviously, the earrings were the most important part of the getup for me, so when putting together my costume, I started with them.  While I found a few that were similar to Madeline's online, none had tassels quite as large as the ones she wore.  So I decided to make them myself – with some help from the GC.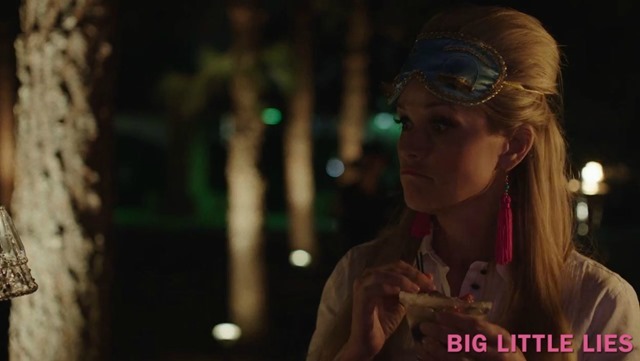 Madeline's Breakfast at Tiffany's ensemble was recently on display at the FIDM Museum in downtown Los Angeles as part of the 11th Annual Outstanding Art of Television Costume Design.  Though I, sadly, did not get to see it in person, thanks to the image below, posted by the museum on Instagram, I got a close-up view of the earrings which let me know exactly what I needed to purchase.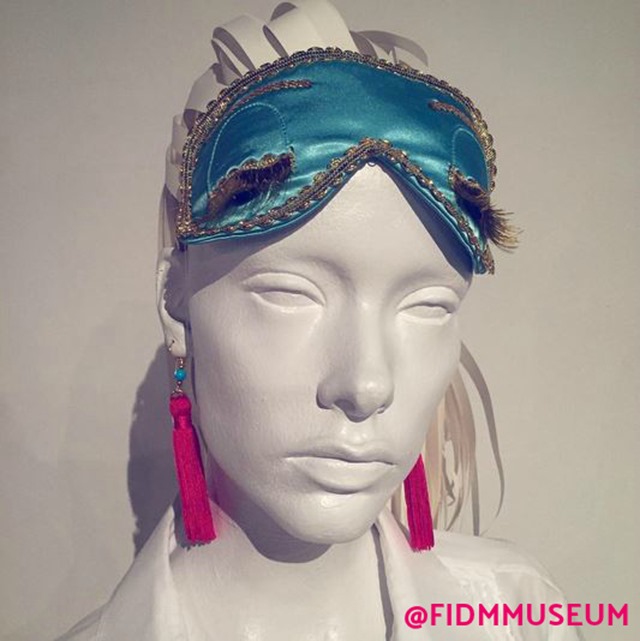 I searched high and low for fuchsia tassels and finally found the perfect ones on Etsy – the Silky Luxe Jewelry Tassels in Color #54 from Woman Shops World.  Hobby Lobby was my next stop where I picked up this Faux Turquoise Beaded Bracelet Connector (which I cut apart to use for the earring's blue beads) and this Gold Plated Findings Starter Pack for the rest of the earring parts.  I ended up buying additional jump rings, eye pins, and gold beads (the latter two I can't find links for) at Michaels.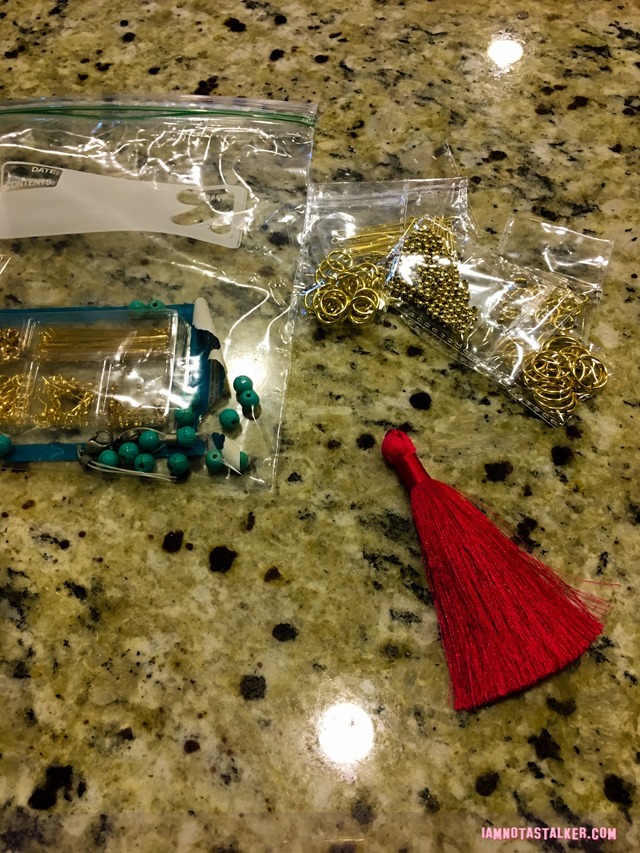 The GC actually constructed the earrings for me and, while doing so involved some trial and error, they turned out exactly how I wanted.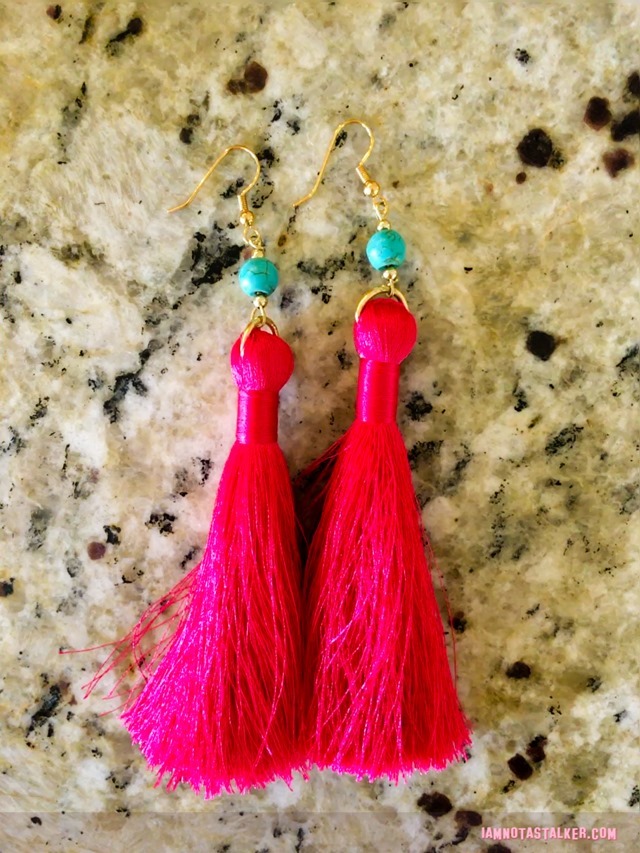 The rest of my costume was a snap to put together.  The sleep mask came from the SvetlanaCO Etsy store and the tuxedo shirt from Men's Warehouse.  I ended up having to purchase a Big and Tall shirt to get the length right (the regular-sized tops were far too short for my comfort zone) and have it drastically altered in width.  I also added some extra black buttons as the shirt originally only came with four.   Though Madeline completed her look with pink Marabou slippers, I decided to wear a black pair that I already owned.  To finish things off, I put my hair up in a very poofy half-ponytail and voila!  Madeline came alive.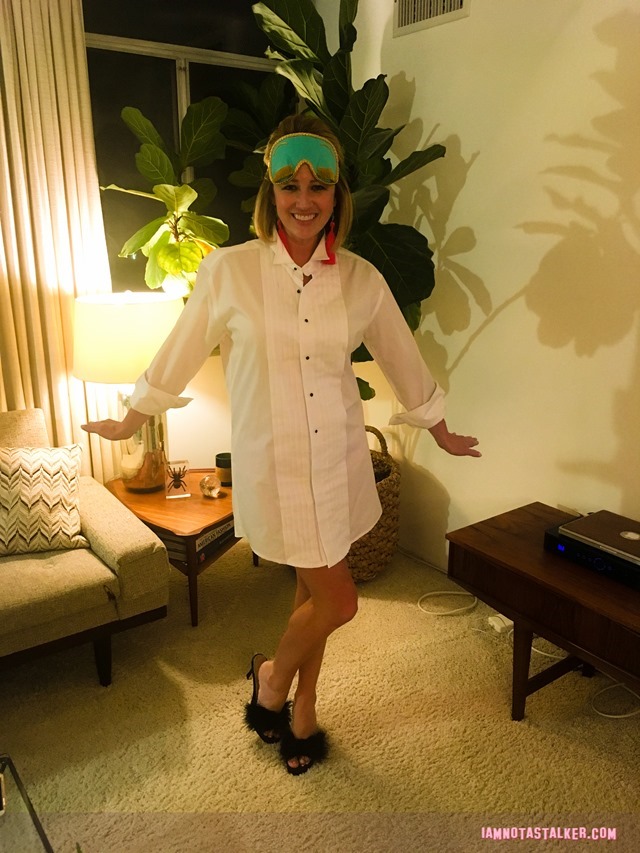 For Trivia Night, Madeline's husband, Ed Mackenzie (Adam Scott), dresses as Elvis' Chad Gates character from the movie Blue Hawaii.  To re-create the look, we purchased the Hawaiian Hangover Aloha Shirt in Hibiscus Red from Walmart for the GC.  Completing the outfit was a multi-colored lei from Party City, which he paired with khakis and flip flops he already owned.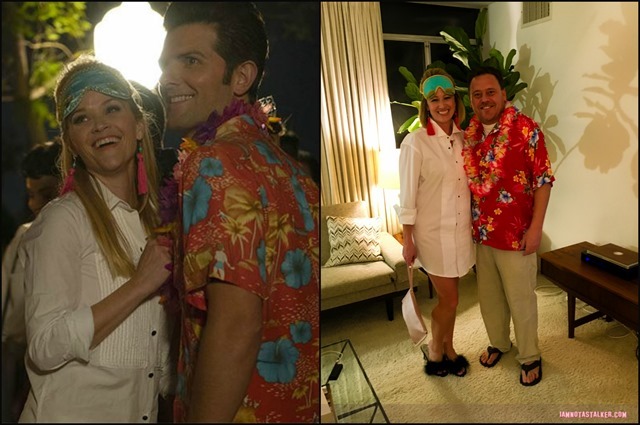 To celebrate, we headed down to San Diego to attend the 8th annual Hallo-Wine & Spirits Party at Hotel Del Coronado with one of my best friends Kylee.  I blogged about the Del way back in 2008, so I won't re-hash its vast history and lengthy filming locations resume here.  As I mentioned in that post, the hotel has always been a very special place for my family.  Not only have we vacationed there countless times, but my surprise 21st birthday party was held in the iconic Crown Room in 1998 and my parents and I spent New Year's Eve 1999 on the property.  For the latter, Hotel Del put on what is easily the best party I have ever been to, complete with dinner, dancing, a live band, and a midnight balloon drop.  After that experience and after seeing this video, I had majorly high hopes for the Hallo-Wine & Spirits soiree.  Sadly, it did not live up to my expectations.  While fun, I wouldn't say the party was anywhere near worth the ticket price.  Besides the fact that the decorations were seriously lacking, there were not enough chairs for the majority of people in attendance.  Dinner was a mix of a buffet (the food was great, incidentally – the Baked Jack o' Lantern is honestly one of the best things I've ever eaten!) and wine-tasting, so guests obviously wound up in possession of numerous plates and glasses.  For some inexplicable reason, though, there was a major shortage of tables – and surface area in general – on which to put them, and virtually nowhere to sit.  Most attendees were left to stand holding plates precariously stacked on top of other plates, wine glasses at their feet, awkwardly trying to eat.  By the second hour of the dinner portion of the evening, Kylee could hardly stand, her feet were hurting so badly, which didn't bode well for the dancing that was to come.  I will say that I was majorly impressed with the party-goers costumes, though.  People went all out and I absolutely LOVED seeing the creativity and detail that went into the many outfits.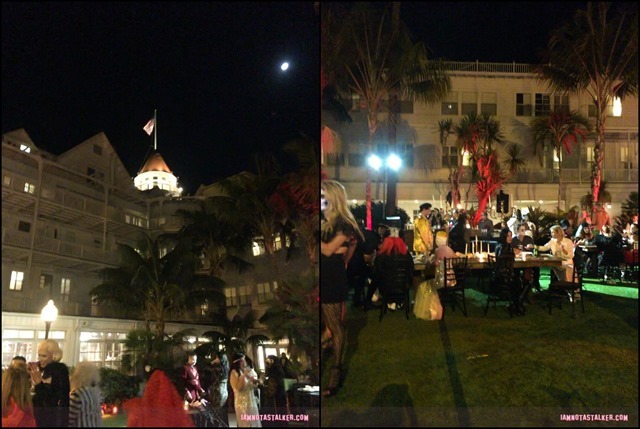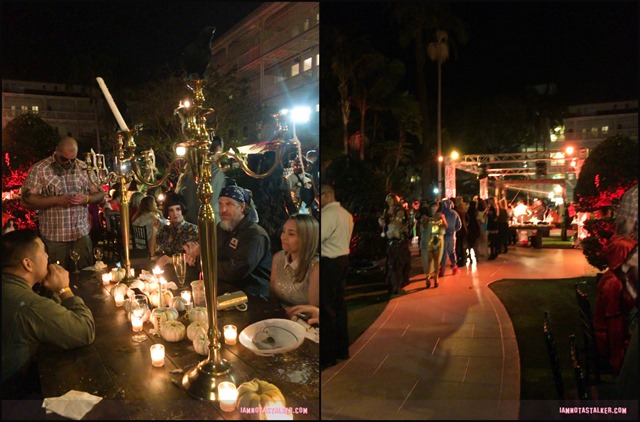 While I am definitely glad we attended Hallo-Wine & Spirits and we all had a good time (I pretty much find it impossible to have a bad time no matter where I am), I don't think I'd go back next year, nor can I really recommend the party to my fellow stalkers, sadly.  So the search is on to find a fun Halloween activity for 2018!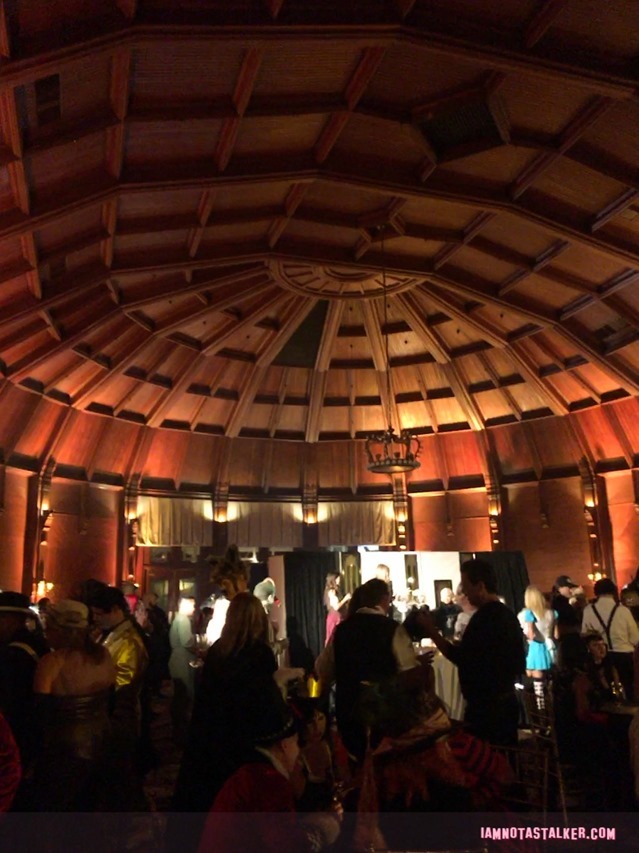 For more stalking fun, follow me on Facebook, Twitter, Instagram, Los Angeles magazine and Discover Los Angeles.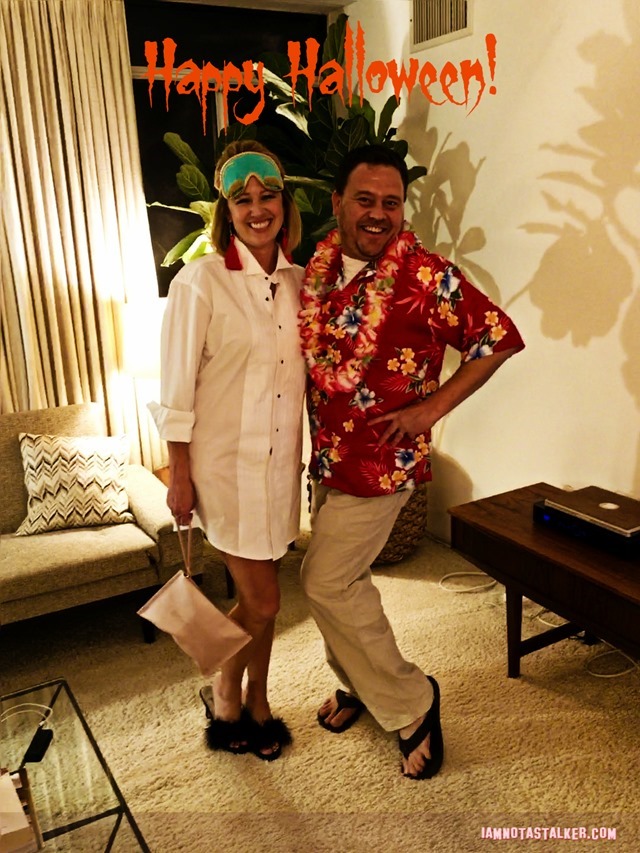 Until next time, Happy Stalking! 
Stalk It: Hotel Del Coronado is located at 1500 Orange Avenue on Coronado Island.  You can visit the hotel's official website here and you can find information about the annual Hallo-Wine & Spirits Party here.
109306