Carrera Café – Where Your Favorite Celebrity Can Be Turned into Latte Art
Nov 8th, 2017 | By
Lindsay
| Category:
This and That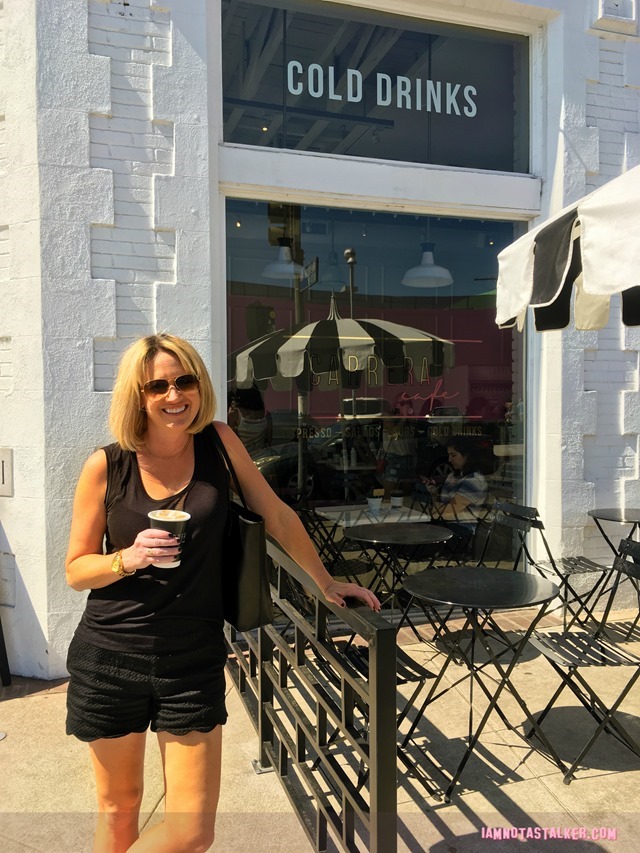 When not stalking or shopping, you can typically find me perusing fashion and beauty blogs.  There are several I frequent daily including Gal Meets Glam, Atlantic-Pacific, Merrick's Art, Cupcakes and Cashmere, and Hello Gorgeous.  The latter was founded by Angela Lanter, wife of fave actor Matt Lanter.  I started reading her site because of the Matt connection (obvs), but it didn't take long for Angela to seriously grow on me and become one of my favorite online personalities.  Her blog is worthy of a visit for the Halloween make-up tutorials alone (this one is my favorite), but she posts fabulous fashion, cosmetics, lifestyle and décor tips no matter what time of year.  (Her beauty room is honestly the stuff dreams are made of!)  Up until just recently, the Hello Gorgeous home page featured a photograph of Angela in front of an extremely picturesque wall dotted with pink and red lipstick marks.  I was, of course, immediately taken with the colorful backdrop and set out to locate it.  One quick Google search of the terms "wall," "pink lips," and "Los Angeles," led me to this Los Angeles magazine article titled "Where to Find L.A.'s Most Instagrammed Walls IRL."  The blurb cataloged 9 of the city's most photogenic backdrops, Number 7 being the "The Hello Lips Wall" at Carrera Café.  Though a cursory internet search showed me the mural had long since been covered over with a new painting (the Beverly Grove coffee shop regularly changes up its exterior art), I became utterly intrigued with the place for a different reason.
Google "Carrera Café" and, along with shots of the ubiquitous lips wall, your screen will be inundated with photos of lattes with perfect re-creations of celebrity images imprinted into the foam.  One look at this pic of a frothy Leonardo DiCaprio had me absolutely smitten and I added the address of the coffee shop to the very top of my To-Stalk List.  Though I wasn't planning on traveling to L.A. for a couple of weeks, I set right out to determine which star would be donning my drink.  After scouring pictures of Leo, actor Jeremy Renner, and cutie crooner Michael Bublé, I eventually settled on the image below, which was taken by fashion photographer Evaan Kheraj.  At that point, I could hardly wait to head out to the café and when I finally did, the visit did not disappoint.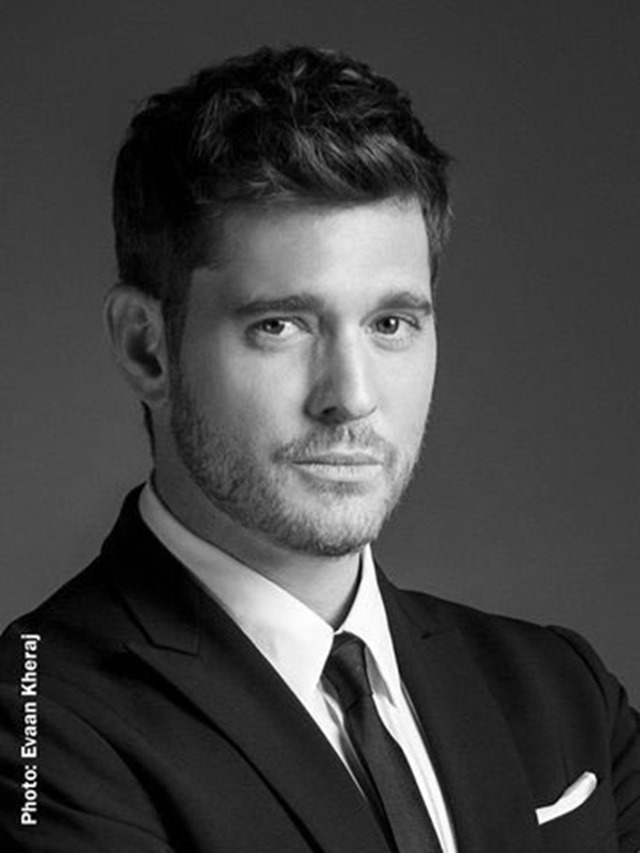 Carrera Café is able to create its latte masterpieces thanks to a machine known as the Ripple Maker.  That's it below.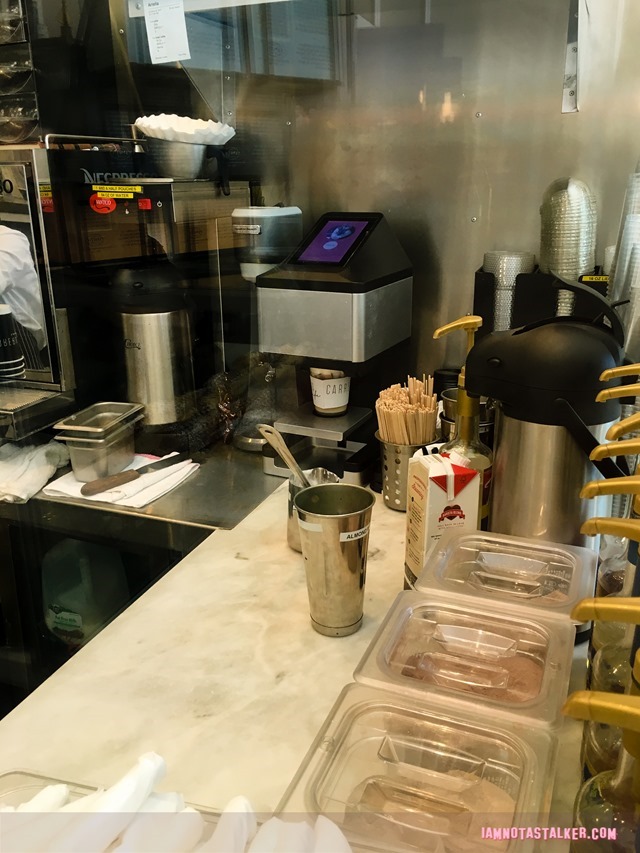 The innovative and ingenious device is capable of etching any image or design onto the top of a frothy espresso drink.  Oh, if only it was sold for home use!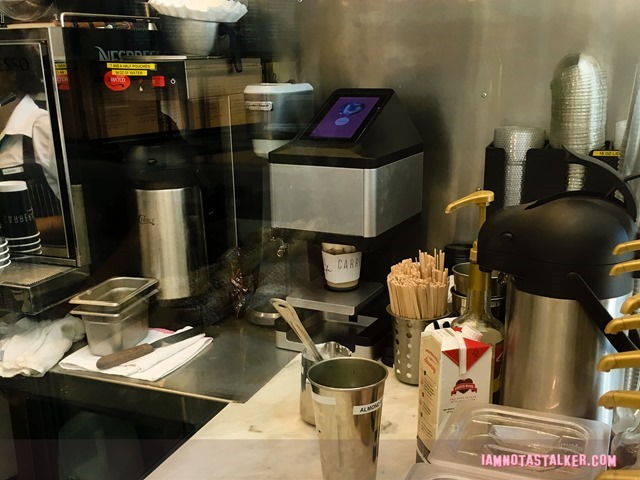 The way the Ripple Maker works is quite simple.  In order for the magic to occur, customers must download the Coffee Ripples app on their smartphones.  Then, when in range of a café that utilizes the machine, they can upload an image of their choice to the app and crop and customize it to their liking.  Hitting the "Ripple It" button sends the photo to the Ripple Maker and assigns the customer an order number.  Patrons give that number to the cashier upon arrival and order an espresso drink of their choosing.  (The Ripple Maker can even create images on top of iced drinks, which I was thrilled to learn as I am not a huge fan of hot coffee.  In this case, though, I opted for a hot latte as I did not realize until later that iced versions were available.)  The customer then pays for their drink at the register and the barista pulls the espresso and mixes the coffee confection, after which the cup is put underneath the Ripple Maker and voila, the uploaded image is stamped onto the foam topping!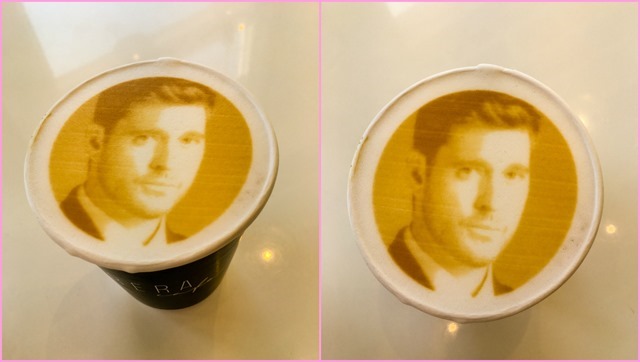 Just a little bit excited to be drinking a Michael Bublé latte!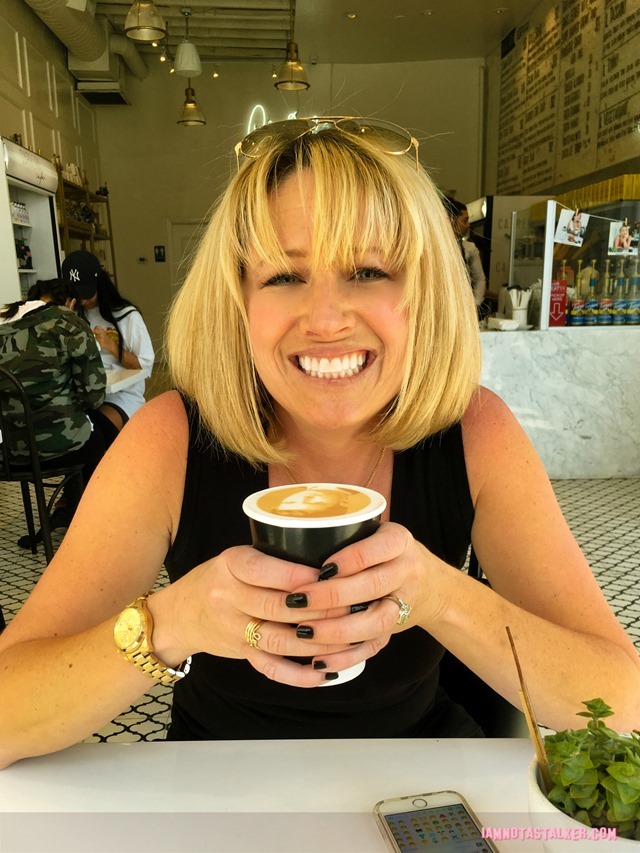 Best-looking java I've ever had!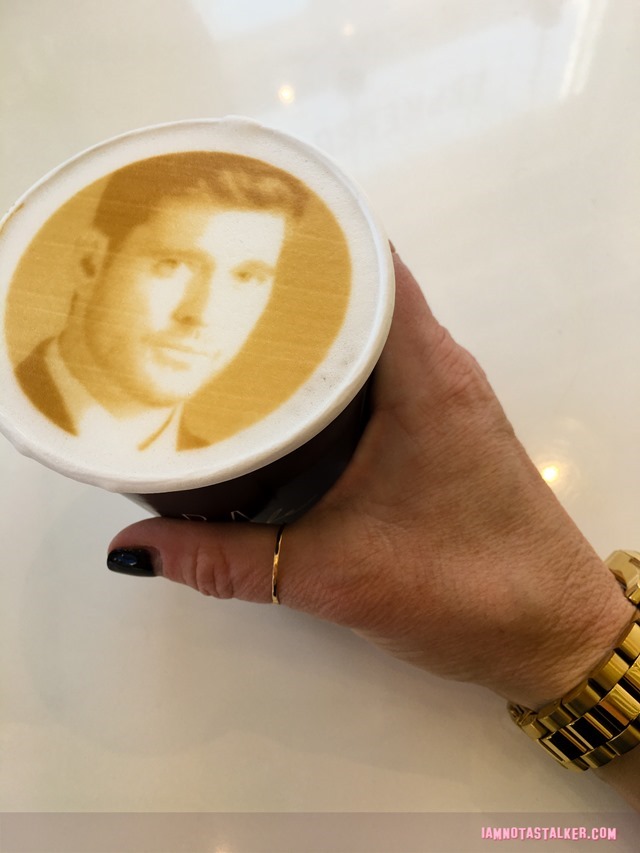 The Grim Cheaper was not at all impressed with my image of choice, though, and ran his fingers right through the top of it as soon as I was done taking photos!  Perhaps I was a bit too gleeful over my creation.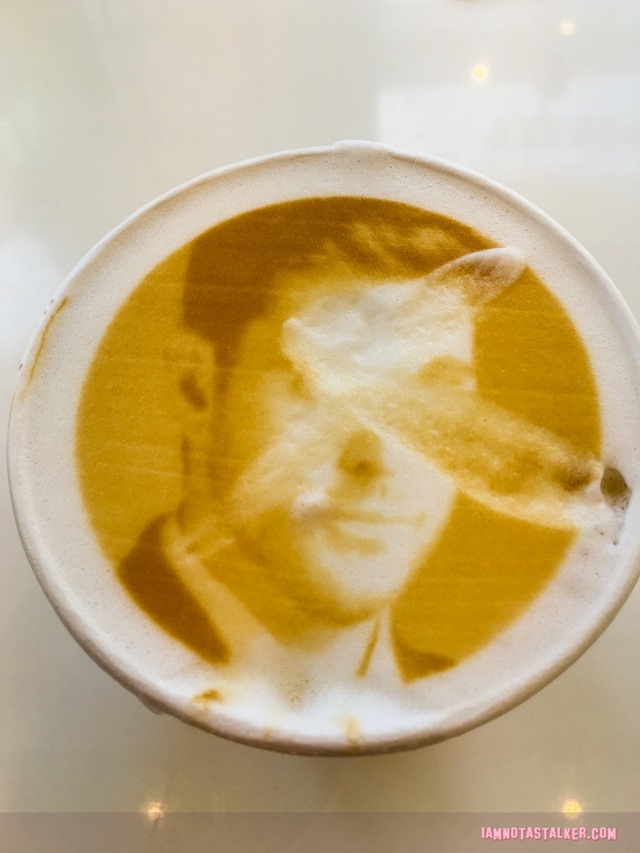 Opened in late 2016, Carrera Café, which is named for the white and grey marble that forms its countertops, is an absolutely adorable little spot.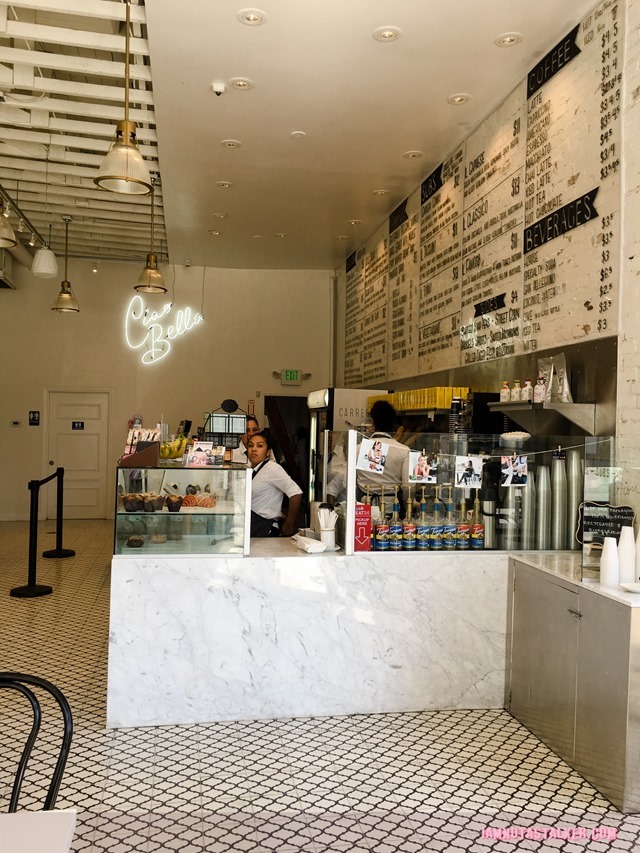 I was especially enamored of the bubble gum pink payphone.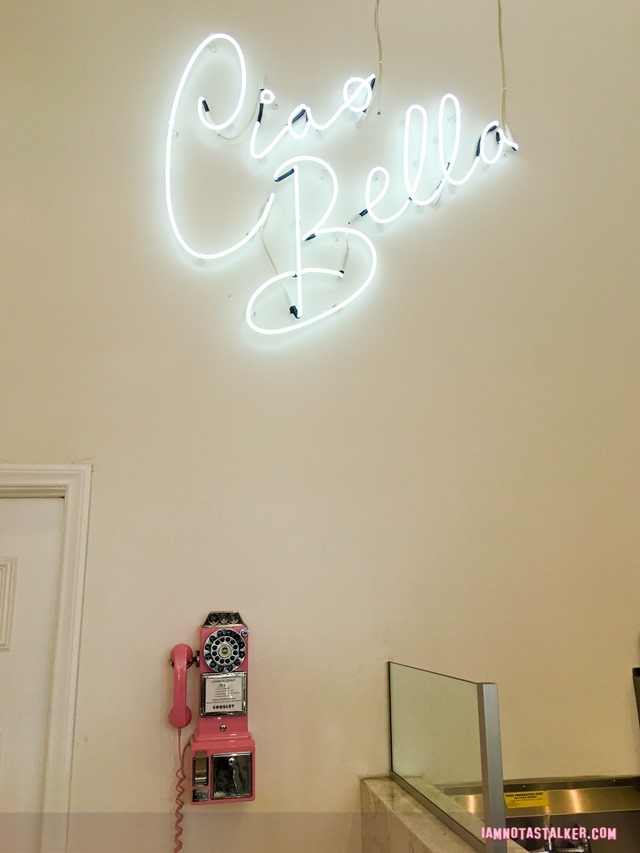 Besides espresso specialties, the café also serves a variety of sandwiches, salads, vegetable side dishes, and pastries.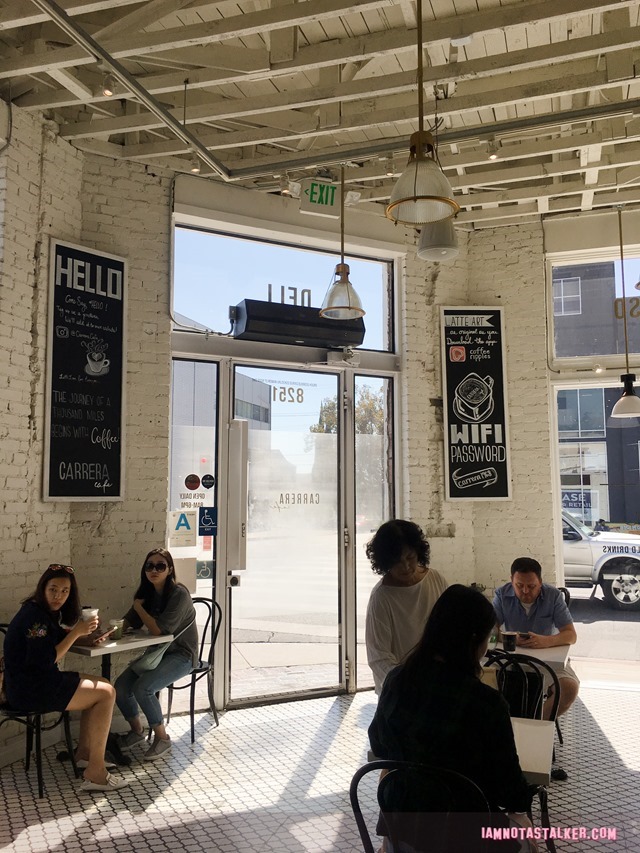 The GC and I decided to grab a bite to eat while there, opting for the Il Tacchino sandwich, which consisted of roasted turkey breast, provolone cheese, iceberg lettuce, heirloom tomatoes, Dijon mustard, and mayonnaise.  It was honestly one of the best sandwiches I've ever had!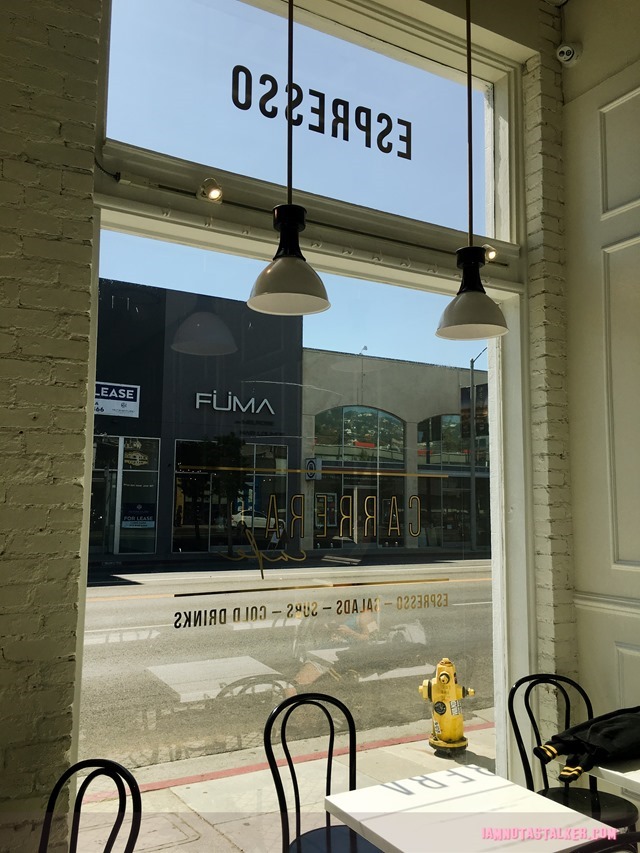 At the time that we visited, Carrera Café's exterior wall was covered with a mural advertising ABC's new show The Mayor.  I have to say that I much prefer the pink lips painting.  I really wish I had gotten to see it in person.
Otherwise though, our visit could not have been more perfect and I cannot wait to go back – which means I better get busy choosing the next celebrity image I am going to use to decorate my drink!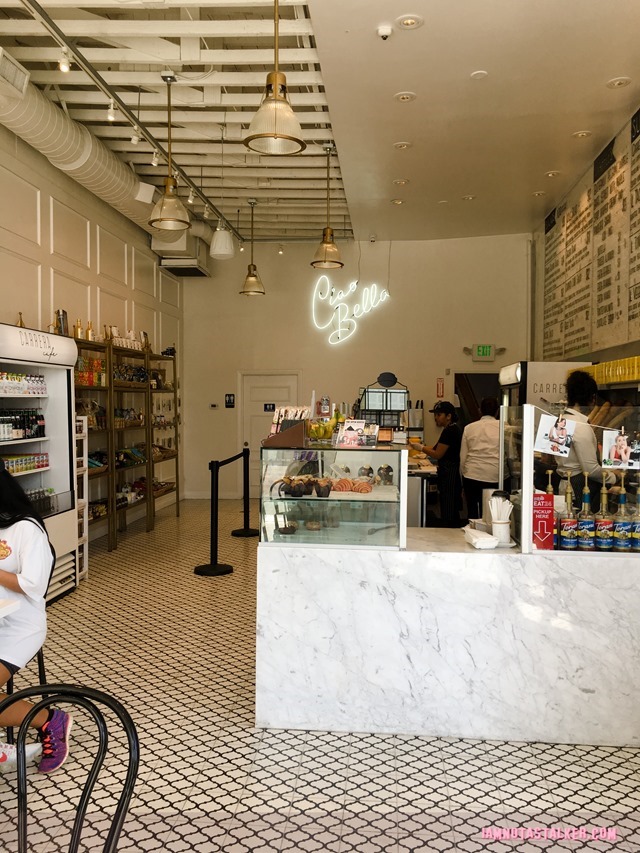 For more stalking fun, follow me on Facebook, Twitter, Instagram, Los Angeles magazine and Discover Los Angeles.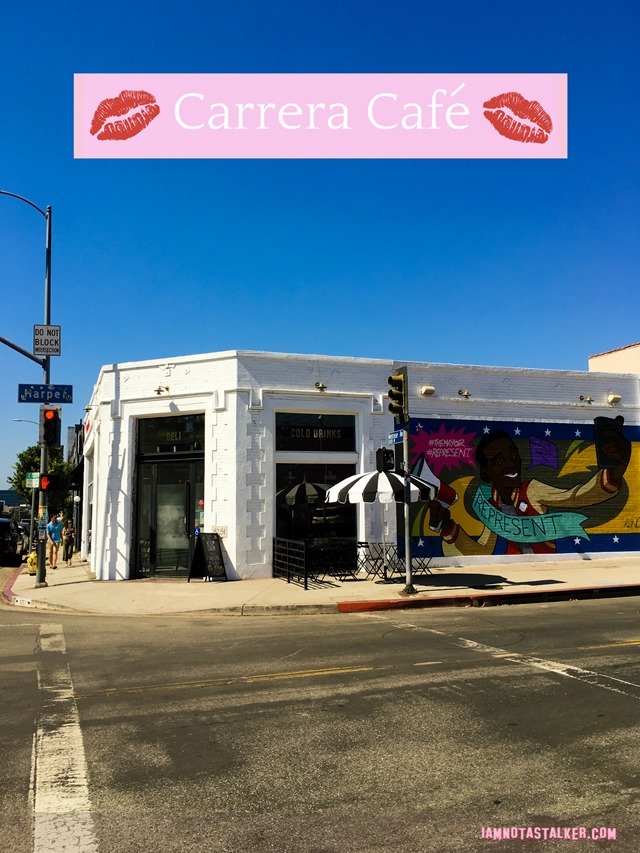 Until next time, Happy Stalking! 

Stalk It: Carrera Café is located at 8251 Melrose Avenue in Beverly Grove.  You can visit the eatery's official website here and you can download the Coffee Ripples app here.
109403