Hilton Garden Inn Arcadia from "Veep"
Nov 20th, 2017 | By
Lindsay
| Category:
TV Locations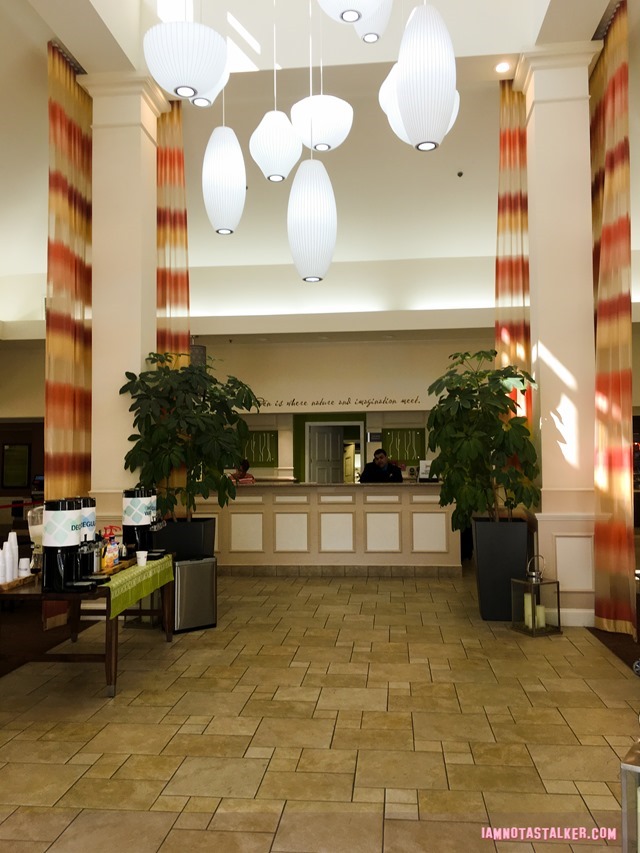 It has been said that everyone has their own special superpower.  I don't know if that is true or not, but if so, mine is definitely my brain's ability to take note of small, seemingly insignificant and rather trivial details, and commit them to memory, completely of its own volition.  Case in point – I have stayed at the Hilton Garden Inn Arcadia on a couple of occasions over the years.  Though I did not spend much time on the premises during either of my visits (typically when in L.A., I am out and about stalking during all waking hours), last year, while watching the closing scene of Veep's Season 5 premiere, "Morning After," in which Jonah Ryan (Timothy Simon) attempts to check into a very crowded "Carson City" hotel, I immediately recognized the orange and pink ombré curtains visible behind him as those of the Garden Inn.  Had I scrutinized or taken particular note of the hotel's lobby area during my stay?  No, not at all.  In fact, prior to viewing the episode, had you asked me about the HGIA's curtains, I probably would not have been able to recall them.  But as soon as the draperies entered my eye-line during Veep, something in my brain clicked and I knew immediately where filming had taken place.  Because I had failed to snap any photos of the hotel on my visits and because it is one of the series' more minor locations, I never blogged about it.  But when the Grim Cheaper happened to book us another stay there a few weeks back, I decided it was finally time I do so.
In "Morning After," Jonah, Amy Brookheimer (Anna Chlumsky), Dan Egan (Reid Scott), and Richard Splett (Sam Richardson), along with a slew of other staffers from both the Selina Meyer (Julia Louis-Dreyfus) and Bill O'Brien (Brad Leland) presidential campaigns, descend upon Carson City, Nevada to head up a recount in the area.  While in town, the group stays at a local unnamed motel.  The exterior shown in the episode is a partial view of the Carson City Plaza Hotel and Event Center located at 801 South Carson Street, as well as the small strip mall situated across from it at 711 South Carson.  (Though I have actually been to CC, I do not have any photos of those particular spots, so you'll have to excuse the Google Street View image below.)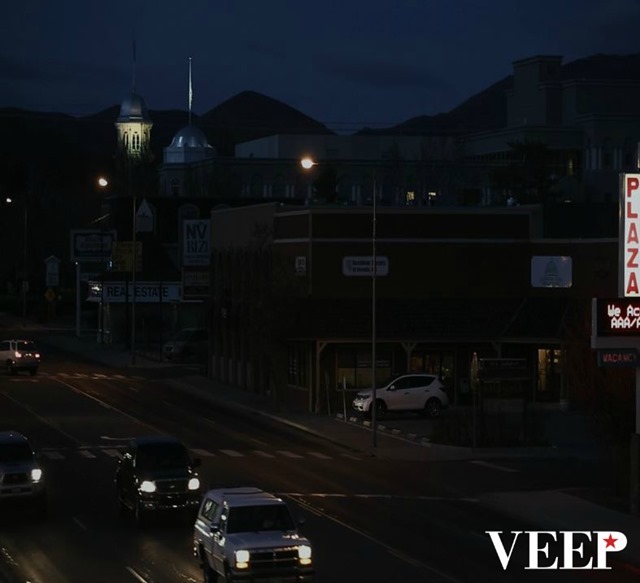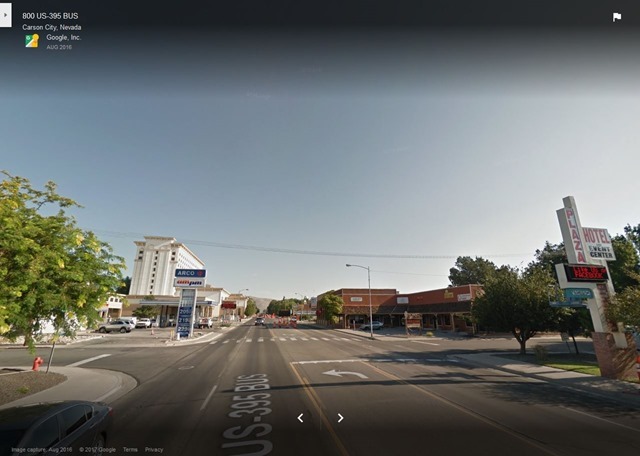 All actual filming of the "Morning After" hotel scene, though, took place at the Hilton Garden Inn Arcadia.  The view of the curtains in the shot below is what caught my eye while watching.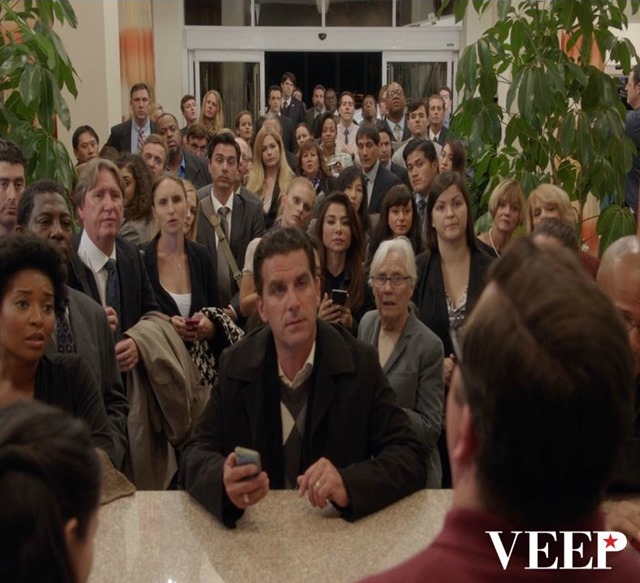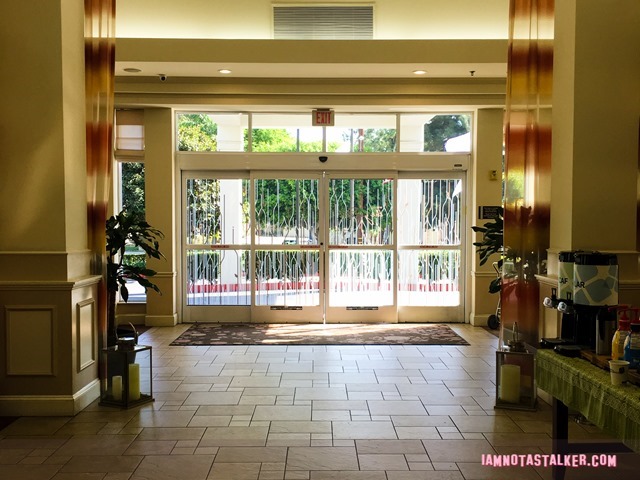 After viewing the episode, I headed over to Google to pull up images of the hotel to confirm my hunch.  One look at pictures of the Hilton Garden Inn's lobby, with its peachy curtains and uniquely-etched front doors, cinched things for me.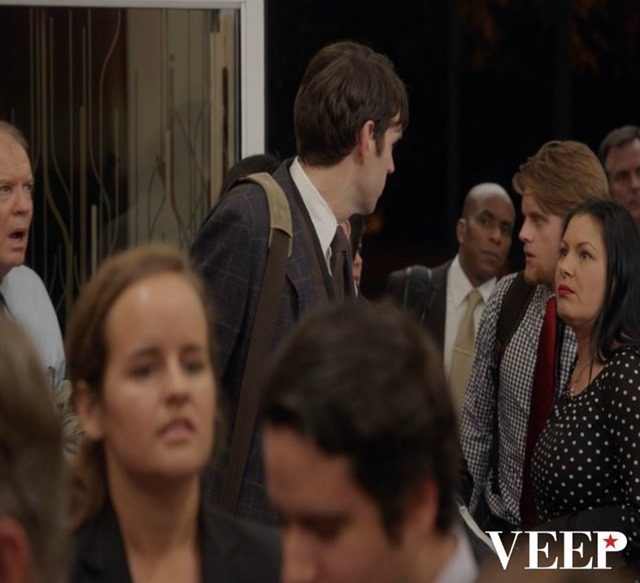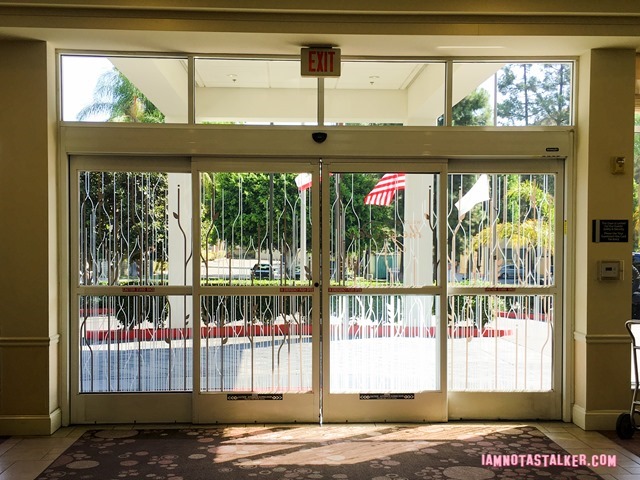 Hilton Garden Inn Arcadia also popped up in the next episode of Veep, titled "Nev-AD-a."   (Confused about that title?  This Veep clip should clear things up.)  Oddly, a different hotel exterior, that of the Carson Tahoe Hotel at 800 North Carson Street, was utilized for the establishing shot in the episode.  (Again, please pardon the Google Street View image below.)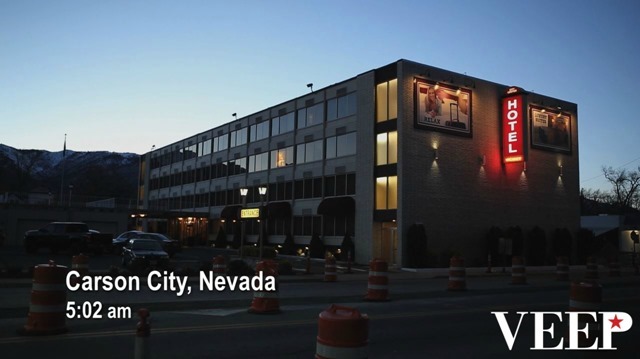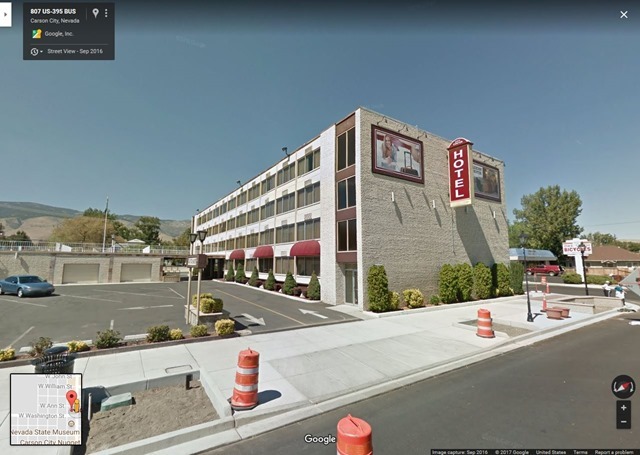 In "Nev-AD-a," exes Dan and Amy head back to their hotel after their first day of re-counting votes . . .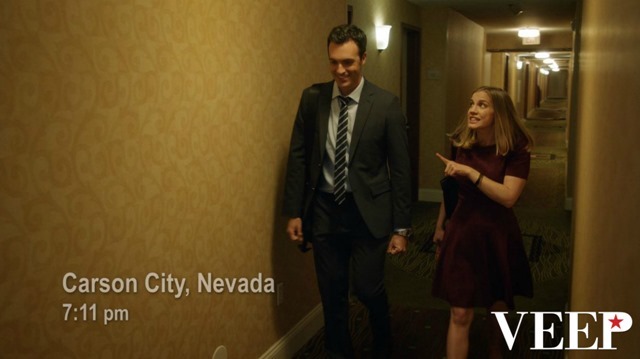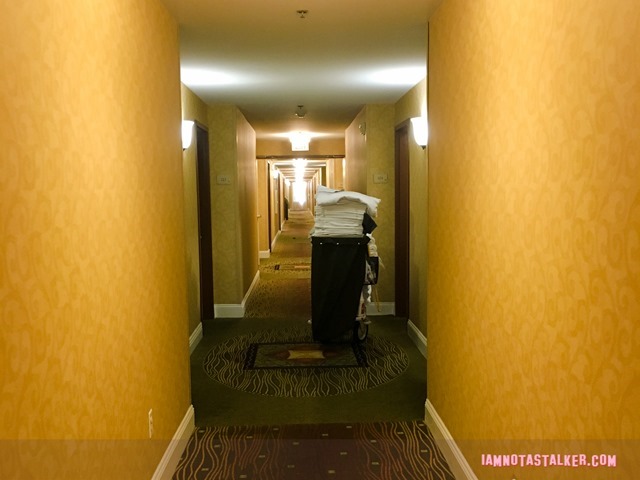 . . . and are shocked to discover that their rooms are located right across from each other.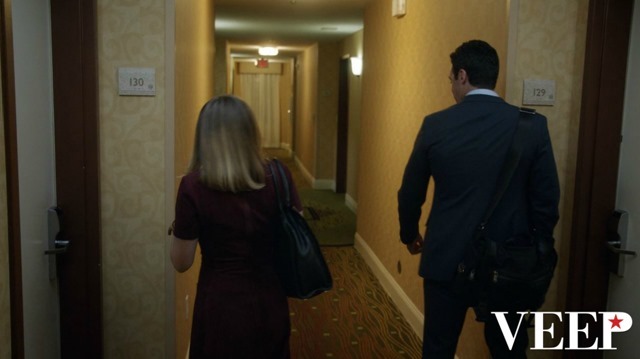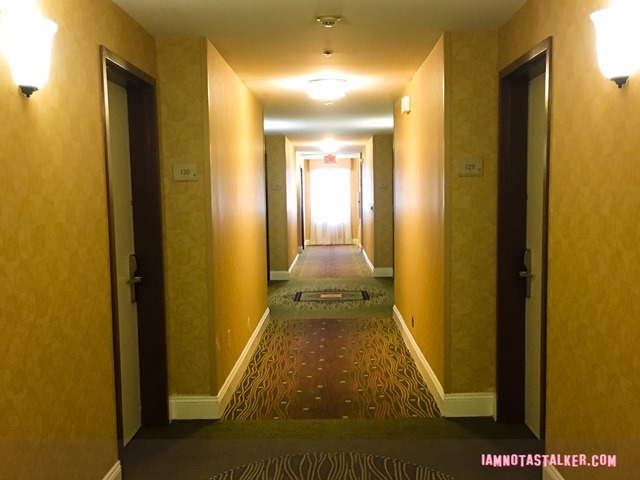 In the episode, Dan is staying in Room 129 . . .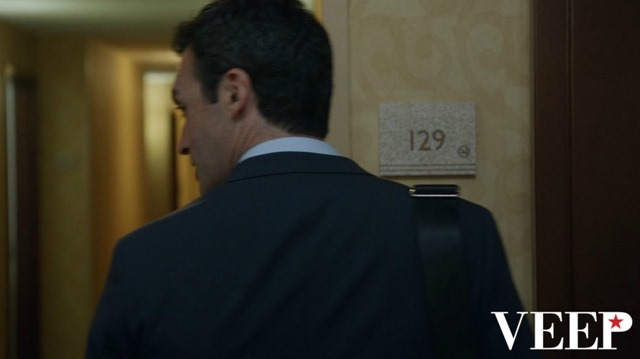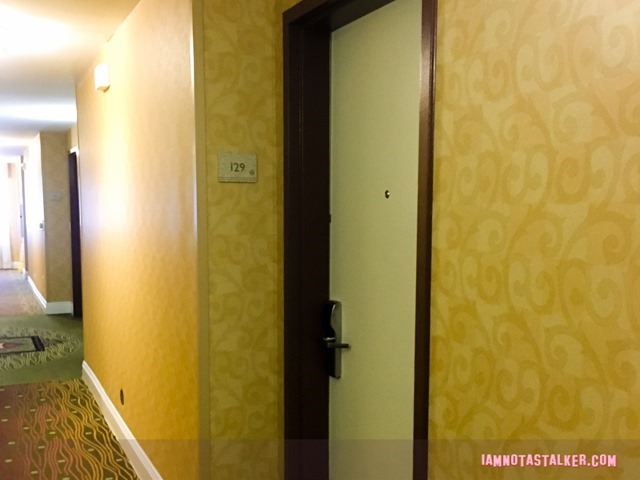 . . . while Amy is in 130.  Both of these rooms can be found on the Hilton Garden Inn's first floor, directly off of the lobby.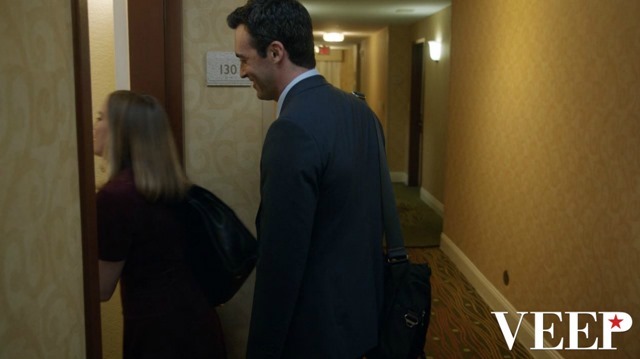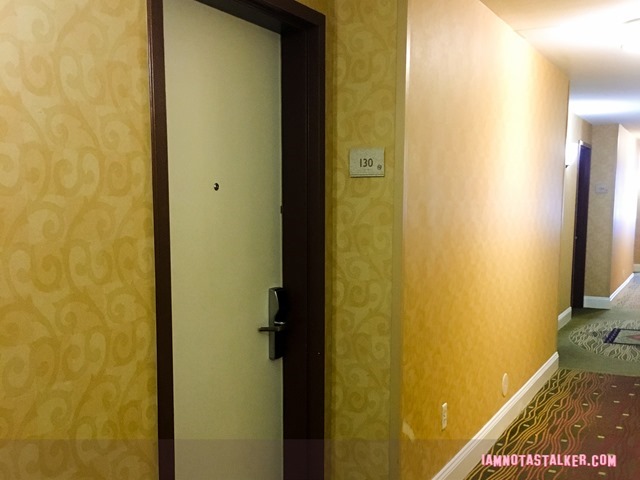 I am fairly certain that the interior of room 130 (or another of the property's rooms) was also used in the episode.  Like a dolt, I did not take any photos of the room we stayed in, but as you can see in these images from the hotel's website, the Garden Inn's bed and lamps match what appeared onscreen.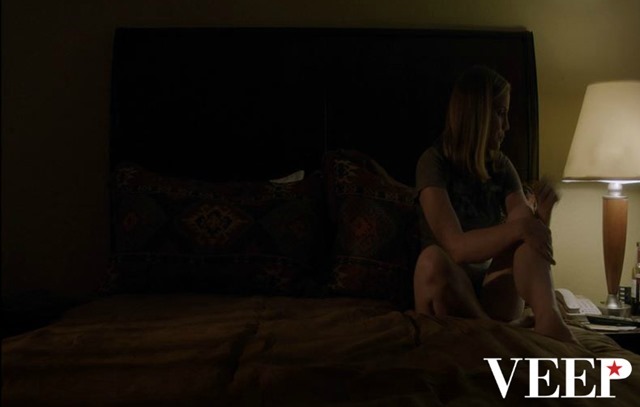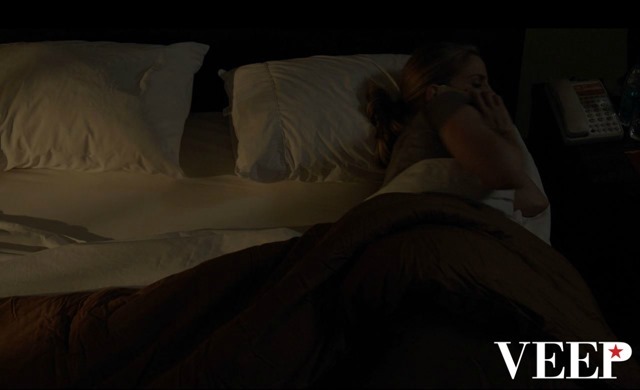 For more stalking fun, follow me on Facebook, Twitter, Instagram, Los Angeles magazine and Discover Los Angeles.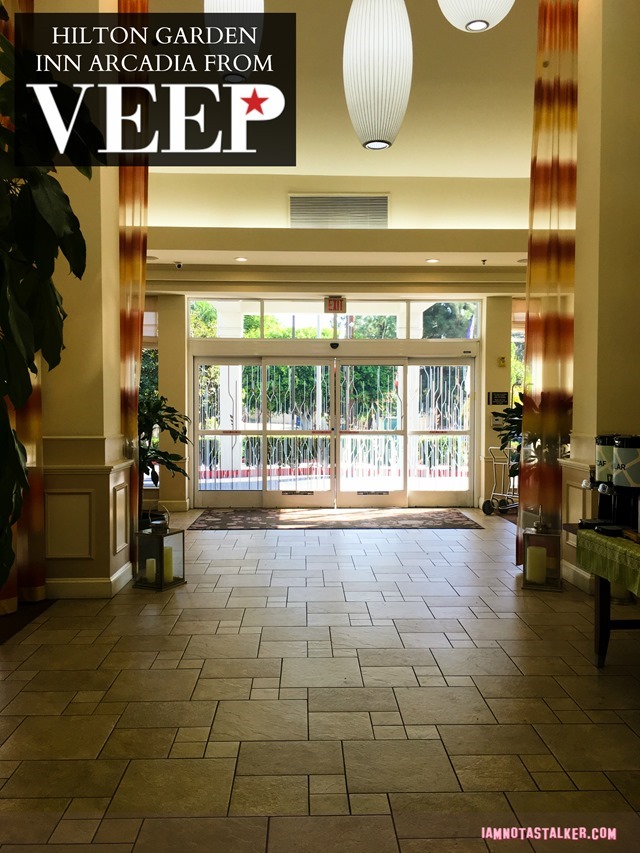 Until next time, Happy Stalking! 

Stalk It: Hilton Garden Inn Arcadia, from the "Morning After" and "Nev-AD-a" episodes of Veep, is located at 199 North 2nd Avenue in Arcadia.  You can visit the hotel's official website here.
109619