Lake Arrowhead's North Shore Marina Beach from "Vanderpump Rules"
Nov 22nd, 2017 | By
Lindsay
| Category:
TV Locations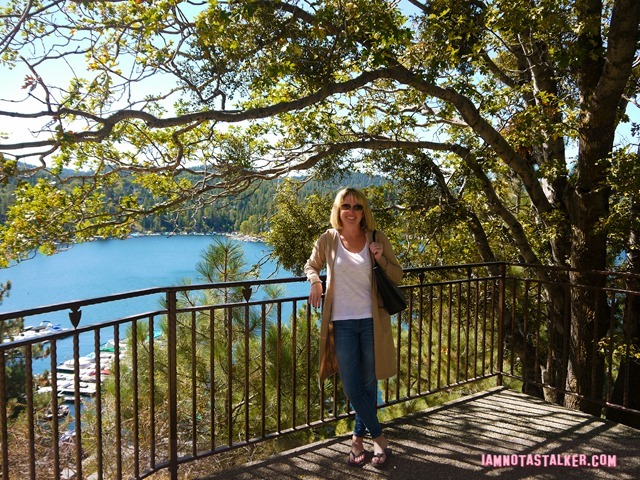 Some television moments are so iconic they cannot be forgotten.  A few that are ingrained in my memory for the long haul – Ross and Rachel's rain-soaked first kiss on Friends, Sam and Diane's slapping fight on Cheers, Dylan's epic tantrum (complete with a shattered potted plant) during his first date with Brenda on Beverly Hills, 90210, and Stassi's discovery that ex-boyfriend Jax has gotten her name tattooed on his arm on Vanderpump Rules.  The latter event took place on a beach in Lake Arrowhead, so, as you can imagine, when I ventured out to the mountain hamlet for a quick getaway this past March, stalking it was one of my top priorities.  The only problem was that, try as I might, I could not find it anywhere.  Not only did I scan aerial views of the lake for hours upon hours looking for the spot, but I also showed screen captures of the tattoo scene to pretty much every local I came across while in town to see if they could identify it – all to no avail.  It was not until a few days after I returned home that I finally pinpointed the site of filming as the beach located at the North Shore Marina.  Darn Murphy's Law!   Thankfully though, my parents, the Grim Cheaper and I ventured back out to Lake Arrowhead for another visit in late September and, this time, the North Shore Marina beach was my first stop.  Well, sort of.  Sadly, the vast majority of the area's coastline, including the stretch that appeared in Vanderpump Rules, is private, so I had to settle for seeing it from afar.
In the Season 2 episode of Vanderpump Rules titled "Only the Lonely," Stassi Schroeder and the rest of the Sur gang head out to Lake Arrowhead to attend a Pierce the Arrow (Tom Sandoval's band) gig.  (You can read about the location where the band performed here, as well as about a couple of other sites that appeared in the episode here and here.)  Upon arriving in town, the group makes a brief stop at a local beach for some paddle-boarding and sunbathing.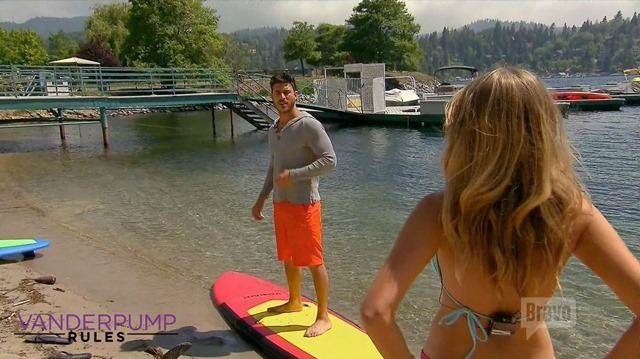 Though not much of the beach was shown in the episode, I was able to discern that it was situated in between a grouping of boat docks . . .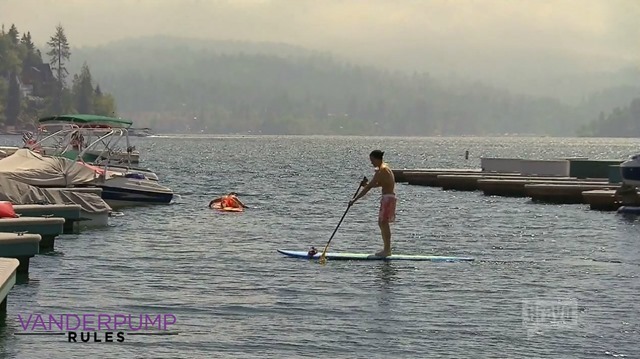 . . . and that there was some sort of two-doored building, which I figured was a public restroom, on the premises.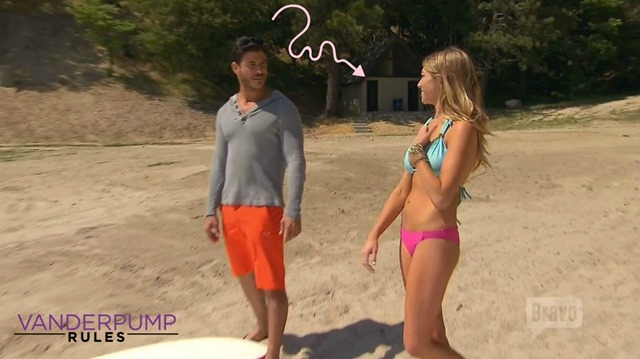 Though Lake Arrowhead isn't all that big, the search for the "Only the Lonely" beach proved problematic, mainly due to the fact that overhead views of the region aren't especially clear from any search engine.  After scouring and re-scouring every inch of the area's shoreline via Google aerials for what seemed like hours, using the layout of the docks and the shape of the shoreline as it appeared in VR as my yardsticks, I finally pinpointed the site as the small beachfront located just north of the Arrowhead Lake Association's main office at 870 North Highway 173 in the North Shore Marina.  Though the beach does not have a name or an exact address, it is situated at the northern end of the marina, at the end of Access Trail 63, adjacent and just north of Peninsula Park, as denoted in the aerial view below.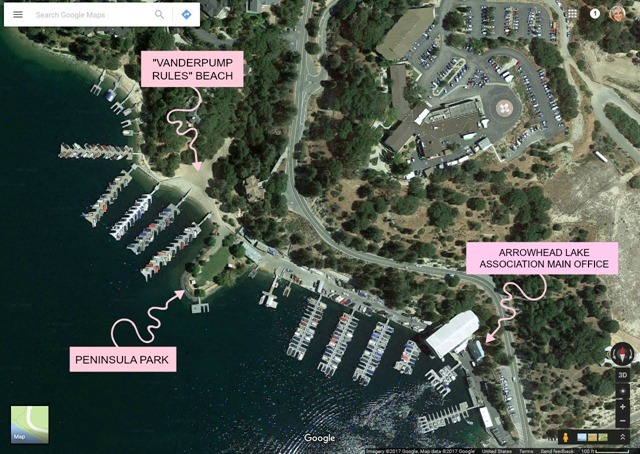 While the gang is at the beach, Stassi makes the startling discovery that Jax Taylor, whom she broke up with months prior, has just gotten her name tattooed on his arm.  Dumbfounded, she immediately asks the question all viewers were thinking at the time, "Why couldn't you have done this when we were together?"  (Instead of getting a bottle service girl pregnant in Vegas, perhaps?)  Tom weighs in further, cautioning those at home, "Guys, I'm telling you, do not go out getting your ex-girlfriend's name tattooed on your arm.  Nine out of ten times this leads to a restraining order.  Jax just got real lucky on this one."  It should be noted that it was not actually Stassi's name that Jax immortalized on his bicep.  No, he decided to take things one step further by tattooing her signature onto his arm.  And yes, he of course covered over the inking not too long after the fact (with a black rose, no less), but not before etching another girlfriend's name onto his other arm.  An FYI for those who don't watch the show – that relationship didn't last, either.  In fact, less than a month and a half after obtaining that tat, Jax was already looking to have it obscured.  As he explained to his tattoo artist, "It's round two for me on the cover-ups."  Thankfully, Jax switched things up in Season 4 by adding the names of his two BFFs, Tom and Tom, to his forearm.  (I so love that he failed to capitalize the "i."  No ragrets!)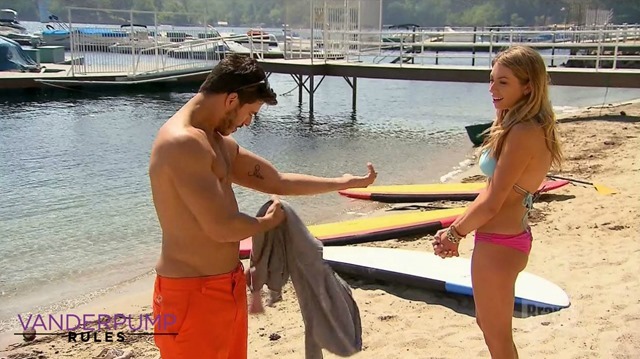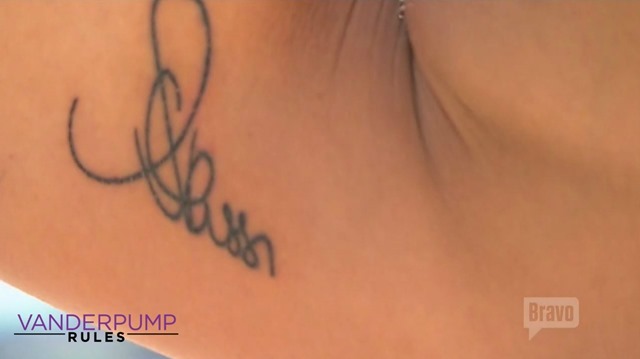 I cannot express how badly I wanted to re-create the moment Stassi discovered the tattoo (which was captured so perfectly on film), but because the beach and entire area surrounding it are private, that was not to be.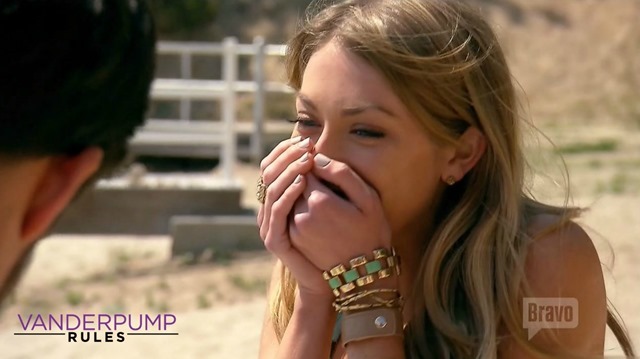 The site is so removed from public access, in fact, that the view below is pretty much all I saw of it.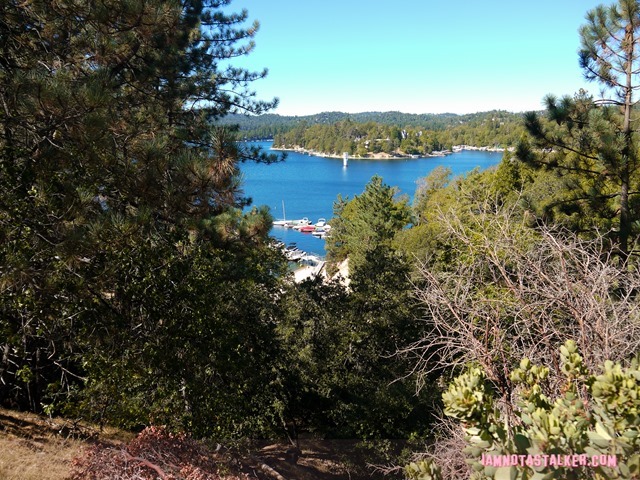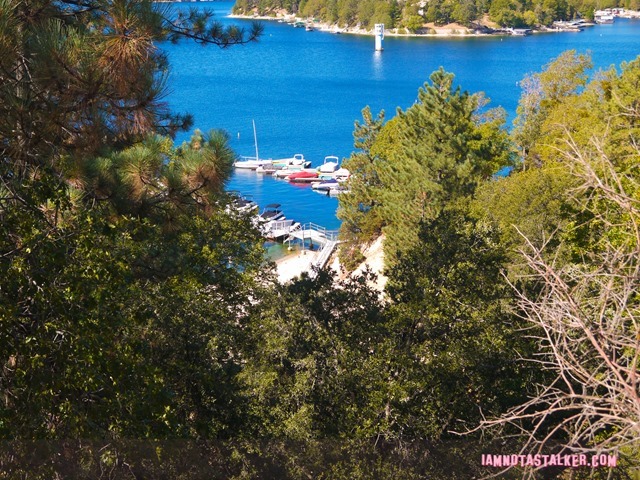 For those interested, that view can be seen from the lookout point denoted below, which is situated slightly north of the Arrowhead Lake Association's main office on Highway 173.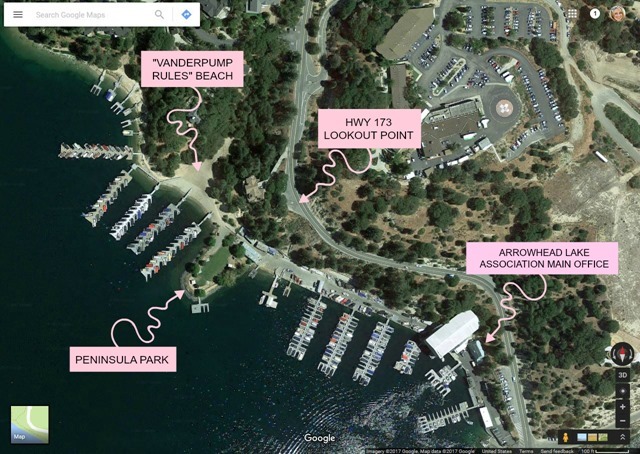 The stalk was not all for naught, though, as we were afforded some gorgeous glimpses of the North Shore Marina.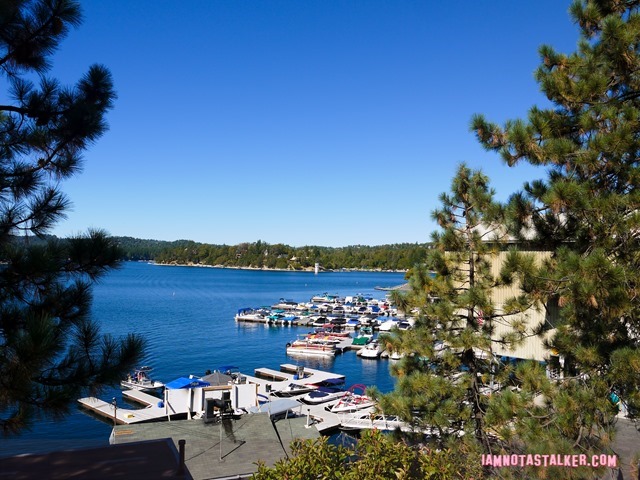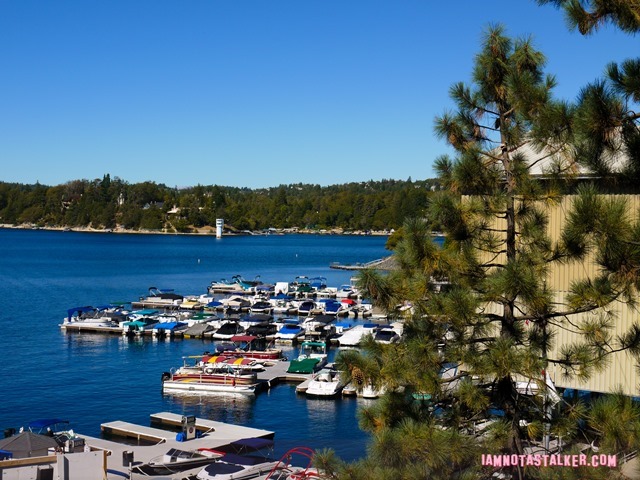 For more stalking fun, follow me on Facebook, Twitter, Instagram, Los Angeles magazine and Discover Los Angeles.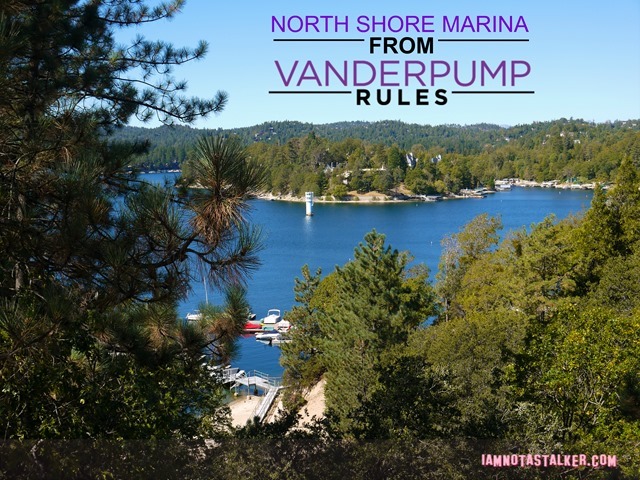 Until next time, Happy Stalking! 

Stalk It: North Shore Marina, from the "Only the Lonely" episode of Vanderpump Rules, is located at 870 North Highway 173 in Lake Arrowhead.  Though the beach where filming took place does not have an exact address, it can be found at the northern end of the marina, at the end of Access Trail 63, adjacent to and north of Peninsula Park.  Please keep in mind that the beach is private and trespassing strictly prohibited, but you can catch a limited glimpse of it from the lookout point situated just north of Arrowhead Lake Association's main office on Highway 173.
109660