Arrowhead Pine Rose Cabins from "Veep"
Dec 6th, 2017 | By
Lindsay
| Category:
TV Locations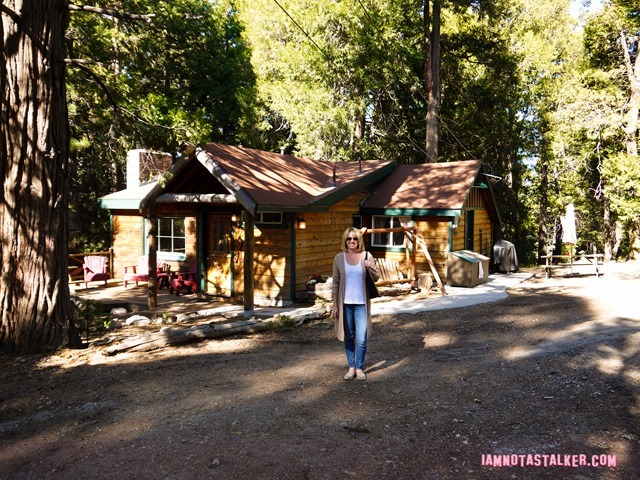 I often find myself thinking about how fabulous it would be if Instagram had existed back when Beverly Hills, 90210 was still on the air.  One of my most-loved down-time activities is perusing the feed of actors currently starring on shows I watch to see the various behind-the-scenes stories and photos they post.  Not only do the images provide a rare peek at the intimate goings-on of the production of a television series, but they're an incredible source of filming location information.  Like I said, I can only imagine if the app was in existence during the 90210 days.  Perhaps then the world would know the location of Tal Weaver's (Gabriel Macht) house, as well as the mansion where the infamous red dress photo shoot took place (two of my most-wanted yet-to-be-found spots).  But I digress.  One of the best IG accounts for production info is Julia Louis-Dreyfus'.  The Veep star regularly posts photos of the behind-the-scenes happenings of her hit HBO series – like this 2016 image showing the cast and crew during the filming of Season 5's "Camp David," which Julia states in the caption took place in Lake Arrowhead.  I was more than a little perturbed when I came across the pic one day this past March being that I had literally just returned home from a trip to the mountain town days prior.  Regardless, I quickly got to Googling to figure out exactly where filming had occurred and was thrilled to head back to Lake Arrowhead in September so that I could finally stalk it.
A Google search of the words "Veep," "filming," and "Lake Arrowhead" led me to this 2016 Yelp review posted by user Stephanie B. in which she mentioned that the show had used Arrowhead Pine Rose Cabins, located at 25994 California 189 in Twin Peaks, to mimic Camp David shortly before her stay.  One look at images of the hotel online confirmed Stephanie's assertion.  From there, I just had to figure out exactly which of the property's 20 cabins were utilized in the episode.  Thankfully, the resort boasts quite an extensive website with numerous photographs of each bungalow, so that wasn't hard to do.  But more on that in a bit.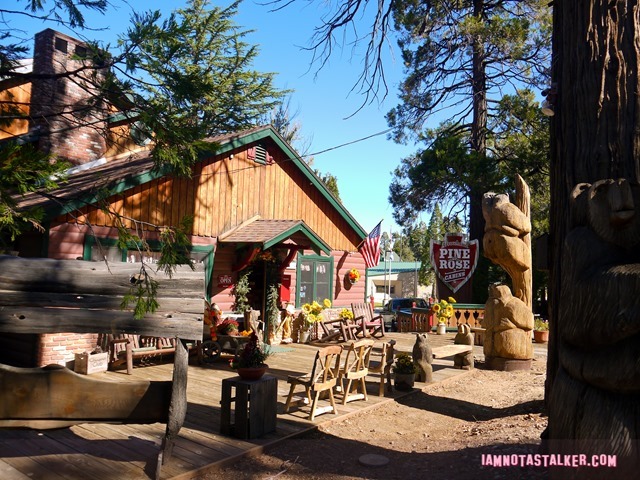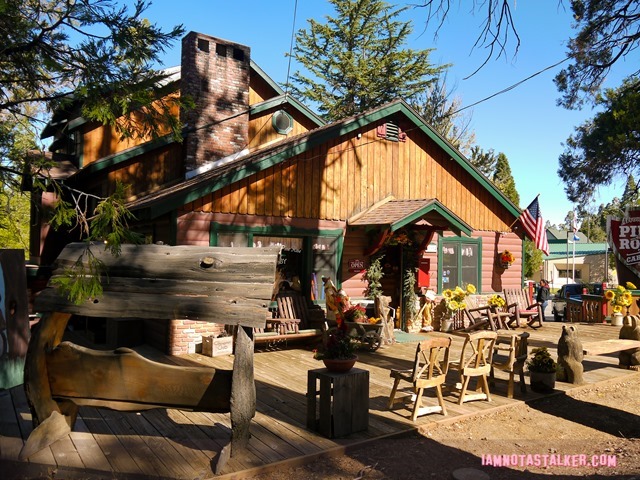 Arrowhead Pine Rose Cabins was initially built in the early 1900s as housing for U.S. Forest Service rangers and staff.  It was not until Helen and Fred Dowd saw the site's potential as a vacation destination in the 1950s that the property was transformed into a sprawling hotel.  The couple first leased the location, which they named "Arrowhead Road Resort," from the Forest Service before eventually buying it outright in the '60s.  More cabins were added to the premises during their tenure, but sadly, many of the original cottages from the early 1900s no longer stand thanks to several fires that hit the area over the years.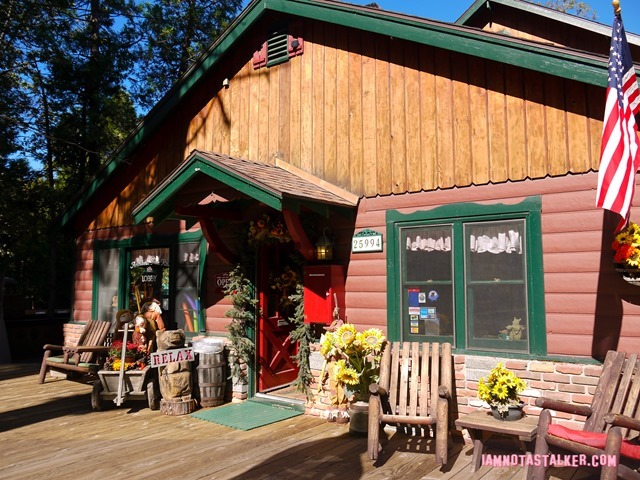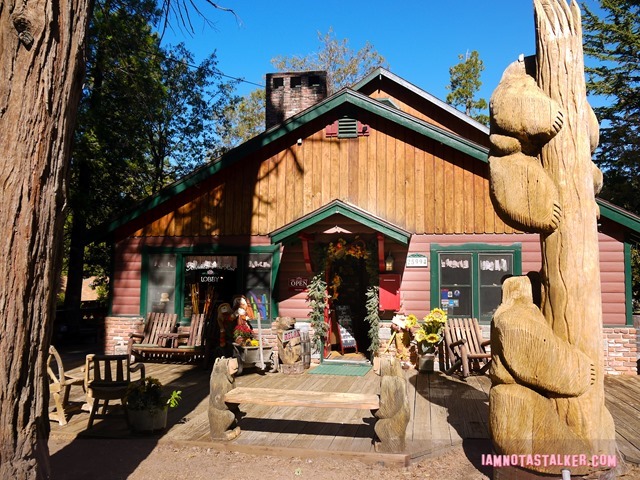 Fred's passing in 1989 caused Helen to consider retirement and she put Arrowhead Road Resort on the market shortly thereafter.  Four years later, Twin Peaks locals David and Tricia Dufour happened to visit some friends staying at the hotel and were given a tour of the vast property by Helen.  It was love at first sight.  The couple quickly snatched up the resort and re-named it Arrowhead Pine Rose Cabins.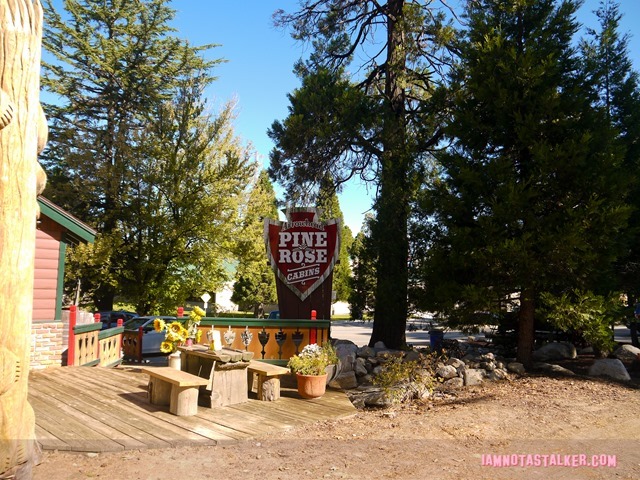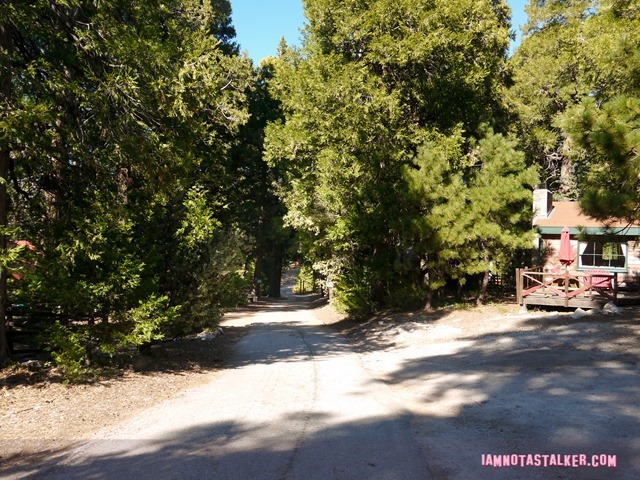 David, a general contractor, and Tricia, an interior designer, still own and manage the site to this day and have used their vocational talents to expand upon and improve the grounds and cabins, with David adding meandering streams and two large koi ponds to the premises and Tricia re-imagining the décor.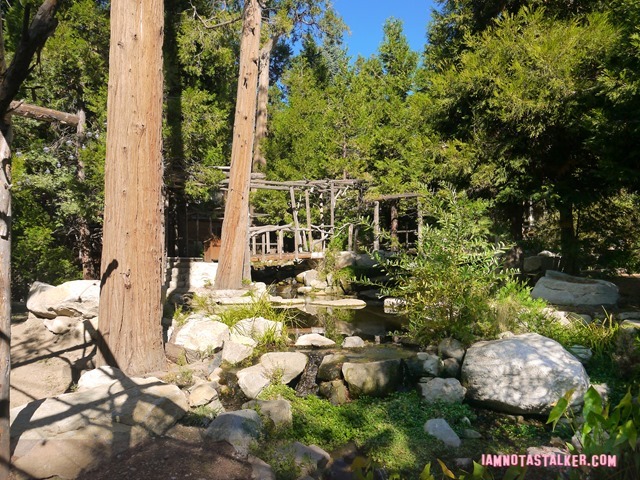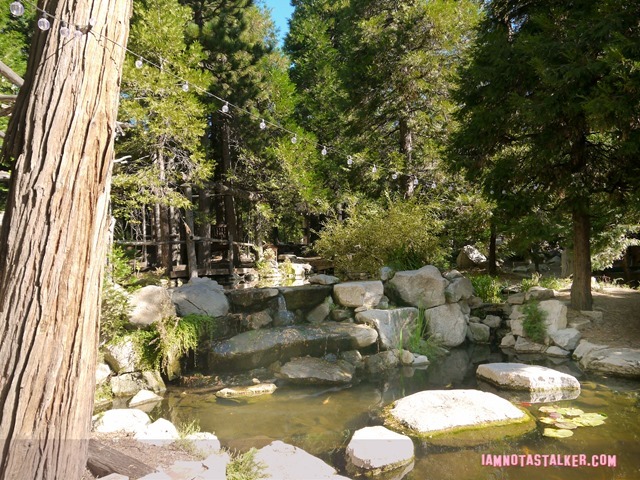 Today, the sprawling resort features 6 forested acres of land, a swimming pool, a Jacuzzi, volleyball courts, ping pong tables, hammocks, log swings, a myriad of outdoor seating areas, a jungle gym, a fire pit (perfect for s'mores!), and, as I mentioned earlier, 20 individual cabins ranging in size from studios that sleep 2 to a 7-bedroom lodge that can accommodate 21 guests.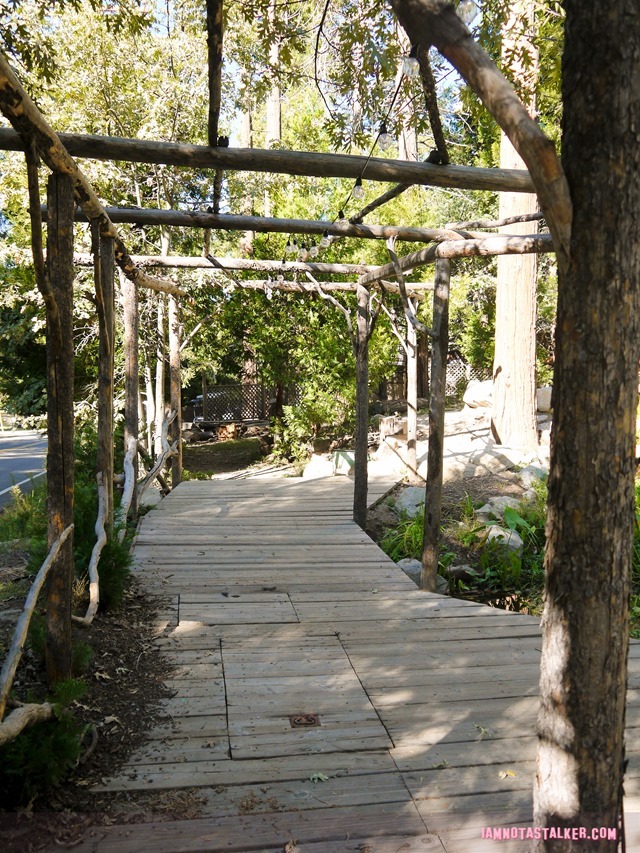 During the month of December, each of those cabins is decorated for Christmas, which I think has to be about the coolest thing ever!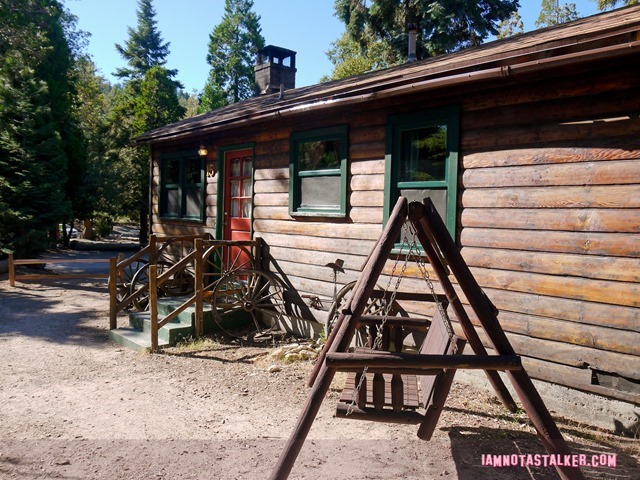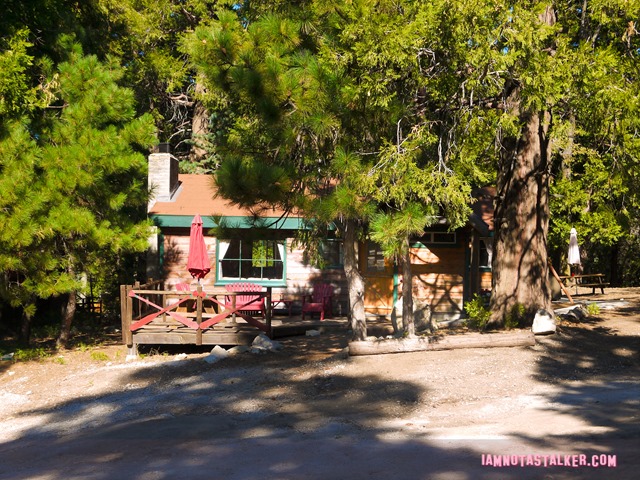 Arrowhead Pine Rose Cabins truly is gorgeous in person.  It is not hard to see why David and Tricia fell in love with the place or how it came to be used on Veep.  Bonus – the employees are super friendly, as well!  When I first arrived at the hotel, I popped in to the front office to explain why I was there and make sure it would be OK to take photos.  The woman working at the desk told me to feel free to walk around and explore the grounds.  While she was unsure of exactly where filming had taken place, thankfully I had already hatched all of that out beforehand, so she kindly handed me a map of the resort to help me find my way to the appropriate spots!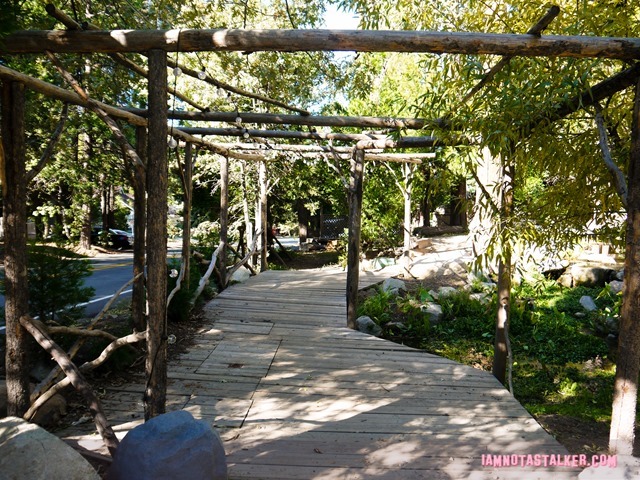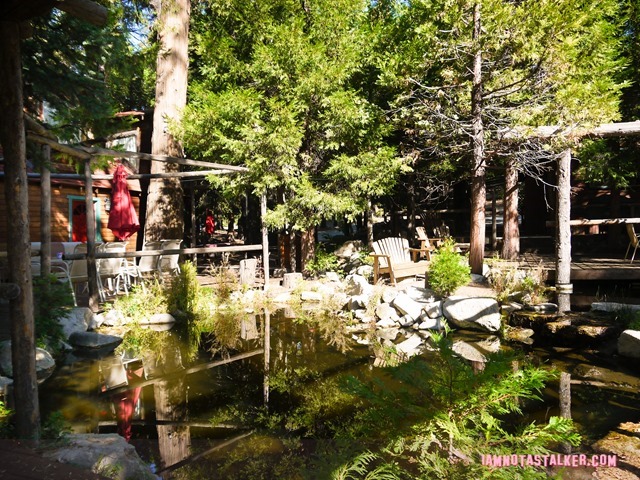 In "Camp David," President Selina Meyer (Julia Louis-Dreyfus), her bagman Gary Walsh (Tony Hale), her ex-husband Andrew Meyer (David Pasquesi), his girlfriend Monica (Lauren Bowles), Selina's daughter Catherine (Sarah Sutherland), and Catherine's girlfriend Marjorie Palmiotti (Clea DuVall) head to Camp David for a "pre-Christmas Christmas celebration."  Though the trip is supposed to be an outing solely for family, unbeknownst to the rest of the group Selina has invited her entire team along, as well as Chinese President Lu Chi-Jang (Tzi Ma), his aides, and Finnish stateswoman Minna Häkkinen (Sally Phillips) – or as Selina refers to her "that a**-burger salad" – in order to discuss the building of manufacturing plants in key states where Selina needs votes.  While three supposed Camp David cabins are shown in the episode, only two of the resort's lodgings were utilized, with Fisherman's Hideaway, aka Cabin #12 (pictured below), doing double duty portraying two different spots.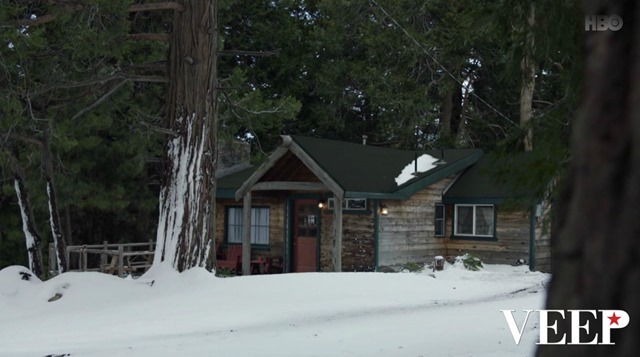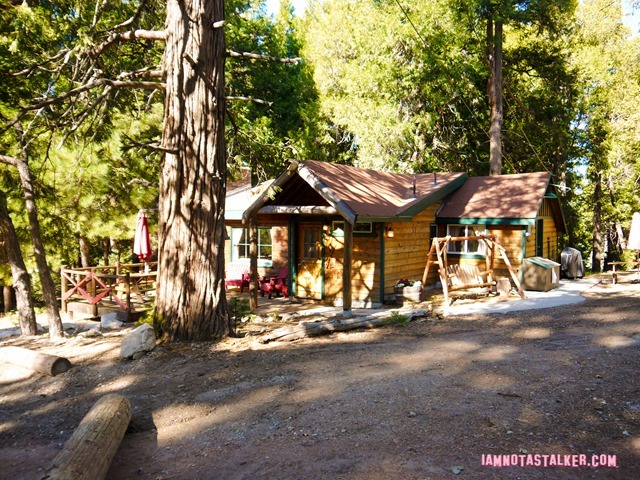 The front of Fisherman's Hideaway first pops up as Camp David's Aspen Lodge, where President Meyer and her family stay in the episode.  In real life, the two-bedroom structure, which is Pine Rose Cabins' most secluded unit, features a wooden deck with a BBQ, a full kitchen, a queen bed, a double bed, a foldout sofa, and a fireplace.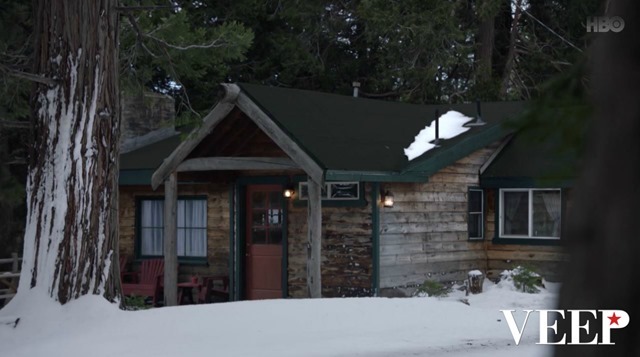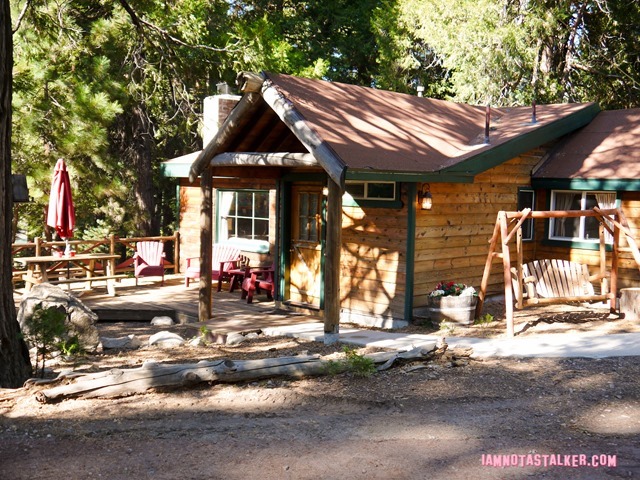 Only the exterior of the cottage was used in the filming.  The interior of Selina's cabin, which is much larger than Fisherman's Hideaway's interior, was a set built at Paramount Studios where the series is lensed.  As you can see in these images of the inside of the actual Aspen Lodge, the Veep set was designed to closely resemble the president's real life country retreat.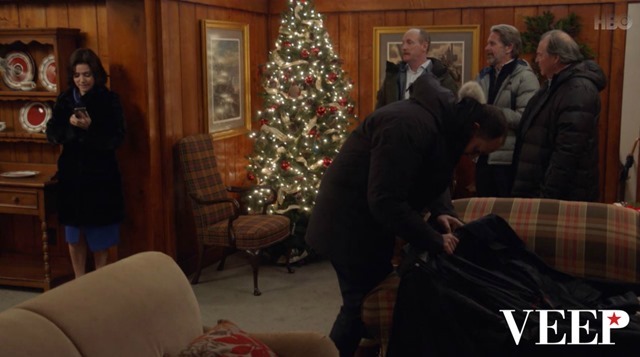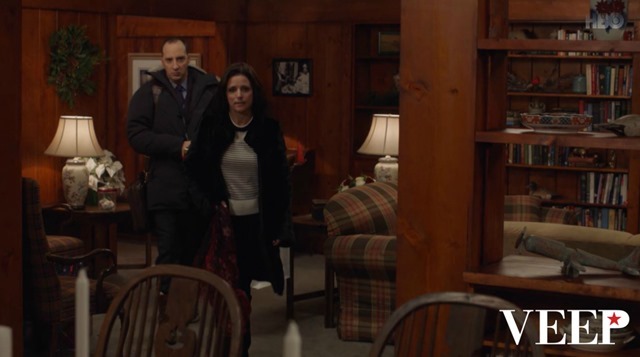 The north side of Fisherman's Hideaway later pops up in "Camp David" as the cabin where Selina meets with President Lu Chi-Jang and the rest of the Chinese diplomats.
As you can see below, some changes were made to the structure for the shoot.  Not only were the picnic table, bench swing, plastic storage compartment, utility box, and metal piping removed from the cabin, but a large pile of wood was added next to the door and the front porch area was digitally covered over with siding and a window to make it appear enclosed.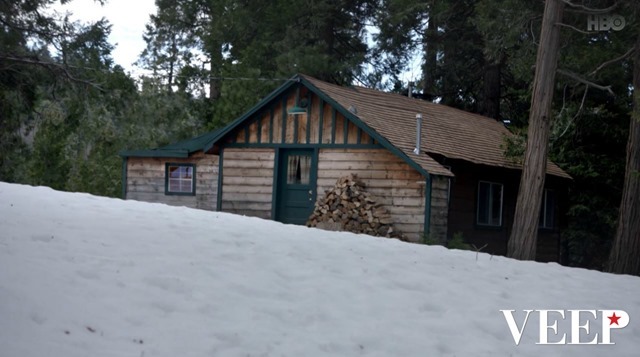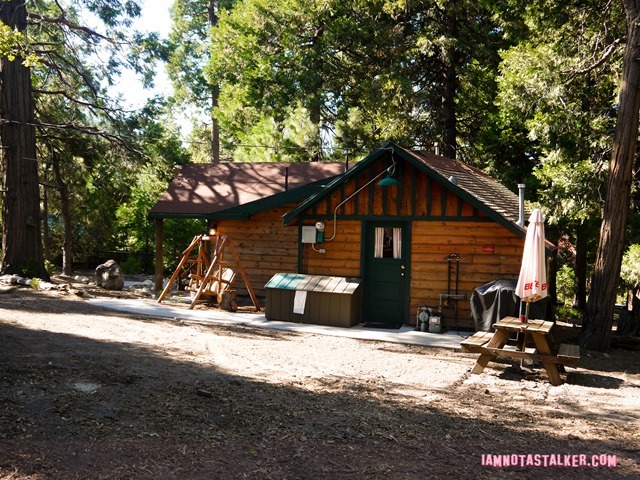 It is in front of the Fisherman's Hideaway's north side door that Lu Chi-Jang learns that President Eisenhower is no longer alive . . .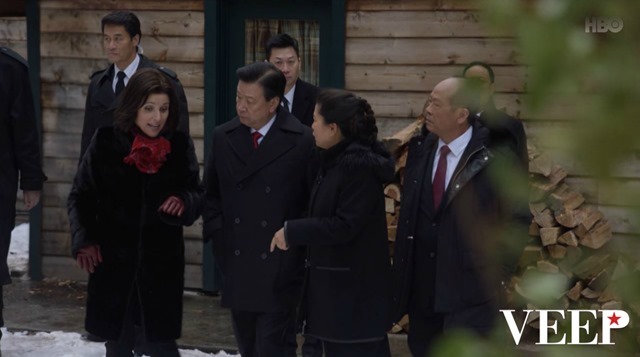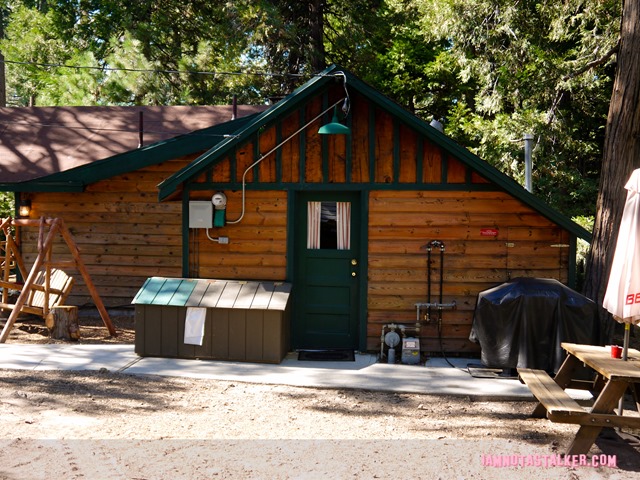 . . . and that Mike McLintock (Matt Walsh) inadvertently takes up chewing nicotine gum.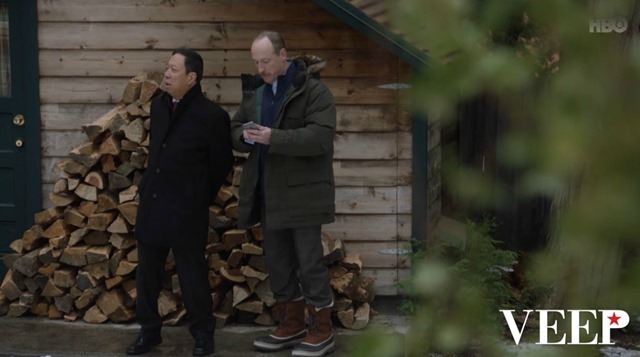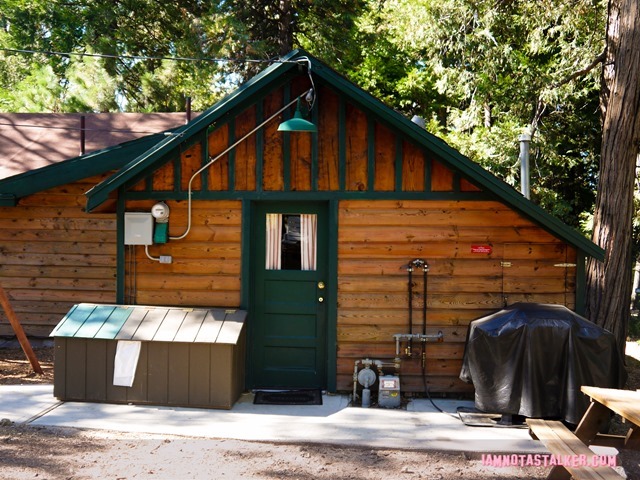 The supposed interior of that cabin was also a studio-built set.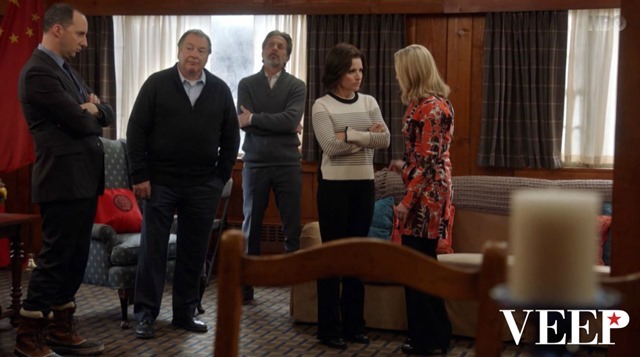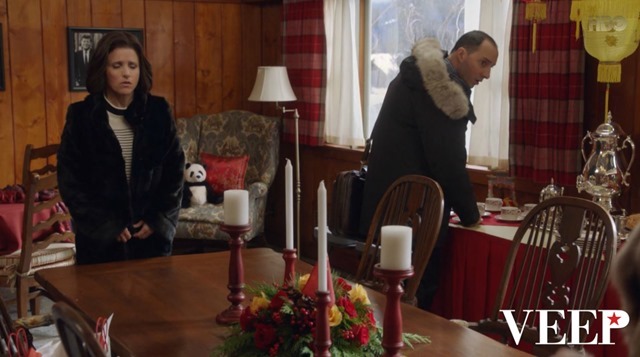 Finally, Pine Rose's Wild Bill's cabin, aka Cabin #15, is where Selina's team holes up in the episode.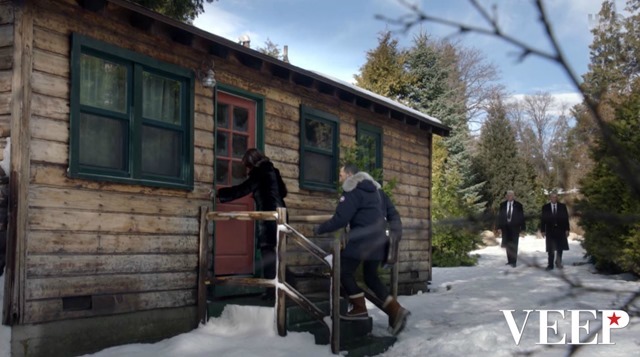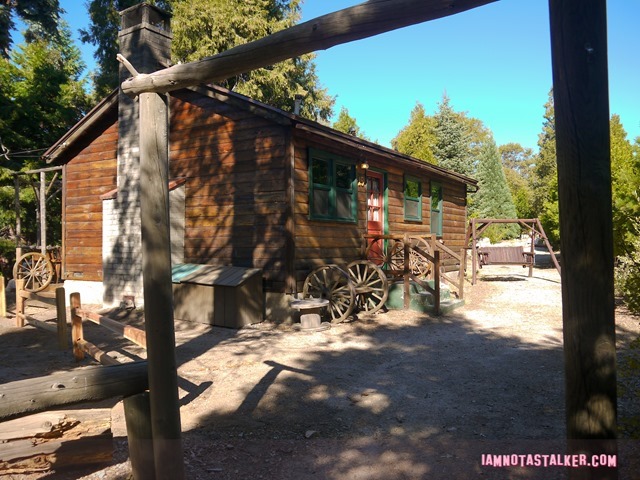 In real life, the one-bedroom Western-themed lodging boasts a fireplace, a full kitchen, a deck, a BBQ, a queen bed, and a day bed.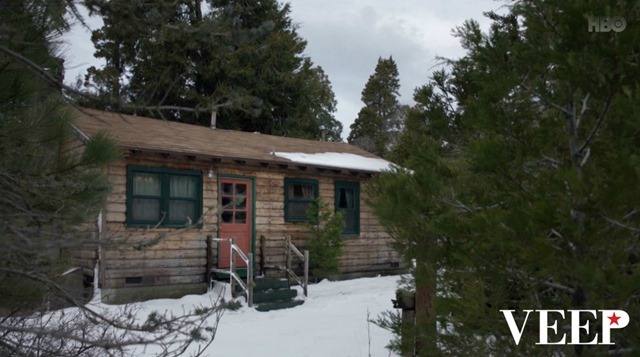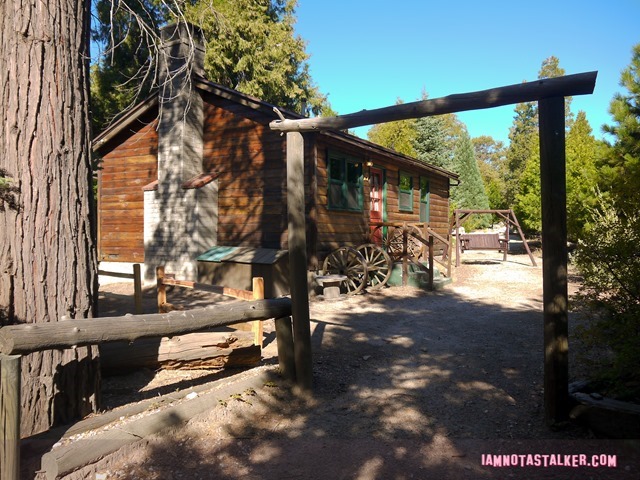 Unlike Fisherman's Hideaway, the interior of Wild Bill's was utilized in "Camp David."  You can see images of it here.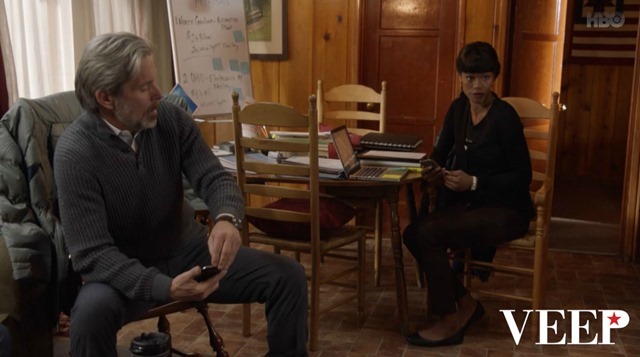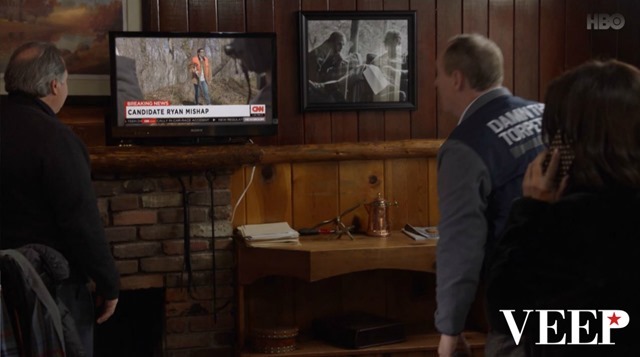 The episode also made extensive use of Pine Rose Cabins' beautiful grounds.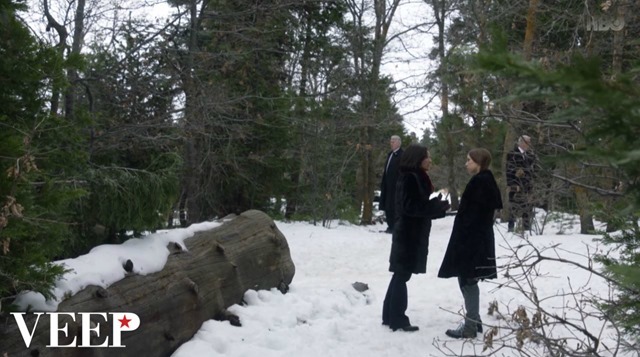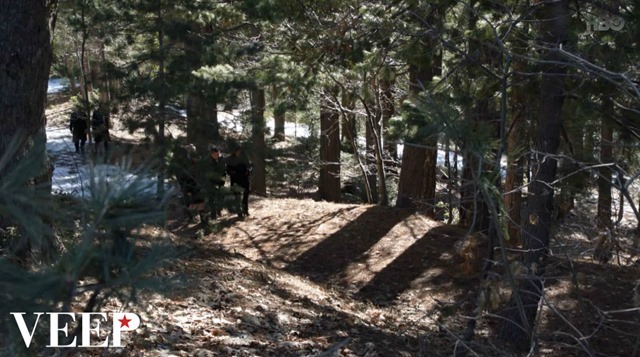 For more stalking fun, follow me on Facebook, Twitter, Instagram, Los Angeles magazine and Discover Los Angeles.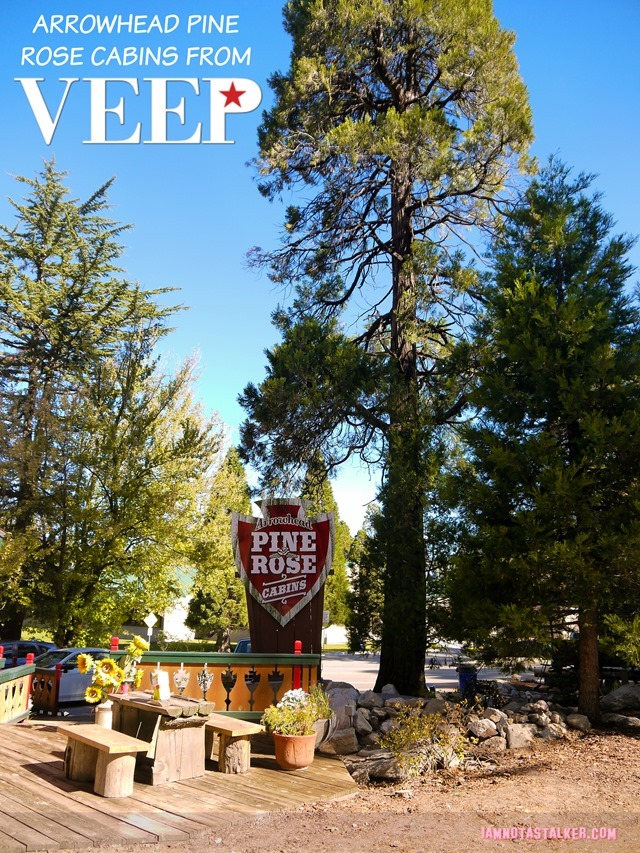 Until next time, Happy Stalking! 

Stalk It: Arrowhead Pine Rose Cabins, from the "Camp David" episode of Veep, is located at 25994 California 189 in Twin Peaks.  You can visit the hotel's official website here.  The cabins that appeared in the episode are Fisherman's Hideaway and Wild Bill's, both of which are denoted in pink in the aerial view below.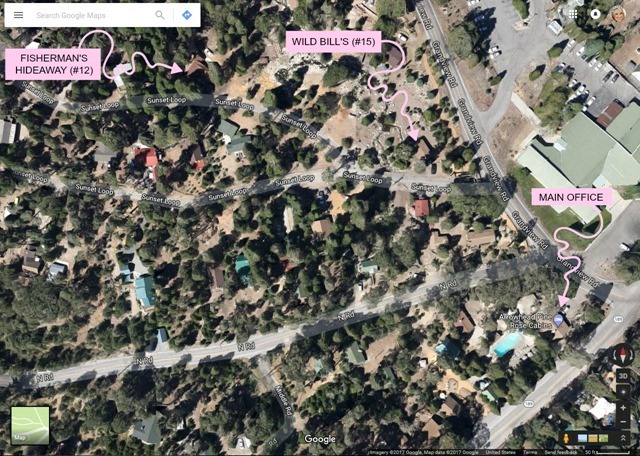 109915