Thornton Gardens from "Funny Girl"
Dec 8th, 2017 | By
Lindsay
| Category:
Movie Locations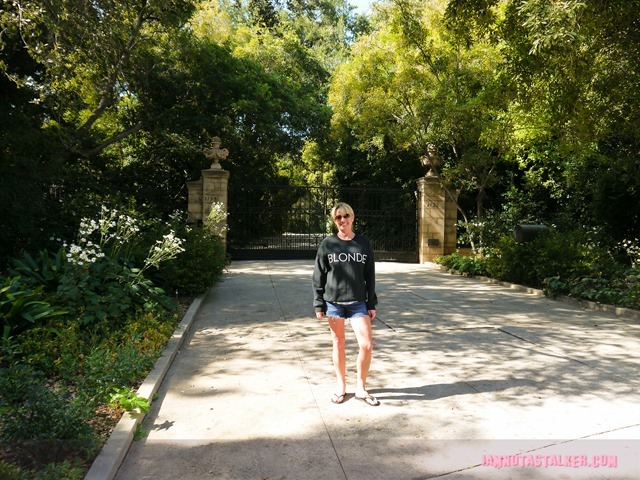 I have never been a big Barbra Streisand fan.  Sure, she's an undeniably talented singer – and actress and director, for that matter – but I'm just not that into music.  And that whole Rosie-O'Donnell-having-to-rearrange-her-stage-to-showcase-Barbra's-better-side thing really turned me off.  I won't even get in to her absolutely cringe-worthy Inside the Actors Studio interview.  Nevertheless, when I came upon this 2016 Outlook Newspapers article which mentioned that the movie Funny Girl had done some filming at a house located at 1155 Oak Grove Avenue in San Marino, I took note – and was utterly shocked.  Though I had never seen the 1968 musical biopic, I knew it was a tremendous hit, one that put Babs on the map.  I have no idea how I lived in Pasadena for over 15 years – and spent pretty much all of my waking moments traversing the area stalking, no less – yet failed to realize it had been lensed nearby!  So I immediately added the address to my To-Stalk List and headed right on over to see the place in person a few weeks later.
Prior to stalking the locale, I had not done any research on it.  I hadn't even so much as looked at an aerial view.  Because the Outlook article described the site as a "house," I assumed it was just that – a regular single-family residence.  So I was shocked upon arriving to discover an absolutely massive front gate – easily the largest gate I've ever encountered – with no sign of a house anywhere.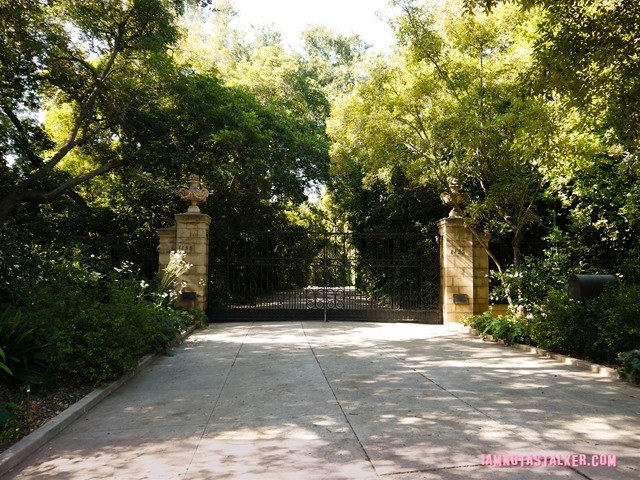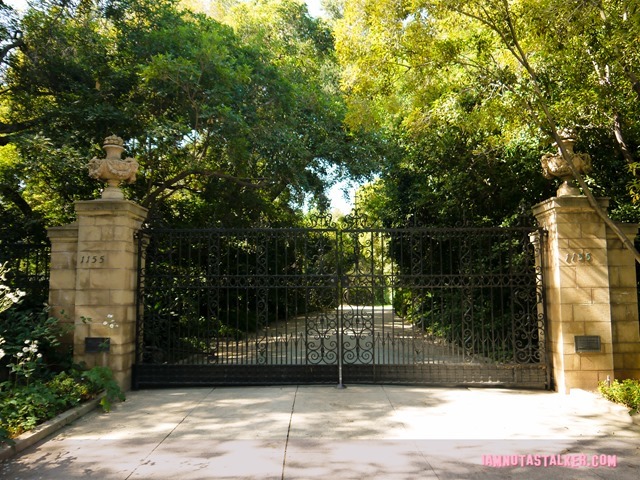 As it turns out, the "house" mentioned in the article is actually a mansion – an enormous 2-story, 11,700-square-foot, Tudor Revival-style structure that boasts 7 bedrooms, 8 baths, and a whopping 9 acres of land.  Sadly, outside of the impressive gate, none of it is visible from the road.  But you can catch a glimpse of it in the aerial view below.  Known as Thornton Gardens, the massive residence is named for its current owner Charles Thornton Jr., who bought the pad in 1989.  For years though, it was known as the Katherine Sinclair Emery Estate, in honor of the woman who commissioned it in 1927.
After her husband, tobacco heir Frank Whitney Emery, passed away in 1920, Katherine decided to "downsize" from the sprawling 24-room mansion at 1400 Hillcrest Avenue in Pasadena that she had called home since 1914.  (That pad has, sadly, since been demolished with several residences built in its place.)  She hired renowned architect Myron Hunt to design a new estate for her on a large plot of land in nearby San Marino.  His creation, which boasted a grand entry hall with a massive staircase, oak walls, leaded-glass windows, and a conservatory, was completed in 1928.  The grounds were designed by landscape architects Florence Yoch, Lucille Council and Katherine Bashford and included a motor court, manicured gardens, and a reflecting pool.  At various points during her tenure, Katherine, I guess hoping to downsize even further, subdivided her land.  When she passed away in 1939, the residence was sold first to a wealthy couple who used it as a winter home and then, in 1945, to Colonel J.G. Boswell and his wife, Ruth Chandler Williamson, daughter of Harry Chandler.  Though Boswell re-purchased some of the estate's lost land, when he passed away in 1952, Ruth sold it off once again.  Upon her death in 1987, the manse was acquired by Thornton and his wife, who painstakingly revitalized it and bought back much of the subdivided parcels.  Doing so made the couple San Marino's second largest landowners, the largest being The Huntington Library, Art Collection, and Botanical Gardens!  You can see some interior and exterior photographs of the spectacular property, which was added to the National Register of Historic Places in 2011, here.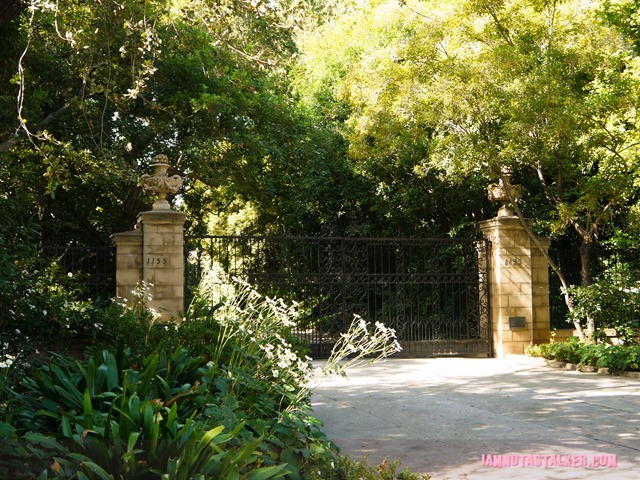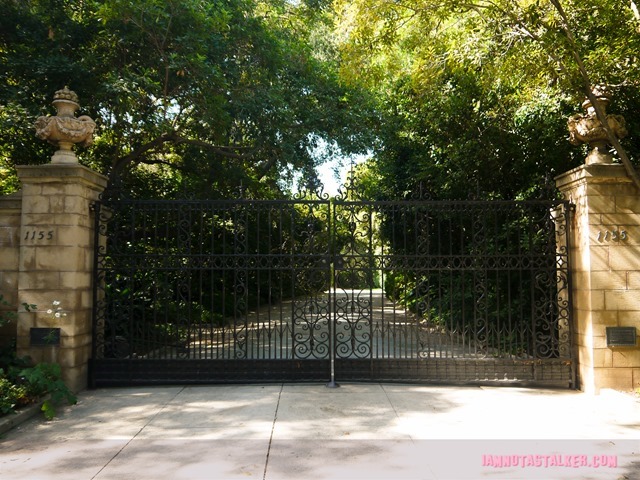 In Funny Girl, Thornton Gardens masquerades as the supposed Long Island mansion that Nick Arnstein (Omar Sharif) and Fannie Brice (Streisand) purchase after getting married.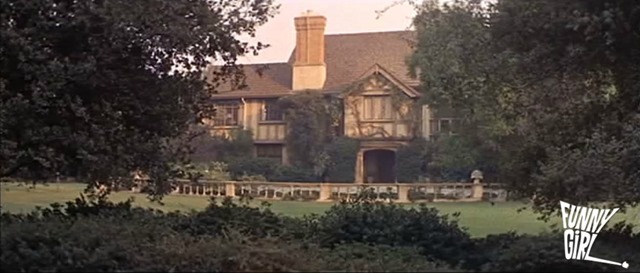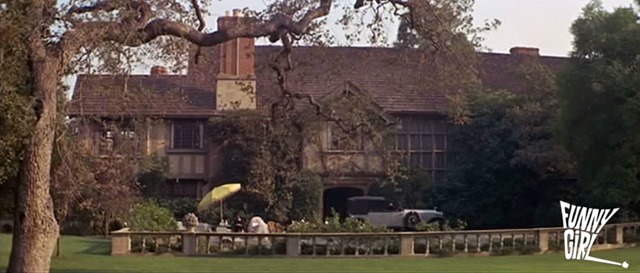 Both the exterior . . .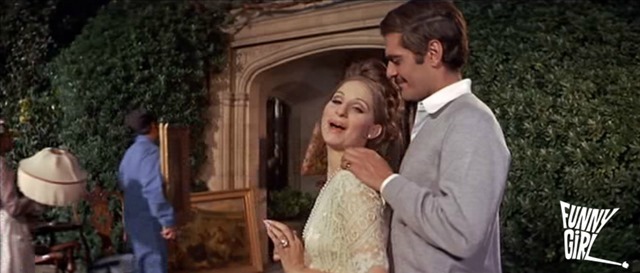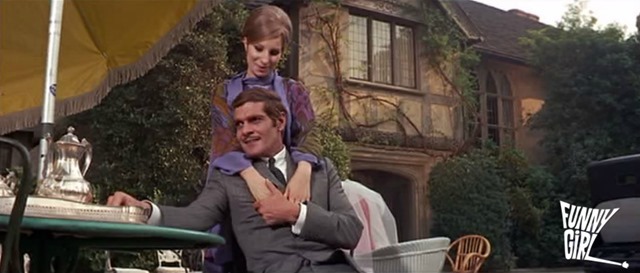 . . . and interior of the property were utilized in the movie.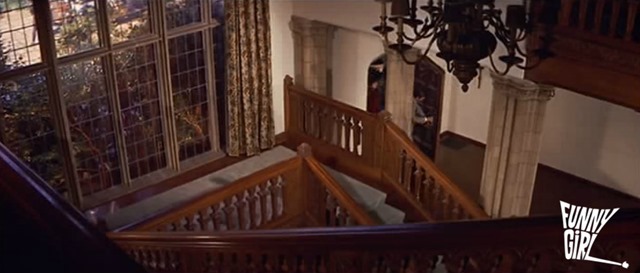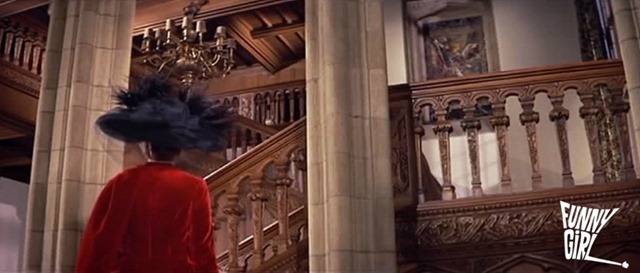 Though the Barbra Streisand Archives website mentions that Thornton Gardens belonged to producer Ray Stark at the time that Funny Girl was lensed, that information is incorrect.  Per the California Office of Historic Preservation, the property was owned by Ruth Chandler and her third husband Sir William Charles Crocker when filming took place in 1967.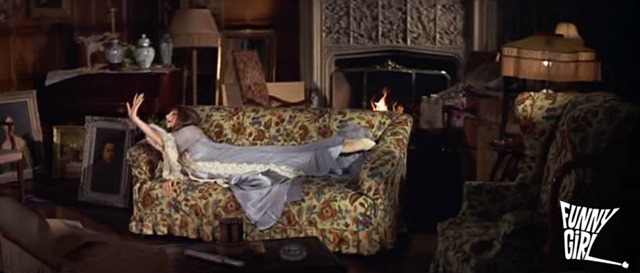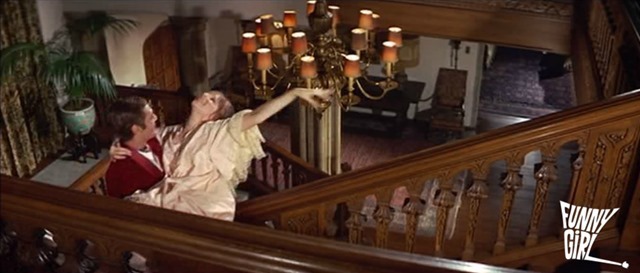 Thanks to IMDB, I learned that Thornton Gardens also pops up in 1950's The Big Hangover as the home of John and Martha Belney (Percy Waram and Fay Holden, respectively) and their daughter, Mary (Elizabeth Taylor).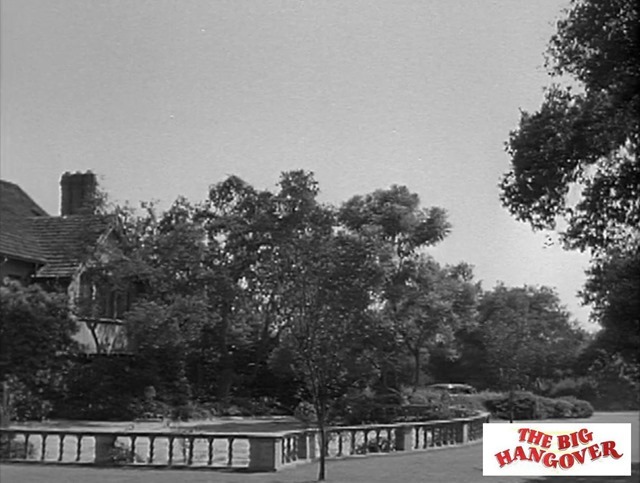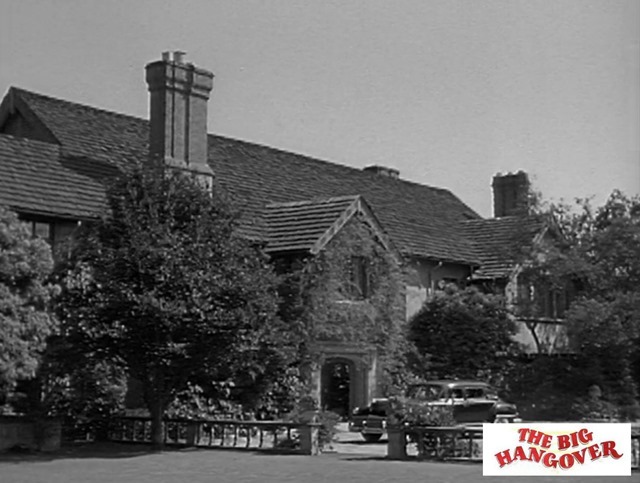 The front gate even makes an appearance in the flick.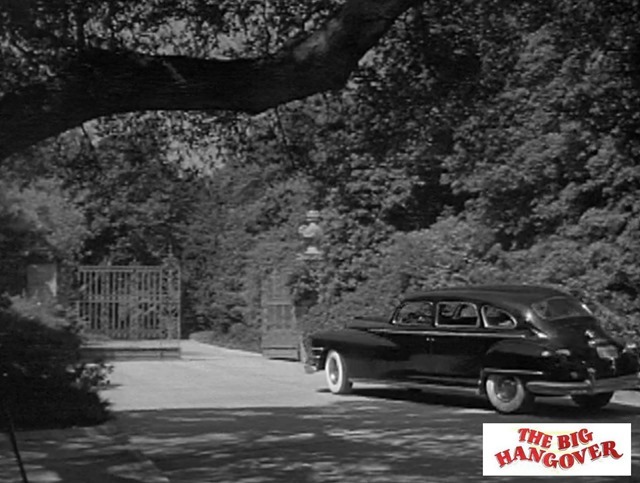 The interior shown in the movie was just a set, though, and not Thornton Gardens' actual interior.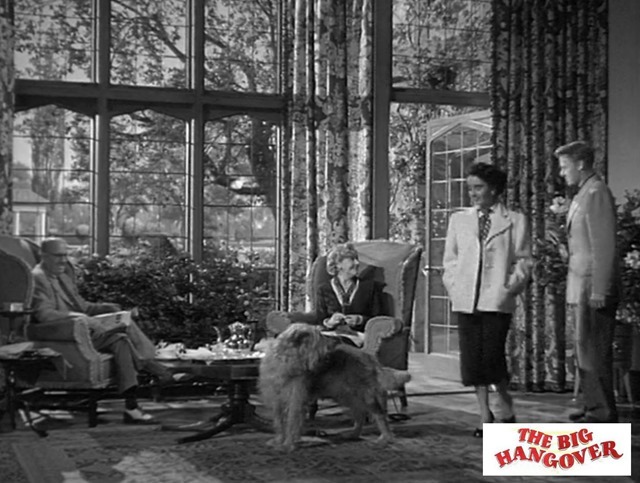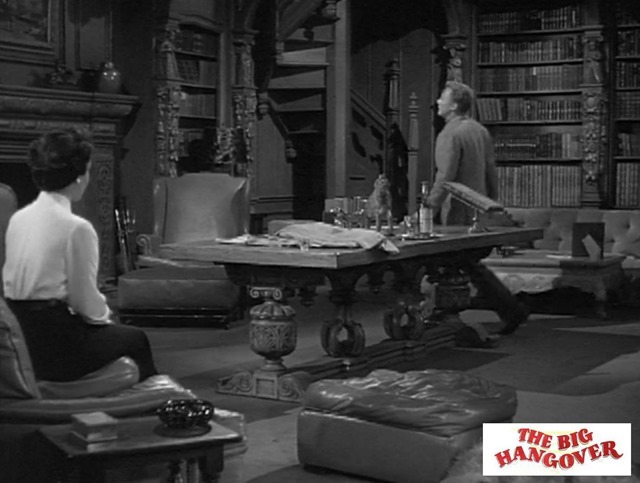 As you can see in these photographs as compared to the screen captures above and below, the inside of the Belney home does not look at all like Thornton Gardens.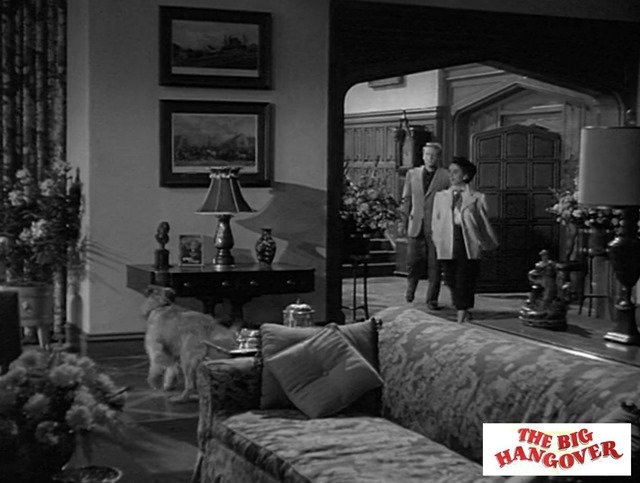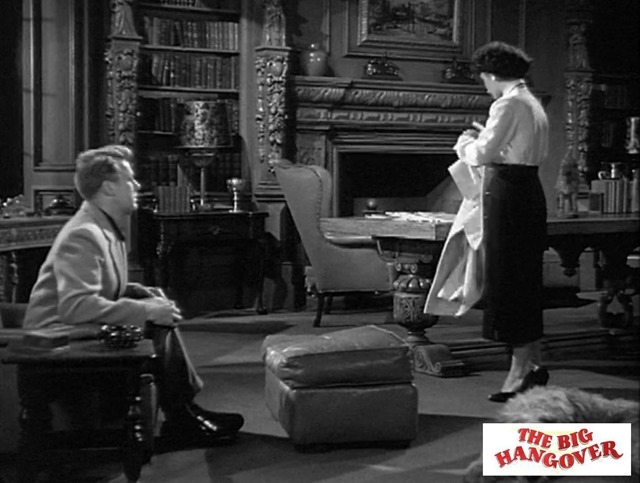 For more stalking fun, follow me on Facebook, Twitter, Instagram, Los Angeles magazine and Discover Los Angeles.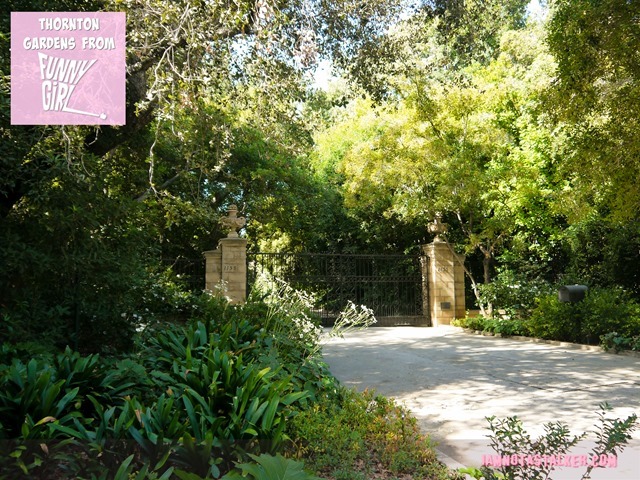 Until next time, Happy Stalking! 

Stalk It: Thornton Gardens, aka Nick and Fannie's "Long Island" mansion from Funny Girl, is located at 1155 Oak Grove Avenue in San Marino.
109978