The "L.A. Confidential" Christmas Eve Pot Bust House
Dec 22nd, 2017 | By
Lindsay
| Category:
Movie Locations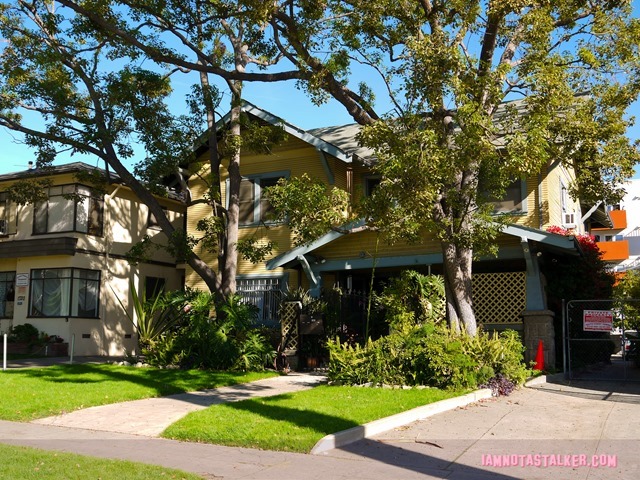 Some might not consider the subject of today's post a Christmas location.  It's certainly not from a holiday flick, that's for sure.  But the scene that was shot there took place on Christmas Eve, so I figured it was fair game.  For those who do not recognize the pad pictured above, it was at the two-story Craftsman that the infamous "movie premiere pot bust" – or as I always refer to it, the "Christmas Eve pot bust" – from L.A. Confidential was lensed.  If you've never seen the 1997 film (and I just learned that the Grim Cheaper counts himself in that category, which absolutely flabbergasted me!), I'll fill you in.
At the beginning of the 1950s-set drama, Hush-Hush tabloid reporter Sid Hudgens (Danny DeVito) convinces LAPD sergeant Jack Vincennes (Kevin Spacey) to arrest two Metro Studio contract players, Matt Reynolds (Simon Baker) and Tammy Jordan (Shawnee Free Jones), whom he has set up for pot possession, so that he can document the whole thing for his magazine.  When they arrive at Reynolds' home, Vincennes, ever the media opportunist, immediately notices that a Hollywood premiere is taking place at the theatre down the street and instructs Sid, "Put your camera right there.  When I walk out, I'll stop right here, you get the movie premiere in the background."  To which Sid says, "I like it!  I like it!  The movie premiere pot bust!"  (Why a film premiere would be taking place on Christmas Eve night is beyond me, but I guess that is a question for director/screenwriter Curtis Hanson.)  As Sid later spins the story, "It's Christmas Eve in the City of Angels and while decent citizens sleep the sleep of the righteous, hopheads prowl for marijuana, not knowing that a man is coming to stop them – celebrity crime stopper Jack Vincennes, scourge of grasshoppers and dope fiends everywhere."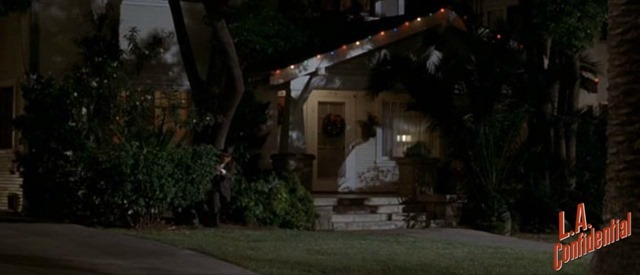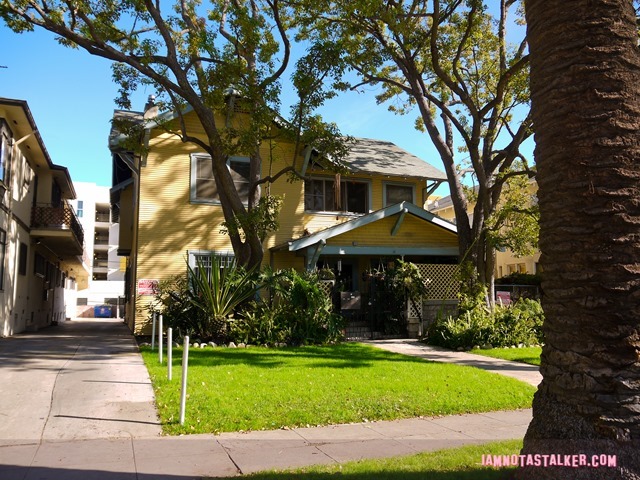 Because of the tight angle from which the scene was shot, as well as the low lighting (not to mention a change in paint color in the ensuing years), the movie premiere pot bust house looks quite a bit different in person than it did onscreen.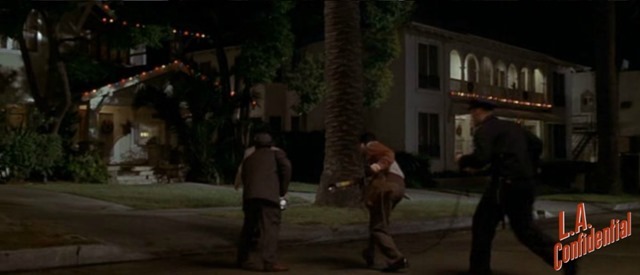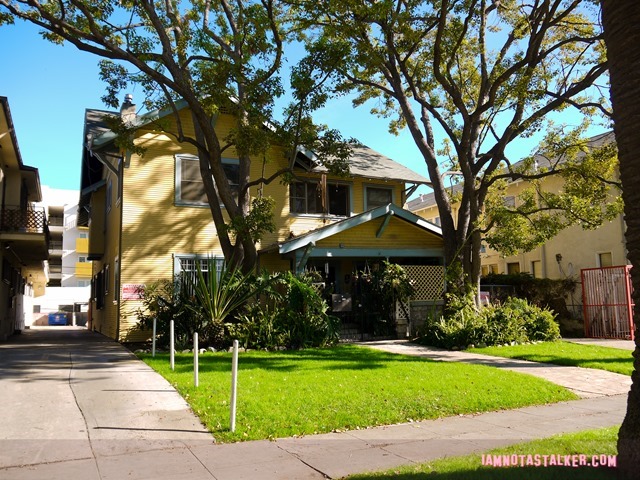 While it deceivingly looks like a single-family residence from the street, as was depicted in L.A. Confidential the 1914 property is actually a multi-occupancy dwelling.  Per Zillow, the structure boasts a total of 3 bedrooms, 3 baths, 3,304 square feet, and a 0.23-acre parcel of land.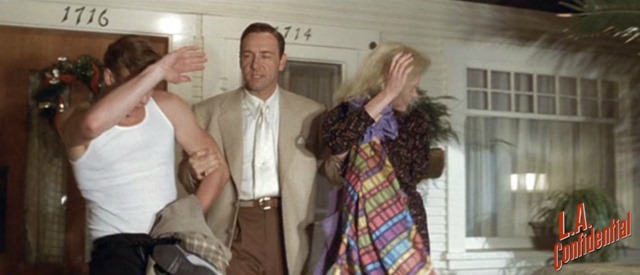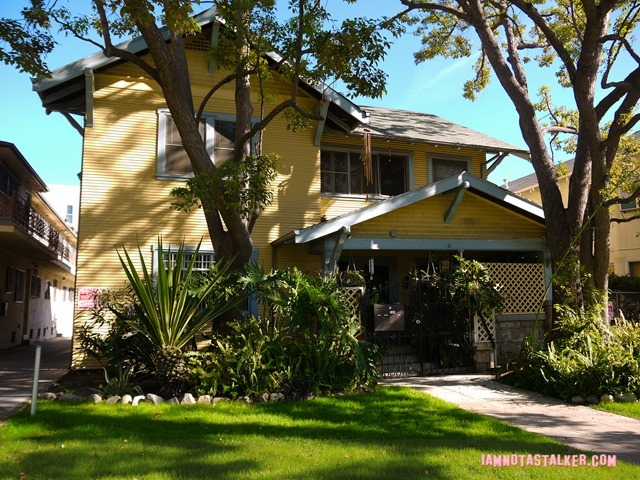 Though they are now largely obscured by a screened-in porch, you can just make out the property's two front doors in my photograph below.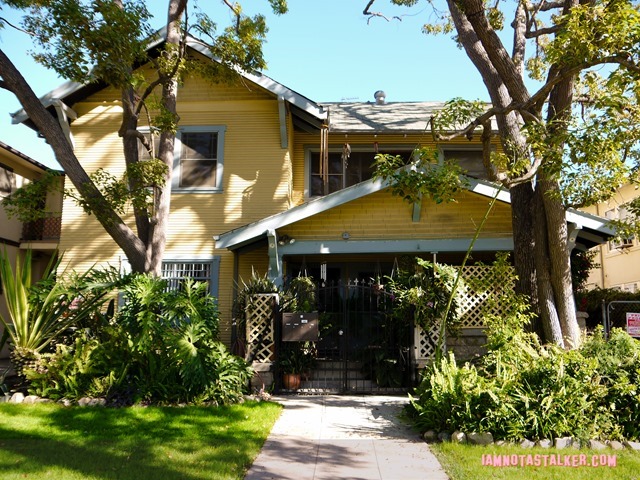 The home's actual interior was also utilized in the movie.  It is there that Vincennes (does L.A. Confidential have great character names, or what?) first learns about Fleur-de-Lis thanks to a mysterious black business card he finds tucked away in a notebook.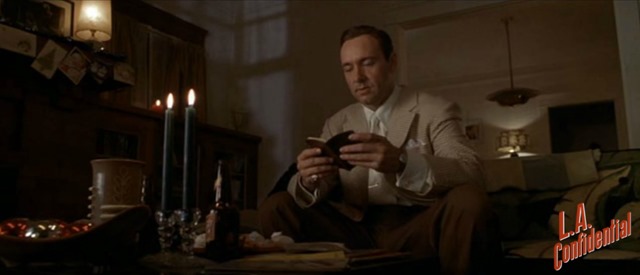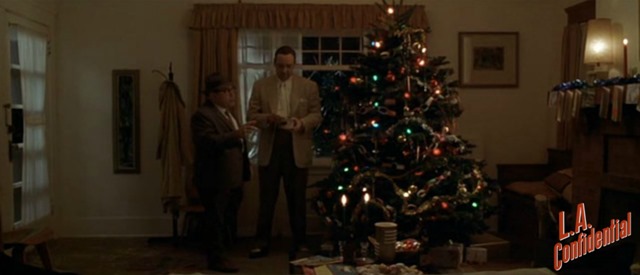 Though the scene taking place there is rather brief, the pot bust house was one of the tougher locales for the L.A. Confidential production team to nail down.  According to an interview with location manager John Panzarella and key assistant Leslie Thorson that ran in L.A. Weekly this past September, early versions of the script called for a residence within view of Grauman's Chinese Theatre.  Panzarella says, "Our directive always was to have a theater that was in a sightline to a house, like half a block away.  We did go look at the Chinese Theatre, we went down Sycamore, we went down Orange, we went down all the adjacent streets and there was no house there that was within sightlines."  So they started seeking out other venues – in Leimert Park, Westwood, and additional areas of L.A.  But they came up with zilch.  That's when production designer Jeannine Oppewall stepped in and saved the day by proposing that an old Art Deco bank building at 5620 Hollywood Boulevard in Hollywood could possibly mask as a theatre in the scene.  Her idea was right on the money and Panzarella and Thorson soon zeroed in on a home with period-perfect architecture located just down the street from the structure at 1714 North Gramercy Place to portray Reynolds' residence.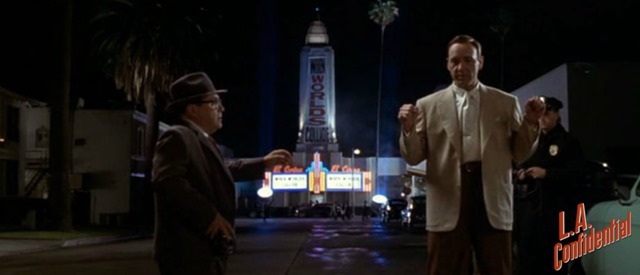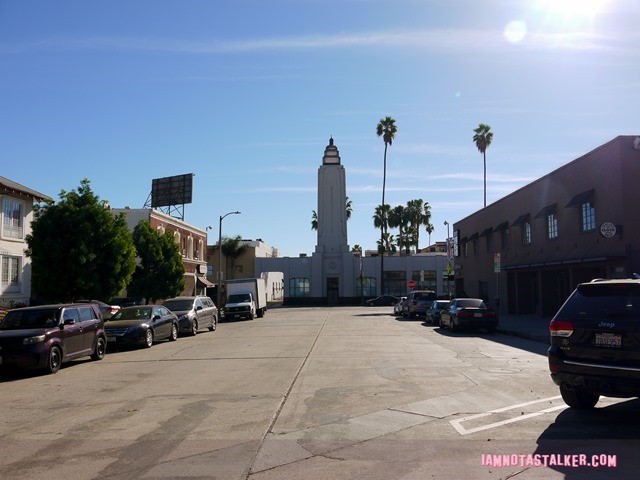 Transforming the bank building into the fictional "El Cortez" theatre for the shoot did prove a bit challenging, as the owners of the structure would not allow anything to be attached to the façade.  So Oppewall had to think outside the box.  As she explained to Curbed L.A. in a recent interview, "What I ended up doing was designing the movie marquee as a freestanding triangle.  We shoved it up against the building, and then we built two pilasters on the back two legs that disappeared directly into the background of the building . . . And we had to have a supporting pillar in the front, which we painted black.  I specified that we had to always have some extras standing directly in front of it so you wouldn't see that it was actually standing on three legs."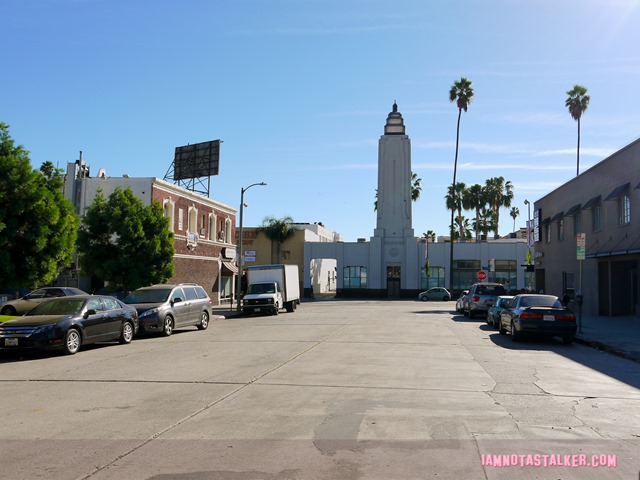 Known as the California Bank/Precision Auto Building in real life (per this Historic Resources Survey Report), the structure was designed by John Parkinson of Parkinson & Parkinson, the father-and-son architecture team who also gave us Union Station, Bullocks Wilshire and both Security Trust & Savings Bank's Highland Park Branch and North Hollywood Branch.  According to the Los Angeles Times, the site, which boasts a 95-foot-tall pyramid-topped tower, was built in 1920 (though many others report the year of construction as 1929).  Said tower was badly damaged during the Northridge earthquake in 1994.  Though it has, thankfully, since been repaired, you can check out some eerie photographs of its toppled spire here and here.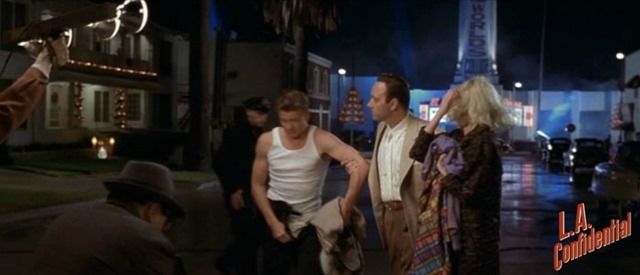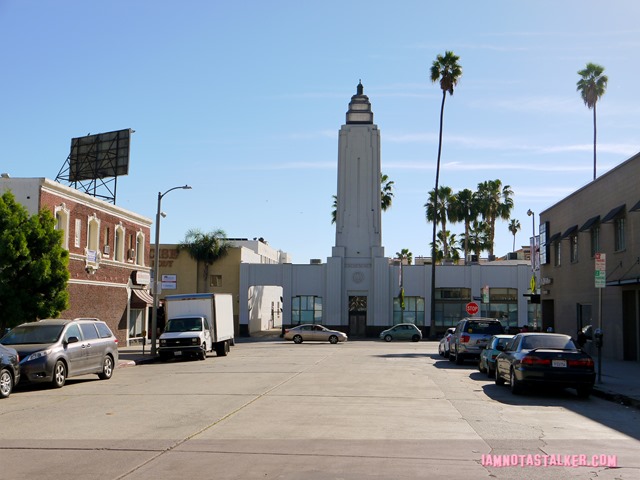 For more stalking fun, follow me on Facebook, Twitter, Instagram, Los Angeles magazine and Discover Los Angeles.
Until next time, Happy Stalking! 

Stalk It: The Christmas Eve pot bust, aka the movie premiere pot bust, from L.A. Confidential took place at 1714 North Gramercy Place in Hollywood.  The California Bank/Precision Auto Building, aka the fictional "El Cortez" theatre seen in the background of the scene, can be found just down the street at 5620 Hollywood Boulevard.
110270