Rise N Grind from "Veep"
Jan 8th, 2018 | By
Lindsay
| Category:
TV Locations
,
Uncategorized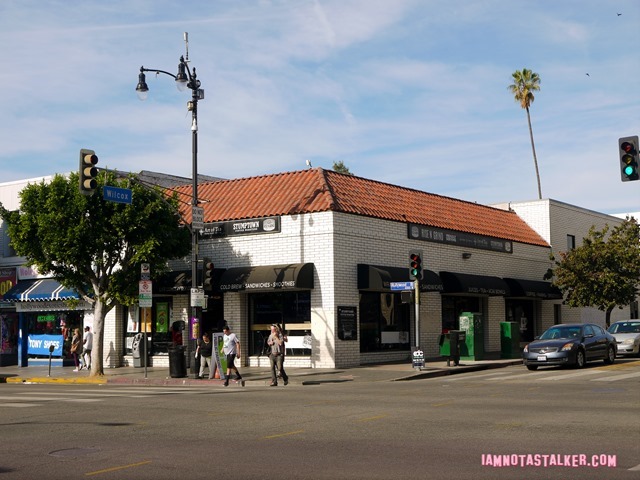 I have never been one for New Year's resolutions.  That being said, in 2018 I am hoping to regularly exercise, be kinder (to myself and others), drink more water and less champagne, and cut down on my daily latte regimen.  The last one is going to be much easier said than done.  No matter what, though, I will definitely not be cutting down on my stalking of coffee shops – that I can promise.  One café that I recently visited was Hollywood's Rise N Grind, which I became enamored with after it made a brief appearance in an episode of Veep.
In Season 6's "Georgia," Catherine Meyer (Sarah Sutherland) and girlfriend Marjorie Palmiotti (Clea DuVall) meet with Dan Egan (Reid Scott) at a supposed New York coffee shop to ask if he would be willing to be their sperm donor.  The encounter is extremely quick, as Dan readily agrees to the proposition – literally no questions asked.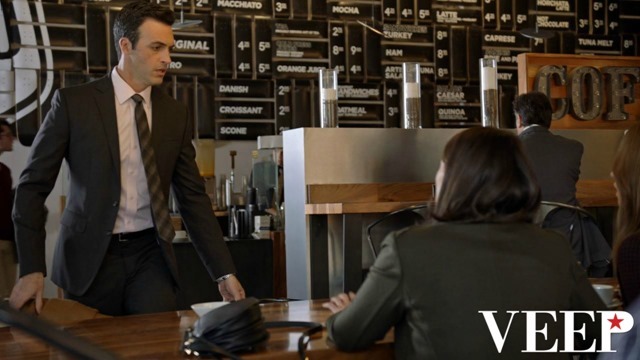 Though I've always been prone to coffee shop adoration, the café that appeared in the episode intrigued me even more so than usual.  I was immediately taken with the space's modern décor.  A black and white color schematic?  A marquee "coffee" sign?  Painted brickwork?  Touches of wood throughout?  Yes, yes, yes, and yes!  The place couldn't be any more "me" if it tried!  So I, of course, set out on a mission to track it down.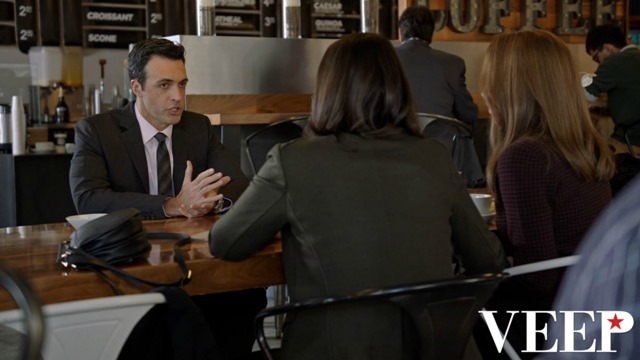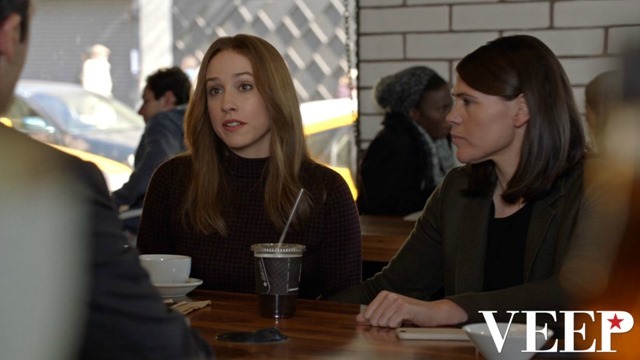 While watching, I noticed what looked to be a menu board constructed out of skateboards in the background of the scene.  So I did a Google search for "Los Angeles," "coffee shop," and "skateboards."  The second result kicked back was a listing for Rise N Grind located at 6501 Hollywood Boulevard in Hollywood.  One glimpse at the photographs of the place posted online told me it was the right spot.  I ran out to stalk it just a short time later.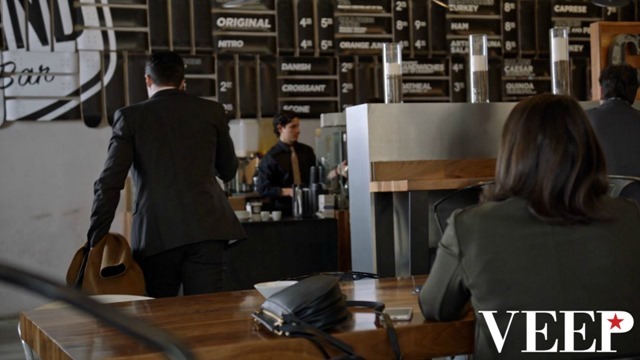 Opened in July 2014 by nightclub impresario Robert Vinokur, Rise N Grind is fairly new to the Hollywood coffee scene.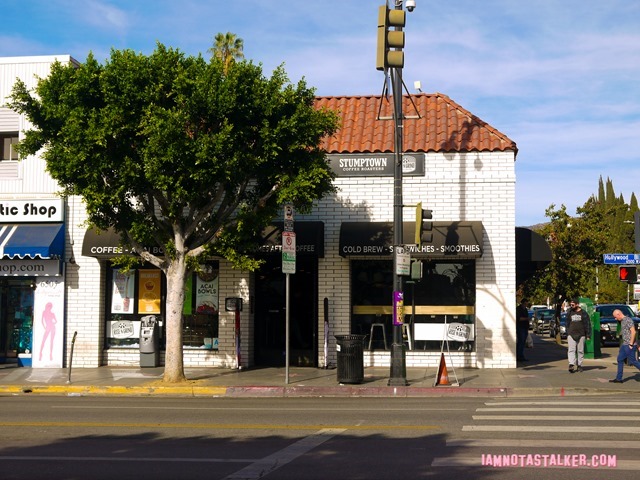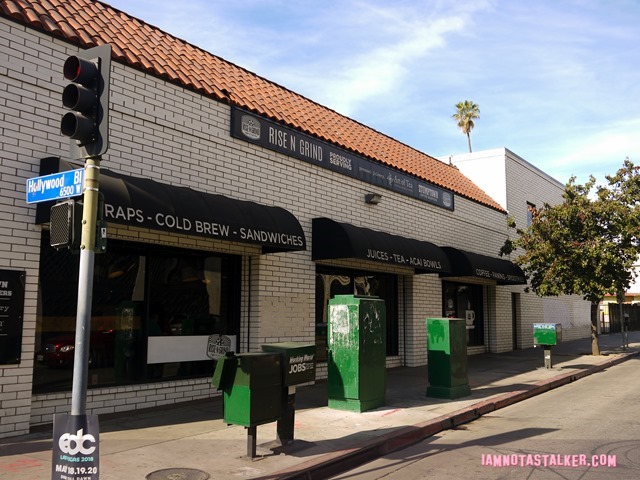 Situated inside of a corner building in the heart of Tinseltown, the site is easily one of the most artfully-decorated cafes I've ever visited.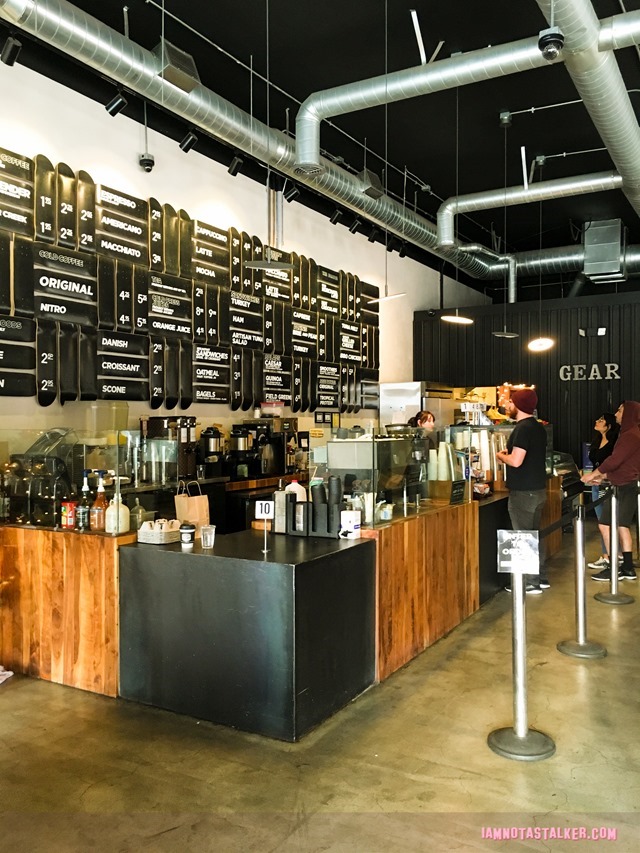 Prior to opening, Vinokur completely and painstakingly re-designed the 7,000-square-foot, 2-story, 1994 building, which previously housed a designer suit outlet.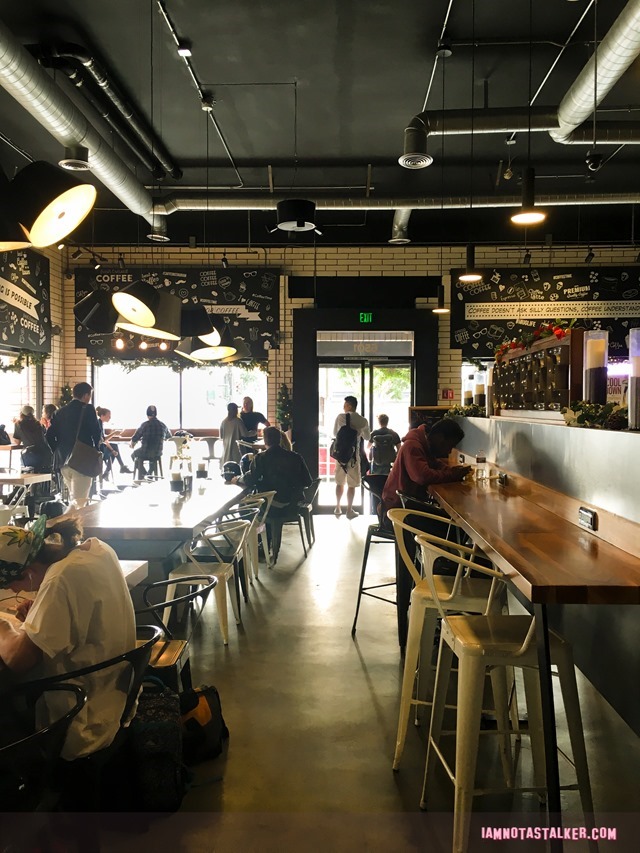 As writer Kim Sudhalter chronicled in a post for the Only in Hollywood blog while the space was being renovated, "Last month I drove up Wilcox and saw a crew of painters working on the building gracing the northwest corner of Wilcox and Hollywood, near my old office.  As I got closer, I noticed they were carefully painting the face of each brick white, leaving the brick-colored mortar intact in between.  I drove by several times in the next week and they were still at it . . . hand-painting bricks one by one.  The final effect was so elegant I knew something special was happening."  Something special indeed!  The white brick motif was carried out inside the café, as well, to stunning effect.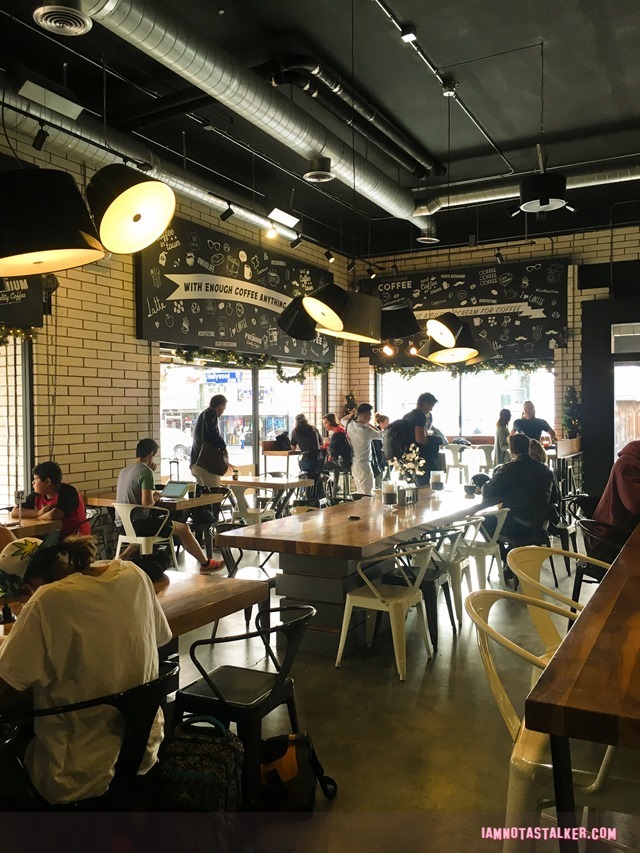 The result is a thoroughly modern venue that manages to be industrial, but wholly welcoming at the same time.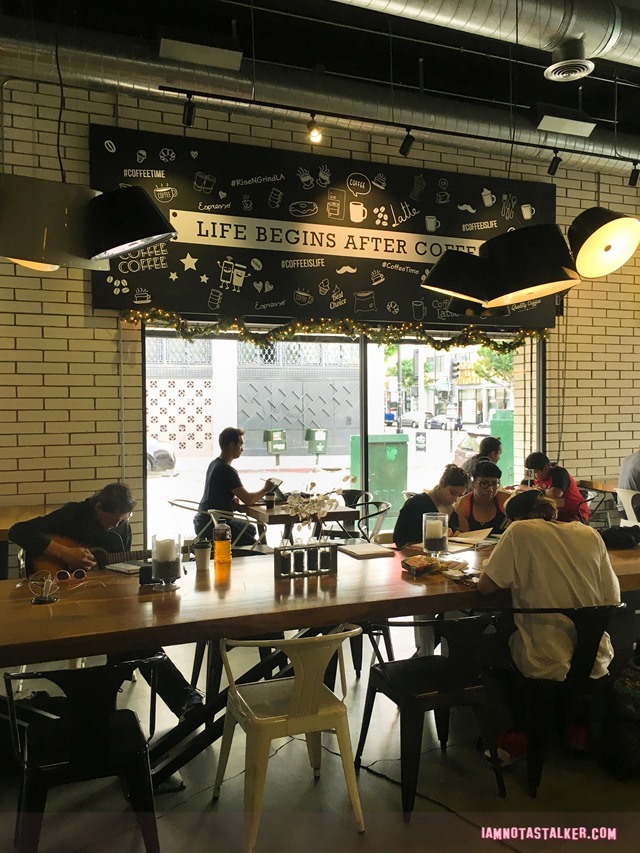 "Welcoming" is one of the key characteristics Vinokur hoped to embody in his design – a space where patrons could feel comfortable hanging out for hours on end.  To that end, the café provides free WiFi, power outlets for customer use, a copious amount of seating, a large menu offering sandwiches, pastries, juices, and salads, and java specialties provided by Stumptown Coffee Roasters.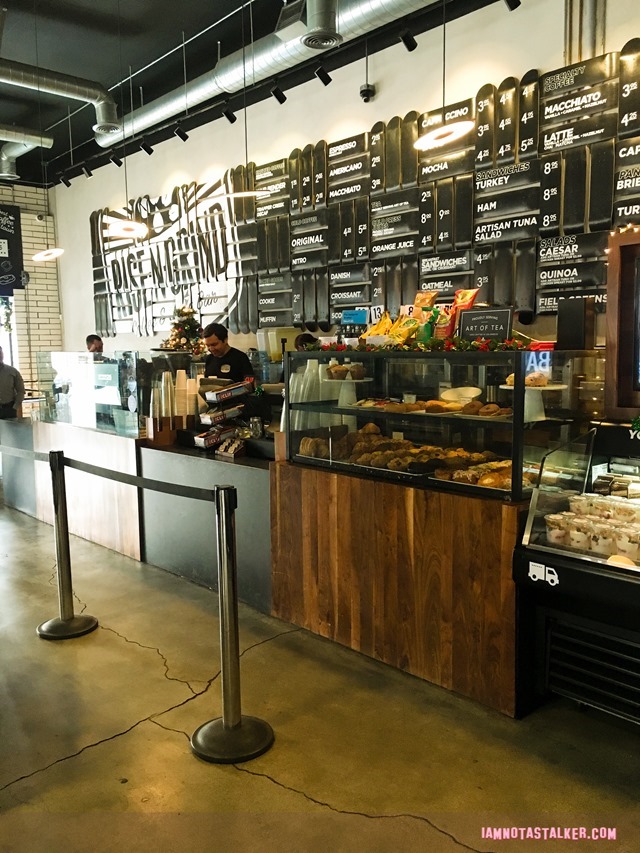 As described on LinkedIn, the site is a "laptop haven for all creative minds."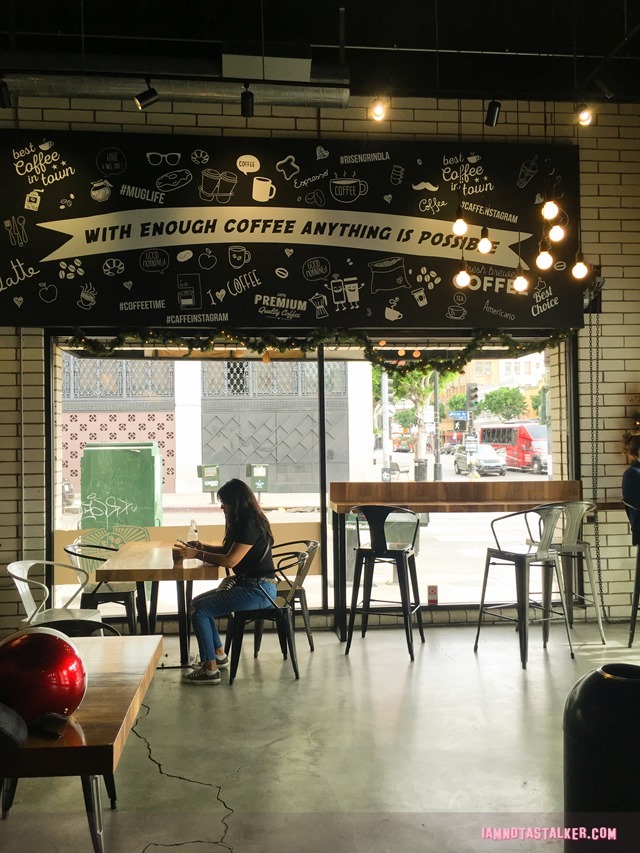 Regarding the name, Rise N Grind, as Vinokur explained to the Los Angeles Times, is a play on both a motivated get-out-of-bed attitude and the city's longstanding skateboard culture, which is paid homage to via the menu board I spotted in the background of Veep – a massive display of more than 150 decks displaying the store's moniker and its many food and drink offerings.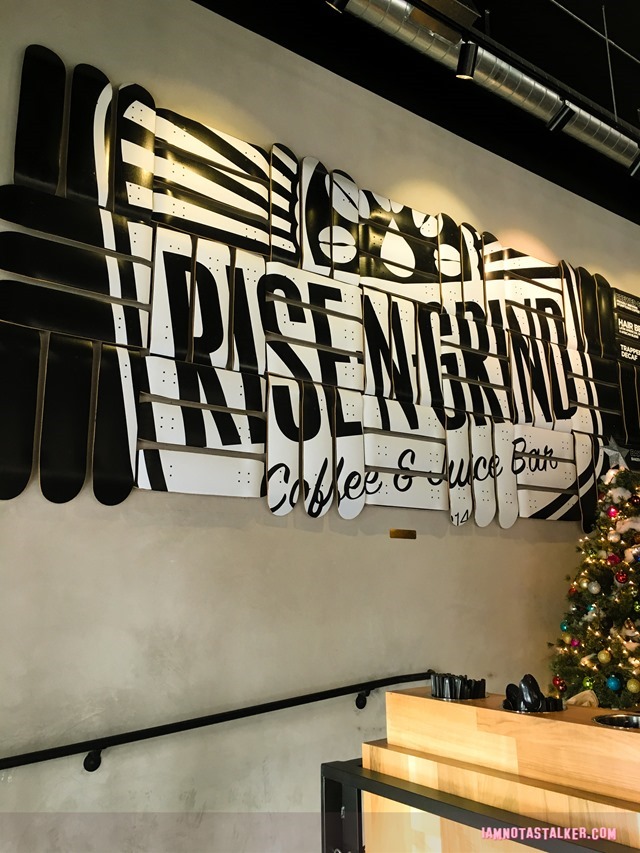 While stalking the place, I, of course, had to partake of a latte and it was fabulous.  Rise N Grind will definitely be a frequent stop whenever I find myself in Hollywood.  Whoops – there I go, already abandoning that less-lattes-in-2018 plan!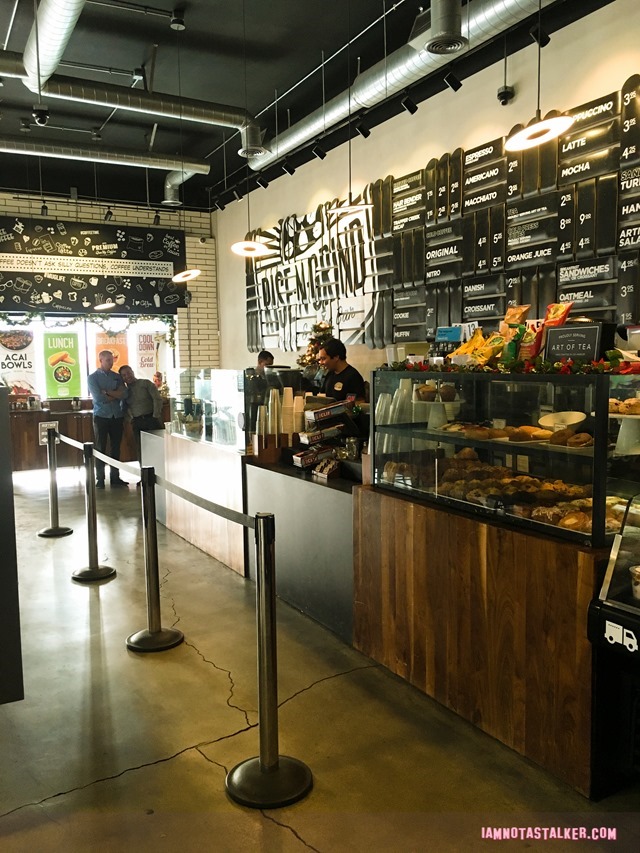 Only the interior of Rise N Grind appeared on Veep.  The exterior shots shown were of Orwashers, "New York's Original Artisan Bakery," at 440 Amsterdam Avenue on Manhattan's Upper West Side.  With its corner location and black and white façade, Orwashers does bear quite a resemblance to Rise N Grind, as you can see below.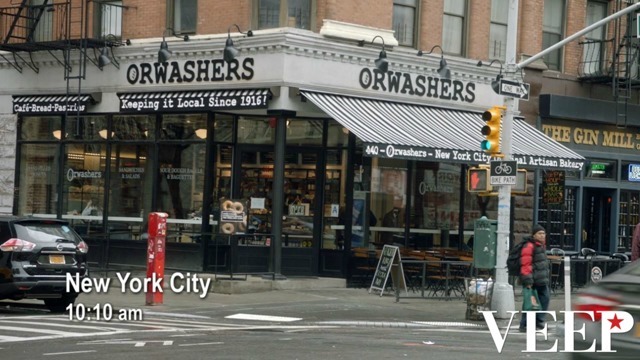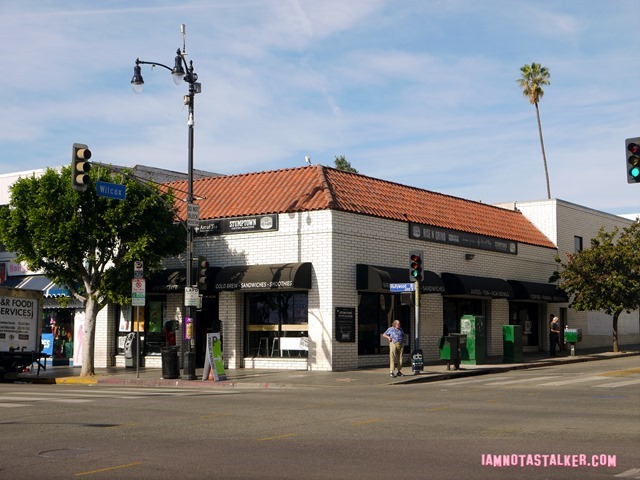 Back in 2003, when the Rise N Grind site housed a clothing store named Roma, it appeared in the background of S.W.A.T., in the scene in which Alex Montel (Oliver Martinez) is captured by Jim Street (Colin Farrell) shortly after escaping from a police bus.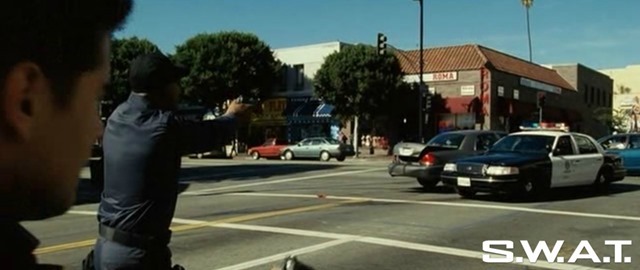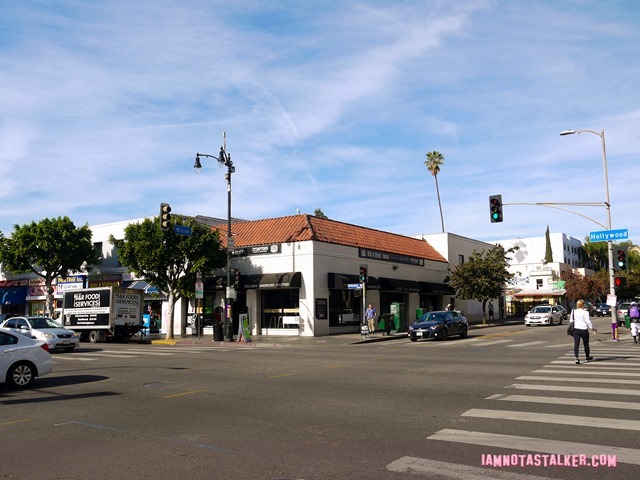 As you can see in the screen captures as compared to the photographs above and below, the building looked completely different – and much less attractive – at the time.  The white brick edifice really suits it!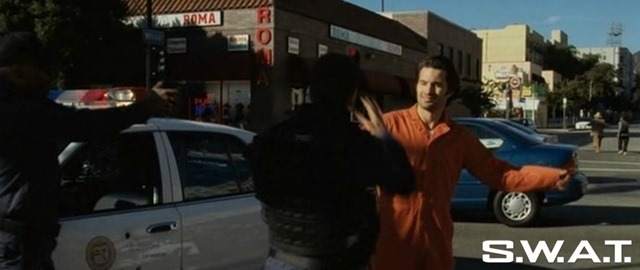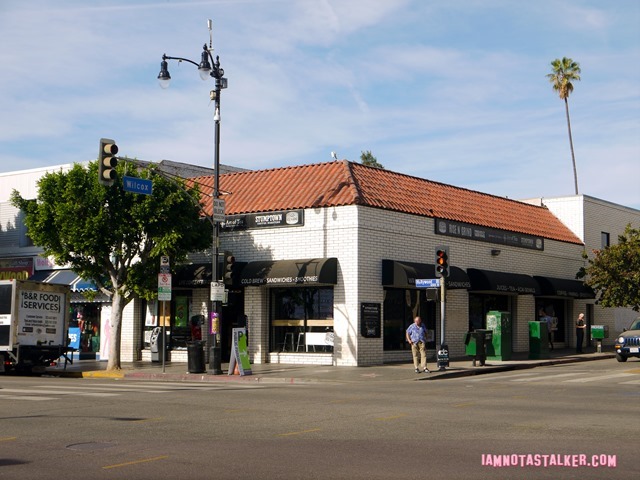 For more stalking fun, follow me on Facebook, Twitter, Instagram, Los Angeles magazine and Discover Los Angeles.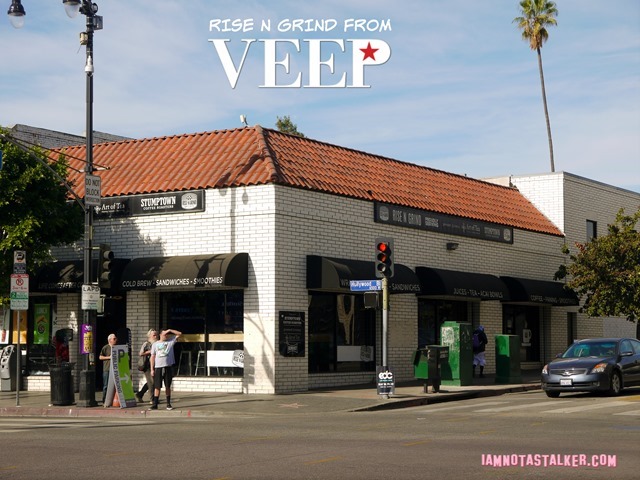 Until next time, Happy Stalking! 

Stalk It: Rise N Grind, from the "Georgia" episode of Veep, is located at 6501 Hollywood Boulevard in Hollywood.  You can visit the café's official website here.  Exterior footage from the episode was shot at Orwashers, located at 440 Amsterdam Avenue on New York's Upper West Side.  You can visit the bakery's official website here.
110394