Kaldi Coffee and Tea from "Lady Bird"
Feb 5th, 2018 | By
Lindsay
| Category:
Movie Locations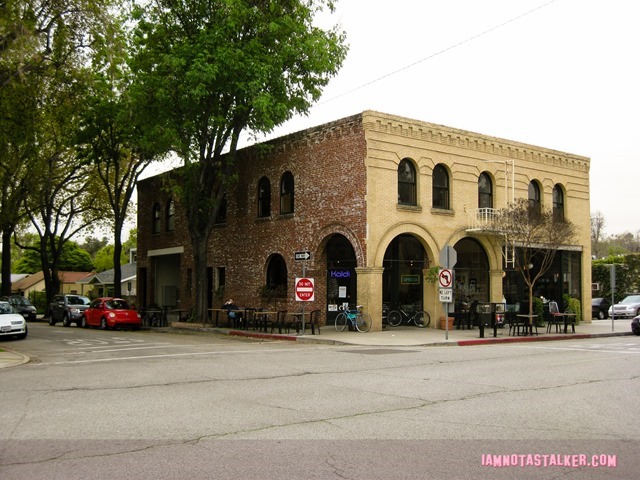 The Grim Cheaper and I are almost all settled in to our new desert home, so I should be getting back to my regularly scheduled blog programing in the near future.  Thanks for bearing with me over the past few weeks.  For my first post-move locale, I thought I'd write about a spot I originally covered back in early 2010 – Kaldi Coffee and Tea in South Pasadena, which I was thrilled to see pop up numerous times while watching a for-your-consideration DVD of Lady Bird prior to the SAG Awards in early January.  Though I did not particularly like the Greta Gerwig-directed coming-of-age drama, Kaldi has long been one of my favorite San Gabriel Valley cafés, so I figured it was most definitely due for a re-post.  Because of our move, I was not able to venture out to South Pas to snap any additional photos of the place, but, thankfully, my parents happened to be in L.A. for a brief visit last week and, while there, my mom did some Kaldi stalking on my behalf.  Thanks, mom!
 The handsome brick building that houses Kaldi Coffee and Tea was originally constructed in 1903 as South Pasadena Bank, founded by George W. E. Griffith.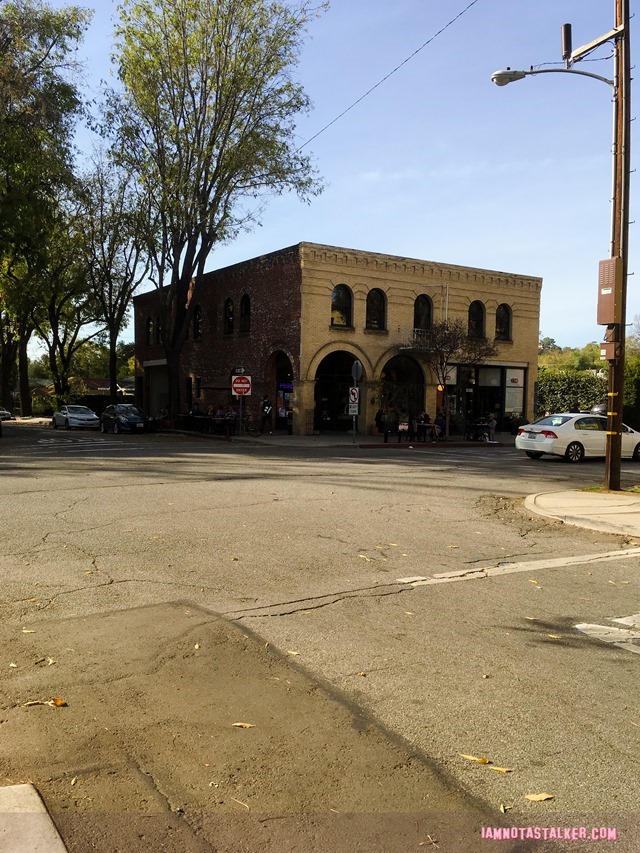 Designed by architect Thomas Preston in what this National Register of Historic Places Inventory calls "typical western storefront style," the site has the distinction of being the city's very first bank.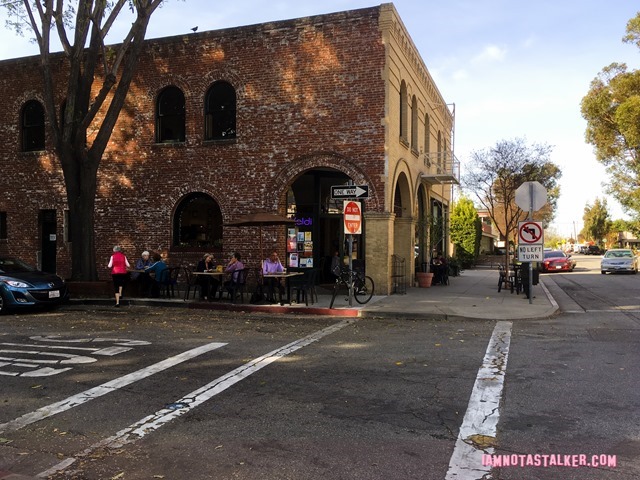 During its early years, the property also acted as a sort of unofficial city hall with its upper floor serving as office space for South Pasadena trustees.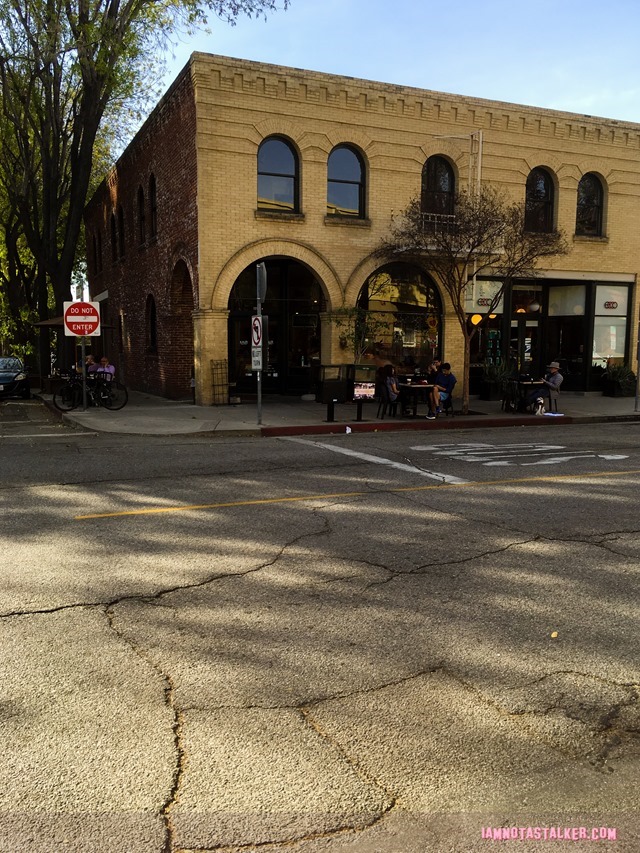 Per the Historic Places Inventory, the building, which is South Pasadena Cultural Heritage Landmark #8, informed the architecture of nearby Mission Street, where most of the structures boast a similar two-story brick aesthetic.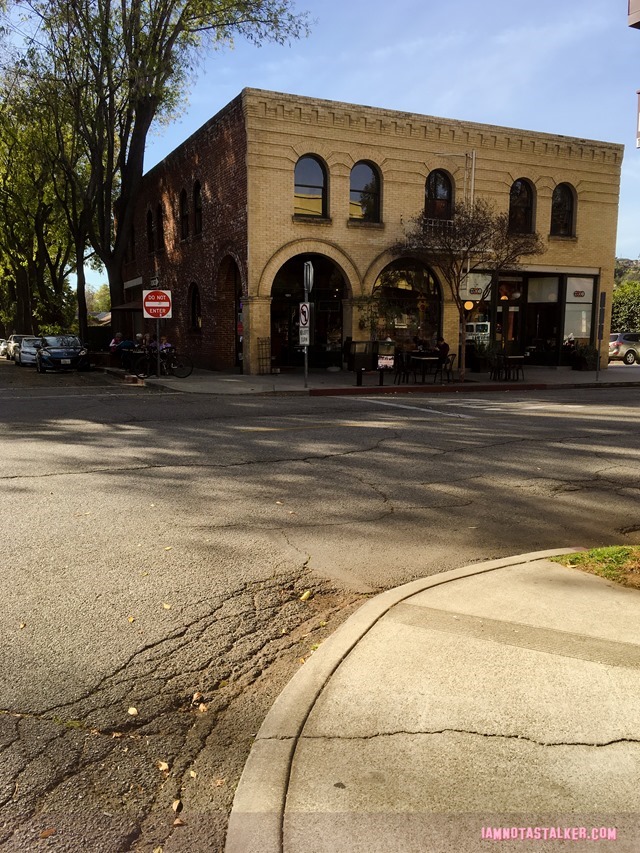 The site's ground-level corner space was transformed into Kaldi Coffee and Tea in 1995.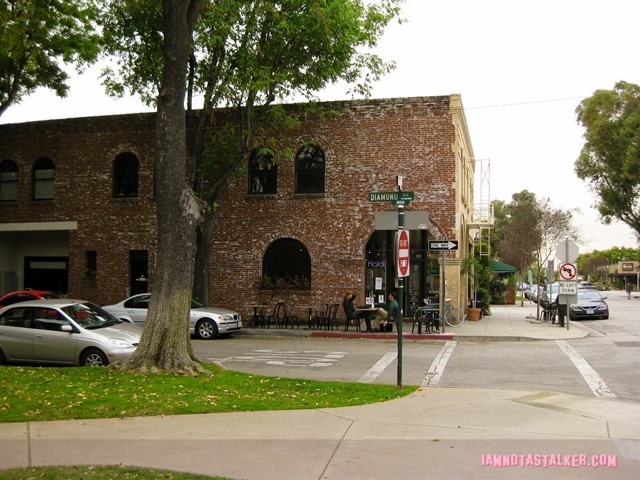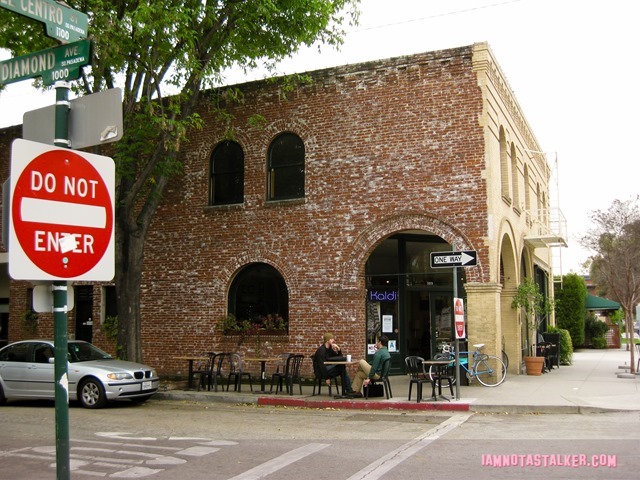 The café has been a South Pas staple ever since.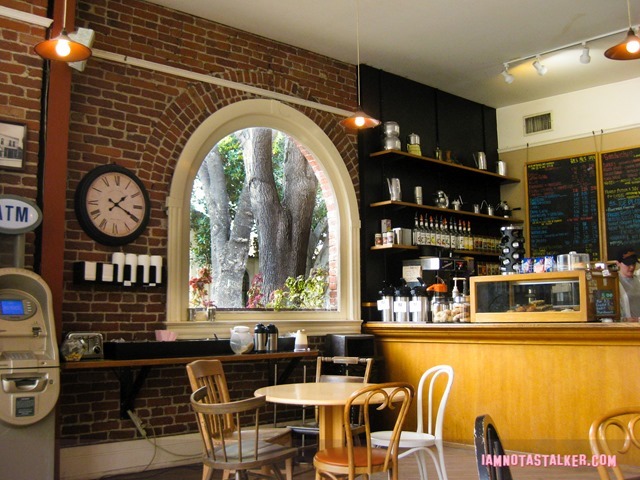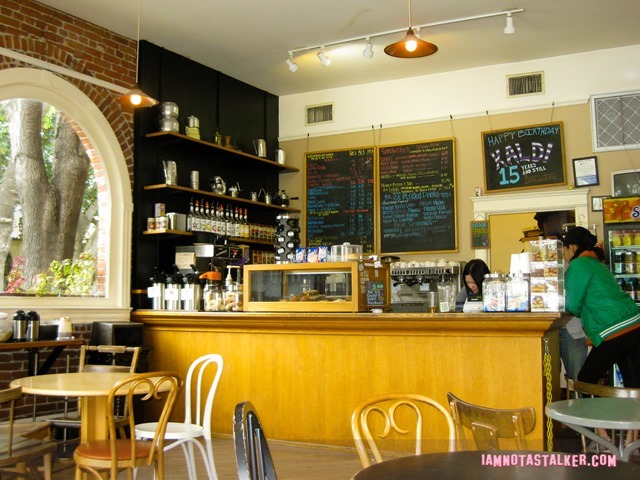 Though sold to new owners Susan and Chanho Park in December 2011, not much of the place has been changed over its two-plus decades in operation.  Kaldi still serves up fabulous coffee, espresso specialties, sandwiches, salads, and bakery staples in a bright, sun-filled atmosphere.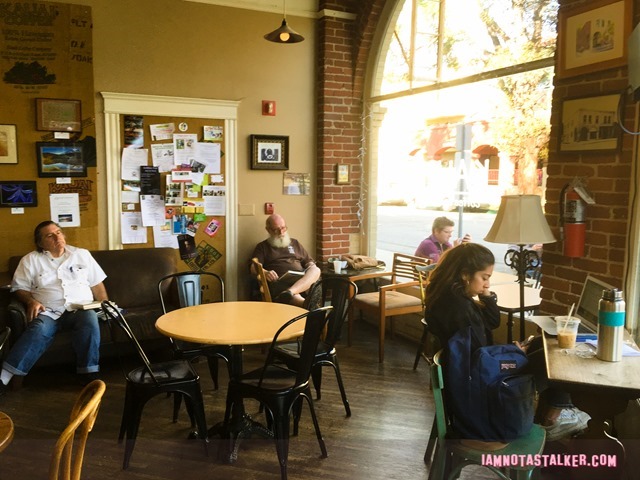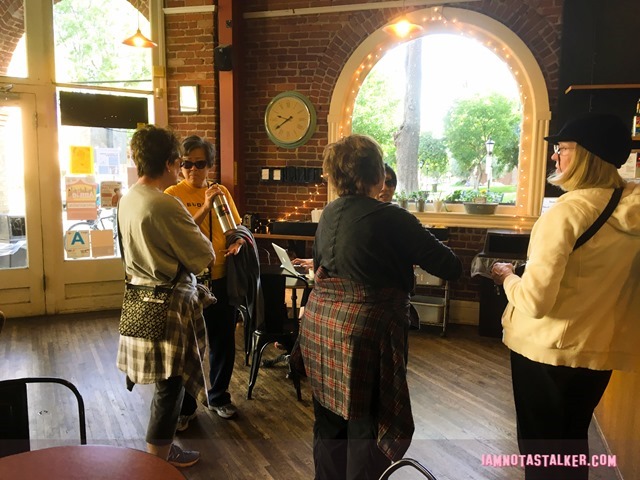 So it should come as no surprise that the café is pretty much always bustling, as evidenced in the photos above and below.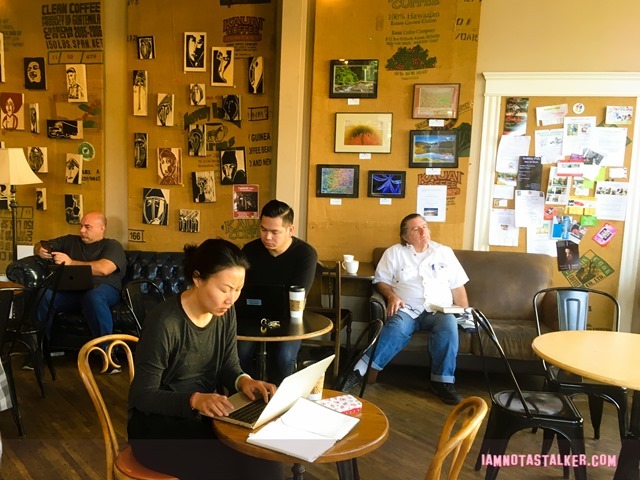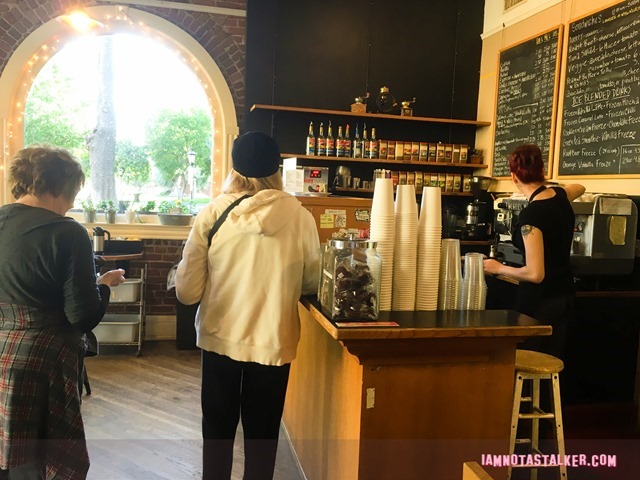 Regardless of that fact, Kaldi still makes for a peaceful, quiet spot to enjoy a cup of joe.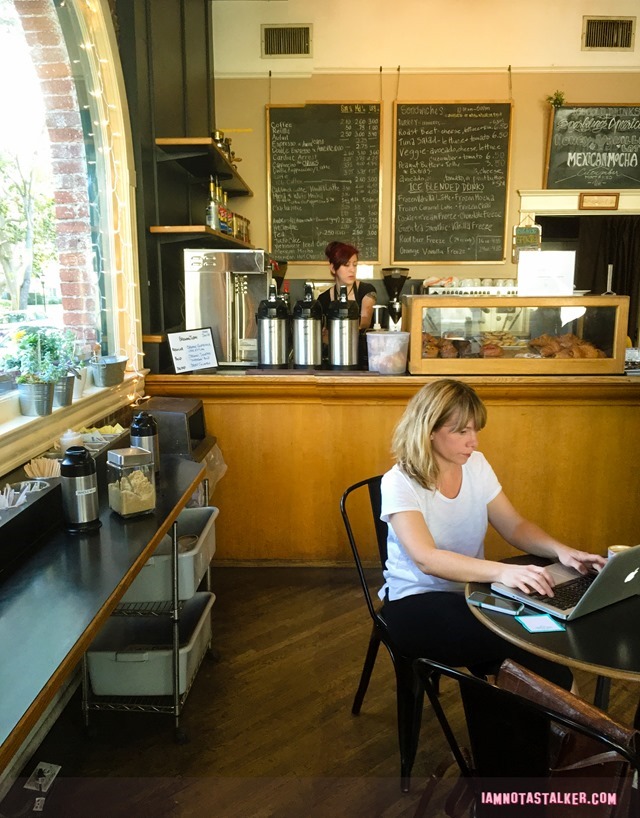 Masking as Sacramento's New Helvetia Coffee Shop, Kaldi is featured numerous times throughout Lady Bird.  It first appears in the scene in which Christine "Lady Bird" McPherson (Saoirse Ronan) goes out with her new boyfriend, Danny O'Neill (Lucas Hedges), and some friends to hear a band play on Thanksgiving.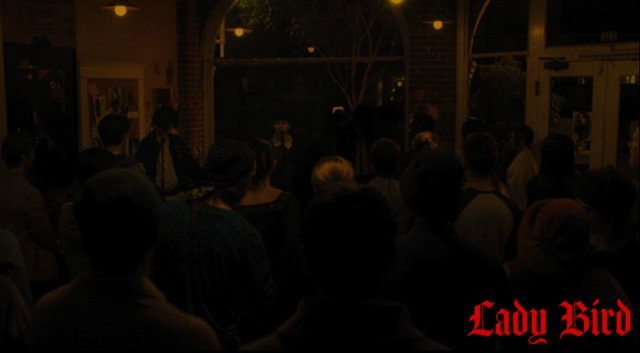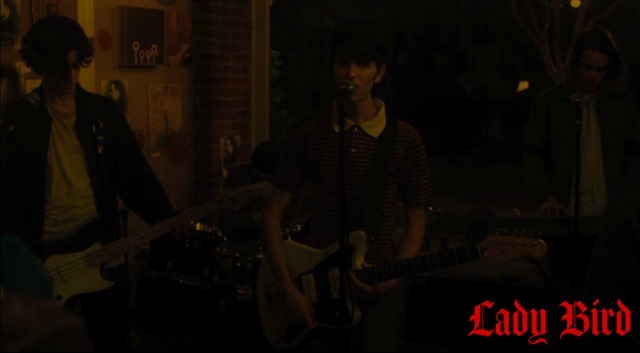 Lady Bird later gets a job at the café . . .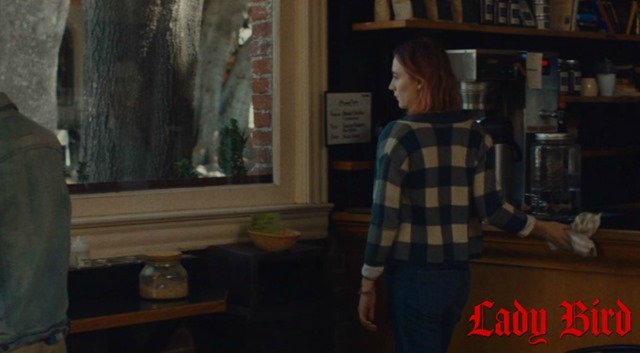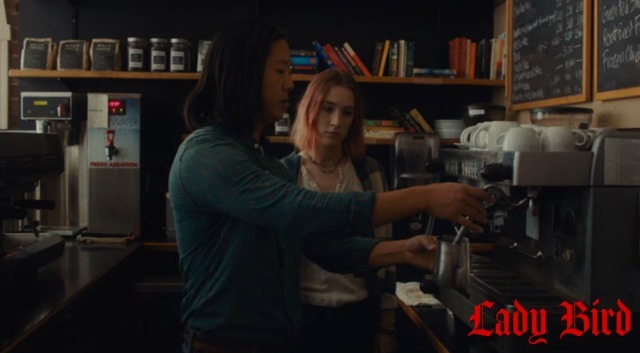 . . . where she gets into trouble for flirting on her first day.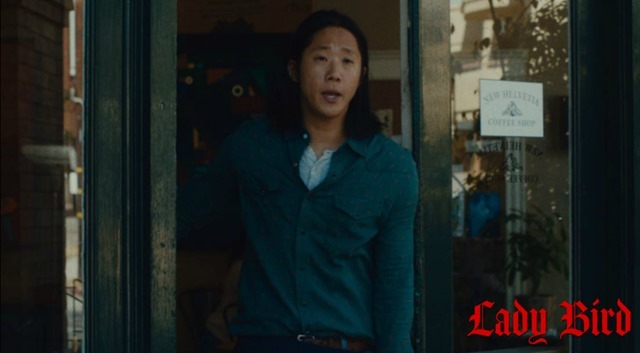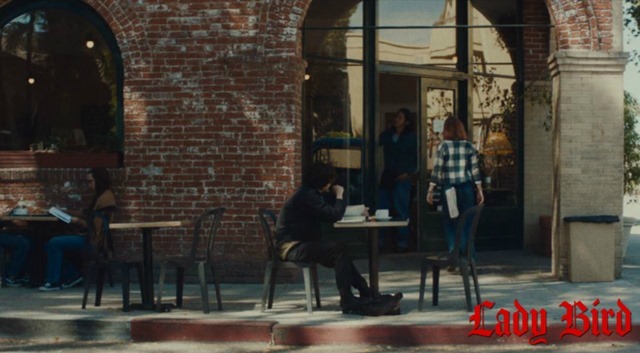 Kaldi pops up in a few additional scenes, as well.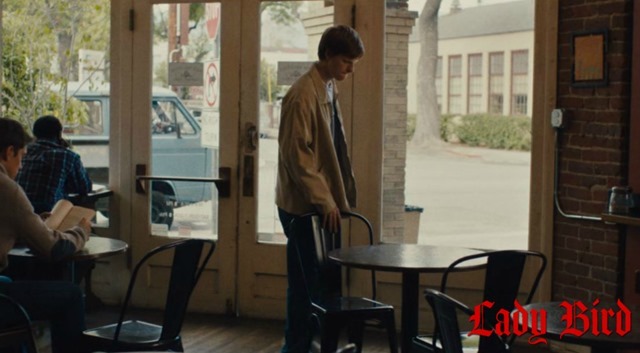 Lady Bird is hardly the first production to feature Kaldi.  In fact, the place is something of a South Pasadena filming landmark, which is not surprising considering its charming Anywhere, U.S.A. look.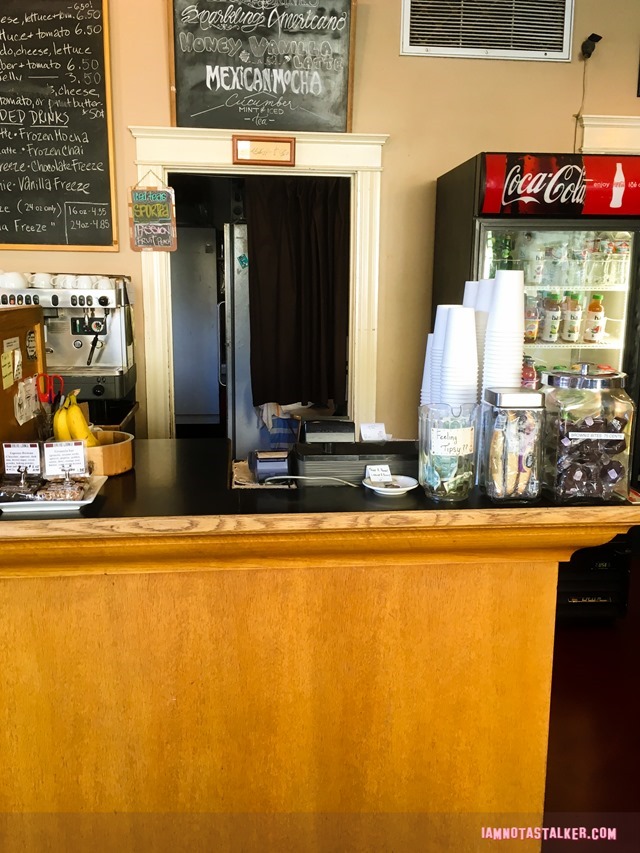 Felix Bonhoeffer (Anthony Hopkins) has coffee at Kaldi with his friend Tracy (Lisa Pepper) at the beginning of 2007's incredibly weird drama Slipstream, though not much of the space can be seen in the scene.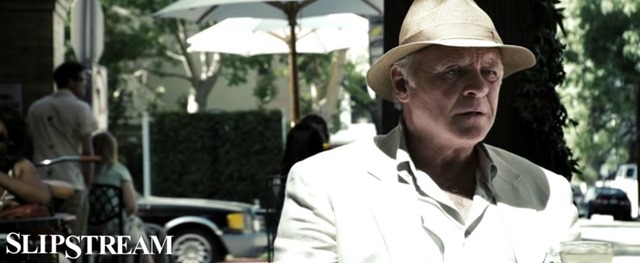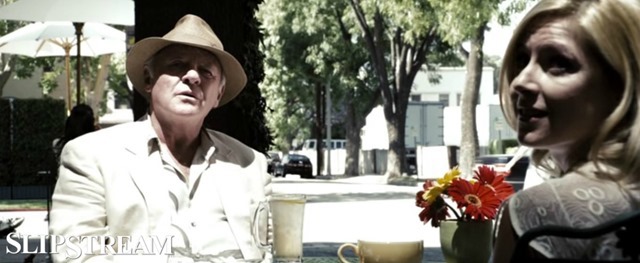 Kaldi pops up a couple of times as Danny (Paul Rudd) and Beth's (Elizabeth Banks) local coffee shop in the 2008 comedy Role Models.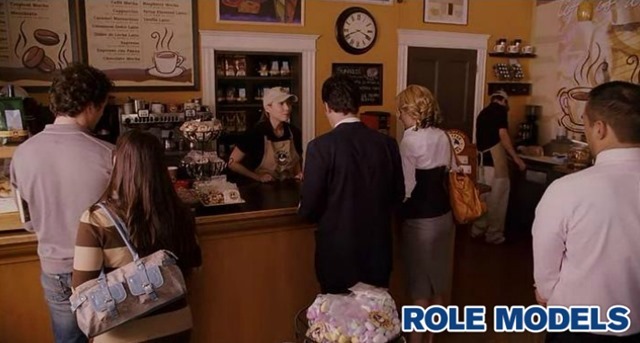 As was the case in Lady Bird, Kaldi masks as a Sacramento café in The Ugly Truth.  The locale is featured twice in the 2009 romcom – first in the scene in which Mike Chadway (Gerard Butler) begins to teach Abby Richter (Katharine Heigl) the way to a man's heart.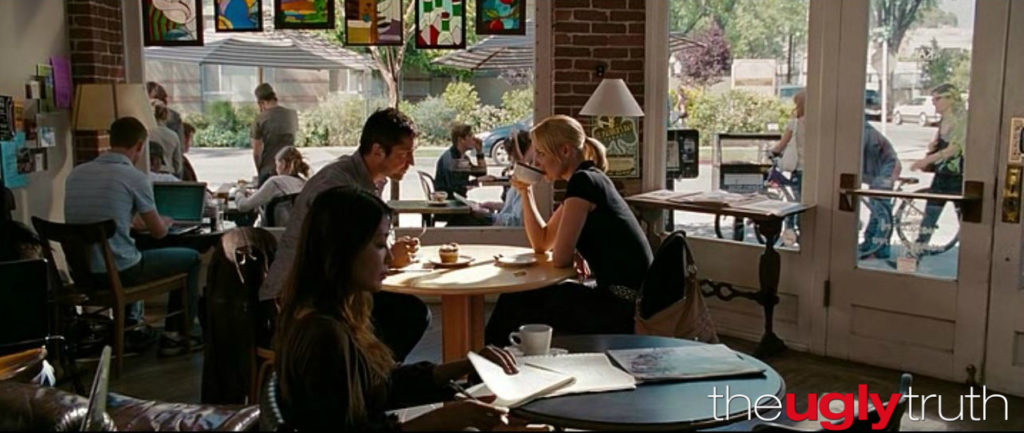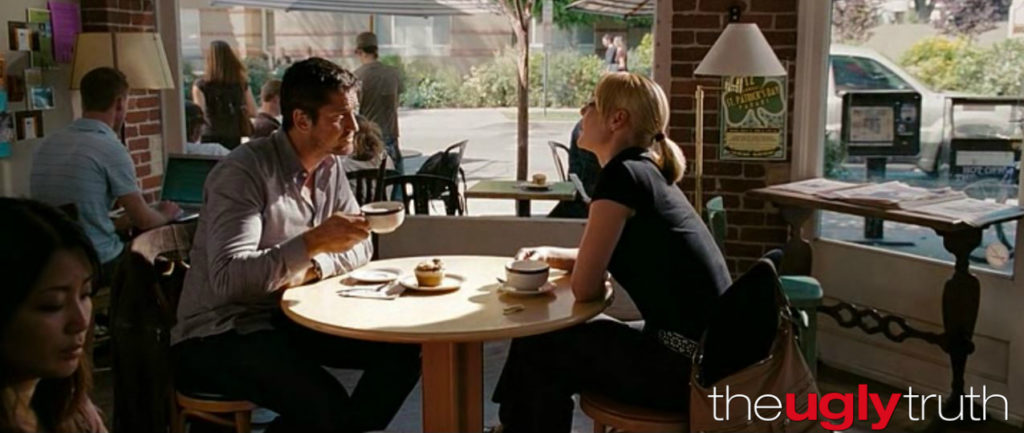 Later, Kaldi is where Abby shows off her new boyfriend, Colin (Eric Winter), to her best friend, Joy (Bree Turner).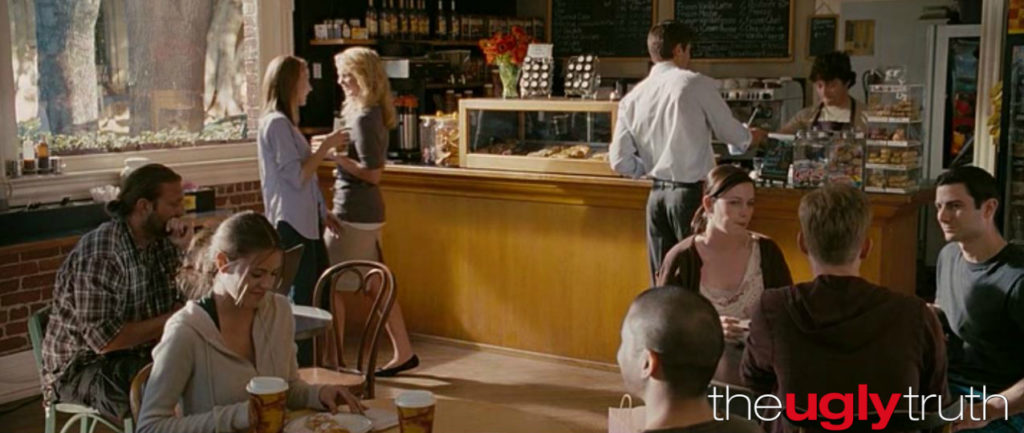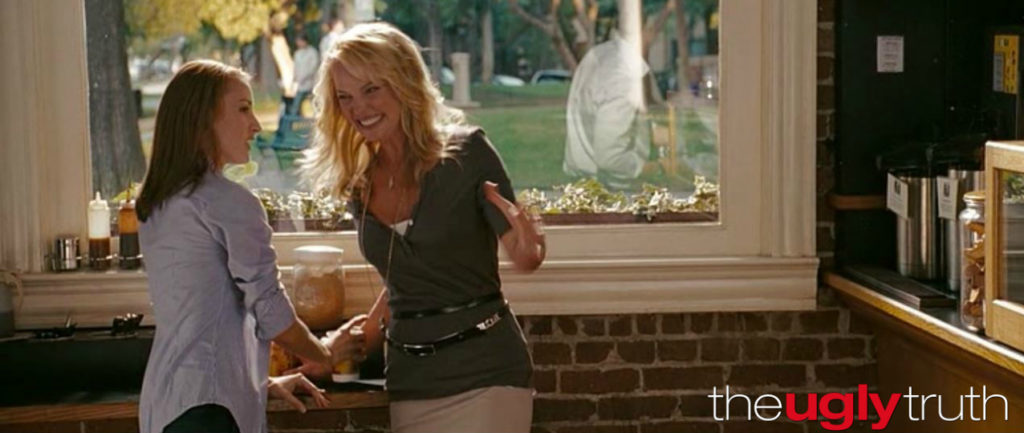 The coffee shop also pops up twice on the television series Brothers & Sisters.  In the Season 3 episode titled "Owning It," which aired in 2009, Tommy Walker (Balthazar Getty) meets with Kent Barnes (Scott Klace) at Kaldi to discuss his scheme to buy a vineyard.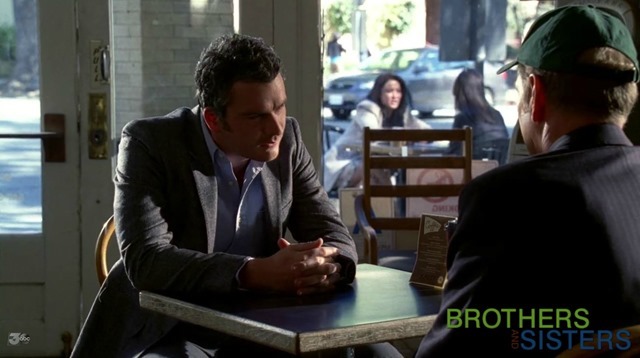 And in Season 5's "Get a Room," which aired in 2010, Kaldi masks as the coffee shop near Wexley University where Kittie McCallister (Calista Flockhart) meets and flirts with handsome, young barista Seth Whitley (Ryan Devlin).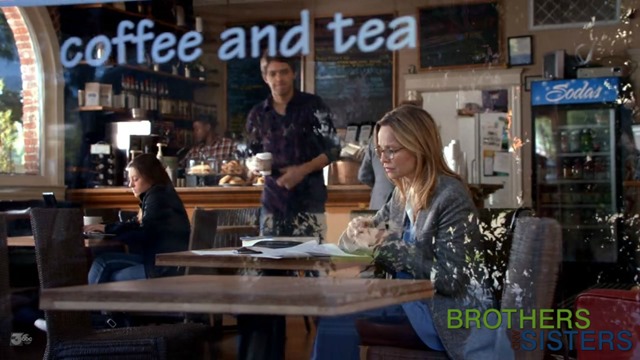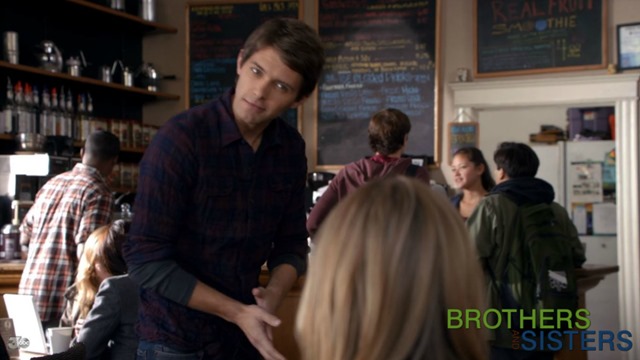 Kaldi portrays Cup 'N Cakes Cafe, where Gloria Delgado-Pritchett (Sofia Vergara) gets into not one, but two car accidents in the Season 1 episode of Modern Family titled "Moon Landing," which aired in 2010.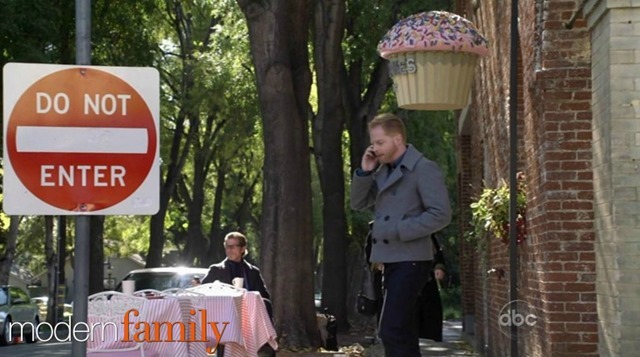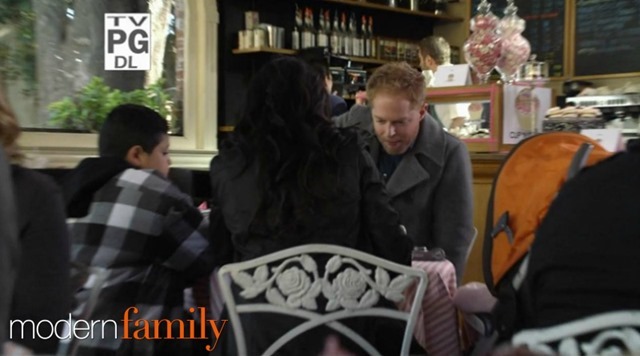 The café plays Berkeley Coffee, where Jim Kazinsky (Mike O'Malley) works – and gets dumped by Sarah Braverman (Lauren Graham) – in the Season 1 episode of Parenthood titled "The Deep End of the Pool," which aired in 2010.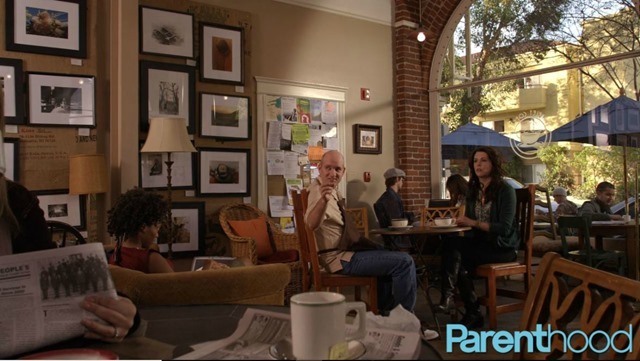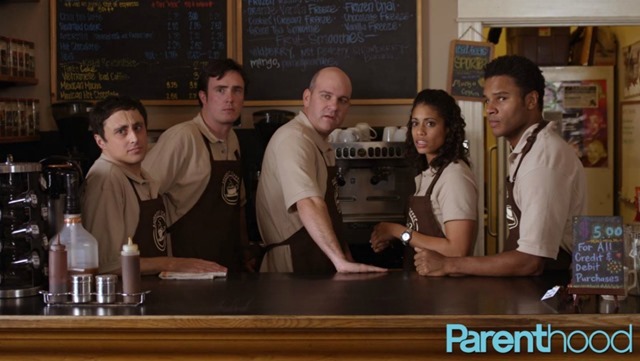 In the Season 4 episode of Rizzoli & Isles titled "We Are Family," which aired in 2013, Kaldi masquerades as Boston's "College Café," where Maura Isles (Sasha Alexander) spies on her sister, Cailin Martin (Emilee Wallace).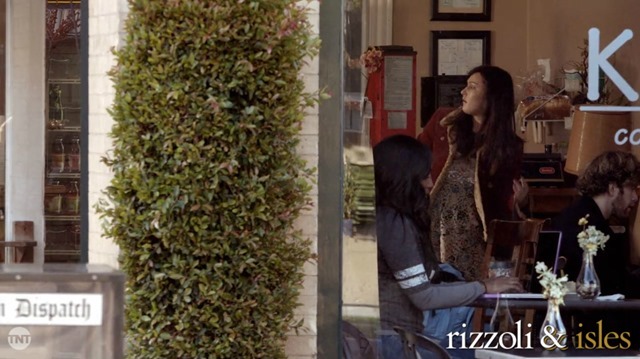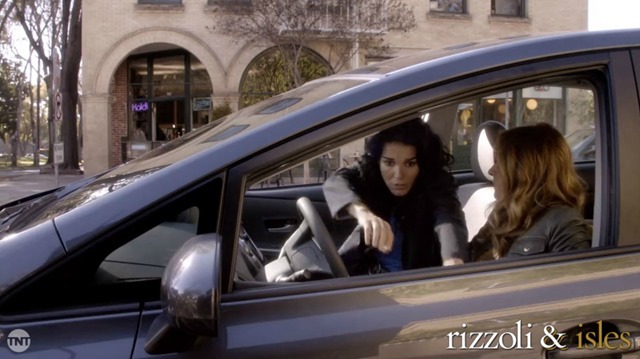 For more stalking fun, follow me on Facebook, Twitter, Instagram, Los Angeles magazine and Discover Los Angeles.
Big THANK YOU to my mom for stalking this location for me and for taking the photos that appear in this post!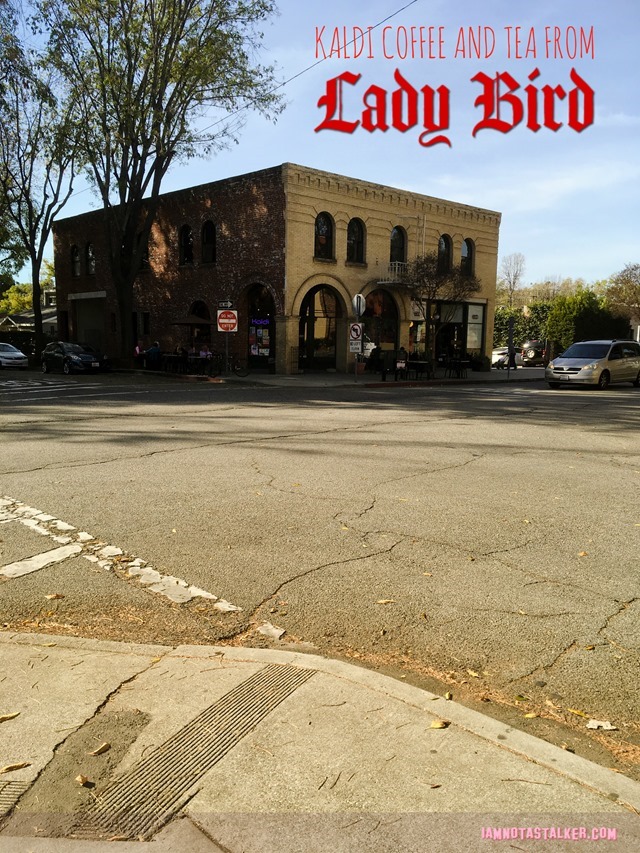 Until next time, Happy Stalking! 

Stalk It: Kaldi Coffee and Tea, aka New Helvetia Coffee Shop from Lady Bird, is located at 1019 El Centro Street in South Pasadena.
111106