Everybody Loves A Stalker!
Jan 7th, 2008 | By
Lindsay
| Category:
Celebrity Sightings
This weekend I dragged my boyfriend to the Beverly Hills Hotel on the pretense of having a drink at one of our favorite bars – The Polo Lounge – but the real reason for our outing was so that I could pick up the 2008 version of my favorite LA star map – the "Movie Star Homes and Crime Scenes" Map – from the gift shop of the BH Hotel. I find it amusing that I always get asked where I am visiting from when I purchase these maps. 🙂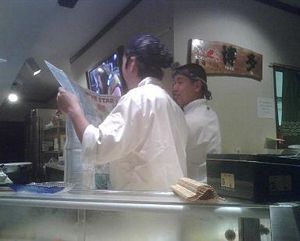 We had a nice drink at the Polo Lounge and then headed off to Hakata Sushi on Wilshire Blvd. in Santa Monica for dinner. While there, I couldn't help but pull out my star map for a look at what new items had been published since the 2007 version. Well, the sushi chefs went absolutely crazy over the map and begged to see it. I gladly handed it over and they could not take their eyes off of it – so much so that the manager of the restaurant came over and made them put it away! This just goes to show that everybody loves a stalker! 🙂
Until next time, Happy Stalking!
Stalk It: The Polo Lounge in the Beverly Hills Hotel is a great place to grab a drink and do some serious star stalking. During my many visits to the Polo Lounge, I have seen Paris Hilton, Reese Witherspoon, Elle MacPherson and Kirk Kevorkian – just to name a few. I hear Jen Aniston is a regular, but I have yet to see her there. 🙁 The Beverly Hills Hotel and Bungalows is located in Beverly Hills at 9641 Sunset Blvd. You can purchase new star maps yearly in the gift shop of the hotel. Hakata Sushi is located at 2830 Wilshire Blvd. in Santa Monica and is something of a celeb hangout, as well. Tom Cruise, Cuba Gooding Jr. and Charlie Sheen have all frequented the restaurant. They have great food and a fun atmosphere.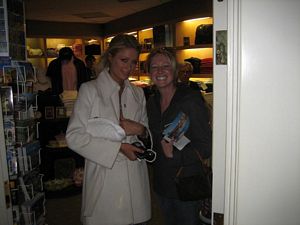 Me with Paris Hilton in the BH Hotel gift shop. Notice Vanity Fair columnist and celebrity journalist Dominick Dunne in the background.
93