Epic Records – Audrina's Place of Business
Feb 10th, 2008 | By
Lindsay
| Category:
The Hills Filming Locations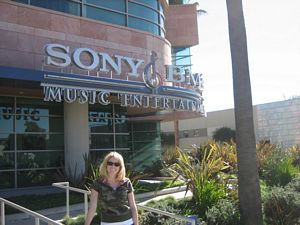 On The Hills, Audrina Patridge, Lauren's roommate, works at Epic Records, a division of Sony BMG Music Entertainment. Being that I am completely obsessed with The Hills (when is the second part of the third season going to air already????) I just had to stalk the office building where Audrina works. This location was a snap to find, as I had driven by it many times before and recognized it immediately when it was shown on The Hills. The Sony BMG Music building is located in a cute little business district in Santa Monica, just off the 10 Freeway. While there, you can walk right up to the back gates of the building on 20th Street, and peek in to see the interior courtyard area, which is used frequently on The Hills whenever Audrina needs to escape and have a chat about Justin Bobby with one of her co-workers.
Until next time, Happy Stalking!

Stalk It: The Sony BMG building is located at 2100 Colorado Avenue, at the corner of 20th Street, in Santa Monica. If you drive north on Colorado, you can hit up Quiznos, La Salsa, and, my personal favorite, Starbucks. I wonder if Audrina stops at that Starbucks every morning before work?!?!

224