Dancing in the Friends' Fountain!
Mar 9th, 2008 | By
Lindsay
| Category:
TV Locations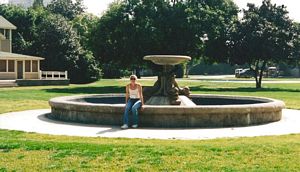 I've done some pretty cool things in my life, but I must say that one of my favorite and most memorable adventures was dancing in the fountain that was used in the opening credits of Friends! Back in 2002, I attended a seminar put on by my acting school that just happened to be held on the Warner Brothers Ranch Lot. When I found out the seminar was going to be held at the Ranch I swear I almost died! I had heard sometime before that the Friends fountain was located somewhere on the Ranch and I had been trying to figure out a way to get onto the lot to see it in person. Thank you acting school!
When I drove onto the lot early the morning of the seminar, I actually went right past the famous fountain without even realizing it. Walking to the class, my eyes were one hundred percent peeled, looking in all directions for the fountain, but I couldn't seem to find it. During class, I happened to mention to a friend that I was dying to see the fountain, but had no idea where it was, and she said "You drove right past it when you drove onto the lot!" LOL During our lunch break she led me out to the location of the fountain and we snapped a couple of pics sitting on it and dancing inside of it. Sadly, the pic of me dancing did not come out! 🙁 But we did get to eat lunch on the lawn right in front of the fountain, and I was pinching myself the whole time!
Until next time, Happy Stalking! 🙂
Stalk It: The Warner Brothers Ranch Lot is located at 411 North Hollywood Way in Burbank. While there are, sadly, no public tours offered of the Ranch, the fountain is completely visible through the front gates to the left of the guard shack. If you walk down Hollywood Way you can peek through the main gates and snap a quick pic. 🙂
310