Quake!
Feb 12th, 2009 | By
Lindsay
| Category:
Charmed Filming Locations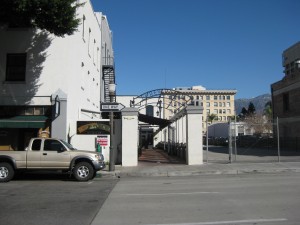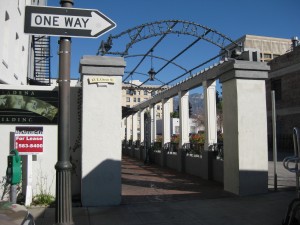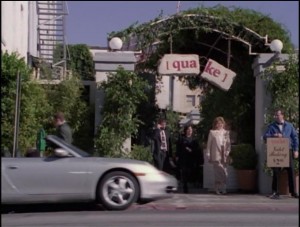 The other night while driving home from the hospital – yes, my dad is in the hospital yet again – I happened to hit a red light at the corner of Green Street and Arroyo Parkway in Pasadena. The light took a really long time to change and while waiting I just happened to gaze off to my left. What I saw almost made me run my car right off the road! LOL Just down the street from me on Green Street, I saw what looked a whole lot like the exterior of Quake Restaurant from the television series Charmed. Even though I never watched Charmed while it was on the air, I have been slightly obsessed with finding Quake's exterior ever since some Charmed fanatics challenged me to find it this past summer. And let me tell you, it was one difficult location to find!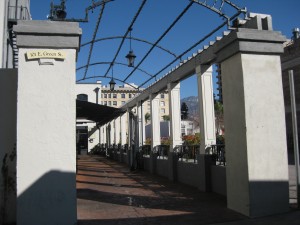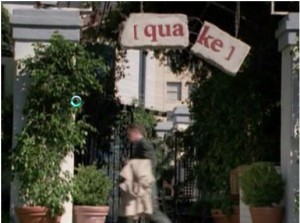 For Christmas Mike from MovieShotsLA bought me the entire Charmed series on DVD and I just started watching the first season last week. By scrutinizing some screen captures I could tell that the exterior of Quake was not the exterior of a real restaurant. Basically Quake's entrance consisted of two pillars and an archway that producers spruced up a little by adding some foliage, potted plants, and a sign reading "Quake". My best guess was that the pillars were the entrance to an apartment building or a commercial driveway of some sort. But trying to find two random pillars in L.A. proved to be quite difficult and to tell you the truth I had no idea even where to begin looking. Due to the vagueness of what was shown on TV, this is one location I had no hope of ever finding. Until Sunday night, that is!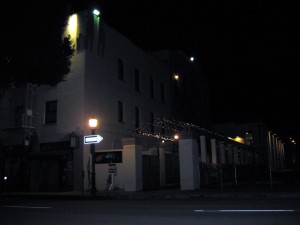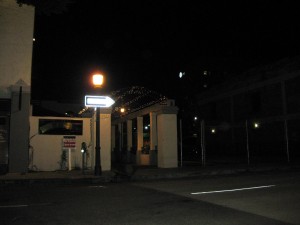 What caught my eye as I drove by Green Street the other night were the twinkle lights covering "Quake's" archway (pictured above). I've probably driven by this location about a hundred times in the past, but in the daylight I never really noticed it. At night, though, the bright twinkle lights caught my eye and triggered something in my mind. I immediately pulled off to the side of the road, snapped a few photographs, and sent them off to Mike. He called me back right away and said that the Green Street location was, indeed, Quake!!!!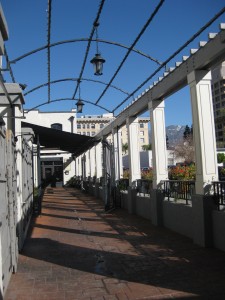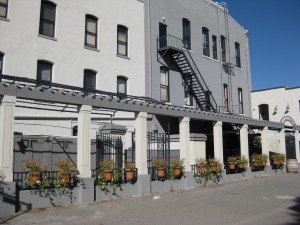 It turns out that in real life the exterior of Quake is the entrance to an office building named the Pasadena Livery Building. The lit archway in front leads to a small brick courtyard located at the Livery's entrance. While the archway and courtyard area are very cute in person, I'm sure it will be pretty disappointing for Charmed fans to find out that in real life Quake is just a nondescript office building that one could easily drive right by without even noticing. LOL I was still SUPER excited to find it, though!!
Now that I can check Quake off my must-find locations list, I can pour all of my stalking attention yet again into finding the ever elusive Girls Just Want to Have Fun apartment . LOL For some reason not even Mike, master stalker, can locate that apartment building. But like I told him the other day, if we can find two pillars and an archway that were used in the filming of a television series over 11 years ago, surely we can find the Girls Just Want To Have Fun apartment!!!! LOL
And it's definitely true what they say – every cloud does have a silver lining. Because while my dad might have spent all week in the hospital, had I not been driving home from visiting him late at night I never would have discovered Quake. Sometimes you've just gotta keep your eyes open to what the universe is trying to show you. 🙂
Until next time, Happy Stalking! 🙂
Stalk It: The exterior of the fictional Quake restaurant is really the entrance to the Pasadena Livery Building located at 101 East Green Street in Pasadena.
4426