The Most Photographed Home in the World!
Mar 13th, 2009 | By
Lindsay
| Category:
Movie Locations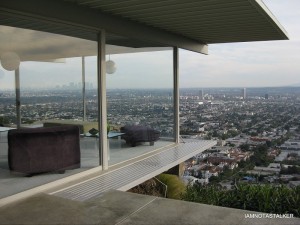 About three months ago my mom challenged me to find a house that had been used in a famous photograph back in the 1960s.  The only information she remembered about the photograph was that it was an advertisement of some sort shot in black and white and that it featured two women sitting in a glass home that overlooked all of Los Angeles.  With those small pieces of information, I got to googling and came up with . . . nothing.  This went on for months with me having absolutely no luck in finding either the house or the advertisement she had been talking about.  Then about two weeks ago while my mom was flipping through a magazine at a hair salon, she came across this photographwhich was described as "the most iconic image of Los Angeles".   Sure enough it was the picture my mom had been talking about – only as it turns out it wasn't an advertisement at all, but a photograph by legendary architectural photographer Julius Shulman.  And the house featured in the image is actually quite well known.  In fact, it has been called "the most photographed home in the world".   Its name is the Stahl House, otherwise known as Case Study House #22.
When my mom first described the home to me all those months ago, I had an inkling that it was either a John Lautner house or a Case Study House.   And sure enough, I was right! To tell you the truth, I don't know a lot about the Case Study Houses.  Up until a few weeks ago, I had never even seen a photograph of one.  But my best friend Kylee has long been obsessed with the Houses and I had learned enough about them from her to know that the house my mom was describing just might be one.  The Case Study project began in 1945, when John Entenza, editor of Art and Architecture Magazine, commissioned several legendary architects including Richard Nuetra, Raphael Soriano, Charles and Ray Eames, Eero Saarinen, Craig Ellwood, and Pierre Koenig to build affordable homes in California using mostly wood, steel, and glass.  The houses were intended to be model homes which the typical American family could easily duplicate using affordable materials.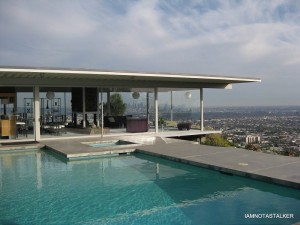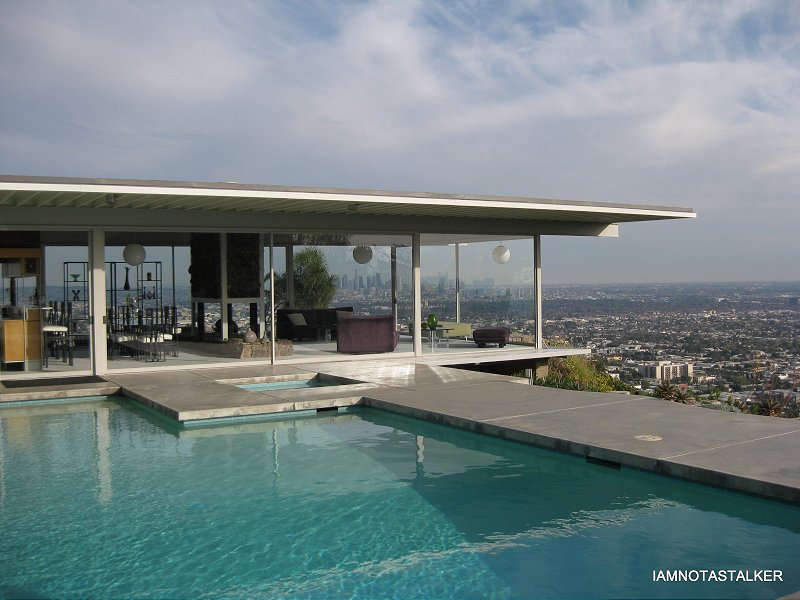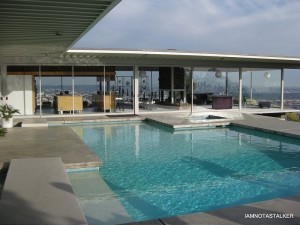 Interestingly enough, the Stahl House which is arguably the most famous of all the Case Study Houses, wasn't originally commissioned as one.   In 1954, a man named C.H. "Buck"  Stahl purchased a vacant lot high up in the hills of Los Angeles at a cost of $13,500.  Buck  had the idea to build a house on the property constructed almost entirely of glass to showcase the lot's incredible views.  He said to the architects "I don't care how you do it, there's not going to be any walls in this wing."  He built a scale model of his dream home and started shopping the project around to different architects.  They all told him his design was impossible, that it couldn't be done.  Enter architect Pierre Koenig, who at the time was involved in the Case Study Project.  Pierre told Buck  and his wife Carlotta that not only could the house be built, but that he wanted it to be a part of the Case Study Program.  And thus Case Study House #22 was born.  It is incredible to me that the most famous Case Study House wasn't designed by an architect – it was designed by a man with a vision who wouldn't take no for an answer.   The iconic photograph that was burned into my mother's memory was actually taken before construction on the home had even been completed.  Here is a great article detailing how the most famous photograph of Los Angeles came to be.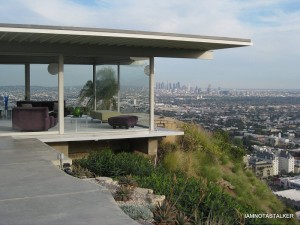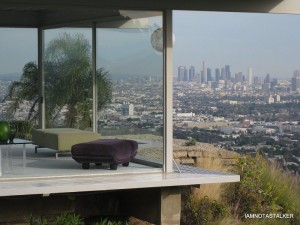 After my mom discovered the name of the house, I decided to do some research on it as I thought it would make for an interesting blog post.  While searching the web I stumbled upon this website where I found out that it was possible to actually tour the home and I just about died!  If only all of my stalking exploits were this easy!  🙂  I quickly made reservations for my mom and her friend and me and my best friend to take a tour of the legendary Stahl House the following week.  And I must say, at the reasonable price of $20 per person, it was entirely worth it.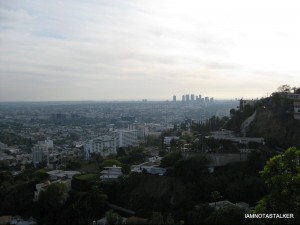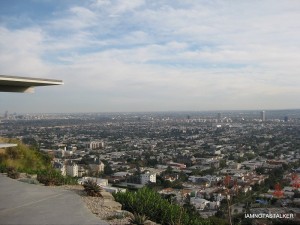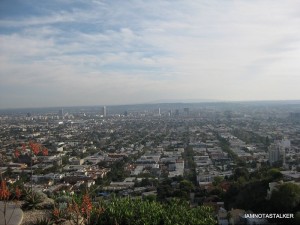 When you enter the front door of the house your mouth pretty much just drops to the floor at the site of the incredible views.  Honestly I've never seen views like that anywhere in my entire life.  They were literally breathtaking!  And the house!!!  Words can't even properly describe the house!  I can't imagine living, or even getting to spend one night, there.  Our tour, which lasted about an hour, was led by Buck  Stahl's widow and son, Carlotta and Mark Stahl, respectively.  Mark said that growing up in the house he really had no idea how special it was.  To him it was just his home.  He said that only when he got a bit older and noticed his friends were always wanting to hang out there and swim in his pool, did he realize the home was anything out of the ordinary.  I must say it was fascinating to be given a tour of the Stahl house by members of the actual Stahl family.  Case Study House #22 is one of the only Case Study Houses that is still owned and occupied by the original residents, so it is in amazing condition.  Due to the Stahl Family's determination to keep the house true to its original form, the home is extremely expensive to maintain, which is why they started giving tours.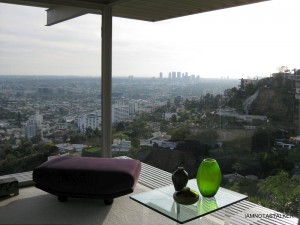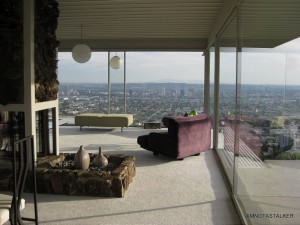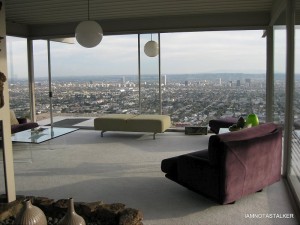 Another way the family generates revenue to maintain the home is by renting out the space as a filming location.  Due to the house's unique structure and striking views, Hollywood locations scouts come a-knockin' quite frequently on the Stahl House door.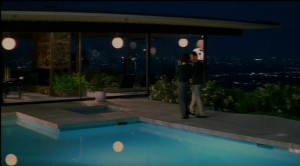 The house has been featured in countless movies including Playing By Heart (where it was used John Stewart's house; pictured above) Why Do Fools Fall In Love, Galaxy Quest, The Final Power, Thirteenth Floor, The Marrying Man, Prescription Murder, Corina Corina, Nurse Betty, Where the Truth Lies, and Smog; the television shows Adam 12, Night Stalker, and Emergency;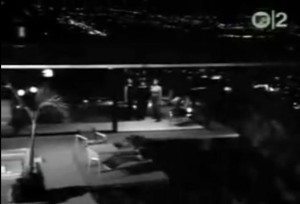 the music videos for Wilson Phillips' "Release Me",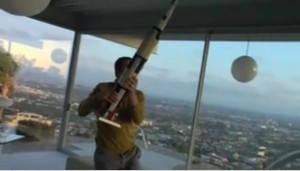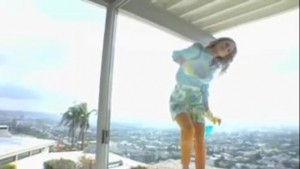 Scott Weiland's "Missing Cleveland",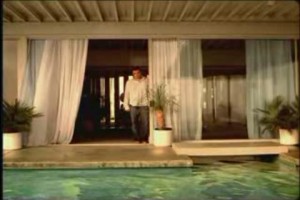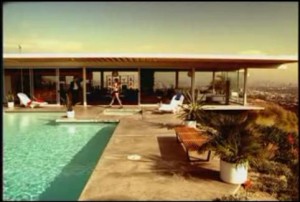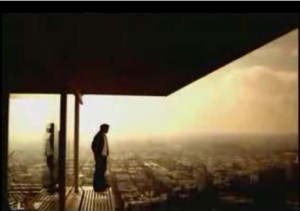 and ATB's "I Don't Wanna Stop" ;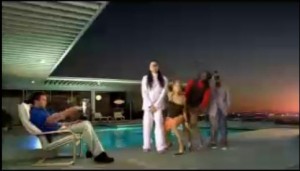 and dozens of commercials including one for Best Buy featuring the Black Eyed Peas.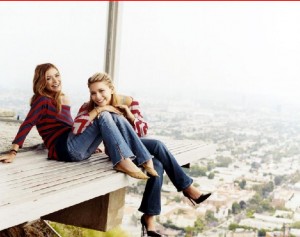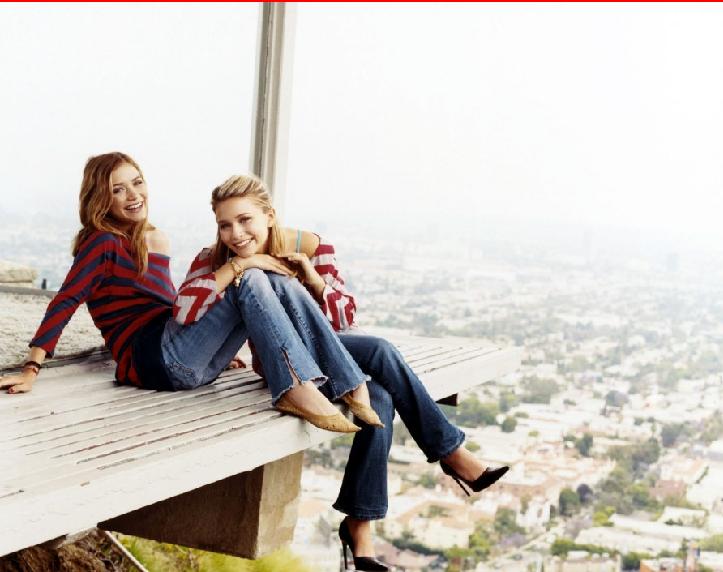 The home was also featured in a Mary Kate and Ashley Olsen photo shoot for a 2003 issue of YM Magazine.  I absolutely loved MK & A once upon a time (I even had their dolls!) and I used to collect every single magazine that featured the twins.  So as soon as my my mom showed me the famous picture of the Stahl House taken by Julius Shulman, I said "Hey, that's where Mary Kate and Ashley did their YM photo shoot."  LOL  It might not be award winning photography, but the above image is one that was burned into my memory for many years.    I so wanted to recreate the twins' pose while touring the house, but, alas, venturing out on that ledge is not allowed.  LOL  😉  You can see more photos from the Olsen's YM shoot here.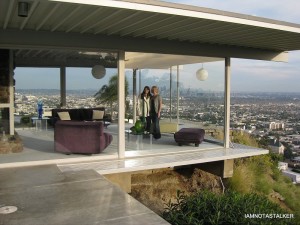 My best friend and I did get to recreate Shulman's famous photograph while at the house, though, and it has quickly become one of my favorite pictures of the two of us.  I honestly cannot recommend taking a tour of the Stahl House enough!  Go, go, go on this tour!!  Even if you are not at all interested in architecture or filming locations, I can pretty much guarantee the house will still amaze you. Seeing it in person is an absolutely magical experience.  The tour lasts about an hour and consists of a walk through of the main living area, kitchen, and the pool and spa area.  The two bedrooms are currently off limits as they are undergoing a renovation.  The Stahl House is fairly small, only 2,300 square feet, but I could have spent all day there!  Tours can accommodate up to twenty  people and are usually held on Saturdays and Sundays.  Photographs for commercial use are not permitted and a photography waiver must be signed before being granted entry.  The Stahl Family was kind enough to let me publish these photographs from my tour on my blog and for that I sincerely thank them.
Note: All photographs of the Stahl House are used with permission from the Stahl Trust.
Until next time, Happy Stalking!  🙂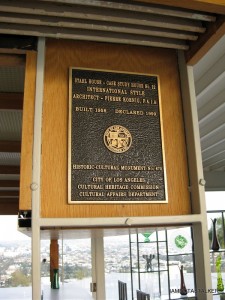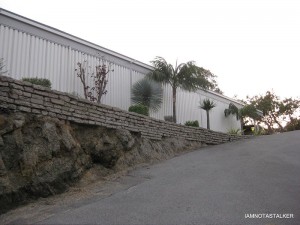 Stalk It: The Stahl House is located at 1635 Woods Drive in Los Angeles.  The only way you'll be able to catch a glimpse of it, though, is by paying for a tour as the house is located on a gated, private street.  To find out specific tour information please visit the Stahl House Facebook page.
5068