POP Champagne Bar
Mar 17th, 2009 | By
Lindsay
| Category:
This and That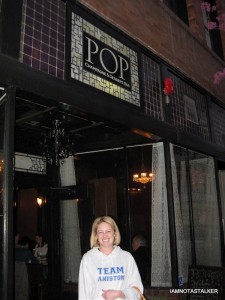 This past weekend I dragged my boyfriend out to stalk Pasadena's newest hot spot – a little place called POP Champagne & Dessert Bar which opened its doors about three months ago.  Being that champagne is my (and my girl Marilyn's) fave cocktail, I have been dying to stalk this place ever since it opened back in December.  Sadly I didn't get around to it until this past Friday night.  But let me tell you, it was worth the wait.  I think POP might just be my new favorite bar.  : )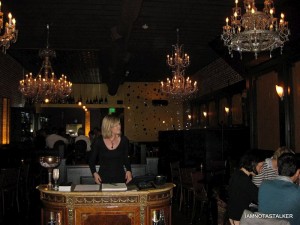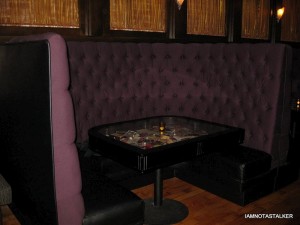 POP is absolutely adorable inside.  It has a very New York City feel to it.  The decor is made up of exposed brick, huge leather booths, dark wood paneling, and sparkling crystal chandeliers.  It's exactly the kind of place you want to escape to after a long day at work (or in my case, a long day of stalking).  🙂  And while no movies have been filmed there yet, I can pretty much guarantee that it won't be long before location scouts come a-knockin'!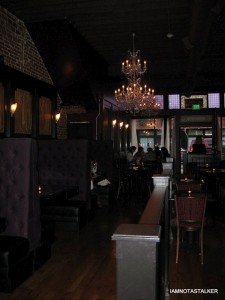 POP's wine menu is quite extensive.  In fact, I've never seen anything like it!  They serve over 50 varieties of wine by the glass, including Merlot and Chardonnay for those of you who aren't champagne drinkers.   Their menu is A-MA-ZING and they serve up huge portions at reasonable prices.  During their happy hour, which runs from 5 to 7 pm daily, mimosas, bellinis, and draft beers are only $4 a glass and most appetizers are 20% off.  And on those rare days in Southern California when it rains, POP extends its happy hour to an all day affair.  How cool is that?  And –  my personal favorite POP special – every single Wednesday they serve up glasses of Veuve Clicquot Yellow Label Champagne (the BEST champagne ever) for only $10!  That's like unheard of!   LOVE IT!  You can bet I'm going to be hanging out at POP pretty much every Wednesday night from now on.  LOL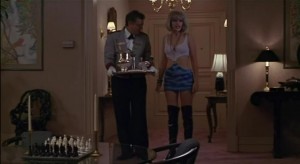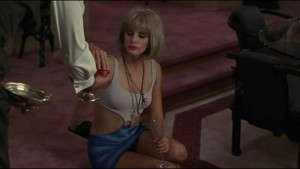 But my favorite item on the menu?  The "Room Service for Mr. Lewis" appetizer which consists of a selection of fresh strawberries and two glasses of Gloria Ferrar Blanc de Noir champagne.  If the words "Room service for Mr. Lewis" sound familiar to you, it's because they should.  They were uttered in one of the most famous romantic comedies of all time – Pretty Woman.  In the movie Edward Lewis, aka Richard Gere, orders up some champagne and strawberries when he first arrives with Vivian at the Regent Beverly Wilshire Hotel.  He tells Vivian that strawberries bring out the flavor in the champage. 🙂  Movie references on a menu?  LOVE IT! In fact, I think it's safe to say that there's nothing about POP that I don't love!  🙂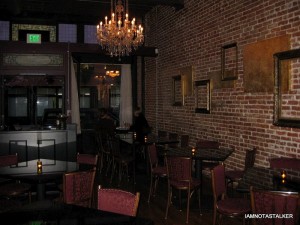 As I always do when visiting new places, I asked our bartender if any celebs had been spotted at POP.  Well, let me tell you, I almost fell right off my bar stool when he told me that douchbag Bachelor  Jason Mesnick and girlfriend Molly Malaney had just been there the previous week!  I couldn't figure out what the heck those two would be doing in Pasadena, until I remembered that ABC usually puts the current Bachelor  up at the Langham Huntington Hotel & Spa in Pasadena when they come to town for press events.  I know this because a good friend of mine used to work at the hotel back when it was owned by the Ritz Carlton.  🙂  Well, after I heard that Jason and Molly had stopped in, I had about a million and one questions for our bartender.  LOL  Turns out he didn't pay all that much attention to the pair because he "doesn't really care about them".  LOVE IT!   But he did mention that Molly was SUPER skinny.  Like disgustingly so.  He said that Molly and Jason were meeting up with some friends at POP which begs the question, who in the heck do those two know in L.A.??  They were probably meeting up with Bachelor  producer Mike Fleiss to toast the big payoff (the After the Final Rose  special was the most watched in Bachelor  history!) from the scam they pulled this season.  LOL  Anyway, our bartender said that Jason and Molly didn't stay long as Jason wanted to try out the Vertical Wine Bistro (owned by Terminator  producer Gale Anne Hurd) located just around the corner from POP.  Jason was probably hoping to run into Gale so that he could give her a headshot – now that his Bachelor  fame is waning he needs a new day job.  LOL  Our bartender said that quite a few celebs have stopped into POP since its grand opening, but unfortunately he didn't know any of them by name. 
I HIGHLY recommend stalking POP!!!!  It is a very fun place to grab a drink, even if you are not a champagne fan!  You can bet I'll be stopping in regularly in the months to come.  🙂
Until next time, Happy Stalking!  🙂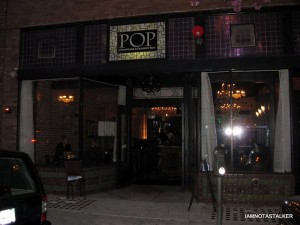 Stalk It: POP Champagne and Dessert Bar is located at 33 East Union Street in Pasadena.  You can visit their website here.  POP is closed on Mondays and Tuesdays.
5945