The Michael Jackson Exhibit by Julien's Auctions
Apr 21st, 2009 | By
Lindsay
| Category:
Michael Jackson Locations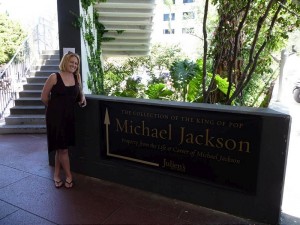 As I've mentioned once before, even though he has some major issues, darn if I don't love me some MJ!  So when one of my readers, Amanda, posted a comment this morning about the Michael Jackson Exhibit that is currently being held in Beverly Hills, I just about had a full blown panic attack right there in my own living room.  HOW IN THE HECK HAD I NOT HEARD ABOUT THIS???  LOL  I immediately called my dad, who also loves himself some MJ, and the two of us headed right over to Beverly Hills to check out the exhibit.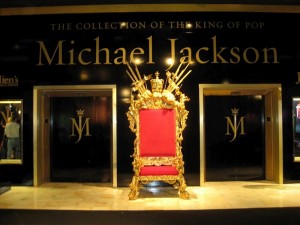 The Michael Jackson exhibit was originally slated as an auction to be hosted by Julien's Auctions company.  Michael Jackson himself hired the auction house, which specializes in entertainment memorabilia, to sell off virutally all of the contents of his now defunct Neverland Ranch.  At the last minute, though, MJ changed his mind and decided to cancel the auction and buy back all of his memorabilia from Julien's.  But he did agree to go through with the scheduled exhibition of his valuables, which is open to the public now through April 25th.  And I am so glad he did, as my experience there today was nothing short of incredible!!!!!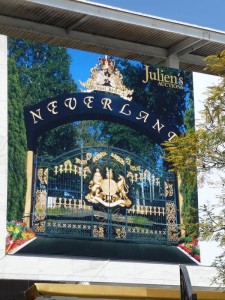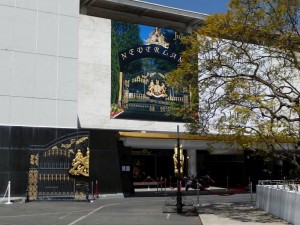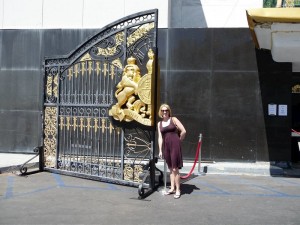 I was literally on the edge of my seat for the entire drive to Beverly Hills!  And the exhibit did not fail to disappoint!  The first thing you see when walking up to the exhibition area is – are you sitting down for this??? – the famed NEVERLAND RANCH GATE!  I have wanted to see that gate for as long as I can remember and was so disappointed when I stalked Neverland Ranch back in 2007 and discovered that it wasn't visible from the  street.  I was so floored to see that gate in person, in fact, that I couldn't imagine there'd be anything inside the exhibit hall that could top it!   But, boy, was I wrong!  The Neverland gate was just the beginning!  🙂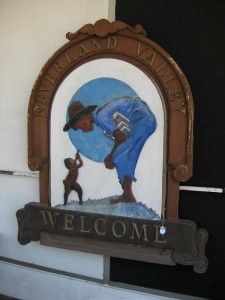 In a very lucky twist of fate, after asking a security guard a question upon entering the exhibit, I was referred to a man named Michael Doyle.  Well, it turns out that Michael is the administrator of the entire exhibit and a SUPER nice guy.  After I told him a bit about my blog, he ended up taking me on my own mini private tour of the exhibit!!!!!  Unbelievable!!!!!  🙂  According to Doyle, the 30,000 square foot, 1,400 lot exhibit took over nine months to coordinate.  The removal of the items from Neverland Ranch alone took ninety days!   Doyle was at the ranch during that entire ninety day period and got to see up close and personal how the King of Pop lived.  What an experience!  When I told Doyle that I had actually been to Neverland Ranch, he said "Oh, you were invited there?"  LOL  I had to clarify and tell him that no, I had not been invited to Neverland Ranch, but had stalked the outside of it for my blog.  LOL  LOL LOL  While I was speaking with Doyle, he got a call that Sharon Osbourne would be touring the exhibit later that day.  I guess even celebs are fascinated with the King of Pop.  🙂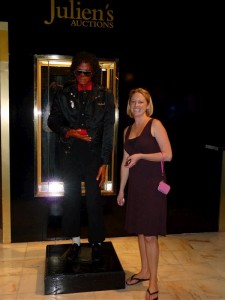 The entire exhibit, which feels very much like a museum, is set up in such a way that visitors feel as if they are actually stepping inside of the real Neverland Ranch.  Before arriving, I was nervous that cameras would not be allowed, as I knew that I'd want to take pictures of EVERYTHING.  Well, I really needn't have worried, as cameras are not only allowed, but encouraged!!!  The ultra-friendly security guards and docents kept telling us to be sure to take a lot of photographs.  And my dad and I sure complied!!  The two of us took over 200 pictures while there!   Obviously I can't post all 200 pictures here, as this post would be never-ending.  So, I had to choose a few of my favorites.  🙂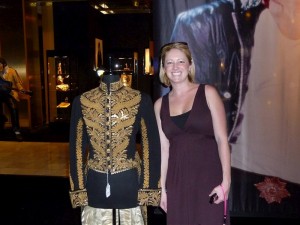 On display are numerous costumes that the King of Pop wore during performances.  Seeing them in person I could not believe how tiny MJ is!  According to one of the docents, he has a 28 inch waist!   I took the above photograph for comparison –  now, I am a small girl (a size 2 usually) and look how much smaller Michael is than me!  He's like half my size!!!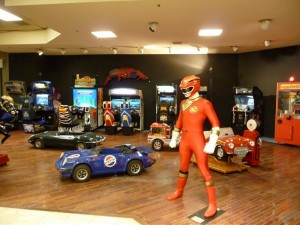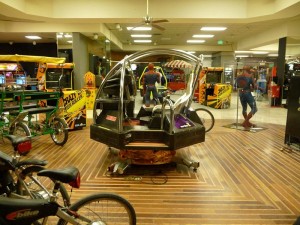 Michael had 114 arcade games at Neverland Ranch, all of which are in working order and on display at the exhibit.  Apparently, when the auction was still set to happen, the arcade games were garnering the most attention.  Not from Michael Jackson fans, though, but video game enthusiasts.  🙂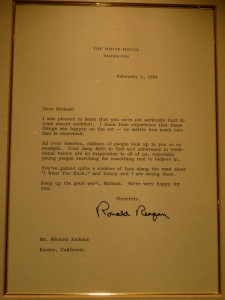 On display were both a personal letter from then-president Ronald Regan offering his condolences after the pop star's accident while filming a Pepsi commercial,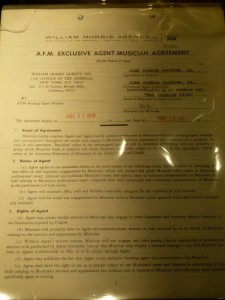 and the original contract MJ signed with the William Morris Agency on May 21, 1970.  As an actress, seeing his agency contract absolutely fascinated me!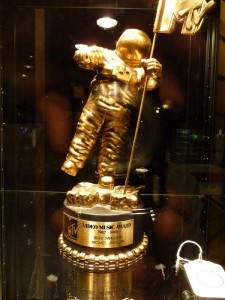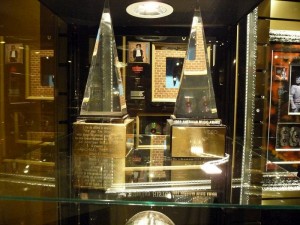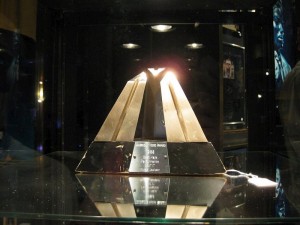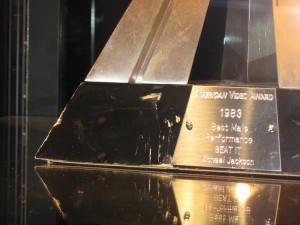 Numerous awards were also on display, including a fairly banged up American Video Award for "Beat It" from 1983.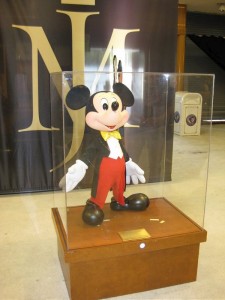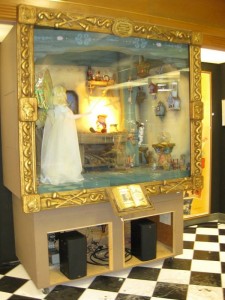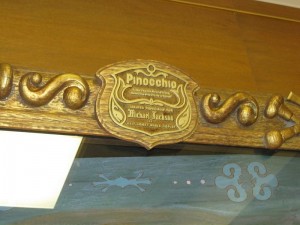 Countless Disney items were featured, most of them presented to the pop star from Disney themselves, including several animatronic window displays which were located at the entrance to Neverland's movie theatre.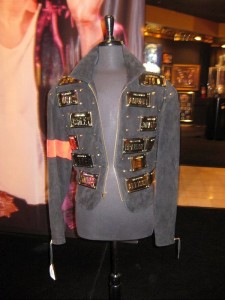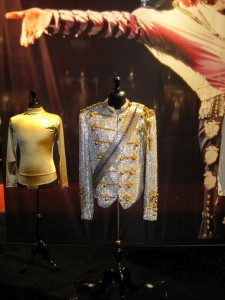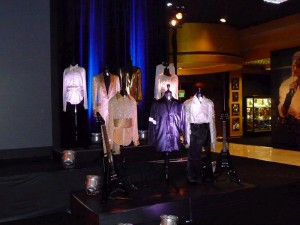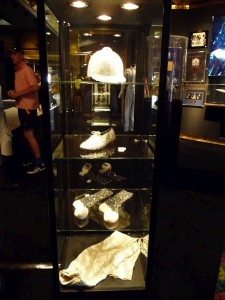 Also on display was a huge collection of the singer's blinged out clothes;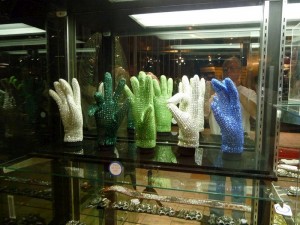 and sparkly gloves;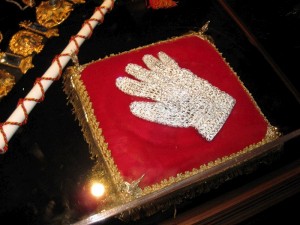 including THE glove;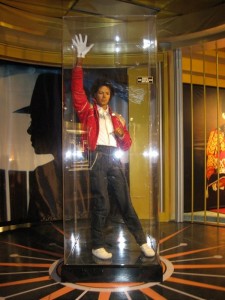 his wax figure from Madame Tussauds in London;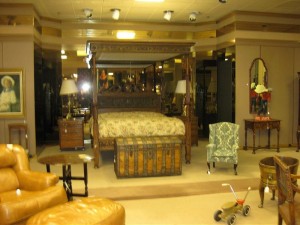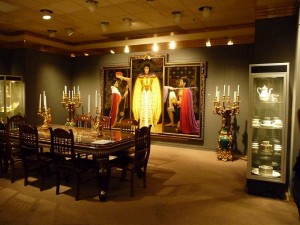 his household furniture, including China, silverware, and glasses;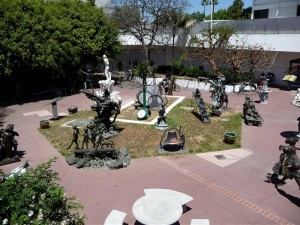 hundreds upon hundreds of statuaries;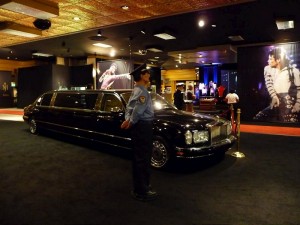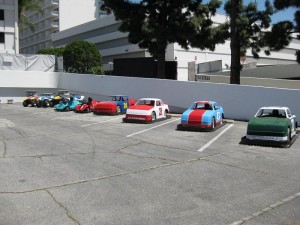 a huge collection of cars, including three limousines, a Neverland Ranch firetruck, and several mini-cars that look like they might have once been part of a Disneyland ride;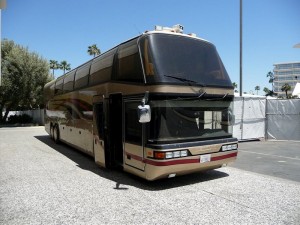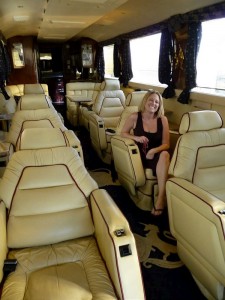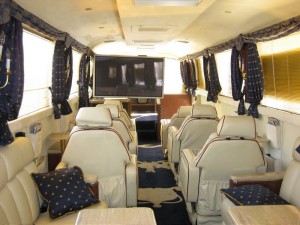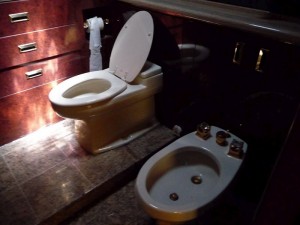 and his tour bus complete with a ginormous plasma TV and a huge marble bathroom with a bidet.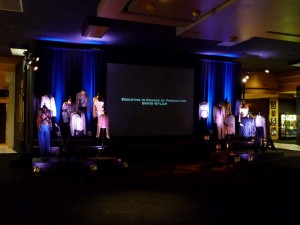 But my absolute favorite part of the exhibit was the large stage set up in the main room that featured a huge movie screen  that played the Michael Jackson: Live In Bucharest  DVD on loop.  It was amazing to be walking around what basically amounts to a replica of Neverland Ranch while listening to music from the pop star himself.   My dad pretty much stood mesmerized watching that DVD for a good 45 minutes.  🙂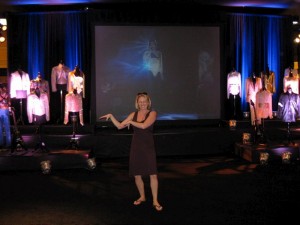 And, of course, I just had to do the Thriller  dance.  🙂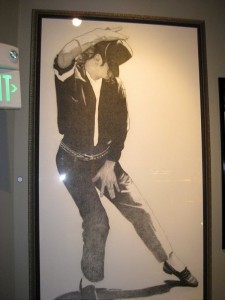 I cannot recommend stalking the Michael Jackson exhibit enough!!  If you are at all a fan of the pop star, or are enthralled with celebrity in general, you MUST stalk the exhibit.  It was an AMAZING experience for me – a once in a lifetime, really – and I can't even believe I got to see it all with my own two eyes.  BIG THANK YOU to Amanda for letting me know about the auction!!!!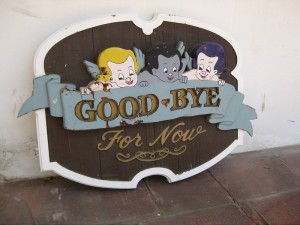 Until next time, Happy Stalking!  🙂
Stalk It: You can visit the Michael Jackson Exhibit by Julien's Auctions through this Saturday, April 25th in the old Robinsons-May building, which is located at 9900 Wilshire Boulevard in Beverly Hills, directly next door to the Beverly Hilton Hotel.  The exhibit is open daily from 10 a.m. to 6 p.m.  Admission is $20 per person.   Parking is $10.  I'd allow yourself a minimum of two hours to see the exhibit.  Ladies, if you carry expensive purses, I suggest you leave them at home as you will have to check all bags at the door.  Cameras, however, are welcomed and encouraged!  🙂  You can visit the Michael Jackson Exhibit website, where you can watch videos about the exhibition and browse through the five auction catalogs, here.
7077