The Mansion Where Brad and Jen Got Married
May 6th, 2009 | By
Lindsay
| Category:
Celebrity Homes
,
Jennifer Aniston Locations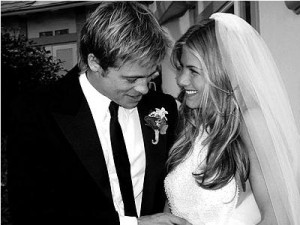 There are some events in history that people remember as if they occurred just yesterday.  For instance, my mom remembers exactly where she was, right down to what she was wearing, on November 22, 1963 when she found out that President Kennedy had been murdered.  Well, I wasn't alive when JFK was assassinated or when man first walked on the moon.  But I do remember exactly where I was and what I was wearing on July 30thof 2000 when it was announced that Brad Pitt and Jennifer Aniston had finally gotten married.  🙂  Now, some may not qualify that event as being historic, or even memorable, but for me it was.   I was in Hawaii with my family at the time and the day beforehand I had found out that one of my closest friends had passed away.  I was absolutely inconsolable.  My parents didn't really know what to do with me, so they decided to bring me down to the hotel bar in the hopes that a cocktail and a sunset might bring me some sort of comfort.  As we sat at that outdoor bar watching the waves crash on the sand, I heard Jennifer Aniston's name on the television set behind me and my ears perked up.  The announcer stated that sources had confirmed that my girl Jen had married Brad Pitt in a ceremony on a Malibu bluff the previous evening.  And it was the first time I smiled in days.  🙂   So, a few weeks ago, when I found the location of the mansion where Brad and Jen tied the knot, I just had to go stalk it.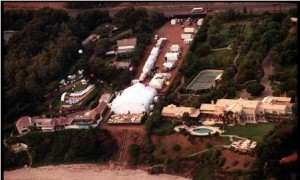 I had read long ago that Brad and Jen had tied the knot at a five acre seaside estate belonging to television producer Marcy Carsey (of 3rd Rock From the Sun, Roseanne, and The Cosby Show fame) that was located on the 33000 block of Pacific Coast Highway in Malibu.  But I had no idea of the home's exact location.  Until I found this fabulous website, which led me to the right spot.  🙂  Yay!  From what I can tell from the few photographs released of the couple's nuptials, the actual wedding ceremony took place on the circular patch of lawn located in front of Marcy's home.  Their reception took place in a large tent on an empty parcel of land located just south of the estate.  You can see the wedding set up in the above paparazzi photograph, which was taken the day of Brad and Jen's wedding.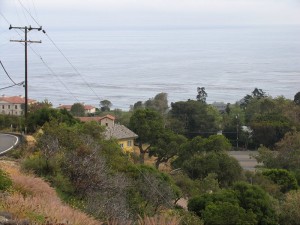 Unfortunately, virtually none of the home is visible from the street.  🙁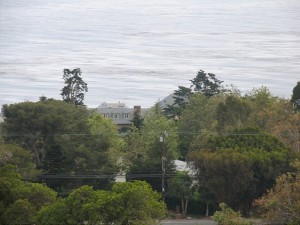 If you head a few hundred feet up nearby Decker Canyon Road, you can just make out the outline of the mansion's roof . . .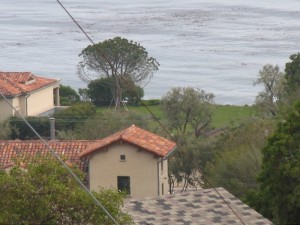 . . . and you can see the empty patch of land where Brad and Jen's reception was held.  But other than that, sadly, there's not a whole lot to see.  🙁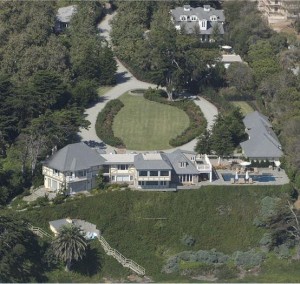 Which is why God created aerial images.  🙂  LOL  You can see a great aerial photo of Brad and Jen's wedding mansion here.
According to People Magazine, Brad and Jen's wedding cost over $1 million and featured 50,000 flowers, a 13 minute fireworks display, four live bands, and a gospel choir!  Their 200 person guest list was strictly A-List, and included Courteney Cox and David Arquette, Edward Norton and Salma Hayek (who were dating at the time), Cameron Diaz, Melissa Etheridge (who serenaded the couple), David Schwimmer, Kathy Najimy, Dermot Mulroney, Jon Lovitz, David Spade, and Lisa Kudrow.   During their vows Jen promised to always make Brad's "favorite banana milkshake" and Brad vowed to "split the difference on the thermostat".  Knowing how things turned out after that little homewrecker Angelina Jolie got her claws into Brad, doesn't the whole thing kinda bring a tear to your eye? 🙁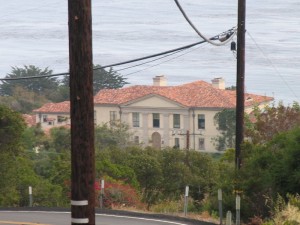 Located directly next door to the estate where Brad and Jen got married, is the 19,340 square foot mega-mansion originally owned by Verna Harrah, widow of William F. Harrah, who was the founder of the famous casino hotels of the same name.  In December of 1999, Verna sold her collosal mansion to Mark Reynolds Hughes, creator of Herbalife Vitamins, for a cool $27 million.  Less than six months later, Hughes passed away of an alleged prescription drug and alcohol overdose in the master bedroom of the home.  He was 44.   The manse was subsequently purchased by billionaire venture capitalist Howard Marks.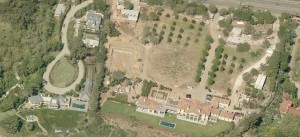 And it looks to me as if Howard also purchased the once empty parcel of land where Brad and Jen held their tented wedding reception and which originally belonged to the Carsey estate.  As you can see in the above aerial photographs of the two neighboring properties, it looks as if the Howards moved their property line over quite a bit.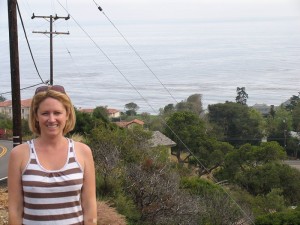 Even though not much of Brad and Jen's wedding mansion can be seen from the street, I was still floored to finally be stalking it.  And even though their wedding occured during a difficult time in my life and their marriage ended rather unamicably, somehow thinking back on the day when I learned about my idol's nuptials still manages to bring a smile to my face.  🙂
Until next time, Happy Stalking!  🙂
Stalk It: Brad and Jen's wedding mansion is located at 33148 Pacific Coast Highway in Malibu.  Mark Reynolds Hughes' former house is located directly next door at 33064 Pacific Coast Highway.  For the best views of the homes, head a few hundred feet up Decker Canyon Road, which is located just south of the properties.
7842