Bob Hope's Palm Springs House
May 14th, 2009 | By
Lindsay
| Category:
Celebrity Homes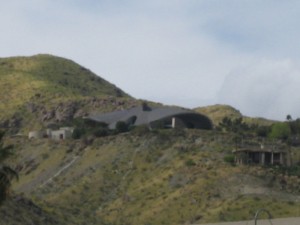 While in Palm Springs this past weekend, I dragged my boyfriend – ahem, fiance (I swear, I'm never going to get used to saying that!) out to stalk Bob Hope's former residence, which is located high up on a cliff at the very top of Southridge Drive.  I wasn't so much interested in seeing the home because it had once belonged to Bob Hope, but rather because it was designed by famed architect John Lautner.  And I am absolutely obsessed with Lautner homes!  Once upon a time, I actually hated his designs – I thought they were just simply too weird.  But over the years they have really grown on me.  I love that all of his homes are so incredibly unique and recognizable.  One look at a poured concrete wall or a curving roof line and you know immediately if a house was designed by Lautner.  It's no wonder that his homes have been used in countless Hollywood productions over the years including Charlie's Angels, Diamonds Are Forever, The Big Lebowski, and Lethal Weapon 2.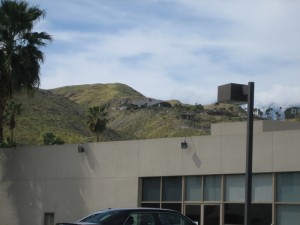 Not everyone is as big a fan of John Lautner as I am, though.  Legend has it that Bob Hope wasn't exactly happy with the house that Lautner designed for him.   According to this article, Judith Lautner, John's daughter, states that Bob "made life hell for my father.  He destroyed a lot of the thinking.  He just stepped in and said 'No, no, no.'"   Legend also has it that Bob never even spent one night in the home, but instead used it solely for entertaining purposes.  The home, which was built in 1979 and was designed to look like the skirts of a volcano, measures 17,531 square feet, has 6 bedrooms and 9.75 bathrooms!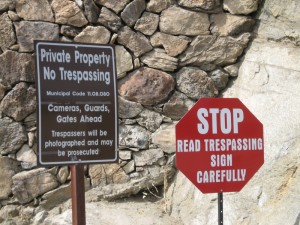 Unfortunately, Bob's former home is located in a private, gated community, so I wasn't able to get very close to it.  🙁  And, judging from the signs pictured above, the neighborhood is not very stalker friendly!  When I saw the sign which read "Trespassers will be photographed and may be prosecuted", I was pretty much outta there!   Bob's former community is very exclusive and was once also home to actors Steve McQueen and William Holden.  Lautner also designed another home – the Elrod House – just down the road from Bob's, but, unfortunately, I didn't realize that until after I got home, so I didn't get any photographs of it!  Ugh, I am such a blond sometimes!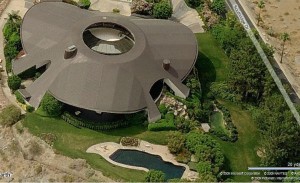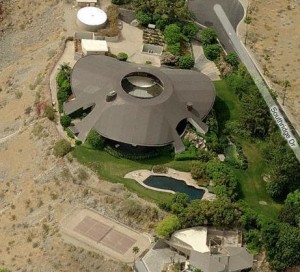 Because I couldn't get very close to the house while stalking it, I had to settle for doing some cyberstalking as soon as I got home.    It's funny, but in aerial images the home actually appears to be rather small, but rumor has it that the open circle cut-out in the roof is so large that a helicopter could actually land there!!  I don't know if that is true or not, but being that the home measures almost 18,000 square feet, it is definitely a possibility!  Another rumor floating around about the former Bob Hope residence is that the shape of the pool was loosely based on the comedian's profile.  So cool!  You can see another amazing aerial view of the home here.
Until next time, Happy Stalking!  🙂
Stalk It: Bob Hope's Palm Springs house is located at 2466 Southridge Drive.  The Elrod House is located just a few houses down at 2175 Southridge Drive.  Both are in a private, guard-gated community, so DO NOT trespass.  If you are into hiking, apparently the nearby Araby Trail offers some great views of both homes.
8105