Il Cielo
Jun 18th, 2009 | By
Lindsay
| Category:
Jennifer Aniston Locations
,
The Hills Filming Locations
Looking at wedding venues is so darn fun that, I swear, I think I would be happy just remaining engaged forever.  It could be my full time job.  What do you do?  Oh, I'm engaged – full time!  🙂  LOL  On Tuesday, my wedding venue expedition led my mom and me to a little restaurant in Beverly Hills named Il Cielo.    And I have to say that the place was downright amazing!!!  So much so that it's at the very top of my very narrowed down list of possible locations.  Because I am such a picky eater, for years I've been steadfast about serving a buffet at my wedding, as opposed to a set menu.   Il Cielo doesn't offer a buffet – they only do sit-down dinners – yet they are STILL at the top of my list!  Now, that's saying a lot!  🙂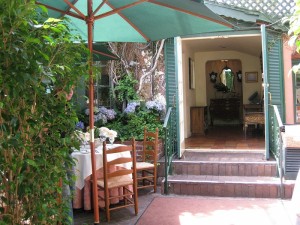 Il Cielo, which means "the sky" in Italian, was opened up in 1986 inside of a tiny Beverly Hills bungalow by a man named Pasquale Vericella.  In the 70s, that bungalow was the home to another Italian restaurant named En Brochette.  A frequent visitor to En Brochette, Pasquale adored the intimate, homey feel of the restaurant and decided it was just the type of place he himself wanted to own someday.  He was so adamant about opening his restaurant in that exact spot, in fact, that for years he begged En Brochette's owners to sell the restaurant and the bungalow to him.   They finally relented in 1986, and Pasquale opened up his own Tuscan-style restaurant, featuring his mother and grandmother's traditional family recipes.  I had the pleasure of meeting Pasquale yesterday and of course asked him all sorts of questions about which celebrities had dined at Il Cielo.  He quickly brushed off my queries and said "When you get married here, the only celebrity we are concerned with is YOU!"  🙂  So cute!!!!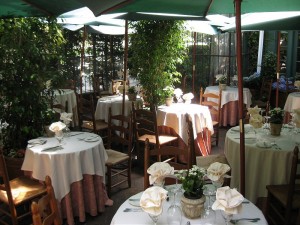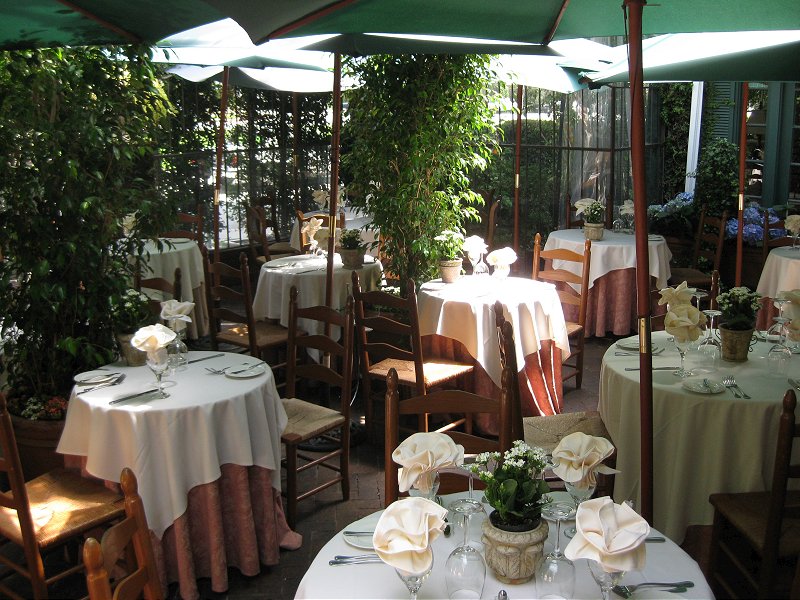 Il Cielo has been voted "the most romantic restaurant in Los Angeles" numerous times by numerous publications.  It has also been named "one of the top five places to get married in the country" – yes, the COUNTRY – by The New York Times.  Those are some pretty amazing accolades!   The restaurant has hosted over 1,500 weddings in its 23 year history.  According to the restaurants' events manager, Fabio, Il Cielo's philosophy is service first, food second, and ambiance third.  And from what I witnessed yesterday, all three of those seem to be top notch, especially the service.  When I asked where the bar gets placed during a wedding reception, Fabio looked at me with confusion on his face.  Then, realization dawning, he explained, "Oh no, we do not do waiting in line here.  Our servers walk around taking drink orders, so that your guests never have to get out of their chair!"  OMG LOVE IT!  Even better than that, after the reception ends, guests are served lattes, cappuccinos, and biscotti out on the sidewalk while waiting for the valet to retrieve their cars.  SO LOVE THAT!  I mean, this place is downright A-MA-ZING.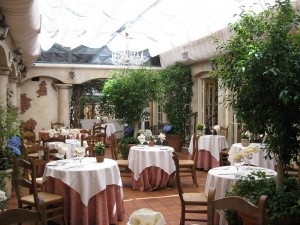 And, of course, there's also the celeb factor!  Google the words "Il Cielo" and "celebrities" and a list of a hundred well-known names will pop up, including Christian Bale, Nancy Reagan, my girl Jennifer Aniston, Ellen DeGeneres, Portia De Rossi, Robert Redford, Rod Stewart, Colin Farrell, Claudia Shiffer, Ali Larter, Brandon Routh, Michael Douglas, Catherine Zeta-Jones, and Nikki and Cathy Hilton.  Lesley Ann Warren was married at Il Cielo and (that little homewrecker) Brad Pitt took Gwyneth Paltrow there on their first date.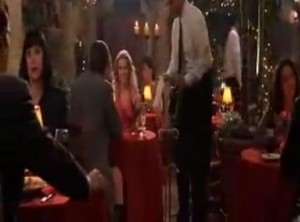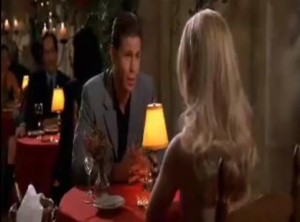 And, of course, Il Cielo is also a filming location.   At the beginning of Legally Blonde, it's the restaurant where Elle Woods' boyfriend, Warner, does not propose.  When Warner first announces he is taking Elle to Il Cielo, she says "Oooh, I love that restaurant.  I heard Madonna went into labor there."  LOL LOL LOL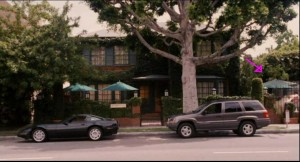 Il Cielo's patio area stood in for the patio of Adam Sandler's restaurant in the 2004 movie Spanglish. The exterior of Adam's restaurant (pictured above) is actually the exterior of the Hal Valentine Hair Salon, which is located directly next door to Il Cielo.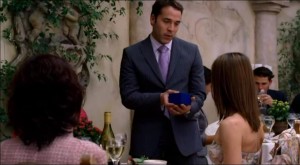 On the Season Three episode of Entourage entitled "Strange Days", Ari Gold re-proposes to his wife after 15 years of marriage with a ginormous diamond ring on Il Cielo's back patio.  The restaurant has actually popped up in Entourage no less than three times!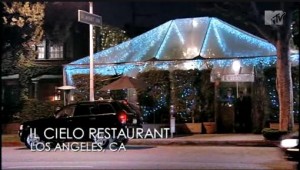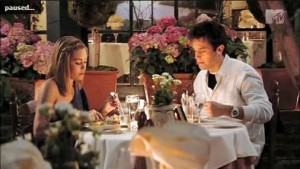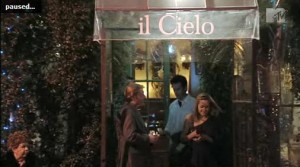 In the Season 3 episode of The Hills entitled "A Date With The Past", former flame Ste-phen Colletti takes Lauren Conrad out for a "strictly platonic" dinner at Il Cielo.  Smart move, Ste-phen, bringing a girl you just want to be friends with to the most romantic restaurant in all of L.A.!   LOL   Il Cielo was also featured in the Season Five opener of The Simple Life entitled "Welcome to Camp Shawnee" as the location where Paris Hilton and Nicole Ritchie finally bury the hatchet and become friends again over an Italian lunch.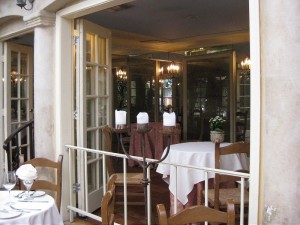 I honestly can't recommend stalking Il Cielo enough – either as a wedding venue or for a romantic dinner!!!!  This place is truly one of a kind!
Until next time, Happy Stalking!  🙂
Stalk It: Il Cielo is located at 9018 Burton Way in Beverly Hills.  You can visit their website here.  Il Cielo is closed on Sundays.
9260