The Blast from the Past Strip Mall
Jul 13th, 2009 | By
Lindsay
| Category:
Movie Locations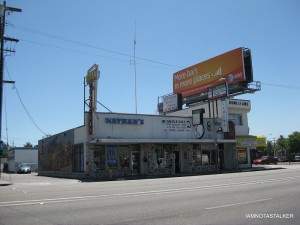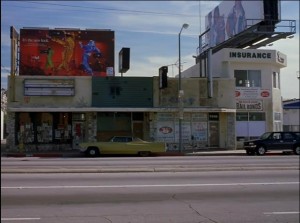 Since I was in the area this past week stalking a wedding venue, I decided to pay a little visit to the strip mall featured in fave romantic comedy Blast from the Past.  In the flick, which opens up in the year 1962, a nuclear-war-fearing Christopher Walken builds a massive fallout shelter for his wife and unborn son directly underneath his suburban home.  When a small plane fortuitously crashes onto his property, Walken fears a bomb has been dropped on America and immediately locks his family in the homemade shelter where they remain for the next 35 years.   While the family is living underground, a strip mall comprised of a dive bar, an adult bookstore, and a 50s diner,  is built on the spot where their home used to stand.  That strip mall is what I set out to stalk last week.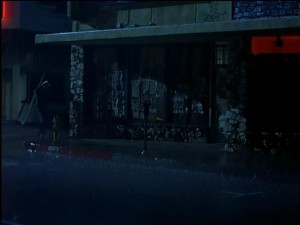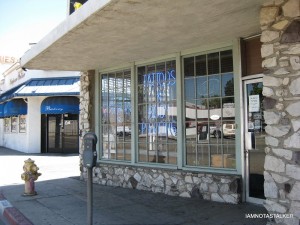 And I am happy to report that it looks pretty much exactly the same in person as it did in Blast from the Past.  According to fave website Seeing Stars, which is how I originally found this location, all three storefronts used in the movie were vacant at the time of filming.  And, after recently re-watching BFTP, I am fairly certain that filming not only took place outside of the empty shops, but inside of them, as well.  Pictured above is the storefront used as the dilapidated 50s diner originally named "Mom's" in the movie.  It is this shop that is located directly above the fallout shelter and into which the shelter's elevator rises through the floor, causing the loopy storeowner to believe an angel has come to save him.  In reality, "Mom's" diner is actually a tattoo parlor.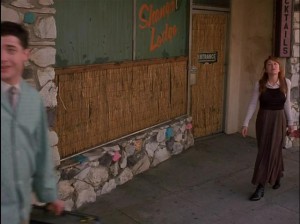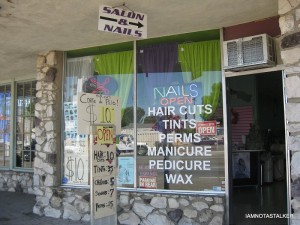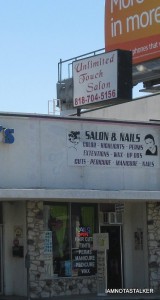 Directly next door to "Mom's", is the storefront that was used as the dive bar "Shangri Lodge" in the movie.  Today it is a  beauty parlor named "Unlimited Touch Salon" – I don't even want to know what goes on in there!!!   LOL LOL LOL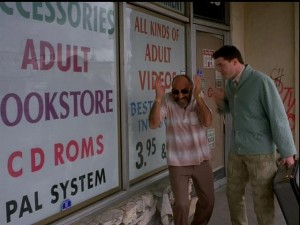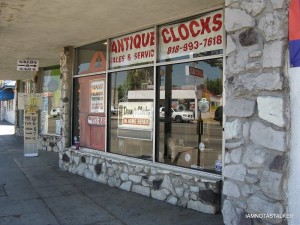 Next door to the salon is the storefront that was featured as the adult bookstore in the movie.  Just before Brendan Fraser makes his first visit above ground, Christopher Walken warns him to stay away from the adult bookstore as there is "invisible, poisonous gas" inside of it.  LOL LOL LOL   In reality, that shop is now an antique clock store.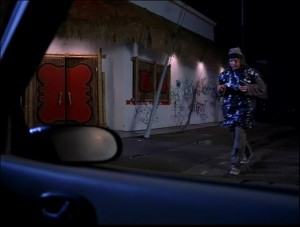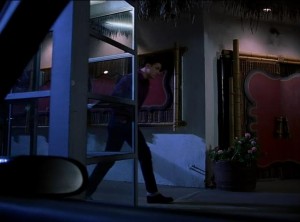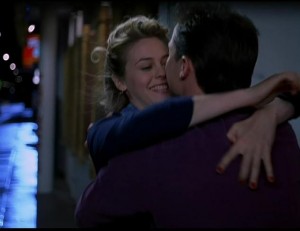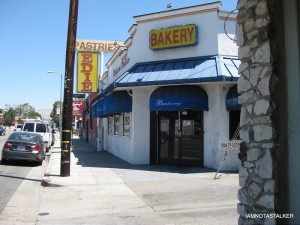 The tiki bar that Alicia Silverstone and Brendan Fraser kiss in front of at the end of the movie is in actuality a large bakery and pastry shop.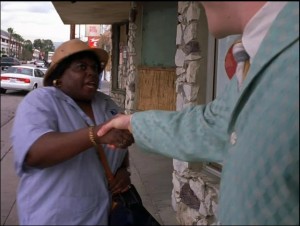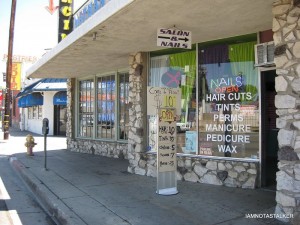 I find it kind of ironic that, in what is definitely a case of life imitating art, two of the empty storefronts eventually became seedy shops – a tattoo parlor and a salon with a highly suggestive name – much like was the case in the movie.  And while I, of course, had fun stalking the strip mall, I can't say I'd really recommend it to others.  It's kind of in a seedy area and unfortunately there isn't all that much to see.  For fans of the movie, like me, I'd instead recommend stalking Alicia Silverstone's adorable little house from the film.  🙂 
Until next time, Happy Stalking!  🙂
Stalk It: The Blast from the Past  strip mall is located at 7218-7222 Topanga Canyon Boulevard in Canoga Park.  Mom's diner, under which Brendan Fraser's bomb shelter was located, can be found at 7222 Topanga Canyon Blvd.  The Shangri Lodge Bar is really the Unlimited Touch Salon which is located at 7220 Topanga Canyon.  And the "poison gas" adult bookstore is really Denny's Clocks, which can be found at 7218 Topanga Canyon.  Pastries by Edie, the bakery where Alicia Silverstone and Brendan Fraser kiss in the movie, is located next to the strip mall, at 7226 Topanga Canyon Blvd.
10176