James' Beach Restaurant
Jul 14th, 2009 | By
Lindsay
| Category:
Jennifer Aniston Locations
,
Movie Locations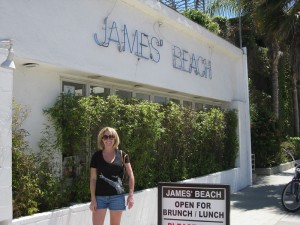 This past weekend, I dragged my fiance out to stalk a restaurant named James' Beach that was featured in the 2009 romantic comedy I Love You, Man.    In the movie, Sydney Fife (aka Jason Segal) and Peter Klaven (aka Paul Rudd) have their very first man-date at the Venice Beach area restaurant, which Sydney alleges serves up the "best fish tacos in the world".  So, of course, I just had to try the place out for myself, especially since tacos are pretty much my favorite food!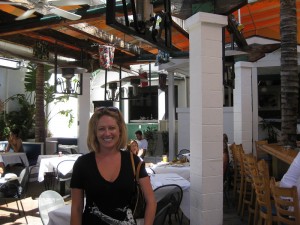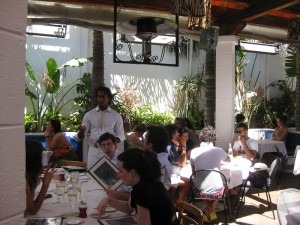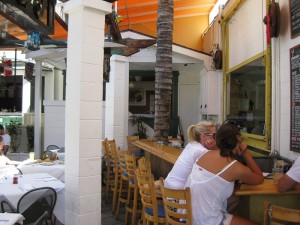 James' Beach has actually been at the top of my must-stalk locations list ever since the movie first premiered this past March, but because I rarely make it out to the Venice area, I had yet to visit the place.  Until this past weekend, that is.  And I have to say that the restaurant was well worth the wait!  Being that I am the pickiest eater known to man and also not a big fan of fish, I opted not to try the restaurant's world famous fish tacos, but instead ordered up their tofu version.  And I am happy to report that the James' Beach tofu tacos were so good that I couldn't stop eating them -even after I was far past full!  Really, it was pathetic!  LOL  James' Beach taco plates are served in a build-it-yourself style and come with black beans, AMAZING guacamole, homemade salsa, and flour tortillas.   And, even though the tofu tacos I ordered were fabulous, looking back now I really wish I had tried the fish tacos, as I think they would have been simply amazing.  Oh well, it looks like I'll just have to stalk the restaurant again!  🙂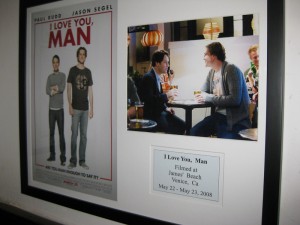 The owner of James' Beach truly could NOT have been nicer to us and answered all of my silly questions about movies that had been filmed at the restaurant and celebrities that had dined there.  He told us that while numerous productions have actually been filmed on the premises (including three episodes of Curb Your Enthusiasm), none had brought him as much attention as I Love You, Man.  At the time of the filming, the owner had no idea that the name of his restaurant would be mentioned in the movie or that Jason Segal would proclaim that his place serves up the world's best fish tacos.  🙂  So, it was a very pleasant surprise for him when moviegoers started stalking his establishment.  🙂 Pictured above is the restaurant's plaque commemorating the filming of I Love You, Man.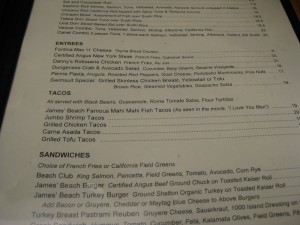 The movie is also mentioned on the James' Beach menu.  Love it!  🙂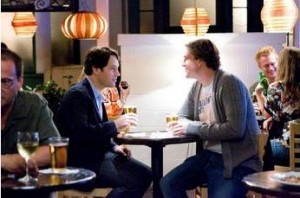 I Love You, Man was filmed on the restaurant's outdoor patio area.  Unfortunately, since the DVD of the movie is not being released until August 11th, I was not able to make any screen captures of the scene which was filmed at James' Beach.   Ironically enough, though, I was able to get the above pic from a New York newspaper article about I Love You, Man and the author's quest to find the "world's best fish tacos" out on the East Coast.   LOL  According to the owner,  I Love You, Man took two full nights to film, during which time the restaurant had to be closed to the public.  When I asked if Paul Rudd and Jason Segal were nice, the owner told me they were both "absolutely wonderful".  🙂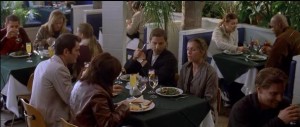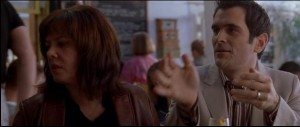 Besides being a filming location, James' Beach is also a big time celebrity hot spot.  🙂  Stars like Alfre Woodard, Peter Berg, Muhammad Ali, Meg Ryan, Tea Leoni, Catherine O'Hara, Forest Whitaker, tap dancing king Gregory Hines, and screenwriter Joe Eszterhas have all been spotted at the restaurant at one time or another.   So, of course, I just had to ask if my girl Jen had ever eaten there.  And I was floored to find out that she had!   Not only was a scene from Jen Aniston's 2006 movie Friends With Money filmed at James' Beach (pictured above), but my girl also held a premiere party for her 2004 documentary Growing Up Grizzly 2 at the restaurant, with none other than George Clooney in attendance.  Growing Up Grizzly 2 is an adorable documentary about the lives of two orphaned grizzly bears named Bart and Honey-Bump who were adopted by a human family. If you haven't seen it, you definitely should – it's adorable!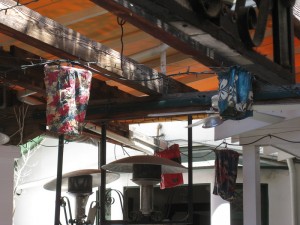 James' Beach is a  SUPER cute little restaurant and I really can't recommend stalking it enough!  The food was FABULOUS, the service was excellent, and the ambiance is just plain fun!  It's the perfect place to grab a bite to eat after spending a day on Venice Beach, which is located just a stone's throw away from the restaurant.
Until next time, Happy Stalking!  🙂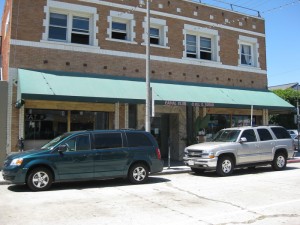 Stalk It: James' Beach is located at 60 North Venice Blvd. in Venice.  You can visit the James' Beach website here.  Its sister restaurants, Canal Club Wood Grill & Sushi Bar (pictured above) – where Jen Aniston has also dined – and Danny's Venice Beach Bistro & Bar, are also located in Venice, at 2025 Pacific Avenue and 23 Windward Avenue respectively.
10264