The Dickie Roberts House
Jul 29th, 2009 | By
Lindsay
| Category:
Movie Locations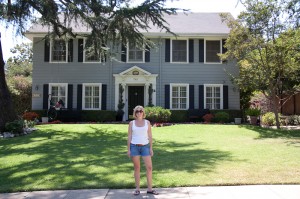 Today is my good friend and fellow stalker Kerry's birthday!  The two of us are actually heading down to Disneyland in a bit, where Kerry has secured a reservation for a little birthday celebration at the park's exclusive Club 33 members-only restaurant and, let me tell you, I could not be more excited!!  I've been trying to get into that place for YEARS!!  But I'll save that story for a future post.  🙂  Anyway, for the past few months, Kerry has been begging me to find the blue clapboard residence featured in the 2003 movie Dickie Roberts: Former Child Star.  Unfortunately, though, not only had I never seen the movie, but I also had no idea where the home might be located.  So, the other day when fellow stalker Chas happened to mention that he knew the location of the Dickie Roberts  house, I just about died!!!  I immediately told Kerry, who also just about died.  🙂  So, Kerry, this one's for you!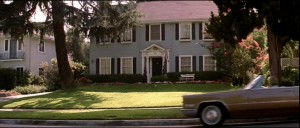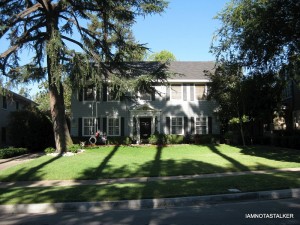 Once Chas had given me the address of the Dickie Roberts  house, I just HAD to watch the movie, and I am happy to report that I LOVED it.    I even found myself tearing up at the end, causing my fiance to look over at me and say "Are you actually crying over Dickie Roberts???"  LOL LOL LOL  What can I say, it's a very touching movie!  🙂  Dickie Roberts: Former Child Star is the story of a thirty-something washed up actor, played by David Spade, who pays a family to let him move into their  home with them in the hopes of recreating his lost childhood so that he may become a better adult and, in turn, a better actor.  The home, which belongs to the Finney family in the film, is supposedly located at 741 Mockingbird Lane in an idyllic neighborhood somewhere in the Los Angeles area.  Once I visited the house in person, it wasn't too hard to see why producers chose to use it as Dickie's perfect childhood home.  While I was there a woman was out walking her dog, children were riding their bikes in their front yards, a couple was jogging down the street together, and every time any of them passed each other they would call out "Hi Mrs. So and So!  How are you this morning?"  It was literally like a scene out of a movie!  I felt like I had somehow stumbled onto the set of The Truman Show  or something!  LOL  It's just as idyllic of a street in real life as it was portrayed to be in the movie.   Love it!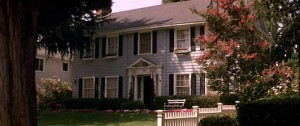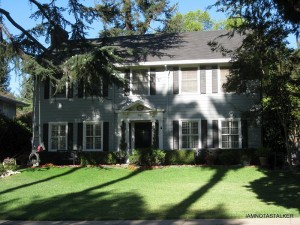 I am also very happy to report that the Dickie Roberts  house looks pretty much EXACTLY the same in person as it did in the movie.   According to IMDB, the real life owners of the home liked David Spade's backyard treehouse from the movie so much, that after filming wrapped they elected to keep it!  I was SO looking forward to seeing that treehouse in person, but, alas, it is not visible from the street.  🙁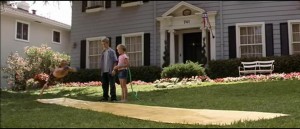 The Dickie Roberts  house shows up several times throughout the movie, most notably in the hilarious scene when Dickie is introduced to the wonder that is a Slip 'n Slide!   A little bit of movie trivia for you – Wham-O, Inc., the company that manufactures the Slip 'n Slide toy, actually sued Paramount Pictures for using their product in the movie without permission.  LOL  The things people get upset about, I swear!   🙂
 Happy birthday to Kerry and a big THANK YOU to Chas for finding this location!  🙂
Until next time, Happy Stalking!  🙂
Stalk It: The Dickie Roberts  house is located at 741 South Hudson Avenue in Pasadena.
10608