Watching the Filming of The Mentalist!
Aug 4th, 2009 | By
Lindsay
| Category:
Celebrity Sightings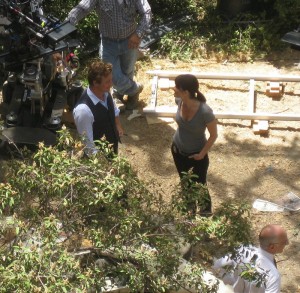 Last week, while out and about stalking in Pasadena, I just happened to run across a large production crew filming underneath the Colorado Street Bridge, so, of course, I just had to pull my car over to ask what was being filmed.  🙂  Well, when I found out the filming was for my new favorite TV show The Mentalist,I just about flipped my lid with excitement!!!  And I was even more excited when one of the crew members told me that I was welcome to hang out onsite for as long as I wanted to watch all of the action that was taking place!  YAY!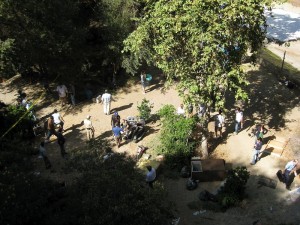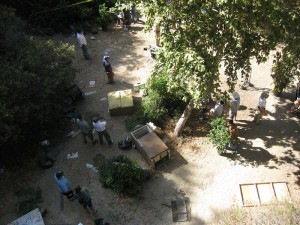 The Mentalist  was being filmed in a little wooded clearing in the Lower Arroyo section of Pasadena's Arroyo Seco Canyon.  To stay out of the way of the cast and crew, I parked myself on a walking trail located just above the clearing, which turned out to be the PERFECT spot to watch the filming, but, unfortunately, did not offer me the best vantage point from which to take photos.  🙁  So, please accept my apology for the less than stellar pics.  🙁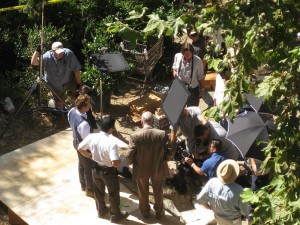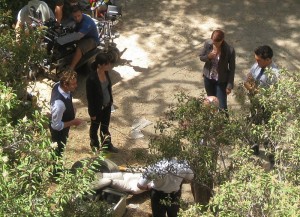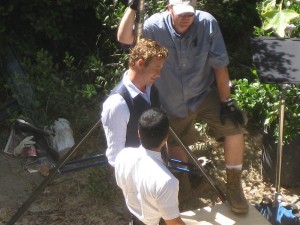 When I first walked up to watch the filming, none of the actors were yet on set.   So, I just had to ask one of the crew members if cutie Simon Baker would be filming that day and I just about spazzed out right there on the spot when he told me yes!  LOL  As I've mentioned before, I absolutely LOVE me some Simon Baker!!!  🙂  Then, literally, the next thing I knew, out walked the ENTIRE Mentalist  cast and, let me tell you, I just about died!!!!!   On site besides SB were actors Robin Tunney, Tim Kang, Amanda Righetti, and Owain Yeoman. When I watched The Mentalist  being filmed this past March, only actor Tim Kang was in attendance, so, as you can imagine, I was SUPER excited to see them all this time around.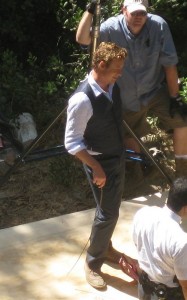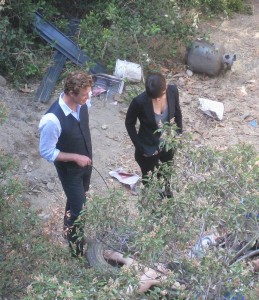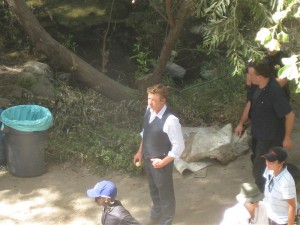 I am very happy to report that Simon Baker is JUST as cute in person as he appears to be on TV.  🙂  And, let me tell you, I just about fainted when I saw that he was wearing his cute little Patrick Jane vest and carrying that ubiquitous stick of his for the filming!!!!!  SO CUTE!!!!   The highlight of the day for me came during a break from the filming, when SB looked up at me, waved, and said "Hello!"  Sigh!   I could have died a happy girl right there on the spot!!!!  🙂  SB seemed very sweet and very friendly in person, but unfortunately I never got close enough to him to ask him to pose for a picture with me.  🙁  Such a bummer!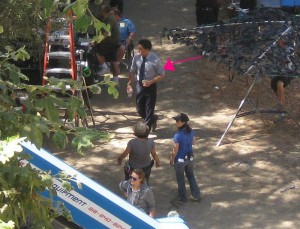 The actor who I thought looked most different in person was Owain Yeoman, who plays Detective Wayne Rigsby on The Mentalist.  While Owain is just okay-looking on the show, let me tell you, in person he is downright dreamy!!!  🙂  I was shocked!  Owain is much taller and much thinner than he appears to be on TV and actually looks quite a bit like Josh Duhamel.  And you all know how I love me some Josh Duhamel!  🙂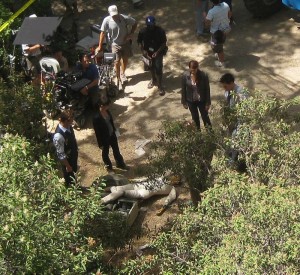 The scene I watched being filmed involved (what I am assuming was) the murder investigation of a woman who had been pushed off of a Sacramento area bridge.  And while the above picture shows the actors filming around a mannequin, for most of the takes there was a real woman lying on the ground playing the murder victim.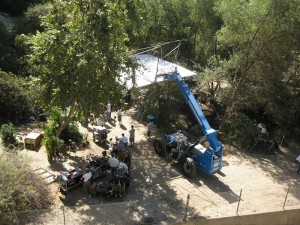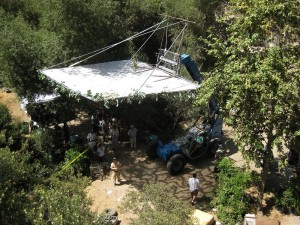 The filming of The Mentalist was an absolutely HUGE production!!!  On site were hundreds of crew members, numerous filming trucks, a myriad of props, and a large machine on wheels which provided shade for the area being filmed (pictured above).  It was pretty incredible to see!!!   At one point I looked down at my watch to check on the time and was SHOCKED to see that three hours had passed since I'd first arrived on the set!  LOL   Like they say, time flies when you're having fun!  After the scene I was watching had been wrapped, one of the crew members was nice enough to invite me to watch more filming later that afternoon on top of the Colorado Street Bridge, but unfortunately, because that was a closed set, I couldn't take any pictures while there.  It was EXTREMELY cool to see, though! 
The spot where The Mentalist was filmed is actually a very popular filming location that has also been featured in NCIS, The Shield, and JAG.   Ironically, it's also the same spot where I watched The Closer  being filmed last October.
 Until next time, Happy Stalking!  🙂
Stalk It: The Mentalist  was filmed underneath the Colorado Street Bridge in Pasadena, just off North Arroyo Boulevard.  Filming also took place on the Colorado Street Bridge.  Look for the episode to air in about six to eight weeks.
10907