Paul Rudd's House From "I Love You, Man"
Aug 5th, 2009 | By
Lindsay
| Category:
Movie Locations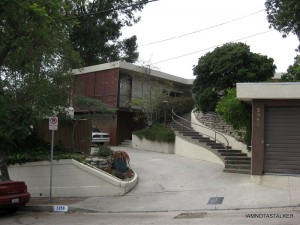 One location I have been trying to find for quite some time now is the Mid-Century Modern style abode where Paul Rudd and Rashida Jones lived in fave romantic comedy I Love You, Man.   I was dying to stalk the house not only because of its incredibly unique architecture, but also because I was such a big fan of the movie.  It's hilarious!  Well, I happened to mention my quest in an email to fellow stalker Owen last week and it wasn't ten minutes later that he had emailed me back with an address!  Sure enough, it was the right  house!   YAY!  So, of course, I ran right out to stalk it!  🙂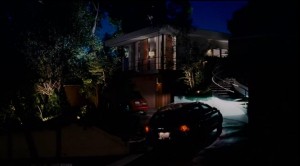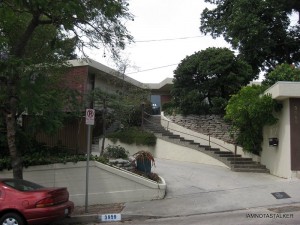 Ironically enough, the I Love You, Man  house  is exactly where the movie purports it to be – in the Los Feliz section of Los Angeles.  Not only that, but the scenes where Paul Rudd drives to and from his home in the movie were really filmed along the actual streets one would take to get there in real life.  On my way to stalk the house yesterday, I was amazed to realize that I was actually passing by some of the very same buildings that Paul drove by in the movie, which was shocking to me as most driving scenes in movies are not filmed anywhere near the places where the characters are supposedly leaving from or heading to.  LOL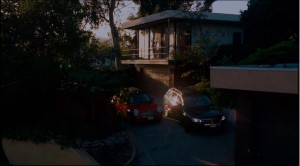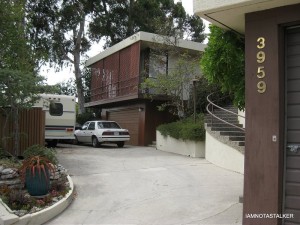 I am very happy to report that the I Love You, Man  house looks exactly the same in person as it did in the movie.  And I absolutely loved seeing it!  The house is extremely unique in its appearance and even though, as I have mentioned many times before on this blog, the modernist style isn't really my thing, I truly love this house!  I am not at all surprised that producers chose to use it as the home of a young, fairly successful Los Angeles real estate agent and his fiance.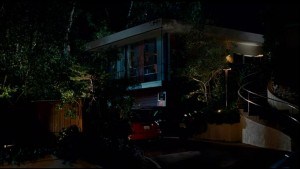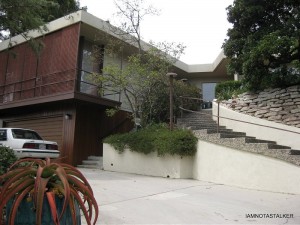 My favorite part of the house has to be the dual staircases leading up to the front door.  I just love the juxtaposition of the rounded and straight stairway, which you can sort of see in the above photograph.  So cool and, as I said before, just so unique!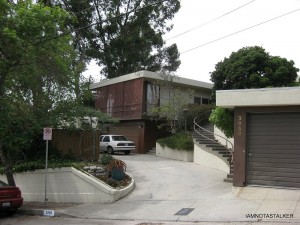 Ironically enough, the man who lives across the street from the I Love You, Man  house pulled up while I was stalking the place.  I was really hoping I'd get the chance to talk to him and ask him all sorts of questions about the filming, but instead he gave me a look like I was absolutely out of mind for taking photographs of a random house in L.A. and immediately went inside his home.  LOL  I so should have left a note on his door saying "You obviously don't realize this, so I really feel it is my duty to tell you –  you live right ACROSS THE STREET from the I Love You, Man  house!"   LOL  Sheesh, some people!
Big THANK YOU to Owen for finding this location!  🙂
Until next time, Happy Stalking!  🙂
Stalk It: The I Love You, Man  house is located at 3959 Franklin Avenue in Los Feliz, just around the corner from John Marshall High School, aka the Girls Just Want To Have Fun  high school.
11007