The "Twins" Mansion
Aug 21st, 2009 | By
Lindsay
| Category:
Movie Locations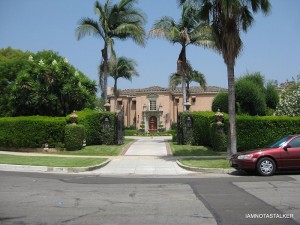 Another day, another Twins  location.  🙂  Unbelievably, before writing my post about the Twins house yesterday, I had yet to actually see the movie. For some reason, even though we own a copy of it on DVD, I had never sat down to watch it.  Until yesterday, that is.  But, as often happens to me when watching a movie for the first time, I got more absorbed in the locations and behind-the-scenes information than the actual storyline.  I kept having to pause the movie to run to my computer to look things up.  LOL  One of the locales that I became a bit obsessed with finding yesterday was the mansion belonging to Arnold Schwarzenegger and Danny DeVito's father in the movie.  Ironically enough, while doing some cyberstalking of the home, I came across this post on fave website '80s Movie Rewind and was SHOCKED to see the location of the house listed with a special thanks to none other than my good friend Mike, from MovieShotsLA.  LOL LOL LOL  It's such a small stalking world, isn't it??  Granted, I'm sure Mike had told me the address of the Twins  mansion before, but when the two of us get to talking about locations I get so excited that half of what he says doesn't even register.  I'll ask him about a movie locale months later and he'll say "I ALREADY told you where that was!"  LOL   Needless to say, the Twins  mansion address is one of the bits of information that, for whatever reason, my brain didn't store.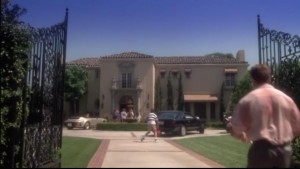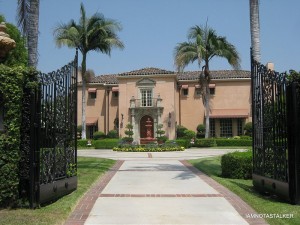 Anyway, as soon as I had the address yesterday, I ran right out to stalk the house.  And I am very happy to report that – over TWO DECADES later – the Twins  mansion looks pretty much EXACTLY the same today as it did when the movie was filmed!  I mean, even the paint color is still the same!  LOVE IT!  In fact, the only differences I noticed were some very minor changes in foliage.   Movie location owners really need to take lessons from the people that live in this house!  LOL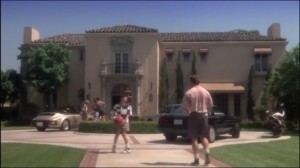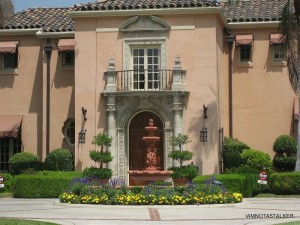 The Twins  mansion shows up very briefly in the scene when Arnold is out looking for infomation about his mother who passed away in childbirth.  He winds up at this home and ends up meeting his father for the very first time.  A scene takes place in the front yard of the house and then, later, in the father's study.  And, from how it looked in the movie, I believe a real room inside the house was used as the study.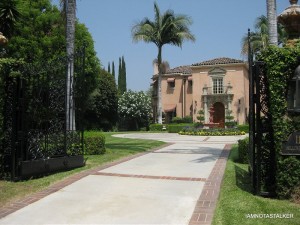 The Twins  mansion, which in real life is known as the A.L. Garford House, was built in 1916 by the prominent Pasadena architectural firm of Marston & Van Pelt.  Sylvanus Marston built over 1,000 residences in the Pasadena area throughout his twenty-two year career, including America's first ever bungalow motor court apartment complex, and has even been called "Pasadena's Quintessential Architect".   Marston built homes and buildings in an eclectic array of styles ranging from English Tudor to Imperial Chinese.  The Garford House was actually one of the first Pasadena area homes to be built in the elaborate Churrigueresque, or Spanish Baroque, style, and, according to this article, was the first ever Spanish style home to have a painted stucco exterior.   It truly is a very beautiful and absolutely ginormous home!
Until next time, Happy Stalking!  🙂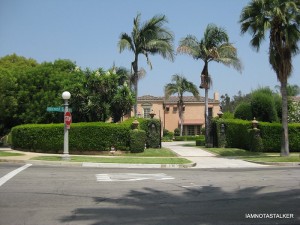 Stalk It:  Arnold Schwarzenegger and Danny DeVito's father's house from Twins, aka the A.L. Garford House,  is located at  1126 Hillcrest Avenue, on the Northeast corner of Hillcrest Avenue and South Oak Knoll Avenue, in Pasadena.
11655